August/September 2011
New concepts
in retailing
Two new independent retailers in Johannesburg show that their unique trading concepts give them a competitive edge over other stores, reports NICOL DU TOIT
Johannesburg must be the area in SA with the lowest independent sports stores per capita. Simultaneously it is also the area in SA with the highest per capita income.
Why should this seemingly contrasting situation exist?
There will be a number of reasons, but one of the most important reasons must be the development of shopping malls over the last 20 or 30 years and the fact that it is very difficult for the independent sport shop to, firstly, get into a mall, and secondly, to be able to survive with the higher rentals normally associated with malls.
Whatever the reason for this phenomenon, what it tells us is that it presents entrepreneurs with great opportunities to establish independent sport stores in that region.
This is not a recent phenomenon, but has been there for many years. At Sports Trader we have found it perplexing that business people have not exploited this opportunity. Therefore it was most pleasing to discover two independents that opened recently — more so, two independents that bring sporting goods to the public in very unique ways, thereby distinguishing themselves unmistakably from any competitor.
Tribe Multisports
Tribe Multisports opened their store in Hobart Grove Shopping Centre in Bryanston in June. The idea was fertilised on a number of training runs and rides and races in which Dave Harrington and his partner Steve Pettitt took part. Both are passionate about triathlons and realised from their own experience that there were very few, if any, shops that cater for their sport. Many people starting in triathlons mentioned to them that they often felt intimidated in specialist cycling, running and swimming stores — if they could find such stores.
They therefore decided to open a store not only catering for triathletes, but which also specialises in providing in-depth gear for each of the three legs of triathlons — running, swimming and cycling.
Research also showed them that a large and growing proportion of competitors were women and they decided to make them a very important part of their target market. The research also helped to convince them to create a shop that is designed in a modern open and friendly way, to invite people to come in and browse. You won't find any intimidating huge stacks of cycles or condescending sales assistants here.
Their repair area is clearly visible in the middle of the shop, but kept as clean as a hospital ward, and situated next to the cycle set-up area. In another portion of the shop they have a coffee machine and internet access where their customers can sit and relax and surf the internet, or meet up with other enthusiasts.
The three specialist sports each has a dedicated area with creatively designed displays, inviting customers to walk through and observe the wide range of international brands of gear and accessories and experience their exceptional and friendly service.
In other aspects they simply think and operate differently to other shops. Some days they are open from 5am on an ad hoc basis and on Thursdays they stay open to 7pm to cater for people who want to pop in during early morning or late afternoon rides. They are also open on Saturday afternoons instead of mornings. They offer a pickup and drop-off repair service for busy customers in the Johannesburg area.
From left to right: Dave Harrington, Isaac Ndlovu and Steve Petitt of Tribe Multisport
Sportsavers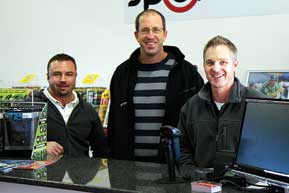 The other retailer who also opened their doors in Fontainebleau in June with a completely different, but equally innovative idea is Sportsavers. They claim to be South Africa's first discount sports shop selling "big brands at small prices". They have signed deals with a number of big brands to buy and then resell their excess inventory.
This is typically last season's stock (new and unused), which allows Sportsavers to provide the bargain basement prices that they do. They want to be put in a position whereby they can offer their customers savings in the region of 33% to 50% over the prices of the same sports brands at other retailers.
Due to the time of year they opened, Sportsavers' initial focus is on cricket and hockey, but they stock other sports equipment as well. Big brands that are already on the Sportsavers shop floor include Kookaburra, GM, Gray Nicolls, Slazenger, Puma, Mizuno, Grays, Prince, Mitre, and Wilson.
In order to understand their target market better, Sportsavers have introduced a loyalty program called the Sportsavers Club. They started this program from the very first customer who walked in, and now have a rapidly expanding database of people, some of whom have already made several repeat purchases. By belonging to the loyalty program, customers get an additional 5% discount and can nominate a school, club or welfare organisation that will receive a donation of 2.5% of whatever the customer spends.
From left to right: Barry Owen, Erich van Niekerk and Greg Ivins from Sportsavers