October/November 2011
Adventure Inc:
Building brands
Christo Snyman has displayed a strong entrepreneurial streak since his student days, which has contributed to the rapid growth of Adventure Inc as a distributor of premium outdoor brands to the SA retail market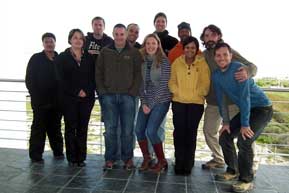 Christo Snyman, founder of Adventure Inc, has always enjoyed the outdoors, outdoor activities and the products that make them more pleasurable. While studying at the University of Pretoria he got hooked on adventure racing and became frustrated when he could not find certain products in SA. This prompted him to start importing the outdoor products that he could not source locally for himself and his friends.
The seed for starting a business was sown in June 2002. While studying for his M.Sc-degree, Snyman borrowed money from his father and invested the whole amount in 5 000 Buffs. He and his partner split the stock and set off to attend exhibitions in Durban and Cape Town. They made elaborate plans on how to move the stock when one of them should run out, but business life taught them a lesson that they would remember for the rest of their lives. At the end of the weekend Snyman had sold eleven items and his partner two more.
Later that year he got the opportunity to study in the US for six months. He took off a further six weeks and went to see several outdoor suppliers, visited the Outdoor Retailer exhibition in Salt Lake City and came back with a number of agencies signed up. In March 2002, he found an investor and in March 2003 Adventure Inc was born in Johannesburg.
He realised that much of his time was spent in Cape Town due to the location of many chain store head offices and buyers. Having a harbour close to most of the larger customers made their logistics cost effective.
Personally, he welcomed the Cape Town outdoor environment with its splendid mountains, forests, vineyards and sea, and in December 2005 he moved the company to premises shared with Ram Mountaineering in Ndabeni, near Pinelands.
Both companies were experiencing good growth and therefore constantly required more space. Within a relatively short time both realised that they had to find another solution and last year Snyman decided to build his own facility in Capricorn Business and Industrial Park in Muizenberg. They moved in three months ago.
Again his love for the outdoors played an important part in his choice of location. The development prides itself in offering a pristine eco-friendly environment with open spaces containing a lake and panoramic views. The beach is only 500 meters away and running areas in the mountain, such as Silvermine, are also near enough to enable staff to utilise these before or after work, or even during lunchtime.
In a very short period Adventure Inc has grown into a sizable company. Despite one of the world's worst recessions, they have managed to double in size during this period.
One of their key success factors is their focus on a few core brands, unlike many distributors getting enticed into offering many different brands. This keeps their logistics under control and cost effective, because larger shipments are sourced from the same area.
Despite purposefully limiting the number of brands they offer, they also do not focus too narrowly. Some business owners focus so much on their own passion that they do not see opportunities in other related areas.
They believe in developing and maintaining strong personal relationships with both chains and specialist independent stores. They believe that both types of retailers are equally important for their business.
This often entails them having to offer different products to the different types of businesses. Chains often require higher volumes, while specialists often need more exclusive and specialised products. This requires them to be very flexible, both in their product, as well as their service offering.
Staff relationships are equally important. They choose people with a passion for the outdoors, which translates into a passion for the products they are selling. Staff members are encouraged to try out new products in their spare time to gain expert product knowledge.
Like most other distributors in the relatively small SA market they are not able to bring in the full international ranges of the brands, but will often add less profitable items to ensure that they can at least offer a complete brand.
They also believe in carrying larger stock than most distributors. Although this increases stock carrying costs, it decreases transport cost, whilst ensuring that they can fulfil orders and satisfy their customers' needs.
They pride themselves on doing a lot of research in the more sophisticated outdoor markets in Europe and the US to find products that they believe will soon be demanded by our local consumers. This requires a longer term view, rather than a focus on short term profits.
They often have to spend a year or two to convince retailers to stock certain new products. "We build brands", says Christo Snyman.