Selling more…
surfing goods
We have a retail staff member who is exceptional! He has been entrenched in the surf retail community for over 20 years, is young at heart, has a wealth of wisdom and knowledge, and never ceases to amaze us with how he can make sales, and at the same time build lifelong relationships with his clients. He has improved sales for us by being thorough with his staff training, tackling everything from welcoming customers, cleanliness of our stores, to in-depth product knowledge training. Through his honesty and integrity Dave has cultivated strong relationships. Dave has personally mentored and walked a road with most of his staff, providing a listening ear, and sharing his knowledge. This enthusiastic recommendation from Dean Seppings, national sales manager of Rip Curl, prompted us to feature Dave Jennings in our series on the secrets of sales staff who mastered the art of selling.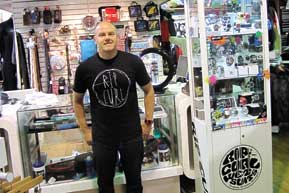 Dave Jennings
Dave Jennings does more than sell surfing gear: he shares his knowledge and experience with new friends to help them find the most suitable product.
Instead of seeing a customer willing to spend money when someone enters the store, he regards any customer as a potential new friend that he's going to assist in finding the best product to meet his or her needs.
And because of his years' experience as a top surfer for Natal (see opposite page) and more than twenty years working in retail, his advice is based on sound knowledge of the sport and the equipment available.
Customers are friends
His philosophy of selling is based on the principle of love your customer. If you regard customers as friends, you'll automatically want to do the best for them: find the best product, which best meets their needs, at the best price.
Once you've built up a friendship relationship with your customer, he'll reciprocate by turning to you whenever he needs new gear.
Jennings therefore believes in always greeting a customer with an open heart, genuine smile and, most importantly, a sincere interest in what he is looking for.
"Every customer is different, with different needs, and that will obviously be a factor. But, whatever his needs, always go the extra mile."
In order to achieve success at retail level he believes that you need to love people, you must love what you do, and be grateful for having the job you've got.
People immediately sense a genuinely positive attitude and would be much more inclined to spend time in a store and listen to suggestions, than when they get the impression that the sales person doesn't really care what they want, just as long as he can go home on time.
Knowing the products
Having spent a lifetime either surfing, or in the industry, there is hardly a surfing product that Jennings has not used extensively. But even without that much experience, he strongly believes that everybody on the floor should know the products in store.
"Product knowledge is a key factor that will draw customers to your store and I regard it my job to implement that in our stores. I certainly don't want to be served by someone who does not know the products," he says.
A further factor that helps promote sales is the appearance of the store — the neatness, display of merchandise and the ease with which customers can see and reach products. "The appearance of the store must be hundred percent, with merchandising on every aspect, adding value to how you appear to anyone walking through the door."
Jennings believes a customer would return to a store where the service was good, where he was welcomed as a friend, and where he felt a relationship was established with someone who understands his needs.
"Ideally, all three factors should be present. I believe the difference between us and the opposition is that we are genuinely interested in the person who walks through the door."
---
More about Dave Jennings
DAVE JENNINGS has been surfing for almost as long as he can remember. In the seventies you could hire a board for R1 per day in Warner Beach on the Natal South Coast — an affordable way for a ten-year old nipper to try copying the skills of the older surfers.
Not long before he became one of the main surfers himself, winning a place in the Natal surfing team during the 1980's and 1990's. For twelve years he rode the crest of the wave, until he and his wife decided to start a family and he decided it would be selfish to continue surfing competitively with a young family at home.
Nearly ten years ago a traumatic accident while jumping off the pier in Durban harbour, changed his life profoundly. The head injury he sustained kept him in rehab for a year. "I had to learn to read and write from scratch," he says. "The injury also changed my personality and I had to learn how to deal with emotions like anger, anxiety and depression. My family took a lot of strain."
His matter-of-fact recounting of the events masks the super-human effort to get his life back and to deal with the pain of his injuries. He defied the odds and with supreme determination taught himself to become more disciplined and to take back responsibility for his life. It also had a profoundly religious effect on him.
These lessons have contributed to the attitudes and ethics that have made him so successful in the retail business.
His first job in surfing retail started as a casual with the legendary Deon Bossman and he worked himself up into junior management.
He then owned a store with a partner for about a year before joining for Spider Murphy at the Safari surf shop for about 10½years, until Rip Curl SA poached him to manage their three stores in the Durban area.
As one of the best known faces in surfing retail and one of the most respected people in the industry, they considered Jennings a good find. His moves between companies was prompted more by the new challenges offered, than the lure of money, he says.
What most enticed him to join Rip Curl was the opportunity to help build the brand, and "I was determined to show that I could do it," says Jennings.
"Part of building the brand was to pass on what I've learnt to the staff, to transfer knowledge and empower them. Once we did that, we could open more stores and so build the brand."
Through coaching he not only shares his vast surfing knowledge with youngsters, but he also helps to grow the sport and draw new customers to the stores.
We're looking for top salespeople
In response to retailers' request for articles on the art of selling, we'll be asking successful salespeople in the industry for tips on how they clinch that sale in this series on Sales tips from top sales people. Please nominate yourself, or a staff member, to share your sales philosophy by contacting Trudi du Toit on Tel: 021 461 2544, Fax: 021 461 2549. Email: trudi@sportstrader.co.za.
---