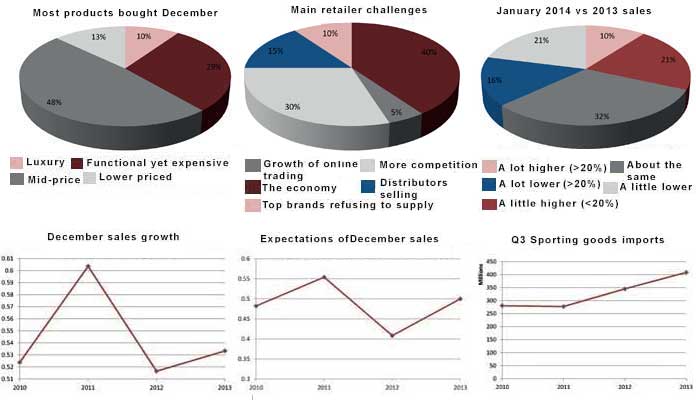 Top left: Most respondents in the Sports Trader survey report that they mainly sold mid-priced items, while functional, yet expensive, items also sold well. Top middle: The economy is the biggest challenge for most retailer respondents, followed by competition from other retailers. Top right: About a third of retail respondents report January 2014 sales were about the same as in 2013.

Fig 1 (bottom left): The December sales growth reported by respondents to the Sports Trader survey improved in 2013, after a sharp dip in 2012. Fig 2 (bottom middle): In 2013 retailers responding to the Sports Trader survey expected that pre-Christmas sales would improve. Fig 3 (botto right): The import value of sporting goods in the 3rd quarter, when most Christmas and January goods will be imported, have been rising steadily since 2011.
March 2014
Holiday sales
better than expected
Retail sales during the past holiday season were slightly better than last year, although the weakening currency and worrying economy are cause for concern. JOHANN DU TOIT reports on the results of the annual Sports Trader survey of holiday sales in the sport, outdoor and lifestyle retail industry.
Despite a very tough year, 2013 holiday sales in most sport, outdoor and lifestyle retailers were better than expected, responses to the annual Sports Trader Holiday Sales survey* showed. Sales were largely as expected, with no nasty shocks in terms of sales. While sales haven't grown exceptionally, they haven't been exceedingly bad either, and have increased slightly since the 2012 holiday season.
The worsening currency value and poor economic forecasts, however, affected consumers negatively, which prevented strong holiday sales figures.
December sales figures
The average response to our survey shows that December 2013 sales where slightly better than last year's, with 50% of respondents reporting better sales, and 15% saying that sales were about the same. Slightly more (15% compared to 10%) respondents claimed much higher sales, with 20% or more growth. However, the number of respondents reporting drastically lower sales (decreasing 20% or more) than last year has increased by 3.3%. This would suggest that the gap between retailers having a good year and retailers having a bad year, is increasing.
The average responses to our survey over the last four years concerning pre-Christmas sales indicate that the growth of sales between 2010 and 2011 was followed by a sharp decrease in sales growth in 2012 (See Fig 1). 2013 was a better year, with a slight recovery from last years' recession.
Retail respondents are not overly positive or negative about their December sales. About a third (30%) of respondents had better pre-Christmas sales than expected, while 30% reported lower sales than expected. The majority (40%) of respondents say that the pre-Christmas sales were about the same as expected. Taking an average of theses results, it seems that retailers had a fairly predictable pre-Christmas period.
Taking into account that retailers considered 2012 a particularly bad year, this could mean that retailers have come to expect the worst for the holiday season. This is excusable when looking at the holiday sales expectations of retailers over the past four years (See Fig 2). After 2011 largely exceeded respondents' expectations, 2012 was exceedingly worse than expected. It seems as if retailers could predict how sales would be in 2013.
Although sales were as expected, several retailers and suppliers within the industry have told Sports Trader that this year was an especially tough year, some even stating that it was their worst year on record. Most respondents (45%) had fewer customers than expected, 25% had more customers than expected and 30% the same number.
International expectations
According to a Deloite survey** of consumers in 18 European countries, as well as South Africa, consumers in many countries are optimistic about the current state of the economy for the first time since 2008. Consumers in most other countries are more optimistic about the current economy than last year, South Africans, however, are more pessimistic with an overall negative outlook of the economy.
After years of considerable growth, retailers in the European Union (EU) have probably reached a plateau, according to a report published by IFH, the Cologne-based institute for retail research. This could mean that in 2014, European consumers might be less optimistic, which could influence South African markets.
Spending trends
In our survey, 75% of retailers stated that items sold at the middle range of prices were popular during the holiday season. Functional, yet expensive, items were also very popular, with 45% of respondents stating that these products sold well. This is likely due to formally employed consumers being less affected by economical woes and having more cash in their pockets. According to the latest BankservAfrica Disposable Salary Index (BDSI) disposable income increased by 7.6% throughout the year, up to September 2013.
Lower priced products did not sell very well, with only 20% of respondents saying that it sold well in their stores. This could either mean that South Africans are starting to spend more on their gift purchases — or that low income consumers simply didn't have the money to buy sport, outdoor and lifestyle items.
The Deloite survey determined that the average budget per gift for South Africans in 2013 was R310. It should be noted that the Deloite survey was an online survey, so most of the respondents would be representative of the upper and middle class customers. The relatively high average budget per gift means that functional sport and outdoor products, such as clothing and footwear, were within the gift budget of the average South African. This seems to be in line with international trends. UK-based OCC outdoor conducted a survey among 30 UK outdoor retailers and found that the highest selling products, by far, were outdoor clothing.
The Deloite survey also evaluated which marketing strategies convinced customers to buy certain products. On a scale of 0-3 on how influential loyalty/reward programs are in purchasing decisions (0 = not at all, 3 = very influential), South Africans averaged a score of 2, which is higher than the 1.7 average of the 19 countries surveyed. Most South Africans prefer immediate discounts on purchases, instead of earning points offering gifts.
Online shopping is becoming a popular tool for South African consumers. According to the Deloite survey, South Africans spent 21% of their gift budget online in 2013. This is substantially higher than last year's 13%, but still lower than the European average of 28%.
Even though online shopping has grown, South Africans still prefer to compare prices by visiting stores, rather than online on websites. When buying gifts in store, South Africans prefer to buy in specialty stores, instead of supermarkets and shopping malls, which is good news for independent retailers.
Of the 19 countries surveyed by Deloite, South Africa has the second highest (after Ireland) number of users of smartphones and tablets with which to buy products, with 38% of surveyed smartphone and tablet users claiming to have purchased a product in the past.
This figure is expected to grow, as 59% of South Africans surveyed expect to use smartphones and tablets to buy products in the future.
Most South Africans rated their holiday spending power as slightly lower this year than the last, however it is still rated much higher than in 2009 and 2010.The good news is that most South Africans expect their spending power to increase in the following year, and in the Deloite survey of 19 countries, South Africans were the most optimistic about their spending power increasing.
Sport retail sales have been steadily increasing the past couple of years. This is evident when looking at the rise in imports of sports products (See Fig 3). According to Statistics SA, the value of sporting goods imports in the 3rd quarter of the year (when most holiday stock would be imported) have been increasing since 2011.
Total retail sales have also been increasing, according to Statistics SA . After a fall in sales between 2007 and 2009, retail sales began increasing steadily since 2010. Statstistics SA figures on monthly retail sales also expose spending trends of consumers: sales generally increase between September and December each year, with sharp increases during December, of up to 25%. After the holiday, sales decrease sharply into the new year.
The biggest challenge that respondents to the Sports Trader survey faced during the holiday season was the economy, with 40% of respondents saying that this caused customers to buy less. The second biggest challenge was competition among retailers, with 30% of respondents claiming this as their biggest problem.
Cost increases
The survey was done before the latest weakening of the Rand and hike in interest rates. In December 2012, the Rand to dollar exchange rate was around R8.90, while in December 2013 it increased to R10.18. At the time of writing, the Rand to dollar exchange rate is R11.01. If the rand does not recover, it will undoubtedly have an effect on consumer spending power, especially after the recent interest rake hike of 0.5%.
South African Chamber of Commerce and Industry's (SAcci) chief executive Neren Rau has said that businesses are specifically under pressure from increasing costs. The weakening Rand will not only increase cost of imported goods, but it will also have an inflationary effect. A SAcci survey conducted among 64 small to medium sized businesses show that their main concerns were the increasing cost of doing business. Factors such as electricity prices, municipal levies and the cost of complying with regulations, all have an effect on the cost of doing business.
Economists believe that retailers and manufacturers have been absorbing the rising costs due to a number of factors, such as containing consumer inflation and poor household spending. This increase in cost will eventually have to be passed on to consumers if businesses want to survive, regardless of the weak outlook on consumer spending.
Regional trends
Results of the Sparks Cash Index (SCI), which determines the average value of cash withdrawals at Automated Teller Machines (ATMs) throughout South Africa, showed a definite increase in cash withdrawals of 6.59% in October 2013, compared to October 2012. An Increase in withdrawals tend to correlate with an increase in retail trade sales and consumer spending power, according to SCI.
The Western and Northern Cape experienced the largest growth, with 10.32% and 11.84% respectively. An increase in tourism in the Western Cape could account for the growth in withdrawals. According to the City of Cape Town, Cape Town International had an increase in arrivals of 2.07% in December 2013, compared to December 2012. The Northern Cape has traditionally had higher withdrawals than other provinces due to its low urban population density and large population in rural areas.
Gauteng, Limpopo and Mpumalanga had the lowest growth of average cash withdrawals, between only 2%-3% increases.