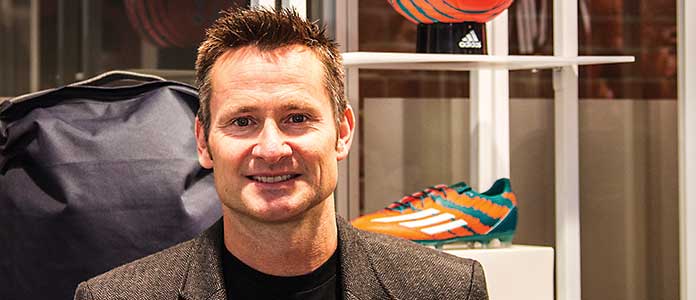 September 2014
Fresh ideas from
adidas brand director
Retailers and brands are almost handcuffed by the prices of imported goods, says new adidas SA brand director Mike Jaeggle. His many years of global experience in the adidas Group will help adidas SA to support their retail partners with exciting brand stories that will create a strong emotional connection with consumers
Sports brands have no control over the depreciation of the Rand, and the impact it has on the prices of imported goods. But, adidas SA can assist their retail partners by offering the consumer good products and marketing experiences that will motivate them to buy the brand, says Mike Jaeggle, adidas SA brand director.
"Currency depreciation is the biggest challenge everybody faces," he says. Since 2011, the Rand has depreciated more than 40% against all major currencies, increasing the price of imported goods by at least that amount.
The result is that a consumer who might have bought two pairs of shoes and shirts per season, now cuts spending to only one. Or none. Unless a brand and its retail partners can persuade him otherwise — as adidas intends doing.
"It is our job to give our retail partners the tools to mitigate the impact of the currency," he says. "We'll do that through involving our close retail partners in telling a brand story that will create a strong emotional connection with consumers."
Jaeggle mentions their Messi Rosario range, which will be launched in December, as an example. Like so many South African children, Lionel Messi started playing soccer in the dirt streets of his birth place, Rosario. He then became one of the most celebrated modern players, his latest award the Golden Ball at the 2014 FIFA World Cup Brazil. His story will resonate with many local consumers, who will aspire to own a piece of the impressive Messi Rosario range that includes everything from clothing, caps, daypacks, shoes, to boots, etc.
Another football story that consumers can identify with is the celebration of the 20-year history of the Predator Instinct boot. Since the early 1990's, the Predator has been one of the most iconic boots, performing from World Cup to club matches. This boot scored the second highest number of goals at the recent World Cup, following the adidas F50, worn by top goal scorers like Messi, Rodriguez and Müller.
Adidas will further assist retailers by educating consumers about the benefits of products.
"We have a responsibility to provide the right product, especially for kids. If you start running at a young age, you must have the right performance product," emphasises Jaeggle.
So often, children wear stiff, bulky, walking type shoes when running with their parents. "That is not good. A child's foot must be protected and have room for natural movement."
They will therefore be making a strong case that kids should always be wearing performance footwear, because they run around all the time, even when just playing.
They will also be providing more exclusive products for women. From this month, women can enjoy the new adidas Originals Rita Ora collection, reflecting the British singer's own glamorous and colourful style. A BOOST training shoe, specifically aimed at women, was launched in August and a new Stella McCartney range was introduced in three stores.
A new Stella Sport range, at a more affordable price, is a treat that will be in store for women in Spring/Summer 2015.
"Bringing fashion and sport together, it is aimed at the younger woman who wants to look good in the gym, but also require the necessary performance functions."
They will also educate consumers about the benefits adidas products offer. "People will know that buying an adidas product gives you the guarantee that the quality is superior and will not disappoint even after a couple of runs," says Jaeggle.
While it is tempting in the current economic climate to simply target lower price points, adidas has a responsibility to deliver a high quality product with all the expected technologies, because that is what the brand stands for, he adds.
The good news for retailers is that there is another Kanadia shoe on the way for Spring/Summer 2015. A couple of years ago the attractive-looking shoe, sold at a very attractive price, upset all forecasts with record sales to consumers who wore it as a cross trainer, trail shoe, hockey or netball shoe, or simply just because it looked so good. It offered technology combined with style at a price-point most other brands could not compete with … and traded most of them off the shelves.
In running, the new BOOST campaign, representing fresh colours, more styles, and more BOOST foam cushioning, will be a strong motivator for consumers to visit stores.
The enthusiastic acceptance of their trademarked BOOST running shoe technology by performance runners was assisted by retailers who prominently displayed the range in their windows, showing that they believe in the product, he says. "The feedback from all our retailers is that the consumers are happy with our product."
Jaeggle arrived in South Africa just in time to participate in the major marketing campaigns around the Two Oceans Marathon, of which adidas became technical sponsor two years ago.
Boost for running
He believes the fact that the number of runners wearing adidas in the ultra-marathon increased, while the numbers for other brands declined, showed that the top runners had accepted the advantage of BOOST technology.
The last 6-7 international marathons had been won by runners wearing adizero BOOST shoes. "Although Wilson Kipsang always ran in adidas, he was sceptical when he changed to BOOST, but after he won the London marathon in record time wearing adizero BOOST, he said it was an amazing product for him. It makes us proud that athletes understand that the product works for them."
Jaeggle was pleasantly surprised to see how sporty South Africans are. "I have never seen such a sporty country. You can't drive up Kloofnek Road without someone running past."
The gyms are full, even at 6am in the morning, and "it is amazing to see 300-400 people of all ages coming together on a Saturday morning at 8am for a parkrun," he says in awe.
The parkruns, with over 100 000 runners registered countrywide, is a relationship they want to strengthen, and perhaps use as a gear testing opportunity for BOOST.
After four months in South Africa, Jaeggle is still as enthusiastic about living here as four years ago when he was watching the passion of the South Africans during the FIFA World Cup on TV in Germany, and fell in love with the country.<
"It was unbelievable to see how inspired and passionate the people were. The culture, the support for football, the passion, the beautiful country … " he explains why this strengthened his resolve: he wanted to come and live and work in South Africa. An idea that had been planted when he visited Cape Town on a two-week holiday in 2001. He was therefore overjoyed when he was appointed brand director of adidas SA in March this year.
"It has been a very good journey so far," says Jaeggle, who immediately began to immerse himself in the local culture, for example, by choosing to live in the colourful Bo-Kaap area.
His impressive CV is testimony of the valuable work experience he brings to South Africa.
Years of experience
After obtaining an MBA in Nuremberg, Jaeggle had joined the adidas Group in 1997 in the key-account marketing department at the Herzogenaurach headquarters.
He subsequently held various positions in the group, including key-account marketing service manager for Europe and global senior manager business development for Originals.
After a stint in the adidas US head office, where he was Retail Operations Manager — Sport Heritage and Retail Director — Fashion Group, he became the retail director for Rockport (part of the adidas Group) and international Business and Retail Marketing Activation Manager Europe for adidas and Reebok. His main responsibility was the marketing and brand execution in 256 own retail stores across Europe as well as to launch and grow the CRM (Customer Relationship Management) programme.
Through the working relationships he had formed at the adidas headquarters he brought a network of help and contacts to South Africa. His knowledge of who to contact for what to get faster approvals and access to tools, has already benefited the local office. The continued leadership training he has undergone within adidas will help him instil the right leadership mentality and skills at adidas SA.
The brand director is responsible for the way the brand is perceived — from where and how the product is seen in the market, which product goes into which market, pricing, acquiring and managing sports marketing assets like athletes, targeting the consumers who are wearing the product, and many other functions that affect brand image.
"There is a fantastic team here that is fun to work with, great talents, who are well educated and we will further invest in the team and organisation alike. For example, we anticipate structural changes — both locally and globally — with the clear purpose, to serve our retail partners even better, while getting closer to consumers."
South Africa — or Lead SA, as adidas refers to the business unit of 12 Southern and West African countries reporting to MD Roddy van Breda — is in the same region as the Middle East and North Africa (MENA), Turkey, Israel and India.
"It is a big, strong and powerful region," says Jaeggle, "which can deliver a strong message to excite consumers."
The most important adidas customer is the athlete, he says. "For us here it is the footballer or runner, who is young and urban — everybody who trains in a gym. Apart from the active performance customer there is the lifestyle consumer who connects with adidas Originals."
While these can be considered the four main focus areas of adidas, there are many other consumers they engage with, like the rugby fan and athlete, the outdoor enthusiast and cyclist, etc.
In many ways the adidas consumer in South Africa is similar to the adidas customers in the rest of the world, although the most popular sporting codes will differ.
South African retail market
The South African retail market is also not so different to the US and Europe. Everywhere there will be a few key accounts that dominate certain categories. "There are some strong independents in South Africa, who are clearly focused on one category like football or running as specialists.
"We are happy with the performance of smaller sport retailers and the longer that can continue, the better. But many of them are in rural areas and struggle because of the movement of the population towards the cities. This is happening all over the world."
This year, he again experienced the World Cup from afar. Even though we didn't have a team participating, Jaeggle says he was very happy to see how many South African supporters went to clubs and pubs, wearing their replica jerseys, in order to watch games on TV. Adidas could see the demand for jerseys increasing just before an important match, and as they got closer to the final, sales of Germany and Argentina shirts boomed.
Even though the South African football season had not yet started at the time, their World Cup ranges like the Battlepack boot range and Germany, Argentina, Mexico and even Colombia federation jerseys sold well. He therefore starts his stay in South Africa with more happy World Cup memories.