May 2014
A major new
distributorship formed
On April 1 this year the sports brands distributed by Super-Brands moved across to Brand ID, where they will form part of their lifestyle brands, which include Speedo and 466/64. With leading brands across most sporting codes will make Brand ID a distributorship to be reckoned with. Words: Trudi du Toit. Photos: Nicol du Toit.
Remember the name Brand ID, as you are bound to hear a lot about them in future. They now distribute and market 14 premium sports brands, the iconic 466/64 Madiba magic brand, as well as a nice selection of clothing brands.
When the sports brands formerly distributed by Super-Brands became part of Brand ID on April 1, they gained a strong foothold in most major sports, like running (Mizuno, Skins and Nathan), rugby (Canterbury, Mizuno and Opro), cricket (Slazenger), racket sports (Dunlop and Slazenger), hockey (Slazenger and Opro), cycling (Skins, Nathan and SiS) etc., as well as outdoor activities (Karrimor). Combined with the swimming reach of Speedo, they cover all the needs of triathletes as well.
Even before the merger became official, the power packed into the brand packet offered by Mizuno, Skins, Nathan, Canterbury and the 46664 Fashion brand secured them the sponsorship of the new Cape Town City Marathon. These brands are now backed by the Seardel Investment Corporation — also the home of Prima Toys, Sharp electronics, Hextex and Frame textiles, and various other enterprises. Seardel is a listed company and part of Hosken Consolidated Investments (HCI), a listed BEE company, with SACTWU as a major shareholder. Apart from Seardel, HCI has interests in many industries, like hotel and leisure (Tsogo Sun and Vukani gaming), liquour (KWV), media and broadcasting (eTV), transport (Golden Arrow), mining (HCI coal), etc.
Brand ID is the brain child of Wayne Bebb, a whizz kid accountant with a passion for business. Five years ago his closest association to the sports industry was enjoying sports like windsurfing and triathlon. After he qualified as chartered accountant in 1998, Deloitte seconded him to their US office, after which he spent time working in London and Zurich. With so many South Africans working overseas for global clients, Deloitte saw the opportunity of forming an off-shore arm for the accounting firm. When Bebb returned to South Africa, he developed the Deloitte off-shore division operating from the Isle of Man, employing several hundred people around the world.
Back in South Africa, he joined Alliance Media, the biggest outdoor media business in Africa. "We covered 25 000 sites in Africa," he says. "Although it was relatively small in South Africa, it was very big in countries like Rwanda, Gabon and Nigeria, which presented interesting insight into the difference of doing business in New York and Nigeria."
After he became engaged, he and his fiancee moved to Cape Town in 2009, where Cecil Beekman, who ran a division of Seardel, invited him to join as MD designate. But, it was a dark time for the local apparel and textile manufacturing industry and Seardel was shedding jobs as fast as profits. HCI had bought a 70% stake in Seardel and Stuart Queen was appointed Group CEO of Seardel in December 2009.
Speedo branding
Queen gave Bebb the task of consolidating certain factories to create Intimate Apparel. As Intimate Apparel was unprofitable, it unfortunately had to be closed down ... but he discovered the Speedo brand in the Cygnet manufacturing division.
Speedo, a global brand, was an anomaly in the factory-driven manufacturing business, and Bebb saw this as the basis of a new business model: building brands. Queen supported this plan and gave him the go-ahead to form Brand ID, with the payoff line: Igniting Brand Momentum.
"I wanted the company to represent what the name suggested — the brand is the most important — and it must be ignited in the best way possible."
He renewed the license to distribute and develop Speedo in South Africa from the global owner, Pentland, and subsequently grew the brand's revenue 42% — despite ending their relationship with Swim SA as official supplier. "For us involvement with a sport federation is a calculated investment," says Bebb. "Swim SA was not right for us at the time … but things might change."
They have worked hard to make Speedo multi-cultural, for example, through their involvement with Learn to Swim initiatives in communities where drowning is a high risk. A shortage of swimming pools is, however, a major drawback to growing the sport and brand.
Bebb also secured three lingerie brands — Elle Macpherson, Maidenform and After Eden — which they mainly supply on an indent basis. They added fashion lifestyle brands like Brookfields, Jonty's (as in Jonty Rhodes), Cambridge and Danie's (as in Danie Gerber). Love SA is a niche t-shirt brand that uses 100% local textiles, designers and talent. A portion of the income earned from sales goes to the machinists who made the garment.
466/64 Fashion brand
But, when it comes to CSI, nothing beats the 466/64 Fashion brand. After discussions in 2011, Brand ID formed a commercial partnership with the Nelson Mandela Foundation to design, create and market a fashion brand under the 466/64 label … a number that became a worldwide symbol of the famous 466th prisoner of 1964.
Mandela had given the foundation the right to use his prison number as a reminder of the sacrifices he was prepared to make for the social justice cause he believed in. The foundation awarded Brand ID a closely controlled license in perpetuity to establish a global fashion brand that will support the legacy of Madiba. "It showcases the talent we possess as South Africans," says Bebb.
Proceeds from sales have already opened three container libraries in schools — a project chosen because of Madiba's love for children and his concern about literacy. Apart from funding libraries, proceeds also contribute to the Nelson Mandela Children's Hospital Trust, set up to make Madiba's wish for a paediatric centre for children in the North come true.
"We promised our loyal brand customers that the funding generated by the brand would make a positive impact," says Bebb.
Enter Super-Brands
A few months ago Cuan Chelin, CEO of Super-Brands, and Bebb started talking about potential business synergies. They soon agreed that the brands had a good fit — they shared many retail clients, all had a growing consumer base and were all international brands, respected in their individual sports fields. Together, the portfolio of brands could negotiate a good presence in retailers with their wide product offering and create greater growth opportunities.
This resulted in Brand ID making an offer to purchase the Super-Brands sports brands. After the usual due diligence and consultations with brand principals, the Super-Brands brands moved into the Brand ID offices on April 1.
Canterbury belongs to the Pentland Group, owner of Speedo, with whom Bebb already has a good relationship. He says he is excited about what Pentland did with Canterbury — "it took the brand back to its rugby heritage, it is all about the Republic of Rugby." With a plethora of grassroots rugby clubs in South Africa, he believes there is much scope for growth.
"We have unbelievable opportunities in athletics, Mizuno is a $2-bn global business," he continues.
Company strengths
"It was important for us that Steve (Gallienne) and Du Toit (Botes) come across with their teams intact. It is critical not to disturb the structures."
Bebb believes there are many synergies between the two companies, and also many opportunities for learning from the fresh insights brought by both sides. While the former Super-Brands brands come with strong sporting catalogues, Brand ID's strength lies in lifestyle.
The biggest problem for a brand is poor delivery, Bebb believes. No matter how good a brand is, if it cannot deliver on time, it will not grow. And with Speedo they proved that they can get delivery right. When Brand ID acquired Speedo, it had 35% on time delivery, now it achieves 99% on time delivery.
Brand ID's catalysts for growth have been the right talent, a high level of staff motivation, a strong distribution network, and solid operational controls. "We built the business around brands."
The office had, for example, been designed around showrooms for each brand. "Steve and Du Toit would, for example, have their own showrooms, but there will be a lot of interaction between the brands."
The autonomous brand units each focus on their own sales and marketing, but share certain operational functions. "We have a high performance-driven culture, built on accountability."
They are "gently walking north, with potential identified in Nigeria". Bebb admits this is a difficult market, especially as they are careful with brand placement.
They have created an online presence for their brands, where they aim to create a niche experience, especially with a brand like 466/64. They also use digital communication to highlight other social upliftment initiatives, like Speedo using sport to teach lifeskills.
Throughout, the brand's identity leads the momentum. As Bebb says: brands lead, labels just follow around.
---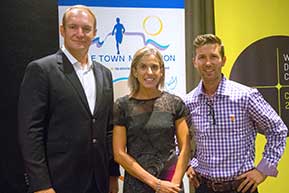 The Cape Town Marathon, to be inaugurated on 21 September 2014, will have brands Skins, Nathan, Mizuno, SiS, Canterbury and the iconic 466/64 as technical sponsors. The marathon, run through Cape Town, is the brain child of sport legends Francois Pienaar and Elana Meyer. They formed a partnership, called ASEM, when they decided that Cape Town deserved to have a city marathon, on par with the other major city marathons.
When Meyer met Botes to discuss possible sponsorship of the Endurocad academy, which trains endurance athletes, she proclaimed the brands they distribute a perfect fit for the Cape Town marathon, says Botes. "It was a one-stop perfect partnership."
Their brands are all associated with top global sporting events — for example, Mizuno is the official sponsor of the Amsterdam marathon, Nathan is involved with the Ironman Kona championships, Tour de France cyclist Mark Cavendish is a director of supplement brand SiS, etc. In addition, 466/64 is known world-wide as the Madiba peace brand and Peace will be a big component of the marathon. Not only will it be run on International Peace Day, but a 10km Peace Run will form part of the weekend-long runfest.