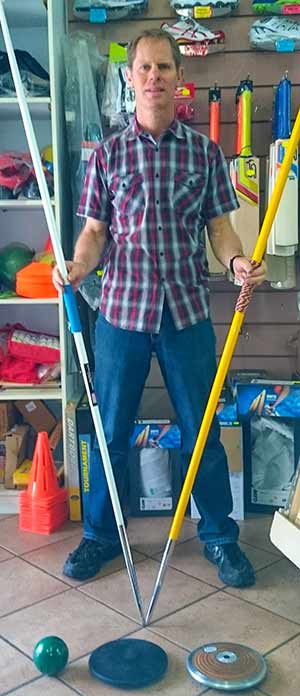 November 2014
Selling more...
Athletic equipment
Bruce des Fontaine was nominated as a top salesman by Mark Cocks, of Everest Sports. He is very close to his customers and offers them knowledge on a variety of products and always gives excellent service, he says. Des Fontaine's love for what he does, as well as his friendly approach to customer service are only a few of the attributes that make him a great salesman. He has carried on the Des Fontaine legacy of his father by offering the same level of commitment, passion and excellent service that has always made and makes Des Fontaine Sports one of the finest stores in the North West region.
One's general attitude determines the altitude you will reach in terms of making good sales, says Bruce des Fontaine of Des Fontaine Sports in Klerksdorp.
"You need to show interest in the customers' needs and what they want," he advises. "Customers don't want to purchase products from someone who seems like he just doesn't care. Therefore, the way you greet and approach a client could make all the difference between gaining a sale, or just receiving a visit to your store."
Knowledge about the products you sell is definitely a positive in terms of clinching the sale, he advises. But, selling the product is in no way related to actually participating in, or being good, at the sport itself. A sport store like Des Fontaine Sports stocks too wide a variety of products for any one person to be good at every sport of the products that they sell, he points out.
"We sell hunting rifles, and I am no hunter, but our sales of this product is good.
You really don't have to participate in athletics to know what's going on!" he explains.
"You would hardly find a good rugby, soccer, etc. player that knows everything about the products they use to play the sport, unless they really wanted to know and Googled it all."
If you are interested, or it is something that you need in order to sell product, a good salesman will gain the necessary knowledge, he believes. A good salesman will know more about a product than his customer does.
He gains his knowledge from different sources, such as supplier reps visiting the store. "The reps visiting our stores are knowledgeable about their products, which is very helpful because they give us first-hand information," he says. Lately, however, some suppliers have been converting to online ordering, which means reps no longer visit the stores. He therefore relies on descriptions on product tags, which have also proven useful sources of collecting product information.
Reading up about products is another way he manages to stay informed and knowledgeable.
Aside from product knowledge and attitude, an outgoing personality is an attribute that one has to have in order to be a good salesman. Customers want to be approached by friendly, reasonably outgoing staff who are keen to help them. "You should enjoy sales and what you do," he says.
Some customers want to be left alone to look around at their own leisure, but others actually need help. In his Klerksdorp store, he finds that many customers may not know where to locate items they are looking for. In cases like these the salesmen should be able to judge if their assistance is required, he says.
When approaching customers, he also tries not to ask questions that will result in a yes or no answer. If you ask a customer "can I help you?" they may immediately say "no", which will end your interaction with them. He suggests that the salesman should rather ask open ended questions that start a conversation.
"For instance, if you see a parent with a child near the cricket products, you can ask them what product they are looking for, if they are looking at a certain price class, etc.", he explains. This method of approach is also more likely to result in a sale. He feels that customers that come to his store are already there to purchase and therefore doesn't believe in forcing them to buy product, he just offers them good service and a good attitude.
Good service includes getting to know your customers' names, because they feel good when they see you are interested in them. It is also especially necessary with loyal customers, the ones you see year in and year out coming to the store with their children, he says.
More about Bruce des Fontaine
Bruce des Fontaine has been a sports equipment salesman in the family business for nearly three decades. Des Fontaine Sports in Klerksdorp was founded by his father, Des, nearly 60 years ago.
He has basically been involved with this store since starting his sales career, says Des Fontaine, who was catapulted onto this career path while at school. He worked at the store just to gain some pocket money to spend on weekends.
He also worked at the store part-time during his varsity years while studying toward a degree in finance at Potchefstroom University.
After graduating, he spent two years in the financial services corps as part of his compulsory military training and thereafter officially joined Des Fontaine Sports.
Over time he bought out his father and last year became a joint director, along with his wife. He now owns two branches, one in Klerksdorp and another in Potchefstroom.
He was never a star athlete at school and his personal interest in athletics goes as far as having trained for the Comrades, he says. He did participate in various sports like badminton, having played and trained with his father, who was quite a good player in his day. He also plays squash, tennis, hockey and many other sports.
Selling athletic equipment
The most important question to ask a customer purchasing athletic equipment is what age group he is buying for, so that you select the appropriate item, even before moving to aspects like his budget, advises Bruce des Fontaine of Des Fontaine Sports in Klerksdorp.
The hardest part about selling athletic equipment is knowing which weight is appropriate for the age of your customer, he says. This should not be a problem for any salesman as they can keep a list of ages and weights to consult when necessary.
Athletic equipment can be expensive, with certain items ranging anywhere from hundreds to thousands of rand. "All customers cannot afford this," Des Fontaine explains. It is therefore a good idea to keep stock at varying price points so that they have options.
Read up about the products you stock to check whether they comply with the required standards. If the products you stock are not compliant with IAAF standards, you should make customers aware of this.
Javelins
The price of practice and competition javelins can be dramatically different. For example, competition javelins that are IAAF approved are usually very expensive, and if the customer only needs a javelin for practising it may not be necessary to spend so much on a competition javelin. These may, however, not be IAAF approved and one should also advise customers that they may not be used at athletic meets where javelins have to be IAAF compliant.
Buying javelin stock can be difficult as athletes are specific about what they need in order to compete. "The centre of gravity and grip are very important and the customer will want these to be right," says Des Fontaine. He has found that javelins that are designed in Sweden or come from Europe or even some from China are of good quality. They last much longer than cheaper javelins that retail for around R400, but might require a replacement within weeks. He has also found that javelins manufactured from carbon steel might last longer than entry level javelins made from aluminium, which bends much easier.
Often, as with running, it's the worst athletes that need the best trainers, he jokes. In javelin, beginners usually need the best equipment. That causes great difficulty because customers will want to purchase entry level products that are not of a high quality. Retailers should explain to customers that high quality products are better designed and despite their higher price, are definitely the better option. It will also safeguard them in the long run, as he often finds that he sells a javelin to someone one day and the next week the customer is back because it's broken. "Then you end up having to replace a lower quality product with one that costs much more," he says.
Starting blocks
Starting blocks for beginners are usually very basic, cheaper and require a range of spanners to compile, but for advanced users there are other options, even those that fully clip into one another, says Des Fontaine.
The ease of assembling the product may be a key selling point for more expensive blocks, whereas their affordability could be a selling point for beginner blocks that need to be assembled.
Starting blocks are made of rubber and metal. Advise customers that lower-priced blocks are usually recommended for use on grass only, whereas more expensive ones can be used on tartan tracks as well, suggests Des Fontaine.
Discus equipment
When selling discus equipment, rim weight is very important, because the higher the rim weight, the further the distance it would travel.
Des Fontaine stocks rubber practice discuses, as "these are recommended for beginners and for use on harder surfaces, as they can take punishment."
Wood laminated and PVC discuses, on the other hand, are more suited to advanced athletes that can throw further. They should also be used on grass and not on hard rocky ground, as they could crack and break.
He also does not recommend stocking high- er weighted discuses in store as these higher priced items would more likely be requested by more advanced athletes, rather than the majority of the customers visiting a sport store.
Shotput
Cast iron shotput balls are all the same, even if they come from different manufacturers, says Des Fontaine.
Although there is the option of customised balls, customers don't really ask for that and are quite happy with standard cast iron balls.
"Even schools don't really ask for competition ones," he says and therefore he only stocks practice shotput balls.
Caring for product
Generally he recommends that customers use athletic products on sportfields or softer pitches as hard surfaces tend to wear them out quicker. There are no specific carriers for some of the athletic equipment and he would recommend that customers have custom containers or bags made to avoid damaging their cars when transporting items. This also prevents damage to their equipment, which could render them useless.