September 2015
Selling more...
swimming accessories
Henri Engelbrecht of Boland Sports was nominated as a top salesman by Andrew Wentzel Junior of WET Sports Importers, who believes that Engelbrecht's many years in the business of selling swimming accessories and his ability to supply customers with good advice on all types of swimming equipment makes him a good salesman. "He also makes sure that he always has stock available so that he can assist his customers when they come into his stores," adds Wentzel.
You have to be very keen, enthusiastic and passionate about the sports retail trade to survive for 27 years like he has, says Henri Engelbrecht of Boland Sports in Worcester. In order to sell products well, you need a combination of a friendly approach, experience and product knowledge of the particular item that you are selling. These have been the essential ingredients in his own recipe for success in sales.
Building relationships with your customers is also important. "In the platteland we know most customers by name, and skud blad [shake hands] when we see each other," he says. His customers see him as more than just the person selling them products. "My customers come to me for guidance and I do appreciate and value that," he says.
The salesman should have confidence when he is selling and it is only possible to recommend and sell with confidence when you have the proper product knowledge, he says. It is therefore crucial that you keep yourself updated with product developments as they change all the time, he reminds.
The salesman should make sure he knows the benefits, advantages, disadvantages and any other information related to the products he is selling. He can gain this knowledge by comparing similar items from different brands and a retailer should also not be scared to show stock and variety in store, he says.
He suggests that a retail salesman update this knowledge by reading up on new products. "I've seen a few red faces in my time! At least know your product," he says. Managers and store owners can help their staff get into top shape by role playing with them, which is something Engelbrecht does. "I often play the customer with my sales assistants to test proper sales approach and product knowledge. It really is still the best way to refresh and update selling skills," he explains.
He found that why is this better? is the most common question customers ask about products, and as the salesman you should know why, he says. Being open and forthcoming with information can be beneficial and he recommends that you make any information you do have available to your customer, because "that's why he preferred coming to you".
How you interact with customers is an important aspect to ensuring sales go well, but it is a skill that is learnt over time and comes with experience, he admits. There is a fine balance between being polite in sharing product knowledge and trying to give your customer so much information that he feels bombarded. "Don't be a nuisance," he cautions.
A good salesman will learn to attend to his customer and show him the range of products he is interested in, while simultaneously giving him space to browse and decide what he wants. You need to be able to read the situation and then offer your assistance, opinion and recommendation once you know what is needed. This too is a particular skill that develops with experience, but in time you will gain the knack for knowing when it is better to sell to a customer and when to let him buy something, he says.
More about Henri Engelbrecht
Henri Engelbrecht, the owner of Boland Sports in Worcester, has nearly 30 years' worth of experience in retail, which started at the very same store that he now owns. The Engelbrecht's — Henri and his brother Jaap, owner of Somerset Sports in Somerset West — bought the store in 1988 when it was still trading as Lemkus Quarteracks.
Over the years, Engelbrecht bought the Bo-Peep Sports stores in Strand, Stellenbosch, Paarl, Robertson and Gansbaai, with some branches changing ownership and others being incorporated into the Somerset- and Boland Sports chains. He also currently manages and owns stores in Gansbaai and Hermanus, which trade as Sport & Tackle.
Engelbrecht had previously worked as a training officer at Anglo American for eight years and is a keen sportsman. He describes himself as a jack of all sports, but no master of any particular one, although he has played some disciplines on a representative/provincial level as a junior and senior.
---
Tips for selling casual swimming accessories
Wen fitting swimming accessories, the first thing a salesman should do is enquire with regards to the level their customer participates in and thereafter eliminate products that are not suited to their needs. For example, if your customer is at a competitive level you can already exclude entry level price-point items, which will not be relevant, or any other products you know he will not use.
Henri Engelbrecht of Boland Sports in Worcester says there is an important market for casual and beginner swimmers and these customers are often looking for funky styles like "crazy creatures" and "Aqua Animal" goggles, he says.
Goggles
When fitting goggles for casual swimmers, sizing is very important.
Goggles are normally available in kids, youth, junior or senior sizes, but because they are a personal item that changes from person to person, a one size fits all approach will not work.
You can help customers select the right pair by allowing them to fit products in store before they purchase. This way you will also ensure products do not get returned for fitting poorly.
Goggles with a flex frame design and double head strap are recommendable as they allow a soft comfort seal, says Engelbrecht.
Polycarbonate lenses are advisable as they are durable and offer the wearer clear vision.
In general, he feels a one-piece silicone construction goggle with a 100% UV protection and anti-fog lenses and an easy adjustable strap is always a good choice. For more technical customers he would recommend a goggle with a wide angle curved lens. Goggles with a mirror coated lens will help reduce glare and goggles that have an interchangeable nose bridge offer the wearer a more personalised fit.
There are many styles and brands of goggles to choose from and a salesman should therefore advise customers to compare designs and materials, even if products are from a less popular brand. You should also not be scared to recommend a value for money product, he reminds.
The salesman should remind customers that the goggles they purchase are an investment, even if the customer is at an entry level. "Although there is a market for the entry level goggles, I always push for a better quality one," says Engelbrecht. A pair of ill-fitting and bad quality goggles is the one item that can be very frustrating during swimming sessions, he adds.
Caps
When your customers selects a swimming cap, it is pretty much a personal choice between latex (most affordable), silicone (more durable than latex) and lycra (most durable) caps, says Engebrecht. But he finds that lycra swim caps seems to sell better these days.
Lycra caps are good at keeping the wearer's hair in place because it is fitted with an elastic band around the base that ensures it fits securely.
Lycra swim caps are made of fast drying materials and are more gentle on longer hair than silicone or latex caps, he says.
Although other caps may be less comfortable than lycra, they do keep hair dry.
Other swimming accessories like adjustable soft silicone nose clips and silicone earplugs have proven useful and effective items to have for swimming, says Engelbrecht. "There is really a wide range of swimming accessories available on the market, swimmers are spoiled for choice!" he adds.
Tips for selling specialised swimming accessories
The competitive swimmer and the person learning to swim for the first time have different needs when it comes to buying accessories, especially for training. RHIANAH RHODE asked suppliers of some brands for advice
TYR distributor Peter Baker advises
There are a number of items to consider when selling swimming accessories and retailers must interact with their customers to establish which aquatic activity they will be engaged in, their level of competency, as well as their budget, says Baker of Action-ize.
With caps, the salesman must determine the customer's requirements in terms of product composition i.e. must it be safe for kids, lead compliant, contain no phalates, etc. Find out what the product will be used for: training, racing, etc. and the material required i.e. latex, silicone, lycra, Durafast chlorine resistant fabrics, etc.
For easier fitting you may want to recommend polyester with a four way stretch, latex with ribbed edges, wrinkle free silicone for less resistance and dome shaped caps for racers, says Baker.
When recommending goggles, comfort and fit are priority. When it comes to size, racers should look at low volume whereas a higher volume is more recommendable for training and recreation purposes. The open water competitive swimmer will also benefit most from a mask or wide frame, says Baker. The goggles' gasket composition should have a good seal made of silicone, thermoplastic rubber, thermoplastic elastomer, etc.
Kickboards for competitive swimmers should have streamline ergonomical designs with moulded hand grips and tracking channels that help place the body in a natural swimming position to reduce shoulder stress and increase buoyancy, says Baker. The customer's size and weight will determine whether or not they require an adult or junior board. Pull buoys should also have an ergonomic design with a robust construction and be made of materials such as compact EVA that has non-absorption properties.
Snorkels for this type of swimmer should be lightweight. A sliding head piece for targeted positioning and a simple and secure release button will allow for quick and easy strap adjustment. The design of multi-purpose training fins will help elevate customers' swim, says Baker. Short and long blade fins will increase tempo and speed while still offering resistance to build leg power and help customers improve their technique.
Soft rubber foot pockets that conform to the foot will ensure a secure comfortable fit.
Paddles with unique shapes helps improve water feel and distributes pressure evenly to reduce stress on the shoulders. Paddles with a curved surface guides the arm through the stroke to accentuate a proper form and maximise training regimen, says Baker. Retailers should recommend that competitive swimmers select paddles with a lightweight polypropylene construction and multiple lacing options for flexibility and fit.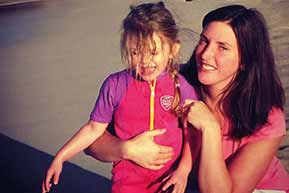 Deidre Scodeller of Speedo advises
"Our equipment range is driven by our deep understanding of water, technology, and the swimmer," says Scodeller of local Speedo distributor, Brand ID. "We are driven to push innovation to its limits, enabling your customer to have an unforgettable swim experience every time he enters the water. Whether an Olympic athlete striving for gold, or a child learning to swim, we want to help make every swim better than the last."
Speedo's training aids offer a complete solution for swimmers of all abilities who are looking to improve their health and fitness, technique or performance in the water. Both packaging and product are clearly segmented to appeal to either the Performance, or Health and Fitness consumer instore.
The Speedo Data Centre, included on all training aids, features an anatomical diagram detailing the key muscles exercised when using the product. In addition, a simple rating system ranks the performance of each product in the key areas of Strength, Endurance, Technique and Calorie Burning, allowing swimmers to select products that enable them to achieve their own identified fitness goals.
Their silicone swimming cap, ideal for training, is made of a synthetic compound, weighs more than latex, but is more durable and is easy to fit. The polyester cap features a seamed construction to fit the head, is made of Chlorine-resistant fabric, and is ideal for first time swimmers and Learn to Swim.
The IQfit goggle provides a class-leading fit with a 3D Goggle Seal, that ensures maximum leak resistance and a secure fit with less strap tension, and a hi-tech design that made use of head scanning to create a product that fits the face's contours better. The innovative tensioning scale on the strap enables the wearer to achieve a secure and accurate fit every time.
Biofuse is a unique technology "designed to achieve an experience so comfortable your customer could almost forget he's wearing goggles," says Scodeller. Soft and flexible materials adapt to the shape of the face for cushioned comfort. The goggles are designed with deeper, softer seals that means they mould snugly to the contours of the eyes. The soft, flexible frames hug the face's contours, adapting in shape to enhance the comfort while in the water. The strong internal frame is wrapped in a soft gel-like skin that ensures stability on the face.
For training, Speedo's Biofuse training fins help to increase kick rate, to enhance ankle flexibility, increase leg strength, and improve cardio conditioning. They are made of 100% high grade dual-density silicone for a soft foot and still blade. The softer and more comfortable foot pocket means it's easier to fit a wider foot and the still blades maximise propulsion.
The Biofuse fitness fins are lightweight with dual-density blades. The rigid blades mean greater propulsion and the fins are slightly longer than the silicone fin, which means they affect a greater surface area.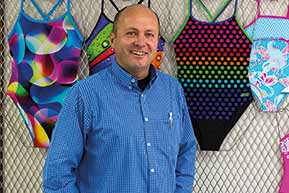 Colin Farrer of Zoggs advises
Competitive swimmers, who spend a lot of time in the water, should wear silicone caps, says Farrer of CorSport, local distributor of Zoggs. Although the silicone version is more expensive than latex, it is more durable.
"Our Easy Fit silicone cap, which stretches 30% more than a standard cap, is ideal for swimmers with long hair. It provides a better and more comfortable fit." With the extra stretch, the wearer can easier fit long hair into the cap.
Retailers should recommend that customers purchase EVA kickboards, pull buoys and kick buoys, which do not absorb water like high density foam and also last longer. "Swim coaches prefer buying once, rather than having to replace items all the time. As they coach hundreds of swimmers per week, longevity in their swim aids is essential," explains Farrer.
With a long list of 'firsts to market' Zoggs are always stretching the boundaries with regards to goggle technology, says Farrer. The brand recently launched its first photo chromatic lensed goggle called the Predator Flex Reactor, which automatically adjusts the level of tint dependent on light conditions. "This makes it an all-round winner, as you don't need to purchase two or three lens types."
Their Fusion Air range of goggles has an air-filled gasket or seal, which gives the wearer a comfortable fit and reduces the 'Panda eye' effect, caused by heavy suction on the eye socket.
"Another first for Zoggs was the launch of our Aqualast fabric, which is 100% Chlorine Proof and comes with a lifetime guarantee," adds Farrer.
Tammy Rutherford of Second Skins advises
When selecting a swimming cap, a competitive swimmer should choose a moulded silicone version if they want it to be stretchy and keep their hair dry. Caps made from nylon elastin are popular with children because they are easy to fit and don't pull their hair when fitting and removing, says Rutherford.
"They don't keep hair dry but satisfy all pool requirements. They are also cooler to swim in if you are training hard".
When fitting goggles, retailers should focus on matching them to the customer's face shape. "A comfortable pair of goggles will enhance your swim training as much as a poorly fitting, or worse, a leaking pair will spoil it," says Rutherford.
Customers will have different needs for training and racing and therefore could invest in two pairs. "You may want to train in a model that is really comfortable but advise your customer to buy a second, more streamlined, style to use on race days," he says. If the customer will use the goggles for a mass swim where he may take kicks to the face, a mask may be more appropriate. These are more secure and very comfortable, explains. Rutherford.
If the customer is a child, something simple that can be adjusted whilst in position would be best, says Rutherford. When fitted, well-designed goggles will allow good peripheral vision and if the customer will be training outdoors, he may want to invest a little more in a lens with a decent UV coating, says Rutherford.
Short blade training fins will help promote ankle flexibility and develop leg strength, he says.Retailers may recommend a high density foam kickboard if the customer is working on his kicking, as they don't retain water.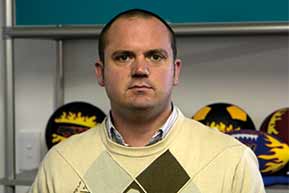 Aqualine distributor Kevin de Wet advises
Aqualine offers training and swimming accessories for your junior and adult customers, says De Wet of De Wet Sports.
Their new Orca goggle, for example, caters for the adult market. This silicone goggle features a one-piece design with 100% UV protection and anti-fog lenses. Also new to the range is the low profile designed Race, which features 100% UV protection, anti-fog, a mirror coating that reduces glare, and a silicone strap. With its contoured seal, the Plasma SNR silicone goggle offers a good fit and has a crosslink buckle that enables the wearer to easily adjust the strap tension. Like Orca, the Flare and Fusion JNR goggles for the youth market also feature a one-piece design with 100% UV protection and anti-fog lenses.
The swim aids, for example the Float Suit for girls and boys and the Standard Arm Bands, are NRCS (National Regulator for Compulsory Specifications) approved. The float suit has high, UPF50, sun protection and is available in three sizes for 2-6 year olds. This suit has a high quality construction, uses floatation inserts to keep little ones afloat and is designed to allow ease of movement. The durable laminated PVC Standard Arm Bands have two air chambers, safety valves and come in two sizes for 2-12 year olds. They also have a high quality construction and are designed to allow ease of movement.
The training and swim fins feature a short rubber blade and a soft rubber pocket. The training fins are available in sizes 1-13, the swim fins are available in sizes 1-15 and both are available in an assortment of colours.
Training aids such as pull buoys are available in junior, senior and pro options. The multi-coloured pro pull buoy is made of a durable and comfortable EVA material.
The Sprint is an advanced training board that is ergonomically designed with multiple hand positions to reduce drag.