September 2015
What do extreme trail shoes
need to withstand?
Some trail runners are more extreme than others — those you might quietly call a little crazy if you don't share their passion. They will take on long challenging routes that take them over difficult terrain for days on end — and their trail shoes are all that come between their feet and the harsh terrain. CARIN HARDISTY spoke with extreme trail runners to hear their thoughts on what they need from their extreme footwear
"There are some amazing runners out there who jump at each new chance to challenge themselves even further in extreme races. To protect their feet on these runs, these athletes need trail shoes that can step up and handle the extreme conditions. Their footwear needs can be somewhat different to normal trail runners.
While there are a number of 'specialised' trail shoes on the market that are good for specific conditions (wet, mud, sand, etc.) this doesn't help an extreme runner, Su Don-Wauchope points out. "An extreme shoe has to be far more versatile. The shoe has to be able to perform over a wide range of conditions."
"There is no scope to change or replace shoes as the terrain changes," adds Graham Bird.
Each event has its own challenges, but in general extreme trail shoes have to be more robust compared to normal trail running shoes, says Iain Don-Wauchope. "Typically ultra trail running shoes need to provide more cushioning and they must withstand wear and tear better."
"An extreme trail running shoe's main challenge usually comes from environmental factors," explains Bradley Weiss. "Hot, humid, wet and slippery are usually the most testing of conditions requiring a very well designed shoe to allow the runner maximum comfort, while still providing a solid platform to run on."
First things they look for
With all the different types of terrain, how do these athletes go about choosing their footwear? What shoe features are at the top of the tick list?
Comfort!, agree Iain, Ryan Sandes, AJ Calitz and Graham Bird. This is the most important aspect of an ultra trail shoe, says Iain. "It's important that you don't develop problems during the event such as blisters or hot spots."
"We wear our shoes for a long time," Bird points out. "Just one leg in the Costa Rica World Champs took us 43 hours non-stop. The shoe has to be comfortable at the start, as well as at the finish, of that leg."
"I have flat feet so I do not need so much support, but I do want some cushioning — especially on rocky terrain," says Calitz. "After 8-10 hours on the run, the last thing you want to feel is every pebble under your foot. Nowadays you can have both a light shoe and good cushioning."
Stability is just as important as comfort for Bird, who competes in Merrell. "The shoe needs to be stable and not prone to rolling over when you step on any small or big items. It needs to look after my ankles so that I don't roll them."
Functionality is really important, adds Sandes. "The shoe needs to offer good all-round support, protection and should have good grip."
When selecting her race footwear, she first looks for "lightweight shoes and shoes that don't have anything that might begin to rub or irritate," says Su. "How the shoe fits around the forefoot and the ankle region is the most important." Lightweight is a really important feature, agrees Sandes.
"I always prefer lightweight shoes," adds Nicholas Rupanga. "They help me to enjoy my run." He also looks for grip and breathability in his shoes.
It is no wonder these athletes enjoy lightweight footwear — with the lengthy runs they put in, they'll be wanting to carry as little weight as possible (see Just how extreme? in the box).
"The greatest challenge when selecting the optimal extreme trail running shoe is trying to balance the elements of weight, grip and support," says Bradley Weiss. "Opting for maximum support often comes with a weight penalty and also lacks the feel of the earth, as given by a more minimalist running shoe, which most experienced runners look for."
What other features?
Comfort, stability, lightweight, no irritants … Once these have been ticked off the list, what else do our athletes look for when selecting the right pair of shoes for the job?
Breathability and fast drying are very important features to look for, says Bird. Also the grip of the sole — in all conditions.
Other important features include cushioning, flexibility and traction, adds Iain.
Calitz values responsiveness in a shoe. "A shoe that feels quick helps me mentally," he explains. Generally, he looks for comfort, durability and grip in his shoes, but the features of the footwear he chooses for a specific race will very much depend on the terrain he'll encounter.
"On sand I prefer a shoe with a Gore-Tex upper, because it keeps the sand out, but during an ultra I want low weight and comfort. If you are already struggling, blisters and discomfort can end your race," says Caltitz. "I tend to go for a slightly heavier and more comfortable shoe like New Balance's Freshfoam Trail or Leadville."
In addition, Calitz also looks for an aggressive tread in his shoes when he'll be running on sand, but in wet conditions, his shoes need to be able to give him more grip. "Also, when running in the wet, a shoe with low water retention is a must. I also play around with inner soles somewhat, depending on the terrain and conditions," he says. "On rocky terrain I prefer a thicker inner. In wet conditions I prefer a thin, less absorbing, inner."
If he knows he'll be running in wet weather, Rupanga looks for shoes with excellent grip. "The shoes should have grip on the outer sole to withstand the slippery terrain and they should also be able to drain water when its wet."
He also looks for a shoe that has a protection plate to prevent sharp rocks and thorns from piercing through.
An even lacing tension is an element that is often overlooked by runners, Weiss points out. "Even lacing tension avoids hotspots during longer runs and eliminates the likelihood of blistering."
"Some laces can slip and work their way undone when they are wet or muddy for an extended period of time," adds Su.
"What's really important in trail running shoes is ride and it has to perform well," says Scott Jurek. "Another key element is the fit. The shoe needs to really feel like a part of the foot — like it's just an extension of your anatomy."
"A performance trail running shoe doesn't have to have a squishy soft ride," he continues. "You want a stiffer midsole so that propulsion occurs, so that you have that connection with the foot." Jurek explains that he looked at rock climbing shoes when giving input into the development of Brooks' PureGrit 3 shoe. In the rock climbing shoes the stiffer design allows for propulsion and flexibility in the metatarsals, but doesn't allow torsional twisting.
I wish for …
If they could ask for any new feature in their future shoes, what would the runners ask for?
"Odour repellent!" requests Su. "Also, stronger and tougher materials, but that are still lightweight would be great."
Iain would love a wider forefoot box. "Feet swell during long distance events and need extra space to accommodate this swelling."
"I think the science in current shoes is really amazing and they have come leaps and bounds in the past couple of years," says Calitz, who runs in New Balance. "I think the lacing systems will get better as well as the way the shoe holds to your foot." He does have a request though. "Most shoes struggle on wet sandy rocks. If someone could overcome that, it would be awesome!"
For Bird, a way to stop the foot sliding forward in the shoe when going down extreme declines when wet would be welcomed.
Weiss already has his dream shoe. "The Puma FAAS 300 trail shoe, which I compete in, in my opinion has no blindspots and offers the ideal platform for anything nature could possibly throw at me. For me, this shoe is the perfect balance between lightweight, offering great breathability, while not sacrificing on support when the trail turns down and becomes rough and demanding on impact. Importantly: the adapted sole maximises grip, but still gives the runner great feedback from the trail below their feet."
"A trail shoe that automatically adjusts to the conditions you are running through," Ryan Sandes jokingly requests.
With the speed at which new technology is developed, Sandes' dream might not be that far off the horizon.

Just how extreme?
But what do you mean by an extreme run? you might be asking. How is this different to a normal trail run? Sports Trader asked extreme runners for a taste of the most extreme conditions they have run in.
Graham Bird, leader of the top adventure racing team, the Merrell Adventure Addicts: "Being primarily an adventure racer, I have put my shoes through literally everything. From boulder hopping along coastlines and down canyons, to running in soft sand, to running on very sharp and rocky terrain, to forest tracks, tar roads, gravel roads, off road without paths, grasslands, swimming with the shoes … and in all types of weather — hot, dry, wet, cold."
SA Ultra Trail Champion, AJ Calitz, wears New Balance and has run in any conditions you could imagine: from 10km to over 100km, searing heat or deep in the negatives (not including the wind chill!). Across deserts, mountain ranges, through forests, boulders, rivers, snow, ice … "you name it, I have run in it."
South African trail legend Iain Don-Wauchope: "A 600km adventure race in Australia that involved trail running, hiking, river rafting and mountain biking (trail shoes not required)" was Iain Don-Wauchope's most extreme run so far. "The terrain included beach sand, hiking trails, rocks, thorny grasslands, dirt roads and tar roads. My shoes got wet at times, but mostly conditions were hot and dry."
Su Don-Wauchope, a top-finishing ladies trail runner and mixed couple champion, together with her husband Iain, has faced a 120km Lavarado ultra trail across snow, ice, mud, rocky river beds, river crossings "and then some normal trail!"
Scott Jurek, US elite ultra champion and three times Ultra-Runner of the Year, who runs in Brooks, recently beat the speed record on the roughly 3 500km long Appalachian National Scenic Trail. It took him 46 days, 8 hours and 7 minutes — 3 hours 13 minutes shorter than the previous record set by Jennifer Pharr Davis.
Ultra distance world champ Ryan Sandes was the first runner in the world to win an ultra marathon on all seven continents: "We ran through anaconda infested swamps, rivers with pirañas in, muddy and rocky terrain in some extremely hot temperatures," is how he describes his 235km run through the Amazon Jungle, which he won in 2009. In contrast, he has "also run through Antartica (210km), which was about -30oC in waist-deep snow at times" to win the Racing the Planet Antarctica marathon in 2010.
Bradley Weiss, U23 Cross Triathlon World Champion: "Racing on the island of Saipan, athletes are confronted with a steep rocky and mossy ravine with multiple rock drops and waterfalls that have to be negotiated, as well as a World War II tunnel that was used by Japanese soldiers and is lit only by candle light. Saipan is an extremely hot and humid island in the pacific ocean, adding an extra level of difficulty to this epic challenge." Weiss was a runner-up in this year's Xterra Saipan, part of the Asia Pacific Xterra Tour.
Nicholas Rupanga, trail-runner and shoe specialist at The Sweatshop in Cape Town who runs in ASICS, remembers a gruelling 5 hour trail race he took part in. "The race took place over a very technical, rocky terrain," he says. "In addition, it was very wet and oh so slippery!".
From top: Graham Bird. (Photo: Bruce Viaene www.bvphoto.co.za); AJ Calitz; Bradley Weiss (Photo: Takausami); Iain Don-Wauchope. (Photo: Craig Muller | Backyard Adventures); Su Don-Wauchope (Photo: Craig Muller | Backyard Adventures); Ryan Sandes (Photo: Craig Kolesky | Red Bull Content Pool), and Scott Jurek (Photo: Luis Escobar).
---
Challenging the El Camino de Santiago
The El Camino de Santiago pilgrimage is becoming a very popular destination for South Africans of all ages willing to face the challenge of a 1 140km 6-7 week extreme walk. CHARL DURAND gives some insights into the conditions they can expect and the equipment needed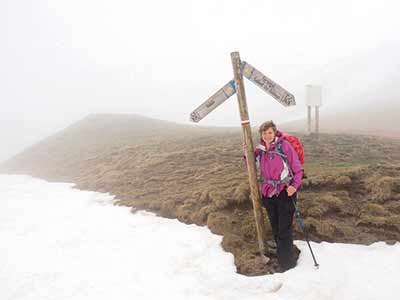 El Camino De Santiago is a series of thousand-year old Christian pilgrimage routes that start in various European cities (the most popular being Saint Jean Pied Du Port in southern France) and run westwards to the city of Santiago de Compostela in Western Spain.
Compostela loosely means field of stars in Spanish, and refers to the stars that guided an early Middle Age hermit to the reputed burial place of the disciple of Jesus, St. James, with whom the city is associated. Through the ages, millions of Christian pilgrims have walked this holy route, spending many months crossing perilous terrain in search of absolution from sin. Today more than 250 000 pilgrims walk the Camino, some for adventure, some for religious reasons, and others as a personal journey of discovery.
It was with some trepidation that my wife Adeline and I decided in late 2014 to tackle the Camino de Santiago. Our route was a little unconventional: we started in the modern-day pilgrim destination of Lourdes in France and from there crossed the snowy Pyrenees into Spain where our first large town was Jaca, starting point of the fairly quiet Camino de Aragones, which connects to the main route, known as the Camino Francès.
For such a long journey good choices of gear are, of course, vitally important. Keeping the weight of our fully loaded backpacks down was all-important on a hike that was scheduled to last forty-six days. Our packs both ended up at just above 10kg with empty hydration packs, which is fairly heavy for the Camino. We saw pilgrims walking with as little as 2.5kg!
We started off the journey in pouring rain. Much of the following week, during which we averaged about 25km a day, was spent on very wet, mountaineous, terrain, and we were very, very glad that we were wearing top notch, water-proof hiking boots.
We walked through bottle green, fairytale forests and stunningly beautiful valleys, gradually gaining height. The last stretch into Spain was an 800m climb until we reached the snow-covered upper ridges of the Pyrenees, which was covered in dense fog. For about 2km we were guided only by our GPS — the narrow sheep track we were following was buried beneath the snow!
The weather gradually warmed into the upper twenties during the following ten days, and by the time we reached the town of Estella on the well-treaded Camino Frances, our boots were no longer suited for the hot weather and different terrain, which now mostly consisted of smooth gravel paths. As soon as we reached the town we bought trail running shoes at a remarkably well-stocked sports shop, if you take into account that Estella only has 2 000 residents.
To keep blisters at bay we ritually applied a thick layer of vaseline to our feet every morning. At night pilgrims staying at albergues — hostels established specifically for pilgrims — would gather around the dinner table where, typically, animated discussions of the pros and cons of different types of shoes, long and short pants, and what the most effective blister treatments were held.
The trail runners proved to be a good decision. At places temperatures on the route soared to a cloudless 32-34oC with little shade along the way. Walking 35km stretches for days on end at 5km an hour, the lightweight, well-ventilated footwear helped to keep our feet from overheating.
There are many hours of — often heated — discussions in Internet forums about the right gear for the Camino. But after passing, and being passed by thousands of fellow pilgrims, we now know there's no real wrong or right, merely best practices: don't pack too heavy, take a break regularly, and take good care of your feet. We saw backpacks of all shapes and sizes, footwear from sandals to the heaviest boots imaginable, anything from small plastic water bottles to 3L hydration packs, and a few very strange hats. But, in the end, most reach Santiago in one piece and relatively unscathed.
Every pilgrimage is a very personal experience, and the wide variety of equipment we saw reflected that.