March 2015
Sneaker Wars on trademarks & rights
Converse caused a stir locally by warning the trade against supporting copies, and by a US lawsuit against 31 brands they accuse of copying. TRUDI DU TOIT looks at the implications for the South African market
Towards the end of last year the South African distributors of Converse, Skye Distribution, caused a stir when they warned local retailers and the trade press about supporting counterfeit and copy product. Many retailers received letters warning them against stocking products similar to Chuck Taylor All Star and Jack Purcell, with some reps even making veiled threats.
This was around the time when Converse filed 22 lawsuits against 31 brands in New York, claiming that they infringed the Chuck Taylor All Star sneaker trademark. Among the brands accused of copying the sneaker designs are Ralph Lauren, Skechers, Fila, Iconix Brand Group (representing about 30 brands) as well as major retailer like Wal-Mart, K-Mart, etc.
Apart from seeking a monetary settlement, Converse said they want to stop the sale of the products that they claim are infringing on trademarks that cover the look of their sneakers — e.g. the rubber toe topper, toe bumper and black stripes, as well as the diamond pattern on the bottom of the sole. They therefore filed a separate complaint with the International Trade Commission to try and stop any shoes they consider to be counterfeit from entering the US.
One would expect the footwear industry to rally behind a brand globally defending its trademark and designs against unscrupulous copiers and counterfeiters. But, the Converse case is not as clear-cut as it may seem on the surface, especially in South Africa, where certain unique factors come into play.
South African situation
When the South African Converse distributors, Skye Distribution, asked retailers to cease and desist selling counterfeit and copies of Converse, many were confused: some of the Mille and Dickies styles, supplied by Skye, were remarkably similar to Converse's Chuck Taylor All Star.
What's more, when Sports Trader asked South African retail footwear buyers to identify ten sneaker styles with the branding removed, the Mille sneaker, distributed by Skye Distribution, was the only one that a buyer confused with Converse.
A prominent retailer from a major chain (who wishes to remain anonymous) pointed out that the Dickies Supa Dupa, also distributed by Skye Distribution, is considered by many role players as a cheaper version of Converse. "In our business Dickies has legitimacy because we measure the brand's worth and identity by its history in America and not by how it's positioned locally. We have a varied client base with different needs around different price points, fashion trends, etc. and therefore every supplier has a different function for us, even though it might appear to the uninitiated eye that they overlap."
Trade publications Sports Trader and Shoes & Views were also told to stop accepting adverts from JFK Trading for counterfeit and copy products of Converse's Chuck Taylor All Star or Jack Purcell — or lose all advertising support from Skye Distribution.
They unfortunately declined Sports Trader's request for a meeting to discuss the issue.
South African trademarks
Again, Skye's request to decline adverts for what they termed copy and counterfeit products, was not without unique local features. JFK Trading has had a South African trademark registered since 1992 for the advertised A1 STAR sneaker (registration number 92/9995), which Converse unsuccessfully tried to challenge in court 23 years ago.
"We have been distributing our brand across South Africa since the 1970's, and disagree with any infringement claims against our brand. These styles in question are common in the market with all major brands and chain stores developing similar looking products in their ranges," says Vimal Ambaram.
The South African registration of an international trademark or brand name is nothing new — and dates from the isolation years when most brands withdrew from South Africa due to international boycotts against Apartheid. This was why Polo SA, owned by Skye Distribution, was able to register the Polo trademark locally — without the Ralph Lauren and with the horse running to the right, as opposed to the international Polo by Ralph Lauren with a horse running to the left.
"Despite living in a modern global village, the owner of a trade mark in the US may not be able to enforce its rights in South Africa," lawyers Norton Rose Fulbright caution in a 2012 internet article titled Appropriation or misappropriation — can you nick someone else's trade mark?
What's more, South African courts seem to favour the territorial rights of a trademark registered locally over international registrations of well-known brands. The article specifically referred to the successful attempt — all the way to the Appeal Court — by the late Abdullah Mohamed Dajee to prevent New Balance from marketing their internationally known and owned PF Flyers in South Africa.
Dajee had registered POSTURE FOUNDATION – PF as a trademark in South Africa in 1996. In 2012 they went to court to prevent New Balance from using the trademarks P-F Flyers and P-F in South Africa, which he claimed infringed his trademark. This effectively stopped New Balance from selling and marketing one of the world's original iconic sneaker brands in South Africa.
The lawyers quote another Appeals Court trademark decision from 1990 (Edgars' adoption of the Victoria's Secret brand name): "the fact that a trade mark is registered and has been used, even extensively used, by one person in a foreign country does not in itself constitute a bar to its adoption and registration by some other person in South Africa."
"It appears that the owners of the Converse brand filed applications in South Africa in 2009 to register the pattern and ornamentation featured on the sole of their Chuck Taylor series, as well as the use of a front cut in the toe bumper of footwear providing a smile-like look," says Jeremy Spires of trademark attorneys Spoor and Fischer.
"These applications have not yet been registered and are apparently under opposition by a third party. As a result, they are not yet enforceable in South Africa," he says. "The owners also have various other registrations for, amongst others, their star device."
South Africa is, however, a member of the Paris Convention, which is an international treaty requiring member countries to protect well-known trademarks in their jurisdictions, even where those trademarks have not been registered, adds Spires.
The Federal Patent Court in Munich, however, recently ruled that an old technology that has been in use for decades, no longer enjoys protection. The court ruled against Nike in a long-lasting trademark dispute with adidas over their Primeknit technology, which Nike claimed infringed on their Flyknit technology. The court agreed with adidas, who argued that the technology dates from the 1940's and is therefore no longer innovative and ruled that Nike's European patent become obsolete.
Converse trademarks
Converse gave the sneaker world a warning about their willingness to litigate to protect their designs and trademarks in 2013 when they sued Autonomie, US distributors of Ethletic, an organic sweatshop-free and vegan sneaker brand developed by Fair Trade in the UK, for infringing on the designs of their Chuck Taylor All Star shoes.
The case never went to trial as Autonomie went out of business, but in the court papers Converse spelled out which trademarked trade dress features they intend to protect, for example, the two stripes on a midsole, the design of a toe cap, the design of a multi-layered toe bumper featuring diamonds and line patterns, and the relative position of these elements to each other.
In addition, Converse claim federal trade dress rights under US Trademark Registration numbers 1 588 960 (filed in 1990) and 3 258 103 (2007) referring to the outsole pattern and 4 062 112 (2011) for the Chuck Taylor Low Design and 4 065 482 (2011) for the Chuck Taylor High Design.
Furthermore, said Converse, they had spent millions — more than $93-m between 2009-2013 — to promote the Converse Trade Dress in the US. This Converse Trade Dress has a distinctive appearance using unique and non-functional designs, they claim, which has become a famous and well-known indicator of the origin and quality of Converse footwear. They said they had served about 180 cease and desist letters to retailers and wholesalers since 2008 to prevent them from selling copies.
The Converse Chuck Taylor style certainly has certain distinct features such as a red stripe and Diamond Foxing that are synonymous with that particular style, says David Abramsohn of Superga Footwear.
"There is no doubt that Chuck Taylors have a specific look! Most brands copy this style exactly and just change the branding. There is no doubt that they are trading on the success of the Converse look," says Abramsohn.
"In terms of the South African Trade Marks Act, if the owners of the Converse brand can show that their design is well-known in South Africa and that a third party is trading in footwear that bears a design that constitutes a reproduction, or imitation of their design, and that the public is likely to be confused, or deceived, between the products as a result, they could potentially restrain that third party from trading in those goods — despite the fact that they don't have any registered rights here," says Spires.
Design features
Product features like shape, pattern, configuration and ornamentation can be registered as trademarks, in much the same way that more conventional identifying features like brand names and logos can be registered, Waldo Steyn wrote in an article titled A Converse decision on the law firm ENSafrica's website. But, trade mark registrations for product features like shape and pattern are still relatively rare, and cases involving such registrations are never easy, he continues.
He does, however, refer to the local case adidas won against Pepkor for their use of four stripes, which the Supreme Court of Appeal agreed was confusingly similar to adidas' three-stripe trademark.
A case will have a better chance of succeeding if the design features are indicators of source — in other words, if a consumer will look at a shoe and declare That is a Chuck Taylor/ adidas/ Puma! etc. without looking at the logo. If the features are functional, they won't enjoy protection, points out Steyn.
We tested this by asking South African footwear buyers to identify sneakers from ten different brands — all with some similar features — with the names/logos removed.
All the buyers identified the Converse All Star correctly ... the only brand identified correctly by all the buyers. One could therefore say that the Converse design features are indicators of source.
Original sneakers
Converse's Chuck Taylor All Star has been hailed as the original American sneaker since its first three high top styles were introduced in 1917. By the time the first white All Star toe guard, laces and outer wraps were introduced in 1949, other brands, including PF Flyers in the US, Lacoste in France and Superga in Italy, were also popularising canvas shoes with rubber soles, which we now know as the popular footwear category sneakers.
"In my opinion there are only really a handful of Original canvas sneaker brands with rich histories dating back as follows: Converse to 1908, Superga to 1911, Lacoste to 1933, PF Flyer to 1937 and Vans to 1966," says Abramsohn.
"As is evident from the dates above, it is safe to assume that the majority of the current contemporary canvas sneaker brands are in some ways a copy of one of these brands," he adds.
During the 1950's and '60's sneakers became the footwear dress code of teenagers across the world and millions of branded and unbranded sneakers were sold.
Due to the many other competing sneakers on the market, Converse was losing money and market share by the 1970's. Before it was sold to Nike in 2003, the brand had filed for bankruptcy numerous times.
Nike, however, grew Converse back into a dominant position and expanded its footprint worldwide. It also expanded the trademarks.
Converse All Star and Jack Purcell were introduced into South Africa more than 40 years ago, were it has been sold alongside other sneakers that sported many of the same design features.
"Many millions of pairs of copies have been sold in South Africa over the years and millions of pairs of so called copies are currently available nationally from independent stores to mini-chains and department stores in South Africa and neighbouring countries — yet nobody had been prosecuted for passing off," says Laurence Slotsky of Footwear Trading, the South African distributor of, among others, Skechers and Fila.
PF Flyers counter-sues
The fact that Converse was happy to trade alongside their PF Flyers for 75 years, even though they share some of the same design features Converse now claims to be their trademark, is one of the arguments New Balance is using in support of their lawsuit in a Boston federal court to protect their PF Flyer sneakers against what they allege are overly aggressive trademark claims by Converse.
Although PF Flyers is not among the 31 brands and companies sued by Converse, they claim the broad terms of the application by Converse to the International Trade Commission to assert trademarks on classic canvas shoes with rubber toes and other familiar features will improperly affect PF Flyers' ability to compete with Converse.
The problem they identified was the fact that Converse is claiming trademark protection for a vulcanized rubber toe bumper, toe cap and striped midsole ... features to be found on PF Flyers, as well as millions of pairs of sneakers across the globe, including in South Africa. Many people would argue that these are the features that would identify a shoe as a sneaker.
PF Flyers have been using these features on their sneakers since 1940, they claim, but when New Balance asked Converse to carve out their brand from future litigation, Converse threatened to amend the lawsuit to include PF Flyers. Unable to reach an agreement, New Balance filed a counter-lawsuit, asking the court to rule that Converse does not have the exclusive right to use a toe bumper, toe cap and striped midsole in connection with athletic footwear.
They also want the court to cancel Converse's latest federal trademark registration for the toe bumper, toe cap and striped midsole — US Reg. No. 4 398 753 — granted in 2013 because the claimed features are either ornamental or functional, and cannot serve as a source identifier.
According to papers filed by New Balance, PF Flyers and Converse have both been advertising, marketing and selling millions of pairs of sneakers with a toe bumper, toe cap and striped midsole since the 1940's without complaint from any of the two brands.
Other brands have also been advertising and selling athletic footwear with a canvas upper, combined with a toe cap, toe bumper and striped midsole for many decades.
In other words, if Converse had accepted the right of other brands to sell sneakers with these features for about 75 years, why complain now?
Legal vs ethics
Although many brands have been copying the originals for so long that they can prove usage for many years, Abramsohn strongly disagrees that certain features become common property through usage "since a copy is still a copy regardless of how old the copy is!
"The majority of the brands that copy Converse will always use the following position to defend their copy: The consumer knows the difference and our price point is much lower!" he says.
"While there might be some truth in that statement, there is no denying the fact that they are trading off years of marketing and brand building from the original. This is surely not ethical?"
He believes this problem will escalate as the exchange rate weakens and the gap between the retail price of the original and the copy grows wider. "The consumer is under pressure to afford the original and therefore selects to purchase a lookalike."
The sneaker market in South Africa is even more competitive than most countries in the world, says Abramsohn."We have a market filled with very experienced operators who are super quick to spot a trend and source a look.
"I believe Converse are in their right to try and enforce their trademarks — but in the South African context it will be nearly impossible to enforce."
He believes the best option for original brands to protect themselves is to spend more on marketing and brand awareness.
The Converse lawsuits in the US will not have an impact in South Africa at this time, agrees Slotsky. "Until judgement is made in the US, the retailers and wholesalers being sued will continue to sell the affected brands, as many legal commentators in the US doubt that Converse will win this complicated lawsuit of passing off. It is a typical case of US litigation, which is different to the laws in South Africa."
---
Skye Distribution's response
Towards the end of last year Skye Distribution declined Sports Trader's invitation to meet with us to discuss what they termed our decision to feature copy product, even though we said we wanted to do an article about it.
Sports Trader sent them a copy of this article prior to publication, inviting them to comment. In a subsequent telephone conversation we asked them to point out any inaccuracies so that we may rectify them. As a response, they sent the Press Release we publish unedited below:
Skye Distribution (Pty) Ltd is the owner or authorised licensee, manufacturer and distributor of international and local clothing and footwear brands. We honour our obligations to our international partners and to intellectual property rights and laws. We recognise and value our retail partners and our customers who trust and support our brands. We cannot comment on the contents of this article in terms of our license, contractual and other obligations. As your readers will know, the article contains several factual inaccuracies.
We were not approached before the article was written nor were we interviewed. As in our normal course of business, our customers contact us directly if they have concerns or queries. Skye's mission is to make branded fashion accessible at good quality and prices to the people of South and sub-Saharan Africa and we remain committed to our mission. All of our rights remain reserved.
---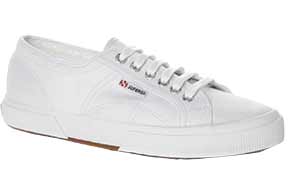 Other brands also copied
The classic Superga 2750 style (right) was developed as a tennis shoe in 1925, explains David Abrahamson of Superga Footwear.
Like the Converse Chuck Taylor, the Superga 2750 has a very distinctive and recognisable look. "The shoe is distinguished by its natural rubber calendar sole, thick gauge canvas, and special binding on all seams," explains Abrahamson.
This style style has been copied in the past and most recently Superga Italy won a court case against Fila Italy for distributing a lookalike.
Counterfeiting is much more serious than copying, as this does huge damage to the original brand and the consumer is badly cheated, says Abrahamson.
"Most importantly, the supply chain involved in counterfeiting pays no duties, no tax, no VAT etc. — this is a criminal institution." Copies still do some damage to the original brand, especially when there are multiple copies around, he says.
Counterfeits carry the brand's original name and markings, but is not manufactured with the brand owner's permission, explains Abrahamson. A Copy carries the brand's original look and markings but bears a different brand name.
The internationally recognised waffle sole is a major identifying feature of Vans sneakers, say local distributor Chappers Sports Direct. "The upper comprises of no 10 duck and 220 drill canvas back together and sewn with nylon stitching for strength and an extra toe cap with a vulcanised waffle outsole made of 100% pure crepe rubber."
Like other international brands, Vans have also been plagued by copying, which continues to be a cause for concern. The international principles are very active on this front and "we have conducted several local raids and ceased counterfeit product, followed by criminal proceedings," they say. "Currently there are certain possible copyright infringements that we are investigating."