Why cricket specialist works
We have maintained for many years that some of the most obvious business opportunities for sports retailers lie in establishing specialist sports shops in urban areas such as Gauteng. Now The Cricket Company has proven us right, reports NICOL DU TOIT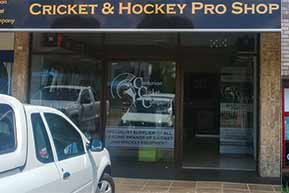 Wayne Vincent has been passionate about cricket ever since he started to play as a youngster at school. He never really cracked the big league, but he at least played a few matches for Cornwall first team in his time.
In 2004 he decided to visit South Africa and started playing for Alberton, where he became good friends with Juan Le Maitre, the club captain at the time. After Vincent returned to England Le Maitre visited him and convinced him that they should open a cricket shop at the Alberton clubhouse. Vincent thought it might be a now, or never opportunity, and decided to give it a go.
In January 2005 they opened the shop in a small room in the Alberton Cricket Club building. They gradually managed to get more space in the clubhouse and started what they called a Bat Boutique in the original room.
In February 2013 a third partner, Marius Delport, joined them when they decided to open a cricket shop at the Centurion cricket ground and towards the end of last year they purchased In2Sport in Brooklyn, Pretoria. Apart from the shops they also run a coaching academy in Melrose. They therefore have a very good footprint across Gauteng.
Understanding the game
They are trading under the name The Cricket Company in Alberton and as The Centurion Cricket Company in the two northern shops.
Having secured good and affordable locations is only the first step in being a successful retailer. What else does Vincent think contributed to their apparent success?
"It is vital that you have a good understanding of the game, which you only get by playing it for a long time at a senior level," he says. "You need to understand the subtle, and not so subtle, differences in the equipment to enable you to advise newcomers and experienced players."
Thirdly, he suggests, you need not only a passion for the game, but also a passion for the business of the game, which will encourage you to try new and innovative changes to the business model.
He admits to being a worrier. "If it gets quiet in the shop I become worried and immediately start thinking about ideas to generate more business", he says. For instance, four years ago one of these worrying sessions led to them deciding to make a wide selection of equipment one of the cornerstones of their business model, and they decided to start the Bat Boutique.
Biggest bat selection
The Bat Boutique certainly has the biggest variety of bats we have ever seen in a shop anywhere and they have repeated the concept in the other two stores as well. Vincent believes that to draw customers you have to offer the widest choice possible. He is unsure how many they have, but estimates in excess of 300 models and sizes from more than 16 brands - from the most sophisticated handmade bats specially imported from England, to the most basic entry level models.
This contributes to establishing them as a destination store and people come to them from far-out areas such as Bloemfontein, Witbank and Rustenburg, to get the variety and advice for which they have become famous.
Vincent believes that cricket in South Africa has grown tremendously over the last ten years. The popularity in the Twenty20 format has boosted spectatorship and drawn different people from the traditional game. Mothers now join their families to go and watch Twenty20games and it has become family entertainment.
The spinoff has been an increase in participation, especially at school level. Some schools, admittedly the larger ones, now have 10 or more sides in certain age groups. The increase in participation obviously leads to an increase in turnover. "There are therefore much greater and many more opportunities than we have even begun to exploit!" he says.
Vincent states that the buying function is of critical importance. When you trade on having the widest variety and best advice, it is crucial to determine the correct quantities of each size and model to order. "You have to be experienced to recognise and predict trends," he says. "Supplementing the buying function is your relationships with suppliers," says Vincent. It is crucial to maintain good relationships as they are part of the team and can give good guidance and advice. He believes you have to treat them with respect and an important part of that is to pay them on time.
This slots in with his philosophy that you should not focus on taking money out of the business. "Your focus should be on developing the business and that often means that you have to plough money back into the business for a long time before reaping any personal benefit. It is critically important to do that when a new business or branch is established," he says.
---