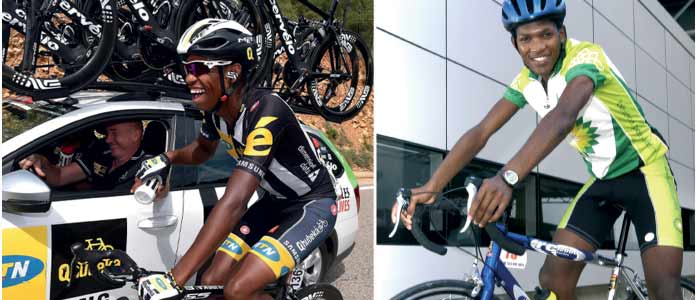 International cyclists Songezo Jim (left), member of MTN Qhubeka, and Luthando Kaka, former captain of the Bonitas team, both started cycling with Velokhaya. Image of Jim courtesy of Stiehl Photography.
November 2015
Cycling grows
in new markets
Local organisations introducing cycling as a development tool are helping to create consumer demand in new markets at grassroots level, reports RHIANAH RHODE
The good growth experienced in cycling over the past few years promises to continue for a long time, thanks to work being done to introduce grassroots communities to cycling. A number of NGO's use cycling as a means of helping underprivileged communities and individuals gain access to educational, economic and healthcare opportunities.
By donating large numbers of bicycles to people at grassroots level, organisations like Bicycling Empowerment Network (BEN) SA, Qhubeka and Velokhaya are introducing individuals to the sport and helping to grow cycling consumer numbers.
Even though the bicycles are subsidised or donated, this could mean new potential customers for retailers because the recipients will require consumable accessories such as bearings, chains, tyres, etc. to maintain the upkeep of their bicycles. Maintenance is a prerequisite of many of the organisations for recipients to receive a bicycle.
Long-term impact
Not only does the work done by organisations benefit the development and growth of the individuals and communities they work with, but they are inadvertently having an impact on the sport of cycling as well.
These organisations are helping to grow the interest and participation in cycling in places and among people who otherwise might not have had access to bicycles. Through their actions, they are making cycling participation more accessible as a sporting activity and also helping to break down barriers that keep disadvantaged people from participating in cycling activities. For example:
Over the past 10 years Qhubeka has distributed more than 58 000 locally manufactured bicycles to people in South Africa and its international counterpart World Bicycle Relief has provided bicycles to more than 250 000 people in need.
Since its creation in 2002, BEN SA has imported and distributed more than 19 500 bicycles to schools, workplaces, etc. in South Africa.
Over the last two years alone, the Pedal Power Association (PPA) has spent some R9-m on cycling-related projects (excluding cycling events) by supporting various safe cycling, development, commuting, BMX and MTB initiatives.
The poor often have mobility problems. BEN SA uses cycling to address poverty and mobility issues that hamper people in low income areas, while the work BEN SA and the PPA are doing in terms of bike paths and lanes is helping to develop the sport's infrastructure and systems.
Beyond riding and participating in cycling, individuals are developing other skills that are readying them for alternative careers in the cycling industry. BEN SA and Velokhaya for example, offer their members mechanics and management courses if they are unable to succeed as cyclists on the bike, which enables them to take up other careers within the industry.
Many of the organisations that run cycling projects that assist in promoting cycling at grass roots level require individuals to give back in some way to their communities to earn and keep their bicycles.
Qhubeka has global reach
Having a bicycle can change someone's life, states Qhubeka, which became a household name in world cycling through their association with the successful MTN Qhubeka African pro cycling team. "It can be used to increase the distance one can travel, what one can carry, where one can go and how fast you are able to get there."
The Qhubeka charity uses locally manufactured bicycles to reward individuals who have made an effort to improve their communities, environment or academic results — thereby investing in their future. Their Buffalo bicycles are robust and specifically engineered to handle African terrain and the loads users will put on them.
The non-profit Qhubeka organisation was founded in 2005 and is the World Bicycle Relief's program in South Africa that helps people access education and economic opportunities through the use of bicycles. Its programmes are run through other established non-profits that select participants based on a selected set of criteria. In the year Qhubeka was created it distributed 110 bicycles. Ten years later, it has already distributed a total of 58 611 bicycles.
Their Enterprise and Sport projects revolve around growth: the enterprise projects promote bicycle-centred development in Africa by aiding individuals and communities in establishing their small businesses. Qhubeka Sport, on the other hand, focuses on African sport development. The organisation provides bicycles, organises sports events and partners with sport organisations to help improve participation levels.
Qhubeka runs a number of school-related programmes, such as their Education and #BicyclesChangeLives campaigns, which aim to give children access to education — an essential component to help end the cycle of disease and poverty that is recurrent in Africa. These school-related projects are designed to cut down on absenteeism and the exhaustion learners face who have to get to school on foot face every day. Qhubeka Education gives learners, teachers and school volunteers bicycles to shorten their travel time, which in turn improves their educational outcomes.
Their Bicycle Education Empowerment Programme (BEEP) requires learners and their guardians to sign contracts that the bicycle they receive will be used to improve school attendance and will become their personal property after a two year period.
The #BicyclesChangeLives campaign, in collaboration with team MTN-Qhubeka p/b Samsung, got worldwide publicity during their very successful Tour de France debut. One of the MTN-Qhubeka team members, African continental road race champion Louis Meintjes, also became the first African rider to place in the top 10 of a grand tour when he finished 10th overall at the La Vuelta e Espana. And whenever the MTN-Qhubeka cyclists are interviewed, they heavily punt the work done by Qhubeka.
This enabled them to raise more than 4 000 bicycles for African learners — less than 900 short of their target of 5 000 bicycles. Their new title sponsor, Dimension Data, will continue to support the Qhubeka charity and has already sponsored bicycles for 293 learners from three high schools in Orlando, Soweto.
Qhubeka Eco and Health aims to improve the health of communities, the environment and individuals they donate bicycles to. Qhubeka Eco donates bicycles to individuals in exchange for community or environmental improvements such as planting trees, waste recycling and food farming while Qhubeka Health gives healthcare workers bicycles to reduce the distances they have to travel to see patients, which make it possible for them to see more patients during a day.
Qhubeka's Buffalo bicycles are designed by World Bicycle Relief in Chicago, US, and are not only manufactured for their own causes, but are also available for purchase. Bulk orders of 1 100 or above adds the option of putting customised branding or logos on the bike. The strong bicycles are made to handle African conditions in rural Qhubeka assembly facilities in South Africa.
Ryder Cycling, the owner of MTN-Qhubeka p/b Samsung, the team soon to be known as Team Dimension Data, recently signed one of the world's best sprinters Mark Cavendish, as well as Mark Renshaw and Bernhard Eisel.
Velokhaya's winners
The Velokhaya Life Cycling Academy has not only been introducing the Khayelitsha community to cycling over the past twelve years, but have also helped to cultivate cycling champions.
The NGO offers cycle-based programmes as positive alternatives to bad social influences prevalent in marginalised communities. Their programmes target school learners and, because education is a large part of its programmes, its members must attend school.
Velokhaya runs BMX and road cycling programmes, which incorporate cycle and road safety components, to help keep youth off the streets and develop them as cyclists or in other areas involving cycling.
In addition to helping community members become cyclists, the Velokhaya Life Cycling Academy annually teaches life skills and sportsmanship to approximately 130 active members.
When participating in cycling, children are learning about discipline, dedication, teamwork, winning and even losing, which Velokhaya believes are the skills they also need to learn in life. They also believe that cycling is a team sport that takes members away from their immediate surroundings and shows them the world.
Velokhaya's junior and elite level road racing teams have gained a lot of television exposure for the organisation. Elite athlete Zanele Tshoko was part of the South African team that won a silver medal in the time trial at the recent African Games in the Congo and Thulasizwe Patrick Mxenge was also selected to represent South Africa at the Games. Young Nickolas Dlamini, a member of the MTN Qhubeka feeder squad, represented South Africa in the U23 World Cycling championship Sunday 27 September.
The academy was responsible for creating SA's only all black professional cycling team in 2006 and has produced elite level riders like Velokhaya board member Luthando Kaka, who was the first black South African competing internationally and the first black captain of a national pro cycling team when he captained team Bonitas in 2013. Songezo Jim, who recently completed his first major tour riding in the Vuelta a Espana for Team MTN Qhubeka, is another former Velokhaya graduate that has represented SA internationally.
BEN makes mobile
BEN SA is a NGO that aims to address poverty and mobility issues through cycling. Since 2002, it has been importing and distributing bicycles to school learners and adults who require a way of getting from point A to B, but are unable to do so due to the long distance it takes on foot or the expenses of travelling being too great.
The organisation operates in rural and urban areas in the Western Cape and has thus far trained nearly 5 000 people in safe cycling and 54 bicycle mechanics through its Bicycle Empowerment Centres.
At their twelve Bicycle Empowerment Centres teams of people from previously disadvantaged backgrounds train other individuals in bike safety and maintenance. These teams also work with schools, NGO's and healthcare groups to help address learners and teachers' transport needs.
BEN and PPA also work on projects to improve paths and lanes for cycling. BEN has collaborated with the National Department of Transport and Cape Town, Johannesburg and Tshwane municipalities to implement bike lanes, paths and facilities.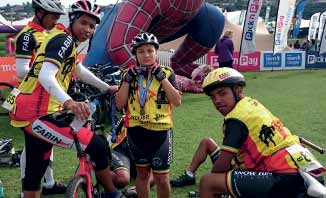 Pedal Power Association supports a number of clubs like the
Steenberg Development Club, pictured above.
PPA assists clubs and initiatives
The Public Benefit Organisation, Pedal Power Association (PPA), was formed in 1976 to promote cycling and the interests of cyclists. It uses cycling as a development tool in communities and motivates youngsters to get involved in cycling.
The organisation has a paid-up membership of approximately 18 000 and is primarily based in the Western Cape. It came into existence after running the first Cycle Tour over 35 years ago, which later developed into the popular Cape Town Cycle Tour. It uses its share of profits from the Cape Town Cycle Tour Trust to fund various cycling initiatives as detailed above. PPA also supports the events accepted onto its annual calendar in various ways, enabling the events to raise as much funds for their various charities as possible.
Between July 2014 and June 2015 the organisation spent over R4.6m on 45 cycling-related projects and initiatives. This included assisting twelve community projects, which gave bicycles and helmets to 100 newcomers to the sport.
PPA also supports 23 development clubs with funding for bicycle repairs and maintenance to help clubs keep their bicycles on the road. PPA also collects and distributes donated cycling kit to dedicated cycling projects.
Other PPA funding includes building BMX tracks and donating BMX bicycles. The organisation believes that BMX tracks offer youngsters a safe, contained area in which to exercise and learn bike-handling skills, offering them an alternative after-school activity.
In the last funding year, the PPA supported various mountain-bike initiatives. This included funding two single tracks on Table Mountain, initiatives aimed at kids in the Greyton-Genadendal area, and cycling trails at Rhebokskloof near Paarl, Somerset West, Worcester, Bredasdorp and Bonnievale.
PPA is not a standalone organisation either. It has provided funding for one of Qhubeka's upcoming projects, for Velokhaya's MTB initiative and various BEN initiatives. PPA is actually one of the original Velokhaya Life Cycling Academy sponsors and Songezo Jim started cycling in PPA's fun rides.
Giba Gorge MTB Park
Other than directly introducing people to cycling through donations some organisations like Giba Gorge MTB Park are training and helping individuals gain skills off the bike as well so that if they do not take the cycling route, they are able to take up other career paths within the cycling industry. They run a cycling development and transformation program that helps individuals from communities in the area develop their cycling and other skills.
About the organisations
More information about the cycling development organisations can be found at: Bicycling Empowerment Network (BEN) SA: www.benbikes.org.za. Giba Gorge MTB Park: www.gibagorge.co.za. Pedal Power Association (PPA): www.pedalpower.org.za. Qhubeka: See more at www.teammtnqhubeka.com and http://qhubeka.org. Velokhaya: See http://velokhaya.com.

The bike and lifestyle park opened in 2007 outside Pinetown in KwaZulu Natal. It features a picnic area, restaurant and BMX track that has single track trails running in a number of directions across 300 hectares of land.
Challenges for organisations
The positive changes that organisations are making are not without their challenges. Many of the organisation are people funded, which means they rely on volunteers and the donations they receive from the general public in order to supply the bicycles they donate.
The bicycle component of manufacturing, assembly, delivery, etc. of Qhubeka's bicycles, for example, cost up to R2 400 per bike.
Organisations like BEN SA and Velokhaya rely on donations in the form of used items or cash.
The effectiveness of their development efforts therefore depend on the generosity of others.