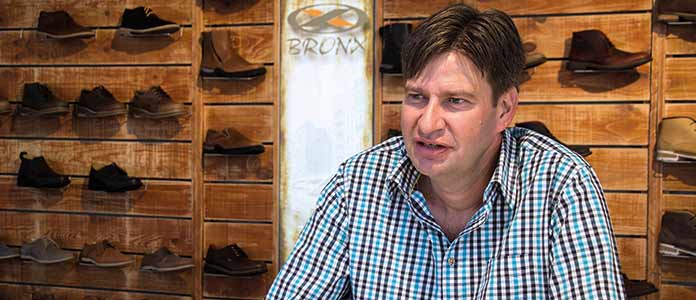 November 2015
Part 2 in our manufacturing series:
Local shoe manufacturing
On the road to recovery
Various initiatives, including government subsidies, are working together to help South African footwear manufacturers regain a foothold in the local and international markets, reports TRUDI DU TOIT
Over the past five to six years local footwear manufacturers have been stepping out of the black hole that made companies and jobs disappear during the 1990's and early part of the 2000's. The 60-m pairs of footwear made locally in 2014 matches the volumes achieved in the good ole' days of the 1980's when on average 58-m pairs per year were manufactured in South Africa.
That was before the mid-1990's when the massive volumes manufactured in China came marching in and the annual number of pairs manufactured locally dropped on average 22-m; about a hundred factories closed; an average of 8% jobs were lost per year — some years as many as 17%, as statistics from the SA Footwear and Leather Industries Association (SAFLIA) show. More specifically: 63-m pairs of footwear were made in 1981 … in 1999 this dropped as low as 26-m.
Now, we've upped annual local manufacturing volumes by about 17-m pairs to an average of about 52-m per year. Since 2006 about 200 South African firms have been manufacturing footwear, a good increase from the 90 — 120 factories operating during the previous decade. Employment rates have also stabilised at around 11 000.
According to data supplied by Quantec, employment in the footwear industry grew 9% from 2004-2014, although this will include people working for importers and distributors as well. In manufacturing, however, the number of employees declined from 13 000 in 2004 to the current 11 000 in 2014.
What's more, exports are growing: export volumes increased 20% between 2012 and 2013 — although volumes are still fairly low. In the decade leading up to 2013, a total of 20.58-m pairs of footwear were exported from South Africa (an average of 2-m per year), mainly to Zimbabwe, Zambia, Mozambique and other African countries. Export volumes have been steadily rising since 2008 to a high of 4-m pairs in 2014, reports SAFLEC (SA Footwear and Leather Export Council), which is co-funded by SAFLIA.
"The production incentives from the Department of Trade and Industries (DTI) have made a massive difference," says SAFLIA chair Noel Whitehead. The production incentive has two components, an Upgrade Grant Facility, which is meant to focus on upgrading equipment to improve competitiveness, and an Interest Subsidy to assist with working capital.
The Competitiveness Improvement Programme (CIP) assists manufacturers to improve their local and international competitiveness through various channels, including facilitating training, the formation of clusters and improving business practices.
Cluster concepts
"The cluster concept (see box below) and project is perhaps one of the most exciting initiatives that has come the way of this industry and it has the potential to transform the way industry does business and finds a solution to competing against low cost countries," outgoing SAFLIA executive director Paul Theron said in his 2014 Director's Report.
There are two types of clusters: an ordinary and a national cluster, supported by regional activities.
According to the DTI guidelines (see box below) an ordinary cluster is a group of at least five manufacturing companies, or a combination of manufacturing and related organisations (e.g. retailers, design houses, component manufacturers) that are collaborating towards improving the competitiveness of each cluster member.
The aim of the cluster is to facilitate vertical integration. For example: a big retailer will require a specific footwear product, and will then mobilise the material suppliers, designers and manufacturers in the cluster to supply what he needs, explains Whitehead. "There could be several clusters operating in one area."
There is currently a KwaZulu Natal cluster, a Southern Districts cluster (which includes companies like Watson shoes, Mossop Leather, etc. in the Mossel Bay area) and "then they are busy launching one in Western Cape with Mr Price," says Whitehead.
A national custer is responsible for facilitating and managing national shared resources and projects, as well as overseeing regional cluster projects, where applicable, explain the CIP guidelines.
These include skills development, technology development and research, support for the development of SME's and sharing resources and facilities. It will be SAFLIA's responsibility to identify the areas where there is a need for a national or regional cluster.
Not quite there
But, while local footwear manufacturers can feel optimistic about the progress made the last few years, it is not quite yet time to buff the party shoes.
"Further analysis reveals that only a core of a few companies grew significantly, whereas many others showed a decline in volumes," Theron wrote in his 2014 report.
It is also still very much an importers' market: in the decade 2004-2013, 1.65-bn pairs of footwear were imported, while the 448.76-m pairs manufactured locally represented about 21% of the market. Although local manufacturers accounted for 25% of the total pairs of footwear in South Africa in 2008/9, the local content percentage dropped thereafter.
Only 27% of the footwear companies active in South Africa are manufacturers, the bulk import or distribute.
Between 2012 and 2013 the value of imports grew 7% to R9.1-bn, Theron reported. "China is still the major source country for imports, accounting for 90% of imports in volume terms and with average prices rising 4%." Vietnam and Indonesia are the next most significant countries with their average prices rising 19% and 20% respectively. "However, with average prices of R125 per pair these latter two countries cannot necessarily be considered as low cost alternatives to China," he says.
The two biggest challenges the local footwear industry faces are ageing equipment and an ageing workforce, says Whitehead.
Ageing equipment
The Production Incentive that has been running for about five years, makes a major difference in addressing the problem of ageing machines, he believes. "It gives the industry a massive injection for replacing ageing machines. If not for that, individual companies would have run out of machines and wouldn't have been able to replace them."
More and more manufacturers are now making use of the Production Incentive, which for the first time became over-subscribed this year. That does not imply that more manufacturers are opening local firms, but that more of them are accessing the incentive. "As a matter of fact, we've seen more manufacturers closing down or amalgamating in recent years," says Whitehead.
When comparing employment and production figures from the 1960's and '70's to the present, it is clear that the number of firms manufacturing is not as significant as their production capacities. Fifty years ago nearly a quarter of the 70-100 local footwear manufacturers were big, with a volume output of more than 1-m pairs per year per factory. Despite the firms numbering about half of the current number of manufacturers, employment numbers in the 1970's were about double that of today.
Today, most (56%) of local shoe manufacturers are small, manufacturing less than 50 000 pairs per year, and only 6% of the local firms have an output of more than 1-m pairs per year. The 22 firms with an output volume of more than 500 000 pairs per year are, however, responsible for 47% of all shoes manufactured locally, even though they only represent 11% of the manufacturers.
Aims of the Competitiveness Improvement Programme (CIP)
This programme for clusters in the clothing, textile, footwear and leather goods industries has the objective to improve the global competitiveness of South African-based manufacturers so that they can effectively supply their customers. Competitive interventions should include innovative activities related to people, products, processes and market development.
The interventions should aim to:
Reduce the cost structure of companies;
Increase the effectiveness, reliability and efficiency of supply and integrate the operations of manufacturing entities in the value chain;
Establish a business foundation for the long term sustainability of the sector and the development of functional relationships along the value chain. Establish best practice governance structures;
Develop skilled employees;
Develop a specific marketing strategy;
Establish a culture of continuous innovation by focusing on processes, products, markets and technology.
According to the programme guidelines published by the DTI, the CIP is based on the belief that competitiveness improvement is best achieved through value chain networking and partnerships. The CIP is thus based on cluster formation of either similar manufacturing entities or a value chain cluster, comprising e.g. manufacturers, suppliers and retailers in order to engage in collective improvement activities.
Clusters offer the following benefits:
Companies tend to share many activities through cooperation and they can operate more efficiently, drawing on suppliers and buyers with short lead times. Critical resources and capabilities that do not exist within a company can be accessible through networks inside the cluster.Clusters further promote higher levels of knowledge-sharing and innovation, technical adaptation and learning among members as different resources can quickly be reshuffled and restructured allowing for new and better economic combinations of skills, capital and technology.
Funding subsidies:
Clusters applying for government support and funding must submit a competitiveness improvement plan, outlining each member's role, and an overall business plan for the cluster.
A subsidy is available to fund competitiveness improvement activities in companies that would otherwise not be able to finance these interventions. Members of ordinary clusters can apply for a cost-sharing grant incentive of 75% of the qualifying project cost, with cluster participants supplying the other 25%. These incentives will not cover costs pertaining to machinery, equipment, commercial vehicles, land or buildings.
National clusters can apply for 100% funding of qualifying initiatives.
Training staff
Experienced staff members aged 45-55, especially machinists, who resign in order to gain access to their pension funds, has been a problem for the industry. The posts of the skilled machinists are then filled by inexperienced youngsters.
"We realised that if we didn't train new designers, people who can work on CAD, in time we won't have any staff left, plus an ageing workforce," says Whitehead. "We might have new machines, but no staff to operate them."
This is by no means a problem unique to the footwear industry. "Many manufacturers are failing to attract younger entrants into the industry and are left with an ageing workforce threatening the sustainability of their business," report the Fibre Processing and Manufacturing (FP&M) SETA in their Sector Skills Plan for 2015-2020.
"Once the existing employees retire the skills gaps will widen substantially. Rapid technological advancements have increased the need for high-level technical skills and machine mechanics. However, a shortage of overall technological expertise (e.g. mechanics and machinists) has meant that skills have had to be brought into the country from elsewhere to maintain and repair machinery and train employees on how to use them."
Qualified machinist is the biggest scarce skill for members of the FP&M SETA, according to their Skills Plan. This especially affects the footwear sector, which employs the highest proportion of machinists of all 13 sub-sector members of the SETA. Workers with scarce skills are defined as "either impossible to replace or extremely difficult to replace should they exit the sector."
Training workers therefore became a priority for the footwear industry, as well as the DTI. "We made a commitment to the Minister of Trade and Industry that we will grow the industry and grow exports as well," Whitehead explains SAFLIA's investment in training.
While many big companies have their own education and training schools, staff training is not always an option for smaller firms. SAFLIA therefore supports the FP&M SETA, where the most popular course is the National Certificate: Clothing, Textiles, Footwear and Leather Manufacturing Process in which 2 665 learners enrolled during 2011/12 to 2013/14.
The footwear industry is also represented on the FP&M SETA by the National Footwear and Leather Cluster (NFLC)–VUT, established by the DTI at the Vaal University of Technology (VUT). In the beginning of the year a team of experts from the Indian Footwear Design Development Institute (FDDI) was seconded to the NFLC-VUT to help train South Africans in footwear design and manufacturing skills, assist with curriculum development for courses, research programmes and procurement amongst others, as well as train South African lecturers and students.
These programmes will be implemented regionally by local universities, like the University of the Western Cape, who'll partner with the industry to train staff.
"The programme will support the development of a standardised curriculum compliant with the standards of the South African Qualification Authority (SAQA)," says the DTI minister Rob Davies, whose department approved a grant of R69.2-m for the establishment of NFLC-VUT as part of the Competitiveness Improvement Programme (CIP). Government has prioritised this cluster as it has the potential to create jobs, Davies added, pointing out that government also supports the industry by increasing local footwear procurement contracts from R99.4-m in 2014/15 to R 272.2-m in 2015/16.
Biggest challenges
Not surprisingly, Whitehead identifies the current economic climate as the biggest challenge faced by the industry. "Most smaller companies struggle with cash flow, because you have to pay for your components up front. Margins are under immense pressure, as input costs are rising above inflation. In addition, quite a few retail customers are going into liquidation or business rescue."
In addition, retailers are coming under more pressure to keep costs down and "sometimes they will change to an imported product to save as little as R5 per item".
While Whitehead believes there is not much more the footwear industry can ask from government, because "we've got 100% support from government behind us", he would like to see more support from retailers for local manufacturers "because it is the right thing to do".
"But, in most cases we still manufacture above the premium imported product price," acknowledges Whitehead, who also points out that the high exchange rate (currently R13.30/$) brings local prices much closer to imported prices than when we were trading at R10/$, for example.
High import duty (20%) on raw materials presents another challenge for manufacturers. "We need to develop more sustainable local suppliers of materials," he stresses, because high duties on components like eyelets, insoles, etc. make it difficult to manufacture at prices that can compete with imports. "You must have downstream beneficiation and stable, sustainable, suppliers."
Impact of labour
Depending on the level of mechanisation – a handmade leather shoe vs a machine made gumboot – labour comprises from 20-50% of the cost of a locally made shoe. A rise in labour costs can therefore be a major contributor to making shoes too expensive for local consumers, especially if it rises above inflation, concedes Whitehead. Over the past 15 years the average annual wage increase had been a reasonable 7%.
Following the difficult 1990's when bosses and workers suffered from factory closures, labour legislation and unions do not currently count under the problems faced by the industry. "We're part of a collective agreement, we've got a bargaining council, and our view is that collective agreements work," says Whitehead, adding that SAFLIA has a good relationship with both unions active in the industry.
Can be competitive
But, it seems that some manufacturers are giving the Chinese imports a run for their money. Those who try to compete with entry level footwear will always be at a price disadvantage, but local manufacturers who focus on categories like higher end leather shoes find the playing fields far more level.
Most shoes made in South Africa (42%) do indeed feature leather uppers, followed by synthetic uppers (36%) and slippers and moulded footwear (20.5%). Footwear with fabric uppers and running shoes only represent 1.8% of the pairs made locally.
Most of the leather upper and slipper/moulded footwear are made for men, while nearly half of the shoes with synthetic uppers are made for women and girls.
Not surprisingly, shoes with leather uppers comprise the lowest number of imports (about 8%). Cheaper shoes with fabric uppers constitute about 45% of all imports, followed by "other footwear, outsole and upper of rubber or plastic" (about 40%).
Of the manufacturing processes employed, more than half of the locally manufactured footwear are stuck on, just more than a quarter are made by injection moulding, about 10% slip lasted, about 5% stitched down and less than 1% welted.
Donning his other hat as MD of Jordan & Co, Whitehead can speak from experience that local factories manufacturing leather shoes can compete with imports.
What's more, Jordan & Co are planning on replacing more and more imported products in their ranges with locally manufactured. "We're going to increase our local manufacturing and we are keen to invest in the industry."