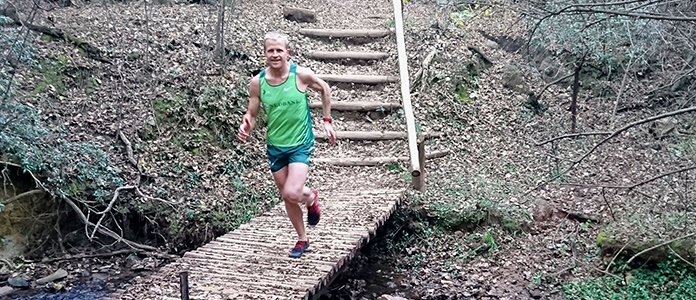 Bennie Roux, joint winner of the Addo Elephant 100 Mile Trail Run. Photo Karel Kapp.
July 2016
Technologies in
new running shoes
The latest running shoes feature a number of new technologies that will help your customers improve their experiences on the tar or trail, reports RHIANAH RHODE
Running brands' shoes feature a number of technologies that will help protect, provide comfort, stabilise, cushion, etc. runners' feet on the trail or road. Suppliers offer a glimpse into the technologies in their latest running shoe ranges that will benefit your customers.
Outsole technologies
The sole of the shoe is its most important asset, as it is the only thing that comes between the runner's foot and the terrain. Some runners prefer to be able to feel every crack and bump, while others want to feel like they are floating on air and prefer to forget about the hard terrain underneath. Their experiences are all affected by the various technologies and designs implemented in the outsoles.
Adidas and Continental have collaborated to create Continental Traction Compound outsoles that provide excellent grip, on wet or dry surfaces. Each year since 2011 a new marathon world record has been set in adizero shoes featuring these soles.
"When an elite athlete speaks about the benefit of Continental helping them win the Comrades Marathon due to the grip in the wet and on corners, other top runners start to listen," says Geoffrey Batcheller from adidas SA.
"When you apply Continental to a Stretch-Web outsole, ensuring an adaptive transition for every stride, every runner listens." The Stretch-Web outsole, first used in the Ultra Boost, is now used in other adidas ranges as well. It is designed to stretch in any direction, in order to support the foot's natural movements and simultaneously provide an enhanced feel for the ground. "The traditional flex grooves in most shoes only move front to back. We made stretch web adaptable because runners strike the ground in a variety of ways," Heiko Schlarb, a senior researcher at adidas, told Competitor.com.
Brooks' Ideal Pressure Zones evenly disperses impact away from the body for a comfortable and effortless ride, says Michelle Chowles from local distributor SBR Agencies.
The biggest impact happens when the runner propels himself forward — to help in this situation, Brooks has designed the outsole to include the ideal pressure zones, which help disperse pressure evenly along the entire foot from heel strike to toe-off. This technology has now also been incorporated into their Glycerin road running shoe.
The Brooks Mazama trail shoe features a sticky rubber outsole with directional lugs that provide traction, no matter if the wearer is going up- or downhill. This rubber compound also provides traction on wet surfaces.
Hi-Tec's Sensor Trail Lite features an aggressive rubber outsole that is designed to ensure that feet are stable, and offers good traction and protection for the wearer's feet. The outsole is durable, performs on a variety of terrains and allows for excellent flexibility to reduce foot fatigue.
Their V-Lite Flash Force Low i features a super-lightweight, high-abrasion EVA outsole that provides comfort and protection, says Gordon Stokes of Hi-Tec SA. The Vibram rubber in the outsole further delivers traction, comfort and durability.
Karrimor's D3O running shoes, which can also be used for trail running, feature a Run Specific tread pattern with flex grooves that enhance the foot's natural movement. The outsole's carbon high performance rubber inserts also provide extra durability and grip.
The D3O technology is used to create a soft and flexible material with high shock absorbing properties, known as smart material, says Carlyn le Maitre from local distributor Drimac SA. This material "has a unique molecular structure. In its normal state the molecules flow freely, allowing the material to remain soft and flexible for a comfortable fit. But on impact, they lock together to absorb and disperse the impact energy."
This minimises injury-risk and equipment damage. Once the impact is over, the D3O material will return to its flexible state to start the process again.
This technology is used under the heel and forefoot to allow freedom of movement and provide great traction that helps your run feel smooth and reduces any impact from the ground, so uneven terrain or off road trails are no problem, adds Le Maitre.
Merrell treated the outsole of the Mix Master Flare trail shoe with their MSelect Grip, which delivers durable and highly slip-resistant traction on wet and dry ground, on a variety of terrains, releasing dirt and debris with its specialised lugs, says Daniel Brink from local distributor Medicus Shoes. The grey model in this trail running series is also suitable for road running.
Their All Out Peak, All Out Charge and All Out Crush Light trail models feature either MSelect Grip, or Vibram Megagrip on their outsoles. Megagrip combines grip and durability to ensure the wearer does not slip in slippery or wet underfoot conditions.
New Balance's Trail 910's outsole features Rockstop technology, which protects the wearer from hazards on the trail, and HydroHesion that provides exceptional traction and durability on the trail, says John Andrew of New Balance SA. Multi-directional lugs on the outsole further improves its traction on all types of terrain.
PUMA's range of Speed IGNITE road running shoes feature a Propulsion Zone for increased energy return. This is a free-floating band that is suspended over the forefoot flex grooves and provides reflex energy return when under tension. The band, combined with pyramid-shaped rubber pistons, creates a powerful toe-off, explains James Mullen of PUMA SA.
These outsoles also feature Evertrack+, an injected blown rubber compound that is 43% lighter and provides enhanced cushioning and durability for a smoother toe-off.
Skechers' running outsoles feature Resagrip, which is similar to Resalyte (used in midsoles), but not as rugged and sticky. All shoes in the brand's Performance range feature M-Strike or a rockered sole that encourages a smooth midfoot or forefoot landing.
M-Strike creates an area in the middle of the midsole that is made from a slightly sturdier EVA foam than used in other parts of the shoe, in order to promote a midfoot strike that improves the wearer's balance. The technology is also designed to encourage the completion of gait cycles.
The GORun Ultra trail shoe features 30 of the brand's GOimpulse sensors, which provide good grip on rugged terrain. Under these lugs — bridging the gap between the mid- and outsole — there are subtle flex points, which dip slightly inward to enable flexibility that is sometimes not possible with shoes that provide a lot of cushioning.
The GOimpulse Sensors also provide flexibility and feedback to enable a more responsive running experience. These pods are independently placed on the outsole to allow responsive traction and good ground feel. They also provide flexibility and more feedback to the foot.
Midsole technologies
The midsole is the heart of the running shoe that determines its personality: it is the midsole technology that will determine if the shoe will feel bouncy, cushioned, supportive, stabilised, flexible, etc.
Adidas' Boost technology provides plush cushioning, without compromising energy return — in fact, it increases energy return dramatically, says Batcheller. "The secret of this game changing material is found in the energy capsule structure that is made from TPU instead of conventional EVA. Adidas then utilises Boost at varying degrees and densities across multiple molds to produce a unique sensation and feel in every range.
"The incorporation of Boost into the midsole of technical trail ranges has allowed runners to get the most out of every run, which should only stop due to cardio limits, not sore feet or injury!" adds Batcheller. The extra cushioning also need not add weight. Extra cushioning also need not add weight.
Brooks' PureFlow 5 road running shoe, for example, now features their DNA LT technology — a lighter DNA material that allows adaptive cushioning to be injected into certain shoe models without increasing weight, explains Chowles.
Brooks' Four-Point Pivot Posting System is a trail-specific technology that provides stabilising suspension on both sides of the heel and forefoot. It can be found in their Cascadia trail shoe.
The propulsion plate in their Mazama trail shoe, which was launched at the Comrades Marathon Expo this year, helps propel the runner forward. The rigid forefoot plate provides a more powerful toe-off, and it also protects the wearer from hazards, says Chowles.
Hi-Tec's Sensor Trail Lite has a midsole constructed from a lightweight abrasion-resistant EVA that provides long-lasting cushioning and comfort. "The 8mm heel drop protects heel strikers from the tougher terrain, without forcing midfoot strikers to alter their gait," explains Stokes.
The Vibram Rolling Gait System midsole supports the natural roll of the foot and allows the wearer to optimise his energy, increasing endurance and minimising fatigue — for example, in the V-Lite Flash Force Low i. The trail shoe also features an OrthoLite Impressions sock liner with slow recovery foam to provide good cushioning, adds Stokes.
Karrimor's D3O has a dual density construction with 55 shore D30 Lite EVA technology ride-line, which cushions the ride and provides increased feel and improved absorption and response, whilst offering longer term usage with minimum loss of performance, says Le Maitre. The 45 shore heel crash pad also helps dissipate the heel strike.
Merrell's Mix Master Flare features their MBound specialised, resilient, cushioning that provides immediate feedback from the ground to the foot, triggering an accelerated response time, which enhances the runner's agility and stability. It also features an EVA removable footbed that is treated with MSelect Fresh, which naturally eliminates sweat and odour.
The Unifly midsole in Merrell's All Out Peak, All Out Charge and All Out Crush Light trail running shoes disperses impact and stabilises the foot for a solid take off, says Brink. A Trail Protect pad offers underfoot protection, while a Merrell air cushion in the heel also helps to absorb shock and increases stability.
New Balance's Revlite and the lightweight responsive N2 technology combine to offer a speedy and durable ride in their Vazee 2090 running shoe.
The Rapid Rebound technology in the Rush road running model provides a much more responsive ride and covers the top level runner who is looking for a top-end product that can be used for speed and high performance training, explains Andrew.
The Vongo, under the Fresh Foam silo, uses data to design technology to create a supportive shoe, without the need for a medial post. "It's a very innovative design for us and something the Fresh Foam range didn't cater for before," says Andrew. They are also one of the first brand's using a one-piece sole like this, he says.
New Balance has seen huge success in sales of their 1080 road running model due to the use of Fresh Foam technology in the midsole. "The use of this technology has resulted in double-digit growth for us," adds Andrew.
PUMA's IGNITE dual layer midsole foam in their Speed IGNITE road running shoes offers a long-lasting energy return with a luxurious step-in comfort, says Mullen. It is used in all their speed models.
The 600S and 1000S models also feature an Engineered Stability Zone, which "eliminates over pronation and provides a more gradual transition through the gait cycle," as well as a Moulded Eco Ortholite sock liner that is breathable, anti-microbial and improves the shoe's step-in comfort, says Mullen.
A Lateral Release Groove and Decoupled Heel slow down the rate of pronation and provide a more gradual transition from heel-strike to midfoot stance in the Speed 600.
Articulated chevron grooves compress during landing and rebounds to provide energy return. The deep flex grooves of the Forefoot Flex Zone improve flexibility and freedom of movement.
Skechers' Resalyte midsole technology is an injection-molded compound material with memory retention capabilities. The pliable, lightweight and durable material helps create a supportive midsole. Resalyte Power Pillar cushioning and supportive material has been added to the mid-foot strike zone of many running models. The material helps provide a soft and responsive ride.
The GORun Ride 5, the next generation of the GOrun Ride, features increased Resalyte cushioning that provides additional impact protection and response.
The 5GEN foam cushioning found in the GOrun 4 and 400 shoes is designed to deliver comfort and a good response.
What's needed in speed hikers
BECAUSE OF the terrain, speed hiking shoes have similar requirements to trail running shoes – but not all is the same. "Speed hiking shoes are lightweight dynamic shoes for tackling the mountains, both on and off trail," explains Deidre Pieters of Traverse Outdoor Gear, local distributor of Zamberlan. "Our collection incorporates hiking, Nordic walking and running at a pace you can enjoy, no matter the distance. These shoes are very comfortable and lightweight, yet robust stable and precise."<
Zamberlan's Crosser and Crosser Plus speed hikers each feature a dual density rubber Vibram outsole with a large contact toe and heel area for better grip and durability, a toe bumper for enhanced protection and a graded profile for an easy toe-off. These shoes' big grooves reduce debris build-up and provide a self-cleaning function. Large multi-directional lugs are also specifically positioned for long wearing traction and stability.
The EVA wedge midsole provides comfort and cushioning while the TPU element adds stability and body support, says Pieters.
The uppers are made of Cordura with a Schoeller Kevlar or Cordura reinforcement round the shoes and a rubber toe protector.
Upper technologies
A running shoe upper does much more than providing pleasing aesthetics. Brands have incorporated several technologies that can benefit the runner.
Adidas' Uncaged upper technology that was introduced in soccer boots, will now also be available in their latest range for road runners seeking a minimal, yet supportive, shoe, says Batcheller. "With a sockfit construction, full-length Boost midsole and a Primeknit upper, feet are comfortable and supported as they celebrate every run."
Their Primeknit upper technology has "continued to impress consumers with its incredible adaptability and overall comfort since 2012," says Batcheller. The seamless knitted technology allows them to fine-tune the exact amount of flexibility and support needed in every part of the shoe. The result is lightweight comfort that wraps seamlessly around the foot, whilst fewer materials produce less waste. It combines innovation and style in the UltraBoost and PureBoost X and ZG ranges to provide a natural and breathable sock-like feel, says Batcheller.
Because trail shoes need to be tough, durable and aggressive without compromising on comfort, adidas' trail running uppers feature Zoned Protection, which allows flexibility and protection where it is most needed in the upper, says Batcheller.
Brooks' running shoe uppers feature their 3D Fit Print technology, which is an advanced screen printing process that applies strategic stretch and structure for a seamless fit. The Hyperion, a new road running shoe that was also launched at the Comrades Marathon Expo, features a perforated stretch-woven upper that wraps the wearer's foot in a seamless, sock-like fit that allows maximum ventilation. The Glycerin features a dynamic TPU saddle, which is designed to provide a secure midfoot fit, wrapping the arch and adjusting to the foot throughout the run.
Hi-Tec offers a tightly woven, lightweight, mesh upper, which provides breathability and comfort in the Sensor Trail Lite trail shoe. It also features an abrasion-resistant toecap for added protection from tough terrain, and uses detailed stitching and lightweight materials to further help improve its breathability and durability, says Stokes. "The lacing system is specially designed for support and performance. It ensures that the heel is locked in the ideal position, providing ankle stability for protection against external impact."
The high performance synthetic upper in the Hi-Tec V-Lite Flash Force Low I trail shoe offers support, durability and breathability. It incorporates i-Shield, which creates an additional layer of protection that helps keep footwear clean and helps it dry quicker.
Karrimor's D3O features a Mono Shock Polyester upper that offers breathability, foot cooling, comfort and performance, says Le Maitre. The upper has an overlay Brace construction with sock-type fit. The tongue brace and saddle quarter brace technology also help to hold the foot firmly in place with additional counter and toe abrasion overlay panels.
Karrimor's trail running shoes' rip stop polyester upper with bellows tongue gives additional protection from extreme elements, says Le Maitre. The lightweight upper construction provides increased comfort and abrasion protection. It features 3D print overlays with textured toe abrasion panels; Blind Gillie lace loops for extreme weather protection; a moulded external heel cage for added support and protection; an outer fit cage that offers improved fitting; and Memory Foam collar for secure fitting, extra comfort and support.
Other features of the D30 shoe include a Hi-poly inner sock that provides additional fitting comfort whilst offering greater breathability and increased moisture absorption with fast drying and deodorant comfort.
Merrell's Hyperwrap 360 degree lacing system locks the foot in place, says Brink. It also enhances natural stability and agility. The system is found on several of Merrell's trail running shoes. Other upper features in their trail range include reflective detailing and a bellows tongue.
For customers who are concerned about the environment, Merrell's Mix Master Flare road and trail shoe upper is made of a vegan-friendly synthetic leather, as well as mesh and TPU.
New Balance's Vazee 2090 road running shoe has a dynamic upper construction designed to hug the wearer's foot snugly while expanding and contracting with his foot throughout the gait cycle. With this technology they have taken a more modernistic approach to upper construction, says Andrew.
The Fresh Foam and NBX silos now feature re-engineered mesh uppers that move with the different areas of the foot during the gait cycle. "They feature different design lines that help create an upper that fits snugly and lets the foot breath properly," he explains.
New Balance's Trail 910 features an updated upper with a fine mould saddle, which provides additional midfoot support; a bootie construction that protects against debris and increases comfort; and a toe protector that delivers protection against hazards the wearer may encounter on the trail.
The brand has also incorporated more woven textile uppers in Vazee road models like the Pace, as they are more appealing and hug the wearer's foot snugly, says Andrew.
PUMA's Everfit+ upper fit system locks the foot onto the platform by making use of free-floating support straps that span across the midfoot and around the heel, and is found on their Speed IGNITE range.
The seamless knitted mesh upper construction on, for example, the Speed 600S IGNITE, provides lightweight comfort, support, breathability and a personalised fit. This shoe also features a tight knit on the medial side that is designed to give additional support, says Mullen.
Several of PUMA's Speed IGNITE shoes feature reflective overlays or prints, and other features include a water repelling coating (on the 500 Nightcat).
Skechers' GOrun 4 features a Goknit upper, which is a soft seamless mesh with lightweight overlays that provides a soft sock like feel that conforms to, and supports, the wearer's feet without hindering breathability. The Quick-Fit Portal found in the brand's running shoes is basically a hole in the heel area that makes it easier to put the shoe on and increases its heel stability.