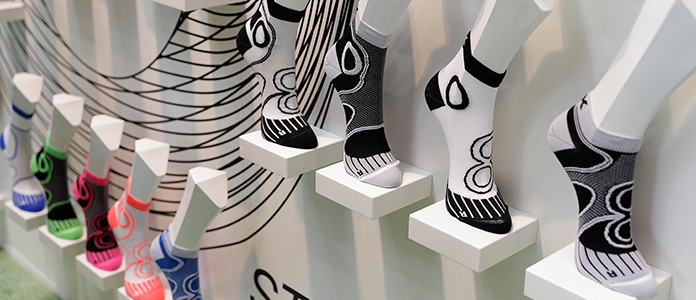 Photo: Anja Koehler for the popular OutDoor trade show in Germany.
July 2016
The right sock
for the job
There's more to recommending the right sock to your customer than helping him choose a colour he likes, writes BRENDON PETERSEN
It can be easy to forget how complicated choosing the right sock can be. The right technology, the right material, even the right length all work together to determine how good an experience the wearer of the sock will have.
The multitude of styles, materials, cuts and technology used in socks can be overwhelming. Yet, wearing the right pair of socks can make such a difference to the person's overall comfort: it can protect the feet from abrasion, wick away moisture, provide additional padding, etc.
For your customers, purchasing a new pair of socks is not as easy as simply finding a pair in the correct size, in a colour that they like, and then buying them.
It now requires assistance from a knowledgeable in-store source to help find the correct sock for the correct situation. After all, wearing dress socks for his morning run might make your customer look classy, but it's not going to help his feet stay dry and comfy.
The fit and make of the sock is very important — a bad fitting sock made from the wrong material for the activity can lead to blisters, corns, irritations, infections, athlete's foot, or even pitted keratolysis — also known as toxic sock syndrome, which occurs in feet that have "suffered from excessive perspiration, occlusion, and moisture often in the presence of an increased surface pH. And as far as athlete's foot goes, remember that a dark, warm, moist environment is fungous heaven.
Let's at least get rid of some of that moisture!" writes dr Stephen Pribut, past president of the American Academy of Podiatric Sports Medicine (AAPSM), a past chair of the AAPSM Athletic Shoe committee, co-editor of AAPSM's student manual, and a current member of Runner's World's advisory board.
When your customer is trying on socks, he should take note of how they fit in the toe and heel: if a sock is too long, it will bunch up, and if it's too short, it will slide down into the shoe.
Heavily padded socks should be tried on with the shoes your customer wants to wear them with, to make sure that the socks don't make the fit too tight.
Typically, people with low-volume feet (narrow foot, low instep) will likely need thicker socks, while high-volume feet (wide foot, high instep) usually require thinner socks.
Materials
Sock materials are broken down into natural fibres and synthetics.
Natural fibres:

Bamboo is softer and more breathable than cotton and has a natural sheen to the surface, making it feel almost like silk or cashmere. Bamboo is hypoallergenic, naturally microbial, and very durable.
Cotton is lightweight, breathable, washable, and durable.

It is the most widely-used fiber in socks, because it is the least expensive natural fiber. A pure cotton sock is fine for everyday wear, but not recommended for sporting activities. It absorbs moisture and doesn't dry quickly, which means the wetness stays against the foot, which softens the skin, which in turn can lead to blisters.
Cotton is often blended with nylon, acrylic or rayon for enhanced breathability, to maintain loft, and for reduced friction. A cotton blend will have about 60% or less cotton.

Wool absorbs as much as a third of its own weight in moisture before it begins to feel damp, which makes it an excellent material to keep feet dry. It also holds its shape well, has temperature-regulating properties, and resists flame without chemical treatment due to the moisture in its fibres — it will self-extinguish itself when removed from the source of the fire.

Merino wool — a special, fine grade of wool — offers the added benefits that it does not itch and will hold its size and shape, even after repeated washing.
Synthetics: man-made materials developed to provide increased benefits such as moisture wicking, breathability, stretch, etc.

Acrylic is a lightweight, quick-drying fiber that provides softness and warmth, and has a high durability. Acrylic's inherent properties allow it to hold brighter and more brilliant colours than its natural fiber counterparts. It also provides good cushioning, as well as friction- and moisture management. Acrylic is often substituted for wool and finer acrylic deniers have the same feeling as Merino wool.
Nylon is a very strong, versatile, hard-wearing fiber. It is often used with other fibres to give them added stretch or to improve durability.
Polyester prevents blisters by keeping the perspiration away from the feet thanks to its hydrophobic (water-repelling) fibres, and is also known for its durability and colourfastness.
Polypropylene, or Olefin, is extremely abrasion resistant and has very good moisture wicking properties.
Spandex is often blended with other fibres, because of qualities like elasticity, recovery, and offering a close fit. It is especially useful in the sock's ribbed area to hold the sock in place, and in the arch and ankle for added support.
Construction
Socks are more than just the materials used to make them: the construction also plays a huge role.

Padding on the ball and heel of the foot provides protection and cushioning. Ensure that there is enough space inside the customer's shoe so that the added padding does not make the shoe feel too tight.
The height, or length, of the sock is usually a personal preference:

Ped/footie, also known as invisible socks: worn with fashion shoes when the customer doesn't want people to see he is wearing socks. It covers the toes, sole and heel, but not the top of the foot.
Micro crew: ending below the ankle, the foot is covered, and protected, but only the top of the sock is visible above the shoe. Running socks are typically this length.
Mini crew: the sock reaches the height of, or just above, the ankle.
Crew: ranges in length between covering the top of the ankle and reaching to just below the beginning of the calf muscle. Crew lengths are usually recommended for diabetics, as they often experience swelling in the feet.
Mid-calf: offers protection from boot tops as well as flora, abrasions and possible insect bites (when outdoors).
Knee-high: worn by sports people and fashion-lovers alike.
Over the knee: a longer fashion style, where the sock is pulled up above the knee or is worn scrunched along the leg.
Trouser socks, which are usually made from a thin type of material and could feature graphics, are worn by men and women. These should reach to at least mid-calf so that skin isn't exposed when seated, which is a big fashion no-no.

Support: generally the shoe holds the key to arch support, but the sock can also play a supporting role. Some socks offer a reinforced weave in the arch to improve support, which is helpful for customers with high arches.
Socks made for specific activities
Ensure that you ask your customer which activity the socks is needed for, as each has its own sets of demands — and often socks are made with a specific activity in mind.
Sports socks create a barrier between the foot and shoe, minimising the risk of chafing, irritation or rubbing. Many of these socks feature moisture-wicking materials, a light Achilles tab that will keep the sock in place, and a seamless toe that will further prevent rubbing and chafing in this area. They also tend to be lightweight and provide some sole cushioning.
Cycling socks should be lightweight, low-cut and close fitting. Good arch support and moisture wicking are also essential. Because this is a non-impact activity, padding is not a necessity.
Golf socks are lightweight and breathable, and some feature light padding that's woven into the sock.
Running socks can range from thin liner socks with minimal padding to thicker socks with more significant padding. The thickness level chosen is purely dependent on the runner's personal preference.

Road running socks tend to be low cut, with the sock barely visible above the shoe, if at all, to prevent the leg from overheating. These are lightweight, breathable, made from soft fabrics such as mesh, and feature reinforced seams in high-wear areas ensure added durability.
Trail running might require crew length, or even knee-high, socks to prevent scratches from shrubs or even harmful insect bites.

Soccer, rugby and hockey are long to offer the leg extra protection during play. Youth socks sometimes feature integrated shin pads, while some adult sizes can feature compression fit for extra support and stability in the muscles, and added arch support. Flatlock seams and lightweight fabrics will benefit the player and offer a more natural feel, while moisture wicking materials will keep the foot and leg dry.
Yoga socks feature specialised grips along the sole for added traction in the studio.
Socks for outdoor activities:
Hiking, or backpacking, socks feature moisture wicking, extra thickness that provides cushioning on the heel and toes, and have compression panels around the arches. It will also have cushioning on the top of the foot for comfort on long trails. A seamless construction offers added comfort and minimises chafing and bunching, while fortified soles add extra durability. The extra thickness offers a better fit for your customers who have more narrow feet or a low instep.
Lightweight hiking socks: thinner than the above-mentioned hiking socks, they offer a good fit for customers who have wide feet or a high instep. These socks offer moisture wicking, and slight cushioning in the heel and ball of the foot.
Mountain climbing: with extra padding and bulk for cold, rugged conditions, these are the thickest socks available. Woollen socks are great for warmth as well as wicking away moisture, however synthetics work just as well, if not better, at wicking away moisture. Flat seams are a must to reduce the likelihood of creating additional pressure points on the foot.
Walking socks are available in a range of weights for various conditions. These offer cushioning in the sole and heel as well as moisture wicking capabilities.
A sock liner can be worn underneath another sock for extra protection and warmth in cold temperatures. It can also help if your customer needs added volume for a better fit.
It is typically a synthetic product that features moisture wicking.
Customers embarking on activities such as hiking or mountain climbing would benefit from this.
These liners are also useful, because they can be washed and dried quicker than regular socks.
Compression socks tend to be longer, reaching towards the knee, and will help improve blood circulation. It's important that the sock should fit both your customer's foot and his calf circumference, as a too tight sock will instead hinder circulation and a too loose sock will offer no benefit beyond that of a normal sock.
Compression socks
Compression socks have gained much favour with athletes and runners, with studies that prove that these types of garments stimulate blood flow helping , and in the case of compression socks, help you recover faster after a run.
By compressing the surface veins, arteries and muscles, they force circulating blood through narrower channels. As a result of this, the arterial pressure is increased, which causes more blood to return to the heart and less blood to pool in the feet.
Compression garments are available in various gradient levels (these are measured in mmHG, millimetres of mercury, which is a unit of pressure equal to 1 torr or 133.3 pascals):
10-15mmHg (light support): Provides light support to help energize tired legs and feet, improve circulation and assist in the prevention of swelling.
The following gradients improve circulation and assist with tired, aching and fatigued legs, as well as with mild leg and ankle swelling:
15-20mmHg — mild support.
20-30mmHg — moderate support.
30-40mmHg — firm support.
Socks in the workplace
Socks have long been an integral, but often overlooked, necessity in fashion. In the past few years though, people have begun paying more attention to this unappreciated garment.
For men struggling to choose the right sock colour to wear in a formal situation like the office, the general rule of thumb is that the sock should match the colour of his trouser leg.
Another option is to match the colour of the socks to that of the shoes, but this can make the feet look big and can make your customer's legs appear shorter.
Your more daring customer can also get away with wearing socks in a contrasting colour to that of the trouser — however, it's important that this looks deliberate, for example suggest grey trousers with bright red socks that have a grey pattern running through them.
He could also match the colours of his sock and tie.