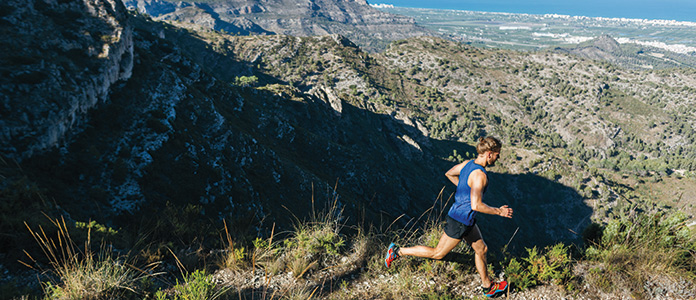 Photo courtesy of Brooks.
Q2 2017
Hot on the Trail
Trail running gear consists of more than running shoes. Think weather, think terrain, and then think some more! LINZA DE JAGER asks retailers, suppliers and runners what is necessary,and what is simply nice to take along.
Trail running events can be as unpredictable as the Cape weather: it can be a sunny 5-10km run through verdant vegetation, an anything goes obstacle race, a multi-day mountain challenge, a muscle-burning beach run, a gruelling leg of a triathlon … the only common denominator will be that you do not run on a level road or on a nicely laid out athletic track. Apart from that, anything goes in terms of challenging terrain, weather conditions and sheer endurance required.
Therefore, to attract trail running customers, a retailer should stock every item they would possibly require, Run Specialist Store owner Grant Bryant advises.
Apart from the obvious trail running shoes and running clothing, this will also include essentials like waterproof jackets, hydration packs and systems, nutrition, base layers, running watches, headlamps, first-aid kits, etc. (see list of Must Haves).
"The most popular trail running accessories vary with the level of expertise of the runner and the race being entered."
For beginner runners the most crucial item would be their shoes. "This is the starting point of their trail running journey," Bryant says. As the distances the runner enters become greater and the races start having gear requirements, the level of accessories start to increase.
The most popular items among his customers are hydration packs, nutritional items, functional scarves/headwear and waterproofs jackets.
Dry bags are crucial to protect first-aid kits, phones and electronics, he says. They are also vitally important to keep your mid-layers and fleece dry. "Should you get into trouble, having wet warm layers end up being functionless."
Technical socks are also extremely important in wet conditions like river crossings, whereas in dry sandy conditions gaiters become applicable.
Shoe care and cleaning solutions for technical fabrics are essential for the longevity of your products — but items that trail running customers rarely think of or ask for, adds Bryant. "Washing or cleaning them incorrectly can significantly shorten their lifespan."
"The choice of path will dictate what accessory is required," says Wayne Rossouw of footwear specialist The Athlete's Foot. "Natural fibre products regulate core temperatures, which afford you a better run, and you won't be in danger of overheating," he advises.
The accessories that are most in demand by his customers are good socks, hydration bibs and phone pouches.
He must, however, remind customers about the importance of blister-proof socks, collapsible nutrition bottles, nutritional tabs and sun block, as they usually don't think of these items themselves.
Trail and Tar's marketing manager, Noel Ernstzen, points out the importance of regulating body temperature, especially in summer. For this he advises UV arm protectors. Other items on his shopping list include photochromic sunglasses that can be used in all weather conditions, waterproof sunscreen and running caps.
His customers often forget about buying nutritional supplements, which he considers to be important.
"Considering that trail runners run in the most extreme weather conditions in rugged terrain, they need to be prepared for the worst," adds the owner of The Trail Shop, Paiter Botha.
For him, a hydration pack or race vest and bladder is a must have as it keeps your customer hydrated on long runs and has space for accessories and food. These are also his best-selling trail accessories.
He will supplement water with energy drinks and cautions that a minimum amount of water is required for endurance races. Food would include energy bars, energy gels and other trail food like nuts.
Lightweight windbreakers to keep warm in cold, windy conditions and prevent hyperthermia, and lightweight waterproof running rain jackets to keep out cold and wet in harsh rainy conditions, are also essentials.
Trail running sunglasses that relax the eyes, GPS running watches to track the distance, route and heart rate and gaiters to keep out mud, dirt and snow, are also nice to have accessories.
"The thing that separates trail running from road running is exposure," says PUMA's technical sales specialist Rae Trew-Browne. In the mountains especially, the weather can turn from warm sunshine into thick cloud cover and high winds in a matter of minutes and a high quality packable jacket is an essential item.
If the route is going into higher mountains and valleys, a beanie and gloves will be essential, she adds, and "if he is stranded it is much easier to attract help with a whistle, especially in high winds."
For Ram Mountain's Deidre Pieters trail running is "very distance specific". When running longer distances a backpack bladder and some kind of hydration will be must haves. "The terrain, weather and season play a big part in basic necessities," she says.
"If it's cold, you will need thermals, gloves and head protection; if it's steep, trekking poles are a must; if it's dark, a headlamp; if it's isolated you would need first-aid essentials and a survival kit."
Must-haves
Arm band with UV protection
Baselayer
Beanie
Cell phone (charged, loaded with emergency numbers)
Dry bags
Eyewear for running
Energy drink
First aid kit: small, compact, with safety blanket, bandage, pain killers, etc.
Gloves in cold weather
Gaiters in sandy conditions
Hat
Hydration pack or race vest and bladder: keeps you hydrated and provides storage space for accessories and food
Long fleece tops
Multi-functional technical scarf
Nutrition: energy bars and gels, and other trail food like nuts
Pocket knife or scissors
Jacket: water- and windproof with hood
Running shirt and shorts
Socks, technical
Space blanket
Sun block
Sweat blocker
Trail shoes with a good grip that offers protection and confidence
Watch: running specific with GPS and heart rate data
Whistle
GPS Watches
GPS watches allow athletes to monitor their heart rate, speed, distance, altitude and allow them to plan their pace, fuelling and stops along the way, says Bryant.
A good GPS watch is really nice to have, agrees Rossouw. "It measures, plots and maps the runs, elevation, distance, speed and time. Your customer can even get messages on the watch, which saves him from having to scratch around in his bag to see who's calling."
A GPS watch isn't crucial, but it does make the experience a whole lot better, adds Trew-Browne. "Knowing how far you have gone and how many meters you have climbed is good to know." A runner herself, she made good use of her GPS watch on Reunion Island. "While on Reunion Island I once mapped out a route on the laptop and then loaded the route onto my watch and enjoyed a stunning 5 hour long run through some incredible valleys and mountain tops, to finish at the coast."
Keeping warm and dry
A waterproof jacket is compulsory in some events. "Make sure it's waterproof and not just windproof — there is a difference," warns Rossouw. Calf sleeves not only aid recovery; they also prevent scratches when running through thicker overgrown areas.
A high quality jacket with taped seams, is a must have, says Trew-Browne. "It could cost a few thousand rand but it could also save your customer's life." Depending on where he is running, it is always a good idea to run with a packable jacket that is at least wind resistant, but if he can afford a fully waterproof jacket, this is even better.
Running in the dark
"A headlamp is always necessary if trail running at night," says Bruce Woodroff of Awesome Tools, local distributor of Ledlenser.
A headlamp should ideally be over 100 lumen strong, with a wide arc, adds Ernstzen.
Athletes often train during periods when visibility is poor, and they need high visibility items, adds Johlette de Jager of Glow Gear. "The majority of runners are forced to run early in the morning or late afternoon, and running during these periods pose challenges."
High visibility items need a certain amount of reflective per square meter on apparel to make the wearer fully visible. "High visibility colours like the well-known lime-yellow and orange are only day glow and add no value to visibility at night," she explains. Therefore tops or shorts need good standard silver reflective to be visible during darker periods i.e. after dusk and before dawn.

From left: Jan Ham, Brendan Lombard, Johan Jansen van Vuuren and Zeke Snyman.
Top runners' preferences
Brendan Lombard, ASICS trail running brand ambassador says a hydration pack with water or electrolytes is a must have. "Not only does it help the runner carry important gear, it helps the runner to stay hydrated on often remote trails. It is also perfect to carry a phone as well in case of emergencies."
Nice to have items are an action camera and specialised technical apparel, which makes running on the trails more enjoyable. The apparel should be breathable and fast drying.
Jan Ham, Columbia Sportswear's trail running ambassador, says "trail running takes you off the beaten track, where small mistakes can have huge consequences." A hydration pack that can carry water, a fully charged cell phone with emergency numbers, a space blanket, whistle, a waterproof jacket, first-aid kit and nutritional items like gels or bars and food.
Depending on the time of the year or the weather conditions other of his must haves include technical headwear/scarf, cap or peak, arm warmers or UV protective sleeves, moisture wicking clothing or base layers.
A GPS enabled watch is nice to have. "It's not only helpful as a training aid, it is also quite useful in races. It lets you know at what distances aid stations are so that you can plan accordingly."
Johan Jansen van Vuuren, Ram Mountaineering brand ambassador, packs his trail running kit with care. His essentials will include a backpack or waist belt — if the run is a short distance, then a waist belt is sufficient. "That being said, a backpack is more versatile and ideal for longer runs."
He will also include a water bottle, bladder or hydration pack. "The amount of water a runner needs depends on how far he is going to run. When heading into the mountains the runner should take along a minimum of 1.5 litres."
Essential clothing items would include a base layer, running shirt, shorts and a hat. A technical scarf can be used for sun protection or like a beanie. For longer runs the runner would also want a light waterproof (not just windproof) jacket, a first-aid kit, sun block, charged cell phone (with emergency numbers), space blanket, and scissors or a pocket knife.
"I also like to run with a bank card or money, medical aid card and driver's license," Van Vuuren adds. "You never know what might happen."
New Balance brand ambassador Zeke Snyman's list of must haves include a hydration pack, a headlamp for running at night, a cell phone, medical kit and nutrition.