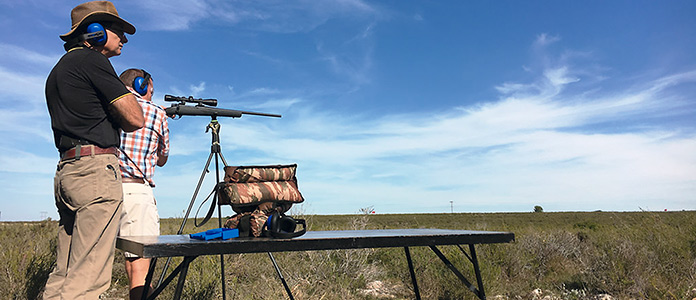 Photo courtesy of HuntEx.
Q2 2017
Hunting and shooting
biggest market?
The numerous and diverse sport shooting and hunting organisations in South Africa could make SASSCo the sporting code that generates the highest income for the outdoor retail industry. Words: Trudi du Toit.
Organised hunting and sport shooting is arguably the SASCOC-affiliated sporting code that generates the biggest income for the industry. Each of the estimated 100 000 competitors buys his equipment individually, which has to be of the highest quality so that he is not embarrassed by a pistol or rifle jamming or misfiring in a competition.
It is not only firearms dealers who benefit from the still growing interest in these sports. With the exception of a few indoor disciplines, participants spend significant time in the outdoors and also require equipment like knives, headlamps and torches, dust- and waterproof cases, optics, technical and camouflage clothing, hunting and hiking boots, and many other accessories sold by outdoor stores.
SASSCo members
These associations and federations are members of the SA Shooting Sport Confederation, which is recognised by SASCOC as the representative body for sport shooting
CHASA Confederation Hunting Associations
Compak Compak
CTSASA Clay Target Shooting Association SA
SAARA SA Air Rifle Association
SABSF SA Benchrest Shooting Federation
SABU SA Bisley Union
SACRA SA Combat Rifle Association
SAFTAA SA Field Target Airgun Association
SAHGCA SA Hunters & Game Conservation Ass.
SAHRA SA Hunting Rifle Association
SAMSSA SA Metallic Silhouette Shooting Ass.
SAPA SA Pistol Association
SAPSA SA Practical Shooting Association
SAPSF SA Pin Shooting Federation
SASSF SA Precision Shooting Federation
SATRA SA Target Rifle Association
WSSA
The SA Shooting Sport Confederation (SASSCo) is certainly one of the most diverse SASCOC- affiliated sporting codes. The seventeen disciplines (see right) that comprise the confederation are so different that it is difficult to collectively describe what they do — the closest will be to say that all of them involve an attempt to hit a target.
One can also add that just about all of the represented federations are affiliated to international bodies and have earned the right to award Protea colours to their members who regularly participate in international events.
But that is about where the similarities end.
Each one different
They all require very different and distinct equipment. The targets, for example, can be anything from metal silhouettes, to clay disks, goose decoys, images of people, paper or metal squares, bowling pins, fake parts of animals … and many more in between.
The weapon might not even be a firearm. It can be a compound or recurve bow, a handmodified firearm or a top quality air rifle, handgun, rifle, shotgun, black powder gun, big bore gun … and many variations in between.
There are about 60-70 sport shooting and hunting associations or federations across the country, each with numerous branches, provincial organisations or affiliated clubs.
Not all of them are affiliated to SASSCo though — the National Shooting Association with 18 000 members, for example, is independent from the confederation.
On the other hand, an associate member, the Confederation of Hunting Associations (CHASA) represents 25 different hunting organisations that include the SA Clay Target Shooting Association, SA Falconry Association, Big Bore Association, the SA Hunting Rifle Shooting Association among several other hunting and game conservation associations. Collectively, they have about 15 000 members.
And then there are also the thousands of citizens who occasionally visit shooting ranges, which also buy equipment for the occasional visitors to use.
Many of these organisations have been active for decades: for example, the Bisley Union started 89 years ago, the SA Hunters and Game Conservation Association (SAHGCA) is 69 years old, the SA Clay Target Shooting Association turns 63 this year and the SA Pistol Association was founded 60 years ago.
But, it is certainly true that the Firearms Control Act (FCA) has played a part in rejuvenating interest in joining sport shooting and hunting organisations, says Adriaan Woudstra, owner of the annual HuntEx Show (see here). The licensing benefits for members who can prove that they are active in dedicated shooting organizations attracted thousands of new gun owners — many who then got hooked on a particular discipline and are now regular participants in league or regional shooting competitions, dreaming of national colours.
Membership growing
This resulted in the membership of shooting organisations continuing to grow — many by as much as 10-20% over the past five years, report several of the organisations Sports Trader contacted. Interestingly, only a few of them claim that their recent membership growth can be attributed to the FCA — they rather credit good administration, improved facilities at clubs and marketing of their activities. Several mention the benefits of public exposure at shows and expo's.
There is also the social aspect of joining a club: getting together and enjoying the company of other members who share the same interest, especially in rural areas.
"We firmly believe in creating long lasting relationships with our members," Lindzey van Aswegen of the East Rand Shooting Club sums up what several other organisations mentioned. "These people have become friends and we support all with an open door policy. We provide structured shoots, advice on firearm related queries, support the member from the start with proficiencies, assist with SAPS applications, licensing purchases, ammunition … all the way to sponsorship of competitions."
It is, however, not an inexpensive sport and several organisations site sloping economy for static, slow, or no membership growth.
Women and children
Shooting is also no longer an adult male only sport — although membership of women and juniors is still below 10% in most organisations and it is growing slowly. But, it depends on the discipline.
Hundreds of boys and girls, for example, participate in the many age group competitions organised by the SA Air Rifle Association (SAARA) in seven provinces — and some schools offer this as a sport. The top shooters have represented South Africa in the Junior Olympics.
Various organisations, like SAHGCA, have appointed junior development officers to assist and recruit young members and organise activities where they are introduced to the sport.
Competitions at various levels help to improve shooting skills in order to cause minimum suffering when hunting. Higher points are awarded for hitting a specific animal target in the spot that will cause instant death, while shots in non-kill areas are penalised.
With 40 000 members active in 76 branches countrywide, SAHGCA currently has the highest membership of all hunting and game conservation organisations.
Founded in Pretoria in 1949, SAHGCA is among the oldest, but certainly not the first sport shooting organisation in South Africa.
This honour belongs to the SA Bisley Union, officially founded in 1928, but a sport enjoyed in the Cape since October 1686 when Governor Simon van der Stel proclaimed the first long distance target shooting competition in Stellenbosch. Participants shot at a wooden or clay replica papegaij and received cash prizes for shooting off various body parts of the parrot. The aim of the competition was apparently to improve the shooting abilities of the troops.
Target shooting — even as sport — remained the domain of the Defence Force, even after ordinary citizens began participating in shooting competitions organised by rifle clubs in the early 20th century. Technical improvements in target rifles and ammunition grew the popularity of this sport amongst spectators and participants and in 1928 the Minister of Defence instructed that the South African National Rifle Association be formed.
The association held the first national championships in October 1929. This year, at the 81st national championship in April, Protea colours will again be awarded to a SA Target Rifle Team to compete in the world long distance target shooting championship. South Africans have also performed well in this discipline in the Olympics.
As long distance target shooting became the domain of ordinary citizens under the auspices of the SA Bisley Union, representatives of the SANDF, SAPS and Prison Services broke away to form a Service Rifle Association, which held its own championship in Bloemfontein in 1975. The following year the first Service Shooting Springbok team was selected to shoot against what was then known as Rhodesia. In 1995 a South African team went to Bisley and using borrowed SA80 rifles burst onto the world Service Rifle stage by coming third in the International match beating America, Canada and narrowly losing to the host country, the SA Combat Rifle Association recount on their website. This name was adopted by the association in 2001, in line with the numerous international Combat Rifle associations.
Metallic Silhouette Shooting is another discipline with an interesting — although somewhat gory — origin. The story goes that Mexican rebel leader Pancho Villa and some of his bored Mexican outlaws in a drunken stupor tied two live bulls to trees as targets to prove who was the best shot. They enjoyed this contest so much, that it became a regular sport. Sheep, chickens and goats paid the price of being shot to smithereens as other communities copied them. But, after the Second World War food became scarce and they began substituting metallic cutout silhouettes for live animals.
These silhouttes fall over when hit and this contributed to the growing popularity of the sport, which staged its first national competition in Mexico City in 1952. By the early 1960's it was a well organised sport, which also crossed Mexican borders — as far as South Africa, which became a founding member of the international body.
Locally, it is strictly controlled by a national body and four provincial bodies (Western Province, Gauteng, Free State and Eastern Province) that ensure that proper rules and etiquettes are followed.
Pin shooting is another discipline that originated in America, home of ten pin bowling. It started as a demonstration of the effectiveness of a bullet proof vest: Richard Davis shot himself while wearing his company's body armour and then shot five bowling pins off a table. This seemed so much fun that other people wanted to try it ... and a new pin shooting sport was born.
The South African Pin Shooting Federation dates from 1996 and since then this relatively inexpensive, but exciting and visually stimulating, shooting sport has gained many followers, including amongst juniors who enjoy the spectacle of bowling pins flying off tables.
Practical shooting is one of the younger shooting disciplines, but claims to have been one of the fastest growing since the 1970's. Locally, membership has doubled over the past few years. It involves speed, accuracy, balance and super-fast reactions to complete a course with various challenges in the shortest possible time. The biggest club, with 200 members, is in Gauteng, but there are more than 70 clubs countrywide.
The level of competition in South Africa was high enough to attract six-times World Champion Eric Grauffel to participate in a local Level 4 event that counted towards his world ranking in 2015.
The South African Defensive Pistol Association was only formed in 2001, but already has more than 2 200 members in 38 clubs participating in more than 300 matches a year. To encourage novices, they provide NSO (New Shooter Orientations) that introduces new shooters to safe participation at all levels — whether using a handgun, shotgun or semi-automatic rifle. Compak is a Clay Target Shooting Discipline that was only introduced in South Africa in 2005. Internationally, the sport dates from 1992 and operates under the auspices of Federation Internationale De Tir Aux Armes Sportives De Chasse (FITASC). Compak Sporting involves the shooting of Clay Targets in flight, of which the trajectories resemble the flight of natural feather and fur hunting prey under natural hunting conditions, the organisation explains on their website.
All levels of shooters can participate, from top shooters aiming for titles at various regional and world championships, to those who enjoy it as a recreational sport.
The South African Compak association also has the right to administer the discipline of Combined Game Shooting, which resembles the hunting of fur and feather pray, shooting with both shotguns and rifles.
Clay target shooting is, however, a much older discipline and has been organised by the Clay Target Shooting Association of South Africa since 1954. The association currently has about 1 000 members, who belong to 42 clubs countrywide and is affiliated to CHASA.
"Improved management and communications, improvement of facilities and competitions have resulted in about 10% membership growth over the past five years," says Sarah Kalell. It is, however, still a sport mainly enjoyed by adult males with only about 3% women and 6% youth members.