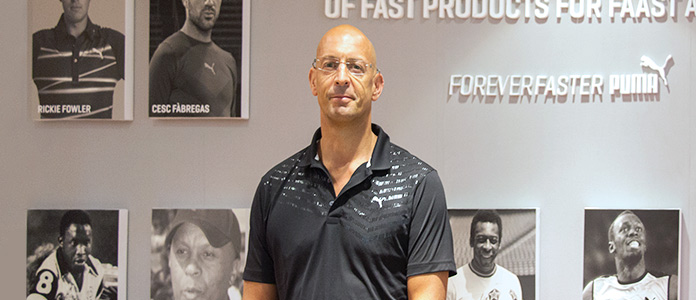 Q2 2017
PUMA on Faster growth path
Despite the economic upheavals of 2016, PUMA SA is moving to a new home to accommodate their Forever Faster growth. MD Luke Barrett-Smith explains how they achieved this successs globally. Words and images: Trudi du Toit
After a year during which most brands were counting the costs, PUMA SA is planning a move to accommodate their successful growth. In April they'll be moving into a huge 16 000m2 building in Durbanville, newly custom-built to accommodate all their growing warehouse needs as well as expanding office and showroom space. What's more, it has been built with a roof that has enough extra room to accommodate their expected future growth.
Growth and 2016 are not often used in the same sentence. But for PUMA SA 2016 had been a bumper year, says MD Luke Barrett-Smith, with significant growth locally and globally.
"Our products had been very well received locally," he says. "They made a statement from a brand perspective and created a big hype in the market. We also had a very good year from a sporting sponsorship side. Our athletes are on a roll, they're all ship-shape and it helps to sell product into retail."
For example, the surprising Leicester City triumph resulted in PUMA teams finishing in the first and second (Arsenal) positions in the Premier League. In the UEFA Euro PUMA players sporting the yellow-pink Tricks boots drew global attention: Antoine Griezmanno was voted Player of the Tournament for being the top scorer, Olivier Giroud ranked third on the scoring table and Rui Patrício was voted the Goalkeeper of the Tournament. Members of the England Supporters club named Adam Lallana of Liverpool F.C. as the 2016 England Player of the Year. Cameroon won their fifth Africa Cup of Nations football title.
Locally, two PUMA teams — Cheetahs and Bulls - vied for the Currie Cup in the final.
In the 2016 Rio Olympics PUMA's perennial performer Usain Bolt made history by achieving the triple three — three golds in three consecutive Olympics. Locally, the brand caught the imagination of potential future Olympic athletes through the innovative School of Speed concept, a global concept driven to a large extent by South Africa's Brett Bellinger. Usain Bolt is principal for the participating countries (including Russia and Turkey) to inspire the local young athletes, and in South Africa the vice-principal is Henrico Bruintjies.
"The idea is to develop young talent with an eye on the future," explains Barrett-Smith. "If you believe you are fast, you can enter a School of Speed event and stand a chance of winning a sponsorship." The top finishers in each discipline get further coaching and the opportunity to progress to the next level. The eventual top athletes will be offered a sponsorship that will include coaching, clothing, footwear and equipment.
Forever Faster
There are cycles of difficulties and successes for all brands, he believes, hoping that the current resurge of demand for the brand will be providing momentum over the next couple of years. A successful company is the one that has the flexibility to make the changes that are demanded, believes Barrett-Smith.
For PUMA the growth momentum started with the new energy and vision provided by Bjørn Gulden, who was appointed CEO in 2013. "We've changed from sport lifestyle brand to become a Forever Faster brand — we decided we wanted to be fastest sports brand in the world. I've seen the progress from 2014 to where we are today: we only got better and better."
Last year PUMA surpassed predictions of 9% annual growth by achieving 10% sales growth in a very difficult economic climate, prompting Gulden to comment: "2016 ended as we had hoped, with revenue growth in all regions and product segments, as well as a significant increase in EBIT and net earnings. The year has confirmed that our strategy has been right and we will continue to invest in our mission of becoming the Fastest Sports Brand in the World. We feel confident that we will continue to see revenue growth and a significant increase in earnings again in 2017.
Contrary to reports from many other international brands, the contribution from South Africa is not insignificant: with PUMA SA exceeded the global sales rate of 10% and grew by an excess of 20% locally.
The Forever Faster concept is behind everything they do, Barrett-Smith explains. "It is not necessarily related to speed, but it refers to execution, as in being better (faster) in everything you do … in rugby it would mean faster to the tackle, faster to defend. Faster is a generic word in our terms."
The mantra means that the company wants to achieve results faster and better. "It means we are never satisfied with what we have achieved. We want to do better in terms of customer service, in our approach to work, we want to perform better in whatever we do."
In South Africa, their growth mainly came from huge increases in women's product sales — especially fitness, where the gym meets the runway through sports and fashion styles that had been merged, says Barrett-Smith. This was backed by a global campaign to inspire confidence in women (See article Reaching the Women's market).
"The reactions to our Fenty PUMA by Rihanna runway shows during the New York and Paris Fashion Weeks have been overwhelmingly positive and have created major social media buzz," the brand reports. "Our women-specific collections are among the best performers in terms of both sell-in and sell-through. Many major retailers provided additional space for our female collections. In many accounts, the success of our women's line was actually a door opener to expand our shelf space with men's and kids styles."
In the current economy brand growth can only come from growing market share, agrees Barrett-Smith, adding that they also had significant growth in athleisure. "We are now seeing retro coming back, which is favourable for brands that have had long histories of iconic shoes — PUMA and adidas will benefit because they are some of the oldest brands. We will also benefit from the return to athleisure as fashion has morphed into the retro basketball look, while the running-shoe-as-fashion looked has slowed down."
They are also looking forward to good growth in local football sales, driven by their sponsorship of Mamelodi Sundowns. "Last year (their first year) was too soon, but this year sales should grow."
They endeavor to give back as much as possible by "looking after sponsorships, looking after the teams, in the hope that they in turn have a good season so that we can benefit," adds Barrett-Smith. "Like every other brand we try to ensure that we are visible and seen by consumers and that we do better than the others, whether on the sporting field or in athleisure."
Out of box thinking
According to several brand gurus consumers the personality and social responsibility initiatives of a brand determine how well it will be liked — and by whom. PUMA has a very distinct personality: an out of the box thinker, challenging convention, colourful, but caring. And giving back to society is a high priority, says Barrett-Smith.
"There are some big brands out there with big marketing budgets and sometimes its outside the box ideas that make people think and take notice. It forces a company to come up with new ideas to attract consumers."
It is, after all the brand that convinced the conservative Blue Bulls board members that it is OK for the burly players of the team commemorated by a raging bull statue, to take to the field in pink or camo. And have the confidence that the fans of a team with a name implying that they will always be in blue, will turn out in pink ... as they did, by buying unprecedented numbers of the pink jersey. "The jerseys proved themselves and they (the board members) were happy."
It is also the brand that provided rugby and soccer players with Tricks' boots in two different, very noticeable, colours like pink and yellow.
Or supports Cape Town designer Daniel Ting Chong, who created a traffic-stopping exclusive range of vintage sneakers inspired by Zulu and Xhosa African mythology.
"One of our initiatives is to provide time for staff members to do community service," continues Barrett-Smith. "Whether it is in a community initiative, education, or the elderly, we give them time off to go and participate."
They prefer to engage with the people of Dunoon because they will be the closest township when they move into their new building. "We've participated in many events and you can't imagine the joy of giving. We've, for example, been involved in providing Christmas stockings — PUMA socks — filled with gifts for the kids of Dunoon, and staff members provided 480 blankets out of their own pockets to donate to Dunoon residents for winter. We are happy to be reactive when the need arises, but prefer proactive planning to ensure CSR resources are correctly distributed in the right volume to assist the plight of the Dunoon residents."
Global community
Globally economic uncertainties and surprises like the Brexit vote and US election affected all brands in 2016 — also in South Africa, where brands started the year with a further disadvantage due to the exchange rate going through the roof.
But, within PUMA all the global subsidiaries work together as a group to achieve results. "Through the digital age everybody has come so much closer," adds Barrett-Smith. "You can Skype with someone in Germany, or wherever in the world, and communicate more than with someone in the same country. We can share strategies all the time."
What happens globally also has a positive local spin-off because the internet, social media and the availability of international magazines showing what celebrities do and wear keep consumers in the know. "Rihanna and Kylie Jenner have been instrumental in bringing attention to our product. But, the product has to be good: it is one thing to focus attention on the product, but if people don't like it ... our product is good and by showcasing it a demand had been created."
The fact that the influential US trade publication Footwear News declared the Fenty PUMA, developed in collaboration with Rihanna, as the Shoe of the Year 2016, proves his point.
Social media also had an impact on the timing of product launches, which are now available at the same time across the EMEA region. Shipping and distance might delay product arrivals in South Africa by a week or so, but as a rule, South African consumers can buy the products they see online and in blogs pretty much the same time as their European and Middle Eastern counterparts.
As an athletic footwear brand whose followers are keen to see the latest cosmetic and design innovations, rather than winter or summer fabrics, the different seasons in Europe and South Africa no longer plays a role. Plus, performance products are pretty much in demand throughout the year as sports like soccer and running seem to go on throughout the year.
Happy people ensure a happy business, which contributes to good results … and happy people stay with a company. "We have been able to hang on to our people," says Barrett-Smith. This year he handed out six 15-year awards to people who had been with PUMA SA ever since the subsidiary opened at the end of 2001.
And in the brand new building, close to MTB trails and other environmentally pleasing features, staff members will be even happier, he believes.