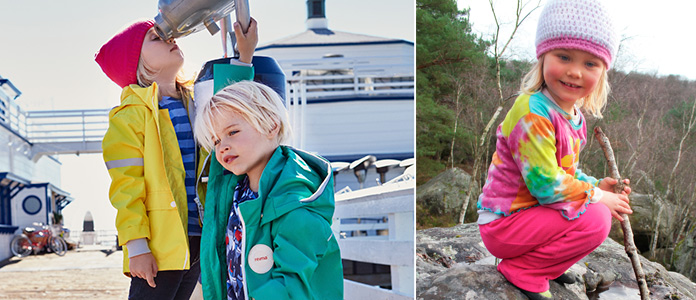 Images courtesy of OutDoor.
Q2 2017
Trending kids wear
for Easter and Eid
During Easter and Eid holidays parents will often buy new clothing and footwear for their kids. RHIANAH Rhode asked suppliers what will be trending over these periods
Parents tend to spend money on their kids for special, religious occasions like Easter and Eid so that they will look their best. While Easter always takes place during autumn, this year Eid also takes place during this colder time of the year, which will affect how parents shop for their children; during this period parents will be interested in buying products that can be used for layering suppliers point out.
With Eid now falling in winter, items such as hoodies, sweats and tees used for layering will sell for both girls and boys, says Casey Watermeyer of adidas. For their boys, parents will also want track pants, zippered track tops and also tees, which are worn underneath other clothing, she says.
"Layering is important to ensure that items are transitional from autumn to winter," agrees Kate MacLennan of Skye Distribution. Any bulk and discomfort should be eliminated to ensure all day comfort, she points out.
Planning ahead
For those planning for next year's winter, there are four new international clothing and footwear trends for kids, say style forecasters of the Magic fashion trade show.
Poetically Romantic: Kids' fashion will feature romantic and whimsical prints, rich Dutch floral oil painting inspired prints, ruffles and lace. It is based on a time when young ladies' and mens' clothing styles were prim and proper, and includes items such as tailor fitted denim trousers, boxy fitted jackets, Cashmere sweater vests, pleated skirts, spencer jackets, and blouses with big bow high collars. It will also include fabrics like wool, gabardine, tartan prints, felted wools, and herringbone.
The Pop-Con trend features gender-neutral silhouettes, smart textiles, graphics, interactive prints that glow and reflect, reflective high-gloss wet coated fabrics, sonic waves graphs, geogrid shapes, dimensional mesh and heat transferred iridescent foils. The 3D printed design elements will make products seem like an extension of the virtual world and prints and graphics will replicate gaming motifs of the 80's, computerised mesh-mapping, oversized fonts prints, quotable tech humour, popular memes, personalised emojis, as well as action-packed heroes and villains of comic books, Magic predicts.
Wild Wild West: Think western motifs on denim and shirts, embossed hand-tooled leather with ornate patterns, personalised ranch branding, fringed edges, and western medallions. Designs will be inspired by the diverse landscapes including tumbleweeds, cacti, streams, mountain ridges, and valleys found in the West. Simple Liberty florals prints, conversational western prints such as horses and horseshoes on button up cattlemen shirts will also be key.
The Urban Utopia trend will create an utilitarian wardrobe that combines the performance of CrossFit and graffiti of street skaters. It will feature remixed camouflage prints, artistic graffiti motifs and distressed textured denim that reflects the grit of the streets. The colours used are inspired by city landscapes like concrete walls, asphalt pavements and public walls with modern day artistic installations and neon expressions.
The next Magic fashion trade show — covering apparel, footwear, accessories, and manufacturing — takes place 14-16 August in Las Vegas.
Trends are important for kids
Parents are, however, not walking into stores looking for a specific look from years gone by in mind, and retailers can't just rely on what sold well last year to sell well again, caution suppliers.
It's important to stay up to date on the latest in trends, even for the youngsters, says Watermeyer. "Kids are now becoming more aware of trends and demanding that their parents buy what is hot at the moment." In their range, footwear styles like the Superstars, Stan and ZX flux are popular for this time of year.
Energy lights and rechargeable sneakers are among Skechers' hottest footwear trends for kids, says Kim Aires from local distributor Brand Folio LLC. Other trends such as sneakers with easy-on Z-straps (that make fastening and loosening shoes easier) icy aqua colours and emoji icons, glitter and satin, as well as boots featuring pom-poms, glitter, faux fur in suede and sweater knit materials; are also at the top of the list of Skechers' vast range for kids, she adds.
With kids footwear comprising about 30% of their sales they provide just about every possible style and innovation parents can wish for. Their gimmicky styles — like games that can be played on shoes — are more popular than formal or smart-looking footwear, adds Aires.
Commercial footwear fashion styles are performing at the moment due to affordability and alignment to trend, says MacLennan They have also seen an increase in popularity of different designs within the same footwear models, which answers the need for diverse product offerings alongside the classic silhouettes.
Colours
Canvas sneakers continue to lean towards white, says MacLennan. "This creates a blank canvas on which kids can allow their creativity to come to life. In addition, the white canvas sneaker is extremely versatile."
White and black are popular choices for them, but other colours are also doing well depending on the style of shoe trending at the moment, says Watermeyer.
PUMA's new Basket Heart lifestyle shoe — an updated version of its court classic — is available in both white and black patent as well as in pastels, with satin, suede and denim finishes. It has a feminine twist and connects with the brand's sport heritage by staying true to the OG silhouette, says Robyn Frick from PUMA SA. "With two lacing options it enables wearers to either create the perfect bow with a satin ribbon or funk it up with chunky laces."
These kicks help drive PUMA's DO YOU campaign message (see Women's market article) that inspires women to show off their confidence and style. These shoes can be paired with cropped pants, jeans, leggings, etc. and come in toddler and infant sizes, she adds.
Parents want mini-me's
Whether for clothing or footwear items, take downs from adults' to kids' styles will be a popular feature that parents will look for, say suppliers.
Their main product priority is designed for the kid, engineered for the parent, says MacLennan. "Take downs from adults to kids remain important in range assorting, as parents are always looking for mini-me clothing." This concept is also filtered into footwear to ensure they are offering kids product that is cool and convenient, she adds.
Although many of their styles are specifically designed for kids, take downs are also popular purchases from Skechers ranges, says Aires. She finds that their most popular styles for girls and boys are not only Twinkle Toes and Light ups, but also take down from men's and women's styles.
Sport shoes are also among the popular styles suppliers expect consumers to purchase.
Performance features will appeal to parents buying shoes for their kids who play a variety of field sports, but also want to use them on outdoor adventures, says Sarah Mundy from ASICS SA. Features such as aggressive, rugged trail-specific outsoles that can handle rough, uneven terrain are useful, as well those that provide features like cushioning and support.