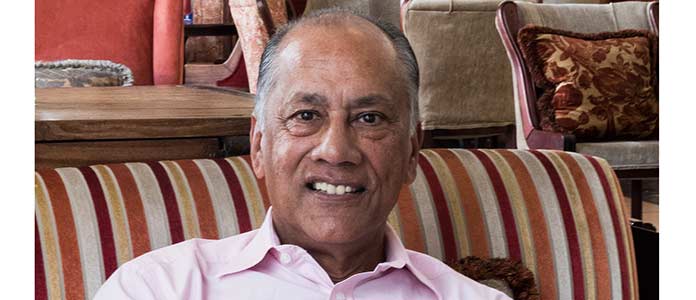 Photo: Nicol du Toit
January 2017
Dukes owner
explains cricket balls
Quality materials, experience and understanding of leather and ball manufacturing, paying fair wages and setting reasonable prices — these are among the elements that combined to make Dukes one of the leading cricket ball companies, explains its owner, Dilip Jajodia. Words: Trudi du Toit.
Dilip Jajodia had been a cricket enthusiast since his schooldays in Bangalore, India, in the 1950's. He was a good all-rounder and captain whose dreams of a first class (or higher) cricket career was cut short by a bad injury during his last year at school. Instead, he went to England at age 17 to study to become a chartered accountant. Due to the low pay he earned as an article clerk, he switched careers to become a chartered insurance practitioner. Jajodia was managing a public company's pension fund at a very young age and working extremely hard. But, after 3-4 years he decided to branch out and combine his love for sport — especially cricket — and aptitude for business, by buying a shelf company, Morrant, to manufacture and import sporting goods in 1973. Among cricketers the name Morrant became associated with pioneering ultra-lightweight moulded batting pads. His son, Sunil, now runs this company. In 1987 Jajodia bought the prestigious Dukes cricket ball company, and expanded it globally. These are but two of the several businesses he currently owns — but because of his passion for sport, they are close to his heart.
For Dilip Jajodia a ball is certainly not just a ball — especially not a cricket ball. The owner of the UK-based Dukes cricket ball company talks with passion and authority about the differences in cricket ball manufacturing, the colouring of balls, pricing, and why he does not believe in offering sponsorships.
With a 250-year heritage of supplying top level cricket balls Dukes can rightly claim to be an authority on the subject. Their balls are currently used in all the England Cricket Board (ECB) and West Indies Cricket Board matches and from this year, in the Australian Sheffield Shield tournament. In South Africa they are distributed to retailers by Opal Sport.
The sprightly owner, who played club cricket until he was 63, combines his knowledge of the game and manufacturing with a refreshing moral business code, which transforms an interview about cricket balls into a fascinating conversation on manufacturing and ethics.
Moral business principles
He eloquently addresses topics like the morality of selling goods at rock bottom prices that could not possibly have covered decent labour costs; why Dukes still hand-stitch their balls; his disdain for selfies with sport stars; and his belief that there are only two ways that a manufacturer can afford to pay for sponsorships: over-pricing or under-quality.
After more than seventy years Jajodia has a rich font of experience and expertise that helped shape the business principles that ensured that Dukes stayed a world leader in cricket ball manufacturing, despite refusing to follow the popular trend of paying for the rights to supply an official ball, or handing out free products — whether to unions or top players.
For Jajodia the quality of his products speak for themselves. Offering free products to elicit endorsements "has been the ruination of the trade," he says, because "if you have a reputable company you produce a product at the price it costs you to manufacture it. As brand owner I want to be responsible and manufacture at a reasonable price."
No selfies with sport stars
When you start paying for sponsorships or donating free products, the money has to come from somewhere. "Yet, people believe some joker who tells them he can make the same product at a cheaper price, or the same price, and still offer a lot of sponsorship money."
Yet, some top players like Ian Botham, Ricky Ponting and Shane Warne have offered unsolicited praise.
He can count several top cricketers among his personal friends, but will never make use of these relationships to promote himself or his brands. That is why there are no selfies of him posing with famous sport stars.
He bristles at the attitude of customers and unions wanting special deals, who treat cricket ball suppliers "like a vendor at the gate, with an attitude of what are you offering us today?" What he offers is years of expertise and experience as a manufacturer, he stresses, no free products or discounted prices.
The same price for all
He has a world-wide price list, which fairly reflects the cost of manufacturing and distributing the balls. That is what everybody pays.
Therefore, just as he pays for his own test tickets, he expects the ECB and other unions to pay for the balls they use in matches. This has resulted in a relationship of mutual respect: the ECB, for example, allows him to select the twelve balls used in test matches.
While he maintains that every ball they manufacture is top quality, some balls just have a certain feel, which tells you they are special, he explains. These he sets aside for possible selection for test matches. It is a matter of pride to him that even after 80 overs these balls will remain round and the seams intact.
This is because he only uses top quality raw materials, and has the four pieces hand stitched by the master-stitchers on the sub-continent, before applying their special formula of polish. It takes about three-and-a-half hours to manufacture a cricket ball, for which they pay a fair hourly wage, he explains.
That is why he reacts with indignation when people want to insist on cheaper prices — or he sees some of the rock bottom prices charged for retail goods. "What wages are they paying? Sorry! That is not acceptable behaviour. If consumers want to buy something as cheap as possible because they are poor, they are still infinitely better off than the people making the product. We need to have some moral behaviour!"
His response to people asking him to supply balls at a cheaper price is therefore: What type of wages do you think should be paid? Do you want me to employ child labour?
But, if the product is right, people will pay the price, Dukes has proven. Jajodia likens it to the difference in price between a Toyota and Mercedes Benz, for which "people will pay more because it is better."
Instead of talking price, the focus should be on the quality of the product, he says. Besides, using a ball that retains shape for a full 80 overs is more economical than balls that have to be replaced frequently.
The Dukes balls, introduced by the Duke of Penshurst in 1760, are still hand-stitched today because that ensures that the seams stay intact, even after 80 overs, Jajodia explains. "In a machine-stitched ball it is the middle seam that holds it together, the rest is for decoration." Hand stitching avoids destroying the thread, which cause the seam to split in a machine-stitched ball. "That is why our balls don't open."
It is simply not true that hand-stitched balls are harder on bats, as is sometimes claimed. Players actually preferred the hand-stitched pink Dukes ball to another brand when the ECB asked them to compare the two balls in a second eleven three-day day-night match, he recounts. Both brands had similar use.
He is now keen to have all the hand-stitched Dukes balls — red, white and pink — tested and compared in playing conditions anywhere in the world.
He also doesn't believe in manufacturing cheaper two-piece balls. "They don't last," he says, because the cup created by the four pieces stitched together ensures lasting shape retention — while two circles stitched together loses shape. "I say if anybody says they can make a 4-piece ball at the same price as a 2-piece ball, bite their hand off. A 4-piece is a far better ball."
Red the only natural ball
Cricket balls had originally been brown, he recounts, until somebody suggested that they needed to be brighter, and red was chosen. For some curious reason no other colour except red permeates leather in such a way that it remeains red throughout all stages of play, althought it might become lighter.
Other colours, including pink, require a surface to be applied to maintain the colour pigment. "We managed to dye through the leather in pink so that if the ball hits something it is pink underneath, it doesn't come through white," explains Jajodia. "You can dye it pink, but you can't make it natural, so we put a bit of pigment on top and applied polish on top of that. That is why our pink ball lasts."
They still use a polish formula to refurbish cricket balls that was bequeathed to Jajodia by the inventor, an expert in the preservation of leather-bound manuscripts. A friend suggested that they also use polish to refurbish tired looking cricket balls.
"I tried the polish and it worked pretty well," says Jajodia, who subsequently ordered enough to use on all their cricket balls. Although they now make several different polishes, they still use the original formula that was "an inspiration and showed me how a ball can be refurbished."
When the inventor died, he bequeathed the formula to Jajodia, who was the first manufacturer to believe in it.