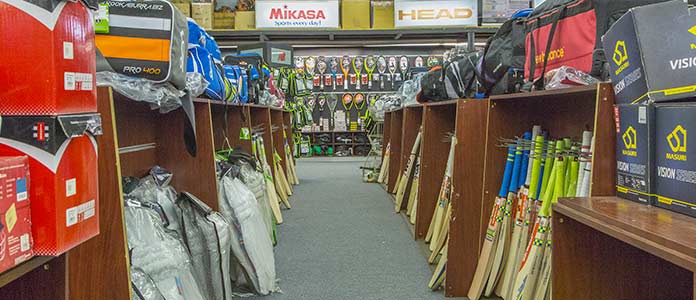 Photo: Nicol du Toit.
January 2017
Kloppers still rewriting
the retail books
In a time when many other stores are closing, Kloppers is expanding into sport. When others are taking strain, they are reporting high double-digit growth. What is the secret of the Klopper family's retail success? Words: Trudi du Toit.
For nearly fifty years the Klopper family of Bloemfontein have been rewriting the retail handbooks by succeeding where the so-called experts predict failure. Last year, in one of the toughest trading years for sports retailers in recent decades, they again bucked the trend with high double-digit growth in sport sales in their Bloemfontein store, as well as in the Kloppers Sport store in the Cape Gate Mall in Brackenfell they took over a year ago.
This Cape sport specialist store, for example, had grown tennis sales 17% during the year and in October their tennis sales were 30% higher than the same month the previous year, says Dirk, the Klopper brother responsible for the sport division. "We've also had an excellent hockey season," he adds.
He ascribes these gains in an economic downturn period to the fact that they provide a huge selection of brands and equipment in the major sporting codes to satisfy all tastes and needs. Contributing factors had been that they took over the structures of an existing store (Somerset Sport) and have very good staff members.
Staff expertise
Apart from the experienced Somerset Sport staff they retained — including manager Christo Carstens and well-known fishing expert Cary Steele-Boe — LJ Albertyn (see p40) added his hockey and tennis expertise gained through years of playing, including at university, when he transferred from Bloemfontein. Peter Fletcher, a tennis coach at Kenridge club, works for them on a part-time basis "We've empowered them and allowed them to plan and order their own stock, and they all bought into that," says Klopper.
Knowledgeable staff members have been at the heart of the Kloppers retail success in Bloemfontein for years, he explains. Frikkie van Rensburg, who heads the technical department in Bloemfontein, is a renowned tennis coach. "Both Emile and Dean are good hockey players and coaches and are therefore keen sellers of hockey sticks," says Klopper.
"Grant (Steyl), in charge of the sport shoes, is one of the best in South Africa. Christmas is our soccer specialist with all the right connections", which, no doubt, contribute to their soccer kit sales surpassing R100 000 per year.
Some of the success of their tennis sales can also be attributed to the three stringers they employ in Bloemfontein, who are constantly kept busy. "That is what makes tennis such a good sport stock option, because you always have repeat business," says Klopper.
Their staff's expert knowledge is supported by 50 years' of retail experience that have made the Klopper family retail legends.
Top retailers
The specialist sport store in Brackenfell is the only Kloppers retail outlet where one of the six brothers or their children are not in charge — although Dirk regularly visits from Bloemfontein and is only a phone call away should problems arise. He believes that the standalone Cape store, with a wide range of brands in the main product categories, could act as a model for further expansion into the sports market.
It is, however, not the first Kloppers-owned standalone sport store. Their father, Willem snr, had opened a separate sport store in 1970, run by then Free State coach Colin Bland. It became a division of the main Kloppers department store in Bloemfontein in 1976, which was situated in one of the prime properties in Bloemfontein's central business district. In 1984 Christo Wiese of Pepkor bought the property, which included the Kloppers store, signing a restraint of trade with Willem senior.
Although all the brothers had qualified for other professions — Willem is a CTA-qualified accountant, Steva an attorney, Leon a social worker, Anton a medical doctor, his twin Wouter has a degree in agriculture and Dirk is a chartered accountant — retailing is at the heart of the family.
A year later the three sons who had at that stage been involved in the business with their dad — Willem, Steva and Leon — started a new store, which they called Juniors. They were immediately successful and bought the original Kloppers business back from Pepkor two years later.
That was also the start of the famous annual suppliers' functions, which became annual calendar highlights for the industry.
Individual sports
Another success ingredient is their vast stock offering for major sports: in hockey, tennis, cricket etc. just about every brand sold in local retail stores is represented by a comprehensive range of products. This has made Kloppers in Bloemfontein a prime destination store for tennis players. During the annual junior and senior national championships in Bloemfontein, players from across the country stock up on shoes, rackets and accessories for the year.
As a tournament sponsor, the store is prominently linked to top tennis and word of mouth has alerted players from across the country to the fact that you can stock up on all the top end gear you might need for the rest of the year at the Loch Logan Mall store. Some of the players go mad when they first visit the store, says Klopper.
Apart from staff members being prominent coaches and a strong relationship with the prestigious tennis academy in Bloemfontein run by former ATP player Gustav Fichardt, Klopper has a vested interest in tennis as his son is an up and coming junior player, currently ranked among the top 1 000 in the world.
Hockey has been their premier sport in terms of turnover growth, driven by a surge in hockey interest at school level, as seen by the number of new artificial turfs opening at schools. Looking at the long row upon row of sticks and accessories, one can but agree with Klopper's comment "we've captured the hockey market well."
Retail philosophy
Another reason for the Kloppers success story is that they have an old school retail philosophy that stood the test of time: straightforward, honest dealings with all and a clear distinction between the roles of retailers and their suppliers (see article) retailers sell to the public, while distributors sell to retailers. No grey areas in between. Brands who sell direct to coaches or consumers are told "that is not the way we do things in the Free State. If they want to sell direct, they can come and fetch their goods from our store," says Klopper.
He does have sympathy for brands who cannot find a suitable sport specialist outlet in other parts of the country, but in Bloemfontein they do provide an outlet that tries to make room for every product they believe will appeal to Free State customers.
On the other hand, they don't compete with their suppliers with house brands and do not import any competing brands. "We rather sell well-known brands."
Kloppers prices are also below those offered by the chain stores … and yet they manage to make a satisfactory margin. In the sport industry there is not the same stiff discount price competition as in the white and brown goods industries.
"Per square meter sporting goods are the most profitable items in the (Bloemfontein) store, especially as they don't require huge warehouses for storage, nor high transport costs like big items such as fridges or furniture."
As the youngest of the Klopper brothers, Dirk came into the business when Kloppers in Bloemfontein was well established as a furniture and white and brown goods retailer of note. At that stage his brother Anton managed the huge outdoor and sport section, which occupies a whole floor of the multi-storey store.
With Dirk's passion for sport, he was very happy to take on the management of the sport section when he joined.
He is keen to open more sport specialist stores. "Selling sporting goods is such a pleasure," he says. "People come to the store to see what we've got and to chat with us. We therefore want our section of the store to be a place where people will feel comfortable browsing — not too fancy, a bit old style, but with people who can assist you when necessary."
And who knows what the future holds? Gauteng is an economic hub begging for specialist sport stores, he would like to establish a bigger footprint in the Cape, sport retailers could benefit from forming a buying group ...