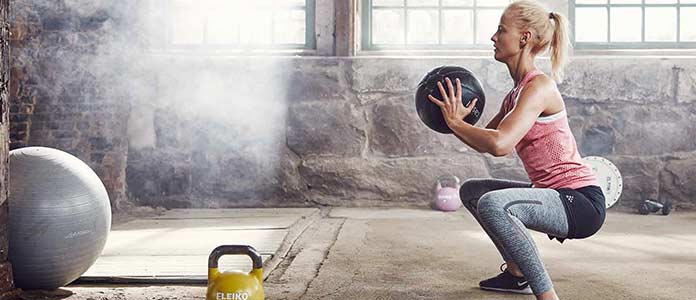 Craft, available in South Africa from Brand-ID, has an extensive and impressive range of clothing for all fitness activities, as well as cycling.
January 2017
What's trending
in fitness?
Fitness can be as fickle as fashion. What are the current fitness favourites that you should give prominent space to when planning your 2017 fitness stock? GERRIE VAN EEDEN reports. Additional information: Trudi du Toit
Fitness and training is an ever-expanding and changing beast. In the eighties, aerobics in bright-coloured spandex and questionable hairdos were bigger than Madonna's hair. A few years ago spinning took off with a bang. Zumba and Pilates were on everybody's lips.
What trends are still going strong for 2017 and which ones are petering out like old Arnie?
The active consumer is looking for a variety of exercises, says PJ Morilly, brand director of Reebok SA and a fitness expert himself. They don't want to focus only on one type of exercise four to five times a week, and would rather combine two to three different types of exercise, like CrossFit, MMA and running to provide more variety, he believes.
And, of course, consumers who want to get into shape after the holidays will need apparel, footwear and equipment for all these activities. So where do you position the stock on your shelf, to meet the consumer's needs?
Wearable technology came out on top in the Worldwide Survey of Fitness Trends for 2016 and 2017, conducted by the American College of Sports Medicine's (ACSM). It is also the second most popular fitness trend in Canada.
The 2017 ACSM annual survey, now in its eleventh year, was completed by more than 1 800 health and fitness professionals worldwide who selected their predictions for top trends from 42 potential choices.
Bodyweight training
Resistance training using your own bodyweight is the second biggest trend, the ACSM respondents say. Resistance bands come in different sizes and with varying elasticities.
Originally from the US, resistance band training became popular in Europe when FC Bayern's fitness trainer introduced it to the team. The German national football team now also uses the bands for fitness and coordination training.
The advantage of this type of training is that exercises can be done any place in the home or office. There are several brands that offer resistance bands for exercise.
This was also one of the fitness trends demonstrated at ISPO Munich (see below).
This is followed by high-intensity interval training (HIIT), namely a vigorous but short exercise session that appeals to people with little time to spend on lengthy gym sessions.
A perennial favourite like weight-training for strength remains a top trend — #5 in 2017 and #4 in 2016. Yoga is again moving up in the ranks — #8 in 2017, up from #10 in 2016.
Obstacle course races
Top 10 Fitness trends for 2017
The American College of Sports Medicine, the largest sports medicine and exercise science organization in the world, publishes an annual list of the hottest fitness trends based on surveys of members across the world. Their top fitness trends for 2017 are:

1. Wearable technology like fitness trackers, pedometers and heart rate monitors.

2. Bodyweight training with resistance bands

3. High-intensity interval training (HIIT)

4. Working with educated and experienced fitness professionals

5. Strength training with weights

6. Group training

7. Exercise is medicine: people do it for health

8. Yoga

9. Personal training is becoming popular as a career choice

10. Exercise and weight loss


Changes from 2016
Strength training #4 in 2016
Yoga and Zumba: #10 in 2016
CrossFit #7 in 2016
In Canada obstacle course racing is now the #1 fitness activity (see p50) according to health professionals, even more popular than wearable technologies.
South Africa now has three big obstacle races after the Fisherman's Friend StrongmanRun made its debut in Paarl on October 1 last year — the first time this Brooks-sponsored race was held outside Europe.
The Impi Challenge and Jeep Warrior Race both started small and have grown into events with multiple versions taking place all over the country.
While participants get down and dirty, often dressed to entertain, their friends and families enjoy the carnival atmosphere and fun acivities that accompany the serious business of racing through mud baths and over all kinds of obstacles.
CrossFit down
The flavour of the month a few years ago, there are those who now believe global numbers for CrossFit are dwindling, as it has dropped off the Top Ten fitness ranking chart for 2017.
But, in South Africa, new boxes are opening all over the country.
What makes CrossFit so popular in South Africa is the fact that it is accessible and scalable across all levels, says Morilly. "It is a form of exercise that is absolutely growing. We may have reached a plateau with the number of boxes opening up in the bigger cities, but in smaller towns we are regularly opening up new ones."
And it's also not a boys-only club. Imtiaz Desai, head coach and exercise scientist at the Rebel Elite CrossFit Jozi says that over the past six years they have seen a steady growth in female participation at their CrossFit-box, with a 60/40 split of females/males.
CrossFit is a registered brand, with gyms (or boxes) required to pay an affiliation fee to use the name. However, there are numerous functional fitness gyms that do pretty much the same thing.
Reebok is the official title sponsor of The CrossFit Games, and also the official apparel producer of CrossFit licensed gear, and may therefore use the name for their products. But numerous other brands make and sell the same type of equipment, clothing and shoes, just labelled as functional fitness.
Combat sports
Although not on the official Top Trend lists, combat sport is becoming increasingly popular in South Africa — not as a competitive blood sport, but as a form of fitness training, where boxing is combined with sparring, bag work (boxing bags and cushions) and grappling (like wrestling). This is also growing among women, especially MMA.
There are a number of boxing clubs, MMA, UFC and kickboxing clubs across the country, and almost just as many brands that associate themselves with this form of training. Internationally Reebok have signed up as the partner for UFC (Unlimited Fighting Championship) to be the exclusive outfitter and apparel provider. They have also struck a deal to be the brand partner of FightclubSA.
Top 5 trends in Canada
Obstacle courses
Wearable technologies
Body weight exercises
High-intensity interval training
Holistic approaches
Fitness trending at ISPO Munich
With a hall dedicated to health and fitness, this product category will again attract a lot of attention at 2017 ISPO Munich
Fitness and health were again buzz-words at this year's ISPO Munich — even before the show begins on February 5. But, judging by the many booths booked by manufacturers of interest-generating products in Hall B4, it was easy to predict that the fitness-dedicated hall will generate at least as much interest as in 2016.
An exhibitor will be showing how 3D shoes are printed, yoga guru Young Ho Kim will begiving demonstrations, live fitness classes will be conducted, several experts will talk fitness and in hall B2 all the latest fitness and apparel styles will be seen.
Fitness will indeed be trending.
ISPO predicts trends
And Jacqueline Eskandar, ISPO project coordinator of the Health and Fitness area obliged by making predictions of what she believes will be the five most important Health & Fitness trends to watch at the show.
1. Running remains a trend sport. "One focus will be on the trend sport of running," says Eskandar. Apart from talks on the latest trends and production tecgniques, a Running Shoe Symposium will be held during ISPO.
2. Health & fitness for women. "There's enormous potential for retail there," explains Eskandar, "We want to show what the new ideal of beauty of active, healthy, and well-toned women looks like and what role social media plays in it."
3. Group training remains in-demand. Trainers from the Asics Training Squad, the Greenbodycamp, and social media experts will be performing exercises on stage and discuss the latest developments. Other women's fitness trends, such as the workout boutique fitness spilling over from the US, will also be addressed.
4. Wearables are indispensable. "The topic of wearables definitely continues to grow enormously, says Eskandar. "Every tenth person these days already uses wearables or fitness apps. Above all, it's a topic that's interesting not just for athletes: everybody wants to know how many steps they've taken how high their pulse is (see p 47)."
That is why electronics manufacturers like Samsung and LG will also have booths this year.
5. Yoga — now for and by men.
Several gurus of the yoga scene will be doing presentations and giving talks.
In addition, new fitness products will be introduced during demonstrations and talks on manufacturer's stands.
A sport scientist will, for example give tips on how best to train with the elastic resitance bands that are now becoming so popular amongst all athletes doing body-weight training.
---
Wearables
#1 trend in fitness
Wearable technology that helps with activity tracking has been the top fitness trend for the past two yeares. These devices that provide entertainment or watch all your moves can nowadays be worn any place: in your ears, clothing, shoes, eyewear — and, of course, also in a watch on your wrist, reports GERRIE VAN EEDEN. Additional information: Trudi du Toit
The huge market for wearable technology just keeps on getting bigger and bigger. This year, sales are expected to top $6-bn globally. The term wearables includes everything from the normal heart rate monitor, to smart glasses, smart watches and even sports headphones that also act as an activity tracker.
Incorporated technology is the main reason why wearables are such a big deal. We live in an age where people want an app to monitor and track everything, so why not exercise as well?
Speakers at the last Wearable Technologies (WT) Conference (held in July 2016 in San Francisco) showed what the future of the fitness industry would look like when products like a sweat sensor patch, a dehydration sensor, or gym watch that tracks and implements coaching tips for weightlifting routines, become common.
While wrist-worn technology is still a smart and safe bet, the wave of wearable technology is slowly ebbing from wrist-based hardware towards electronics that are seamlessly embedded into the equipment and even clothing we wear, like smart shorts with a sensor that transmits coaching data to wireless headphones.
Technology developed for the aerospace industry that can sense human activity and body functions through hats, visors, helmets and wireless headphones will become features of fitness coaching in the future, speakers at the WT conference predicted.
Everyday use of these inventions are not too far in the future.
A market research company like Juniper Research already estimate that the wearable technology market will this year be worth $6-bn with smart glasses sales predicted at $1.5-bn and sales of smart fabrics and interactive textiles expected to reach $2.6-bn by 2017.
In South Africa, consumers have been sticking largely to wristables with a built in heart rate monitor, according to Chantal Grobler from TomTom SA. These are still their biggest seller. Add to that the ability to play music, an integrated touch screen and linking up with a mobile phone, and you have a winner among local consumers.
Do your children get enough exercise? The Swiss wearables brand Garmin is bringing the first fitness tracker for children aged four to ten with vívofit jr. to the market. Using the tracker, parents can assign chores and even hand out virtual rewards, Garmin says.
Although not directly sold through retail, downloadable fitnesss apps owned by athletic brands are creating fitness communities, which can generate loyalty to the brand's other products in retail.
There seems to be no end to the ingenious electronic products regularly coming on to the market — especially at shows like the Consumer Electronics and Consumer Technology trade show and the The Mobile World Congress trade show in Barcelona. Among the products with Wow!
factor that Christian Stammel, CEO of Wearable-Technologies at ISPO saw there, are:
A 3D shoe that changes its cushioning and outsole to adapt to the way you run.
Instead of a smart watch, you can use a smart strap that can be attached to any make of style of watch. The strap provides information about your state of health.
Oakley & Intel's smart eyewear has a voice-activated coaching system to generate a personalised training programme.
A cycling backpack with LEDs and flexible sensors embedded in the fabric mimics traffic signals to alert drivers behind the cyclist when he intends to turn or stop.
A super small nanocomputer in a golf glove scans the grip, speed, and overall motion sequence of the player, providing feedback.
Hearables a big hit
"The big hit (at the Mobile Congress) were virtual reality headsets," reports Stammel. "Until now the focus was mostly on wrist-based heart rate monitors, but ear-based biometric headphones have their advantages.
The reason why there are nowadays so many hearable devices available for the sports market is because the ear is potentially a better place for retrieving biometrics than the wrist, because there is less movement and the skin is thinner, which makes reading easier. For this reason they are more accurate.
Skullcandy: affordable hearables
Ear buds and headphones may be the latest fashion accessories among youngsters, but they also have to provide superb sound, feel comfortable in the ear and provide easy access to your music or training app while you are on the go.
Skullcandy, locally distributed by Luks Brands is the designer and manufacturer of headphones, ear buds and head sets that tick all these boxes. Their buds and wireless headphones not only sound good, they also look good.What's more, they are affordable.
The range of Chops Buds Skullcandy ear buds in sleek designs and eyecatching colours, are sweat resistant and are designed to fit comfortably in or around the ear.
A bluetooth wireless connec-tor, which can be worn like a collar around the neck, provides stability during even vigorous activities.
They also feature call and track control.