Q1 2019
Brands end relationships with independents
At the end of last year, a large number of sport and lifestyle retailers were informed by Nike that the brand was closing their accounts. All stores claim they have never missed a payment. Most of them have had long-standing relationships with the brand ... in several cases as long as 40-50 years. Then we got calls that adidas had done the same. Many of the retailers said they felt betrayed after building the brands for many years. Also see the responses from the brands. By Trudi du Toit
Shortly before Christmas last year an independent South African retailer contacted us about a special Christmas gift he received from Nike: a registered letter informing him that they won't be supplying him any longer, even though his account is in good standing and he had been a long-term customer. Over the past two years the retailer had placed orders worth R1.3-m with the brand.
We soon learnt that this Dear John letter was not unique — a surprising number of independent sport and lifestyle stores across the country were also dumped by Nike at the end of last year. We were surprised by the large number of retailers who had received THE letter (as it became known) at about the same time, which suggested a policy decision by the brand, rather than a decision based on non-performance from a specific retailer.
A Dear John email to a retailer
After a retailer, who had been an adidas stockist since the brand was introduced into South Africa, emailed a brand representative to enquire when he would be able to view ranges for futures orders, he received the following email (verbatim):
As per our last conversation, we as a company have had to go through some large changes and as directed from Global to close accounts and realign our business segmentation and account plan with the global strategy. With the fact that adidas has grown significantly over the past few years resulting in our processes becoming more cumbersome. We unfortunately no longer have the capacity to service all our customers and not withstanding some long standing relationships we have had to revisit our distribution strategy for SS18, as mentioned above. We were instructed to review several accounts and resegment another sector of our business. As mentioned your account was one of these and we were looking at options to benefit your store. We therefore regret to inform you there we are not able to supply you with adidas product as of January 1, 2018. We will honour all existing orders that are currently in the system for the remainder of the year and then respectfully need to close your account with adidas for the short to medium term, where we hope to have a solution in place to be able to service you again.
Nike confirmed this when we contacted them, but did not want to respond to our specific questions.
The gist of their letter was that It's been determined that your business relationship does not satisfy the objective criteria of Nike's business strategy... without providing examples or proof of where the retailer falls short.
Accounts in good standing
The retailers who called or emailed or later responded to survey questions recounted simi- lar experiences, for example:
All say their accounts are up to date and they have never missed a payment;
None of them had been given a valid reason for anything they had done wrong that necessitated the closure of their accounts;
Most of the correspondents and callers had been long-term brand customers ... several between 30-50 years, or more, the shortest five years.
Sports Trader's readers will know a fair number of these retailers, because we had done Shop Talk articles about them in the past. We do these articles about independents who had made a success of their businesses — some overcoming major obstacles, including stiff competition from chains — as an example to other retailers of what can be achieved even under difficult circumstances.
Many of these independent sports retailers have strong ties with the communities they serve, especially in platteland towns. They coach local sports teams and can offer customers individual advice because they know their playing conditions and personal circumstances. These are some of the reasons why they have been able to compete successfully against chains.
Many retailers also say they have been promoting the top brands for many years ... a practice that now comes back to bite them as customers are not keen to accept other brands as substitutes.
The retailers are therefore deeply concerned by the effect of these account closures on their businesses, especially when their customers only want a specific rugby boot or running shoe from these two top brands ... or nothing.
"All the school boys want the Predator boot from adidas … which we may not supply. This is doing a lot of damage to our business as our whole boot trade has collapsed," says an independent outfitter from a Boland town where two of the biggest rugby schools are located. "Kids want a specific brand and will not change their minds. They simply walk out if we don't have it."
Retailers helped build brands
This is an experience shared by many retail- ers. "Customers do leave without purchasing any footwear or apparel if they wanted Nike in the first place," says Anton Momberg of Sege Sport in Cape Town, who was dropped as a cus- tomer by Nike some years ago after selling the brand for many years — and whose business subsequently suffered.
"It is so unfair to punish independents that helped bring the product strongly into the marketplace," says another retailer. "These products were purchased by the independ- ents, displayed, stored, merchandised and promoted. Surely, the management from Nike and adidas cannot be naive on this point? Otherwise, the giants have no heart and kick those that loyally supported them over many years."
A sports retailer who had been stocking Nike since 1976 (42 years) says it is "one of our major shoe brands," and he believes his business will suffer now that his supplies had been cut off.
Keith Mclaren of Desnic's Planet Sport has been selling Nike products since 1965 when the Kimberley store, which also services schools and clubs in surrounding towns, opened 54 years ago.
These two sports retailers had therefore been Nike stockists for close to a hundred years.
Lifestyle retailers are equally concerned about the effect of their account closures by Nike, which they say is a market leader that is in high demand by their customers. For example, Pampally Trading had been a Nike stockist for 35 years, The Holiday Makers Shop had been a brand customer for more than 30 years, Reeds Mans Shop for 25 years and Wadees Clothing had been selling Nike for 20 years.
Between them, these four lifestyle retailers had been good enough for Nike for more than hundred years ... but no longer.
Others, who did not supply names, have been stockists for 45 years, for 35 years, or for 30 years — which would be more than the life span of some of their customers.
Adidas did the same
Then, we started getting calls from retailers whose accounts had also been closed by adidas over the last couple of years, without any reasons that made sense to them. This was more of a gradual process than the mass closures of Nike at the end of last year.
We therefore decided to include general questions about brands closing their accounts in our annual holiday sales survey.
While one or two respondents mentioned other brands that don't want to supply them, the main concern was the closure of accounts by top brands Nike and adidas.
Coupled with the tough economic conditions, many of the retailers only foresee doom and gloom and empty aisles in their stores if they cannot supply the brands their customers want. All the respondents whose accounts had been closed said they felt betrayed and angry. About the same reaction one would expect from a wife who is told by her successful husband after their silver wedding anniversary that he is divorcing her because she no longer fits his image ... after she supported him in the early days when he was struggling to establish himself.
"It's not what you've done, it's what you've not done," Yusuf Moosa of Lucky Sport was told by a Nike rep. "This decision is irreversible," said the rep when he asked what he could do to continue receiving the brand, which he de- scribes as a puller of customers into stores.
"I've been a Nike customer for fourteen years and ordered every quarter, never missing a payment," says Moosa, who says he was even put on a higher category that allowed him to view the ranges, instead of ordering online.
We received many comments from retailers who wished to remain anonymous, because they hope the brands will change their minds and open their accounts again:
"I received no notification that Nike is closing our account, but when we tried to order we were told our account is closed," says a retailer who has been a customer for thirty years.
"Nike is definitely a market leader and because many of our customers think we are still Nike stockists, our business suffer because we cannot supply them products."
"Nike is not a sudden craze like Vans — it is a constant force in the market and cannot be ignored ... my Nike customers will seek the brand elsewhere now that I don't supply them and then those customers may be tempted to buy everything elsewhere..."
"It's because of greed, they only want to supply the big guys."
"I can understand if I don't pay my account — but, I'm never late and never defaulted on any payment."
"After 35 years I was pushed aside and the reason was that I did not spend enough — yet, I had been told I was going to be upgraded to be a priority customer."
"I believe you have to spend R1-m a season, but I have been cut off from ordering the top end key products since 2015, which made it impossible to reach that target."
"Adidas has done the same to us a year ago. ASICS refuses point blank to supply us after more than seven years of trading. The big brands have no interest in SME businesses and make it as difficult as possible just to open an account. It's not fair trade," says a retailer who received THE Nike letter in December.
"Nike will be closing our account from 2020 and adidas stopped me buying the original brand," says a lifestyle apparel and footwear stockist. "It will make a big impact on our business because our customers want those brands and I will not be able to compete with the stores who are still stocking these brands."
This view is confirmed by another anonymous respondent who has been a Nike stockist for fifteen years, who says "our Nike sales had in- creased over the past five years, but it is not because there is a higher demand for the brand — it is also because other retailers around me are not allowed to sell the brand anymore."
Not market leaders
Most (86%) of the respondents to our surveys consider Nike a market leader and 70% say their businesses would suffer now that they are no longer able to stock the brand. Several retailers commented that adidas stopped them buying their Originals ranges a few years ago, and that it had also affected their business. But, a minority do not believe the brands are as powerful as a few years ago — especially because it had been so difficult for independents to obtain key products. "Over the last few years it had been a real struggle buying from Nike using their useless online system and non-existent reps," says an anonymous respondent. He does not believe his business will suffer, because "currently Vans is in high demand."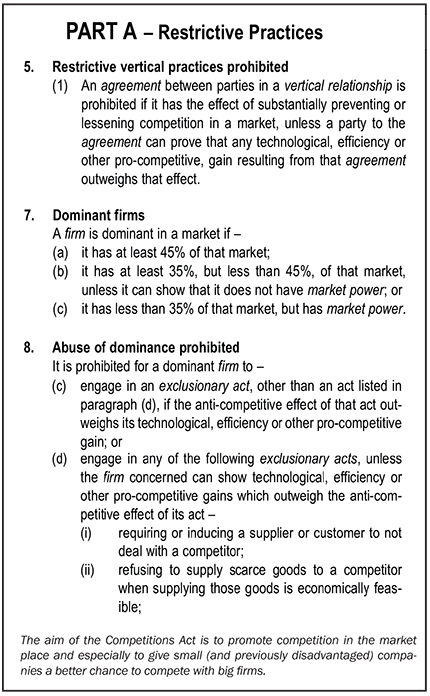 While he maintains that it is unfair for the brands to determine who can, and can't, buy their products, he concedes that "if they are trying to build an exclusive market, I suppose it's their decision. However, I do think it will backfire. South Africa is a very small market and they really cannot afford to be fussy..."
"Over the last few years, their attitude towards us has been shocking — to say the least," agrees a customer whose account was closed after fourteen years. "Our business will suffer as it is still a good brand, despite them offering us a very limited range."
A stockist of 18 years laments the fact that Nike has not been sup- plying "products that are in demand like Cortez or Airmax 90 to independents."
The brands are much less powerful than, for example, ten years ago, believes a lifestyle footwear and apparel retailer. The closure of his account will therefore not make much of a difference because he also stocks other brands that his customers like.
For some, the divorce from Nike had been coming for several years now. "In fact, I think Nike's business will suffer without the independent retailers. Nike has made it clear that the independent retailer means nothing to them, and we have returned the favour by cutting our Nike models (running, football, tennis ) from 20 to 3. If not for the Nike Pegasus, we would keep no Nike footwear, purely on principle. There are many other brands that can fill the gap."
Going to the Competition Commission?
About half of the retailers who contacted us believe the brands are acting anti-competitively and therefore should be reported to the Competition Commission. Some suggested that retailers pool resources and hire a lawyer to sue the brands in a class action.
The Competition Commission does not require a foolproof case, nor lawyer representation, for anybody to lay a complaint. But, with the commission's resources currently under severe strain, it would help if a complainant can specify the anti-competitive behaviour.
For example, the Competition Act of 1998, amended in 2014, specifies Restrictive Practices (Section 4) that are illegal if it has the effect of substantially preventing, or lessening, competition in a market, unless a party to the agreement, concerted practice, or decision can prove that any technological, efficiency or other procompetitive gain resulting from it outweighs that effect.
It goes further to stipulate that the following is also prohibited: dividing markets by allocating customers, suppliers, territories, or specific types of goods or services.
In other words, deciding who may, or may not, stock certain ranges and products.
Section 8 further says its illegal for a dominant firm to engage in an exclusionary act, other than an act listed in paragraph (d), if the anti-competitive effect of that act outweighs its technological, efficiency or other pro-competitive gain.