Autumn 2020
The state of school cricket
There is a glimmer of hope for cricket retailers as some schools report a growing interest among their learners … especially when enthusiastic coaches inspire them
Cricket seems to be gaining interest from learners — in many schools, at least. Sadly, other schools report that fewer learners are now playing cricket, compared to last year, or five years ago.
Sports Trader again did a survey of cricket-playing schools to determine if interest in the sport is declining or growing. We are very grateful for the teachers or coaches who responded — most requested to remain anonymous, but several agreed to be quoted.
This year the cricket interest in their schools remained the same as last year, 36% of the respondents reported, but more than a fifth said there is much more interest in cricket in their schools than last year, as well as five years ago. Only 7% of the respondents reported a declining interest.
This is quite different to the responses we received last year, when 32% of the schools reported that there was much less interest in cricket than five years ago … but, interestingly, an equal number of respondents last year said that there was much more interest in cricket than five years before.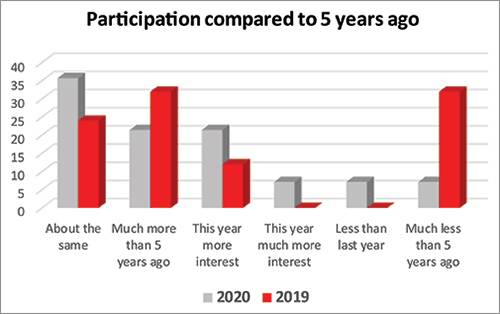 More or fewer teams
As can be seen in the chart below, the percentage of respondents whose schools have many teams — more than seven, in other words, multiple teams per age group — grew to 36% from 24% a year ago.
This comprises the highest number of respondents.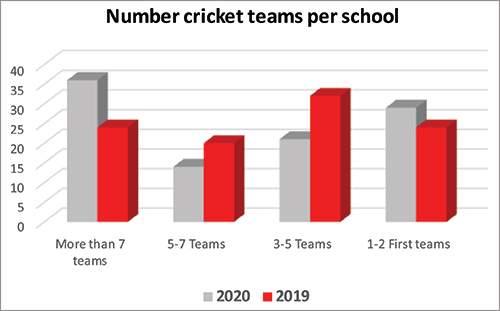 But, respondents whose schools now have 5-7 teams dropped to 14% from 20% a year ago and those with 3-5 teams dropped to 21% from 32%.
Schools who only have one or two first teams grew to 29% from 24%.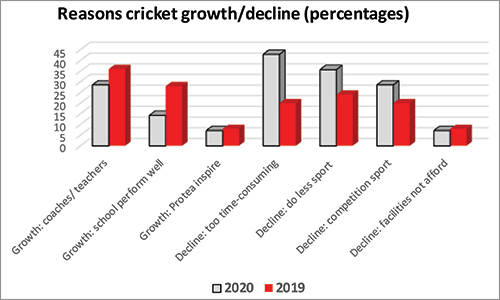 Depends on teachers and coaches
What is heartening, is that the reason given for growth in cricket interest by most respondents (29%) is the contribution made by an enthusiastic teacher or coach. Last year, even more respondents (36%) indicated that the interest and excitement generated by a coach or teacher inspired players.
Conversely, where respondents reported lack of interest from teachers, interest in cricket declined.
This is heartening, because this is a factor that a retailer could influence by, for example, offering assistance to coach at a nearby school where there is no teacher or coach available ... or think out of the box about ways to generate interest through weekend workshops, inviting prominent cricketers to the store, or even, if space permits, set up nets in the store and invite school cricketers to come to the store for coaching.
That way, one of the biggest problems facing sport retailers, namely, coaches selling directly to players and by-passing retailers, could be counteracted.
Another reason why this is heartening is that interest in cricket is no longer dependent on inspiration from the national team heroes, like a few years ago. Only 7% respondents believe the performance of the Protea teams is a reason for growth in cricket participation in their schools.
This is a factor that retailers have no control over, and to be frank, the current state of cricket can not remotely claim to be inspirational. On the other hand, Siya Kolisi creates near-hysteria anywhere he goes and would most certainly inspire quite a few youngsters to play rugby.
"Cricket in general is suffering under the big influence of schoolboy rugby and the hype around it," says Handro le Roux of Boland Rugby.
No wonder 29% of the respondents said cricket interest in their schools declined due to too much competition from other sport.
Not just from rugby, though.
"Cricket is dying at our school," says Andrew Gifford from Norkem Park High. "We are a former Model C school and our demographics have changed substantially. Our boys are now keener to play soccer and basketball."
Another reason given by 43% of the respondents for the decline in cricket interest is that it is too time-consuming.
An anonymous respondent from a small school say that they "offer too many options and students tend to choose those activities requiring little commitment, as academics is generally their priority."
Another reason given for declining interest in cricket should be of concern to all sports: more than a third of the respondents say that the learners in their schools are simply not interested in participating in sport.
Lack of funds — or interest — to keep up cricket facilities is one of the reasons given by a small percentage (7%) of respondents.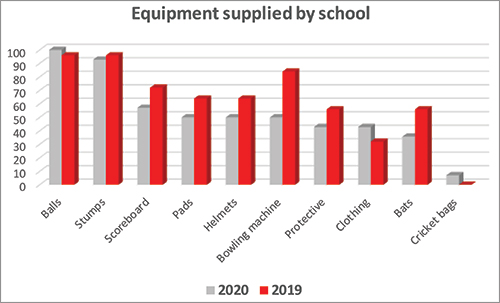 Providing equipment
It is accepted by all that schools would buy balls for matches and practice, and this year all the respondents confirmed that they supplied cricket balls (also see the article on balls on the next page).
What is interesting, though, is that fewer schools are supplying other equipment that could be bought by individual players than in 2019.
For example, half of the respondents say their schools supply cricket helmets and pads for players — compared to 64% who last year said their schools supplied these items. Now, 43% of respondents' schools supply other protective gear, compared to 56% last year.
And 36% said they provide bats for their cricket teams — considerably down from the 56% of schools who supplied bats last year.
If this indicates a trend that schools are now expecting players to provide their own equipment, this will mean that a retailer would, for example, sell at least 12 kits per team to individual players, instead of selling two of each per team to a school.
Some schools, however, provide all the equipment for beginners in the U9-teams, for example, but only provide team gear like balls, scoreboards, stumps and bowling machines for other teams.