August/September 2010
2010 World Cup:
Who made the money?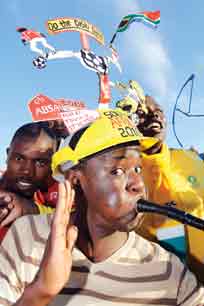 Somebody must have been making money during the 2010 World Cup period as Statistics SA reports that retail sales in June rose the most in three years — 7.4% more than June last year
We all know that vuvuzelas blasted themselves onto the world markets and that everybody associated with them can trumpet their success on global markets. Even the Pope could be greeted by them during his visit to the UK… but Rev Vincent Nichols, the head of the Roman Catholic Church in England and Wales, asked people to leave them at home during the Papal state visit. Big international retailers sold thousands and distributor contracts are being signed as far afield as Denmark.
As can be guessed from the reports of the run on new TV sets during the World Cup, SA retailers in the household furniture, appliances and equipment subsector also had a most enjoyable World Cup, with a 17.7% gain.
According to Statistics SA sales of retailers in the textiles, clothing, footwear and leather goods subsector rose 13%. Respondents to our survey were not among these lucky one's though, as 63% reported sales that were the same as, or worse than, June-July 2009.
Overall, GDP growth was lower than expected and according to Reserve Bank deputy governor Daniel Mminele economic growth should average about 2.9% this year, following 4.6% growth during the first quarter.