August/September 2010
Basketball SA
in trouble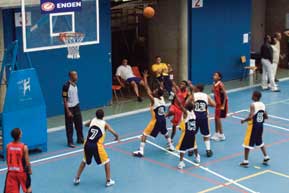 BASKETBALL SOUTH AFRICA (BSA) was founded in 1953, but a Professional Basketball League (PBL), that was modelled on the Australian NBL, consisting of 8 teams was only launched in 1992.
BSA was a shareholder/partner in the franchise-owned PBL with PBL making financial contributions towards the promotion and development of basketball.
Despite being a partner, BSA wanted to create its own league and power struggles began between them and PBL, with the parties ending at the High Court of SA. As result, PBL only operated untill the 2006/2007 season.
In 2008 during a Special General Meeting, the serving BSA Executive Committee was dissolved with an Interim Committee taking over the BSA operations. Later the same year a new BSA President and Board was elected and took over operations.
Currently funding from National Lottery and SASCO to BSA is at a standstill. The Department of Sports and Recreation ordered an audit on BSA financial operations and until the audit is approved, no funding can be made available.
"It is clear that basketball was used by a number of individuals for their own private interest and that BSA for years was not able to govern anything. It did not have the right people in place and could not channel interests, give directions, balance stakeholders, control its finances and do anything which would help basketball grow." (FIBA report on Basketball in South Africa. Prepared by Zoran Radovic (FIBA development director) in Geneva, 27 April 2010).
According to the FIBA report there are "plenty of players [that] are going to the universities in the US and unofficial information indicates that there are currently 32 South African players who play in schools in USA (officially there are only 2 players in NCAA Division I, Chris Gabriel and Andrew Goba)."
The report goes on to say that research done by the governmental sports agencies indicate that basketball is the sport of choice for children and should be a sport for the female population.
SA has 25 universities that are members of the University Federation: Western Cape (4 universities), Eastern Cape (4 universities); Gauteng (6 universities); Free State, Limpopo and North West (6 universities in total); and KwaZulu Natal (5 universities). Currently there is no university league, and FIBA feels that if there was more organisation more universities would be part of the University Federation.