August/September 2010
Statistics:
Market news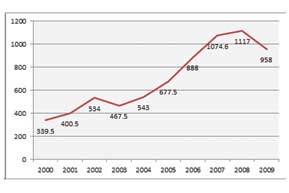 Performance of international brands. The chart shows the import data for the DTI Chapter 95 codes referring to sport and leisure equipment as well as footwear and clothing in Rand million. From the chart can be seen that our industry was under pressure last year as the imports dropped below 2008 figures
Adidas Group: the Adidas Group's sales jumped by 18.7% to €2.9m for the second quarter of 2010 (11% growth in constant currencies). Wholesale sales were up by 12% and retail sales by 16.7%, with comparable store sales growing 10%. The turnover of the adidas brand grew by 20% to €2.1m for the quarter, a rise of 12.5% in constant currencies — with football sales 60% up during the World Cup period. The brand also had double-digit sales in running, outdoor and lifestyle products, reports Sporting Goods Intelligence (SGI) Europe. Reebok's quarterly sales grew 24.4% to €435m, up by 15.8% in constant currencies. This recovery has been led by the popularity of EasyTone toning shoes in the US, which led to Reebok sales in the US growing by 30%. According to SGI, group CEO Herbert Hainer toning was spreading to other international markets, from the UK to Germany, Russia and Japan, with strong sell-through rates for Reebok. TaylorMade-Adidas Golf, Rockport and CCM Reebok Hockey, grew sales by 6.9% €387m for the quarter (a 0.8% decline in constant currencies). In Western Europe (13% growth) sales were driven by football sales, especially in Spain, where nearly 1m Spanish team replica jerseys were sold.
Amer Sports: quarterly revenues grew by 12% to €317.5m (5% in constant currencies). Sales growth (9%) was the highest in Europe, the Middle East and Africa (EMEA). In the winter and outdoor division (Atomic to Salomon) sales grew 9% to €116.5m. Apparel and footwear outperformed all other units with sales growth of 17% to €57.6m for the quarter, reports SGI. Sales in the ball sports division, mainly Wilson, grew 13% to €153.9m. Team sports (baseball) grew sales 15% to €55.7m, golf grew 24% to €27.3m for the quarter, and racket sports sales grew by 9% to €70.9m for the quarter. Wilson's performance tennis racket sales, fuelled by the new BLX range, showed double-digit growth. Sales in the fitness equipment division (Precor) grew 11% to €47.1m.
Columbia Sportswear: sales grew 24% to $221.8m in the quarter ended June 30, 2010, but the company reported a net loss of $10.6m for the second quarter, which is historically their smallest revenue quarter, reported CEO and president Tim Boyle. The company raised its outlook for full year 2010 net sales to increase 14-16% and maintained its outlook for operating margin of approximately 7%.
Head N.V: total net revenues increased 4.8% to €120m for the six months ended June 30, 2010. The increase was mainly due to improved winter sports and racket sports sales offset by a decline in licensing and diving.
Puma: sales grew 2.5 % in the second quarter to €615.4m and profit grew 16.4%. Revenue rose 2.5%, boosted by sales in the Americas (26% growth). Sales in the EMEA dropped 7.2% to €267.6m.
Rocky: net sales for the second quarter grew 7.9% to $55.2m and the company reported net income of $500,000, versus a net loss of $1.4m in 2009. Excluding one-time charges of $600,000, net of tax, associated with the early repayment of a portion of the company's senior term loan, second quarter 2010 net income improved to $1.1m.
Skechers: reported second quarter sales growth of 68.9% to $504.9m. Earnings climbed to $40.2m, rebounding from a loss of $5.9 million. For the six months ended June 30, 2010, net sales were $997.6 million compared to net sales of $642.4 million in the first six months of 2009.