August/September 2010
Socks:
A guide to select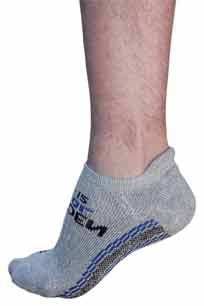 At first glance socks designed for a specific activity might seem like a marketing gimmick. But when one considers the natural movement and pressure placed on the foot during an activity, one can understand why manufacturers need to make socks with specific activities in mind. It all comes down to the comfort of the wearer.
Aerobics and dancing, which are high-intensity activities, require that the heel and ball of the foot move independently from each other. The sock should allow for more stretch and contraction between these parts of the foot.
Cycling socks can incorporate many different features to enhance comfort. Some manufacturers have even gone so far as to produce different technical socks for different seasons. Cold weather, warm weather, all weather and cross-cycling socks has been produced by some manufacturers. Apart from weather differences, manufacturers have also made a distinct difference between road cycling and mountain biking socks. A road cycling sock would have less cushioning than a mountain biking sock, but will be extremely breathable, well ventilated and quite thin.
Running: Socklets are running socks that only come as high as the ankle and fit inside a trainer. "Your running sock may tend to have a mesh/ventilated upper that helps with moisture wicking and cooling of the feet, the sole area might be slightly thicker, for cushioning. We also have an area in the sock that gives some arch support. A seamless toe area helps to prevent chafing and blisters. Your fitness sock may be slightly thicker, which is more for comfort," says Barbara Cole of New Balance.
Long-distance running: "These socks are a little thicker, which is better for the longer distances, as they create a snug fit, and less room for slipping inside the shoe. Due to the moisture absorption capability, the feet can stay drier for longer due to the expulsion ability of the natural mohair fibres," explains Karen Hobson of Cape Mohair.
Squash: "Seamless socks are created for sports where there are high levels of friction, such as squash, to reduce the chance of blisters and eliminate discomfort," advises Ashleigh Bird of Falke. "Sensitive rib tops and shaped foot beds reduce pressure and promote better circulation, while reinforced heel and toe areas ensure the sock stays firmly in place, providing a comfortable fit and offers more durability."
Trail running: A trail running sock must have a combination of cushioning in the heel and toe sections, whilst remaining highly ventilated. Socks aimed for longer, multi-day and multi-terrain stage races should generally have materials that cushions more and provides better moisture absorption than the day race socks.
"The MHR Xtrail sock contains more mohair, which provides more moisture absorption, while the Velocity sock, designed for day races, has less mohair. In the Velocity, mohair is used on the foot only, and a stretchy mesh across the bridge of the foot, to allow for contoured fit," says Hobson from Cape Mohair.
Compression socks: Anyone, whether a serious athlete, weekend warrior or supporter on the stands, can benefit from compression socks. Medical journals suggest that 86% of the population will at one time have some form of venous disease and virtually every person, athlete or not, experiences a decline in leg circulation. Improved circulation from compression hosiery relieves the symptoms of tired and aching legs, prevents the deterioration of varicose veins and ankle swelling, helps prevent venous ulcers recurring in the legs and, if worn regularly, may prevent unpleasant and costly surgery. In addition to these benefits, compression socks can also provide external support for muscles and ankle joints during and after activity.
How it works: Gravitational pull and the distance from the heart to the feet means that blood circulation has an up-hill climb from the feet. Veins equipped with non-return valves (which assists blood return to the heart) sometimes become slightly ineffective, resulting in a slight backflow of blood and a weakening of the vein walls. Compression hosiery helps counteract this by applying a firm continuous graduated pressure to the muscles and veins in your legs, it places higher pressures at the ankle and less pressure at the knee. This reversed pressure encourages blood flow towards the heart and prevents swelling at the ankles.
"In the Activa range there are three classes of compression socks. The light compression Class 1 sock which may be purchased in Pharmacies and some sports shops. Our class2 (medium pressure) and Class3 (high pressure) garments are only sold on a doctor's prescription. It is important when purchasing one of our garments that accurate measurements are taken of the leg, calf, ankle, knee to heel and length of the foot first thing in the morning. A correctly fitted stocking will produce an effective graduated pressure and is extremely comfortable." says Bogatie.
Outdoor socks
When hiking or backpacking, a good pair of insulating hiking socks is one of the most essential pieces of gear. A light hiking sock will have cushioning in critical spots, but needs to be breathable, whilst a trekking sock will have more cushioning, and provide more warmth.
Light-weight socks are usually made with moisture wicking fibres, provide cushioning and noticeable support, and prevent blister-forming friction. Light-weight socks emphasises breathability rather than warmth and are especially suited for trail hiking and light-weight backpacking in warm weather. These can be worn with or without sock-liners.
Thin socks (liners) are made to be worn under hiking socks so that they can wick moisture away and keep feet dry. They also prevent chafing and increase warmth when used under heavier hiking socks. As liners are worn underneath other socks it ensures that any friction in the shoe happens between the liner and the sock, not the sock and the foot. In that respect it actually helps absorb friction and prevents discomfort.
Mid-weight socks provide more cushioning and insulation than light-weight socks in moderate to cold conditions. It is recommended to wear a liner with these socks for added chafe protection and moisture control as it is geared for longer wear and cold-weather.
Extreme or mountaineering socks are the thickest because they are insulated for warmth and highly cushioned for shock and impact on long journeys. This sock range is perfect for extremes in cold and rugged terrain. The type of yarn used in mountaineering specific socks makes a tremendous impact on the comfort of feet over the long-haul.
Socks worn in wet conditions, like snow or ski socks will be very warm, well cushioned and be long enough to go above a ski boot. It also needs to keep your foot dry.