August/September 2010
Do tennis sponsorships pay?
What the sponsors say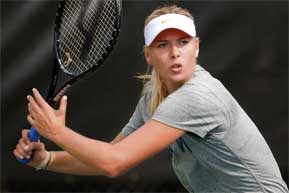 Does it pay to sponsor top tennis stars to become ambassadors for your brand? FANIE HEYNS asked some local tennis brand managers
Dunlop
The sponsored team of Dunlop is growing locally and internationally through the D Squad programme, says Mark Ridl, head of marketing and branding of local distributor Super-Brands. Dunlop's new Aerogel 4D range has been developed in collaboration with its current elite D Squad and the results are paying off, he adds.
Current D Squad players include Nikolay Davydenko, Fernando Verdasco, Jurgen Melzer, Nicolas Almagro and Tommy Robredo.
Jurgen Melzer and Tomas Berdych are using the Aerogel 4D 300, while Nicolas Almagro and Jamie Murray use the Aerogel 4D 500 Tour and Dominika Cibulkova the Aerogel 4D Super-lite.
Head
Online commercials on You Tube (www.youtube.com/user/headtennis), featuring tennis stars like Novak Djokovic, ranked second in the world, and Andy Murray, ranked #4, have been very effective marketing tools, says Mia Goslett of Omni Sport, SA distributor of Head.
"When Djokovic started playing with the YouTek Speed, which was very visible on TV, Head SA was inundated with sponsorship requests from players who follow him. South Africa's top-players are using these new rackets and this filters down to the lower ranked players who aspire to follow the number one, two or three in the country. They, in turn, are the players buying the rackets," says Goslett.
She believes it is important to have brand visibility on the tour. There has been a great upswing in top-end racket sales over the past year in SA and internationally and she attributes it to Head's presence on the ATP Tour.
Currently three out of the top-five men in the world are playing with Head rackets. Djokovic plays with the YouTek Speed, Murray with the YouTek Radical, Robin Soderling (#5 in the world) uses the YouTek Radical, as does #13, Marin Cilic. In addition, Mikhail Youzny (#14) and Ivan Ljubicic (#16) use the YouTek Extreme.
Closer to home, SA's #1 ranked player, Kevin Anderson, also plays with Head.
Prince
Apart form Maria Sharapova who has undoubtedly helped drive Prince sales, other current tennis stars that create interest in the brand are the Spanish clay-court specialist David Ferrer as well as Juan-Carlos Ferrero, former winner of the French Open.
The Bryan twins, Bob and Mike, who have won 66 titles on the ATP-tour, also endorse Prince-rackets.
Rox Pro
Because Rox Pro has a smaller marketing budget and does not concentrate on signing expensive tennis stars, they are able to ensure affordable rackets of excellence, says Patrick Franck, marketing manager of local distributor WET Sports Importers.
They have allied themselves with junior tennis in the Boland and Western Cape where development of the tennis stars of tomorrow is strong. This is in line with international marketing strategies aimed at promoting junior tennis.
Rox Pro International, for example, sponsors a tennis academy in America.
Wilson
"We have records of every racket we have sold over the last 10 years and I can tell you that top players drive sales enormously," says Brad Summers of local Wilson distributor The Golf Racket.
"When Roger Federer started to win everything, we saw an increase of 700% in 6.1 Pro racket sales," says Brad Summers of Wilson. The same can be said when Jo-Wilfried Tsonga started using our Blade racket, the immediate months saw an increase of over 320% in sales. I have countless more examples to back this up.
"Many of the juniors will tell us about racket changes amongst the pros even before Wilson does — that is how in tune they are with top pros," says Summers. "I would estimate that at least 70% of our sales in top end player rackets are driven by juniors — tournament players and school kids. They not only know which rackets they use, but also what strings, bags etc they are using."
Over the years Wilson's sales have benefitted from the presence of three superstars and salesmen who have endorsed their products. These superstars are Pete Sampras, winner of fourteen Grand Slam-titles, Serena Williams, winner of thirteen major-titles in singles, and Federer, record holder in men's tennis with sixteen singles titles. He is considered by some critics as arguably the greatest ever male tennis-player.
Federer signed a lifetime deal with Wilson, but the trust in Wilson evolved over a long time, thanks to messrs Jack Kramer, Jimmy Connors, John McEnroe, Stefan Edberg, Sampras and now Federer, says Brett Summers. The Williams-sisters followed in the footsteps of Billie Jean, Chris Evert and Steffi Graf.
"One player won't assure everything; you need a large tour presence," he believes. "The fact that the product is endorsed by so many top players contributes massively to sales."