Industry news
February 2003
Ambush marketing: the pitfalls
Apart from many memorable and heartbreaking cricketing moments, the 2003 ICC Cricket World Cup will be remembered for the introduction of the Merchandise Marks Amendment Bill, or ambush marketing act, as it is commonly known
Whether this bill will go down in posterity as a blessing or bane, remains to be seen.
But it is a safe bet that the World Cup organizers and sponsors would have liked to have drawn, quartered and done all kinds of other nasty things to the heavy-handed security guards who evicted a Coke-drinking family from Centurion and refused entry to two teachers with adidas logos on their shorts.
Whatever the facts behind the incidents, the endless retelling didn't win friends for and influence people to drink Pepsi and wear whatever elusive brand adidas might have been competing with.
Fact is, the protection of sponsor and licensing rights is an area filled with potholes and traps waiting to trip the unwary. If you enforce them too stringently, you could alienate people from the sponsors and brands you are trying to protect. If you are too lax, you could be back at a previous Cricket World Cup situation where Pepsi signed so many top players for advertising endorsements, that consumers thought that they, instead of Coke, were the official sponsor.
The organizers of the The Cape Argus/Pick 'n Pay Cycle Tour decided to take a more pragmatic view. It is an event designated for protection by the ambush marketing act, says organizer Jill Wolmans, but they are more concerned with deliberate attempts at ambush advertising than with spectators wearing or drinking the wrong brands. They would, for instance, not tolerate a company entering hundreds of cyclists wearing T-shirts advertising their competing brand during the race, or hanging banners along the route, but regular team branding on cyclists jerseys and shorts, will be allowed, even if they compete with sponsors.
Although Energade is a sponsor, this will not prevent other companies from exhibiting energy drinks at the Expo — one of the country's most popular exhibitions, with the 265 stands already sold out in October. Held in the same venue as registrations, the stand holders know that the 35 000 participants, plus friends and family, have to visit the exhibition venue before the race.
The future implementation of the ambush marketing law will be crucial to the future protection of South African branding and licensing rights. Because it is a new law, there is bound to be some uncertainty over what is legal and what not.
For instance, the case of the Protea logo and 14 flags shirts and caps that many retailers bought, stocked and sold under the impression that they are official World Cup merchandise.
They are not.
Picto-Busby is the official South African Licensing Agents to the UCBSA for the World Cup 2003 (translated: they paid a lot of money for the right to sell World Cup licensed products and clothing, which they shared with sub-licensees). Admiral is the official manufacturer of the UCB cricket apparel and therefore has the right to manufacture teamwear for all the competing teams and in an agreement with Picto-Busby, sell replica to independents.
Musgrave Agencies, manufacturers of the shirts and hats bearing the Protea logo and flags of all participating countries, has no licensing agreement for the CWC2003. "They cannot produce goods bearing the trademarks of the Cricket World Cup 2003," says Kate Boyce, Picto-Busby's World Cup licensing guru. They do, however, have an arrangement with Signet Licensing — who own the right to produce Protea Clothing, which is a brand owned by the SA Sports Commission.
After talks between lawyers, a commercial agreement was reached and no action will be taken against the manufacturer. At no stage were retailers in danger of being prosecuted for selling "ambush marketing merchandise".
"It is not the retailer who contravened the act," emphasizes Alan Wetterhahan of the UCB attorneys Edward Nathan and Friedland who protect the rights of the ICC. But, he adds, the ICC would really appreciate it if retailers do not display the Musgrave Agency merchandise with the official Admiral manufactured merchandise bearing the ICC logo.
Had the products in question been counterfeit or from a non-designated supplier, the retailer selling the products would have been in a real pickle. The counterfeit and copyright act makes provision for a fine of R5 000 for anyone selling products that are found to be counterfeit or "grey imports" (from unofficial importers).
Retailers should therefore take note that PUMA SA is currently engaged in legal action against Cape Town manufacturer Global Warming for trademark infringements. The case is currently sub judice, but we will keep you posted — but, if it is resolved in PUMA's favour, retailers could be prosecuted for selling counterfeit products. We therefore suggest that you follow this case closely.
---
June 2005
America & Europe vs China:
Who will win the quota wars?
Tit-for-tat. An US announcement that it was introducing quotas on more Chinese clothing imports was met by an announcement from China that it was scrapping the export tariffs it imposed at the beginning of the year to curb excessive exports... and was cancelling the additional export tariff increases it promised from the beginning of June
The US announced in mid-May that it was re-introducing import quotas on the import of three types of Chinese clothing from the end of May, following an import surge of 1505% in cotton trousers, 1346% in cotton shirts and 347% in cotton and man-made fibre underwear imported from China during the first quarter of 2005. China then agreed to increase export tariffs on 74 clothing categories of clothing — in many categories by as much as 400%.
But, when the US announced a week later that it was re-imposing quotas on a further four categories, China retaliated by scrapping the export tax on 148 types of textile goods it introduced in January.
In line with a WTO agreement, all import quotas had to be scrapped by January 1, 2005 — but a country could cap imports from a particular country to a 7.5% increase on the previous year if the lifting of quotas threatens to disrupt the domestic economy.
US manufacturers claimed that the $22.4-bn in Chinese imports had cost 16,600 US textiles jobs and the closure of at least 18 factories in the first five months of the year. The US textile industry says that US textile and apparel manufacturing jobs had dropped from 1.05-m in January 2001 to 666 500 in 2005 — a 36.4% loss of jobs during the 4-year period.
Some of the largest US retailers have, however, benefitted from the imports with Wal-Mart, saving 12-15% on apparel costs after the quotas were lifted. At the end of last year, a retail group got an injunction to block twelve petitions from the US apparel manufacturing industry to re-impose import quotas, but the Court of Appeals lifted the injunction in April, enabling the US Government to consider the manufacturing industry's requests for safeguard action.
Seven European countries, including France, Spain and Italy, have also urged the European Union (EU) to impose emergency quotas on Chinese imports in 9 categories and not to wait until the normal 60-day period of investigation and consultation with the Chinese government has expired. Furthermore, France wants quotas imposed on 16 categories, instead of the 9 currently investigated.
Euratex, a Brussels-based organisation that represents the European textile and clothing industry, claims that exports of Chinese T-shirts into EU member states rose by 164% and pullovers by 534% in the first quarter of 2005. EU trade commissioner Peter Mandelson, however, says that not all countries provided him with sufficient statistics to back up the imposition of emergency measures.
When China joined the World Trade Organisation in 2002, it agreed that WTO members may limit its exports to a growth of 7.5% on the previous year until 2008, if a sudden import surge threatens to disrupt their local apparel markets. China's textile exports to the US and EU grew 56% during the first quarter of 2005 — 31.16% higher than the corresponding period of 2004.
US textile and clothing manufacturers claim that Chinese exporters are getting unfair advantage from an artificially weak yuan currency, export tax rebates, non-performing loans and other subsidies. This results in artificially low prices.
Former EU trade Commissioner Pascal Lamy and Carlos del Castillo of Uruguay, candidates to head the WTO, however, warned against blocking increasing Chinese textile imports, claiming that the EU and the US should have been better prepared since the WTO agreement to lift all import quotas by 2005, was signed ten years ago in 1995.
Instead of imposing curbs, EU members should rather make the European textile industry more competitive, China told EU diplomats on an inspection visit to China.
Chinese manufacturers, however, say that the sharp rise during the first quarter is due to orders from the end of last year being kept back in anticipation of the lifting of quotas in January 2005. China's Ministry of Commerce say textile and clothing exports to the US grew 19% in the first quarter of 2005, 5.6% less than in the same period the previous year. US orders started declining in March, after soaring in January/February.
Chinese statistics show that US exports from China's main textile export province grew by 117.8% in January, but dropped to 63.3% in March, while the increase to the EU also went down to 17% in March. In April, orders from the US were drastically cut back – even recalled — after the US Committee for the Implementation of Textile Agreements (CITA) started investigating the rise of Chinese imports.
Statistics from their Ministry of Commerce show that the 6.76-m articles of clothing exported from their largest apparel manufacturing province in the first quarter of 2005, was about 3-m less than the same period the previous year.
According to China's Ministry of Commerce the sudden rise in imports in January and February was due to the fact many countries failed to liberalise trade gradually and kept 70% of the quotas until the last moment – besides, they say, Chinese trade had been unfairly distorted for 31 years through the quota system imposed by WTO countries.
The claim by China's National Textile Industry Council that other developing countries benefitted as much as China from the lifting of quotas, is supported by statistics provided by US customs: the US imported double the volume of cotton underclothes from Honduras than from China during the first quarter this year, even though the volume of China's exports in this category to the US grew 308%. Clothing exports from Thailand increased 12.75% in volume and 17% in value. On the other hand, imports from Bangladesh, Vietnam, Tunisia and Morocco were down.
Industry analysts therefore predict that the US manufacturers will not benefit from the imposition of quotas against China — but that imports will simply move to emerging markets like India, Bangladesh, Sri Lanka and Central America.
Why target only China? they ask.
The answer could be: fear. China is currently the world's largest apparel manufacturing and exporting country. The WTO estimates that China's $95.1-bn textile and apparel industry currently accounts for 17% of the world total — but that it will grow to 50% of the world market in the next three years.
Resources:
China takes active approach in safeguarding world textile trade order. news.%20xinhuanet.com/english
China rejects curbs on its textile exports. International Herald Tribune. May 20, 2005
Thai garments still doing well in US after end of quotas. Bangkok Post. 19 May 2005. www.bangkokpost.com
Tackling competitive weakness is the way forward. Audet, D. Financial Express. May 18 2005. www.financialexpress.com
EU warns of quotas in textile standoff with China. 17 May 2005 2141 hrs. Channel News Asia. 17 May 2005
China's textile exports not disrupting US market. Gang, C. 16 May, 2005. www.chinaview.cn
EU to pursue policy of US administration on imposing quota. World of Garment-Textile. 17 May 2005. www.fibre2fashion.com
China to Raise Tariffs On Clothing Exports. Blustein, P. Washington Post Staff Writer. May 21, 2005
China textile exports to EU soar in Q1 at expense of north Africa, rest of Asia. AFX News Limited. 24 May 2005. www.forbes.com
---
February 2005
An awardful year for SASGAM
During 2004 SASGAM stepped outside the industry into the very public arena of a televised sports award event. Ross Smith explains why it was such an important event for the industry body
"A while ago I wondered what we, as SASGAM members, could do as a group to put something back into the industry – and also raise the profile of the association," says Ross Smith, outgoing chairman. "We then came up with the idea of a ceremony that will give recognition to athletes – something that could be used as a vehicle to generate revenue to go into a trust for previously disadvantaged athletes and at the same time help grow participation in sport.
"We felt that we could not do it on our own and met the then Minister of Sport (Ngconde Balfour) who liked the idea and suggested that we approach the SA Sports Commission to form a partnership. We decided that we needed a media partner and approached SABC Sport."
Bonita came on board as name sponsor. Although some SASGAM members expressed concern that there would not be sufficient time to get the sports awards off to a good start, the partners decided to use the Year of the Olympics (2004) as a kickstart to generate revenue that would form the basis of the Trust and to attract sponsors, says Smith. Besides, the SA Sports Commission ceases to exist in March this year and Smith's extended year at the helm of SASGAM came to an end in January (his previous two-year term was extended so that he could complete existing projects).
They therefore set the ball rolling: funds were generated by SABC Sport asking members of the public to send SMS's at R2 per call to vote for the candidates in the following categories: Bonita Sports Star of the Year (winner Natalie du Toit) Sportsman of the Year (winner Roland Schoeman), Sportswoman of the Year (winner Hestrie du Toit), Sports Team of the Year (Mens 4x100 Freestyle Swimming), Disabled Sportsman of the Year (Ernst van Dyk and Craig Groenewald), Disabled Sportswoman of the Year (Natalie du Toit), Disabled Sports Team of the Year (SA Paralympic Team), Newcomer of the Year (Oscar Pistorius), Sports Personality of the Year (Danny Jordaan), Coach of the Year (Jake White) and Sports Federation of the Year (Maralize de Klerk).
The candidates had been nominated by voting academies made up of 133 sports persons, federation presidents and members of the media.
The awards were presented at the end of November at a fancy evening suit-event broadcast live on SABC 3, introduced as the SABC Sports Awards in the press releases they issued. It was so popular that there were not enough seats for the invited guests.
Smith does not anticipate that the winding down of the Sports Commission would result in any changes to the awards this year, even if it would mean re-negotiating a partnership with the people heading the new elite sports body. "But," cautions Smith, "we have not really discussed it yet."
He is very keen for the Sports Awards to become an annual high profile event. "Participation in sport grows when heroes come to the fore that excite and inspire the youth. South Africans are passionate about sport and we want to give the sport stars the recognition that they do not always get.
"In the first year we just took some baby steps, and it did not generate as much income as we hoped, but it did raise SASGAM's profile and opened channels to government for us to discuss issues of importance to the industry. For instance, changes to the Merchandise Marks Act and a BEE charter for the industry," says Smith.
He believes that negotiations with government around the Merchandise Marks Act would be one of the main focus areas for SASGAM this year. The legislation will require swing tags and labels on garments to list not only country of origin, but also the percentage of imported material in the make up and the name and registration of the factory where it was sourced from.
It will place a huge burden on most importers, as our principals have informed us that some of the information required is confidential," he says. This is an issue that he believes retailers and importers should tackle together, as retailers would ultimately be the one's most affected if the act becomes law.
Developing an industry scorecard and charter for BEE compliance will be another challenge, especially since SASGAM's members are predominantly international clothing and footwear brands.
After the recent resignation of equipment suppliers like Pat Wiltshire Sport, Dunslaz Distributorship and S&A Marketing, sports equipment distributors are only represented by Gilbert, Opal Sportswear and JRT Crampton, and local manufacturers by Larry Miller of Westport. Will SASGAM now focus on negotiations for a BEE charter for branded apparel and footwear only?
"No. We see equipment suppliers as key to this sector and would seek to include them. We are only in Phase One in the development of an industry score card. Hopefully, by leading, others will seek to join us," says Smith. "There are serious industry-related issues that we will have to address this year and we hope that others will make use of the opportunity to join and become part of the process."
The new SASGAM chair was going to be announced at the January 2005 SASGAM meeting, which was postponed till February 2005
---
October 2005
Apparel brands made a splash at SASGAM
Apparel and footwear are the main stock items of most retailers in the sport, outdoor and clothing industry — and the presence of the major brands is therefore a big test for the success of any trade show. There was no mistaking the presence of the brands at SASGAM, reports CARIN DU TOIT
With Nike as the main sponsor of visitor bags, exhibitor badges, pens and pads, it was not possible to miss their presence at the show. The swoosh was everywhere!
With appointments booked in advance to view the ranges — many available ex-stock — they were assured of a steady stream of visitors.
They showed their new Power of Three football footwear range (Mercurial, Total 90 & Tiempo).
Nike also showed their Total 90 apparel range, as well as the new Kaizer Chiefs replica kit.
On the lifestyle side, they had apparel from their "Ginga" (Brazil inspired) range. It has bright tropical beach colours and prints, with the majority of the colours being orange, yellow, bright green and turquoise for women and mainly black with red and white touches for men.
Nike also showed their range of Dance, Cardio, Running and Yoga apparel, footwear and accessories.
Their lifestyle "Sport Culture" footwear range included the Shox Rival, with Shox cushioning, and low profile Sprint Sister shoes. These ranges are characterised by contrasting colours, for example maroon and green or silver and orange. The shoes have suede and leather combinations, with some of the shoes having printed suede or printed leather details — this range hails from 1970's track & field athletics and includes handbags too.
New Balance made use of the visitors converging on the SASGAM show to launch their newly acquired PF Flyers and Dunham ranges, as well as their New Balance Vintage Running Range for 2006.
Dunham International brand manager John O'Neill, based in the US, was on hand to tell visitors more about the outdoor hiking and trail brand that was founded in America in 1885 and is now available in SA for the first time. In the US, Dunham is well-known as an outdoor, hiking and walking shoe, and since it became part of the New Balance stable, it also has the benefit of all the New Balance technologies.
The funky, retro "sneaker" brand PF Flyers was founded in the US in 1937. It is a lifestyle, rather than performance, shoe with a sport shoe look reminiscent of the soft pastels and styles of the sixties. Active ergonomic technologies like the PF wedge and width sizes on selected models, uniquely benefit foot function and posture with every stride.
As one can expect from the name, the New Balance Vintage range has the retro look that has become very popular.
Reebok's I am what I am campaign around their lifestyle range, their new innovative Pump range, as well as showcasing their latest footwear range including their fitness, basketball, soccer, running and sandal footwear ranges, were the main features of their exhibit.
With star attractions like sponsored athletes Sipho Ngomane, winner of the 2005 Comrades Marathon and Gladys Lukhwareni, winner of the Spar ladies races and fourth woman in the 2005 Two Oceans Marathon, Reebok went all out to provide visitors a memorable experience.
They also gave visitors a chance to try on and test the unique features of their latest Pump 2.0 for themselves. The Pump range that was shown consisted of three shoes — Pump 2.0, Pump Wrapsheer and Pump Romulus.
The Pump 2.0 inflates after about 5 paces to give your foot a customised fit, while the Pump Wrapsheer and Romulus take this technology one step further.
The Pump Wrapsheer has an on/off dial on the side of each shoe, which allows the wearer to adjust the pump to be on/off depending on the activity — which means the shoe can be worn as a normal shoe as well, without the inflation.
The Pump Romulus also has a dial on the side of each shoe with several settings from 1-7 psi depending on the individual's fit preference. The settings can be different on the two different shoes.
Hi-Tec had their entire footwear range on show on their huge stand, giving visitors an overview of the wide variety of footwear — for golf, running, outdoor hiking and watersport — as well as outdoor clothing they offer.
A source of excitement at Hi-Tec is the new grip in their new golf shoes, which can improve golfers' swing. The new technology, custom directional traction (CDT) can be adjusted to suit the player.
It provides increased stability, which enables you to hit the ball harder, faster and further. CDT shoes come with the launch pad outsole: the most stable base in golf. These shoes have two longer cleat pins made of flexible BASF polyutherane that flex on greens and hard surfaces so that they do not damage the course, as well as a standard cleat pin, which helps to create directional grip. The cleat system can be adjusted to suit your game.
The watersport footwear range, Aqua for adults and Amphibious for children, can also be worn as fashion. These shoes can fold up when the insole is removed, and are ideal for travel purposes.
Having won the 2005 PUMA International Subsidiary of the Year award in March, PUMA SA will pull out all the stops with their SOoo fast marketing campaign for next season. An energetic ad campaign, taking their new DuoCell outsole technology everywhere from the gym to the water, advertises that PUMA has elevated itself to the serious technological circuit.
Each DuoCell in the outsole is unique in size and shape and works independently to provide cushioning and comfort in the exact area where it is needed — regardless of whether the wearer is a pronator or supernator. Similar technology was available in PUMA footwear before but was always hidden within the sole unit. Going forward the DuoCell units will be exposed which in turn adds an attractive fashion feature to a technically credible shoe.
DuoCell technology is available throughout PUMA's ranges — whether lifestyle, cross-training, running or soccer. Within their soccer boots, for instance, the DuoCells are embedded within the outsole and is covered by a removable insole to form part of the boots shell. Uppers are available in either leather or mesh in a variety of colours.
PUMA has also incorporated the disc closure system which was available in the nineties, with DuoCell technology. Instead of laces, the disc is positioned on the upper. Turning the disc clockwise ties the shoe and an anti-clockwise turn unties it.
The latest addition to the PUMA running range, the Complete Trailfox, is bound to find success with adventure running enthusiasts as well as the fashion minded because of its exciting colour variations.
Schalk Burger's signature has been embroidered onto a patriotic white, green and gold rugby boot which will be launched in February 2006. The Schalk Burger Signature range of rugby boots will also be available in conventional black and PUMA is anticipating huge interest from the rugby playing schoolboy market.
Internationally, PUMA has recently signed an agreement with soccer legend Pelé. We have been told that we can look forward to a unique range of Pelé inspired footwear, apparel and accessories. Also on the soccer field, designer Neil Barrett has revealed a range of super light team shirts for the Italian soccer team. He drew inspiriation for his designs from the Clark Kent persona who peels away his clothing to reveal the super hero, Superman, beneath. The Italia Home Shirt similarly employs the look of a sleek t-shirt peeping out underneath.
STR8 Sports used the SASGAM Show to showcase their AND1 Summer futures and launch their newly-acquired Rÿka athletic footwear range.
Rÿka is a well-known women's footwear brand and STR8 sports will be starting with the autumn 2006 range of ladies running, walking, gym and lifestyle ranges.
"And1 is the number one basketball footwear brand in SA and has a great on-court representation and a dedicated following", says Russell Kwong Hing. The summer futures showcased at the show will be available November/December.
"SASGAM was beneficial because we were able to make contacts with new retailers and also received a favourable response to the launch of Rÿka," says Kwong Hing.
Westport Clothing, manufacturer and distributor of Polly Shorts, is marketing this well-known running brand with renewed vigour since Larry Miller, formerly of Springs Shirts, merged with them. One of the popular items on show was the new Polly Shorts square unisex short that is now available ex stock. The moisture management jackets and T-shirts are also popular items.
Westport is especially strong in the corporate clothing market.
Basketball range Magic32, launched in October 2004, was introduced to the SA trade. It will be delivered to SA retailers in February 2006. Magic32 is planning to sponsor NBA teams and there is a lot of marketing going into the brand, says distributor Carl Peaple. This basketball footwear range is competitively priced.
New golf clothing brand Blind Squirrel (a golfing term for "good luck", according to distributors Radeli Trading) also introduced themselves to the trade at the show. The range includes shirts, pullovers, raincoats, shorts and long pants.
---
April 2006
BEE Benefits
The BEE Codes of Good Practice were released a few months ago. BEVAN FRANK takes a look at the changes and benefits the Codes bring to small companies and multinationals
The release of the Black Economic Empowerment (BEE) Codes of Good Practice by the Department of Trade and Industry (DTI) in December 2005 has gone a long way towards shedding some light on compliance to the legislative requirements of BEE. Many business owners realise that one cannot do business without at least some broad understanding of the latest government thinking on BEE, and will now be looking for ways to come to terms with the small business BEE codes.
Yet when one takes a look at the Codes of Good Practice (well over 1000 pages), a great deal of confusion remains, particularly when it comes to small businesses as well as specific targets for specific sectors. In this article we come to terms with some of the key issues affecting, in particular, small businesses and multinationals.
Generic BEE
Before we take a look at the changes and benefits to small companies and multinationals, it is important to look at the original generic scorecards, and what one has to do to achieve a certain level of BEE compliance. Generic refers to all companies in industries that have not developed an industry-specific scorecard — which would be most companies in our industry.
The original BEE compliance scores or Codes were published by the Department of Trade and Industry in December 2004.
The generic scorecard is a way to measure the BEE status of a business, giving it a score out of 100. Once all the points are added up, the BEE status is calculated according to the total achieved from the Generic Scorecard.
SME's
The Codes released in December 2005 include a number of noteworthy concessions, particularly with regard to SMEs and preferential procurement. Small businesses will not be forced to sell shares or dilute ownership in their businesses. If these businesses do bring in black shareholders, then they will receive bonus empowerment points.
Qualifying Small Enterprise
The Codes of Good Practice for Qualifying Small Enterprises (QSE) attempt to provide a considerably less onerous BEE compliance regime by providing for certain exceptions.
Code 1000 stipulates that a QSE may choose to measure its BEE credentials according to the Qualifying Small Enterprise Scorecard, as opposed to the Generic Small Enterprise Scorecard.
The scorecards are more or less the same, except that on the QSE scorecard, a business may choose to be measured by only five out of the seven measurements on the scorecard. A QSE may therefore choose to leave out black ownership, or procurement from black-owned companies, for example.
And who are Qualifying Small Enterprises? The criteria for classification as a QSE depends on the total annual turnover as well as the number of full-time employees, and these limits vary according to the industry in which the enterprise operates. In most instances it is a business with fewer than 50 workers and less than R10-m turnover a year.
Exempted micro enterprises, with fewer than five employees, qualify for BEE compliance exemption, provided that they have an annual turnover of less than the VAT registration limit of R300 000 per annum. The enterprises will have a deemed BEE Contribution Level of four, which means that procurement from such an enterprise will enjoy a BEE procurement level at 100%.
It has been said that thousands of jobs could be on the line if the BEE codes are gazetted as they are. Companies that narrowly miss meeting the criteria as a qualifying small enterprise because they have several employees more than the definition of a QSE, may reduce staff numbers to fall under that category and thus avoid being classified a medium enterprise.
Companies that are defined as a medium enterprise have to follow the generic scorecard. Under the QSE scorecard, businesses won't have to sell off a percentage of their company to a BEE firm, either. After all, they have to comply with only 5 of the 7 BEE elements, each with an equal (20 point) weighting:
Ownership;
Management control;
Employment equity;
Skills development;
Preferential procurement
and the Residual Element, which refers to corporate social investment.
It has been widely accepted that the most positive aspect of the new codes is that the DTI has at last realised the need for owner-managed businesses to have their own code. Targets are now lower than before and more achievable than in the Generic Scorecard. A company can even score bonus points if all the requirements are complied with.
Also, each BEE element is weighted equally at 20 points. Businesses owned by black women and those with employee share plans can score further bonus points.
QSE White business owners who fall under the new codes won't necessarily have to bring in a black partner, or even black managers, as they can concentrate on scoring on the remaining five elements.
There is a view that this might enable a traditionally white-owned QSE business to compete on a near equal footing with black business owners (of wholly black-owned firms), who prior to 1994 were excluded from running businesses, and who today battle to obtain finance and skills necessary to run a business.
QSE Business owners can, if they so choose, opt to score points on more than five elements on the scorecard. Those that do so will be scored out of 125 and not out of 100 as those choosing to be scored using five elements.
But because white-owned business owners who meet the targets of 25,1% black ownership and 20% black management, will be able to score full points, it could result in little advantage for the 100% black-owned firm.
However to counter this, the ownership code (Code 1000) specifies that businesses that are over 50% black-owned will be able to shift their BEE status up a level. There are eight levels, which range according to what a business's overall score on the scorecard is.
With regard to preferential procurement, the Preferential Procurement Code mea- sures the extent to which enterprises procure from companies that are BEE compliant.
The procurement element of the scorecard can be seen to promote the support of manufacturing in SA. This will recognise the importance of local content in the growth of South Africa's economy. It will also help avoid the scenario in which BEE companies win government tenders and simply import cheap products from countries such as China, with little or no benefit to the local economy and no job creation.
Multinationals
The codes have exempted multinational companies from selling equity to local black people. This exemption has not been seen as too negative as it highlights the balance between equity ownership and other areas of the codes.
A multinational firm may qualify for equity equivalents if it has a global policy prohibiting the sale of equity in its affiliates, or if the firm can show that it would suffer commercial harm by complying with the ownership requirements of the Code.
It has been argued that multinationals will be reluctant to invest in public programmes approved for investment under the codes, if they have no control over how the cash is used.
Multinationals can score points in areas such as preferential procurement, skills development and small business development. It has been pointed out that in order to do so, however, the companies will have to perform more aggressively in these areas.
With regard to procurement, a perceived problem is that local subsidiaries of multinationals may not have discretion over buying decisions. An example of this is if they are bound by global supply contracts and would thus score poorly on procurement.
Foreign companies can also choose to participate in public programmes, which can be regarded as equity equivalents. Participation needs to be equal to 25% of their local operations, in order for them to score full points.
Loyiso Mbabane, a senior lecturer at the University of Cape Town's Graduate School of Business, has been quoted as saying that equity would not benefit as many people as would areas such as skills development, preferential procurement and small business development.
In terms of the codes, equity ownership scores 20 points out of 100, but foreign corporates would be allowed to accumulate the 100 points through other requirements.
The draft codes, which are largely based on existing legislation, have, however, not introduced new methods to control and punish the fronting practices that are distorting the gains of empowerment for black people.
Generic BEE scorecard
| BEE status | Qualification points on Generic Scorecard | BEE procurement recognition level |
| --- | --- | --- |
| Level One Contributor | Over 100 points | 135% |
| Level Two Contributor | 85 - 100 points | 125% |
| Level Three Contributor | 75 - 85 points | 110% |
| Level Four Contributor | 65 - 75 points | 100% |
| Level Five Contributor | 55 - 65 points | 80% |
| Level Six Contributor | 45 - 55 points | 60% |
| Level Seven Contributor | 40 - 45 points | 50% |
| Level Eight Contributor | 30 - 45 points | 10% |
| Non Compliant Contributor | Less than 30 points | 0% |
Sector Turnover
| | |
| --- | --- |
| Construction, as well as community, social and personal services | R5-m |
| Manufacturing, electricity, gas, water, transport, storage, communications, finance and business services | R10-m |
| Retail, motor trade and motor repair services | R15-m |
| Wholesale trade, commercial agents and allied services | R25-m |
Skills Development Element
Skills Development
Weighing Points
Compliance Target
Skills development spend on black employees % of leviable amount
4
3%
Skills development spend on critical skills and/or core skills for black employees as % of leviable amount
2
3%
Skills development spend on critical skills and/or core skills for black women employees as % of leviable
2
1%
Skills development spend on black employees with disabilities as % of leviable amount
1
0%
Learnerships
Number of black employees on SETA accredited Learnerships as % of total employees
2
5%
Number of black women employees on SETA accredited Learnerships as % of total employees
2
3%
Number of formerly black unemployed or from former rural areas on Learnerships as % of total
1
1%
Preferential Procurement Scorecard
BEE procurement spend from suppliers based on the BEE procurement recognition levels as % of total measured procurement spend
15
70%
BEE procurement spend from QSE based on the BEE procurement recognition levels as % of total measured procurement spend
4
15%
BEE procurement spend from exempted micro enterprises based on the BEE procurement recognition levels as % of total measured procurement spend
1
5%
---
February 2003
Can retailers be blamed for sweatshops?
In the seventies it was furs. In the eighties it was Apartheid. In the '90's activists turned their attention to sweatshops and those who benefit financially from the products made in them. Worldwide, brands and top retailers are now held accountable for the conditions under which brand name sporting goods, shoes and apparel are made... is it fair? asks TRUDI DU TOIT
Prominent clothing retailers and brands across the world will remember 2002 as 'The Year of the Activist'. This was the year when labour activists also held retailers accountable for the working conditions of the people manufacturing their stock.
Gap Inc — one of the largest US clothing retailers — had the bumpiest ride. Instead of stocking up for the Christmas season at the end of last year, the retail group had to defend itself against consumer boycotts organised by US labour rights activists. Trade union leaders urged shoppers to boycott the retailer for allegedly producing clothing in sweatshops in developing countries.
It was not the first time that Gap had been the target of labour activists. In March last year demonstrations in front of stores in 15 US cities, backed by leaflet, email and letter campaigns, told shareholders and consumers that the retailer sourced garments made in Asian sweatshops — and that the organisers of the protests were not going to stand for it.
A few months later and across the Atlantic, the French retail group Pinault Printemps Redoute (PPR) faced similar activism. Trade unions and consumer groups targeted the group because its catalogue arm, Redcats, allegedly employed sub-contractors in Asia whose workers are exploited in sweatshops.
Across another ocean, and at about the same time, 37 leading New South Wales retailers signed an anti-sweatshop agreement and code of practice for garment suppliers. Retailers who joined the scheme are required to open their records for inspection by union and Department of Industrial Relations inspectors.
In September, Gap Inc was again in the spotlight when it was one of nearly 60 US retailers and clothing brands to pay a $20-m settlement to 30 000 Pacific island garment workers. The factory workers on Saipan claimed that they were subject to exploitative working conditions and demanded compensation. The multifaceted litigation had been going on for 3 years and involved hundreds of lawyers from all over the US.
And at home, trade unionists picketed Mr Price stores for allegedly having garments made in sweatshops.
For retailers and brand owners who just want to get on with the job of selling goods to consumers, all the accusations of human rights abuses, worker exploitation, child labour, wage discrimination etcetera, are — to put it mildly — disconcerting. They are not the factory bosses who force workers to work 11-14 hours a day in unhealthy conditions for hardly enough money to support a family — but they have to face the wrath of protesters and boycotters.
Why target them?
A cynic might point out that the retailers and brands are more accessible to the First World activists than unknown factories, usually in far-away countries.
But, the activists are quick to point out that the brands achieve magnificent profit margins BECAUSE their products are manufactured in factories where the wages are low and union activities discouraged. They often refer to the fact that a worker can earn as little as 1% of the cost of the garment or shoe he or she makes.
Top brands and retailers depend on consumer goodwill to maintain their popularity — and the activists therefore know that they have an incentive to use their considerable resources to try and ensure that the factories provide decent working conditions. In other words, brand pressure might just succeed where labour laws, labour inspectors and trade unions have failed to produce results.
Prevalence
Since the bad old days of the Industrial Revolution, unscrupulous bosses have exploited the desperate needs of poor and hungry people who would sometimes go to any lengths to avoid starvation.
Sweatshops are aptly named because they are usually badly ventilated, cramped working areas, in hot climates, with the workers having to put in long hours at very low wages. Some wages are so low that workers are forced to work overtime to earn enough to support their families. Production targets are often so high that employees have to work overtime without compensation just to meet them. Workers are not informed about their rights, labour unions banned and the incidence of work-related injuries and ailments are high — without workers having easy access to proper medical care. Children or easily exploitable people like illegal immigrants are often employed.
In short, sweatshops are hellholes that can be found all over the world. For example:
Australian clothing union leaders last year protested against Queensland sweatshops, claiming up to 4,000 textile workers are being forced to work up to 100 hours a week in scores of illegal sweatshops around Brisbane;
Last year a UK newspaper reported that clothing workers making fashions for leading retailers are being forced to work in freezing temperatures and dangerous conditions in the heart of London;
In the US, well-paying jobs in the apparel industry have dried up in the last decade while the number of sweatshops increased, reports the US Department of Labour, estimating that at least half of the country's 22,000 apparel shops can be classified as sweatshops;
The US National Labour Committee for Human Rights (NLC) released a 84-page report documenting extensive, systematic sweatshop practices in Salvadoran factories that supply apparel to the National Basketball Association, top brands, leading retailers and several universities;
An investigation by the Hong Kong Christian Industrial Committee found that several Chinese factories manufacturing soccer balls for well-known brands violated labour laws and operated as sweatshops;
A six-month investigation by the US Union of Needletrades, Industrial and Textile Employees (UNITE) documents "abusive working condi-tions" at 40 clothing factories in Cambodia, Lesotho, Indonesia, Bangladesh, El Salvador and Mexico;
A trade union delegation from Lesotho last year went to the US to try and persuade the US consumers to boycott the country's textile exports to protest against what it describes as "slave-like working conditions".
And right here in SA, where we believe that our enlightened labour laws effectively protect the rights of workers, Department of Labour inspectors last year raided garment factories where workers slept on the premises in order to work round the clock under appalling conditions for pitiful wages. The TV actuality programme 3rd Degree also did an exposé on child labour in Johannesburg.
Sweatshops are everywhere — but for many consumers the word conjures up the emotive images of tiny children stitching soccer balls in Pakistan or India, Indonesian women working 14 hours a day making sport shoes in order to earn enough overtime pay to feed their children and Chinese workers virtually held prisoner on the premises of factories that make big name fashion garments.
In the popular mind, Asia = Sweatshop Country. And that is where the big brands have most of their products manufactured.
Organisations campaign
And in case the consumers forget, there are at least a dozen organisations only too willing to remind them. Many of these activist organisations are based on university campuses in the US, but labour unions and consumer and church organisations campaign against sweatshop conditions all over the world.
Consumers are informed about the issues in workshops and through Internet websites. According to studies conducted by Marymount University's Center for Ethical Concerns of approximately 1,000 randomly selected adults, US consumers are fairly well informed about the issues. An overwhelming 86% of those surveyed in 1999 said they would pay an extra dollar on a $20 garment, if it were guaranteed that the garment was not made in a sweatshop. Seventy-five percent would avoid shopping at a retailer that they knew sold garments made in sweatshops, but, interestingly, 81% said that retailers should not be held responsible for ending sweatshop abuses. About two-thirds said that manufacturers should be held responsible for sweatshop abuses.
Pressure from the anti-sweatshop organisations and consumer protests have resulted in many improvements in the working conditions in factories.
But, in order to mobilise a consumer looking for a bargain into an anti-sweatshop activist, you have to explain the issues in very simple terms — and make a clear distinction between the good and bad guys.
Everybody would agree that forcing 7-year olds into slave labour is bad. All decent people would be appalled by descriptions of the working conditions in sweatshops. 'Sweatshop' is a cause that clamours for action: What can we do? Who can we blame? How can we punish them?
And that is where the problem comes in: the issues may be clear, the solutions not. And in the absence of a factory boss to pillory, another scapegoat had to be found.
What better targets than the world's largest sport shoe manufacturer, NIKE, the US' biggest fashion retail group, Gap, and the supplier of the World Cup soccer ball, adidas? Focusing on them — and also the other big brands — not only have enough clout to DO IT.
What to do is not so clear.
Check on factory
The obvious response would be: the brands should only use manufacturers that pay their workers a decent salary, compensate for overtime and have acceptable working conditions. After all, since a brand will make sure that a manufacturer has the capacity to deliver quality products on time before awarding a contract, the brands should also verify the working conditions under which the products are made.
Prior to the 1990's when the anti-sweatshop campaigns started gaining momentum, the brands could have been accused of not caring about the conditions under which products are manufactured. Since then, factory conditions and workers rights have become priority issues — whether for PR or humanitarian reasons.
NIKE, for instance, introduced a manufacturing Code of Conduct in 1992 that requires all contractors to comply with stringent labour and human rights conditions — failing which, the contractor could lose NIKE's business. This Code of Conduct, which covers workers' rights, wages, child labour, overtime, environmental and safety issues etc, is available in even the most obscure languages. The Code must not only be displayed prominently in the workers' language, but NIKE also introduced training programmes to educate workers about their rights.
NIKE also uses the services of Global Social Compliance to monitor if factories comply with the Code — and their internal S.H.A.P.E. (Safety, Health, Attitude, People and Environment) monitoring team carry out further inspections.
NIKE is also a member of the Fair Labor Association that monitors factories to ensure that they adhere to a strict code of conduct in terms of human and labour rights.
NIKE, adidas and several other brands joined the UK-based International Business Leaders Forum in late 1999, with the object of improving health, safety and environment conditions in footwear factories across Vietnam.
NIKE and Gap Inc are members of The Global Alliance, an alliance of public, private and non-profit organizations designed to improve opportunities for factory workers. They also conduct inspections to ensure that factory owners comply with regulations.
Gap Inc employs 90 full-time staff members who travel worldwide to monitor conditions in sub-contractor factories making their clothes.
Reebok in 1999 became one of the US companies to endorse the "Human Rights Principles for US Business in China." The new code — developed by human rights and fair trade organizations, socially responsible investors and consumer groups — outlines a set of principles for corporations to follow when doing business in China, in order to ensure that workers' rights are protected.
And despite all these checks and precautions, sweatshop allegations still surface.
Manufacture elsewhere
The brands are often blamed for using factories located in countries with low wages, minimal union activity and lax labour laws.
But, to withdraw production from these countries will exacerbate rather than alleviate the workers' problems, NIKE and Reebok realised last year when they ended contracts with problematic Indonesian manufacturers. Thousands of angry protesters held rallies outside factory gates, converged on the US Embassy, burnt a giant tennis shoe and made their displeasure over job losses known during several noisy days.
Even though both companies continued to honour contracts with about 50 other Indonesian factories and they offered to help laid-off workers with loans, medical care etc, they were branded "exploiters" for terminating contracts with the two factories with bad delivery and quality records.
The protesters gave a clear message that the 300 000 odd Indonesian workers employed in factories making big brand shoes need the brands to stay.
Child labour
Abolition of child labour is a more a clear-cut rallying point.
Action has also achieved tangible results. In 1996, the International Labour Organization (ILO) and the International Programme on the Elimination of Child Labour (IPEC) found that the Pakistani soccer ball industry in Sialkot — which produces 30 million branded soccer balls a year for well-known soccer companies- employed about 7,000 children.
A Partner's Agreement to End Child Labour in the soccer industry in Pakistan was drafted, which about half the Sialkot manufacturers signed over the next two years. According to the agreement, manufacturers must disclose their stitching centres and submit to routine monitoring by a group of ILO monitors. Eighteen manufacturers moved production to the 379 stitching centres regularly monitored by the ILO team. During inspections, monitors found 163 children in stitching centres and removed them from the workplace.
While one can never condone the exploitation of children, placing a blanket ban on their employment can place them in a worse situation — as aid workers discovered when child labour in Nepalese carpet factories was banned. The factories summarily dismissed all the underage labourers, with the result that the children, who also lived on the factory premises, had no alternative to begging and sleeping on the streets as most of them no longer had contact with their families who sold them to the factories as labourers in the first place.
The lot of these children only started improving after concerted efforts by aid agencies resulted in the establishment of children's homes and schools where the rescued children could be placed.
In Vietnam, companies like NIKE and adidas worked with local communities and NGOs to develop innovative youth education programs. But, implementing the programs have been difficult, with many young people preferring to work rather than go to school.
The problem is exacerbated by the fact that the ILO is unable to monitor private homes, where children are employed as part of the family business. Defining child labour at home is also problematic. When is it child labour — and when is it helping with household chores or earning pocket money?
Is doing a paper round child labour? Is washing cars for a monetary reward child labour? Is sweeping the floor of the family store child labour? Is a child helping his mother to stitch soccer balls after school performing child labour?
A UNICEF study on child labour in Punjab (India) found that most children working in the sports goods industry go to school and are financially better placed than children in other industries. They say that child labour in the sports industry only takes place in the home under the supervision of parents and that the skill that they acquire help them in later life.
The question remains: why employ children when so many adults are desperate for work?
Conflicting Reports
Another problem that the multinational companies face is that for every report that tells of positive improvements in working conditions, the activists will produce another report that tells a tale of abuse and suffering. The legal ramifications over the right of an activist to sue NIKE for alleged false advertising when the company defended its factory working conditions in a 1996 campaign, is therefore watched with bated breath by brands, retailers, activists and concerned consumers.
In 1998, NIKE's Phil Knight made a speech to the Washington press club that he later described as a "watershed event" that signalled a "sea change in the company culture."
He said that the controversy over sweatshop conditions had made his company's product "synonymous with slave wages, forced overtime and arbitrary abuse," and announced that NIKE would adopt new labour policies on health and safety, child labour, independent monitoring, among other issues.
Three years later, Global Exchange, an anti-sweatshop organisation published a damning report, Still Waiting for Nike to Do It. According to the 105-page report, workers in NIKE's Asian factories still worked for wages too low to support them and their children, are forced to work long overtime hours, and face harassment, intimidation and firing when they organise to defend their rights or tell journalists about labour abuses in their factories.
But, shortly afterwards, the Global Alliance for Workers and Communities published a report based on interviews with 4,450 workers at 9 NIKE contract factories in Indonesia. While the working conditions described are not perfect, they certainly are a far cry from 'slave wages, forced overtime and arbitrary abuse'.
Nearly three-quarters of the workers were satisfied with their work relationships with direct supervisors, 67.8 % with factory management and 77% with labour unions. Three-quarters said they are comfortable sharing ideas or suggestions with their line supervisors.
Workers at all 9 factories reported that they received salaries that were above the regional minimum wage, although more than half the workers said that basic monthly salaries are not adequate to meet increased cost of living.
Two-thirds of workers said they were satisfied with the health facilities at their factory, but 60-90 % reported that the procedures to obtain permission for sick leave or access to medical care are difficult. The incidence of abuse reports (verbal and physical) varied from less than 1% to 14% at one factory.
Recently, prof. Laura P. Hartman, a highly respected professor of business ethics at DePaul University in Chicago, and an esteemed team of colleagues visited Vietnamese factories. They met with scores of corporate officials, conferred with experts from the International Labour Organization and interviewed managers, workers, the families of workers and public officials in Asia. Their research has not been commissioned, nor funded by, either side in the sweatshop debate.
They found that:
Important innovations are taking place with regard to child labour, workplace health and safety, financial support for very poor families and social responsibility attitudes of TNCs (Trans-national companies).
Hartman found that adidas, Nike and many other brands responded to activist pressures with detailed social-responsibility action programs that establish clear standards and demand compliance.
These new workplace standards have resulted in heightened productivity, stronger morale, enhanced worker commitment and loyalty, better relations with local communities, improved social cohesion, lower training costs, etc — showing other factory owners that they can benefit from improved working conditions.
Hartman says that NIKE's micro-loan program "helps to create a healthy community, which then provides other sources of income in the community, better workers and additional sources of support for the families of current workers, raising the whole village's standard of living." Hartman visited recipients of the loans to verify that they indeed enjoyed the benefits
Corporate responsibility
Ironically, the companies vilified for worker abuses have in many instances assumed a socially responsibile role beyond what one would normally expect from an employer.
In its 2002 annual report, NIKE reported that it had given about 5,000 disadvantaged Indonesian and Vietnamese families more than $1-m in loans since 1997. According to NIKE, the number of micro-loans is growing despite the challenging working conditions brought on by the economic crisis and the lack of institutional infrastructure in these countries.
Reebok's Human Rights Foundation sponsors programs like Witness, an organization that provides activists with technology tools to document human rights abuses, and the Indonesian Worker Health Initiative, a program to improve the health of urban factory workers. It also worked with International Labour Solidarity to introduce a labour training program at 5 Reebok factories in Indonesia.
Fair play?
In conclusion, is it fair to blame big brands and influential retailers for sweatshop conditions? No. But, perhaps in this case, it could be argued that the end justifies the means. Would the workplace conditions have improved without pressure from the brands and retailers that contract the factories to manufacture for them? No. Would the brands have demanded the reforms without demands from their customers? Maybe Not. Would the consumers have been aware of the sweatshop conditions without the activists blaming their favourite brands or retailers? No. It is not fair — but it has been effective.
US laws have far-reaching benefits
The anti-sweatshop campaigns are the most active in the US, where it has resulted in legislation to improve the lot of workers all over the world. For instance:
In June 1999 the California State Assembly passed the Omnibus Underground Economy Bill (AB 633) that imposes a minimum wage guarantee and holds both private label retailers and manufacturers legally responsible for employees receiving their full wages. It also allows for an "unlawfully manufactured" tag to be attached to clothing that has been manufactured in violation of labour laws.
In the same period, then Pres. Clinton released an executive order asking for a list of products manufactured with child labour and prohibited the Federal government from purchasing these products. New suppliers are required to submit a report on their labour practices before they can sell goods to a Federal agency.
The US government made a deal with Cambodia, promising extra textile exports in return for the guarantee of greater respect for workers' rights and better working conditions. The International Labour Organisation (ILO) was contracted to investigate labour conditions in Cambodian garment factories.
NIKE and the right to free speech
Nearly five years ago an unknown activist called Marc Kasky filed a lawsuit in California, accusing NIKE of false advertising. He alleged that NIKE's 1996-1997 press campaign to refute allegations of sweatshop abuses in Asian factories was misleading and aimed at convincing the public to buy the company's products — hence, false advertising.
NIKE petitioned the Californian Appeals Court, which ruled that press statements constitute free speech and that the law on false advertising therefore does not apply. Kasky appealed to the California High Court — and won.
In its 4-3 judgement the California Appeals Court said: "(Our ruling) means only that when a business enterprise, to promote and defend its sales and profits, makes factual representations about its own products or its own operations, it must speak truthfully."
A dissenting judge, however, said: "While Nike's critics have taken full advantage of their right to 'uninhibited, robust, and wide-open' debate, the same cannot be said of Nike, the object of their ire."
NIKE, backed by a Who's Who of influential American corporations, at the end of last year petitioned the US High Court to rule whether the lawsuit may go ahead. The High Court ruling is expected in June. The fact that the High Court agreed to take the case is an indication of how much of a precedent the case is expected to set, since the High Court traditionally refuses to review cases that have not gone to trial.
The petitioners say that if the Californian ruling is allowed to stand, corporate spokespersons will in future be too scared to speak to the press about public issues, in case they make a statement that is later proved to be incorrect. "This chilling effect will deprive the public of access to important information and the clash of competing viewpoints that undergirds the First Amendment," the Los Angeles Times wrote in an editorial.
Therefore, without the court hearing one bit of evidence on alleged sweatshop conditions in NIKE factories, the costly legal run-up has ensured that the stakes have become extremely high.
Late news: adidas Standards of Engagement (SOE)
adidas reports that their SOE, set up in 1998, requires suppliers to comply with the core labour standards outlined by the International Labour Organisation (ILO). It is also part of the legal agreement they have with their business partners. They employ an international team of 30 people to monitor factories and their membership of the Fair Labour Association (FLA) ensures independent monitoring. In 2001 adidas teams performed 839 audits in the supply chain. They also produced supplier manuals with guidelines for employment standards and health, safety and environmental standards.
---
April 2007
China retailing: Brands & buyers galore
Sport and outdoor retailing in China is sophisticated and brand conscious — a shop tour in Beijing proved to be a big eye opener
With the Olympics 18 months away, Beijing is being rebuilt with skyscrapers designed by some of Europe's best architects and the millenium-old historical sites dusted off. During our visit to ispo China in March, the city was in the throes of spring cleaning to look its very best for the visitors.
Even without the Beijing 2008 mascots and souvenirs on sale at all tourist sites, it soon becomes clear that sport is on the mind of the 15-m inhabitants of this city about six times the size of Johannesburg (and growing). Branded sport concept stores can be seen along several of the main roads congested with traffic — Prince outside the sport school where future Olympic champions are being nurtured, further along adidas, Nike, a golf specialist store, a soccer specialist store, a racket specialist store, all packed with brands well-known in SA.
There are about 620 speciality sport and thousands of general sport and outdoor stores in China, to serve an industry that only took off during the past ten years.
China's leading sportswear company Li-Ning, plans to open a total of 497 corporate and franchised stores in its home country this year, after adding 960 of them during 2006, reports Sporting Goods Intelligence Europe (March 23, 2007).
The main shopping street Wungfungyi, partly closed to traffic, is packed pavement to pavement full of shoppers on a Saturday afternoon. The Oriental Plaza, an 18-floor shopping mall in the street, houses the Sport 100 store: two storeys, 500m2 floor space, devoted to 51 top international brands that each rent an area within the store. A further percentage of brand sales goes to Sport 100, who will replace those that do not make sufficient turnover with others keen to get in.
There are currently 35 Sport 100 stores in China, the biggest a 600m2 store in Shanghai, contributing to the company's annual turnover of RMB700-m (R672-m). Over the past seven years they have experienced more than 25% annual growth — but with the Olympics looming, the next few years' growth will be more, says store manager Shun Jing.
All the global brands we know — and more — are represented: sport clothing brands, leisure brands, sport equipment and also a soccer store. This soccer area belongs to Sport 100, with products from Puma, Nike, adidas and LP Supports displayed side by side.
Nike is the top selling brand in the store, says Shun Jing, followed by adidas, The North Face, Converse, Nike 360, Levi's, Puma and Kappa.
More clothing than equipment are on display because the latter takes up too much floor space in relation to turnover, he says.
On average 20-30 000 people pass through the store per day, says the manager. The group of journalists look incredulous ... until some see the crowd of shoppers, a rough estimate 60-80 000 people per hour, outside the mall on a Saturday.
Sanfo, next to the huge Chaoyong Park where 50-80 000 people visit on holidays, is part of a 6-store outdoor chain founded in 1998, the biggest a 830m2 store in Shanghai.
Well-known global brands predominate in this 400m2 store in Beijing — Columbia, The North Face and ArcTeryx are the best sellers, although Chinese brand Ozark and their house brand Anemaqen also have a following, says store manager Zijiu Zhang.
"The foreign brands are more in demand by the people with higher incomes — but they are also the people with more leisure time to pursue outdoor activities," he explains.
Of the 300 categories of shoes, clothing and outdoor equipment they stock, the highest demand is for clothing and shoes.
The store group also operate one of the largest outdoor clubs in China with about 50 000 members interested in hiking and climbing.
Decathlon, a mass discounter founded in France in 1976 and now operating in 86 countries, also has 13 stores in China.
While most other Chinese stores offer interesting and modern displays of global brands in a shopper-friendly environment, this 4000m2 warehouse offers only their own house-brands (13 in all) and make no excuse for selling on price, rather than attracting customers with a pleasant shopping experience.
---
April 2005
Chinese imports into US
The US Sporting Goods Manufacturers Association (SGMA) reports that sporting goods imports from China into the US increased by 7,5% during 2004. It was the third successive year during which Chinese sporting goods imports increased. The main categories showing increases were sleeping bags and tents (26%), gym/exercise equipment (14,9%) and inflated balls (14.2%)
Proving that The US is not isolated from the global world trends, China was reported as the dominant exporter of athletic footwear into the US, having a market share of 76,7%. Athletic footwear experienced a 4.7% growth in units, while the average price increased by 1.2% to US$ 10,65 per pair.
---
August / September 2008
Clothes maketh the athlete
Speedo's LZR Racer has been credited for the amazing number of world records broken in the Watercube in Beijing — 94% of all gold and 89% of all swimming medals were won by athletes competing in this suit. The Olympics has traditionally been a showcase of the latest sportswear and footwear innovations. Alas, not for Team SA, reports TRUDI DU TOIT
There are many walks of life where what you wear, does not determine how you perform. Sport — and in particular athletics — is not one of them.
As retailers constantly tell their clients: their shoes and apparel do make a real difference to their performance on the field. That is why the major brands spend millions on research and development in order to develop features that will give their wearers a competitive edge. That is also why athletes are prepared to pay so much more for a brand that they know will deliver those performance enhancing features.
The Olympics has become the arena where these athletic brands square off against each other every four years.
For example, in order to produce a shoe that will help an athlete win the marathon, Hitoshi Mimura, who heads the custom footwear design group at the ASICS Institute of Sport Science in Japan, examines every inch of the marathon course before the event, taking into account the hardness of the road surface, the course profile and the anticipated climate conditions. His latest innovation is to embed rice husks in the rubber soles of racing flats to absorb water. This measure is estimated to increase traction by 10%.
Speedo will forever be remembered as the brand credited with the incredible times clocked in the 2008 Olympic swimming pool as most medal winners wore the LZR Racer.
The pair of Puma shoes Usain Bolt wore when he became the fastest man on earth — twice — will end up as an expensive item on auction one day. Puma was so proud of their Olympics Runway Collection that they launched at an international fashion show held in honour of the Jamaican team. Puma will, incidentally, also supply the teamwear for the SA Paralympics team.
The almost-nothing footwear and performance clothing Nike developed specially for the US and Chinese teams might very well have helped these two countries to win their almost 200 medals.
And then there was Team SA
Team SA will remember 2008 as the year that Korean seamstresses had to be hastily summoned in order to adjust teamwear to fit; when some of the vests started unravelling before they had been worn; when teamwear embroideres renamed it the Beljing Olympics, when performance clothing made from fabric resembling tracksuit material was supplied to athletes who had to perform in excruciating heat; and international tennis players voted the SA tennis team's outfits the ugliest at the Games — and players refused to swop shirts.
It would be unfair to say that the clothing supplied to the SA team was to blame for the fact that our Olympic medal tally dropped from 6 to 1 in four years.
But, it would be fair to say that the teamwear supplied to the SA team did nothing to enhance their performance.
Imagine wearing too tight a vest and shorts too big and lining up next to an athlete wearing Asics' Pro-Fit garments designed by Japanese scientists with technologies to increase freedom of movement and to reduce clothing drag — made in the latest perspiration absorption and moisture wicking fabric, incorporating Core Balance, a competition-optimised technology that stabilizes the position of the pelvis by correcting the alignment, improving the running posture.
Not exactly the confidence booster needed for a podium place!
During the past few weeks most of what went wrong in Beijing for the SA team have been blamed on lack of money. But, lack of money is a relative term, implying that spending was prioritized. Teamwear for our prize athletes was obviously not a priority, but taking 81 support team members and coaches for the 140+ athletes competing in 21 codes, was.
The lackadasical way in which SASCOC looked for a sponsor to supply the top quality performance gear that would have assisted our athletes to perform at their best in the most important competition of the past four years, shows a complete lack of understanding of the role performance wear plays in modern competitions, and the importance of quality control.
What's more, it is an unfair and unnecessary blow to our local sportswear manufacturers who are indeed capable of making world class performance clothing, but now look incompetent in the eyes of the world.
After all, the adidas performance clothing supplied to our athletes when they broke world records and qualified for the Olympics, have been made in SA by a full-blown South African company.
There are many SA sportswear manufacturers that make top quality clothing — even for sports teams from other countries. There are several clothing technologies pioneered in SA. Our local manufacturers have proved over and over that they can conform to world standards.
But, as in everything, there are degrees of expertise — and the field of expertise also differs from one company to another. One company may be an excellent supplier of athletic equipment, but cannot manufacture running shirts at the same level as another, who makes excellent teamwear, but knows nothing about sourcing equipment.
So, what steps did SASCOC take over the past four years to ensure that the best supplier of performance teamwear (that their limited funds could buy) was selected to develop kit for our elite athletes?
Before the team left for Korea, we were told that the teamwear would be supplied by Mizuno in Korea. The local distributor of Mizuno in SA knew nothing about this and said the information must be incorrect (they, incidentally, use local manufacturers to manufacture excellent quality clothing for their sponsored athletes and teams).
SASCOC explains
We asked Linda Ferns, PR for SASCOC, to clarify. This is her response via email:
SAST: Who manufactured/supplied the team's athletic and tennis clothing — Mizuno or a local manufacturer?
LF: Both companies provided competition clothing for the Games. SASCOC started negotiations with Sedgars (for the Olympic Games) in 2007, after the All Africa Games. At the time SASCOC did not have an apparel sponsor.
Sedgars is the manufacturer of only part of the competition clothing. Sedgars produced competition clothing for the following codes: athletics, boxing and beach volleyball.
SAST: Was a tender put out for the supply of the team wear? Where was it announced and which companies tendered?
LF: The tender process took place in 2005 with the first team delivered by SASCOC (i.e. Commonwealth Games). Proposals were presented to a panel of people nominated by the SASCOC Board. The clothing from Sedgars for all the previous Games in the period 2005 to date, had in the main been accepted by our teams, albeit with a few signing challenges.
SAST: Were the official teamwear suppliers to the affected sporting federations asked to tender (e.g. Genuine Connection manufactures for adidas as official supplier to Athletics SA)? Why did Swimming SA originally ask swimmers to wear suits from their sponsor, Arena?
LF: No. Teamwear suppliers to federations were not asked to tender. It was a closed tender, and applicants were invited to tender. There were about 10 companies who tendered, including Sedgars. The matter regarding Swimming SA is that the swimsuit is regarded as technical wear (e.g. a swimsuit is to a swimmer as a pair of running spikes is to an athlete) so the swimmers were informed that they could compete in the swimsuit of their choice.
SAST: What was the main criteria that SASCOC required from the manufacturer of the teamwear? Proven supply to international athletes? Price? BEE status?
LF: SASCOC follows the guidelines of its procurement policy, which incorporates all principles of corporate governance. The tender was awarded to Sedgars for the four-year cycle in which SASCOC operates (i.e. the Olympic cycle). The first order (Commonwealth Games 2005) was given to Sedgars, after the Board awarded them the tender on the recommendation of the panel. The tender was awarded to Sedgars with the proviso/condition that if an apparel sponsor came on board, then SASCOC would reserve the right to no longer purchase from Sedgars, but go with the sponsor (in other words, SASCOC and Sedgars agreed that the prime function of Sedgars was not to supply teamwear — ed).
In June 2008 SASCOC secured a sponsorship (in kind) from Mizuno. The sponsorship was for 150 pairs of crosstrainers and 150 tracksuits. The total supply required for Team SA was 250 of each item. The balance that was needed was purchased from Mizuno at less 50%, as per the agreement.
Whatever was not purchased from or sponsored by Mizuno, came from Sedgars (purchased).
Because the sponsorship was secured in June 2008 (and the team left at the end of July), the clothing from Mizuno could only be delivered to Team SA in Korea.
The sizing of the Mizuno clothing is not the same as other clothing manufacturers (Reebok, adidas etc.), so, in order to save time, Mizuno requested measurements from each athlete and they (Mizuno) established their sizes from the measurements. Mizuno indicated that they could not send any samples to SASCOC for approval and confirmation of sizes as the time was too short.
SASCOC endeavoured to establish the comparative sizing with other sports clothing manufactures, and even consulted our Embassy (in Japan) to try and see if they could assist. But Mizuno rejected SASCOC's comparisons and undertook to resolve the sizing problem through the measurement system as explained.
Sedgars produced the team's travel clothing (tracksuit, golf shirts, sweat shirts and pants) for purposes of team identity during travel (no complaints reported - ed.)
We asked Sedgars for comment, but unfortunately did not receive any response before going to press. The SA distributor of Mizuno — who will not be renewing the license to distribute the Mizuno athletic, soccer and rugby footwear in SA — also failed to get a response from Mizuno International.
---
October 2003
Concept stores & in-house brands
Retailers have their own brands. Suppliers are opening brand name stores. Retailing of branded footwear and apparel has undergone a radical change. How does this impact on the industry? asks TRUDI DU TOIT
Contrary to what many in the industry may believe, the notion that only a certain category of people may import, market and distribute products that are then sold by another category of people, is a fairly recent one. The first traders sourced and supplied — often produce that they grew or manufactured themselves — and it was only the most successful who could afford to employ people to buy stock for them.
Then came the era of specialisation: you do your job properly and stay out of mine. But the pendulum is swinging again: multi-skills are back in vogue.
The annual listing of the US sporting goods industry's leading retailers compiled by Sporting Goods Business illustrates this point. Once your head stops reeling at the $ billions that the top retailers make in sales, it is amazing to see how many of the top brands feature high in the rankings as retailers.
With 94 stores and retail sales worth $1-bn, NIKE is ranked 11th overall, 2nd in athletic footwear and 12th in apparel. Reebok, with 115 stores, is ranked 47th overall and adidas, with 46 stores, at 73rd.
With 255 stores owned by these three — and just about every other brand has several stores — there can be no doubt that brands that retail is an accepted part of the American sporting goods scene.
Factory stores
Locally, most of the big footwear and apparel brands (with the exception of a few, like PUMA and HI-TEC) have been operating factory outlets for many years. These vary in size from small stores that only sell rejects and samples (e.g. New Balance), to country wide stores where excess orders, odd sizes and other clearance items are discounted.
The brands say that they first offer stock to their retail customers, and then rather get rid of the stock in this controlled environment than dump it on the market. They also say that they are careful that this distribution should not impact on the external retail market.
As long as these criteria are adhered to — and product are not made specially for these outlets or merchandise sold at the same price offered to retailers — most retailers don't have a problem with factory outlets.
Concept stores are, however, a more recent development in the local athletic footwear market Although brands like Levi, Timberland, Diesel etc. have been serving customers in retail outlets for a long time, NIKE (3), adidas (1) and Reebok (1) entered this upmarket mall store market during the past year.
The brands justify the idea of concept stores because they say that it is a way of showcasing all aspects of a brand — including products and price points that other retailers are unable to stock.
"If consumers want the full adidas experience, they have to go to a concept store to see what brand is about — it is unrealistic to expect other retailers to stock everything," explains adidas SA MD Brian Kerby. "There is not one retailer that is geared to sell equipment, fragrance, eyewear, apparel as well as footwear in one store."
The NIKE brand is an extremely diverse brand with products in all sport and equipment categories, and to really appreciate the NIKE brand in it's purest and optimal retail presentation, single brand stores was the only way to go, adds NIKE sales director, Mark Gittelson.
"These stores offer the consumer the opportunity to see the NIKE brand presented in a retail format that is equivalent to global standards," he says.
NIKE, however, does not own or operate their three concept stores as they entered into an agreement with two independent retail groups to operate them on their behalf.
PUMA is not yet ready to open a concept store, because they believe in servicing the local retail market first — although local MD Ronald Rink is in favour of the concept of showcasing the brand through an own brand store.
"It is a question of visibility," he explains. "When we came back two years ago, PUMA was not visible — some retailers first wanted to test the brand, and we therefore decided to work with selected retailers where we could achieve very high visibility."
Suppliers not retailers
New Balance and HI-TEC do not believe in the concept because they say they are manufacturers and distributors, not retailers.
That is also the policy of New Balance's Boston head office.
HI-TEC did open a factory outlet at one stage because they had products to clear "but it was more hassle than it was worth," says marketing manager Pat Devine. "We do better at distributing, and rather leave retailing to others. We do not want to deal with retailing problems like shrinkage, shoplifting, landlords, etc. There are huge challenges to retailing properly and it is simply not worth while."
Dealing with the problems usually encountered by retailers, is a downside of operating a concept store, other brands acknowledge — but concept stores should be seen as marketing tools, rather than as retail outlets that are judged on profit alone, says Reebok GM Bruce Joubert.
"We will obviously take care to plan store locations responsibly," he says. "We will not go and open right across from a retailer that stocks our brand in depth. Pricing is also important, because we do not want to undercut retailers. We therefore seldom have specials."
Yet, as much as this is a brand building exercise, international expectations are that the stores have to be profitable, cautions Kerby. He acknowledges that it will take a while to show results.
Retailer views on concept stores, cover the full spectrum.
From support: "I see no problem with concept stores as a retailer can choose whether he wants to stock all the products featured there" (Dines Galtrey, Sneakers)
To approval: "They are good for a brand — as long as they do not get involved in price cutting they can help us sell the brands" (Trevor Burger, Foschini Sport)
To conditional acceptance: 'It depends on the level and range of product — a concept store showcasing top end products, will benefit a company like Edgars that moves volume products, but, if they start selling cheaper volume products, they will hurt me." (Anthony Dearling, Edgars).
To concern: "Unlike international cities like London, Paris and New York, the local market is too small to accommodate more people selling footwear. Adding another retail outlet in a relatively small city like Johannesburg or Cape Town, means one more competitor for me, their customer." (Gordon Howie, Runner Group).
To disapproval: "Concept stores are more misconcept stores — distributors should rather get their act together and focus on service, pricing and delivery to their retail customers. If this is a marketing exercise, they should rather showcase their brands in an area in a store." (Barry Sickle, Footgear).
For The Cross Trainer, the decision to operate and run concept stores for NIKE, was a strategy that has paid off well, says Julian Frame. Sales in the concept stores in Sandton and the V&A Waterfront in Cape Town are well within expectations, he says.
"There has also been a positive spin-off on existing NIKE retailers that are operating within the same shopping centres," says Gittelson.
PUMA had the same experience internationally: after the brand opened a concept store in Paris, PUMA sales in two stores within walking distance grew significantly, says Rink.
But, on the other side of the spectrum, the new US-based owners of Fila recently announced that they are closing the US retail division, which currently operates 14 outlet stores, before the end of the year.
Retailers sourcing
While there is some concern — especially from vulnerable independent retailers — about brands operating stores, the suppliers are casting an equally wary eye on retailers importing brands, or establishing their own house labels.
"Obviously, in a perfect world, retailers would not import and distributors would not retail — but there is more margin to be made by each of them when the middle man is cut out of the equation," says Gary van Rooyen of New Balance.
"But, what is good for the goose, is good for the gander," adds Rink. "If retailers wish to distribute their own brands — and they are fully entitled to do so — they must then not complain if we open concept stores."
Most footwear and apparel brands do not have a major problem with retailers creating their own brands — depending on how and where products are sourced.
Most suppliers recognise that retail brands like Woolworths, Edgars, Body Logic, RT etc. have gained value and market recognition. Most house labels do not seem to affect sales of the strong international brands.
"We offer the consumers a point of difference — all the stores look the same, why should people come to my store? Because I can offer them another alternative brand," explains Arnold de Villiers of Sportsmans Warehouse. "But you must keep the right balance — you can not only have house brand products, nor can you only stock top international brands.
"We are big enough to source on an economical scale — and I do realise that the smaller retailer can not buy cheaper products and create their own brands, because they do not have the volume."
More control
Apart from that, a house label gives the retail group more direct control over styles, colours, fabrics, quality and delivery, and make them less reliant on the international factors that can influence brand deliveries. And of course, offer better margins, adds Burger.
"We could not find a supplier who could offer us entry level products with the look and style we wanted at the price we could get it," says Dearling. "We can deliver a better product at the lower end, while the brands still fare best at the top end. We started our own brand to get price points and margins."
On the other hand, the retailers now have to contend with the problems normally encountered by suppliers. "Returns to the supplier becomes problematic, and you have to take into account the fluctuations in the exchange rate" says Burger.
Retailers must also be aware of the negative impact their brand can have on international brands, cautions Dearling. "The last thing we want to do is cannibalise the branded market. One needs to stay mindful of the impact that your brand can have on other national labels and value brands."
This is of great concern to most of the brands.
"The biggest threat to brands are the stores that source and import their own branded products," says Devine. "They make good margins on products that they source for themselves — sometimes from the same factory as the distributor. Quality products in the higher to medium price brackets are especially affected as the retailer gets higher turnover on the lower price points he can offer. It is also obvious that they would push their own products on price."
Threat to brands
Even worse, if the retailer imports styles that are very similar to branded products. "They then become a major competitor to the brand," says Joubert.
"It could be dangerous, because after all, they attract feet based on the well-known brands that they stock."
But, counters Howie, if distributors looked after retailers — e.g. took smaller margins and did not sell to the public — it would not be necessary for retailers to import their own brands. A prospect that is sometimes very, very tempting, he adds.
But, whether retailers are thinking about their own brands or actually sourcing it, fact remains: the relationship between supplier and retailer has changed.
Which leads to the further question: does it really matter so much? Is it perhaps not more important to concentrate on the success of your own business, than what it is to worry about what the other guy is doing? Provided, of course, as long as everyone stays within ethical boundaries.
Only time will tell.
The US Sporting Goods Business magazine compiles an annual listing of the US sporting goods industry's leading 100 retailers, ranked by sales volume. These are some of the top brands that appear on the list. In the athletic footwear section, NIKE ranks at number two with footwear retail sales of $800-m. The top footwear retailer is Foot Locker with sales to the value of $1.6-bn See the full list at www.sportinggoodsbusiness.com.
---
February 2007
Consumers in SA made the holiday tills jingle
SA consumers were, for the first time, included in a worldwide pre-Christmas survey on end of year holiday spending trends. According to this survey, SA retailers are probably the envy of the rest of the world, as consumers in no other country were planning such spending sprees. Trudi du Toit asked retailers if this was reflected in sales
South African shoppers are amongst the world's biggest spenders around Christmas time, a world-wide Year End Holiday Survey 2006 by accounting firm Deloitte shows.
The responses of SA consumers were included in this annual global survey for the first time at the end of last year. According to their responses, given before the Christmas shopping period, SA consumers expected to spend about 18% more over the Christmas period than the previous year.
And they were spot on, retailers in the sport, lifestyle and outdoor industries told Sports Trader after the end of the holidays.
Compared to the average global expectation of a 2% increase in spending over this period, it is safe to say that shopping is alive and well in SA — whether it was with real money or credit, will only become clear at a later stage.
The anticipated 18,5% increase in spending is slightly higher than the actual 14,9% growth in December sales recorded by the Retailer Liaison Committee (RLC), but this could be because more consumers planned to shop in independent stores than the chains that provide statistics to the RLC.
It is also interesting that the SA consumers said they planned to spend most on clothing and footwear, yet the 12,4% growth recorded by the RLC over the previous December, was the lowest growth recorded in the six categories tracked by the RLC (See chart December year-on-year sales growth).
But, keeping in mind that clothing & footwear sales had been growing around 15% for the past two years, this still translated into an incredible number of clothing and footwear items sold over this period.
Spending on footwear and clothing corresponds with the experience of retailers in the sport, outdoor and lifestyle industries we contacted.
The items most consumers surveyed wanted and planned to buy — CDs and DVDs — also showed the highest growth (22.4%) in sales recorded by the RLC.
Economic confidence
The reason why SA consumers had no qualms about spending money over Christmas, is because the majority of them (52%) believe the economy is in a state of growth and a further 25% believe the economy is stable. What's more, 68% of the SA consumers believed that the economic outlook will improve during 2007 and 71% were confident that their personal financial position would improve during this year. A further 12% said they believed it would remain the same (thus, only 17% South Africans believed their spending power would decline). The SA consumers surveyed also felt quite secure in their jobs.
"Out of all the countries surveyed, South Africans are the most optimistic along with the Dutch and Irish, whilst the most negative are the French, Greek and Italian consumers," says Deloitte.
South Africans therefore believed they had much more spending money than the year before and were not shy about showing it in the gifts they planned to buy. Incidentally, out of all the countries surveyed only SA and Russian consumers believed they had more spending money than the year before.
However, the fact that the survey was conducted over the internet, indicates that the SA consumers surveyed could afford computers, online connectivity and were computer literate … the haves therefore had more. Which would not detract from the validity of the survey for retailers, since the have nots are not their prime customers — yet.
The positive holiday mood of consumers is confirmed in the all-time high Business Confidence Index (BCI) of 103.5 points recorded by the SA Chamber of Business (Sacob) in December. The BCI for November was also a high 103.5 points.
This is in stark contrast to the majority of the consumers in European countries who were rather pessimistic about the economic outlook for their countries and therefore reluctantly opened their purses. Weighted against each country's GDP, Deloitte expected the year end spending to increase by 2%.
But, the surge in spending in SA is in line with other emerging economies where a growing number of middle-class consumers were eager to spend their new wealth on consumables. Spending was expected to grow between 12% to 18,5% in Russia, Greece, Cyprus and SA, where our consumers planned to spend the most.
Consumers from emerging countries (SA, Russia, Turkey and Cyprus) also spend a much bigger slice of their household income (between 6% to 13%) than most European consumers (between 2% to 4%) over this holiday period.
What did they buy?
South African consumers were planning to buy about 11 gifts per household — interestingly, Christmas is no longer for the children as most gifts were planned for adults, in particular mothers, who also got the most expensive gifts.
This could be because most shoppers surveyed (32%) did not know what gifts to buy for their children — an ideal opportunity for retailers to promote gift ideas for children next season. Where children under 12 did make their wishes clear, they wanted expensive electronic toys like consoles for TV and palmtop games … while their parents were thinking more in terms of toy cars and toy figurines.
Few of the top gifts considered by parents — the following two are bicycles and clothes — featured on their children's wish list. Of interest to the industry is the high value children place on outdoor games (see chart What children under 12 wanted).
Perhaps why the safe standby, the gift voucher, was fifth highest on the wish list for SA consumers — and one of the most popular gifts consumers were planning to buy. Retailers we contacted were, however, ambiguous about the popularity of gift vouchers, with chain stores reporting some interest, but independents not (probably because they don't offer gift vouchers?)
Teenagers and adults wished for the latest CDs and DVDs in their Christmas stockings, while teenagers were equally keen to receive video games. This is borne out by the 22,4% increase in sales of CDs and DVDs recorded by the RLC in December.
The Christmas rush
While the global survey indicated that consumers started their Christmas shopping earlier — in November — this was not the experience of most of the SA retailers we contacted. Many of them experienced the normal two weeks before Christmas rush, but several reported that January spending was exceptionally high.
A coastal retailer suggests that locals might have travelled over the Christmas period and then decided to stock up when they returned in January.
An outdoor retailer suggested that the tourists shopped in November, locals just before Christmas in December, and the tourists then returned in January.
About 70% of the consumers in the survey said they planned to leave some shopping for the last minute in order to benefit from pre-Christmas discounts, but this is not a familiar concept to SA retailers whose main concern is to keep the shelves stocked during the Christmas rush.
The survey indicated that SA consumers were planning to spend a lot of time doing price comparisons before buying … but that was a good (or bad?) intention that feel by the wayside, say most retailers we contacted. While consumers might be price conscious during the rest of the year, over Christmas the question "how much?" is asked much later during the transaction, explains a chain merchandiser.
Most consumers surveyed were aware of loyalty card programmes offered by retailers and thought that it might influence their spending pattern … but independent retailers we contacted did not believe that this is necessarily a big factor. "Regardless of the loyalty card offerings or price openings from chain stores, we experienced a demand around the service expectation," says a footwear specialist. "Customers have shopped more astutely in our field and the challenge was to live up to these expectations – price was the last things we spoke about with them."
Where do they shop?
This observation is confirmed by the SA consumers who responded to the survey: although they said they do price comparisons, friendliness of the staff was their top priority when asked where they would shop. The availability of the newest products (variety) was the second most important factor for SA consumers deciding where to shop — with price comparison ranked the lowest.
These factors — the high value consumers place on service from staff and good product selection — are reasons that are often cited why so many independent sport, outdoor and lifestyle stores flourish in SA, despite growing competition from chains.
It is interesting that friendly service and product variety, rather than price, rank higher amongst consumers from most emerging economies, while consumers in more established economies do not care much about friendly service.
Yet, most SA consumers said they planned to do their holiday shopping at hypermarkets ... which could indicate that consumers were actually price conscious. But, it could also indicate that they were planning to spend their bonuses on a variety of household and electronic appliances and therefore shopped at hypermarkets where they could find these goods under one roof. The RLC figures show a 16,4% growth in spending on furniture, audio equipment and TVs in December 2006, compared to a 9,6% increase in December 2005 on the previous year.
Of interest to the industry is the fact that SA consumers planned to spend the next most time in speciality clothing shops, followed by supermarket chains and speciality chains among them stores selling sporting goods.
And, despite their planned trips to the hypermarkets, the consumers expected to spend MORE money at speciality (independent) clothing stores than any other type of store, and the fourth most money at speciality chains, also those selling sporting goods.
Consumer gripes
Worldwide, consumers agree on the most common problems associated with year end shopping: their pet hate is crowded shopping centres, followed by long queues and products that are out of stock. They also complain about all the stores offering the same items from the same brands and because there were not many interesting new gift ideas.
Yet, SA shoppers have not yet, and are not planning to, start shopping over the internet. The internet is, however, increasingly used for searching for products and ideas, which means that it could be a valuable marketing tool for retailers.
While internet shopping is a growing trend — especially amongst people pressed for time — many consumers are still concerned about fraud and delivery delays. CDs, DVDs and books are the most popular items amongst internet shoppers, but internet-purchased gift vouchers is a growing trend.
Compete for market share
The competition amongst retailers is becoming tougher worldwide — but especially so in countries where there is little growth in the markets. While the SA market is in a growth phase, the report indicates some global trends that are relevant to our market:
There is a growing trend that hypermarkets and superstores are taking away market share from stores specialising in a specific category (e.g. audio, computers, household goods, sport);
Same format stores (e.g. chains operating in the same categories) will face increased competition from direct contenders for market share;
A fight to gain a share of emerging growth markets (e.g. women) and smaller consumer niche categories (e.g. extreme sport).
Retailers will be operating in a more complex environment, yet will have to remain cost effective, says Deloitte. The report suggests that general retailers will have to offer goods that are normally found in specialist stores at prices that compete with the mass merchants."This requires retail formats to adapt quickly to serve new market segments," concludes Deloitte.
Economic Pointers
Business Confidence: Despite interest rate hikes, growing fears around crime and challenging political and social conditions the Business Confidence Index was slightly higher in 2006 (100.8) compared to 2005 (100) the SA Chamber of Business (Sacob) reported. "After a reasonable increase of 4.7 points in 2003, a surge in business confidence of 11.2 points in 2004 and the slowdown in the tempo to 2.2 points in 2005, the BCI only experienced a marginal improvement in 2006 of 0.8 points," SACOB said in a statement.
BER outlook for 2007
"Indications are that the global economy is heading for a slowdown next year and locally there are indications that the interest rate increases are starting to impact. The favourable pricing environment is also changing and everything points to a more challenging economic environment over the short term," says Pieter Laubscher, Chief Economist of the Bureau for Economic Research (BER) Positives like sustained fixed investment, employment growth and increased exports from the unexpected manufacturing recovery should, however, compensate for the effect of higher interest rates.
Growth: The BER is optimistic that the SA economy will overcome the challenges with growth only slightly slowing down from a high 5% closer to 4%.
Inflation: The BER is concerned that strong domestic spending, rapid monetary growth, a weaker currency, balance of payments pressures, accelerating food prices and the threat of higher labour costs would have a negative impact on inflation. They project that CPIX inflation will peak at 6.2% (2007 Q1) and average 5.9% during 2007, before moderating to 5.7% during 2008.
Interest rates: The BER anticipates that Interest rates will increase by a further 100-150 basis points in the first half of the year.
Currency: A repeat of the currency depreciations during 1998 and 2001 is unlikely, say the BER, but two-way movements in the rand exchange rate - bouts of weakness followed by recoveries – may be expected. The rand could, however, become more vulnerable as global interest rates rise, commodities decline and the domestic balance of payments current account deficit remains on a high level.
Domestic spending: The BER expects higher inflation and interest rates to slow down the 6-7% domestic spending level closer to 4%. The BER scaled down its forecast for real household consumption expenditure to 3.6% next year.
Global influences: There is consensus that the world economy will be slowing down in 2007, which is not good for SA exports, but predictions differ on how much the US economy will be slowing down. This could be off-set by robust economic growth in China and other developing economies, sustained growth in Japan and a promising economic recovery in Europe.
The findings of this survey are based on market research carried out by Deloitte. Respondents were chosen from adults aged between 16 and 65 years of age. Data was gathered through Internet surveys by means of a structured questionnaire to a sample of individuals, within controlled panels. The Consumer Business Industry Group at Deloitte has extensive experience in retail, distribution and consumer product manufacturing. For more information contact: Rodger George, Consumer Business Industry Leader of Deloitte. Tel: 011 209 6419. Email: rogeorge@deloitte.co.za or www.deloitte.com/za.
---
June 2007
Crime hits the industry
Local distributors of desirable footwear brands were recently targeted by what appears to be an organised crime syndicate. Goods worth millions of rands have been stolen and will probably now be sold illegally, causing losses for legal resellers. NICCI BOTHA reports
The desirability of branded goods across all strata of society is a known fact, but they are not necessarily affordable to all. Illegal traders therefore started selling top brands on street corners at such a low price that it not only devalues the brand, but also causes losses to retailers.
It now appears that this illegal black market is run by well-organised crime syndicates. At least three major apparel and footwear distributors have had their warehouses hit in recent months and have lost millions of rands worth of goods.
Whilst some arrests have been made, the spider web of the criminal network seems impossible to unravel as the kingpins remain out of reach, mainly because the pawns appear to be illegal immigrants, afraid of deportation and even more afraid of losing their lives if they inform.
Who's involved?
Gideon Abrahams of Kulcaklub says that his brand, Loxion Kulca, was specifically targeted when the robbers broke into a warehouse in Johannesburg.
"The warehouse held more than R40-m of goods, but they didn't touch anything else but R1.3-m of Loxion gear."
A few days later, after a tip-off that the warehouse was going to be robbed again, a police task force laid a trap in which a suspect was caught. After some persuasion he reluctantly revealed that a Somalian syndicate was behind the crime.
"They were very well organised and arrived in two eight ton trucks without registration and chassis and engine numbers."
Abrahams suspects that people driving a patrol van with the markings of a well-known security company employed to protect the premises might be involved. "The night before the arrest the patrol vehicle saw us waiting for the culprits and must have alerted them to the trap. The following night, they didn't get a chance to alert them," he adds.
Footwear Trading, distributors of branded footwear like Skechers, Levi's, Soviet, Fila, Diesel and others, also suffered a loss of R1.6-m when 16 000 pairs of shoes, including 4 000 pairs each of Levi's and Soviets and 8 000 pairs of Orlando Pirates and Kaiser Chiefs canvas, were stolen from their warehouse during the past festive season.
According to a Footwear Trading director, the theft was only picked up during a post-holiday stocktake. Again there were indications of inside involvement.
"The warehouse has an alarm, but it seemed to have been disarmed at certain times during that period. We conducted a series of lie detector tests and employed the services of an investigation company. Some security guards failed the test, but this was not conclusive. The security company offered us very little assistance in this investigation."
Shortly afterwards a man, who turned out to be the brother of one of the guards on duty at the time, was found in possession of 60 pairs of Kaiser Chiefs footwear, which were part of the stolen stock. The man was arrested, but the police and the investigative team couldn't get him to sign an affidavit.
"The guard (his brother) was also arrested, but no evidence came out of this investigation," The Footwear Trading director explains.
The Loxion Kulca brand was targeted again, this time footwear distributor, Treets Footwear, lost R1.5-m in a robbery at a warehouse. Although they don't have definite proof, Graeme Katz is convinced that a foreign organised crime syndicate was involved.
Where do the goods go?
The responses vary. Abrahams says that none of his goods had been recovered locally, but he did receive information that it was being sold in Mozambique. He says there is a massive underground network operating in high-end goods, which involves trucking them across the border.
This isn't limited to clothing and shoes, but also electronic goods. (see box)
Goods stolen from Treets and Footwear Trading seem to have made their way onto the local market through informal traders and fleamarkets.
Katz says he has heard that his brands were available on the street, but hadn't seen them personally.
When they heard that the stolen Footwear Trading goods were being sold on the streets "we immediately made test purchases, signed affadavits and got the investigation going," says Laurence Slotsky.
"We established that the goods were being sold by informal hawkers, who were mostly illegal immigrants, apparently from Malawi," explains the forensic investigator, Carel Westraad.
The Footwear Trading director goes on to say that the "police weren't well organised or really interested in this investigation. Raids were conducted and suspects — foreigners — were arrested, but they could not give further information on any warehousing and who the ringleaders were. It was almost like Harry Houdini arrived and the goods disappeared into thin air."
Abrahams concurs with this view and reckons the gangs are highly organised. He suspects that stolen goods are being sold from a certain warehouse in mid-town Johannesburg, but it is virtually impossible to gain access as the operators are very suspicious of people that they don't know.
The effect on the market
A consignment of the value of Kulcaklub's would be sold illegally for around R50 000, Abrahams estimates, which is a lot of money for the syndicate to make considering they hadn't paid for the goods.
An item that would retail at around R200 costs about R40 to make, but it can be sold on the streets for as little as R20. This results in loss of sales for the legal traders, who have to compete with a ridiculous price offered by hawkers.
Insurance is also a problem because losses of this calibre are likely to have a nasty effect on premiums. There is also no guarantee that the insurance company will pay — as happened to Footwear Trading.
"Because there was no forced entry, the insurance won't pay. By being honest we lost out," the Footwear Trading director says. "If we were a small company we would be out of business with a loss like this."
Skye misused by fraudster
Skye Clothing and Footwear has been used by an imposter, Baron Zando Nkosi, who has been fraudently contacting their suppliers under the pretext that they must refund money due to an alleged incorrect remittance by Skye.
Skye directors H. van Jaarsveldt and B. Dalpat have warned customers not to react to any request for refunds without contacting them first to confirm it it is genuine.
"This matter will be reported to the police and we would appreciate it if you could do the same," they ask their customers.
Electronics also targeted
Several burglaries of high-end electronic and camera equipment have also given rise to fears that syndicates could be targetting this industry.
Cas Camera had two massive burglaries in their warehouse within 11 weeks of each other, which resulted in losses of millions Rands. The Kim Bensusan Museum and photographic suppliers Ludwigs in Pretoria have also been burglared recently.
"Although we have the most sophisticated burglar alarm, it did not prevent these thefts of over a million Rand," says Cas Teulings. "Nor did the same kind of alarm stop the burglary next door at an electronics firm in a totally separate free standing walled-in building. They were burgled the very same Sunday as us ... and their alarm also did not go off?!"
Cas Camera was robbed twice of all their computers, a very large safe, their delivery van, all their second hand and rental equipment, new stock some not even costed, customers'repairs and equipment, plus various other items.
"Only the very best items were taken very very selectively, for instance some very imposing looking electronic flashguns were left standing (they were older) and the latest technology units were all taken!" says Teulings. "For instance all our films (just ordered) were removed from the two fridges , which were both empty EXCEPT the one shelf where the overdated films were stored!"
He cautions the trade that should a dealer, repairman, professional or any other photographer be found with stolen items, that person might very well spend days and days in court being summonsed as a witness.
"Any business, be it the owner or employee, dealing in used equipment, must have a second hand dealer's licence from the SAPS, which have quite stringent regulations attached," says Teulings.
He suggests that the trade should organise themselves by, for instance, keeping a general register of stolen goods and displaying warnings to clients about buying stolen goods, or regularly contact insurance companies or the police if they have suspicions about used goods brought in.
"There MUST be outlets specialising in selling stolen goods," he says. He believes that well-organised syndicates have their own outlets, but they would not be able to exist if South Africans do not buy these stolen goods.
"As a longtime police reservist I would appreciate any information about crime, and specifically about illegal photographic trading," says Teulings. "Please do your bit to stop crime. Feel free to contact me direct and if need be anonymously on 082 336 7673 or fax 011 792 1555.
---
October 2004
Does Proudly SA benefit the industry?
The Proudly SA campaign was launched two years ago with the aim of promoting local industry and to combat unemployment. Did it achieve these objectives — especially in the sport and outdoor industries?
Proudly SA. Proud to be South African. Taking pride in what you do and what your compatriots do. That is the underlying message of the Proudly SA campaign.
The idea is that this should inspire fellow South Africans to buy and make use of the services of the 1500 companies that are currently Proudly SA. This, in turn, should create more jobs as the Proudly SA companies grow and prosper.
But does this message come through — and does it achieve what it intended?
Consumer research by Markinor indicates that there is a definite growth in awareness and support for the campaign amongst consumers, says Proudly SA CEO Martin Feinstein. From October 2002 to May 2003 awareness of the logo increased from 54% to 64%.
"As more people become aware of the campaign and the more they see the benefits, the more companies will come on board," he says.
That the campaign would grow from strength to strength, is a wish expressed by the local sport and outdoor companies that have joined. Although more small and medium size businesses join the campaign than corporates, the combined voice of a large group will send a powerful message to consumers and people sourcing products.
Members of the industry that have joined, all express strong support for the underlying philosophy of promoting confidence in local manufacturers. "Being very supportive of SA, I believe involvement can only benefit the country," Ken Lazarus of Cape Union Mart sums up the sentiment expressed by all.
"The campaign will stop us from being apologists and rather concentrate on what we are good at," adds Brett Trollip of Second Skins.
The individual benefits derived from membership, however, vary. How much you benefit, will depend on how you make use of your membership, everyone we spoke to agreed.
"How much you use the membership to promote your company, will determine the benefits you derive," says Trollip, who not only uses the membership logo on swing tickets and inner liners of his garments, but also stresses his membership in all advertising and promotions.
Second Skins recently landed a substantial European export order, which he attributes in part to their Proudly SA qualification.
For founder member Bellingham & Smith joining the campaign was an "absolute fantastic thing to do," enthuses David Bath.
Because this cricket bat manufacturer was competing against very strong international brands in the local market, they used their Proudly SA membership to differentiate and promote the brand to the extent that they are "getting quite close to competing one on one with the international brands," says Bath.
They especially emphasised the fact that Proudly SA membership indicates a good level of service and quality products, as companies have to comply with a stringent list of requirements in order to become a member. "Being Proudly SA has done a lot to alter retailer perceptions of the brand and we have emphasised in our pitches that we gained Proudly SA membership because of the way we operate."
He believes that this has helped to level the playing fields and contributed to their gain in market share.
Companies who want to become Proudly SA need to have a certain percentage local content in their products, and also comply with stringent labour and quality criteria. Trollip, however, believes that the qualification criteria could be made even more stringent and that no international brand should be allowed to become Proudly SA — irrespective of how much they also manufacture locally. Only companies that are registered in SA should qualify, he says.
To use an example: China manufactures most of the footwear for brands like NIKE and adidas — but no-one will consider them to be Chinese brands.
"Factors like productivity and pricing should also be taken into account when awarding membership," suggests Trollip. "Inspectors could pop in from time to time to see if you still qualify. If you say a company has to meet certain standards in order to become a member, this has to be policed properly.
"I believe that the companies that join have an obligation to improve their productivity in order to become internationally productive. The campaign cannot be used as a smokescreen to hide unproductive or inefficient management methods."
Proudly SA membership has made an enormous difference to the morale in their organisation, says Bath, as it worked wonders for worker motivation and pride in the company. "It has been fantastic to experience the impact. Everyone is dying to be proud of SA and to identify and to overcome the differences of the past — our workers wear their Proudly SA caps and T-shirts with pride."
That Cosatu is an important roleplayer in the campaign, is well-known to most workers, and it therefore boosts worker morale if a company gets the Cosatu stamp of approval for its labour practices by qualifying for membership.
Feinstein, however, disapproves of labour activists criticising companies because they are not members, as recently happened in a demonstration at Mr Price head office.
"It is unfair to identify and target companies who are not members. They must join voluntarily because they support the aims of the campaign, not out of fear of victimisation. The fact that they have not joined does not mean that they are not proud to be South African — it could be that the local content in their manufacturing process is not sufficient, or that they can not afford to join."
(The membership fee is 0.1% of annual turnover).
Another way in which small to medium companies can benefit from the campaign, is when they tender for contracts from large corporate companies and parastatals. Petro SA — the old Mossgas — has, for instance, stated that they consider companies with Proudly SA membership preferred bidders, says Feinstein.
But, unfortunately, this depends very much on how far the corporate or parastatal has bought into the campaign, Trollip found. "Some companies still give preference to a PDI (previously disadvantaged) company above a company that is Proudly SA," he says. In one case, his Proudly SA company lost a contract to a PDI that did not even have the capacity to manufacture the products — and then approached him to do it on their behalf.
While Feinstein stresses that black economic empowerment is a major factor in procurement, he says that companies who award tenders to a PDI with no manufacturing capacity is not empowering that company, but merely allowing the PDI to act as an agent. If Proudly SA members bring such cases to his attention, he is prepared to approach the companies concerned. But, he cautions, "Proudly SA membership should not be compensation for not having a black empowerment stakeholder."
Tourists are another market sector that favours Proudly SA companies. "People from overseas want to buy SA products and there is a lot of interest in products displaying the Proudly SA logo," found Dines Galtrey of Sneakers, whose Johannesburg International store attracts mainly tourist trade.
Touring cricket sides often include a visit to the Bellingham & Smith factory in their itinerary says Bath. "Although this does not generate huge sales, it all adds to promoting the brand."
While Jaco Kirsten of Orbit Sports admits that he hasn't had the time to use his membership to promote his company, he believes that being Proudly SA resulted in his company being approached to make tackle bags for the Springboks after they complained about the tackle bags they had to use in Australia. Because he is not an accredited IRB supplier, the tackle bags were unfortunately prevented from leaving Johannesburg International airport, but at least he got the order.
He believes that the Department of Trade and Industry can REALLY help to promote SA companies and create jobs by increasing the levies on the imported sporting goods that compete with those that he manufactures. "It is fine to say: 'Buy local'. But I have to compete against imported products that are manufactured in factories that do not have to comply with the same strict labour and quality control regulations."
But, even though not all member companies can at this stage show tangible benefits from Proudly SA membership, all of them are passionate supporters of the ideals of the campaign.
"Over the next year we will see a dramatic growth in membership," predicts Feinstein. "I recommend that all companies that qualify should join — the bigger campaign, the more powerful it will become and the better we will be able to utilise the campaign."
Industry members
B&S, Buccaneer Shoes, Cape Storm, Cape Union Mart, Detectamatic, Disc-O-Bed, Eezi-Awn, Hatrick Sports, La Galiote, Laycol Promotions, Logical Golf, Masincedane Sport, Morewood Eng., MVG Sport, National Flag, Orbit Sports, Palm Footwear, Planet Fitness, Red-i-Laser, Republic Umbrella, SA Cap Mnfctr, SA Golf Directory, Second Skins, T-Line Pro.
---
August 2007
Estimating the size of the SA shoe market
If we got an advert from everybody that asked us about the size of the SA shoe or sporting goods market, Sports Trader would have been thicker than the Gauteng telephone directory. While we can provide wonderfully detailed statistics about the US and European markets, market statistics in SA is based on assumptions and estimates
Estimates of the size of the SA athletic footwear market vary from 9-m pairs sold per annum, to 14-m or even 16-17-m pairs sold — depending on how strong the individual believes the independent market is.
Some estimators will say there are no independents left; while others will say that about 40% of footwear sales go to independents. There are also brands who mainly sell to independents. While crosstrainers, casual and running shoes are strong sellers in chain stores, teamsport boots are strong sellers in independent stores, especially in rural areas catering for schools and clubs.
Another problem is the nature of our sports market — one store will, for instance, mainly sell rugby boots, while another will concentrate on soccer boots. One Cape Town store even reports that hockey sales outstrip all other team boot sales. Here, again estimates about the market share of the different sporting codes differ.
We got estimates of the percentage sales of each sports segment from two expert sources — and as can be seen, there is a big difference in how they see the market:
A%
B%
Soccer
13
16
Rugby
3
2
Hockey
4
0.5
Running / walk
33
26
Cricket
1
0.5
Golf
0
0.5
Netball
1
1
Hiking
17
1
Tennis
2
3
Squash
2
0.5
Other sports & casual
12
43
We believe that both estimators relied mainly on data from chain store sales — which would explain why, for example, they report hardly any golf shoe sales, as these are mainly sold through pro shops.
Both estimators say that the sales of running/fitness walking shoes are considerably higher than soccer — although the BMI surveys, for example, show that many more South Africans play soccer than run. But, the higher running shoe sales could be due to the fact that runners have to replace their footwear more often.
According to the feedback we got from retailers (see boot article) there is not one brand that is absolute king in all team sports. In some stores one brand is favoured, while the customers in another area prefer another brand — which would explain how it is possible for more than 40 athletic footwear brands to survive in our relatively small market. And that is not counting the many athleisure brands also stocked by sport & leisure retailers.
For years the shoe counts at the Two Oceans and Comrades marathons served as barometers of the relative brand strengths among long-distance runners. But, some brands and retailers have now been calling for an audit of the figures. They are concerned that when the count is based on the brand name entered by runners when registering, this could become slanted when incentives are offered. They are also concerned about the high number of other brands recorded (more than 5% in the Comrades) and ask if this could maybe be due to misspelling of brand names on a form? Some brand distributors have also counted vastly different numbers of shoes worn from the official figures.
While retailers selling footwear in America or Europe can obtain detailed statistics about market share per brand and sales of even the most obscure sport category, most SA retailers have to base their footwear orders on gut feel. There is a company that currently tracks athletic footwear sales based on till sales, but this data very much depends on the number of retailers who are willing to install the softwear (free) that enable them to track sales. It stands to reason: the larger the sample of information, the more accurate the figures.
| | | | | |
| --- | --- | --- | --- | --- |
| | | US share | Intl share | World share |
| 1 | Nike total | 42% | 35% | 38% |
| 2 | Adidas group | 16% | 28% | 23% |
| 3 | PUMA | 5% | 10% | 8% |
| 4 | New Balance | 10% | 4% | 6% |
| 5 | ASICS | 3% | 6% | 5% |
The percentage of US, international and total world sales that the top international brands brands command, when Nike sales include Converse and the adidas Group include Reebok.
World sales
1
Nike
33%
2
Adidas
17%
3
PUMA
8%
4
Reebok
6%
New Balance
6
Asics
5%
Converse
7
VF Corp
3%
8

K-Swiss

2%
The percentage share of world sales of the top international brands when Converse is calculated seperate from Nike and Reebok is not included with adidas.
Source: Sporting Goods Intelligence
---
October 2006
From Riches to Rags?
How will the China quota affect SA clothing retailers and manufacturers? BEVAN FRANK investigates
The Chinese giant has awakened and many are calling for it to be tamed! As in the US and Europe, the SA clothing and textile industry has fallen victim of cheap imports from China and its trade policies, which have given it an unfair advantage over local manufacturers.
China's policies include government subsidies for exporters and government investment in new equipment for the industry in order to make it globally competitive. An extremely under-priced currency has also helped China to become a giant in this global industry, as well as the fact that labour costs in China are only about a third of what they are in SA.
Recent figures supplied by the Department of Trade & Industry reveal that SA's year-on-year trade deficit with China rose to R27-bn in June 2006. This is 43% higher than in June 2005. The trade balance shows that SA imported goods worth R36,5-bn in the 12 months to the end of June, while exporting only R9,6-bn in goods to China.
Clothing and textile products imported from China during this period came to R5,7-bn, accounting for 20% of SA's total imports from China in the period.
The import restrictions were published recently in the Government Gazette. Restrictions will be imposed on 31 categories of textiles and clothing, encompassing 200 items imported from China. The restrictions were initially set to begin on September 28 and run to the end of 2008. However, the government has now given in to pressure and has moved the commencement date to the beginning of 2007.
The quotas which would substantially reduce the amount of goods retailers will be allowed to source from China until 2008 are part of the Department of Trade and Industry's (DTI) efforts to give the local clothing and textile manufacturing industry a window period to make itself more competitive against the cheap Chinese imports.
The quota restrictions are based on high-level agreements signed in June by the Chinese Premier Wen Jiabao and SA President Thabo Mbeki. Their aim is to examine the flood of Chinese textile products that has been described as a killer for the local industry.
The motive for this quota cut is to facilitate the revival of the local clothing industry and to create thousands of new jobs. The SA Clothing and Textile Workers Union quickly welcomed the revision of quotas, saying that this would help to create 55 000 jobs in the industry.
Yet, analysts are not too positive about local manufacturers suddenly increasing capacity and employing new staff based on this revision. Some believe that it is unlikely that business will pour capital into a clothing manufacture based on quotas with a two-year life span.
Retailers, though, are up in arms!
Large price increases and empty shelves have been tipped as some of the consequences of the government's recent decision. Major retailers had been against the quotas being enforced so soon, particularly with the Christmas season approaching. Other concerns have included the need for longer lead times, the methodology for quota allocation and domestic supply issues. A working group has been established to deal with various other concerns that might arise.
The initial short lead-time meant shipments at sea might have had to be turned away, if the new quotas were overrun. This situation has, for now, at least been avoided.
"A later implementation date will allow the customary high level of business over the Christmas period to proceed without interruption," the DTI has said.
Many in retail do not agree with quotas in any form. "Quotas are the worst possible form of protectionism as they increase sourcing costs, create uncertainty, and interfere with competitive market dynamics," says Martin Deall, Edcon Logistics executive.
"There will be no employment gains in any sector from this government intervention and the consumer ultimately loses as costs rise. In a developing economy with a majority of poor consumers, this should not be acceptable and the calls for one productive industry to subsidise another unproductive industry is economic lunacy. Constructive collaboration across the entire supply chain is the only way to get to a win-win solution for the entire industry and to the benefit of the consumer."
Retail Woes
Some SA retailers have said that the government's move to restrict imports would not force them to necessarily source more products locally. There is a view that the local manufacturing industry will not be able to cope with the influx of orders that will result from trade restrictions, as it is not competitive with the rest of the world.
Indeed, the prices and technology of SA produced goods are not always commensurate with the rest of the world.
China might not actually be the root cause of the problems being experienced by the clothing and textile industry, as retailers would simply buy from other low-cost Asian countries if imports from China were enforced.
"If China is the problem today, we can be sure that India, Pakistan, Bangladesh, Indonesia or Cambodia will be tomorrow's problem. China itself is not immune to cut-price competition. Wage rates in Vietnam are about 35 percent lower than in China," Hoosen Rasool, the chief executive of the clothing, textile, footwear and leather sector education and training authority, has said.
Deall says that all of their major suppliers claim they will be unable to manufacture the full shortfall locally and all import agents are extremely concerned that they will be unable to fulfil all requirements.
So, who will absorb the resulting increased manufacturing costs? Deall believes that consumers will feel the increases.
"Retail cannot just absorb the impact of inefficiencies in another industry and surrender margins," he says. "Retail has obligations to consumers but also to shareholders and staff and will only give up margin to the extent that efficiencies can be made up in other parts of the business."
The SA Clothing and Textile Workers Union (SACTWU) has, however, pointed out that clothing retailers have been making very healthy profits by buying the cheaper imports from China — sales in the major clothing retailers have grown by more than 50% between 2003 and 2006.
According to a local manufacturer who wishes to remain anonymous (hereinafter referred to as Joe Soap), retailers will initially buy locally if they can, but the quotas will force retailers to explore other source origins for their product.
"When the quota falls away at the end of 2008, retailers will be in a stronger position than ever with a bigger pool of international suppliers that will no longer make them totally reliant on China."
The branding challenge
Branded clothing ranges sold on a futures basis are planned and ordered at least six months in advance and the import quotas are expected to have a huge effect on brands. "We have not even started to imagine the magnitude of this quota," says Gideon Abrahams of Apparel International, distributor of ranges like Fila and Loxion Kulca.
The retail clothing market in general has been doing exceptionally well over the past few years, and this also been true for sportswear. What is notable for the sport and leisure industry is that T-shirts have been excluded from the quotas.
"T-shirts should be the first to be put on the quotas," states Abrahams. "We can make T-shirts in SA, but there are things like jackets that we can't produce in SA and these now have quotas imposed. This really has not been thought through properly."
The branding challenge is to be able to make up the demand locally, as long as international branding specifications are complied with.
"We can make up the demand locally, but I envisage significant price increases," says Ronald Rink, MD of Puma SA. "We abide by the laws of the country and accept the quota without complaint — I think that the non-branded operations that supply flea markets, etc. will be negatively affected though."
Will the fact that retailers will now only be able to source 70% of their previous quota of house brands benefit international brands — and will the brands be able to meet the increased demand?
"I am sure that there will be some spill-over, but the major beneficiaries will be the alternate sources of production that will be selected, be it locally or elsewhere," Rink states.
With regard to sourcing international brands, Deall believes that some of the international brands may get special treatment under the quota system, provided that they have franchise agreements that prohibit manufacture in this country.
"If no such agreement is in place then branded product will be in very short supply," he maintains. "If this happens, the brands will probably attract a further premium in price, to the detriment of consumers."
Deall believes that should branded product, in restricted short supply, become excessively priced for consumers, retailers may move further to house brands, in order to reduce the price premium that consumers would have to pay.
Soap believes that most international brands have established supply sources and that the quota will definitely affect them.
"Brands have an international image to maintain. This is normally controlled out of their headquarters, where design, product development and QA take place, setting the standards for their branded products."
Manufacturing concerns
There have been complaints that local manufacturers will not be able to handle the increased pressure on capacity. Soap says that local manufacturers will be able to meet the increased demand to an extent, but not totally.
"With the quotas valid only till the end of 2008, we do not see local manufacturers being encouraged to invest money in plants and machinery, as well as employee training. Another concern is: can the local mills meet the demand to supply fabric as well as the variety needed? Can they deliver to the manufacturer on time? Can they adapt to new types of fabric quick enough?"
Other complaints caused by the quotas include the notion that local manufacturers cannot produce the technical products required. Soap believes that local manufacturers may be able to produce technically advanced garments, but cost will be a lot higher.
"I think SA consumers are having it good with their choice of technically advanced garments, especially at the prices they are paying. We will have clothing inflation."
Soap suggests that if the government wants to build an industry that is competitive, they need to invest heavily in it to build a sound infrastructure that works like China.
"They have made large investments in the Gautrain project and the Coega deepwater port development, which cost the country billions and don't necessarily create many jobs in the long run. Here you have an opportunity to create jobs and build an industry."
Many countries around the world have built up garment and textile manufacturing to compete with China. Soap believes that our labour cost is similar to China, but our productivity and work ethic is marred with numerous flaws.
"China doesn't have the same negative impact and interferences that we have with trade unions. The unions have a specific ideology that seems to ignore the international business reality, such as the need for greater labour flexibility (hours worked) and efficiencies. In China, there are zones that produce the cotton, spin the yarn, weave fabric and make the garments all within 2-3 hours drive of each other. All of the trim and packaging come from the same areas. This helps keep the costs down and turnaround is quick and efficient."
Manufacturing relief, coupled to the quotas would be a positive step forward, he says. "It would be great if government works out relief for local manufacturers, perhaps per head that you employ, or buy the volume of units that come out of our factories."
---
April 2006
Get paid to train staff
In the previous issue retailers indicated that finding and training staff are major problems — learnerships offer a solution. Employers who offer learnerships, are paid to get trained staff, reports PHUMLANI DUBE
Whether you see learnerships as a solution to skills issues, or as a tangle of red tape, the fact remains that they are a reality in the new SA. Learnerships are touted by the Department of Labour and the Sector Education and Training Authorities as a means of developing key skills in all fields of learning. Learnerships are available to both employed and unemployed candidates, and provide both the theoretical knowledge component as well as the practical experience that a candidate requires to achieve a full and nationally recognised qualification.
Plus, there is also the question of a tax incentive for the employer, and the fact that offering learnerships counts in a BEE rating.
These issues alone make learnerships look very attractive to the parties concerned. Students gain a qualification that is not based purely on theory and have the opportunity to implement their skills in a real working environment. And even if the organisation where they obtain the learnership doesn't employ them thereafter, they nonetheless have a CV that includes on-the-job experience.
In the February issue of Sports Trader independent retailers indicated in a survey that their biggest problem was finding trained staff. Most of the respondents (80%) also said they have to train staff from scratch – yet only 36% offer learnerships.
This despite the fact that retailers can gain financially from learnerships, because they can claim levies from the government if they employ people in a learnership program.
Since the government pays anyone offering a learnership some R18 000 per year, and you don't have to pay full wages, it seems like a jolly good option, moneywise.
This begs the question, why do so few employers make use of it? Could it be that there are so many hassles attached to offering learnerships that people are not interested?
"No, there are no hassles," says Polly Modiko, the communication chief of the Wholesale and Retail Seta. "In fact, what we have picked up is that many retailers want to do this. The problem is that they loath the idea of filling in bureaucratic forms. So, we are now in the process of making our forms more user-friendly to accommodate them."
"Retailers must train these people in a work situation so that the learners can apply theory into practice. Once the period has expired, they must commit to employ them, and not just train them for the sake of claiming levies."
According to the W&R Seta you have to be an employer by definition if you want to offer a learnership. As Modiko puts it, a learnership is not a learnership without an employer, because a percentage of a learnership programme has to be achieved at the workplace.
"A contract has to be entered into between a learner, an employer and a training provider, who has to provide the theoretical component of a learnership. So, in essence, a learnership can be considered as a training course, as all learnership programmes are registered with the Department of Labour and are implemented with the involvement of Setas."
As all learnership programmes are linked to qualifications registered with the SA Qualifications Authority (SAQA), trainers have to follow a specific curriculum and learners are assessed against the specific outcomes of that particular qualification.
Modiko maintains that there are systems and processes in place to oversee the whole business of learnerships to see if the learner is taught correctly.
"The tripartite arrangement in the implementation of learnerships involves training providers who have to be accredited by the Education and Training Quality Assurance bodies (ETQAs), all Setas have such bodies. All ETQAs in turn are accredited by SAQA."
"This means that training providers have to oversee that the theoretical component of the learnership is done properly, whereas employers have to oversee the workplace component of the programme.
The quality side of the programme is assessed and monitored by the ETQAs who are, in several ways, quality arms of SAQA.
Survey of retailer needs
He adds that an employer needs to make sure that learners are afforded the opportunity to attend theoretical sessions, and at the same time give them the time to practice what they would have learnt from those sessions.
In terms of who decides if you may offer a learnership, Modiko states that any registered employer can offer a learnership. What they need to do, she says, is to first approach their respective Seta to ensure that they comply with implementation requirements. They will be guided by the Seta on the processes they need to follow.
Modiko says the W&R Seta is currently conducting a survey to establish what retailers want with regards to scarce and critical skills. She advises retailers to obtain the National Skills Strategy 2005-2010.
"We are governed by that document from last year to March 2010 and retailers need to get hold of it before they approach us."
The National Skills Strategy 2005-2010 document can be downloaded from the Department of Labour website on www.labour.gov.za.
Retailers are also encouraged to call the W&R Seta call centre on 0860 270 027 if they have any queries.
---
October / November 2008
How FULL will this year's Xmas stocking be?
While many retailers are not expecting this year's Xmas stockings to be as bulging as previous years, there are many reasons for optimism in the industry... especially when you look at new products on offer for the Xmas stockings
With daily headline reports of worldwide financial, retailing and stock exchange disasters, it would indeed be a brave (or illiterate) trader that will be looking forward to a bumper Christmas holiday season this year.
That is perhaps why people in the lifestyle, sport and outdoor industries look furtively over their shoulders and almost whisper when they confess "trading is actually going OK…"
From reading, listening and watching TV we know that even one of the UK's leading retail groups, JJB Sports, are in trouble, that trading in the US is such a shambles that terms like growth is reserved for things like potatoes, and that most retailers in Europe have given up hope of hearing any good news again.
YET, when listening to many SA retailers and suppliers, we hear an almost apologetic sense of optimism. It is almost as if people are saying: I know its supposed to be going badly, but…
Sure, we know: during the past year, up to September, 75 retail stores on our database closed. Those 75 store closures had a spiralling effect with staff out of work, suppliers losing outlets and debts unpaid.
BUT during this period we added 236 new stores to our database. The stores that closed constitute about 2% of the 3540 retailers currently on our mailing list, the new stores add 7% to the list. A gain of 5%.
In the previous jittery retail period after the dramatic plunge of the Rand in 2000/1 (remember: R12/$ and R18/pound), 54 retail stores on our mailing list closed (2.3% of the 2267 retailers on the mailing list). BUT, we only added 13 new retailers during 2001. Therefore, from our perspective, the industry was harder hit by the previous economic hiccup (since the world's cleverest economist are still arguing about whether we should call it a recession or depression or just straight investor panic, we shall refrain from name calling).
We hear that the economists are saying that we can thank the Credit Control Act and exchange controls for the fact that SA was not as badly hit as Europe and the US by this worldwide credit panic. But, since our industry is not exactly a credit-reliant industry, perhaps the answer for the guarded optimism lies elsewhere.
Perhaps the nature of the industry can be credited for the fact that all retailers are not closing and suppliers are not in sackcloth and ashes:
The typical leisure industry customer falls in the higher LSM group (after all, if you're fighting for survival, a new pair of branded shoes or the next squash game are not really priorities);
Scaling down or tightening the belt in the higher LSM groups could mean cutting down on overseas trips and rather going on a seaside holiday, or investing in a fishing boat, canoe or mountain bike;
While Europe has a shrinking and ageing leisure market, SA has a growing Black Diamond market (defined as wealthy, well educated, ambitious and credit-worthy) that is only now starting to enjoy the luxury of leisure spending... or so the UCT Unilever research group tells us. Sure, this group is also highly debt-trapped, but if Prof. John Simpson and his team are correct and the 2.6-m Black Diamonds are growing by 30% per year, there are 750 000 wealthy, well-educated, ambitious and credit-worthy new consumers joining the market every year;
SRSA and the provincial sporting structures are heavily investing in bringing sport to communities who never had the opportunity to participate in leisure activities — whether through mass participation programmes that train unemployed youths to become community sport facilitators, or sporting clusters that allow communities to band together to share facilities and expertise. These efforts might not win SA medals, but they are encouraging many people, who would otherwise not have the opportunity, to become involved in sport and leisure activities;
School sport is growing in communities that previously did not have access.
Sure, when we look at the overall economic picture, it is enough to send the shivers up any spine. Payment defaults by debtors have been escalating sharply for almost two years, and there appeared to be no let-up in this trend, an economist said. Smaller SA businesses seem to have borne the brunt. While 6% fewer companies closed during July this year than the previous year, 4% more cc's closed during that month. In the first seven months of this year 31% more smaller businesses in SA closed than the previous year.
Even though most sport and outdoor retailers do not offer credit, customers' personal debt does impact on their disposable income. "On average South Africans spend 80% of their disposable income on servicing their debt, with an average consumer owing as many as eight credit providers at any one time," says Dr. Tjaart van der Walt, CEO of the National Debt Mediation Association (NDMA). (Referring a customer for debt counselling is one way that a business can recoup losses).
Overall SA retail sales dropped 3.6% in July, compared to the same month last year, following a drop of 3.4% in the previous three months, reports Statistics SA.
June sales of textile, clothing and footwear, however, grew 14.3% (slightly down from the 16.8% growth in June 2007). As the financial results from some of the big chains showed last year, sporting sales outperformed sales of clothing and footwear, and it will be interesting to see if this pattern will be repeated when interim results are published.
To add to the retailers' woes, the cost of stock has risen — in the sports and leisure industries this was driven by a worldwide increase in steel and rubber prices, while the higher oil price increased transport costs.
This has, however, had a beneficial spin-off for local sport and outdoor goods manufacturers — several of them report a marked increase in orders.
This holiday season will be critical for many in the industry and whatever you have to fill the Xmas stocking, could be crucial to making a good profit going into the new year.
---
October 2003
Is all well in the footwear market?
A couple of years ago one footwear brand after the other was leaving the local market and there was a general feeling of discontent about the footwear trade. Have things improved — or worsened? TRUDI DU TOIT asked some retailers and suppliers
The different brands' perception of the current state of the athletic footwear market is very much coloured by comparison to their position a couple of years ago.
Just to refresh the memory: New Balance and PUMA were then the new brands being welcomed back … but they still had to prove themselves. Saucony and Fila had just left … and nobody probably took much notice of the demise of Pony. Reebok had just changed ownership, and adidas SA just got a new MD.
It was then very much a turbulent market dominated by the Big Three (NIKE, adidas and Reebok).
Since then, the market has changed a lot, says adidas MD Brian Kerby. "There are different players and trading is tougher than two years ago. Smaller players that have come in, are commanding more respect."
New Balance and PUMA have copied the international success of their parent companies — New Balance in technical running, PUMA in athleisure — and are no longer considered "also rans". Not surprisingly, whilst acknowledging that trading is tough, both these brands are upbeat.
"When trading is tough, the brands that put in the effort will reap the benefits," says New Balance's Gary van Rooyen.
PUMA is just taking back market share what is rightfully ours, adds Ronald Rink. "We have a good reason to be out in the market with our history and heritage of soccer, running and lifestyle products." But, he concedes (or warns?) that although the brand is seeing significant growth, "we are still playing catch-up".
Economic factors
Apart from more brands competing, consumers no longer buy the latest style of their favourite brand, irrespective of price (see The retailer point of view). High priced branded footwear do not top of the shopping list when consumers have to stretch their budgets to pay for food and housing, or lose their jobs. Several footwear suppliers — even those who are optimistic about their own sales — are concerned about the affect of the high unemployment rate and AIDS deaths on the economy, in particular on consumer spending on non-essential sport and athletic footwear products. "That has an impact on overall production and productivity," says Pat Devine of HI-TEC.
Brands that are perceived to be more affordable are therefore doing well. "Sales indicate that we are on the right track " says Devine. "There has been a downturn in sales of the very top end brown shoes and we have benefited."
Reebok has also cashed in on the consumer swing away from high price points — and coupled with a concerted marketing and sales effort to get the brand re-established, Bruce Joubert and his team are reaping the benefits. "The current rate of exchange is good for consumers," he says.
The crystal ball of forward cover has been one of the major factors in achieving and maintaining price points, margins and subsequently sales, this year.
Exchange rate
Everybody got a fright when the Rand rocketed from R7/$ to R16/$ over the crucial Christmas sales period two years ago. How the brands reacted, still has a major impact on sales and margins — especially after the Rand this year started its steady climb back. Those who read the crystal ball conservatively and took out high Rand rate cover for a longer period, still has to import at these high Rand values, while those who were more adventurous or took shorter cover, could lower prices considerably when the exchange rate became more favourable.
"I believe we lead the way with our pricing," says Van Rooyen. "As much as the other brands may resent it, the fact is, imported products are currently cheaper." It could change, he acknowledges. "But for now, we are very happy with the margins achieved — and the consumer is not sleeping! They have become very aware of exchange rates and the benefits, as well as down sides, thereof."
But, while consumers may be aware of the exchange rate, they do not understand the way the industry does business, argues Kerby. "Most of the major brands took out cover months and months ago and the ups and downs of the Rand therefore can not affect prices in the short term. A number of brands had to cut margins, because you can not just increase prices randomly. With forward cover you win some, and you lose some. We are currently locked to a less favourable exchange rate, but three to four years ago we were smiling."
The shock of the negative exchange rate did have wider implications. "HI-TEC took a new look at our sourcing in order to be competitive as suppliers — and the consumers benefited," says Devine. "We tried to hold prices despite the exchange rate — if an existing style like Boulder rockets by R200 in a few months, the consumers will react negatively, because they know the style well and expect the same price. We have therefore been looking at people who can supply at the same level."
The current exchange rate is especially in favour of brands entering the market, says Joubert. A sentiment echoed by Jerome Goslett of Omni Sport, who is currently re-introducing Saucony. "We can come in at the bottom, and go straight in at the correct price. The others brands have to bring their prices down. We can already come in with cover at lower prices."
But, warns Van Rooyen: "Cheap pricing is always an easy way in, but seldom has sustainability." Vigorous marketing is the only way to do brand building, he says — and he should know from experience!
New brands
Joubert believes that while new blood and competition often stimulates an industry because the additional advertising, marketing and choices has positive spin-offs for all — like Pepsi did for Coke sales in SA when they entered the market in '96 — it the long term sustainability of the new entrant that is questionable, as they have low turnovers and a high cost of entry. "They have to spend on marketing and often price based promotion therefore erode profit," he says.
"If the new brands have a heritage, they should make an impact. How they are marketed and focused, is a different issue," says Rink. "The market is overtraded: those with brand value and heritage, deserve to trade. Those that do things professionally, will succeed."
The SA market still belongs to NIKE, adidas and Reebok, believes Gittelson, and any newcomers will therefore have to capture a significant share of the Big Three market in order to compete.
"The above three brands are well entrenched in SA and have strong consumer and retail support, which they have gained due to their sports marketing assets, marketing and strong distribution partnerships with key retailers," he says.
"Saucony, Pony and Avia were previously unable to sustain a presence in SA. Obviously retail, and the end user, the consumer, will vote whether the brands can re-establish themselves in SA."
Indeed.
---
Feb/ Mar 2009
It may be legal... but is it right?
'Imitation is the sincerest form of flattery' — Charles Caleb Colton, Lacon (1825).
Charles Colton was clearly not a brand manager trying to protect his brand rights, but his quotation illustrates that copying and intellectual property rights are certainly not recent issues. Yet, despite a myriad of laws protecting brand rights, there are many loopholes that prevent brand owners from taking legal action. But, does the fact that it is legal necessarily make it right? Asks TRUDI DU TOIT
Retailers who are aware of the strict rules regarding the use of any trademarks, wording and emblems associated with the 2010 FIFA World Cup, could have been confused by the marketing by two different footwear brands of casual footwear bearing a 2010 reference.
This is just one example of the many pitfalls and difficulties surrounding brand licensing, trademarks, design patents, intellectual property, etc. that has become such a headache for brand owners. Retailers are not immune from the problems surrounding these brand right issues — especially if the item in question is found to be counterfeit. This could have very serious implications for retailers stocking them, since the Counterfeit Goods Act of 1997 makes provision for a fine of up to R5 000 per item if you are caught selling counterfeit goods.
The big problem is that licensing, trademarks and intellectual property rights are often such grey areas that not even the legal experts agree.
Take the 2010 footwear as an example.
Global Brands had been appointed by FIFA as their exclusive licensing and marketing agent and they granted Skye Footwear the exclusive rights to manufacture and supply 2010 FIFA World Cup South Africa footwear. From April last year, Skye had the exclusive right to manufacture a wide range of 2010 shoes — basketball shoes, jogging shoes, sneakers, cross trainers, canvas shoes, flip flops, sandals, casual and dress shoes… and more.
Imagine their surprise when they found out that they had to compete for shelf space with the "twenty10 — why wait" sneakers supplied by Armadillo Footwear.
"The twenty10 range of shoes from Armadillo has been in the market for some time, and inevitably, there will be an 'association' of their label with the 2010 FIFA World Cup marks, causing some confusion in the market," says Tony Dearling, a director at Skye Footwear and Clothing. "Any competitive product in a tough economy will be detrimental to sales."
Surely this could not be legal, Skye Footwear and Global Brands thought.
Turns out the Armadillo shoes are legal, so declared by none other than FIFA's advisor on trademark infringement issues, Dr Owen Dean, Spoor & Fisher's intellectual property expert. What's more, Armadillo had contacted Dr Dean before bringing the shoes on the market, and he said there would be no problem as long as the shoes have no football association.
By this time you are probably thinking, but what about that controversial amendments to the Merchandise Marks Act, the Proposed Prohibition on the Use of Certain Words and Emblems for Fifa World Cup, published in the Government Gazette in December 2007? The clauses that prohibited the use of FIFA logos and emblems and just about every variant of the name and letters 2010 or Twenty Ten on products and in advertising by anyone not an official partner of the event (incidentally not in the form of twenty10).
These amendments, clauses 15 and 15A, to the act was to protect FIFA's official partners against "ambush marketing", the tactic used by clever marketers to give the public the impression that they are associated with an event, even if they did not pay the same hefty licensing or sponsorship fees as the official partners, like Skye Footwear.
But, according to Dean, there is no reasonable prospect that FIFA could successfully object to the use of the mark on the Armadillo footwear — as long as they don't use it in relation to football footwear or claim direct association with the World Cup.
In a letter to FIFA, Dr Dean explained the legal issues at stake, for example:
Trademark infringement: The numeral 2010 as used in 2010 FIFA World Cup is subject to a disclaimer — in other words, the use of 2010 on its own is legal, as long as it is separate from a FIFA logo, or not used in relation to the World Cup or football (it will be interesting to see what happens when companies start marketing their 2010 football ranges — ed.). The Registrar of Trade Marks required the disclaimer because 2010 is descriptive, non-distinctive and necessary for use in ordinary trade. Furthermore, the twenty10 logo does not resemble the official FIFA 2010 World Cup logo, and therefore the FIFA trademark is not infringed.
Passing off: FIFA (or any brand holder) would have to show that the disputed logo is a misrepresentation that the goods are connected to FIFA or the 2010 World Cup (or any protected event or brand). But, since the disclaimer (above) allows free use of 2010 in any form or spelling, Dr Dean says FIFA cannot claim that it denotes any connection to the World Cup event.
Unlawful competition (the Trade Practices Act or the Merchandise Marks Act): This would apply if FIFA could show that Armadillo (or anybody else) had the deliberate intention to suggest a contractual or other connection with the World Cup (e.g. as official licensee), or to derive promotional benefit from it. Again, because 2010 (or twenty10) is non-distinctive, the logo does not resemble the FIFA logo, and no connection to football or the event is claimed, Dr Dean contends that the use of 2010 alone is not unlawful competition.
But, had Armadillo used twenty10 on a football boot, or included a ball or any other football-related item in their logo, FIFA's intellectual property rights would have been violated, advises Dean. A T-shirt featuring the numerals 2010 with a soccer ball, would therefore be illegal.
In addition, Brian Berger says Armadillo had applied for registration of the twenty10 trademark as far back as 2003, long before SA became host of the 2010 FIFAWorld Cup.
Which still does not help Skye Footwear. "Armadillo Footwear gave Dr Dean an undertaking, and I quote 'I will not use my mark in relation to any soccer footwear, nor will I associate my product with the World Cup in 2010' — whether they have deliberately ignored this undertaking is a matter of conjecture," says Dearling. "Why use the name Twenty10 at all?"
Nor does the intellectual property quagmire end there.
The Armadillo twenty10 sneaker has a lugged outsole, clamshell toe and logo placement that is uncannily similar to the PF Flyers Grounder, the classic best seller design of the US brand founded in 1937. A resemblance shared by footwear from numerous other brands, including Millé, Dickies, Levi's, Cats etc.
New Balance was granted the SA registration for the PF Flyers trademark in February 2002 (see image) — with the disclaimer that the name Flyers would be allowed in its ordinary trade use. The initial retail reception was limited, but from about 2004 onwards interest in the brand started growing and at the 2005 SASGAM show, the brand generated plenty of interest.
According to brand manager, Mark Copson, PF Flyers really took off in 2005, and for the last two years it was New Balance's top marketing success. The Grounder is the best-selling style in the range.
In the beginning of 2008, they noticed that there were copies of the PF Flyers Grounder from several other brands in their customers' stores.
Surely, a clear case for the police to do a counterfeit raid and seize the copies, one would have thought.
Well, no. The trademark is registered, but not the design, nor is it patented. Therefore, say the intellectual property lawyers, they will not be able to win such a case in SA.
Many brands are, after all, aware that the absence of a patent or design registration resulted in the many copies of the original Converse or Superga styles that have come on the market over the years.
"We always check patents and registrations before we do anything," says Berger. He introduced the twenty10 shoes with the lugged sole and clamshoe toe design in 2004, he says, when he believes the PF Flyers Grounder was not actively marketed in the local market.
All of the suppliers of copied styles approached by Sports Trader claim that they were not aware that the original PF Flyer Grounder was in the market when they introduced their styles.
Dearling says that Skye has been distributing their models with the disputed clamshell toe and lugged sole design since 2005, and also asks: "Was PF flyers in the country then?"
The irony is that local retailers liked the style of the PF Flyer Grounder enough to introduce styles supplied by other brands as early as 2004 — but did not stock the original model, and thereby gave the copiers free reign.
Some retailers removed the copies when they became aware that they were not the original designs, but re-introduced them later in kids' styles because PF Flyers did not at that stage have kids' styles, says Copson. "But in November we also introduced the PF Flyers in kids' styles, which sold out within a week. Several retailers are currently stocking our Grounder as well as the copies.
"One good thing, though, is that the copies are not selling as well as our brand, mainly due to the fact that consumers strive to own the REAL PF product," says Copson.
Besides, by retailing for R599, instead of the R199 of the copies, the real product also offers the retailer a better margin.
But, copying not only occurs between brands. In the SA market, many of the department stores purchase original branded product to test the market's response in their retail space, and when the response to a particular style is positive and reflects in the sell-through, it gets copied "like for like" without any changes to the upper or outsole designs under an in-house label, says Werner Pieters, marketing manager of Footwear Trading.
"They also sell the product at cheaper prices. The product is very often inferior quality to the original, but looks similar and reflects the same trend. The quantity of purchases from the original brand gets reduced in order to promote the in-house labels."
An example of this would be the Levi's Anderson style which had been copied under an in-house label, says Pieters. "The copy features all of the original product's detail."
Department stores make more margin by producing product under their in-house labels, as they eliminate the original brand. They do, however, use the original brand's design to promote their own product.
"The problem is that the quality is never in line with the original branded product's quality and consumers do not want like for like copies, but prefer the original product and branding.
This situation resulted in retail sales slowing down for product across all brands in the stores, the market became over-flooded with like for like product and consumers lost their appetite for particular styles.
"The bottom line is that the lifespan of any look or trend is shortened. Once department stores mark down their copied product and slowly sell out the stock, original brands pick up again.
"Companies need to translate product into their own handwriting with identifiable features."
To rub salt into the wounds, a strong retailer knows that a brand manager who depends on the goodwill of the store to stock product, is not likely to take legal action. In the US, Nike and adidas, however, have enough clout to take on even the biggest retailers. Last year adidas made history by being awarded US $305-m in a lawsuit against PaylessShoes who was found guilty of importing and selling shoes with the three-stripe adidas design. Nike has also filed a lawsuit against Wal-Mart, claiming the retail giant infringed their design patents of the Nike Shox style.
"High profile international brands are usually an easy target, as product is directional and success is tested internationally a season before it hits SA," says Pieters. "Our brands that are mostly targeted are Diesel, Skechers and Levi's.
"Diesel has just launched a very successful style with unique detail that has already been spotted at factories under other brand names. Footwear Trading, in conjunction with Diesel Italy, has all the procedures in place to monitor and control these copies in the market.
"The Skechers outsole is also a popular copy and is often seen on competitor styles. The outsole is part of the Skechers signature and is immediately recognised by Skechers brand loyalists. Millé currently has styles in the market that are copied from Skechers, and they have also copied Fila's very successful Classico style trainer."
In the cases mentioned above, no legal action could be taken due to all kinds of complicated reasons. But, a retail buyer usually does not have a legal advisor on hand when he or she buys stock… and therefore never knows when the original brand holder does have all the legal t's crossed and i's dotted. And at a fine of R5 000 per item, it could be a costly mistake.
Besides, even if it is legal, it may not be the right thing to do.
A successful prosecution
In January this year Manchester United Limited, was granted a default judgement against the Neccessities store, based at the Cape Town Railway Station for allegedly selling fake Manchester United branded soccer gear. A criminal investigation is also pending. According to papers filed in the Cape High Court, a Commercial Crimes Unit inspector, who deals with counterfeit goods, seized goods from the store in September and took them to a counterfeit goods depot in Epping Industria. Manchester United claimed that the goods were "confusingly similar" to its trademark products and likely to deceive members of the public. Necessities did not have the authority to produce the goods and that its conduct amounted to trademark infringement.
---
Feb/ Mar 2009
The year ahead: 2 Legal issues to affect trade
(1) Consumer Protection Bill
The Consumer Protection Bill, passed by Parliament and still awaiting Pres. Kgalema Mothlanthe's signature at the time of going to press, is bound to have a major impact on retailers and marketers of consumer goods.
The Consumer Protection Bill of 2007 is aimed at protecting consumers' right to equality, privacy, choice, information and disclosure, fair and responsible marketing, honest dealing and fair agreements, fair value, good quality and safety and supplier accountability. The bill says that the consumer has a right to fair, just and reasonable terms and conditions that would include protection against unreasonable or unjust prices or terms, or excessively one-sided or inequitable provisions. In addition, notice is required when provisions are unusual or not reasonably to be expected.
Some of the provisions that could affect the retail trade are:
The bill (which will become an Act as soon as it is signed) encourages consumers to know their rights and requires suppliers to ensure that any agreement with a consumer (e.g. guarantees or new account) is in a plain language that they could reasonably understand they must be made aware of all issues or clauses that could affect the transaction (therefore no hidden small print);
The bill also guarantees consumers equal access to markets, the right to choose and access to the information they require to make good choices. This could make it more difficult for suppliers to insist that they are the sole supplier of certain goods and services as the right-of-choice provision will prevent a supplier from requiring that a consumer (or retailer) purchase goods or services from him, or a franchisor prescribing to franchises whom to buy from — unless the supplier can show that convenience in bundling the goods outweighs the limitation of choice for the consumer, or provides economic benefit to consumers.
All marketing and terms and conditions need to be fair, just and reasonable and consumers should expect fair value, good quality and safe products (see article on product safety below);
Suppliers will be accountable to customers and consumers have a right to be heard and receive compensation if they are unfairly treated;
A supplier cannot enter into a transaction if it exempts the supplier from liability for any loss directly or indirectly attributable to gross negligence of the supplier or any person acting for the supplier; or anything that constitutes an assumption of risk of. A supplier must not require a consumer to waive any rights or waive any liability;
When a supplier makes a commitment, or accepts a reservation, to supply services on a specified date and time, but fails because of incapacity to supply the services, the supplier must refund any amounts paid with interest at the prescribed rate, and in addition compensate the consumer for consequential damages for any economic harm sustained as a consequence of the breach.
There is, however, no liability for consequential damages if the shortage of capacity is due to circumstances beyond the supplier's control and the supplier took reasonable steps to inform the consumer of the shortage in capacity;
The Department of Trade and Industry embarked on a country wide consumer protection awareness campaign at the end of February with the aim to educate and create awareness among members of the public about the impact and consequences of the bill. The campaign, in the form of industrial theatre and leaflets, also shows consumers how to avoid falling into the debt trap.
(2) Product safety laws
During ispo Winter the World Federation of Sporting Goods Industries held a workshop to discuss the impact of the new US Consumer Product Safety Laws on the global sporting goods business. The speakers were Mark Granger, head of the US Sporting Goods Manufacturers Association (SGMA) Legal Task Force, lawyer Gary A. Wolensky with Tom Cove, CEO of SGMA as moderator. NICOL DU TOIT reports
In response to the consumerism movement both the US and EU have recently passed sweeping product safety reform legislation and regulations as far as products for children are concerned. It will have a direct impact on the global sporting goods industry, initially affecting imports in those two regions, but very soon the whole world will be affected as these two economic blocks still dominate the world economy at least as far as consumption of goods are concerned.
These new laws require immediate action by brands and manufacturers to ensure their products will be allowed for sale in the US and Europe.
Speakers at a seminar in ispo agreed that the US law is very complicated and there is still large uncertainty on its implementation. Rules and interpretation thereof change almost on an hourly basis. In addition there are also a number of court cases, the verdict of which will also impact the implementation.
One aspect that the speakers agreed upon is the fact that it will be a very costly exercise for all the players in the supply chain. Retailers, distributors and manufacturers will be obliged to disclose certain substances contained in their products, and will also be obliged to disclose their supplier. This information has in the past been regarded as confidential trade information, but in the future it will have to be made public.
Quite serious penalties have been introduced for businesses not adhering to the regulations — fines of up to US$100 000 can be levied on each product that is in contravention of the regulation, with a maximum fine of US$ 15m and/or five years in prison for the directors of the contravening company.
Furthermore, the legislation also gives retailers the right to return products not conforming to the regulations to the distributors or manufacturers who will be obliged to refund the retailer.
In the US the regulations concern products primarily aimed at children younger than twelve. The first category of content that will have to be virtually eliminated from such products will be lead. The first restriction will apply with effect from February 2009 and will culminate in limiting the lead content to less than 100 parts per million by August 2011.
Products containing phthalates is the other restricted category. Phthalates are commonly used in plastics as plasticizers — substances added to plastics to increase their flexibility, for example in swimming goggles. They are chiefly used to soften polyvinyl chloride, or commonly known as PVC.
The so-called 3P group of phthalates is banned where the concentration is more than 0.1%. The other group called the 6P group is banned where it is possible for a child to put such a product in its mouth and where the concentration is more than 0.1%.
At this stage it is assumed that performance sporting goods are not regarded as toys, but there is clearly a substantial grey area.
Countries such as SA should be careful not to be caught by manufacturers who are not able to sell products to the US or the European Union anymore.
The EU already has similar legislation in place and has gone further and created RAPEX, the EU rapid alert system for all dangerous consumer products, with the exception of food, pharmaceutical and medical devices. It allows for the rapid exchange of information between various countries of measures taken to prevent or restrict the marketing or use of products posing a serious risk to the health and safety of consumers. Not only are measures ordered by the national authorities covered by RAPEX, but also measures taken voluntarily by producers and distributors.
Every Friday, the Commission publishes a weekly overview of the dangerous products reported. This gives all information on the product, the possible danger and the measures that were taken by the reporting country. To be reported can cause brands a lot of marketing damage.
The RAPEX system is becoming very popular and has seen the number of reported instances increase by 53% from 2007 to 2008.
---
August / September 2008
Lifestyle rule in running shoe market
The appeal of non-functional "lifestyle" footwear is also evident in the local running shoe market. Nearly three-quarters of the running footwear sold in SA are non technical shoes worn for multi-sport or leisure activities. Despite selling at lower price points than technical shoes, they generate about two-thirds of the sales revenue, according to statistics supplied by
GfK Marketing Services SA*
This is a considerably higher percentage of the market than in Europe, where studies show that about a third of the athletic footwear and clothing sold are non technical lifestyle.
Over the past year, there has also been a downward trade in technical running footwear sales, with more shoes sold in the R600-700 price point than at the higher price points, says Craig Bowen of GfK Marketing. Although the running shoe prices have gone up, consumers have been sticking to more modest price points.
This is also evident in the growing market share of brands offering solid technical features, backed by a name trusted by runners, but selling at a slightly lower price point than the top end products. This could indicate that consumers have set themselves a price limit, and then look for the best possible buy in that price range — even if it means switching brands.
In tougher financial times consumers are also more inclined to look for good value for money and generally want to buy as much wear for their purchase as possible. The average runner cannot afford the luxury of spending R1 000 on a shoe that will only be worn for one road race, but will be happier to spend R600 on a shoe that will carry him through the race and into the gym — especially if it looks good enough to wear with casual clothes, thereby providing real value for money.
Brands that have kept a foot in both independent retailers as well as mass stores and maintained high service levels, have fared best during the past year — with those with the deepest market penetration trading the safest, as opposed to those only concentrating on one market segment being the most vulnerable.
Brands with advertising campaigns effectively reinforcing brand image and clearly defining the target market, have also been able to maintain sales at higher price points.
Technical running unit sales sold through specialist running stores remains a relatively small part of the market, but often the sales people in specialist running stores can make sales at higher price points, says Bowen. This can either be attributed to the fact that the consumers who visit these stores are themselves committed runners who are prepared to pay the top prices for the top brands, or because the information supplied by the salespeople in specialist stores convince them to buy at a higher price point.
GfK statistics show that technical trail running comprise less than 10% of the running shoe market — but, with most trail and adventure racing brands selling to outdoor rather than sport stores, this figure could be much higher. In Europe, where trail running is classified under outdoor, it is estimated that this category has 40% market share.
Technical racing is an extremely small category (measured in 100's as opposed to about 30 000 technical running shoes sold per month), which refers to hi-tech models like the Nike Mayfly or New Balance RC 550 that have a very flat profile, normally very little in the way of arch support and a phylon sole with a tougher polymer covering on the high wear areas like the heel and toe, explains Bowen.
Sales of stores' house labels are also down as they now have to compete against established international brands selling at roughly the same price points.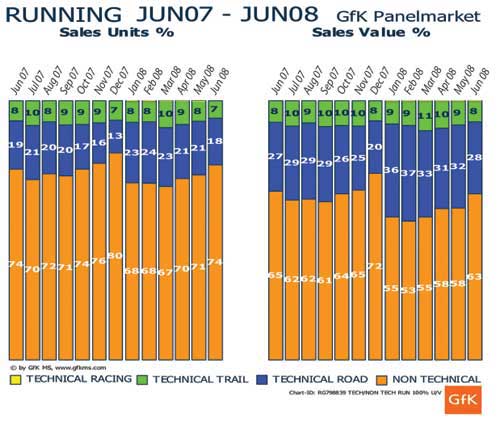 *GfK Marketing Services track the sale of sport shoes at participating retailers according to units sold per category and brand, and the revenue generated, by installing free software at retailers willing to participate in the market survey. In turn, the retailers receive detailed feedback of the market trend. Subscribing brands also receive a confidential, detailed analysis of their performance benchmarked against the rest of the industry. In order to be part of the survey, contact Craig Bowen at tel: 011 803 1300, fax: 011 803 0111, or Email:
Craig.Bowen@gfksa.co.za
.
---
August 2005
'Made in SA' CAN be competitive
Second Skins is a member of the Proudly South African campaign. It's on our stationery and our vehicles and on every bit of correspondence we send. But, far more importantly, it's part of our company ideology. We really are proud to be living and working here. It's not a marketing angle or a way to score public support, it's a way of life. With the exception of latex and silicone swimming caps, we manufacture every thing we sell here in SA
I was concerned to learn that our stormy Cape climate has forced yet another sportswear maker to seek greener manufacturing pastures in the East. Just one more to add to the growing list of great brands that will no longer be made in SA.
I am no naive idealist: I firmly believe in a responsible capitalist system but we all need to contribute to our society if we expect to enjoy living in this incredible country of ours.
I don't buy the argument that we can't compete. Second Skins can and does every day. By manufacturing locally, we are also able to offer a service that we simply could not if we were to manufacture off-shore.
Our domestic sales have grown annually for the past twenty years, and we view manufacturing locally as one of our advantages. We also export more now than ever before and it keeps getting better.
Of course, it's a challenge, but we are South African and we are up for it.
Continuing retrenchments are really bad for everyone. You may not think it affects you, but it will sooner or later. You may never lose your job, but without income your previous customers will be doing a little less shopping.
I am not advocating that we blindly buy local. By all means do your homework, get the best deal, but when faced with two equivalent options and one is South African — buy it!
---
August 2005
Made where?! Do consumers care?
Consumers do not care where garments or shoes are made, research shows and retailers confirm. It does not matter to consumers if a product comes from the US, China or SA ... as long as they like the price and style they see in the store. But are there SA brands for them to select in retail stores? CHARLENE CLACK investigated
Consumers will buy clothing and footwear based on price, quality, make and fashionability, whether it is Made in South Africa, or not. If the product is available in stores at the right price, allowing for the right look and from the right brand, consumers will buy the product.
This seems to be the unanimous voice of clothing retailers and their customers. Only 40 of the 1014 respondents (4%) in the SA Sports Trader teen survey said that they would be more likely to buy a product because it was made in SA.
Adele Seegers, Divisional Buying Manager of Edgars Menswear, adds that "people are buying the brand, not on whether it was manufactured in SA, or not."
While the three most popular brands — adidas, Billabong and Nike — are owned by 68%, 66% and 56% of the respondents respectively, the most popular SA brand, (Mr Price's) Red, is owned by 52% of the respondents. Island Style and Instinct, made in SA for Foschini, follow close behind, owned by 40% and 34% of the respondents respectively.
Most of the respondents (48%) in our teen brand survey say they buy clothing while browsing and that they will buy from any store in a mall, as long as they like the cut and style (55%).
"Consumers buy clothes because of price, the quality and the fashionability," confirms Selwyn Eagle, general manager of TFGA, that sources products for Foschini.
The availability of brands in store is therefore extremely important.
The survey clearly shows that SA brands readily available from stores in malls, do sell well —brands like Red (52%) and Hang Ten (45%), are owned by more of the respondents than brands like Quiksilver (44%), BADBoy/Girl (42%), and Reebok (37%). Instinct is owned by 34% of the respondents, which is more than Roxy (26%) and even Puma (23%).
But, do major retail groups stock SA brands?
Dion Chang, the programme director for the South African Fashion Week, says that "we don't have the buy-in of chain stores, who will order now for next summer. They still send their buyers overseas. They buy samples from Gap, or wherever, bring it home, knock it off and copy it. And you're left with this quagmire of mediocrity."
However, a scrutiny of the labels of origin on garments in the big retail chains, tell a different story.
Edgars stocks an average of 30 apparel brands, and of these, 15 are reported to be made in SA, 13 in China and one in Italy, indicating that 50% of their apparel is manufactured locally.
Of the 15 brands manufactured locally, 4 of the brands are house brands like Pro Action, Free2bu, New Wave, and Kelso — which also has a few items made in China.
Seegers states that for a house brand to be a great seller, the price has to be right and it needs to look good.
"We have moved a lot of our programmes to be manufactured locally and there has not been a major swing in sales — this leads us to believe that it doesn't make a difference to the consumer as long as make, price, quality and styling factors are in the garment," says Seegers.
"There is an advantage in manufacturing locally, as there is a quicker turnaround time and this can be done easily with simpler garments. When a garment becomes more complex, it is sometimes necessary to import."
Selwyn Eagle agrees that while international brands may have an edge, SA brands are not far behind. "Outside of the sports arena, store specific brands that are locally produced sell better and actually outsell what we have imported, especially t-shirts. If a product is at the right price, is fashionable and is a quality product, consumers will buy it."
TFGA recently bought the homegrown Instinct label, a popular surfing brand. With 34% of the respondents in the Sports Trader survey owning the brand, it is clearly popular with local teens.
Outback Red, Daniel Hechter and the Truworths label are brands stocked by Truworths that are made in SA. The Truworths and Outback Red labels were alternatively made in SA and China — depending on materials used and possibly the complexity of the garment, as previously stated by Seegers.
But, with the exception of a few well-known brands, store-specific brands do not seem to attract the attention of young buyers.
Only 16% of the respondents in our teen survey, for instance, own Truworths brand Inwear and 6% own Outback Red.
SA designers Maya Pass, Stoned Cherrie and Craig Native are among the 8 SA made apparel brands stocked by Woolworths — yet, the teen survey reveals that only 9 of the more than 1000 respondents own Stoned Cherrie, 6 Craig Native and 3 own Maya Pass.
Unfortunately, except for readily available chain store specific brands, the consumer demand for SA brands is not very high when they have to compete with well-known international brands.
SA brands like Stone Harbour are only owned by 8% of the respondents, and Weird Willy and Loxion Kulca by only 2%.
These brands have to struggle against the likes of adidas (owned by 68%), Billabong (owned by 66%) and Nike (owned by 56%).SA consumers may not specifically go out of their way to buy a garment because it is made in South Africa — but that certainly does not mean that they are against buying SA brands … as long as they can compete with international brands on style, cut, price and availability, they will buy local.
---
April 2005
No end in sight to retail sales growth
Even after the December holiday season, retail sales continue to grow at record levels, while business and consumer confidence remain very high. The experts see no end in sight, and there are increasing calls for elevating our growth target, reports NICOL DU TOIT
It seems that there is no end to the growth that retail sales are experiencing and reports over the last few months give no indication that there will be an end to it in the foreseeable future.
The Retailer Liaison Group reported month on month growth figures of 16.8%, 16.7% and 16.8% for December, January and February respectively. All three these months exceeded the best monthly growth since April 2002, when we started monitoring their figures.
After the very good December sales, reported as the highest the last five years, many people anticipated that January and February sales would be lower, but they were proved wrong. Retailers and distributors are experiencing the best trading conditions in many years, brought about by the strong rand and relatively low interest rates.
GDP growth
GDP growth last year ended on 3,7%, substantially up from the 2,8% of the previous year. Although it is a significant achievement, some economists say we should aim higher. They say that we need to achieve at least 4 to 5% to make any significant inroads into job creation. The Irish delegation that recently visited the country to share the secrets of their economic success, said that 7% should be our goal.
In a speech after delivering the 2005 budget, Finance Minister Trevor Manual forecasted 4.3% GDP growth, but added that he believes that 5% is doable.
Our growth of 3,7% is also not such a great achievement in terms of the global growth rate of almost 5% last year. But the global growth rate has been significantly boosted by growth in certain geographic areas, such as China. So overall an achievement not to be dismissed.
Business confidence
The Bureau for Economic Research (BER) released their latest business confidence index halfway through March and reported a slight decline to 79 from 88 in the fourth quarter of 2004. They reported that business confidence dipped in all the sectors surveyed, but it declined proportionally more in retail and wholesale, where it had reached record highs the quarter before.
The dip in confidence in the retail and wholesale sectors may partly be seen as a "pay-back" for the extraordinarily high levels reached late last year. They said that in the absence of additional good news, such as further interest rate cuts, confidence could not have been expected to increase even further.
They concluded "The dip in confidence does not reflect a weakening in consumer demand, in our view. In contrast, we expect consumer spending to continue to expand strongly this year, though not quite at last year's pace".
Consumer confidence
The BER and FNB's joint consumer confidence index for the first quarter of 2005 was published just after the business confidence index and reported a reading of +19, just below the +20 of the second quarter of 2004, the highest reading ever recorded since the BER started the comprehensive consumer survey in 1982.
They concluded that the high consumer confidence level can primarily be attributed to the following reasons:
1 Consumers have become even more optimistic about the economic outlook of the country and their own finances;
2 The improvement was broad-based. Confidence increased across all population and income groups;
3 The relatively low petrol price in January and February and expectation of a further interest rate cut could also have played a role;
4 The factors that pushed consumer confidence higher last year remained effective. They include the lowest nominal interest rate in two decades, low inflation, a surge in house and share prices, a reduction in personal tax rates, roll out of social grants and a moderate improvement in employment.
---
Aug/Sept 2009
Nowhere to hide for illegal importers
New mobile scanners that look like unidentified trucks have given the SAPS anti-smuggling cargo-control unit in our harbours enough clout to make any counterfeiter or illegal importer think twice – or even three times – before attempting to sneak suspicious goods past their watchful eyes. This scanner is so effective because it can quickly scan a number of containers being driven past the innocuous-looking truck, without anybody realising that the content is being scrutinised on a screen
In a busy harbour like Durban, not all the 100 000-odd containers entering or leaving the premises per month can be scanned and the unit therefore randomly select containers to scan, explains Capt. Zondi of the Durban Harbour SAPS anti-smuggling cargo-control unit.
But, certain importers and exporters are profiled and receive special attention – it could be because they had been caught with importing or exporting illegal goods before, or because the anti-smuggling unit had received information about suspicious cargo.
"Because we know that a number of illegal goods are smuggled through a busy harbour like Durban, we work closely with Interpol," he says.
There are several factors that would alert members of the unit that there might be a problem with the cargo, explains Capt. Zondi. "We would check the commodity being imported to see if it looks consistent," he says. "The way a container is packed could, for example, alert us that all is not well with the cargo. When it looks suspicious, we would do what we call "tailboarding" – stop and open the container and extract the goods. We then send it to the patent attorneys who give it to experts to verify and then alert the commercial branch if further action is needed."
Suspicion about the fact that a consignment of balls were packed between furniture and TV's in a container from China, for example, recently alerted the Durban harbour unit to what turned out to be a consignment of 500 fake Mikasa volleyball balls valued at R233 000 (trade price incl VAT).
Upon scrutiny, the anti-smuggling unit found that these balls were stamped with Mikasa on one side, and the name of the importer, Charmers, on the other side. This was clearly not above board and the process was set in motion.
"One could see straight off that they were cheap and nasty copies of our top-of-the-range volleyball ball that was launched at the Beijing Olympics," says Nick Wiltshire of the licensed Mikasa importer, Pat Wiltshire Sports, who immediately drove from Johannesburg to Durban to verify that the balls were illegal as soon as they were notified.
The Mikasa panels are not conventional and are therefore very difficult to manufacture, Wiltshire explains. "This was a shocking attempt at copying, and they had the audacity to put their own name, as well as the Mikasa name, on the ball. The packaging was also very bad quality."
According to the importer, Ebrahim Timol of Charmers Sportswear, this was no attempt to import Mikasa copies – he says that he was, in fact, himself a victim of the Chinese manufacturer who added the Mikasa name to some of the balls he manufactured without his knowledge. "If I wanted to copy Mikasa balls, I would certainly not have added my own name to the other side of the ball."
He does, however, agree that the colours of the ball are the same as the Mikasa.
"My agent was supposed to check the consignment before it left China, but the boxes he checked were correct," says Timol. He unfortunately missed the 500 with the Mikasa name out of the consignment of 10 000 balls I imported."
The import invoices, however, show that the consignment consisted of only 1 500 balls - 1 000 Charmers soccer balls and 500 volleyball balls carrying the Mikasa and Charmers name.
Apart from a incurring a hefty fine* an importer of illegal goods is also liable for the cost of storing the container while the investigation is ongoing, as well as pay for the costs of the patent attorneys, fees incurred by the legal importer, the cost of destroying the illegal goods, etc. In addition, his container with all the goods imported is locked down and held in storage until the court case had run its course.
The Mikasa-import case was settled out of court, "in the best interest of the brand and our principal," says Pat Wiltshire. "But, it was a victory for ethics and morals! It is also a victory for our legitimately appointed stockists."
He is also full of praise for the effectiveness of the SAPS anti-smuggling unit who "often don't get the credit they deserve."
* The Counterfeit Goods Act of 1997 makes provision for the following punishment:
"in the case of a first conviction, with a fine, in respect of each article or item involved in the particular act of dealing in counterfeit goods to which the offence relates, that may not exceed R5 000 per article or item, or with imprisonment for a period that may not exceed three years, or with both such a fine and such term of imprisonment;
(b) in the case of a second or any subsequent conviction, with a fine, in respect of each such article or item, that may not exceed RI0 000 per article or item, or with imprisonment for a period that may not exceed five years, or with both such a fine and such term of imprisonment.
---
October 2003
Pro's and con's of discount retailers
Over the past two years, a new retail category had made its presence felt in the branded footwear market: discount stores that offer branded footwear at prices R200-300 lower than other retailers. How will this impact on the industry?
While they resemble factory stores in that they mostly sell clear outs and end of the line specials, these stores differ because they offer a selection of the top brands — even some of the most aspirational — at low prices. The new breed of discounter also offers the consumer a pleasant shopping experience.
Just about every imaginable footwear brand supplies discounters like Tekkie Town and Footgear and their forerunner, Sports Shoe World.
"They play an important part in the market in terms of the demographics of the country, because not everyone can afford to pay top prices for the latest styles, or shop in malls," says Brian Kerby, adidas SA MD. "But, we vigorously control the branding and pricing structure to protect our brand."
Good service
One should also see the success of these retailers like Footgear and Tekkie Town in terms of the re-emergence of the independents, says Patrick Devine, HI-TEC marketing manager. "They offer good service, absorb clearance, specials and broken ranges."
"The key is, however, how the brands place this merchandise and through which distribution channels. There is a vast difference between mall based shopping and destination outlets that have been mentioned above," says NIKE sales director Mark Gittelson.
"Obviously, the consumer profiles also vary and your relevant product strategy and distribution needs to mirrors the relevant consumer."
Most retailers concede that there is a place in the market for discounters that act as clearance facilities — although some independents would like to have first bite when excess stock or odd sizes are cleared.
"If a discounter undercuts current ranges, it will reduce the lifetime of a shoe," Anthony Dearling of Edgars sums up the views expressed by some of the major footwear retailers. "Once everyone starts cutting prices, a brand must be careful," he continues.
"Each shoe has value, and a brand must be careful to maintain that value, otherwise everyone will lose the opportunity to make money. Price points must be justified for all to make a margin."
After all, consumers who see a shoe advertised for R399 in one store, will not be happy to pay R699 for the same shoe in the next store. Consumers therefore start developing different perceptions about the value of a brand.
Furthermore, discounters should be restricted to a certain type of product, says Gordon Howie, owner of the Runner Group, who is fed up with the scenario that his staff spends time with a customer, taking the trouble to find the correct brand, fit and technology, just to see the customer walk out and buy that particular model from a discounter. "Even if the discounter does not stock that shoe, I know they will get it from the supplier, and offer it to the customer at a lower price."
---
April/ May 2009
Quota quandary
Worldwide protectionist policies to protect local manufacturing against Chinese imports have come under fire. BEVAN FRANK takes a look at whether the China import quotas made their mark on SA manufacturers
German footwear imports 2008 (1 000 pairs) from most important countries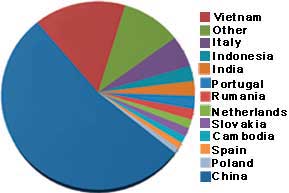 Despite the introduction of quotas for the importation of footwear from China, more than half the pairs of footwear imported into Germany during 2008 came from China. Therefore there is no sense in retaining the import quotas from China, since they simply do not work, Manferd Junkert, GM of the Federation of German Footwear Industry, told a press conference during the GDS Trade Fair in Düsseldorf earlier this year. Worldwide countries have been debating the retention of quota restrictions against China — and most have decided against it (see WFSGI statement in the box).
Since China joined the World Trade Organisation in 2001 clothing markets all over the world have been swamped by cheap Chinese clothing (see WFSGI supports trade with China box). SA has been no exception, and saw its fair share of consequences as a result of the Chinese imports. These consequences included job losses, as well as a lower contribution of apparel to total manufacturing output.
According to a report entitled Review of the Impact of the China Restraint Agreement on the Clothing and Textile Industry in South Africa by Mike Morris and Lyn Reed of UCT* (hereafter referred to as The Report), the Chinese market share of SA clothing imports rose steadily from 21.58% in 1996 to 78.49% in 2006 — and if Hong Kong is included, then its share in 2006 was 81.23%.
With the clothing industry on the verge of collapsing, the SA Government (like many others worldwide) in 2006 reached an agreement with China to restrain imports of certain textile and apparel products originating in China. The Memorandum of Understanding was signed between South Africa and China in September 2006, and was effective until 31 December 2008.
It became apparent earlier this year that China had actually been approached by the SA Government to extend the quotas, and that China had given the matter serious consideration. But, it came as no surprise (after their role in the refusal of a visa to the Dalai Lama) that China's request not to extend the quotas, was granted.
Outcry from retail & manufacturers
SA footwear imports 2004-2008 R-bn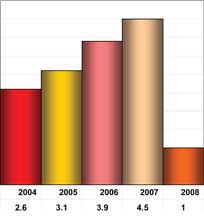 While the value of footwear imports into SA grew between 2004-2007, there was a dramatic drop from 2007-2008
The controversial quotas introduced in 2006 were not universally popular, though. The main bone of contention was the lack of consultation with industry players. Other points of dispute included differences over the scope, design, implementation mechanism and quota allocation.
The Report states that the Department of Trade and Industry (DTI) claimed the quotas were instituted on behalf of the Clothing Trade Council of SA (Clotrade) and the clothing and textile workers' trade union SACTWU, who had been requesting safeguards since world markets opened to China in 2004. Yet, Clotrade vigorously objected to the quota proposal when the decision was sprung on the industry in mid-2006.
Manufacturers against quotas
In a joint statement Clotrade and some of the main clothing retailers said that they believed the gazetted plan with respect to quotas from China will result in chaos and enormous disruption for the industry.
With their initial requests for safeguards against the low Chinese clothing prices ignored, The Report points out that the Clotrade clothing manufacturers had instead began successfully to build a business alliance with the domestic retailers and created value chain alignment in the sector as the most effective way of laying the foundation for a sustainable clothing sector in South Africa.
The China quota policy, and the way it was implemented and operated, were seen as a direct attack on the retailers, and hence ran counter to these initiatives. In effect, the China quota policy became an initiative of SACTWU under the support of the DTI.
The quotas created the expectation that by reducing cheap Chinese imports, locally produced goods would thrive and the SA industry could become internationally competitive.
The competitiveness aspect has, however, become more complicated in the last few years. The Report notes that whilst price is still the primary determinant of competitiveness, it is no longer the sole determinant. China's large competitive advantage stems from a combination of low wages and high productivity and the production of high-quality and low cost inputs.
Some SA industry figures
In the early 1990s, the SA clothing industry employed more than 100 000 people. By 2008 the number was down to 50 000. In the beginning of this year, it had fallen to 45 000. Andre Kriel, deputy general secretary of the Southern African Clothing and Textile Workers Union (SACTWU), expects that a further 3 000-5 000 jobs in the industry will be shed in 2009.
Statistics from Texfed (SA textile industry federation) show that imports into SA have grown as follows:
1995 textiles worth R3.45-bn
clothes worth R400-m
2008 textiles worth R4.5-bn
clothes worth R700-m (almost).

At least 1 400 jobs will be lost with the closure of Frame Textiles, as recently announced by SA's largest remaining clothing and textile manufacturer, Seardel. Other jobs along the manufacturing pipeline could be affected.
Yet, many other countries are quickly rising to the challenge by creating similar advantages arising from cheap labour and the availability of cheap high-quality fabric.
"All that the quotas did was to alert importers of new sources of cheap supply and this led to import diversion," Morris told Sports Trader (see chart). Vietnam, Bangladesh and even Mauritius are just some of the other countries where it is now favourable to do business!
If one looks at the SA clothing manufacturing industry itself, it can be seen to be uncompetitive and lacking in both the necessary skills and technology while at the same time having very high labour costs, he says. But, as The Report points out, the future is not all doom and gloom.
In fact, the emergence of lean manufacturing, which requires a quick turn-around and short lead time, has given SA firms the speed and flexibility advantage that their Chinese counterparts are incapable of.
Thus, fast production and proximity to local markets, rather than price and volume, are recognised as the basis on which local firms can compete.
"Quotas are not the way to go," says Michael Lawrence, Executive Director of the National Clothing Retailers Federation. "Vertically integrated supply chains work much better. Where the retailer works well with a supplier, there is then sustainability. Efficiency is important and is better than price competitiveness. This ultimately has a better effect on the consumer."
The Report stipulates that getting cooperation along the value chain from retailer to manufacturer is fundamental and great strides have been made at the industry level — with the exclusion of national government — towards achieving this goal.
Impact on Branding
Changes in clothing import countries
The dramatic shift in clothing imports from China to other countries after the quotas were introduced in 2006 can clearly be seen from the table of the countries we mainly import clothing from. Clothing imports from China dropped 28% from 2006-2007 — following 52% growth from 2005-2006. In contrast, imports from other countries grew dramatically: Indonesia 233%, Bangladesh 181%, Malaysia 1188%, Vietnam 353% and Myanmar 569%. Between 2006-2007, after the quotas were introduced, imports from China dropped R1.5-bn. The value of total clothing imports were down R73-m in this period — the growth in imports from the countries mentioned above therefore did not make up the full demand from China, and local manufacturers could therefore have benefitted from the quotas.
Countries import from
% Growth
2006-07
2007
Rand value 000
2006
Rand value 000
% Growth
2005-06
China

-28

3,903,773

5,415,574

52

India

29

358,365

277,141

-16

Hong Kong, China

40

258,190

185,044

2

Mauritius

77

254,855

144,228

163

Indonesia

233

159,815

48,024

27

Bangladesh

181

139,933

49,739

111

Malaysia

1,188

110,433

8,571

11

Vietnam

353

106,542

23,536

109

Thailand

60

101,037

63,291

10

Malawi

30

100,788

77,654

1

Myanmar

569

93,818

14,026

151

Italy

11

84,214

76,140

24

Zimbabwe

85

78,743

42,477

82

Cambodia

55

76,773

49,524

68

Pakistan

212

33,919

10,878

178
Sports brands that manufacture their team and performance gear locally were not affected by the quotas, but it did discourage distributors from taking on new international brands that were manufactured in China. The brands did, however, feel the quota effect on popular international styles that were capped.
The fact that initial confusion in some cases resulted in incorrect quota allocations, further harmed brand sales, without achieving the desired result of assisting local manufacturers — mainly because sourcing of affected countries moved to other countries.
A Tunnelled Vision
According to The Report, a combination of increasingly challenging economic conditions and the renewed exposure to China's formidable competitive forces is likely to see the SA clothing industry in a worse position in the future than from which it started prior to quotas. The Report reiterates that the government has demonstrated a tunnelled vision perspective on the clothing sector crisis, and has bowed to the narrow political agendas of sectoral interest groups.
"This is despite considerable international evidence that import restrictions would not be the silver bullet that would boost employment and revive output," says The Report. "The belief that low cost Chinese imports are the cause of the crisis reflects a simplistic and shallow understanding of the complexity of the problems which engulf the sector." (See graph on footwear imports into Germany)
The empirical evidence presented in the various sections in The Report suggests that quotas have had little impact on employment and output but instead may have simply encouraged retailers and international brands to prematurely identify alternative supply bases.
"Given the rising production costs in China and increasing pressure to conform with environmental and human rights standards, this may have robbed local manufacturers of a window of opportunity in which they could win supply contracts before alternative foreign suppliers were established," The Report states.
The Report also points out that if suppliers are secured in even lower cost locations than China, this could exert additional downward pressure on local supplier prices and further erode their bargaining position relative to their customers, swinging the balance of power more towards retailers. In particular, The Report maintains that the quotas on fabric are counterproductive, especially where fabric unavailability had created an incentive to import already made-up garments.
So, taking all the above into account, the quotas were a failure to say the least. None of the envisaged jobs were created and it seems that the quotas were flawed in principle and were having a negative impact on manufacturers.
At the end of the day the quotas were just an extra hassle for importers, and it is hoped that lessons have now been learnt and that the quotas are now a thing of the past.
Sports Trader was unable to get comments from the Department of Trade & Industry, SACTWU and the International Trade Administration Commission of South Africa (ITAC), despite various attempts.
* Review of the Impact of the China Restraint Agreement on the Clothing and Textile Industry in South Africa by Mike Morris and Lyn Reed of the School of Economics at the University of Cape Town. Conducted on behalf of the National Retail Clothing Federation of SA.
WFSGI supports trade with China
The World Federation of the Sporting Goods Industry (WFSGI) has issued a strong statement supporting trade with China and opposing protectionist measures:
'CHINA FOOTWEAR manufacturing, and with this our sporting goods industry, is under attack. China is facing current and pending anti-dumping and safeguards cases, as well as possible tariff hikes against its footwear industry from nearly every continent.
The WFSGI is strongly reacting to this situation as it is directly endangering our industry and daily business. We call upon the countries in the world to apply pressure on any country to resist implementing footwear or other protectionist measures. The G20 countries in London agreed on a strong message to avoid protectionism in these globally difficult times. We support the G20 proposals, but at the same time monitor the implementation programme by watching specific issues concerning our industry such as:
Made in China could become a liability and significant issue in many key global markets: we must avoid this risk for China and our industry at all costs;
Export capacity increases with less consumption/demand versus actual manufacturing output. This could inevitably lead to surges in China footwear product in certain markets and the inevitable risks of retaliatory action. Unemployment could rise even higher than current estimates of 20-35-m workers who have already lost their jobs in Chinese manufacturing;
Loss of exports from China could result in a gain for other footwear producing countries;
Real risk also that current protectionist action for footwear exports could spread to other sectors such as apparel and sports equipment.'
---
Feb/ Mar 2009
Replica market in turmoil
The voluntary liquidation of the SA licensee and distributor of Canterbury shortly before the start of the Super 14 Series, created havoc with the supply of the supporter wear of the teams sponsored by the brand, reports TRUDI DU TOIT
The retail market for team replica was thrown into turmoil when empowerment group Brimstone Investment Corporation announced the voluntary liquidation of Canterbury International SA (Pty) Ltd at the end of January — a week before the start of the FNB Varsity Cup, a few weeks before the start of the Super 14 rugby season, in the middle of the current PSL and cricket seasons and four months before the arrival of the British Lions.
Canterbury was, among others, the teamwear sponsor of Super 14 teams Cheetahs, Golden Lions and Sharks, all eight university rugby teams competing for the Varsity Cup, and recently signed PSL team Santos, as well as four of the six professional cricket franchises — Nashua Titans, Chevrolet Warriors, Nashua Dolphins and Nashua Cape Cobras.
And, as everybody knows, they were the exclusive licensees for Springbok rugby supporter's wear and replica.
The liquidation meant that retailers started the year without supporters and replica stock to sell to keen fans eager to sport the colours of their favourite teams, and with no clarity on when, or if, they would be receiving stock.
This came after retailers were already short of stock as they were unable to supplement stock over the Christmas period because the SA Revenue Services (SARS) closed Canterbury from December 18th 2008 to January 14th 2009 for an unannounced audit.
Canterbury International SA is one of the three companies formerly jointly-owned by Dave Linder and House of Monatic (HoM) that were placed in voluntary liquidation after SARS briefed Brimstone that possible serious financial and criminal irregularities were uncovered in the audit by Customs and Excise. The other two companies are O'Neill South Africa and Fifth Element Marketing.
Brimstone subsequently instructed their lawyers to instigate a full forensic investigation and applied for liquidation of the companies.
The liquidation of Canterbury has far-reaching implications for the many retailers who rely on replica sales; local sponsored athletes who have reportedly not received payment for months (but subsequently switched sponsors); teams who are unsure if they will have kit to play in during the rest of the season; and the sales agents who are unsure if they will be paid for orders written.
Canterbury's deal with the sponsored teams was that they would supply everything from bags, tracksuits, practice wear, several sets of playing kit etc. and while the team had received some kit, they became concerned when they did not have everything as kick-off time approached. The Golden Lions Rugby Union, who had not received their full playing kit four days before their first Super 14 match, subsequently approached Gilbert to become their teamwear supplier. The Cheetahs followed suit.
The liquidators, Progressive Administration, allowed some of the supporters' wear stock to be distributed the week before the start of the Super 14 series, but the day before the first game, none of the retailers countrywide had received stock from Canterbury.
(Mind you, prominent Cape Town retailers had not received Stormers' shirts from adidas two days before their first game either!).
The changes to the Springbok jersey — the giant Protea now on the left breast, a Springbok jumping over a ball on the right, CCC logo in the middle and SASOL across the mid-riff — means that retailers will not be able to sell old stock of the replica Springbok shirts. Apart from customers demanding the latest shirt (as retailers found out when shirt designs were changed in the past), there will be legal ramifications if the old shirts are sold, because SRSA will lose out on royalties paid for the use of the Protea logo.
Several retailers expressed concern about time running out for placing orders in order to obtain enough stock to meet the expected fan frenzy for Springbok jerseys when the British Lions arrive for their tour at the end of May.
This is an understandable concern, as retailers had in the past borne the brunt of customers' complaints when the supporters' wear arrived late (sometimes only at the end of the season) or their orders were cut by the supplier due to increased demands before major events like the Super 14 or Currie Cup finals — and most notoriously, the IRB Rugby World Cup final when the unprecedented demand resulted in a total sell out countrywide.
Not only did the retailers lose out on potential sales, and had to deal with customers accusing them of bad service, but the doors were opened wide for counterfeiters who sold to fans eager to buy anything vaguely resembling their team's colours. One observer claims that 90% of the "Cheetah" shirts worn by fans at the Currie Cup final in Bloemfontein were fakes.
By the time we went to press Canterbury International in the UK (in charge of Africa), had still not made a decision about the future Canterbury supplier in SA. A delegation from Canterbury International was coming to SA to meet with candidates keen to take over the distributorship.
This will be a tough decision, as the new distributor will not only have to regain sponsors' confidence, but will also have to convince retailers that they will be able to deliver sufficient stock on time.
In the past, most of Canterbury's supporters' wear had been imported and the new distributor will have to renegotiate with suppliers — and probably find new suppliers outside China, or change to local manufacturing, in order to comply with import quota restrictions.
---
February 2004
Retailers agree to help save jobs
Leading retailers have signed an agreement with SACTWU to 'buy SA' to help save jobs in the embattled SA clothing industry
The strong Rand that reduced exports and increased imports, has been blamed for the loss of more than 20 000 jobs in the textile, clothing and footwear industry last year. The largest job losses were in the Western Cape, where 4 368 jobs had been lost. At least 23 clothing factories closed, or were placed in liquidation.
While a recent study showed that more than 70% South Africans are aware of the Proudly SA campaign, that has not yet translated into the same number of consumers buying local goods … nor all retailers offering that percentage of locally manufactured garments.
In order to encourage retailers to stock more locally manufactured apparel — which should then increase jobs in the local clothing industry — the SA Clothing and Textile Workers' Union (SACTWU) in December last year began signing agreements with leading retailers that they would support a buy local campaign.
"With these agreements, clothing retail holding companies with a total retail clothing, textiles and footwear turnover of more than R25-bn made a solemn pledge to help reverse the massive job losses in the clothing sector," says SACTWU General Secretary Ebrahim Patel.
Agree to buy local
The agreement with retailers contains two parts: a series of commitments for the next six months, and a procedure to put in place a longer term, comprehensive agreement beyond the six month period.
Retail signatories agreed to increase local sourcing of apparel, to introduce labels of origin in garments and to ensure that they source from local suppliers who have fair labour standards. They also agreed to have bi-lateral meetings on a monthly basis to develop a broader agreement on the buy local campaign.
The initial agreement was signed by six of the biggest clothing retailing groups, namely the Edcon Group, Foschini Group (including Foschini Sports), Pepkor, Woolworths, Pick n Pay, Shoprite/ Checkers. Later companies like Truworths, the LA Group/Skye Products, Cape Union Mart and Mr Price signed.
Initially, the agreement specifically covers apparel, with commitments to further dialogue in textiles and footwear, explains Martin Deall, Edcon Group Logistics Executive. Many of the larger retailers — including Edcon — already source more than 70% of apparel locally and they have agreed to maintain the higher levels, but retailers who have not yet achieved these levels, will engage in a negotiation process with the unions to achieve these levels.
"The Foschini Group committed to have discussions with the unions over the next six months," says Martin Mendelsohn, MD of Foschini Sport," but the group already buys in excess of 70% of our products locally."
Country of origin Label
Although the possibility of mass action against retailers who refuse to sign the agreement has been mooted, SACTWU says the campaign is not aimed at forcing consumers to buy only SA products. "A label showing where the garment was manufactured, merely gives consumers who want to buy South African the opportunity to make an informed choice."
The Country of Origin label will be phased in, says Deall. As new orders are placed, manufacturers will be required to include the label in the garment.
Interestingly, local apparel manufacturers, who are most likely to benefit from the agreement, are concerned that consumers might view this campaign as coercion to buy local.
The Proudly SA campaign is positive as it encourages people to buy local, but he is not comfortable with the threat of mass action against retailers who do not sign, that is a component of the SACTWU agreement, says local manufacturer Brett Trollip of Second Skins, a Proudly SA campaign member.
"They must be careful that they do not lose sight of the bigger picture and alienate the consumer if prices increase," says Brett Trollip of Second Skins. "I would love it if everyone had to buy from me, but one can not force consumers to buy certain products."
"Nobody makes money in a socialist society," agrees another manufacturer, Barry van der Westhuizen of Protea Sport.
This campaign is not merely about promoting SA products, but also about promoting competitiveness, quality and good prices, Martin Feinstein, Proudly SA CEO, said at the first signing of the agreement.
"Manufacturers must realize that we live in a macro-economy and that we can not expect to continue doing business if we are uncompetitive. A manufacturer who is competitive locally, becomes attractive for the export market as well," agrees Trollip.
He therefore believes that a local manufacturer whose prices are 60-70% higher than imported garments, should not expect to get an order simply because he is a local manufacturer. But, if a local manufacturer's prices are 5% or less more than the imported price, he should be able to negotiate with the retailer, says Trollip.
"A manufacturer should be prepared to open his books and show the retailer: these are my costs and wages, these are my labour practices," suggests Trollip. "The retailer can then say: it is fair to pay 3, 4 or 5% more for your garments — or, you can improve competitiveness because you pay too much for your textiles and we know that you can manufacture that product for X or Y."
Manufacturing costs are subjected to many factors. "Last year the drop in Rand value kept imported fabric prices down, but labour costs increased," says Yash Harkison of Teamspirit. "I have been running my factory for thirty years — many of my staff members have been with me for 25 years — and I know that it is not us taking the profits. The manufacturer is not the one taking the biggest margins in the supply chain.
Competitiveness also depends on training, and we don't do nearly enough to prepare people for employment, says Van der Westhuizen. People seek employment in apparel manufacturing without basic sewing skills, or want to become electricians without knowing anything about electricity.
"There are lots of potential skills that we are not harnessing, by not encouraging the kind of training that we need in industries."
While he fully agrees that sweatshops should be stamped out, Van der Westhuizen says that a balance must be maintained: "A company cannot function competitively if it is unable to hire and fire."
Part of the retail agreement is that retailers will only source from companies with fair labour practices, and companies who comply with trade laws — not necessarily an easy requirement to police.
According to Deall, they will use mechanisms already in place as guidelines, for instance, signed compliance certificates obtained from suppliers, companies accredited by the SA Revenue Services for textile imports and feedback from the Bargaining Councils, in instances where labour law non-compliance has been reported to the Department of Labour.
Manufacturers who have been given Proudly SA membership have already been vetted for compliance with the labour laws.
When work is sourced out to CMT's, it becomes even more difficult to control.
This has been a global problem. Buyers faced with a myriad manufacturers vying for orders, are often tempted to select the one offering the lowest price and fastest turnaround time. In order to cut costs and deliver faster, the manufacturer often reduces cost (wages), but get his labourers to work faster and longer hours — which could earn him the dreaded sweatshop title.
During the past decade, several international consumer and labour organisations have been actively campaigning against sweatshop practices. They have been pressurising major brands and retailers to ensure that apparel and products are manufactured in factories that have fair labour practices. This resulted in most of the major brands drawing up a Code of Ethics that prospective manufacturers must sign, which includes clauses allowing independent inspectors into their factories (see Sports Trader Q1 2003).
A recent report from the international consumer group Names behind the Label, however, show that in the rush to complete ranges in time for the Athens Olympics, some branded sportswear buyers are pressurising manufacturers to ignore the Codes of Ethics they signed with management and to push their workers into working very long hours in order to complete the garments in time.
An Oxfam report also said that despite stepped-up labour inspections, labour conditions are worsening in many Cambodian factories.
While it is just as difficult to stamp out "bad suppliers" as it is to eradicate crime, local unions and retailers will at this stage rely on workers and other concerned people reporting labour and other transgressions — for instance, retailers getting local companies to import garments for them and then adding SA Country of Origin labels.
None of the manufacturers we spoke to have seen any benefits or new orders from the 'Buy SA' agreement. But, for the industry to survive, they hope that this will change in future.
While Edcon already sources more than 70% of their apparel from local manufacturers, Deall says that they will also give local manufacturers the opportunity to quote on the products that are part of their import program.
Survey shows impact of HIV/AIDS on manufacturing
HIV/AIDS has already impacted negatively on manufacturers and retailers in KwaZulu Natal and Gauteng, and to a lesser extent in the Western Cape, a survey by the Bureau for Economic Research (BER) on behalf of the SA Business Coalition on HIV & AIDS (SABCOHA) showed.
With 1006 companies participating in the survey, it is the largest survey on the impact of HIV/AIDS on business in SA to date. "Of the companies surveyed, 34% reported that HIV/AIDS has already had a negative impact on their profits," the SABCOHA survey shows that HIV/AIDS is undoubtedly a bottom line issue for business," says dr. Leighton McDonald, spokesperson for SABCOHA.
The effect was the most noticeable in the manufacturing sector, with more than 40% manufacturers reporting that HIV/AIDS has already reduced profits. Of the sectors surveyed, the retail trade seems to be the least affected, with only one in four of the retailers surveyed reporting that HIV/AIDS has had a negative impact on their profits.
HIV/AIDS-related factors that had the biggest impact on profits are, in order of importance:
Lower labour productivity and increased absenteeism;
Higher employee benefit costs;
Lost experience and skills.
According to McDonald, 39% of the companies surveyed indicated that HIV/AIDS has reduced labour productivity or increased absenteeism among employees. While more than half of the manufacturers surveyed indicated that HIV/AIDS has led to lower labour productivity or increased absenteeism, fewer than 20% of respondents in the retail trade indicated that HIV/AIDS has had an impact on productivity or absenteeism.
Companies located in KwaZulu-Natal and Gauteng appear to be the worst affected. More than 40% of companies operating in these two provinces indicated that HIV/AIDS has led to lower labour productivity or increased absenteeism.
Less than 20% of the companies based in the Western Cape reported an adverse impact on the production side of their business.
---
June 2005
Outdoor footwear & clothing:
Retailers' view of the state of the market
SA retailers currently have 40-50 outdoor clothing and footwear brands to choose from when selecting stock. We did a snap survey to find out how retailers view the market, what they stock and what their customers prefer
Locally and internationally, the comings and goings in the outdoor footwear and clothing markets resemble a busy airport. Locally, Drimac closed their factory doors, Wolverine entered the market, Nike introduced their All Conditions Gear (ACG) via Cape Union Mart and since last year, Karrimor SA has a new partner and owner in the UK, following the departure of Cadac's Simon Nash. Internationally Salomon moved from adidas to Amer (Wilson and Suunto).
SA consumers can now choose between 40-50 different brands when shopping for an item of outdoor footwear and clothing. That is in addition to the "store brands" like K-Way and high-profile brands sold exclusively by certain retail groups, e.g. Columbia Sportswear and The North Face in Due South, Nike's ACG and Salomon in Cape Union Mart.
This does not seem to concern the majority of local retailers selling outdoor apparel. Especially those trading in chain stores confidently believe that our market is so diverse that there is enough room to accommodate all the brands.
SA retailers representing 107 stores selling outdoor clothing and footwear responded to a snap survey we (Sports Trader) did during April and May this year. Sixty-two percent are from chain stores (Cape Union Mart, Due South, Outdoor Warehouse, Trappers Trading and Mass Discounters) and 38% from independent stores. The profile of the independent store respondents are as follows:
41% sell sport and outdoor products
38% are outdoor specialist stores
9% are clothing and footwear specialists
5% are fishing specialist stores
The chain stores are considerably more upbeat than the independent stores (85% vs 51%) about the capacity of our market to accommodate all the brands. While 80% of the chain stores describe the market as "diverse with room for all", only 27% independent stores share this view. Conversely, nearly half of the independents believe the market is overtraded, but only 5% chain stores think there are too many brands.
This could be explained by the fact that chain stores are not as vulnerable as independents to the potential loss of custom if they do not stock a brand that is available from the store around the corner.
Chain stores are also in a better position to take their pick of the brands than independents that are not always able to stock the brands they want— for example when a brand decides to supply only one store per town or area.
Chain stores are also often located in malls, where they can rely on a steady stream of foot traffic and impulse buyers.
Independent stores, on the other hand, often depend on trade from participants in a specific outdoor activity, rather than people who wear outdoor brands as a fashion style. Growing the number of participants in outdoor activities is therefore a far higher priority for them, than growing the number of brands available to consumers.
Independent traders and chain stores do, however, agree on what consumers want when shopping for outdoor shoes and clothes: the overwhelming belief is that outdoor shoppers demand quality (90%), durability (81%) and comfort (77%) from the clothes and shoes they buy.
But, they disagree about the level of knowledge displayed by their customers: 85% of the chains believe their customers are knowledgeable, but only 8% of the independent traders think their customers know a lot about the products they buy. While 41% of the independents describe their outdoor customers as bargain hunters, none of the shoppers at chain stores seem to fall in this category.
Consumer favourites
Hi-Tec is the only brand that is the top seller in chains (84%) as well as independents (21%). When the responses from chains and independents are combined, the following brands emerge as top sellers:
Hi-Tec 56%
Jeep 9%
Merrell 8%
First Ascent & Reebok 4%
Apart from Hi-tec, chain stores say Merrell (7%), Jeep (4%) and Cats and North Face (2%) are their top sellers, while independent stores say that Jeep (15%), Reebok (9%) and Capestorm, First Ascent, Karrimor, Montrail, Olympic and Senqu Riverwear (all 6%) are their #1 sellers.
When asked to indicate which are the top three brands favoured by customers, 75% of all the respondents say that Hi-Tec is their customers' favourite outdoor clothing and footwear brand.
The most independent stores (58%) say Hi-Tec is one of their top three sellers, while 92% chain stores say that Merrell is one of the top three footwear brands (it is the #3 best seller in 82% chains) and 79% say Cats is one of the top three (the #2 best seller in 82% of chains).
Apart from Hi-Tec, the respondents from chains as well as independents say their customers are most likely to demand the following footwear brands: Merrell (54%), Cats (48%), North Face (7%) and New Balance, Olympic and Reebok (6%).
Clothing brands Jeep (15%), Capestorm (11%), First Ascent (10%) and Drimac (6%) are the highest in demand in chain stores and independents. Customers in 6% of chain as well as independent stores demand Karrimor's footwear and clothing.
Shoppers in independents and chain stores differ considerably about the brands they prefer … which is to be expected in a relatively small market offering customers a choice of more than 40 brands. Apart from that, many chain stores give prominent shelf space to their own brands (we did not include brands stocked exclusively by one group in the survey) and therefore can not stock so many other brands.
Many independents also target a specific customer niche group: for example, hikers and climbers, or fisherman, or hunters, or adventure sport enthusiasts, or campers.
Each of these groups will favour a specific type of technical product for which there will be a high demand in that particular store, but not necessarily in the next one. A store catering for campers, will obviously not have as big a demand for technical footwear like La Sportiva or Montrail, or technical clothing from Capestorm or First Ascent, as a store where dedicated hikers and climbers shop.
Therefore, the fact that there is not such a high demand for a specific brand, could merely mean that they cater for a niche market not as well represented in the survey.
Economics will also play a role in what independents stock: no use displaying a shelf full of La Sportiva in an area where the customers can only afford to dream about buying this top brand.
Having said that, it is interesting to note that although Merrell is the #3 most popular footwear brand in chain stores, Cats is the #2 most popular footwear brand and North Face #4 in chain stores, these footwear brands are not amongst the top ten most sought after by independent store customers.
On the other hand, brands like Drimac, New Balance, Reebok and La Sportiva are in high demand by customers at independent stores, but are not amongst the favourites in chain stores – probably because some of the brands are not stocked by chains.
With 38% of all respondents and 46% independents stocking Drimac, the closure of this factory leaves a big gap in the market. Although fairly new to the market, it is clear that Jeep clothing has established a dedicated following and that traditional athletic brands Reebok and New Balance have gained the respect of the outdoor market.
Stocking up
With so many brands to choose from, finding shelf space for stock to suit all your customers' needs, becomes a tricky business.
Most retailers seem to play it safe by stocking up on tried and tested outdoor brands like Hi-Tec (topping the list with 89% stores), Karrimor (80%), First Ascent (73%), Merrell (61%) and Rogue (59%). Hi-Tec, First Ascent and Karrimor are also the three brands most stocked by chain stores, followed by Merrell, Cats and Rogue.
But, interestingly, independent stores are more adventurous with the brands they stock — apart from Hi-Tec (73%) and Karrimor (51%), items like New Balance's trail shoes and clothing (49%), Drimac jackets (46%) and Second Skins clothing (43%) are stocked by the most independents.
It is interesting to see how many local brands feature amongst the twenty brands stocked by most chain and independent stores: for instance, First Ascent technical layers, Rogue leather footwear, Drimac jackets, Jim Green footwear, Senqu Riverwear fishing apparel, Freestyle Handmade Original leather boots, Trailbuster boots, Teesav bush clothing, African Survivor boots, Second Skins clothing and Olympic footwear. A large number of independents stock local brands
There are also several international brands that manufacture locally, for instance, Karrimor and Jeep, that are popular stock items.
Clothing or footwear
But, of course, just looking at the brand name can be confusing - consumers could have different demands from clothing or footwear brands.
Brands supplying clothing and footwear: The brands most commonly stocked by independents as well as chains are Hi-Tec, Karrimor, New Balance and Strops/Supply Company. Independents stock more Hi-Tec, Karrimor, New Balance, Reebok, Strops/Supply Company and Solz.
Brands supplying clothing only: The clothing brands most stocked by independents as well as chains are First Ascent, Drimac, Jeep, Teesav and Second Skins. Most independent respondents stock Drimac, Second Skins, First Ascent, Jeep, Capestorm and Bergmaster.
Brands supplying footwear only: Merrell, Rogue, Cats, Rocky and Jim Green are most likely to be stocked by chains as well as independent stores. Most independents stock footwear brands Olympic, Jim Green, Rocky, Lynx, La Sportiva and Montrail, in that order.
It is clear that there are an abundance of excellent brands in the market, and that it is not easy to choose between all the brands - especially not if you serve a broad customer base. Some would want technical performance footwear, while others are just looking for a comfortable shoe for casual wear. Your customers may not want the brands stocked by most other retailers, because they rely on you to give them something different.
---
April/ May 2009
Running shoe market is healthy
How is the SA running shoe market reacting to the slew of negative economic data being released? Not too badly, found CRAIG BOWEN, who has been tracking retail sales of SA athletic footwear for the past few years
*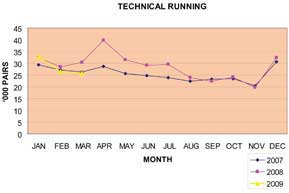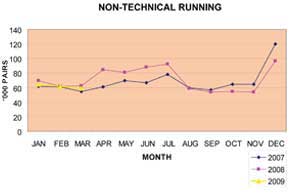 Although the SA economy shrank by 1.8% in the fourth quarter of 2008, this will not necessarily have a major impact on our semi-durable markets (like clothing and shoes).
Consumer markets for running shoes seem to be performing moderately well against the backdrop of this economic climate.
GfK classifies Running Shoes into two main segments Technical and Non-technical. We then drill Technical further into Technical Road, Technical Racing and Technical Trail.
Purchases of Technical Running shoes during the 1st Quarter (Q1) of 2009 were down 6.5% on 2008. One should, however, keep in mind that the 91 000 odd pairs that were sold in Q1 2008 were 9.5% more than in Q1 2007, which was a solid performance. Volume differences between 2007 and 2009 are still positive (2.3%) — around two thousand pair's country wide. Therefore, the medium term outlook still remains positive, even though markets have cooled.
Technical Running shoes with an average price between R800-R1 000 have enjoyed good growth as runners look for value for money options.
Sales of Non-technical Running shoes are also showing signs of robust consumer demand. In Q1 2007 we tracked 178 000 pairs while the numbers for 2008 and 2009 were 194 000 and 185 000 pairs respectively.
Pricing developments in the non-technical segment have been more aggressive where regular promotional activity had been done at the end of each first quarter to clear stock in order to make way for new season products.
On the revenue side of the industry, base value in the market is holding off any significant erosion in the face of inflation and Rand/$/€ exchange rates. The average VAT inclusive price for the top 20 Technical Running shoes for Q1 2007 was R746, this increased by 11.6% to R834 in Q1 2008. Q1 2009 shows further growth of 8.1% at an average price of R902.
While factoring the inflation rates into the comparison price, growth has stayed within an encouraging range. This is partly attributable to good product life cycle management, where new models are brought in to succeed older models, justifying higher selling prices.
Advancements in technologies related to running shoes and running as part of a lifestyle, have also driven prices upwards.
In conclusion, the running shoe market may slow this year compared to 2008 due to general market easing. But, volumes and revenue in the first quarter have shown that demand for this product will be healthy.
Competition in the market is likely to increase as we move into the year, so marketers need to focus on what provides value to their respective target markets. Product ranges need to be managed tightly, while variable costs are carefully controlled.
This will ensure margins are maintained and drive towards viability through this challenging 2009.
* GfK Marketing Services SA is an international research company tracking retail sales of athletic footwear in SA. Retailers joining the research (free) received detailed feedback. For more information: Tel: 011 803 1300, Fax: 011 803 0111, Email:
craig.bowen@gfksa.co.za
or visit
www.gfkrt.com
How the economy could be affecting retail sales
General domestic demand will probably stay under pressure due to the still relatively low discretionary income levels, higher fuel cost and food prices, but medium term price pressures have eased in certain sectors, reports Craig Bowen of GfK Marketing Services SA.
He points out that household debt as a ratio of disposable income moderated to 76.4% in the fourth quarter of 2008 and in March 2009 the central bank cut the repo rate by another 100 basis points to 9.5%, adding to 150 basis points worth of reductions since June 2008.
The latest survey by the BER (Bureau for Economic Research at Stellenbosch University) showed that in Q1 2009 total retail sales volumes contracted at a higher rate relative to Q4 2008, especially in semi-durable and durable goods. The Q4 2008 rebound in sales of semi-durable goods (mainly clothing and footwear) turned out to be a flash in the pan as sales contracted again in Q1 2009.
But, respondents foresee that retail sale volumes will contract at a slightly lower pace in Q2 2009 (April-June).
The latest BER survey also revealed "extreme and broad-based weakness in the manufacturing sector". Manufacturing business confidence almost halved during Q1 2009, coming in at 16 index points (down from 31 previously).
---
April 2004
Solving a mystery:
Why don't retailers stock walking shoes?
Walking is a big sport. Not walking as in hiking through the veld. Nor walking the dog. But, walking for health, fitness and to win races. In fact, walking as a sport could be more popular than running. Yet, CHARLENE CLACK could find hardly any retailers that stock walking sport shoes. Why?
The evidence that there are a huge number of sport walkers out there is compelling:
"The top six running races in SA draw about 36 000 runners, but the top five walking races draw at least 42 000 participants," says Gary van Rooyen of New Balance.
About 14 500 to 15 500 walkers are active members of Run/Walk for Life SA, compared to 3000 to 3 500 runners. "Walking is by far the fastest growing segment of this fitness group," says Ray Bienedell, Operations Director of Run/Walk for Life SA.
There are more than 500 road races in which walkers participate. The number of road races specifically for walkers is growing, and the existing ones get more and more entries. The 702 Walk, for instance, receives as many as 25 000 entries.
Yet, most stores do not stock walking shoes.
This is a major concern for walkers. Run/Walk for Life franchise holders usually escort new members to a store to help them pick out the best shoe possible.
"Very often they have to settle for a running shoe, as there are no suitable walking shoes available," says Bienedell. The unavailability of walking shoes is such an issue for these walkers, that the clubs often announce to members when they locate a retailer who does stock walking shoes.
It is therefore not from choice that many walkers buy running shoes instead of the correct walking shoes.
"Shoe counts from walking events, with each between 12 000 to 25 000 participants, show that only 5% of the walkers are wearing walking shoes. This figure just shows you how big the potential walking market is," says Wesley Scott of New Balance, who has been campaigning to get walking shoes accepted as an important retail footwear category.
"There is definitely a call for more walking shoes," agrees David Blake, a Reebok footwear technician. He also agrees that people use running shoes or cross trainers for walking, due to a lack of available walking shoes.
"There is no doubt that the walking shoe market is growing," says Jerome Goslett, of Omnisport, distributor of Saucony footwear. "Since there is currently very little available at retail, when there is, the market can only grow."
On the other hand, there are retailers who say that they have tried to encourage customers to buy walking shoes, with little success. They say that they tried to promote the category by advertising, trained staff in the ins and outs of walking shoes — but when it comes down to the sale, the customer ends up buying a running shoe at a cheaper price.
However, running shoes are generally more expensive than walking shoes, says Gert Claassens of Sport City, distributor of Avia walking shoes. "Walking shoes usually retail between R300 and R500 a pair."
While it is true that many customers buy running shoes for walking, "the serious walkers stick to specific walking shoes like religion. This type of customer does not constitute a big share of the market, but they are fairly easy customers, because they know what they want," says Claassens.
The serious walker is, however, still a minority group.
There is market
Other retailers acknowledge that there IS a definite market for walking shoes, but suppliers are not marketing or advertising to this market at all. The target market, the consumer, therefore receives very little information about the need for buying a walking-specific shoe.
This makes it very difficult for a retailer trying to convince a customer the he/she needs a walking specific shoe. Apart from the few brands who do supply walking shoes, there is not a huge product range to choose from, while there are more running shoe models than any retailer can stock.
"We don't specifically mark some shoes as walkers in our shop," says Henning van Aswegen, new owner of Baseline Runners.
We believe it is more important to concentrate on finding the perfect shoe for the walker/runner, irrespective of make, rather than recommending specific walking shoes.
This is also the policy of most major brands like Nike, adidas, Puma and Fila who do not have specific walking shoes in their ranges.
But why is it so important to stock a walking specific shoe. Is it not just a "marketing gimmick" as some people imply?
Why walking shoes
The difference between a walking shoe and a running shoe/crosstrainer may not be apparent at first glance and customers need to be educated on the differences. There are many reasons why a walker should wear a proper walking shoe and not a running shoe or crosstrainer. The most compelling reason is that a walker could damage his/her feet without the correct support, cushioning and flexibility.
"Not many people are aware that you place one and a half times your own body weight on your feet when you walk. That's why it is important to wear the correct shoe when walking, even if it is for recreation," says Scott.
The first thing one needs to realize is that the foot movement and gait of a walker is very different to a runner. While running, one tends to have a relatively flat-footed motion. In walking, a rolling motion is produced by the heel-toeing action.
"The main difference between walking and running shoes is that the heel flex groove is not in the same place," says Scott. "In walking shoes, the flex groove is at the back of the heel. In running shoes, the flex groove is placed at about a 45º angle from the back to the lateral side of the heel."
"To address the stress on the midfoot, walking shoes should have adequate arch support," says Goslett. "The forefoot of the shoe must be more flexible due to the gradual roll that occurs in the walking gait."
Features different
Another very important feature is the walking strike path. "The sole has two densities: a hard channel down the middle of the shoe, which cradles and guides the foot through the walking gait, and two softer areas which run parallel next to the cradle," says Scott.
"One will find that a running shoe will have a blown outsole which causes the shoe to be very light while the walking shoe should have a solid rubber outsole. This will cause the shoe to be a bit clunky. A runner lands on the heel and toes off, while a walker will twist the foot slightly as they toe off," says Bienedell.
A good walking shoe will have added heel cushioning, as well as in the forefoot, and a beveled heel. The added cushioning absorbs shock, which will decrease the stress load on bone cartilage, tendons, ligaments and muscles.
"A beveled heel will reduce the angle of the heel strike," says Blake.
"If the heel part of the shoe was square, it would eventually wear to a bevel. Saucony builds in the bevel, which makes the shoe more durable and provides a softer landing on the heel strike," says Goslett.
Other features that can be considered important are breathable mesh uppers to decrease perspiration, a raised, padded heel wedge and a deep toe box, says Scott.
While the average consumer might not yet be aware of these features and benefits of walking shoes, there are at least 14 000 Run/Walk for Life members who have been made aware of the benefits. That is not an insignificant customer base.
Run/Walk for Life is a franchise group for serious walkers and runners. For more information contact them on Tel: 011 807 5566 or rwfl@global.co.za.
---
August 2006
South Africa's New Deal
BEVAN FRANK examines how the recent export agreements between SA and China will affect the local clothing and textile industries
It has been an immense struggle for the South African clothing industry, like its counterparts in the United States and Europe, to produce goods and get these goods into stores at a price that is remotely competitive to the price of imports from China.
Following an agreement with the World Trade Organisation, trade restrictions with China were relaxed at the beginning of 2005, resulting in made up garments landing on our shores at a cheaper price than what local clothing manufacturers paid for textiles.
In the sporting industry it is a well known fact that most of the major footwear and clothing brands manufacture their worldwide ranges in China. Thus a local manufacturer in South Africa has been unable to compete with factories in China that make millions of items at once.
China and South Africa recently reached a voluntary restraint of trade agreement on limiting the export of Chinese clothing to SA. This decision is seen as quite a breakthrough in world clothing circles, and has been welcomed on our shores!
Since 2002, clothing imports from China have risen by 480%. According to the SA Clothing and Textile Workers Union, in the same period domestic clothing makers have shed approximately 63 000 jobs, largely as a result of this.
The Chinese Premier, Wen Jiabao, on the South African leg of his recent African tour, said that his country was willing to restrict Chinese exports of textiles to South Africa to "ensure the stability of textile markets in this country".
According to Prof Mike Morris, of the School of Economics, University of Cape Town, and School of Development Studies, University of KwaZulu-Natal, it is not clear how the voluntary restraint agreement will be implemented and who will police it but from the initial statements it appears this will be China.
On the face of it, local manufacturers will receive some protection for a limited period of time. However Morris points out that it is not clear how this will be policed and whether it will be policed at all. Also, China is not the only low cost global producer and there is nothing to stop retailers importing from any other competitor.
"Therefore the most one can expect from it is that it will provide some temporary respite for THOSE manufacturers who move rapidly to upgrade their production capabilities to match international competitiveness standards. That is the bottom line."
Morris believes that there is no way out for local producers except to learn and adopt world class manufacturing operational performance practices, upgrade their technology, and move up the value chain into more lucrative product lines. "To put it bluntly, you can't compete with China making T-shirts or basic clothing with old manufacturing techniques."
Regional competitiveness
The Cape Clothing and Textile Cluster (CCTC) is a private-public partnership between the Western Cape Provincial Government and 16 regional clothing and textile manufacturers employing approximately 10 000 people. It was launched in January 2005, following the successful completion of a six-month pilot project.
The Cluster receives a R1-m annual commitment from the provincial government, and focuses on bolstering the competitiveness of the regional clothing and textiles industry, thereby ensuring its continued viability and future success.
Dr Justin Barnes, Managing Director of B&M Analysts SA, says that the Cluster has been developed to help clothing and textile manufacturers advance their competitiveness to world class levels, so that it is ultimately capable of competing against the Chinese, as well as many other clothing and textile competitors. The cluster in the Western Cape is now two years old, whilst a similar initiative has been created in KZN and is now a year old.
The Cluster operates on the basis of a World Class Manufacturing (WCM) model that emphasises the adoption of WCM principles and practices throughout the domestic value chain. Three inter-linked programmes, each run by industry nominated Technical Steering Committees underpin this. These programmes and their subsidiary elements are:
World Class Manufacturing – Firm level benchmarking, best practices sharing between participating firms and the provision of WCM training to Executives and Managers
Human Resource Development – Technical skills development and Team Leader training in WCM
Value Chain Alignment – Strategic and operational alignment of retail buyers and clothing and textile manufacturers.
Morris maintains that competing is more about having the knowledge and operational experience to keep ahead of the pack. "The CCTC allows firms to learn, acquire cutting edge knowledge, share experiences, and find ways to co-operate so that the resources of the many can help the few. Secondly it provides a forum to engage systematically from textile producer to clothing manufacturer to domestic retailers to create synergies all along the value chain and undo blockages. Price is obviously a given within certain margins, but the key for retailers is quality, speed and flexibility. If a clothing manufacturer can provide retailers with smaller quantities of quality clothes and have the flexibility to meet customer requirements quickly – e.g. 'the market has changed suddenly … blues are out and reds are selling faster' – then the local advantage far outweighs competitors such as China where lead and delivery times are much longer. This requires more than just an individual manufacturer upgrading. It requires establishing long term obligational relationships between producers and buyers."
The future can be bright
Barnes believes that the future confronting the Clothing & Textile industry is a challenging but positive one. "I believe the industry has a vibrant future if it can improve its competitiveness to world class levels. The domestic market has grown incredibly over the last few years and unfortunately it has been the importers who have benefited the most from this. Given their proximity to the SA market and the lead time advantages this should give them, there is no reason why the industry should not turn and take on a growth orientation – so long as the local operations advance their competitiveness."
Morris states that the main issue is upgrading and achieving international competitiveness. "If the firms see this as an end in itself it is of little significance. If however the firms see this as a temporary means to restructure through learning and adopting internationally competitive practices then the industry has a serious future," he says. "Imported clothes have three big effects – they threaten local producers with cheaper clothes and create job loss, they force local producers to become more competitive, and they provide consumers (especially the poorer) with cheaper products and more variety. The first is a negative effect, the latter two are positives. The welfare impact of the last is not to be ignored."
It is far too early to write the SA C&T industries off, says Barnes. "There are a number of world class operations in SA and if their capabilities can be more broadly replicated there is no reason why we should not see their regeneration."
---
August / September 2008
Team boot sales down — but not as bad as expected
The team boot market has withstood the onslaught of the Credit Control Act, interest rate hikes, higher manufacturing costs and the gloomy predictions of a general retail slowdown to emerge fairly unscathed
Unit sales tracked by GfK Marketing Services in the first half of 2008 were slightly (-3%) down on 2007… but then, as everybody knows, 2007 was an exceptionally good year. This was offset by higher unit prices (about 5% increase), which resulted in a 2% growth in revenues.
While the year-on-year unit sales of rugby, soccer and hockey boots were down from last year, the general trend was that prices were up. Therefore, despite the negative growth (-3%), revenue growth was 9%.
Boots sold at the highest price point (more than R1 000 — even as high as R1 500) were 15% up on 2007 and there were also measurable sales at the R800-R1 000 price point. This would indicate that some consumers were accepting the higher price points, although not yet in significant numbers.
But, the main buyers of team boots are families of school-going children who were hit hard by the interest rate hikes as they have to pay off bonds, higher purchase on cars and higher school fees, says Bowen. That accounts for the current drop in units sold and the concentration of sales in mid-price points, especially in rugby.
"Although sales are down on last year — which was a very good year — there is still a lot of interest in football boots. The downward trend is therefore not as bad as it might seem. The 2010 Fifa World Cup is generating a lot of interest from inside and outside the country, with many international brands now entering the market" says Craig Bowen of GfK Marketing, who track sportshoe sales in SA at point of sale.
"Brands are also putting a lot into above and below line marketing. This has resulted in a robust sales environment during what could have been a difficult period for retail. Most of the big brands now also present much wider ranges, from entry level moulded cleats to expert level blades, offering more for a much bigger spread of the market.
Hockey is a much smaller market in terms of participation numbers than soccer and rugby and sales are spread across all levels, from the top-end brands to entry level.
While the units sold do not show a dramatic change from pre-season to mid-season, there is a sharp peak in prices before the winter season (when most team boots are sold), which then drops as the season progresses — which could indicate that consumers are buying at end of season sales at lower price points.
But, as some distributors point out, one can hardly talk about a "team boot season" nowadays as sales continue throughout the year.
SA retail sales of hockey, soccer and rugby boots : January 2007-June 2008

Year to date growth shows a market slow down in units sales by -3% across these team sports
On average price levels have increased by +5% over last year's prices, maintaining revenue levels at +2% over last year's revenues
The market slowdown was felt strongest late in the 2nd Quarter after April 08 where double digit decline in units and value was experienced.
Team boot price point and seasonality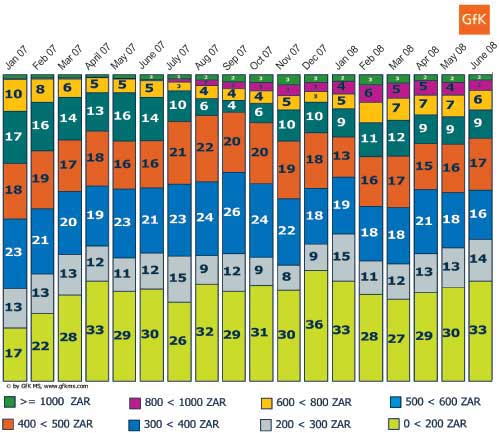 In 2008, more team boots were sold at higher price points (more than R1 000 as well as R800-1 000) during the peak season, indicating that consumers were accepting the higher price points;
There was a drop in units sold during the pre-season as well as season in the R500-600 price point category;
Sales of team boots in the R400-500 price point remained fairly constant;
In the R300-400 price point sales were slightly lower in 2008 than in 2007;
Sales of the entry level price point team boots (below R200) peaked at the end of 2007 and January 2008 (about double the number of units sold in January 2007), but then levelled out as the season progressed.
Source: GfK Panelmarket Sportshoes.
For more information contact Craig Bowen at GfK Marketing Services SA.
Tel: 011 803 1300. Fax: 011 803 0111.
Email:
Craig.Bowen@gfksa.co.za
.
Retail sales of sport shoe categories are tracked at point of sale without any cost to the retailer.
Participating retailers receive a comprehensive analysis.
---
Feb/ Mar 2009
The bodysuit debate continues
The sports product marketing story of 2008 was undoubtably the Speedo LZR bodysuit. Despite the fact that all the top swimming brands have for nearly fifteen years been designing bodysuits that promised — and delivered — faster times, the Speedo LZR Racer caught the imagination of swimmers, scientists, swim federations and the press, before and during the 2008 Olympic Games. Swimmers broke contracts and federations lost sponsors as elite swimmers switched allegiances in the belief that they needed this suit to better their performances. FANIE HEYNS discusses whether this belief was justified, and if this is good for world swimming
The records set in bodysuits and the belief by top swimmers that you need to wear the Speedo LZR Racer to break records, might be bad for the creditability of swimming, says Ross Tucker, a prominent South African sport scientist.
Not so, says Speedo's Paul Barrett-Smith, Speedo is the number 1-brand in swimming and there is no controversy about the LZR suit. It is 100% approved by FINA, the world swim body, so what is all the fuss about?
The LZR Racer cannot boast superior technology to the TYR Tracer Rise, just a better marketing arm and more commercial strength to sponsor the best athletes, says Peter Baker of Action-ize, distributor of TYR in SA.
Some of South Africa's best swimmers have apologised for switching from the Arena Powerskin R-Evolution to the Speedo LZR Racer during the Beijing Olympics, says Peter Reeves, managing director of Arena's SA distributor, Leisure Holdings. There is too much hype, at the expense of substance and scientifically correct data, about the records in the pool regarding the Speedo LZR suit, he adds.
Tucker named the Speedo LZR Racer as one of the top sport stories of 2008 in his blog "The Science of Sport". He maintains that the high number of world and Olympic records that were recorded since the introduction of the suit in 2008 was an unprecedented explosion in the sport, which he believes is bad for the credibility of swimming.
He was especially concerned about the fact that some world and Olympic records were broken within days of being set. The 66 records set in the Beijing Water Cube Beijing (many continental records were also broken) is not progress, he says. "Rather, it makes a mockery of the past."
Unfair or evolution?
Tucker adds that nine world records had been set from January to March 2008. That was a precursor of what was to come. In a matter of months, the number of world records had risen to about thirty.
Because swimwear manufacturers claimed in marketing material that the bodysuits reduces drag, he believes that FINA should have taken a tougher stand on the approval of bodysuits in the pool.
That post got some good feedback and questions, and hopefully prompted some thought about the causes. There are some who have claimed that this astonishing "record-rush" is merely the result of better training and better athletes.
For example, several of the Beijing world and Olympic records were set by the same swimmers: Michael Phelps was responsible for setting three new individual world records and four individual Olympic records; Kosuke Kitajima broke one world record and two Olympic records; Kirsty Coventry set two world records and three Olympic records, Federica Pellegrini two world records and two Olympic records, Britta Steffen three Olympic records… and so the list goes on.
The issue whether bodysuits, and in particular the Speedo LZR Racer, help swimmers to set new records, has been hotly debated around the world.
Steve Furniss, the 1972 US Olympic bronze medallist, who now heads TYR, points out that in an Olympic year, fast times come in waves. He says that as far back as 1972, when Lycra skin suits replaced nylon suits to spark the first swimwear revolution of the modern era, 53 world records were set. Four years later, 61 world records were broken.
Since 1996, when the compression bodysuits were first introduced for the Olympic Games in Atlanta, the debate had been whether the reduced drag, and more aerodynamic body position promised by full bodysuit manufacturers gave swimmers an unfair advantage.
This time, the controversy was compounded when it was announced that FINA had given the go-ahead for the use of drag-reducing polyurethane panels. "TYR was the first company to use the innovative polyurethane woven fabric in competition (January 18, 2008) when Peter Marshall wore it in a heat he won, which also included Michael Phelps," says TYR's international marketing director Chris Wilmoth. Other companies soon followed suit.
The development of new performance equipment is merely evolution, says Paul Barrett-Smith, head of Speedo's High Performance section. "If you look at other sports, new golf balls, hybrid clubs that drive further, bigger tennis racket heads, tartan tracks, cricket bats, cycling helmets and performance bikes, sport equipment development is not going to slow down...."
Marketing performance
The debate, however, took a new turn as the battle moved away from the pool and into the marketing sphere. The Speedo LZR Racer was clearly in the ascendancy in the sponsorship battle. Soon after the introduction of the LZR Racer, it became clear that the fact that Speedo had signed a number of the world's best swimmers, paid good dividends.
As the number of swimming records broken by Speedo-sponsored swimmers started adding up, more and more elite swimmers started believing that they needed the LZR Racer to win gold. (Interestingly, Michael Phelps, who won a fair share of these, does not enjoy the benefits promised by the full body Speedo LZR Racer in any of his events — he only swims in the bottom half.)
Then reports surfaced that the coach of the Speedo-sponsored US swim team, Mark Schubert, allegedly pressurized his swimmers to use the Speedo LZR Racer, and also made 3000 LZR Racer suits available to swimmers free of charge. In an unprecedented move Nike, who sponsors the US Olympic team and seven of the top US swimmers, allowed their sponsored swimmers to choose their performance suit brand for Beijing.
Speedo is also the official sponsor of the Australian swimming team, who have for many years shared domination in the pool with the Americans — swimmers from the two countries won more than seventy swimming medals in Beijing and set more than twenty new world and Olympic records.
In addition, Speedo had signed sponsorship contracts with some of the most likely record breakers like Zimbabwe's Kirsty Coventry and Great Britain's Rebecca Adlington, who also added to the mounting Speedo record tally.
With the Olympic Games looming, says Tucker, performances by swimmers wearing Speedo resulted in elite swimmers wanting to be seen in nothing else but the LZR Racer, which of course posed a problem for those swimmers sponsored by other top swimwear brands.
This created havoc with sponsorships worldwide.
Japan's breaststroke champion Kosuke Kitajima (who set a world and two Olympic records in Beijing) and several of his team mates cost the Japanese swimming team their Mizuno sponsorship when they insisted on wearing the Speedo LZR Racer.
Italy's 100m freestyle champion Filippo Magnini incurred a fine and the wrath of his sponsor, Arena, when he broke his contract to switch to Speedo shortly before the Olympics.
In the US, TYR introduced an antitrust lawsuit against the US swimming federation and the team coach, claiming that he unduly influenced swimmers to switch to Speedo in a way that made freedom of choice and selection virtually impossible.
In September last year Nike, announced that they were withdrawing from performance swimming sponsorship.
In December adidas announced that they would not renew their sponsorship of the German swimming team. Prior to the Olympics some of the top German swimmers had asked to be allowed to use the LZR Racer instead of the adidas Techfit Powerweb swimsuit.
"When the media started to report that other manufacturers were getting upset about swimmers wanting to switch brands, it only stoked the fire, because now people were saying 'These guys are scared of Speedo'," says Tucker
It was, simply put, a once-in-a-lifetime marketing opportunity for Speedo, and they didn't let it slip, he adds. Also, remember that these swimming costumes are all 'performance brands', therefore, when the point of differentiation becomes performance, then all the other manufacturers were hurt. Why would any swimmer want a costume that is perceived to be inferior?" says Tucker.
Performance vs marketing
However, upon closer scrutiny, startling evidence emerge from the Olympic pools — evidence that shows that the total dominance claimed by Speedo's bodysuit, might well have been a superb marketing effort.
After all the sponsorship controversy, Magnini did not even reach the 100m freestyle finals in Beijing. He came twelfth.
German star, Britta Steffen, who stuck by the team's adidas sponsor, set three Olympic records and won two gold medals.
Seven swimmers broke fifteen individual Olympic and world records wearing the Speedo LZR racer full body suit.
But four male swimmers, breaking twelve individual Olympic and world records, only wore Speedo pants, not the full body suit.
Seven swimmers broke thirteen individual world and Olympic records in the Beijing pool, wearing other brands. The records set by Alexander Dale Oen (Arena half suit), César Cielo Filho (Arena full-suit), Milorad Cavic (Arena full-suit), Aaron Peirsol (Nike half suit), Zige Liu (Nike full suit), Federica Pellegrini (adidas Techfit Powerweb swimsuit) and Britta Steffen (adidas Techfit Powerweb bodysuit) questioned the supposed total superiority of the Speedo LZR full body suit in the pool.
Tucker says the claim of superiority of one suit over another can not be measured, "because we never got to see the performances of swimmers like Phelps or Adlington in anything but Speedo. There is a problem with simply concluding that Speedo was the superior costume. It seemed to add something to performances, but whether it was better than other suits is a debatable one."
The supposed added advantaged that is provided by a full body suit, is less evident over longer distances and in certain disciplines like breaststroke and butterfly, he adds. "Breaststroke is the obvious example - it's just a slow stroke, which means the suit would be least effective for it," he adds.
"Also, consider that in breaststroke, the range of movement around the joints (shoulders, elbows and knees) is the greatest, and perhaps a number of swimmers decided that the full-suit would restrict this movement.
"That's why you'll find that most of the top swimmers wear an "above-the-knee" short suit for breaststroke.
"In the case of butterfly, I have a feeling the choice of only the pants is because the upper body comes out of the water quite a lot, and because the range of movement required from the arms makes the suit restrictive.
"For backstroke, the tumble-turn and the slower speeds might be the reason that some swimmers went only with the pants.
"So the stroke affects the speed, and also the mechanics of the swimming stroke, and I think that those two factors combine to determine whether a swimmer would wear the full suit," adds Tucker.
"Also, don't forget other factors - the pool was deeper than ever, the side areas designed specially to reduce wash, and so the pool was also faster. That contributes to performances as well. So we can't say that the spate of records was due to the Speedo. It could also have been the pool, with other costumes providing at least a similar effect. It's all speculation."
Media hype gave Speedo edge
Reeves agrees with Tucker that it is debatable whether the Speedo LZR suit is superior to other brands. "The other brands have as good a product, but the media hype certainly gave the perception that Speedo had an edge".
He believes the whole fanfare about the Speedo LZR Lazer suits has been a complete overreaction.
Ryk Neethling, one of South Africa's premier swimmers at the Beijing Olympics, says he was so caught up in the hype around the Speedo suit in the Olympic village, that he swam the final in the LZR Racer — but did not improve on his time in the heats, which he swam in the Arena Powerskin. Afterwards, Neethling apologised to his sponsors, Arena, about his decision, and he has since been appointed an ambassador for the brand.
Arena is the sponsor of Swimming SA, and has also signed an individual sponsorship with the 2008 FINA Swimming World Cup series winner Cameron van der Burgh, as well as SA breaststroke swimmer Suzaan van Biljon.
'Arena performed well'
Reeves says Leisure Holdings SA was not selling Arena at the time of the Olympics and therefore he cannot comment on whether the perceived success of the Speedo LZR Racer did affect the market share of Arena. "Although in Europe, Arena did not lose market share over this period," he adds.
Eva Vitali, a representative of Arena at their international office in Italy, agrees with Reeves, saying "Speedo's launch of the LZR competition swimsuit did not have any negative impact on Arena's business. On the contrary, Arena registered satisfactory results in 2008, with a 3-5% net sales growth in 2008 compared to the previous year.
"Furthermore, there is emerging evidence that all the recent discussions concerning top competition swimsuits has generated positive results for the whole market, and more specifically for the top competition brands, with corresponding positive effects business-wise.'
'Debate did TYR good'
Baker says when media-reports surfaced in the US about the LZR Racer's supposed performance benefits, the TYR bodysuit was often mentioned in the same reports as having the same performance benefits. "The whole debate did us at TYR a lot of good."
Baker says that if you have a car manufacturing plant and you build two vehicles of similar design, but brand them differently and market them differently, they are still basically the same product that should perform almost identically.
"To be quite honest, Speedo's LZR and TYR Tracer Rise suits are technologies from the same factories, but are branded differently." The polyurethane panels are merely placed at different places on the Speedo suit than on the TYR, he explains.
"Speedo has the stronger marketing arm and they have a lot more sponsored athletes. They also possess the financial clout to buy those athletes, but if you put them in TYR suits, they would have performed pretty much the same," says Baker.
During the latter half of 2008 and beginning of 2009, TYR swimmers have also been re-setting the record books. "From November 11, 2008 to December 14, 2008, nine world records were set in TYR Tracer Technology," says Wilmoth.
"Amaury Leveaux became the first swimmer in history to go under 45 seconds in the 100m freestyle (short course) and just recently, at the US Swimming Grand Prix in Southern California, Mary DeScenza broke a seven year-old American record held by Natalie Coughlin in the 200m butterfly."
Peter Marshall also set three world records in the Tracer Rise on the FINA World Cup circuit in November.
On the offensive for Speedo
According to Barrett-Smith there is currently no controversy surrounding the Speedo LZR suit. It is approved by FINA, it is the fastest suit in the world, and it is made by the world's number one swim brand, he says.
"The issue is whether the cost of these suits creates an unfair situation, and that is why Australia and the US are looking into controlling the wearing of these suits at age group level. There is also the issue of swimmers wearing multiple suits to try and increase flotation."
A meeting was held with FINA to decide on procedures in February, after we went to press.
"You need to remember that at Atlanta in 1996 our new Aquablade suit dominated, at Sydney in 2000 our Fastskin took the medal count, at Athens in 2004 our Fastskin 11 ruled the pool, and in March 2007 at the World Championships our new FS-PRO grabbed 12 of the 15 world records," says Barrett-Smith.
"What was incredible at Beijing was the fact that individual athletes, regardless of their personal sponsorships, chose to swim in the Speedo LZR Racer, because they believed they would swim faster. The results confirm those decisions. It is evolution, not revolution.
"However, the continued success of the Speedo brand does create a special magic that works at all levels, and our retailers and consumers obviously believe in that magic as 2007 saw our best ever sales in this market, with 2008 a very close second," he says.
"Is the Speedo LZR suit commercially viable? It really depends upon what value you would place on an Olympic gold medal. Bottom line, the Speedo LZR Racer suit is the fastest swim suit in the world. It is 100% approved by the world swimming body, FINA, and manufactured by the world's number one swim brand. The swimmers believe in the brand. Our retailers believe in the brand."
---
June 2008
The China Syndrome: the effect of the meltdown
What should have been a triumphant year for China is turning into interesting times that could see factory doors closing. What will the effect be on the world economy and sport, outdoor, footwear and clothing retail in particular?
Footwear production cost
Impact cost increase per shoe
| | % | Increase* |
| --- | --- | --- |
| Cost of raw materials | 46% | 5% |
| Bottom components | 24% | 6% |
| Labour / overheads | 23% | 7% |
| Profit | 7% | 0 |
| RMB & VAT increase | | 12% |
| Total cost increase | | 29% |
*Impact of rising cost as % of production cost per shoe.
Rise in production costs
Oil price increased from $30/barrel in 2003 to $130/barrel in 2008 and a rise to $160/barrel predicted for 2009.
Rubber price increase past 12 months 30-35%. Price rise from $500/ton in 2005 to $3 300/ton in 2008.
Cost of footwear upper material to increase for next season 5-8%.
Chinese currency and VAT adjustments to account for 12% increase per year.
New labour laws to increase minimum wages by 20-25%. Labour legislation to add $1 per pair to production costs.
What will footwear cost?
Without any profit increase or inflation adjustment the 29% rise in production costs of footwear could have the following effect on local retail footwear prices:
Retail price 29% cost increase
2008 Price
2009 Price
R399
R515
R499
R649
R599
R773
R699
R902
R799
R1 032
What will clothing cost?
Labour intensive clothing production is expected to be the most affected by China's new labour laws.
Impact price increases/unit
Minimum wage
20-25%
Social security & redundancy
5%
Reduction textile rebates
2%
RMB & VAT
12%
Total increase
15-20%
When next you feel like despairing about rate hikes, spiralling fuel and food prices and other depressing economic woes, spare a thought for the Chinese.
In a year that was supposed to culminate in a triumphant hosting of the world's elite athletes and a showcase of their peculiar form of entrepreneurial communism, everything seems to have turned sour. During the past few months the Chinese have been living in the kind of interesting times they would dearly like to forget.
It seems that even the elements are conspiring to bring bad karma to the Chinese — with close to 70 000 killed in devastating earthquakes, lakes formed by the quakes are still threatening to flood whole towns.
From glory to humiliation
At a time when China was supposed to be basking in the glory of the limelight generated by the progress of the Olympic torch relay from Olympia to Beijing, over the highest point on earth, Mt Everest, culminating in the lighting of the flame at the opening ceremony on the eight day of the eighth month in the year 2008 (the Chinese enjoy number games).
Instead, the country was humiliated by activists attempting to disrupt the torch relay over the Chinese clampdown against Tibetan protesters and the very people they have worked so hard to impress, expressing doubts if they should attend the Olympic Games in Beijing at all.
For the past few years the entire Beijing had been engaged in an unprecedented spring cleaning exercise in preparation for the Olympic Games. Tourist sites were literally restored tile by tile, the sound of hammers behind screens depicting completed buildings an uninterrupted part of the background sound. The city became a massive construction site. The deadline: in the month before the opening ceremony all tools had to be downed and factories closed so that the city air could clear and Beijing could be presented to the important global visitors in pristine condition.
But now, leaders sensitive to activists' concerns about Chinese and Tibetan human rights, might be declining the invitation. Even brands associated with the Olympics have been warned that they might become targets of consumer boycotts.
Bad as this may be, the Chinese will overcome these disappointments and setbacks. After all, they survived building the Great Wall.
Of far greater concern is the long term effect on production and world retail prices if China can no longer effectively function as the factory of the world.
There are two factors affecting Chinese production, and by implication, world retailing: a global rise in production costs and consumer activism.
Rising costs
To make matters worse, the increase in production costs in China is not all due to factors that they can contain.
For example, between 2007 and 2008 the price of crude oil increased 44% per barrel, and it is expected to rise a further 23% by next year. The oil price not only affects transport costs, but also the price of rubber — a crucial component in the manufacture of footwear. In addition, there is a worldwide shortage of rubber. This resulted in a rubber price increase of 30-35% over the past year.
Earlier this year the EU introduced Reach legislation, requiring importers to identify and quantify the chemicals used in their products and where they come from — for-cing Chinese factories exporting to Europe to source many of their materials from Europe to meet the stringent standards.
The low labour costs and rather flexible labour legislation had always been the main attraction of manufacturing in China. But, while the Chinese labourers did not engage in industrial action to improve wages, working hours, and factory conditions, others did so on their behalf.
For the past decade consumer groups — mainly operating from US universities — have been staging sporadic protests on behalf of Chinese and other low-paid workers, especially in the garment industry. They targeted their industrial action where it hurt most: at the top international brands manufacture in China and the smart retailers who stock them. This resulted in the brands drawing up codes of conduct for the factories that manufacture for them – these governed minimum wages, working hours, overtime pay, working conditions and all the benefits SA workers will expect to see in a labour contract.
New labour laws
These agreements, however, only covered the factories contracted to manufacture for the brands – those making components and other products, as well as their own brands, were not governed by the same rules.
On 1 January this year, China introduced new labour laws requiring employers to pay higher minimum wages, social security and housing benefits and introduced redundancy payments.
Over the past few years wages have been rising by between 10-15% each year – but in many factories the minimum wage had to increase by 20-25%.
This will have a major impact on the labour intensive textile and clothing factories, as well as footwear manufacturing. Some factory managers say this new law will increase operating costs by up to 30% — for while wages are still relatively low, they comprise about half the cost of a garment.
To add to the factory owners' human resources agony, the endless supply of cheap Chinese labour seems to be drying up. As agricultural prices increased and taxes on agricultural products were cut, the prospects for farmers improved. Fewer people are therefore interested in leaving the rural areas to go and live in a factory compound and work long hours indoors.
While the Chinese government declared that these labour shortages will force factories to raise productivity, some manufacturers have found that turnaround times slowed down.
Less rebates, more tax
In addition, tax rebates on exports were reduced from 13% to 11%.
And to make their lives even more interesting, Chinese factory managers have to contend with a 14% appreciation in their currency, RMB against the US$ since 2005.
This is expected to result in many fringe factories, operating on small margins, closing down.
Interestingly, this is not necessarily seen as a negative , but rather as a way for the government to force an upgrade to the national industrial structures. Even the textile industry body, the China National Textile & Apparel Council, sees a positive outcome to the trend.
But, this will come at a price — to the brands, the retailers that stock them and their consumers.
Which resulted in many brands starting to look at alternative manufacturing countries like Vietnam and Bangladesh, where wages are lower.
But, the cost of relocating a highly efficient supply chain, introducing the same stringent quality controls and re-implementing labour structures that will satisfy the consumer activists, will come with its own price tag.
For example: about a third of Nike's footwear were produced in China last year (according to just-style.com) in 180 contracted factories employing more than 210 000 workers. The logistics of relocating is nothing less than a nightmare.
Besides, workers in other Asian countries do not live in a vacuum. Why would they remain content to work for lower wages than their Chinese counterparts?
In March this year, 20 000 employees at a Nike factory in Vietnam went on strike to demand a VND200 000 (R96) increase to their monthly pay of VND9300000 (R446).
Consumer pressure?
While Chinese imports have been closely scrutinised by (mainly US) consumer groups concerned about Chinese worker rights, the Olympic Games and unrest in Tibet have now placed Beijing under another, not very welcome, spotlight.
The worldwide protest during the torch relay took most people by surprise — but time will only tell if the activists will carry out their threat of targeting companies manufacturing in China.
The attention generated by the Olympics might yet prove to be unwelcome. And the Tibetan monks far more troublesome than the Chinese had anticipated.
Will SA manufacturers benefit?
Question: Why should we be so concerned about China's production woes? Surely this will benefit our own manufacturing sector?
THE PROBLEM is that local production still depends on imported components, and their costs are also affected by the Chinese production problems. The raw material to manufacture a t-shirt in SA, for example, cost more than the landing cost of a completed one from China. Will SA consumers be prepared to absorb the extra cost?
Retail shelves are stocked by international brand names, who manufacture millions of pairs of shoes or garments in Chinese factories bigger than most SA towns. If China loses its appeal, mass production will simply move to Vietnam or Bangladesh. As long as consumers demand global brands, merchandise will be supplied by global factories.
BUT, it could open the doors wider for locally manufactured niche products and more exclusive product lines, for example team kit and some footwear categories.
The SA clothing manufacturing sector has already benefited from the imposition of import quotas on garments from China. Last year, clothing imports from China dropped 31% and the total clothing imports dropped 12%, SA Clothing and Textile Workers Union (SACTWU) general secretary Ebrahim Patel, said at the annual Fashion Imbizo in Cape Town earlier this year.
"Over the last few years, SACTWU has focused on five key initiatives to address the core drivers of increased competitiveness, which include product innovation, the identification of niche markets and manufacturing flexibility," Patel said.
Manufacturers that get these above mentioned competitive factors right could indeed benefit from the China meltdown.
Country of origin labels:
Law to be enforced
The window period to make arrangements to comply with the regulations on country of origin labels, has expired. The Department of Trade and Industry (DTI) and the SA Revenue Services (SARS) therefore issued a notice on May 7 that they will randomly detain consignments to conduct inspections and seize goods that do not comply with the country of origin labelling.
This means that all shoes and clothing not displaying a label indicating the country of origin, if imported textiles are used, the fibre content, and care instructions could be confiscated. Merchandise may not claim to be Made in South Africa if it was in any way reconditioned, rebuilt or remade within SA.
Companies or individuals contravening the law can be fined R5 000 per article or face imprisonment of three years, or both.
Read full notice at: www.info.gov.za/speeches/2008/08050709451004.htm
---
August 2002
The impact of HIV/AIDS on retailers
Retailers with a strategic plan to cope with the HIV/AIDS epidemic will have a big advantage in future, explains NICO OLWAGEN
The HIV/AIDS epidemic could have a devastating impact on the retail industry as consumer spending patterns change, says Jaco van der Walt (left), partner in charge of Retail and Consumer Products at Ernst & Young. Research conducted by the Bureau for Economic Research (BER) shows that the projected world-wide population growth will decline by nearly 20% by the year 2015, and as a result the total labour force will see a similar decline.
This will be accompanied by a fall in disposable income as employment levels drop and interest rates rise, Van der Walt recently told an Ernst & Young panel discussion. "Retailers will be competing for a smaller market with less money to spend. HIV/AIDS will compound the problem and force smaller operations either out of business, or into mergers with larger competitors."
He says the retail community, business community and general population typically all have the same attitude towards the threat of HIV/AIDS. "There is denial amongst those most at risk, and a general failure to change behaviour and recognise that each institution is as vulnerable as the next."
Retailers need to identify the impact that the spread of the disease will have on their individual businesses and develop appropriate strategies to deal with the business risks brought about by the epidemic, advises Van der Walt.
"Retailers do have a measure of control over two areas that will be affected by the HIV/AIDS epidemic, namely increased costs and decreased productivity," says van der Walt. "There are, however, issues over which retailers have less influence – for instance, the size and profile of the consumer market, levels of savings and skills."
He believes that the future consumer market will also be characterised by a more dramatic shift in consumer spending patterns than we have seen in the past. Research indicates that spending on foods is expected to drop in line with the fall off in population and GDP growth. Clothing and furniture retailers will see a drop in discretionary purchases mainly at the lower end of the market.
HIV/AIDS will also impact on credit retailing through the threat of non-payment of accounts.
"Typically, credit retailers write off overdue debt on the death of the account holder. Often retailers provide burial and funeral insurance as part of the credit package. Underwriters of these accounts are already seeing a rise in the number of claims."
Van der Walt adds that retailers not only have to be concerned with their own markets and workforce, but those of their suppliers as well. He says efficiencies are made and lost in the procurement process; poor planning by suppliers will leave them vulnerable to spiralling costs, reducing their ability to compete. Inflationary pressures in the supply chain will feed through into the retail market.
"An effective response to the epidemic can only be achieved by convincing all stakeholders of the severity of the problem and putting strategies in place to minimise the risks," he adds.
Research conducted by Ernst & Young, shows that almost 80% of listed retailers claim to be actively administering AIDS policies, but only about half of these have made policies public. The research indicates that larger retailers have made more progress in responding to the potential threat of the HIV/AIDS epidemic.
The most common form of AIDS interventions in the workplace has been the implementation of AIDS awareness and education forums.
"A select number of retailers have taken this a step further with the provision of testing, counselling and support facilities in the workplace, both to employees and their dependents," says Van der Walt. "In some cases this has included the provision of antiretroviral drugs for infected mothers. In this way retailers help quantify infection rates, while managing the disease."
UNAIDS stats show that employees with AIDS begin to cost companies during the last two years of their illness. By extending people's life expectancies, companies improve productivity and delay these additional costs.
Companies have been less forthcoming in detailing how they intend to cope with the disease at a strategic level. Some of the strategies being implemented by retailers include:
Targeting lower risk consumers, and rationalising operations in high risk areas;
Brand extensions into new services aimed at the broader market (e.g. Financial Services);
Expansion through international markets into countries with lower infection rates;
Tightening of credit granting facilities.
He says retailers' responses have been low profile for a number of reasons:
Inability to grasp the extent of the problem and how it will impact individual businesses. One of the biggest problems is the inability to accurately quantify the effect the disease will have on operations. By not being able to estimate the cost, firms are unable to determine what resources should be dedicated to tackling the disease.
Lack of agreement between key stakeholders. Infighting between key stakeholders creates problems and a lack of agreement on how to approach the epidemic creates serious delays in issuing a response.
Not seeing any visible affects. Frightening statistics are bandied about the press, but the effects will not be seen for 3 to 4 years. Businesses not convinced of the true extent of the problem, will not to address it until they see greater evidence of an impact on their markets.
AIDS is a problem of the future, there are more pressing concerns at present. The retail environment has been through a torrid time, AIDS is by no means the only issue of concern for retailers. For many there are more visible and pressing concerns that occupy the time of senior management.
Impact on the investment community. Companies fear that open discussions around the effect of AIDS on their businesses will have a detrimental affect on the investment community.
Won't affect us. A small group of companies are also of the impression that the epidemic will have no significant impact on their operations, due mainly to their position in the market.
According to Van der Walt this view is both dangerous and incorrect. Although the virus may have no direct impact, indirect threats impact supply chains, workforce dependents, and the knock on effects of the impact on competitors.
Van der Walt explains that for some companies denial of the problem is seen as a preferable option. "It is less traumatic and in the short term less costly," he says. However, denial has potential hazards that go beyond the more obvious macro-economic implications.
Poor image in the investment community. While most companies remain tight lipped over their response to the epidemic, the investment community will put increasing pressure on companies to publicly reveal this information.
With little information, the market fears the worst. At present accurate information is hard to come by, with most data projections from actuarial models. Many of these predict doomsday scenarios on nationwide scale, however this is not necessarily true on a local business/community scale. It will be in the interests of businesses to release their HIV data to separate themselves from those who will be seen as increasingly at risk.
Liable for negligent actions. Stakeholders who experience losses from the actions, or inactions, of a company may seek recourse in a world where business is becoming increasingly accountable for its conduct.
Van der Walt explains that the most pressing concern at the moment is the lack of factual data. "Most information relating to infection rates and impacts is based on aging figures and actuarial projections. Business is best placed to assist in quantifying the extent of HIV/AIDS in the workforce," he says. "Individual businesses should educate themselves on the extent of the impact that AIDS will have on their markets and stakeholders.
Going forward, this information needs to be incorporated in a company's strategic planning processes. The longer companies wait to act against HIV/AIDS, the more costly the intervention, and the less effective it will be."
Van der Walt says that greater co-operation is required within industry groups. "Only by sharing information can retailers get a more complete picture of the extent of the AIDS virus and its potential impact on the retail market."
---
June 2006
The 'other' World Cup
While the TV cameras focus on the Ronaldo's and Ronaldinho's battling against the Beckham's and Henry's on the playing fields of the Soccer World Cup, another, more subtle battle is being waged between the brands that clothe, shoe and keep the stars of the show in luxury
Adidas has a clear advantage, which is expected to generate an estimated $1.5-bn in soccer-related sales during the World Cup period. They have been the technical sponsor and supplier of the official match ball for as long as the players who now take to the field can remember. In most cases, longer, as the new +Teamgeist 14-panel white and black ball will be the 10th consecutive adidas World Cup Match Ball. Since its launch in December, 10-m of these balls are reported to have been sold worldwide, and they are hoping for 5-m more sales before the end of the year. And adidas is already planning the next match ball for the 2010 official ball, giving them a 40-year run as official ball supplier.
But apart from the match ball, the adidas logo becomes firmly entrenched in the eyes of all the beholders as they also supply all official FIFA World Cup apparel and footwear — for umpires, officials, volunteers and anybody else who might be associated with organising the event. And as a cherry on top, they sell all the official World Cup T-shirts, caps and other wearable memorabilia.
That is, except for the replica wear of teams sponsored by other brands.
And that is where the competition gets an innings. It does not take a clever mathematician to work out that the more teams you sponsor, the larger the home-crowd base that will buy supporter replica. But more than that: with your logo in full view on the official teamwear, your brand is associated as a major player in the soccer market by the 32-bn spectators in 189 countries who are expected to have their eyeballs glued to their TV sets during the tournament.
Plus, you get the chance to launch and promote new apparel technologies and styles on TV and in the press when "unveiling" the home team kit, which alerts all soccer players at all levels to what your brand can do for them. This is priceless publicity (probably worth more than the estimated $200-m and $100-m adidas and Nike are allegedly spending on advertising and promotions for the tournament.
Puma has taken advantage of this opportunity by signing 12 of the 32 competing teams. What's more, all the African teams and the two Middle Eastern teams will be running on the field with a Puma on the chest … generating support from a whole continent and a region.
Nike's eight signed teams are fairly well spread out, so that the swoosh will elicit cheers from across the globe (except in Africa and the Middle East). But, more importantly, they have former winners Brazil and Korea, who finished 4th in the 2002 World Cup on home turf.
The following team kits will also be available to SA fans, says Nike SA: Brazil home kit (jersey and shorts) and their away jersey, Portugal's home and away jerseys, The Netherlands' home and away jerseys, and Mexico's home jersey. The kits have been designed to reflect each country's sporting history and cultural identity.
They all contain innovative Nike Sphere Dry apparel technology, which draws moisture away from the skin to keep players cool, while raised nodes on the underside of the shirt increase airflow over the skin and reduce the amount that the shirt clings to a player's body, explains PR manager Lauren Collier.
Adidas also sponsors six teams: three from Europe, including the strong contending German home team who were runners up in the 2002 World Cup, and the rest spread fairly evenly across continents.
Between them, these three will be the dominant brands at the World Cup. Of the other teams, Umbro sponsors England and Sweden, and Lotto the Ukraine and Serbia and Montenegero. Relatively unknown brands Joma (Costa Rica) and Marathon (Ecuador) complete the list.
Apart from the very visible presence on the field and the promotion opportunities offered by sponsoring World Cup teamwear, brands also vie to sponsor the real stars of the show. Even though the England team is sponsored by Umbro, everybody sees "adidas" when Beckham appears on TV. Diadora will also be on display when Titto kicks at goal with his new Diadora Maximus boot. This kind of publicity is worth every million dollar spent to secure the stars.
In order to protect their official sponsors — and the $200-m they paid for sponsorship rights — FIFA is very strict about enforcing ambush-marketing rules immediately before, during and after World Cups. Rival advertising campaigns, including on billboards and buildings around stadiums, are closely monitored, but that will never deter an enterprising marketing manager.
Samsung, for instance, created a limited-edition cellphone — the England team's official phone — with video clips of David Beckham's free kicks and other feel-good England team moments.
It does, however, require some out of the box thinking when it comes to planning advertising campaigns during the World Cup period.
Nike, for instance, expects that more than 3-m kids from 39 countries would have played Joga3, a 3-on-3 soccer game inspired by the South American game of futsal, by August this year. This is equal to the number of spectators expected at the Soccer World Cup in Germany.
Joga3 and futsal are played with the smaller, heavier futsal ball on a small, hard-surface field about the size of a basketball court. The smaller ball and field elevate the importance of foot skills, ball control, creativity and quickness.
Regional tournaments are increasing in size and frequency, building toward the global final that will take place in Brazil in August. The new game and the global tournament are part of the NKE soccer initiative, Joga Bonito (Portuguese for Play Beautiful), which is designed to inspire this same code of conduct across all levels of the game of soccer and among all players.
Puma's advertising campaign, Willkommen Zum Fussball — German for Welcome To Football is split into two key segments – a teaser phase and a reveal phase using TV, print and outdoor advertising. The campaign kicked off in May with the 12 Nations Story — focusing on the 12 Puma teams competing in the tournament, illustrating how World Cup fever is spreading across the globe.
Meanwhile, a mysterious figure is seen delivering a secret package, the contents of which is unknown to the international PUMA footballers featured in the ad. The details of the meetings are revealed in the second phase of the campaign, running from the second week in June.
In a further awareness campaign, "Adopt a German", a dozen people from the 12 Puma-sponsored countries were chosen to become "unofficial ambassadors" for Germany and to tour Europe in order to promote the World Cup and the country.
---
June 2006
The Real Thing
BEVAN FRANK delves into the world of intellectual property law and sheds some light on issues relating to copyright and counterfeit goods
In the previous issue of Sports Trader we published the results of a survey of problems faced by suppliers: 68% of the respondents said they have had products copied by manufacturers, 62% said products had been copied by competitors and 57% said retail clients had copied products. Yet, only 30% had taken legal action.
Making cheaper copies of well-known branded products is a major problem worldwide. Counterfeiting is estimated to cost the global economy as much as US$512-bn a year, or 7% of world trade — according to the Organisation for Economic Cooperation and Development (OECD) and the World Customs Organisation.
Apparel and footwear manufacturers are particularly at risk — especially if they market well-known brands, when a large slice of revenue has to be spent on combating unscrupulous counterfeiters. Local distributor, Footwear Trading, have for instance, embarked on an advertising campaign on behalf of their principals warning that they will prosecute anyone selling or importing counterfeit products or infringing on their design registrations of their well-known footwear brands Levi's, Skechers, Diesel, Soviet, Fila, Pony etc.
Developing new products and keeping them exclusive is probably one of the biggest problems for brands. For that reason cameras and cellphones are often banned at international trade shows. A common view is that buyers are sent to the shows with the object of photographing new products to be copied in their factories. These copies often come on the market with the same flaws etc that the prototype had.
But, sometimes people do work on the same product and come up with similar ideas, or change things slightly, and start making products along similar lines. Thus, what one brand markets as an innovation, can soon become the norm.
In this article, we touch on some of these issues and look briefly at certain aspects of intellectual property law.
Dabbling with Designs
Designers copying styles is a huge problem in the manufacturing industry worldwide.
Nike International recently created a stir when they filed a patent infringement action against adidas in a Texas court. Nike identified several top adidas products that they believe infringe upon their patented Shox cushioning technology. These infringing products include shoes using adidas' a3 cushioning system, including the new Kevin Garnett signature shoe and its adidas_1 footwear. The Nike patent protects technical columnar design features of the Shox system that maximise stability and performance of the shoe and they claim that adidas has built shoes that use Nike's technology.
During the recent World Shoe Association Show in Las Vegas, Nike also served complaints on two other companies, Air Max Import and Export Inc. and Romeo and Juliette, who they believed infringed on their intellectual property rights and patents.
The protection of a design or style thus becomes paramount. Design protection specifically is for the external appearance of an article.
The South African Designs Act protects two types of designs — aesthetic designs and functional designs. An aesthetic design registration can be effective for a period of 15 years and a functional design registration for 10 years provided that the prescribed renewal fees are paid.
It is vital to register designs so as to have exclusive rights therein for a limited time period. According to intellectual property lawyer, Dr Richard Gerntholtz, of Dr Gerntholtz Inc, by doing this, new markets can be opened and explored and the costs of developing a new design can be recovered. The way to obtain protection for such intellectual property is to register a design at the Designs Office.
"If a design is not protected, the designer must not be frustrated if competitors copy and compete, often at a lower price," says Gerntholtz. "The designer can only blame himself. A law has been enacted by parliament to protect his rights and if he does not make use of it, he must suffer the consequences."
An important part of design registration is that if a person produces the same or similar article as covered by design registration, it is no defence to state that the infringer had not known of the design registration and did not copy that design registration. Thus even an innocent infringer would run the risk that the proprietor of a valid design registration can stop him.
In today's heavily competitive economy, on a local and global level, competitors are compelled to select optimum designs, particularly for new products. These designs generally originate from expensive and time-consuming design research and marketing development.
"An essential aspect of research and development is the protection of designs," states Gerntholtz. "This is generally by way of time-limited monopoly rights in the form of design protection for designs. The advantage of the monopoly rights is that it enables a manufacturer, a consultant, a researcher or a designer to get compensated for his design expenses before the improvement becomes public property."
The South African Designs Act even provides the opportunity to first test the market, and if the design of the product appears to be successful, then to register the design. Six months are allowed from the "release date". This is different to patent applications where the invention must be new on the original filing date of the patent application. However, it will not be possible to stop someone else from using the design in the meantime.
On a global level it is encouraging that laws are being enforced to protect the creators of various products. There has often been the perception that China does not care about counterfeits and will not act against manufacturers who make illegal copies. This perception seems to be eroding, particularly in light of a recent case dealing with golf club counterfeiters.
A golf club distributor and a retail golf shop owner in Shanghai were both convicted of selling counterfeit goods bearing registered trademarks of members of the US Golf Manufacturers Anti-Counterfeiting Working Group, consisting of some of the world's leading golf equipment manufacturers. The defendants received prison sentences of 3.5 years and 6 months respectively.
The convicted distributor, Chen Hui, was a major supplier of counterfeit golf clubs to shops in the Shanghai Mart. He was arrested by the Zhabei Public Security Bureau during a large-scale raid action targeting four major counterfeit golf product dealers in Shanghai.
Local Copying Capers
Copying of goods is, however, not limited to competing manufacturers, but also involves retail customers. This creates a dilemma for importers and manufacturers, as that involves their clients.
SA apparel manufacturer CAPESTORM is one of many companies who have found their products being imitated by competitors as well as retailers. CAPESTORM MD Andrew Baxter has previously told Sports Trader that he believes that passing off and direct copying is "an incestuous practice in SA" and one that "does little to stimulate creativity or innovation.
"This perspective is about business integrity, respect for intellectual property and creating an environment conducive to innovation and design excellence," he said.
Another example close to home is that of a product called Swingball, which Dunslaz Distributors has the exclusive right to distribute in SA. Due to its popularity, certain retail customers have brought in a product called Swing Ball, copying the game in principle.
"Swingball is a classic example for us, where suppliers and retailers are always looking to get a product as close to the original and get in on the action by using similar words. There are probably four variations of products resembling our product, but from a performance point of view, none of them come close," says Steve Gallienne of Dunslaz Distributorship.
"We often ask ourselves why retailers go the route of purchasing a product similar to Swingball, often at an inflated price, when we have created the demand for our product and have stock readily available to supply them. That is obviously their decision … but where we will, and have, taken action is if they import a product close to ours and use Swingball as the name of the product on the packaging," Gallienne states. "In the past two years we have had to take action against two retail groups for using our brands without the right thereto."
"Our Slazball is another example of people copying a great product — but instead of it being copied for the performance reason, it gets copied for the volume sales reason. Therefore, you can now buy at least four to five red tennis balls, superficially resembling the special ball designed as a training and confidence builder for cricket by Slazenger," he explains.
"Let's put it this way: anybody can go to the East and source a cheap tennis ball and make it red. However, go to the stores and squeeze Slazballs, which will be hard, and then squeeze the other options. They will lose their pressure over time. Can you believe that some retail groups do not carry Slazball, but buy a red tennis ball instead because of price? They clearly do not appreciate the true value of the product, namely as a training aid, well known by cricket coaches etc. This is a classic example of buying on price, appearance and not performance."
Gallienne firmly believes in supplying a performance product and a range with a specific purpose. "It should be a priority for all sports outlets to give consumers the correct products to enhance their performance — that is how we will grow our sportsmen and sportswomen to the levels required to one day qualify for national teams."
His bottom line is that they will protect their brands, as that is part of their responsibility to their principals, and that legal action should, and will, be taken against a supplier or retailer if they import counterfeit goods.
Making Your Mark
You have probably heard the words trade mark hundreds of times, but what exactly is a trade mark? If one looks at the definition of a trade mark according to the Trade Marks Act, it can be seen that it is a mark that distinguishes the same kind of goods or services of different parties.
According to Gerntholtz, although the Trade Marks Act states that the purpose of a trade mark is to distinguish between the products of various suppliers and the different products of a single supplier, the characteristic of indicating quality and type undoubtedly remains.
"If a customer buys a particular product in the supermarket or retailer where he resides and this has become known to him and accepted by him and if he then travels elsewhere, then he wants to know that he can buy the same product with the same quality and characteristics away from his home," says Gerntholtz. "This is achieved by buying a package bearing the same trade mark. He need not investigate the contents before purchase, he knows that he gets what he wants by merely selecting the particular trade mark."
Gerntholtz maintains that the trade mark has therefore developed into a value system and therefore licences can be granted to produce products bearing a particular trade mark although these are not produced by the proprietor of the trade mark. "What is important is that the product must be the product selected and controlled by the proprietor of the trade mark and that it must have the character and quality as determined by the proprietor of the trade mark."
A trade mark is registerable in various classes. Such registration does not provide protection in the idea of a particular product, but is merely a name associated with such a product. So, why should someone have his or her trade mark registered?
Without any trade mark registration, exclusive rights in a trade mark can only be obtained as a result of extensive use and consequent reputation.
If a competitor uses your unregistered trade mark, you can take action under common law in the form of a "passing off" action on the basis that your competitors have passed off their goods and services as being your goods or services. This can be very difficult to prove and can land up being a very expensive process.
If you register your trade mark, your task will be a much easier one. As Gerntholtz points out, you do not need to prove extensive use, and mere use by a competitor of your trade mark (or a confusingly similar trade mark) on goods or services covered by your registration of the same kind will put you in a position to obtain a court order forbidding a competitor from infringing your trade mark rights. This is a far cheaper route than a passing off action.
While it is impossible to go into great detail pertaining to all the legal rules and procedures relating to intellectual property law, it is important to remember that you have your rights, and if you comply with various procedures, your product can be protected.
Do not hesitate to contact your nearest patent attorney.
Red light for grey imports
According to the Consumer Affairs Committee of the Department of Trade and Industry parallel importation (grey goods) is legal — provided the consumer is informed that it did not come from the licensed distributor and the seller does not lay claim to any sponsorship or official status negotiated by the official licensee.
Those are the recommendations contained in a Consumer Alert issued by the DTI Consumer Affairs Committee in April.
The committee acknowledged that grey importers usually only enter a market once a demand had been created, and that they then share in the gains created by the licensed importer who spent money, time and effort in creating market share for the product. The committee also acknowledged that the licensed importer often has certain obligations to his principal regarding sales targets, promotions and the amount of goods imported per shipment … and the parallel importer not. The committee also acknowledged that parallel importers do not provide service and back-up facilities, and consequently licensed distributors are compelled to provide repair services on goods that they did not sell.
Yet, they say it is a legitimate business practice — provided that consumers are not exploited with the use of false information of non-disclosure.
"The following conditions must be met before the sale of parallel imports can be regarded as a legitimate business practice:
Dealers must indicate clearly in their warranty related literature and where appropriate on all sales receipts:
Whether any guarantee is supported by the manufacturers;
Whether the guarantee is supported by the seller only/or any organisation unrelated to the manufacturer or the licensed distributors network, specifying that the consumer may not be entitled to any rights, including any rights for repair or replacement against licensed dealers of the product or the manufacturer, except as provided by common law or statute;
If there is no guarantee.
Dealers who have been notified by, or on behalf of, the manufacturer that the goods being sold are in a form or state which is approved by the owner of the trade mark under which they are sold, must inform customers accordingly.
Retailers must refrain from representing goods as having a sponsorship, approval, status, guarantee, repair and back-up services, affiliation or connection, recognised by the proprietor of the trade mark under which they are sold."
An infringement will be a criminal offence, punishable by a fine not exceeding R200 000 or imprisonment for a period not exceeding five years, or both.
What's your view? Let us know via Email or Fax: 021 461 2549
---
October 2003
The retailer point of view
Nice and buoyant', 'Pretty positive', 'It's going well!' These are some of the upbeat comments from prominent retailers about the current state of the footwear market. The stability of the Rand and consequential lowering of prices are all hailed as contributors to strong athletic footwear sales
And going forward, imported prices are expected to come down even more, since several companies had taken forward cover at a higher exchange rate, predicts Anthony Dearling of Edgars. "Prices of some brands have already come down considerably," he says. "Those who are hungry for sales and the movers and shakers have seized the opportunity — but one has to take into account that smaller brands could have lower overheads and are not so tied to global cover by their principals. They can therefore be more accommodating."
"Remember, in the footwear industry we purchase well in advance at a certain price and can not adjust prices overnight," says Julian Frame of The Cross Trainer. "Two years ago, the exchange rate was in retailers' favour, now we have to work harder at getting margins."
Price points
Frame believes that the SA market is slightly overpriced compared to international markets, a sentiment shared by Gordon Howie, owner of the Runners' Group, who says: "I sometimes wish I could say to a customer: 'Look, this is a good product, it suits you … but I believe it is overpriced."
People are not prepared to pay top prices any more, adds Trevor Burger of Foschini Sport. Because there are excellent styles available from top brands at considerably lower prices, the R1 000 plus shoe is be-coming very difficult to shift.
"There has been a definite shift to consumers looking for value — especially when the prices went up," agrees Dearling. "Brands that are assembled locally and were able to pass on the price savings have done well. While you will always find someone who would be willing to pay R1 200 for a pair of branded shoes, we need that critical sweet spot price points for volume sales."
While most retailers interviewed were upbeat about the footwear market — "footwear is currently the best performer across all categories," says Arnold de Villiers of Sportsmans Warehouse — Howie is concerned about the technical running market.
"The running market is not vibrant — product is too expensive, through no fault of the retailer," he cautions. "Retailers often make far lower margins than suppliers — although they sell hundreds or thousands of pairs at a time, while they sell only one pair at a time.
"And there is not enough support for the independents from suppliers," he adds. He is especially concerned about distributors giving discounts to chain stores, but not independents. "They forget that the credibility factor is as important as volume sales. An independent retailer lends credibility to a brand choice through his knowledge and service. The independent often helps to build or establish a brand, but as soon as it gains recognition, the chains agree to take it — provided they get rebates. And because the principals expects the distributor to attain certain volumes, they make a deal with the chains."
Howie is also concerned that the relatively small local running market — only about 90 000 licensed runners — is being overtraded. He believes that the higher income runners are switching allegiance to cycling and gyms, while many other runners can not afford to pay for running shoes. "But, running is not dead and buried, just a little weary."
New brands
Which is why most retailers are welcoming the re-introduction of brands like Avia, Pony, Fila and Saucony into SA. "It will bring a bit of stimulation to the market," says Frame. "I've seen some of the ranges and they are new and fresh."
"The whole fashion move to retro and athletic casual styling will mean that brands like Pony, Fila and Skechers with a non-sporting heritage should do well," says Dearling. "Overseas they are very much in fashion and were well received at two recent international footwear shows."
The return of Saucony to the running market will be interesting, believes Howie. "It comes at a nice price and I like what the distributor said. Now I'd like to see it backed up by action."
But, cautions Burger, it is very difficult to get into the running market. "The question is: are the new brands here for the long term? In the short term I believe that they will have an impact, especially on price point. But, it is hard to say what the long term impact will be."
De Villiers is even more sceptical: "In SA, Fila and Pony are perceived as black brands. They are upmarket in Europe, but here they are aimed more at the athleisure, not sport, market. And Saucony would have to make an effort if it wants to make a serious comeback."
Brand trends
But, over the last few years, the local footwear market has shown that brands other than the Big Three CAN make an impact. Most retailers comment on the phenomenal growth of New Balance as a running brand. "They have regained the trust and confidence of the market, because they look after the independent with integrity and sound business principles," says Barry Sickle of Footgear.
"If you look at the Two Oceans and the Comrades, the top runners in the field would be wearing Asics and New Balance," says De Villiers. And that despite the fact that New Balance has a policy of not sponsoring individual athletes.
"There seems to be a backlash in the hard core running market against brands like NIKE, that are perceived to be fashion," adds Howie, who agrees that while Asics still dominates the long distance races, New Balance has gone back to regaining big market share with their competitive prices.
In the more fashion-orientated athleisure market, PUMA has made a very strong showing and shown brand acceptance by the market, says Burger. He believes that the adidas and PUMA family currently rule in Europe and England because their ranges have a strong fashion look. "That traditional tech fashion style is waning and people are buying more fashion lifestyle and retro styles."
Style trends
Burger predicts that adidas will next year do very well locally, because they have the popular fashion look. "The prices for next year are lower and the ranges I've seen are looking good. adidas has been struggling a bit against the perception that they are over-priced because they had taken high forward cover, but that should be back down with the new consignment.
"Surf brands are also very strong — Quiksilver has launched a footwear range that is breaking into the market with no resistance what so ever. SportScene is usually a good indicator of buying trends: when Reebok started making a comeback there, we soon saw that in the sports market as well. Now, Quiksilver has broken through in SportScene. The canvas look of Converse is also very big in SportScene."
Most retailers agree that there is a slight slowdown in NIKE sales, especially the higher priced styles ... although NIKE sales director Mark Gittelson says that their footwear sales are still showing positive growth, both in units and revenues.
The slim fashion look of a brand like Diesel is still very much in demand amongst teens, Sickle found. "All the youngsters aspire to brands like Diesel, as Sports Trader has written. People aspire to the current product at the malls, but can't always afford this first prized product. They then visit us to buy the brand at end of range styles and prices — but sometimes, because of our service levels, the opportunity arises to sell up."
The aspirational appeal of brands like Diesel and Skechers is even impacting on the authentic sports styles, adds Dearling. That is why the active casual styling of Pony, in particular, should do well, he predicts.
---
August 2006
Turn browsers into shoppers
The first 3 to 7 seconds after a consumer notices a product in a store is the moment of truth when a shopper can be converted into a buyer, says the multi-bilion US consumer product supplier Procter & Gamble
And the innovative retailer will convert that moment of truth into a moment of sale, explains Steven Platt, the Chicago-based director of the Platt Retail Institute, a US retail research, consulting and analytics firm.
He was in SA to do countrywide presentations to local retailers and marketers on behalf of Johnnic Communications' Newspaper Division and IBM.
That moment of truth is linked to another buzz-word, namely shoppability — or in plain language, the ease with which shoppers can buy in a store.
"Make it convenient for shoppers to get to your store, but once they are there, try and keep them there," says Platt.
If shoppers enjoy the time spent in your store, the chances increase that they will buy — conversely, if shoppers feel stressed while browsing in your store, they would want to get out of the door as fast as possible, probably without buying anything, and are not likely to return in the near future, if ever.
The following factors promote shopper stress, that lead to that let me get out of here feeling, says Platt:
Too many of the same kind of products, which make choice difficult;
Confusing promotions;
Ineffective graphics that do not tell people what they need to know;
Poor store navigation;
Bad service – or no service
Long lines at checkout... just like diners hate to wait for the bill after a good meal, a good shopping experience could be spoilt if a customer has to stand in a long queue — which could result in them dumping merchandise and leaving.
One way of combating confusing promotions and ineffective graphics is the use of digital communication panels, which allows the store owner to provide fast-changing marketing messages to shoppers in specific areas of a store.
The digital panels can, for instance, be used to provide information about the technical benefits of a product, show how a product has to be assembled or the different uses, make suggestions about shoes and apparel that go together, or simply entice shoppers to walk down aisles that they may have passed by.
"The technology facilitates the delivery of messages that retailers and brands can use to build customer relationship," says Platt. But, the placing of the screens are crucial, as hidden or too high screens are ineffective, and could even be dangerous.
"Research show that in-store advertising can change consumer behaviour — it all depends on the product, the placement of the advertising and the consumer you want to attract."
But, even before shoppers become buyers, they need to be convinced to become patrons of a particular store. Platt discussed several examples of new trends in US retailing where stores used innovative strategies to attract customers. All of these had a thread: they all offered their customers something different to their competitors.
Women's specific apparel and sportswear boutiques are, for instance, a successful trend that he identified — sales growth in these boutiques where women could browse for gym, yoga and other sportswear without being overwhelmed by the traditional male sports equipment, all outstripped the national average. Another successful group is Steve & Barry's University Sportswear – their 65 stores sell a wide range of inexpensive college teamwear at very low mark-ups, but exceptional volumes.
Innovative technology
A retailer needs to utilize all available information to ensure that his store meets all his customers' needs, consultant Jaco Barnard explained.
That includes the use of available technologies like security cameras ... instead of the security guard, the manager could use security cameras to monitor shopper behaviour. This can show whether shoppers linger and look, or make a bee-line for the door after dashing in; whether displays actually draw in people and which isles customers are most likely to walk down.
Global trends have shown, for instance, that value added services like the option to pay various bills at point of sale actually loses, rather than wins, customers. The trend is now to create a separate hub for these additional transactions to speed up the point of sale transactions.
A future development is self-help exit points to streamline the shopping experience even more, as customers have less time.
The US retail market
Retail trade accounted for 30% of US GDP in 2005 and the US economic downswing therefore also impacted on retail sales.
Although personal spending still comprises of more figures than one can take in at a glance ($8.7-trillion, compared to R839-bn in SA) the middle sector of the market is shrinking … shoppers are either favouring higher end stores (8.7% growth between 1999 and 2004 compared to 5.7% growth in the middle market) or are getting poorer and therefore spend less.
Stores traditionally aimed at the up-market sector, like Neiman Marcus, increased sales by 5.4%, while the industry average was 4.1%. Budget chain Wal-Marts, aimed at the middle sector, grew 2.3%.
The annual revenue posted by some of the top US retailers gives an indication of the enormity of the market:
Wal-Mart $249.7-bn
Kmart $19.1-bn
Sears, Roebuck: $30-bn
JC Penney $18.8-bn
Kohl's $13.4-bn
Nordstrom $7.7-bn
Neiman Marcus $3.8-bn
Compared to the vibrant SA apparel retail market, growth in apparel sales for March, April and May this year had been 0.5%, 0.5% and 0.2% respectively.
Some of the top apparel stores clocked the following sales in 2004 per store:
Gap $5.4-m
MarMaxx $7.3-m
Abercrombie&Fitch $ 2.7-m
Ann Taylor $2.7-m
---
June/ July 2009
What grows the swimming accessory market?
Swimming SA has cultivated about a million new swimmers through their Learn to Swim-programme. The Midmar Mile has become the world's biggest open water swimming event. In addition, swimming is the sporting code with the most athletes in the elite training squad of potential medal winners in the 2012 London Olympic Games. What impact have these developments made on the swimming accessory market? FANIE HEYNS investigated
Open water swimming growing
Open water swimming is one of the SA sports with the most spectacular growth. The Midmar Mile is the world's largest competitive open water swimming event. The inaugural event in 1974 attracted a mere 153 swimmers, but in 2009 more than 17 000 swimmers between the ages of 6-83 took part in one of the most popular events on the global open water circuit. Thirteen Olympians competed this year.
In 2009, there are 48 open water championships on the SA calendar.
At the age of six, Nathanael Brijlal this year achieved what many adult men only dream of. Nathanael completed the Midmar Mile in a time of 42 minutes and 20 seconds. Moreover, he swam the race in a faster time than many of the adult men who swam with him.
What is even more astounding is that it wasn't the first time that the little Durbanite from Longcroft Primary finished the 1 600 meter swim successfully. In 2008 he swam the race in 52 minutes and 35 seconds to become one of the youngest children ever to finish the event.
Nathanael's proud parents, Chris and Irene Brijlal, say that their second child is absolutely in love with the water and with swimming. And while his 13-year old brother, Fabian who is a record holder in the butterfly in his age group, is a big role model to Nathanael, they never really pressurized Nathanael to achieve his great accomplishments.
Little Nathanael who learned to swim at the age of 2 ½, is a great example of the level of swimming competency a child can reach at an early age, clearly something young Learn to Swim-debutants can aspire to.
(Source: Swimming South Africa).
Has Swimming SA's comprehensive Learn to Swim-programme — which has reached more than a million South Africans since its inception — become a formidable ally to the importers and manufacturers of swimming accessories in SA?
Or have these recreational swimmers, who barely use accessories of any sort — especially in poverty stricken rural areas —, had little affect on the sales columns of retailers of swimming accessories?
There is definitely an increase in recreational swimming, says Kevin de Wet, of De Wet Sports. The growth is evident in the increase in sales of the more basic swimming equipment like goggles, caps and swimming aids.
"Our sales in more specialised swimming equipment, traditionally used by competitive swimmers, have, however, remained the same. This leads me to believe that Learn to Swim has resulted in an increase in numbers of recreational swimmers, but not necessarily an increase in competitive swimmers," says De Wet.
Colin Farrer, sales director of LGB Distributors, local distributor of Zoggs, argues that the Learn to Swim-programme has benefited the swimming industry as a whole, and that it has positively impacted the sales in goggles and other accessories.
"We have certainly experienced an increase in demand for the Zoggs swimming goggle and accessory range and more recently, the introduction of training aids, inflatables and pool games," he says.
SA is following the Learn to Swim trends in both Europe and Australia — as more children are exposed to swimming, demand for certified instructors and swim schools will increase, which will filter through into a positive impact on sales overall, Farrer believes.
Nigel Prout of Opal Sport, who imports the Swimfit range, also applauds the influence of Learn to Swim for increasing sales of swimming accessories. "It has contributed to a growth in participation number in recreational as well as competitive swimming, judging by the number of swimmers at Level 1 and Level 2 galas and at open water events.
"The whole swimming market is growing. More people are seeing swimming as a non-impact sport and as a great way to exercise."
Jaco Kirsten, owner of Orbit Sports manufacturers in Port Elizabeth, says he has seen a strong growth in all the floating devices like floating boards, pull buoys and aqua belts.
"During the past six months our sales have almost doubled, but it is difficult to say for certain whether that could be attributed to the Learn to Swim programme, because we manufacture for various retailers and distributors who might supply the programme, but we do not have contact with them ourselves.
In 2008, imported products became increasingly expensive because of the weaker rand, and his business has progressively received more demands because he manufactures locally. He therefore did not have to spend an enormous amount on marketing, as the demand for his swimming products just grew naturally.
Andrew Wentzel, owner of W.E.T. Sports, says they had initially decided to carry some entry level swim goggles, as many of the name brands had more expensive options available. At first they brought in a range of Lion swim goggles (junior and senior) that would retail for no more than R30. These sold well and they then introduced a silicone swim goggle range for juniors and seniors, as well as a silicone swimming cap range.
"We found that the junior models in the silicone swim goggles, as well as the PVC, sold well. I am not sure where this ties in with the SA market and whether Learn to Swim has a direct influence on these sales, but we have found that there has definitely been growth in the junior market.
"We also sell many silicone swim caps — but this may be tied into the fact that you need a swim cap to swim at the gymnasium," said Wentzel.
Competitive market also growing
Although the higher-end competitive swimming market does not necessarily benefit from Learn to Swim-programmes, the swimming accessory market at this level is also growing. All suppliers of the international competitive brands acknowledge the amazing work done by the Learn to Swim-programme, particularly in rural areas, but attribute the growing demand for their products to other factors.
400 000 new swimmers per year
Drowning is still one of the major causes of accidental deaths for South Africans, with two South Africans passing away every day. Of the 652 recorded drowning deaths during 2007, nearly half were children under the age of 14.
Swimming SA has devised a Learn to Swim-course that trains adults to teach swimming and train every parent with methods to introduce their toddlers to the water. Simple techniques educate the child about water safety, help orientate him, or her, to safety in and around an aquatic environment and prepare the child with basic skills for survival and recovery in the event of an accident.
The Learn to Swim-unit is a Swimming SA operational division that ensures that everybody in SA has the opportunity to learn to swim.
Every adult who can swim is a potential swimming instructor, says Easlyn Young, manager of the Learn to Swim-programme. "Swimming SA has developed a strategy to harness swimming skills and expertise into a national collective to declare a war on drowning."
According to the annual report of Swimming SA, 428 160 SA learners were reached by the Learn to Swim-programme in 2007, or 720 schools in 129 districts.
According to Pippa Hitchins of Aqua Kids, who imports the training aids used in the Learn to Swim-programme, she has been receiving a lot of requests for quotes for new tenders, which indicates that the programme is growing.
One of the projects that form part of the Learn to Swim-programme is the aquatic development programme for educators, a joint venture between Swimming SA, Sport and Recreation SA and the Department of Education. It focuses on increasing the number of athletes of colour participating in aquatics at school competitions.
The programme targets 1 200 educators in all nine provinces at twelve identified sites. It includes an administrator, technical official and instructor course, as well as practical swimming lessons.
Swimming SA has also launched a programme entitled "From townships to Olympics" in Soweto. It is an initiative to scout for swimming talent, to inspire and to coach more swimmers from the townships towards the next Olympics.
(Source: Swimming SA).
"Common sense tells me that if there are additional swimmers, there must be additional sales of goggles and caps," says Peter Reeves of Leisure Golf, who sponsors Swimming SA through their Arena brand. "On the other hand, goggles and caps are not absolutely essential to being able to swim, if these additional swimmers from disadvantaged backgrounds are not able to purchase these items, the growth will be coming from other sources."
"We (at Speedo) are not seeing any real business impact from these new potential customers, and I suspect it is more a life skill being learnt, rather than any long term commitment to swimming. The general lack of any available facilities just shuts this door," says Paul Barrett-Smith, head of Speedo High Performance in SA.
The part of the market serviced by Learn to Swim are at the lower price points and entry level and are therefore serviced more by Game, Dion and Makro, which would supply cheaper versions of goggles and caps, adds Peter Baker of Action-ize, local distributor of TYR. "It is very difficult to ascertain to what degree there was a growth in accessory sales there.
"What the Learn to Swim-programme might have done was to increase the total market, but I do think there might have been a slight drop-off in competitive swimming, which is normal after the Olympic Games."
Joe Schoeman of Swimming International, importer of Finis swimming products, agrees that while the Learn to Swim-programme creates awareness amongst youngsters to start swimming, it does not necessarily grow accessory sales for higher-end brands. "It comes back to affordability and quality of the product," says Schoeman. "There are cheaper products available, which will probably generate better sales from this entry level market."
They have, however, experienced a huge increase in equipment sales, says Schoeman, but that was more from the advanced recreational and competitive swimmers.
The Learn to Swim-programme makes the youngsters water-safe, he continues. The next level that is required is to create awareness amongst coaches and swimmers about products that can assist them to improve to a competitive level and then utilising specific products that will assist one even more, he says.
What drives competitive growth?
With the exception of the last Olympic Games, SA's swimmers have been our top Olympic performers and they are regular medal winners at world events. Swimming has a sporting code with the highest number of potential medal winners in the elite squad selected to start high performance training in preparation for the 2012 Olympic Games in London (among them, Joe Schoeman's son Riaan).
Could the exposure of national stars and the impact of international events such as the Olympics and World Championships be major factors in boosting sales of competitive swimming products?
Barrett-Smith says they certainly pick up significant interest at the elite end of the market, but most of this product interest is for specialised technical equipment.
"Does it matter what Speedo goggles Michael Phelps wears? You bet! And we have seen very real growth at retail with this specific Speedsocket Mirror racing goggle," he says.
However, from a brand building and PR profile, it is impossible to put a real value to this sort of international and hero coverage.
"Having said that, I believe that the biggest single impact that has grown our Speedo business over the past few years has been the Discovery Health/Virgin Active membership package, which has made warm water, twelve months swimming, at an accessible cost, available to a much bigger market — including families," he says.
The increase in interest and participation in open water swimming has also significantly grown the market (see box "Open water swimming growing").
"Both these factors have positively impacted on the equipment sales, specifically on the Speedo goggle business. It has not only expanded, but there has also been an upgrading by consumers, who have demanded more of the technology that the Speedo product delivers."
Baker also experienced an increase in the sale of TYR swimming accessories, and more specifically, in the goggles that were purchased. He estimates that the growth was about 20-25%.
The use of new technology, as well as the styling and design, could have influenced consumers, so it is difficult to know what brought more feet through the door.
---
August 2002
What's the state of the independent retailer?
You may have heard the rumours: 'The independent retailer is dying' or: 'The independents can not compete against the chains.' We are happy to report that these rumours are false. Independent retailers are alive and well and living/trading in South Africa — although they are facing tough trading conditions, reports TRUDI DU TOIT
There is an increase in the number of independent retailers trading in South Africa. Distributors report growing trade with independents. And despite very tough trading conditions, independents still manage to make profits.
These are some of the findings of our snap survey amongst independent retailers and the distributors/manufacturers who supply them.
It came as no surprise, as several distributors have been telling us over the past year that their sales to independents are increasing. We have also noticed a steady increase in the number of independent retailers on our mailing list - the number of independents grew by 23% between the first quarter in 1999 to the first quarter of 2002.
This is in line with the trend in the UK where the growth in market share by smaller stores has overtaken that of the large chains. "The new retail elite is made up of focused specialists," according to the UK Top 500 - 2002 report published by the Retail Knowledge Bank.
A few years ago, as the TotalSports' and Sportsman's Warehouses mushroomed all over the country and the mass discount chains expanded their sport and outdoor ranges, we were often told that the days of the independent sport or outdoor retailer are numbered. There was a perception amongst some distributors that "if you're not in the chains, you're out of business."
(We are aware that there are several distributors who ONLY supply independents, but we are referring to perceived trends.)
This perception of the market was exacerbated by the closure of several well-known retailers who have been in business for many years. Because many distributors changed their marketing strategy to concentrate on getting products into the chains, the growing number of new independent stores often went by unnoticed.
But, as some distributors found out too late, it can be dangerous to have all your eggs in one basket. Chain stores can, and will, change their product ranges from time to time and no one is immune against a change in policy. Most analysts attributed the fall of the mighty Warnaco branded apparel group in the US to their policy of only concentrating on "key customers" and neglecting independents. And recently the major US chain Foot Locker (3 600 stores globally) reduced their range of high-end NIKE footwear to free shelf space - although NIKE still supplies 43% of Foot Locker's business.
During the past year or two we noticed a change in attitude. More and more distributors were telling us that they are now again marketing to independents and that their sales are growing. We therefore decided to test the perceptions and sent an email questionnaire to more than 400 distributors and independent retailers. We received responses from 17,5%.
The questionnaire was in two parts - one aimed at the suppliers to independent stores, the other at the independently owned retailers themselves. Thirty-five percent of the independents that responded are outdoor retailers, 31% sport retailers and 17% clothing and footwear specialists or retailers who stock a combination of sport and outdoor products.
Fifty-three percent of the suppliers distribute sport products, 38% clothing and footwear and 18% are suppliers of outdoor products. Most of these respondents (85%) are old hands with more than 5 years' experience and 44% have been trading for more than 15 years.
The suppliers who responded confirm our perception that there has been growth in sales to independents - 65% reported growth in their number of independent customers since 2000, with 12% of them experiencing more than 30% growth in independent customers over the past two years.
The largest group of suppliers (38%) sold most of their products to independents in 2001, with the number that sold more than half of their products to independents declining by 2% in 1st Quarter 2002. The percentage of suppliers that sell between 25-50% of their stock to independents have, however, grown from 15% to 21% between 2001 and 1st Quarter 2002.
The highest percentage of suppliers (34%) has more than 200 independent retailers as regular customers, but about a third supply fewer than 50 independents. The clothing and footwear and outdoor suppliers are stronger in the independent market than the sport product suppliers, with 54% and 33% respectively supplying more than 200 independent customers, compared to only 18% of the suppliers of sports products. More than 60% of the outdoor as well as clothing and footwear suppliers have more than 100 independent customers, while 42% of sports product suppliers have more than 100 independent customers.
The majority of suppliers - 68% - say they want to increase their number of independent customers, while only 9% want to limit the number of independents they supply.
The suppliers do, however, have one major problem with independent retailers: failure to pay on time! Seventy-nine percent said that late payment is one of the major problems they have with independents - while 67% said this was the single biggest problem in supplying independents.
The seasonal nature of sales in sport stores is one of the biggest reasons for cash flow problems, says an independent retailer. "We trade at a profit for 6 months of the year, and a loss for the other 6 months. Because mass merchandisers have such a variety of non-sports products, their cash flow is not so severely affected."
According to a distributor, the independents' cash flow problems are further exacerbated by some brands requiring retailers to purchase certain volumes of high-priced goods. "Many independents live from hand to mouth, with just enough business to make ends meet and not close down."
High rentals in shopping malls also contribute to cash flow problems, commented several retailers and suppliers. "One of the biggest problems is above inflation price increases by landlords in retail shopping malls - and the proliferation of shopping malls resulting in sales volumes being diluted, thereby eroding our profit," complains an independent outdoor retailer.
Interestingly, cash flow is not such a big problem for retailers - only 42% considered this a major problem, compared to 74% indicating that delays in delivery is a big problem.
Distributors also indicated the following problems with supplying independents: orders that are too small (59%), it involves too much work servicing small accounts (56%), there are too few independents willing to stock their products (41%) and it is easier to deal with large chains (38%).
As one manufacturer/distributor explains: "we have a very hungry factory, and small unit orders are deadly … and unless the independents all buy pretty similar styles from us, we cannot get the factory runs. Of course, if they do all buy the same, then we do not have enough product selection out there."
Several distributors mentioned that the time and money spent on packaging and mailing small orders to independents often cost more than the value of the order placed!
On the other hand, a few distributors expressed strong feelings (some unprintable!) about the problems they experience in dealing with chains — especially mass discounters — and stress that they much prefer dealing with independents. Suppliers mentioned problems like having to pay for shelf space and volume discounts negotiated by chain buyers.
"Chain stores are reluctant to take on new brands, they told us that due to tough trading conditions, they will only take on brands that they know well," was the experience of the importer of a new brand who distributes all his products via independents.
"It is easier to develop a relationship with independent dealers, as there is a lower risk of transfers or replacement of staff," adds a manufacturer/distributor. "If you are able to monitor the financial strength of your customer, you can build up a more stable customer base."
Independents ensure that there is a bigger diversity of stock in the large centres where the central buying policy of chains result in them stocking similar products. This helps sales, is the experience of another distributor.
Independents who specialise in certain product ranges are also better equipped to sell products that require specific knowledge, commented a specialist distributor.
For the retailers, on the other hand, delays in deliveries (74%), price increases (68%), incomplete orders (58%), lack of contact with agents or distributors (47%) and having to compete with chain stores who receive discounts on volume (42%) are major problems.
When asked to rate the problems they experience, the highest percentage of retailers (26%) identified lack of contact with the agent or distributor as well as delays in deliveries, as the number one problems. Sport retailers (43%) and clothing and footwear independents (50%) identified lack of contact with suppliers as the single biggest problem experienced. For most outdoor retailers (38%) delays in deliveries is the biggest problem, followed by lack of contact with agents and distributors (25%).
Only 16% of respondents are more than 75% happy with the service they receive from suppliers, while 32% are unhappy with the service more than half the time - although several commented how well certain suppliers treat them.
One independent believes "the poor service of agents is due to me being a small retailer and my orders being small - most of them only want large orders that result in bigger commissions."
Another complains that lack of planning by suppliers result in insufficient stock levels, which leads to delays with deliveries.
A small specialist retailer bemoans the fact that he is not notified of price increases in advance - but only hears about price increases when his order arrives, after he had quoted his customer the old price. "I am dependent on updates about product ranges (which I rarely receive) and catalogues (for which I have to ask continually)," he continues - adding that he receives excellent service from some suppliers, without whom he would not have been able to stay in business.
A supplier commented that a good sales rep is often very expensive and hard to come by - but an essential part of the team if you want to succeed in selling to independents.
Most retailers (74%) place their orders with agents, but lack of contact with agents can contribute to the fact that 63% just order repeats or place orders as customers ask for products. This results in distributors getting irritated with having to dispatch small orders.
The same percentage of outdoor retailers (71%) order products after seeing it advertised, as those who place orders with agents. Half of the clothing and footwear retailers, and 42% of all retail respondents place orders based on advertisements.
The Internet and Buying Groups are the two least favourite methods of placing orders (only 5%), while only 16% of the respondents are invited to "Road Shows" hosted by suppliers.
A common problem mentioned by several independents is trying to compete with chain store prices.
"The ground is not level: the prices we get are not the same as for the 'big boys'," complains one.
Another retailer from George recounts that he was forced to limit his mark-up on an expensive footwear brand to R10 in order to compete with a nearby outdoor chain store.
In another instance, the cost price plus transport costs he was quoted for tennis balls were higher than what he would have paid had he bought his stock at a mass merchandiser. "In fact, the agent suggested that I do that!" he writes with indignation.
"There will always be chain stores, but the suppliers need to look after the smaller buyer and not give such massive discounts that it becomes impossible for the smaller trader to compete," says another.
An independent sports dealer who did try to compete on price by selling some models of a major footwear brand at a lower price than a chain store in the same mall, was asked by the supplier to raise his prices. (Yes, price fixing is illegal!).
Futures buying (a major problem for 37% of independents) also came under fire. "This tends to encourage us to buy 'ex stock' where possible, which impacts on price," says an independent retailer.
Sport and outdoor retailers predominantly deal in imported stock, and the drop in the exchange rate therefore had a major impact on sales. "Because of the shaky Rand, the first half of this year was the worst in many years. This is due to the fact that 90% of all goods sold in my shop is imported," says a specialist sports retailer.
This is probably the reason why 16% independents reported up to a 10% profit loss during the 1st Quarter of 2002 — compared to only 5% who reported 0-5% loss during 2001. Although trading conditions were tough, 28% reported more than 15% profit growth during 2001 and the profits of 17% grew this much during the 1st Quarter of 2002. Despite the exchange rate, 33% reported up to 5% profit growth, compared to 28% in 2001.
Most (74%) of the retailers source their stock through a local distributor, with 16% ordering directly from manufacturers and 5% importing stock themselves. The latter is a bone of contention for many distributors who are then forced to compete with retailers who wholesale to the public.
On the other hand, "agents selling directly to the public has made it very difficult for independent retailers as customers can get a better price if they buy direct instead of going through the retailer," says a specialist sports retailer.
While the results of our survey is not a scientific analysis of the market, the responses, comments submitted and figures from our mailing list all show that the independent retailer is NOT a dying breed. And if suppliers want to build market share, they can not afford to ignore the independents. It is also obvious that some products are more suited to independents than chains — and vice versa. Perhaps these suppliers and independents should look after each other's interests.
---
Aug/ Sept 2009
Where have all the brands gone?
There are many questions surrounding the limited success of smaller team boot brands in SA, and why they struggle to establish a foothold in our sport mad environment. FANIE HEYNS investigates
There are four critical factors that determine sustainability in the team boot industry: brand consciousness, price consciousness, quality and the history of the brand, says well-known Johannesburg retailer Rashid Cassim
In last year's Sports Trader Directory we listed 24 well-known soccer and 13 rugby boot brands. Now, even though soccer fever is higher than ever before — and rising — the local team boot brand offering is shrinking. In Europe, names like Lotto, Diadora, Kappa and Umbro are well known to all football supporters, who enjoy a wide choice in brand styles, lasts and price points. Here, you'll battle to find these brands in a store.
Over the years, many boot brands have come and gone … over and over again. Lotto, Patrick and Kappa (they now only supply lifestyle) are the latest casualties.
It is true, a retailer cannot afford the luxury of stocking a brand if it is not going to sell — especially in difficult economic times. It is much easier to stock brands that sell themselves, rather than those that first need a lengthy introduction.
Yet, Sports Trader has had several calls from consumers seeking alternative boot brands — and other brands (not soccer and rugby) have been successfully introduced into the local market (see WHY do brands succeed? Tips from successful brand builders).
Surely, it will ultimately be to the detriment of the independent retail trade and consumers if every single store stocks the same boots from only the biggest three brands, and nothing else? Especially if new brands go the route of selling directly when they cannot find retail shelf space.
FANIE HEYNS asked a few prominent independent retailers selling soccer and rugby boots why there is so little diversity in the market:
Rashid Cassim, owner of the prominent Rashid Cassim Sport Megastore in Johannesburg
Tanga Govindsamy, owner of soccer specialist store TG Sports in Johannesburg
Casey Augostides, director of Cape Town's oldest soccer specialist store, Mikes Sport
Imtiaz Karodia, manager of Solly M Sport, Durban's biggest soccer stockist
Dirk Klopper, director of the big Klopper department store in Bloemfontein
Michael Brown, general manager of the Tekkie Town footwear and clothing chain
Keith McLaren of Desnic's Planet Sport in Kimberley
Martin Ferreira of Sportoria, the rugby specialist store based at Loftus Versfeld
Price consciousness
Pricing is a vital factor when smaller brands want to gain market-share, believes Tanga Govindsamy. "If the smaller brands want to gain a foothold and market share they will have to introduce a massive marketing campaign. Also, they will have to introduce a product of similar quality at a lower price to convince customers to move to their brand."
Rashid Cassim explains that while people watch football on TV and associate with the major teams and with the major players, they ultimately have to put their hands in their pockets to determine what they could afford. Most soccer fans would love to buy the boot that Christiano Ronaldo plays with, but when they put their hands in their pockets, they realise they don't have the cash to buy that boot. "Reebok supplies our cheapest entry-level boot in football, and it sells very, very well," he adds.
Solly M Sports in Durban stock a lot of Olympic and Admiral boots because of their entry-level prices, says Imtiaz Karodia. "Those entry-level boots that retail at R149 per pair, amount to 50% of our sales. If we did not stock it, we would definitely have lost out.
"We dramatically increased our market share by doing it. We are sensitive to accommodate people from less privileged communities. We also stock products from Nike, adidas and Puma that retail at between R299 and R399."
The motto of Desnics Planet Sport in Kimberley is: "We will meet and beat any price", says Keith McLaren. "If a customer walks in and demands a Diadora, we will try and walk the extra mile to get it for him.
"Price also plays a huge part in purchasing of boots, therefore Olympic boots are bought at a price point in our store." Olympic is one of their top four brands, along with adidas, Nike and Puma.
McLaren says the emerging black market in South Africa, and more specifically, in the Northern Cape, is a significant factor in the purchasing patterns. "About 60% of our customers are black and 40% white. All our customers are very brand conscious and follow the sport on TV. They want to emulate their heroes and therefore want a boot that has been marketed and branded and personalized by a super hero."
But, while the R2 000–3 000 price bracket of the boots worn by Ronaldo or Kaka is out of their range, the kids will buy a Nike or adidas boot in a lower bracket because they saw Ronaldo in a Nike-boot and Kaka wearing adidas," adds Klopper.
Brand consciousness
Do brand ambassadors like Christiano Ronaldo (Nike), Bryan Habana (adidas) and Victor Matfield (Puma), adored by literally thousands upon thousands of brand-conscious fans, keep these three brands largely in control of the SA team boot-market? Is it aggressive marketing campaigns from heavyweight-labels like Puma, adidas and Nike that led to their domination of the shelves?
Tanga Govindsamy says Nike, adidas and Puma control about 90% of the soccer boot market because these brands spend big money on advertising in print and on television, as well as on promotions and sponsorships of top players. (The three go together, because you need to tell the people who sell and buy your boots of the sponsorship through marketing and advertising — ed.).
Govindsamy says when Nike introduces a new boot, there is a massive campaign to advertise the new baby. There is high visibility in the stores, as well as advertising in general and specialist sport magazines. For example, when the Mercurial Vapour was introduced, the contracted players used the boots before the retailers even got the stock.
The association a brand has with a specific team also plays a role, he says, because the team kit and replica sponsor reaps the benefit when the fan's passion for the team translates into a passion for the brand that supports them.
Therefore fans that support the English Premier League side Manchester United, automatically identify with Nike. People following and supporting Chelsea, identify with adidas. South Africans throwing in their lot with Kaizer Chiefs, would associate with Nike, while Pirate-fans will identify with adidas.
According to Govindsamy adidas, Puma, Olympic and Asics boots were the flavour of the month and the year during the 1960's and 1970's. After SA's reintroduction into the international fold, Nike entered as a soccer brand and went on a massive advertising campaign.
Nike was not originally known as a soccer brand, but by acquiring the likes of Brazil, Manchester United and sponsoring top-athletes, they lured away fans from brands like Diadora or Lotto or Kappa, adds Casey Augostides. With their large turnover, they are able to spend lots of money on marketing and promoting their brand to build further demand from the consumer.
Nike has always spent millions on endorsing individual athletes at the top of their game across sporting codes, like Andre Agassi, Pete Sampras and Roger Federer in tennis and Tiger Woods in golf. That approach has made them well-known across all sporting codes and therefore the brand is instantly recognisable when a customer enters a store. This made it easy for them to become a massive player in the soccer market.
Fashion is important for the youth of today and they want to make a fashion statement with the boots they wear, thus adidas, Puma and Nike with their fashionable image dominate the market, says Keith McLaren. About 80% of their customers would order one of these three brands, while the other 20% would purchase another brand.
"My feeling is that the SA customers, especially those who are in need of footwear, are very conscious of the big brands," says Michael Brown. "That is because of the massive marketing campaigns built around Ronaldo, Tévez (who was recently transferred from Manchester United to Manchester City for a record amount) and Kaká (considered one of the best footballers of the modern generation), as well as rugby stars like Bakkies Botha, Victor Matifeld and Pierre Spies in the media," says Brown.
"What makes the difference is the Nike tick or the adidas 3 stripes," agrees Augostides. "The brand is what is in demand and that has been achieved through massive investment. Do you have any idea what adidas has to pay to be a partner of the FIFA World Cup — an absolute fortune! Work out what they spend in sponsorships of teams and athletes — you will stagger at the figures."
Dirk Klopper also believes the marketing ploy of using top sport stars to endorse specific product, is a master-stroke. "It has a massive spin-off. They are not dumping dollars in the sea," he says.
"As a marketing strategy it certainly is very effective. The SA fans are massively brand-conscious."
For example, when Lionel Messi scored for Barcelona in the final of the Champions League, he unveiled his F50 Adidas-boot and showed it to the fans and all the TV-viewers around the world. The whole marketing around the boots of Messi and the phrase every team needs a spark created a buzz in the market place and fans wanted to purchase that particular boot.
"When the Bafana Bafana midfielder Teko Modise started playing in the pink Nike Mercurial Vapor, the demand for that shoe grew," says Klopper. Of course, the impact of the player will be determined by his or her popularity in a specific community. For example, the marketing of the Reebok soccer boot endorsed by the French and Barcelona striker Thierry Henry is not a strong factor in the Free State, but in Europe and America Henry is a significant driving force for Reebok, he cautions.
But, on the other hand the Puma Jomo Sono Kings sells extremely well amongst the Solly M customers, in Durban, as it appeals to the black market where Sono was such a soccer legend.
Quality
"When fans buy a more expensive product, they want to know that it is quality, and they seek a referral, and experience has proved to them that adidas, Nike and Puma could fulfil both those conditions," says Dirk Klopper.
History and heritage
The history of a boot and brand also plays a significant role, says Rashid Cassim. Customers would like to buy a boot that has been tried and tested. That is why the Argentina-range of adidas, which has been in the market for more than thirty years, sells so well.
There are other boots at the same price-points, but customers stick to that boot because they know what they get. This particular boot has survived the test of time and has answered questions about quality and durability successfully.
A brand like Umbro also has a long history, but it has lost a bit of ground, he says, because of recent take-overs and management changes. (About five years ago Umbro was one of the top three brands in the local market — it is still one of the top brands in the UK, where they sponsor the national team.)
"The decision to stock additional brands or not, are dependent upon my past history with the brand, whether the goods you purchase will sell, and on current trends," adds Klopper. Retailers have to look at the history of a shoe and its track-record because it makes good business sense, he believes. You need to do your homework very properly, because if you purchase one set of one brand, at a hundred pairs in every number from 6-14, you are making a big capital investment. If there is no proper demand, you will take a financial knock. It's bad business."
What happens on the rugby field?
Until about seven years ago, most rugby players simply played with soccer boots — until Canterbury successfully introduced a rugby-specific range with a boot for every position. But then, ownership changes in SA resulted in Canterbury concentrating their marketing efforts on their apparel. Their rugby rival, Gilbert, experienced problems with quality and stock availability. And so the rugby market became the exclusive playing field of the big three.
Martin Ferreira, commercial director of Sportoria, says adidas outsold their closest competitors in the rugby market 3:1 in the past three seasons. "A combination between fashion, technology, marketing and heritage has created the demand for these brands and play a much bigger role these days. Players are definitely more fashion conscious and this makes it very difficult for other brands."
Ferreira says the reasons why Nike, adidas and Puma are the major performers, is because they have an integrated marketing and communications plan. Children and their parents will buy what their idols wear. And the advertisements in the printed media, TV as well as the appearance of players in their sponsored shoes at signing sessions, make the kids and their parents very aware of what the heroes wear.
"That integrated 360o marketing campaign is very evident when a boot is launched. The big brands market the strong stand-out features of the boot extremely well. "They highlight the technical advantages as well as how it would benefit the consumer, like the mid sole and the benefits for players running on the hard fields on the Highveld," he says.
"Apart from the integrated plan, the quality of the product as well as good supply and distributions chains are important," he adds.
Ferreira says that they encountered problems with the Gilbert shoe as they had distribution problems. Occasionally, there were also come-backs, because some customers complained about the heaviness of the boot. Technically, it could not compare to the quality of the Nike, adidas or Puma boot.
Gilbert would be the first to admit that they had problems with the quality and delivery of their boots a few seasons ago, but that has now been resolved, they say, and they are confident that the forward-specific true rugby boot they will be introducing for next season will be a whole different story.
Le Coq Sportif did not introduce the range and series that they distributed in Europe, in the SA market, says Ferreira. They catered for a lower income group. During his ten years at Loftus Versfeld, he has never once seen an advertisement of Le Coq Sportif at this famous ground.
"Demand and sales will determine variety in your shop," says Ferreira. "Procurement is largely based on history, sales, demand and the relations between you and the supplier."
Klopper concurs. You operate on demand, and if the demand is not strong enough, you have to sell that boot at a reduced price. They tried to experiment a couple of seasons ago with Gilbert, Mitre and Canterbury, and had limited success.
Michael Brown, general manager of Tekkie Town, says they had the same experience. They stocked a large range of lesser known rugby boot brands like Mizuno, Patrick and Canterbury in the past. "We had limited success with these brands and largely drove sales with lower price points in price-sensitive markets," he adds.
"When parents purchase boots, they are brand conscious," says Klopper. "They are strongly influenced by their kids, who are very particular and very specific: They want the boot with which Schalk Burger (Puma), or Matfield (Puma) or Habana (adidas) are running onto the field for the Green and Gold."
Frederic Michalak, the French international who represented his country in fifty tests and who was used in a marketing campaign for Le Coq Sportif, is a good player, but he might not have the same pulling power in luring kids to buy that rugby boot that Matfield might have, argues Klopper.
An aggressive campaign to increase market-share did benefit Puma a few years ago. They invested in local stars like Matfield, Burger, Bakkies Botha, Fourie du Preez and Jacque Fourie, all senior Springboks. It might have cost them a lot of money, but they gained ground because of that, he says.
---
October 2004
Why all trade routes lead to China
From next year, Chinese markets are set to open up considerable to foreign trade. NICOL DU TOIT sketches the background to this liberalisation of Chinese trade relations and the implications for our industry
For many years we have been warned about the Chinese dragon waking up. When this vast country with abundant natural resources and the world's biggest population of 1,3-bn people gets its act into gear, it will dominate the world.
Over the last few years it has become clear that this has started happening, particularly in our industry. When one talks to traders worldwide, you are impressed with the extent to which goods are now manufactured in China, compared to as recent as five years ago.
The Chinese economic growth rates are simply staggering. According to the US/Chinese Business council the Chinese Gross Domestic Product (GDP) grew by a cumulative average rate of more than 8% between 1998 and 2003. Over the same period, urban per capita income grew by 9% while unemployment remained between about 3 and 4% and the consumer price index averaged 0,1% per year.
Although a large proportion of the GDP is still generated internally, the rapid opening up of the Chinese economy makes it more and more accessible to the rest of the world and gives Chinese traders, and specifically manufacturers, opportunities to expand their businesses to the rest of the world. International trade figure growth rates are therefore even more staggering.
For the period 1998 to 2003, China's trade with the world grew by 21% annually compounded. This is impressive enough, but the growth rate for the last two years of the period was 22% and 37% respectively — not only is international trade rapidly accelerating, but the rate of acceleration is increasing rapidly.
The acceleration in the growth rate since 2001 can be attributed to China becoming a member of the World Trade Organisation (WTO) in September 2001. When agreement was reached after 15 years of negotiations, China agreed to a series of important commitments to open and liberalise its regime in accordance with WTO rules.
China will provide non-discriminatory treatment to all WTO members. All foreigners, including those not invested or registered in China, will be treated no less favourably than enterprises in China with respect to the right to trade.
China will eliminate dual pricing practices as well as differences in treatment accorded to goods produced for sale in China and those produced for export.
Price controls will not be used for purposes of affording protection to domestic industries or services providers.
China will revise its existing domestic laws to comply with the WTO Agreement and enact new legislation fully in compliance with the WTO Agreement.
China will not maintain or introduce any export subsidies on agricultural products.
Within three years (i.e. from 2005) all enterprises will have the right to import and export all goods and trade them throughout the customs territory with limited exceptions.
While China will reserve the right of exclusive state trading for certain products and maintain some restrictions on transportation and distribution of goods inside the country, many of the restrictions on foreign companies will be eliminated, or considerably eased, from 2005. In other areas, like the protection of intellectual property rights, China agreed to implement the TRIPS (Trade-related Aspects of Intellectual Property Rights) Agreement in full from 2001.
Until 2013 there will be a special Transitional Safeguard Me-chanism in cases where imports of products of Chinese origin cause, or threaten to cause, market disruption to the domestic producers of other WTO members.
Because of their close proximity to each other, China's list of top 10 trading partners remains dominated by countries from the Far East, but Western countries are making a significant impact. The US was in the second spot in 2003, followed by Germany in number 6.
The trade between SA and China were in excess of R23-bn in 2003, with China directly investing about R500-m in SA and SA investing more than R4-bn in China. SA is China's largest trading partner in Africa.
The impact on our industry is clearly visible when exports are rated by commodity — apparel in the 3rd position, toys and games in 4th and footwear in number 5.
Trade between SA and China can also be expected to start accelerating soon. Following a visit to SA by Chinese vice-president Zeng Qinghong in early July, the two countries jointly announced that they will launch Free Trade Agreement (FTA) negotiations. This was after SA acknowledged Taiwan as being part of China.
"In affirmation of the positive changes in the Chinese economy and China opening up greater links with the world, SA was pleased to announce its recognition of China's market economy status," said the communiqué. The two countries agreed to encourage and support mutual trade and investment and to expand cooperation in areas of mutual economic interest.
Referring to an earlier meeting with president Thabo Mbeki, the communiqué said that the two countries' leaders also expressed their determination to strengthen the cooperative South-South relationship and agreed to cooperate on issues pertaining to the World Trade Organisation to safeguard the interests of the developing world.
---
June 2007
Why buying groups work
In Europe, buying groups for independent retailers are growing in popularity. The ispo organisers, who hope to attract many such retail groups from across the world to a specialist running forum for retailers, explain the benefits
Smaller, specialist stores are growing in popularity in Europe. "A consumer doesn´t want to go to a big store to buy a specialist product because he knows that the product will most likely not be there and the service is also usually horrible… independent stores are more like family, normally also owned by people who participate in sport and who therefore understand the customer's needs, says José Moreno-Tapia, manager running performance, Messe München GmbH, the organisers of the ispo Shows.
But, as independent store owners all over the world know, a single, smaller store has one huge disadvantage compared to chains: lack of muscle to negotiate good margins and premium product from suppliers. This is one of the main reasons for the growing popularity of buying groups in Europe.
"A group of independents forming a buying group are in a stronger position to negotiate better prices with the brands," explains Thomas Grenot, international manager of retailer relations for ispo. "They can join forces to communicate better, for example, and set up a central office for the payment of suppliers, even salaries ... they can also produce a catalogue for their customers. Together they have more power."
This need not require a daunting structure - not if the main purpose is to get the same competitive buying prices as the big stores by buying together. "In Europe they also exchange valuable information through seminars on new materials, new technologies, customer service, etc, says Moreno-Tapia.
"The buying group members need to enter into an official contract with all the members — but it doesn't mean that they have to pay a fee," says Grenot. "You can imagine ten friends who each own one shop joining forces in order to get better prices, which they will get if they are buying for ten shops instead of one."
One of the arguments against buying groups has always been that this will result in independents all offering the same merchandise – even the same as the goods offered by chain stores and that they will lose their individual character.
A buying group does not, however, have to be as massive as the Intersport Group that has developed into ons of Europe's biggest retail chains, says Moreno-Tapia. "It is important for everyone to maintain their identity. The rules must be worked out at the start so that the members can have some leeway to cater for their customers' needs. "as a group they should keep a policy to warranty a healthy market not only for today but for tomorrow."
Besides, buying groups usually don't have serveral retailers in the same city, in order to offer their members some exlusivity, otherwise they will all have the same offer, the same prices and they will all competing against each other – which is not good for them, adds Grenot.
Members of a buying group can also save costs by clubbing together and sending representatives to international shows where they can make contact with other retail groups.
Moreno-Tapia is, for instance, planning an International Running Forum for ispo Winter 08, to which he wants to attract as many international running specialist retailers – including buying groups, as possible.
"At the running forum, they will, for instance be able to make contact with the German running specialist stores association, the Lex Group," says Moreno-Tapia. "Stores will have the chance to present their own situation in their countries under the Lex Group analysis. They will also see the reference brands on the international scene as well as the new trends coming."
Euretco, an industry organisation from Holland, will also be present to explain why they have been working together as a group. They co-operate closely with the Lex Group.
Ispo is prepared to contribute towards certain costs, for instance hotel accommodation, of delegates attending the Running Forum.
At shows like ispo you get an overview of new trends, new fibers and textile, the new colours "as it is the center of the sport market," adds Grenot. "Retailers can meet other retailers from all over the world and see new brands, and new sports like floorball at ispo Sport&Style 07."
---
June 2007
Why can't the industry stay organised?
Few people still in the industry will be able to remember a time when the SASGAM industry organisation did not exist. Now the business of this organisation is also being wound down — like so many industry organisations before it, reports TRUDI DU TOIT
Benefits offered by international organisations
UK Federation of Sports & Play Associations
The Federation of Sports & Play Associations is actually a federation of 16 different associations representing the different sectors of the sports and play industry — e.g. angling, golf, sport, and even affiliates like motorsport etc.
Each association has a chairman, it's own consitution, logo and holds regular meetings. These meetings provide an opportunity for members to meet and benefit from an exchange of views on the whole range of issues that affect their particular sector of the industry.
At head office, 8 staff members man the office and a board of 5 members make policy decisions.
Members enjoy benefits like discounts on various products and services, including car rental, parcel deliveries, get a headstart on tenders and business leads through a weekly analysis of planning applications and receive various statistics and research updates. They also offer a free business support service.
SGMA Sports (US)
The US Sporting Goods Manufacturers Association was founded more than 100 years ago to represent the US industry.
There are different levels of membership. Corporate members have access to the wide number of authoritative industry reports published quarterly, receive free publications and news releases, have free use of industry job-board and have free use of a press room to post new product and company news releases.
They also get access to SGMA Affinity Partner Benefits programs that includes good rates for shipping, communications, human resources, merchant credit card processing, education seminars and digital asset management.
STAG buying group (UK)
They offer 400 retail members the opportunity to get good product at competitive margins, which also benefit their supplier customers, and organise an annual buying show. They also partner with ispo to take members to the Munich show.
After more than seventy years, secretary Hector McRae is winding down the business of South Africa's longest lasting sports industry organisation: the SA Sports Goods Agents and Manufacturers (SASGAM) association.
According to notes kept by his father Angus McRae, the first secretary, the first meeting by members of the SA sporting goods industry was held on November 8th 1934, when golf and tennis ball suppliers formed a committee to address issues pertaining to the SA market. It was, however, only after the war, in 1949, that the SA Sports Goods Agents and Manufacturers committee, comprising "the majority of sports goods agents and manufacturers" was formed. SASGAM started with nine members, who in those days "ran" the industry — according to an early issue of Sports Trader, they even controlled "the supply as well as appointment of new retail sports traders and controlled the percentage mark ups on retail prices."
At that stage SASGAM was run like a gentleman's club: prospective members had to be proposed and seconded and were accepted only if they complied with a strict set of rules set out in a confidential Statement of Principals. In 1985 chairman Tex van Beuge explained that this was because the "organisation" started as a group of friends who came together to discuss mutual concerns and who had invested money into the ogranisation — they therefore only admitted new "friends" recommended by members.
"SASGAM as I knew it was a body of good fellowship that operated in a wonderful spirit of camaraderie," remembers Pat Wiltshire, who chaired SASGAM four times between 1977 and 1993 and several times served as vice-chairman. "SASGAM and its association was a forum in which we could promote contact and encourage a spirit of mutual understanding, where we could exchange opinions and marketing information."
In the 1990s
By 1990 SASGAM had grown to 19 members — with five of the original founding companies still involved, namely C Ambler-Smith Sales, Ajay Sports, Dunlop & Slazenger, Invincible and Tatlow & Pledger — and had become the voice of the industry.
SASGAM chair Brian Lidgey told Sports Trader in July 1990 that "along with SASTAF we are involved with the government on permit issues. Credit control and our world standard trade show are two of the major functions, but we have also endeavoured to raise funds for any deserving cause, which has included scholarships and contributing to funds designed to help those people who may have fallen on hard times.
"We are undertaking a market survey to professionally establish the size of the SA sports market and market shares."
But, gathering statistics remains a headache to today and a noble objective that had not been easy to realise.
"No one trusted the others and thought that the information could be used against them," says John Pledger, who served several terms as chairman during the 80s and 90s and also organised the SASGAM Show for several years. "This distrust continued until we devised a system that protected the information from being used against us or our individual members."
Tony O'Hagan, who chaired the organisation in the mid-1990s remembers SASGAM as a powerful instrument in the sports industry during that period. "It was the official sports body that liaised with government on issues such as duties and other related matters. It further encompassed a platform providing harmonization of trade policies and support to retailers," he says. "SASGAM's contribution to the sports industry included a highly successful trade show, which was of benefit particularly to rural and independent retailers."
The SASGAM Show
The first SASGAM Show was held in a function room in the Park Royal Hotel in Joubert Park in the 1960s, progressed tentatively to the Tollman Towers Hotel and finally flexed its muscles when it moved to the Old Milner Park show grounds and the Johannesburg National Exhibition Centre (Nasrec) in the mid-1990s.
The first SASGAM constitution was adopted as late as June 1995, when the committee of friends formally became an association with the emphasis in company membership, rather than individual members.
While SASGAM represented the suppliers, retailer interests were served by the SA Sports Traders' Federation (SASTAF), founded in 1948. The annual AGM, a jolly affair attended by 80-100 members, were held at venues like the Fish River Sun, and coincided with a SASGAM meeting so that joint sessions could be held. These conventions ended with sports days — golf and bowls — and plenty of partying.
"There was a fantastic sense of camaraderie and bridge building," Wiltshire recollects. "In those days the industry was like a pyramid with, in the left bottom corner SASGAM, in the right corner retailer body SAFTAF and at the top where the two arms meet, SASGI — the SA sporting goods industry."
The following quote by SASTAF committee member Rodney Lemkus from a 1984 Sports Trader illustrates that nothing much had changed in the retail industry: "I don't want to sound like a prophet of doom, but the general sports dealer is gripped in a vice between the mass merchants and the speciality shops, and our market is shrinking."
Wholesale buying group
These fears probably prompted some leading retailers to form a wholesale buying group, Intersport, which is still trading under this name in the UK. They opened their own warehouse and imported exclusive specialised products that they believed would enable them to compete with emerging mass discounters like the Hypermarkets … not surprisingly, this was not welcomed by the SASGAM members.
"That spelled the end of the retail association," is Wiltshire's belief. "There were too many independents with their own interests and key players in the retail association had their own business interests."
O'Hagan thinks SASTAF eventually became a club where common interests no longer existed. "In the days gone by, it had a strong independent retailer base, but the advent of the large chain stores altered all that. The objectives of the members were of a differing nature, resulting in the demise of SASTAF."
Pledger believes the problem was that there were too many traders, yet no-one was prepared to put in the time and effort to make the organisation work.
A year after SASTAF was disbanded in 1990, the National Sports Goods Association of SA (NSGA) — comprising both suppliers and retailers — was formed in June 1991. The aim of the new combined organisation was to "research trends and the needs of SA sport and to collate data, to promote increased sports participation through liaison with sporting bodies and to further develop SAs sporting goods business."
The emphasis was on the new role of the industry on the eve of South Africa's return to the international community.
Regional co-ordinating bodies were elected and the national committee, chaired by Hans Hawinkels of the Intersport buying group, included Tony O'Hagan (adidas) as vice-chair, Dave Stewart (Logans Sportsman's Warehouse), Bruce Baker (Brian Bands Wholesale), Andrew King (Kings Sport), Rupert Klemp, Martin Nefdt and Colin van Jaarsveldt (Dunlop/Slazenger).
Within the next four months, 51 companies joined at regional launches. The following year they held a conference to coincide with the Comrades Marathon and also sponsored a tennis series and held an AGM at the start of the SASGAM show.
In 1992 the NSGA under Colin van Jaarsveld attempted to co-ordinate the collection of data relating to market size (number of units coming onto the market) on about a dozen different categories of sporting goods — making market size figures available only to the firms submitting figures.
And then, suddenly, it was disbanded. The reason? The organisation's objectives were too high, national committee member Colin van Jaarsveldt wrote in Sports Trader of July/August 1993 … but, at a meeting held at the Wild Coast Sun, it was unanimously agreed that there was a real need to have a loosely knit body to collect industry statistics and to represent the sporting goods business at government level.
A working committee to represent the industry, suppliers and retailers, was elected during this meeting. There were three suppliers — Brian Lidgey (BLA Sport), Tony O'Hagan (adidas) and Colin van Jaarsveldt (Dunlop/Slazenger) — and three retail representatives Dave Stewart (Logans), Andy King (Kings Sports) and Alan Yates (Makro). They would address issues like possible affiliation with SASGAM and the inclusion of suppliers outside SASGAM.
A new retail body, the SA Sports Traders' Association (SASTA), was launched in May 1996 because of a perceived need "to address certain problems in the local sports industry" — among them illegitimate imports and unscrupulous wholesalers. They wanted to establish better communication between retailers and wholesalers, possibly create smaller sub-groups within the organisation and to confront the problem of grey imports. But, despite the laudable objectives, this association also just faded away.
In the meantime, SASGAM continued in its stride, admitting new member companies as prominent players emerged and in the late 1990s returned to the "new South Africa" — notably footwear brands establishing their own offices instead of distributing through licensees.
After the turn of the century the SASGAM member profile changed. Long-standing members — and many of the founder members — retired or resigned and instead of a body representing the sports equipment suppliers, the footwear brand members became the majority.
In many sporting codes there were more prominent suppliers outside SASGAM, than members, so that the association could no longer claim to speak on behalf of these industry sectors. The one exception was international footwear brands, where most of the top players were represented.
Profile changed
When Nike's Ross Smith became chairman in 2002 he announced an aggressive campaign to re-invent the organisation — making membership more representative of the industry, opening it up to all, providing statistics through employing discreet experts, involving retailers, lobbying government and fighting counterfeits, arranging an awards banquet, fund raising and community involvement. He also attempted to incorporate retailers.
But, during the last few years member attendance at meetings dwindled to the extent that there were often not a quorum present, not even to select a new chairperson. Only a handful of SASGAM members exhibited when the SASGAM Show was resurrected in 2005 after a seven year absence — and hardly any of them returned when the show was held again last year.
"SASGAM could have adapted by maintaining a community of fellowship and goodwill and trust, but the management style of certain chairmen alienated the hard core of members," says Wiltshire. "The dominance of footwear distributors caused a division between hardware and footwear members in SASGAM and alienated some older members."
But, any organization has to adapt to new trends and the evolution of the industry, says Tony O'Hagan, who retired in 2002. "It is of no value to become "frozen in the past".
His remedy for saving the organisation would have been: "Members need to sit around the table and identify the needs of all members, not just the powerful few, and from this foundation seek issues of common interest. The criteria for membership should be redefined as well as future objectives and goals."
While SASGAM was declining, another industry body — for the fishing tackle industry — was gaining a life of its own.
When SASGAM decided to join forces with the organisers of a new consumer show, the SuperSport Show, in 1999, the fishing tackle exhibitors objected because they did not want to market to consumers. Pledger was asked to leave SASGAM, because the SASGAM constitution (then) required all committee members to exhibit when the association supported a trade show.
Two former SASGAM exhibitors Mike Philip of The Kingfisher and Trevor Beamont of DAM and Silstar decided to hire a room at the Eskom Conference Centre in Johannesburg and invite their customers for a mini-show of their fishing tackle. This became a roller-coaster as more and more exhibitors clamoured to become part of the show. With forty-odd exhibitors vying for space, it was not a question of filling boots, but of fitting everyone in.
As the word spread, more and more retailers came to visit, view and place orders. Last year more than 400 buyers from more than 200 tackle stores attended.
By 2003 it became obvious that the show had willed a life of its own and that Mike Philip desperately needed help with organising what had grown into a vibrant trade show. A committee was formed to organise the next show — who became the fishing tackle industry committee a year later.
The organisation was named the SA Fishing Tackle Trade Association (SAFTTA) and several objectives were identified. Mike Philip asked to be excused from the committee and Alan Cunningham became chair and ex-officio show organiser.
Last year, Cunningham stepped down as chairman to devote more time to his business and John Pledger was elected as the new chairman of the new, more formalised industry body, renamed the SA Fishing Tackle Agents and Distributors association (SAFTAD).
Why was the fishing tackle organisation growing at a time when SASGAM was declining? "The fishing tackle members have lots of gees plus a willingness to cooperate to make things better," says Pledger. "Also we are working on the KISS system, we are keeping things totally uncomplicated."
There's an enthusiastic committee that just gets on with the job and there are no bickering between the members, says Cunningham.
---
August 2005
Why manufacturers look at new options
All across the world, manufacturers face one very basic problem: you need to be able to sell your products in order to survive. But, worldwide, buyers are looking towards the East when sourcing products. Brands that develop new footwear ranges all go East to find manufacturers. Not only to China, but also India, Vietnam, the Philippines and Malaysia – countries that will be the footwear manufacturers of the future
This is not because manufacturers elsewhere do not have the capacity or capability to do the work. It has just become a flowing trend that the local manufacturer can not stem.
For example: a few years ago I went on an AGOA internship to the US to learn how to benefit from the African growth export opportunities to the US. Initially, we did very well from exports to the US and Europe, but then the Rand strengthened and world markets had to be opened to China. We still get limited export orders, but compared to a few years ago, it has all but dried up.
The US-Aid Agency that ran the internship recently told me that they are currently not working with any footwear or clothing manufacturers from Africa, as it is simply not worthwhile trying to establish markets for them in the US.
It is clear that footwear and clothing manufacturers working outside the East will have to find other niche markets if they want to survive. But what happens to the workers they employ in these industries? It is obvious that they are not all going to become IT specialists overnight in order to find new jobs. Maybe the next generation will be trained for different kinds of work – but will the country be able to cope with the social problems created by the current generation of workers becoming redundant?
At Solz Dynamics we have a wonderful factory that can create many wonderful things. We are able to do very short runs at short notice. Market research shows a very high rate of customer satisfaction with the products we manufacture (85-100%). We currently employ 28 highly competent workers who depend on our ability to sell the products they manufacture. We have an Italian injection moulding machine with which we can manufacture high-quality rubber outsoles that can compete with international products.
Yet, we had no other option but to open our own retail outlets in order to maintain a market for the footwear and clothing we manufacture. Our extensive market research showed that the major reason why people buy a garment or footwear is because they saw it in a store or window – this is confirmed by other research. Therefore, if retailers do not stock your products, you can not grow a brand.
On the other hand, I understand that retailers are beholden to shareholders who look at their profit margins.
The problems facing local manufacturers are numerous and complex – and if I had the answers, I would have been rich.
Maybe the solution is for smaller manufacturers to start working together. To share capacity and to create a forum where they can discuss mutual concerns and tackle problems as a unified body.
---
June 2006
Why Massmart and Moresport may not merge
On 10 April 2006 the Competition Tribunal prohibited the merger between Massmart Holdings Ltd and Moresport Ltd, concluding that "the merger is likely to lead to a substantial prevention or lessening of competition in the national markets for the general retailing of sports and outdoor equipment." Their reasons for doing so were published on 12 May. NICOL DU TOIT summarises Judge Y Cassim's judgement
Last year, an announcement was made that Massmart planned to acquire 84,12% of the issued share capital of Moresport. According to the Competition Tribunal, the remaining shares would have remained vested in Kevin Hodgson (7,42%), Tony Haarburger (4,77%), Roy Ansel (1,69%) and Gerald Rubinstein (2%). 1% of Rubinstein's shares would vest in Kevin Lennett, 5% of Rubenstein's shares will vest in Bradley Moritz and 0,5% of Rubenstein's shares shall vest in Anthony Shaw.
While Massmart controls a number of chain stores, the tribunal stated that the divisions relevant to this transaction were Makro, Game and Dion, through which it retails sports and recreational goods to the value of about R675-m per year. Moresport sells sports and recreational goods through Sportsman's Warehouse, Outdoor Warehouse and Sports Shoe World.
The Competition Commission investigated the proposed merger and filed their recommendation to prohibit the transaction on 14 October 2005.
They argued that the merging parties competed with each other in a number of markets, but that there should be competition concerns only in relation to the retailing of general sports and outdoor equipment through national chains.
They estimated that Moresport had 30% share of the market for retailing of sports equipment through national chains, and Massmart 51%. In the outdoor equipment market they estimated that Moresport had 21% and Massmart 50% of the market.
The merging parties would therefore have 81% market share in sports and 71% in outdoor equipment if the merger went ahead.
The Competition Commission produced the following table to illustrate market shares of companies selling equipment through national chains:
| | | |
| --- | --- | --- |
| | Sport | Outdoor |
| Moresport | 30% | 21% |
| Massmart | 51% | 50% |
| Edon | 2% | |
| Foschini (Totalsports) | 8% | |
| Pick 'n Pay | 5% | |
| Trade Centre | 5% | |
| Trappers Trading | | 4% |
| Cape Union Mart | | 3% |
| Due South | | 2% |
| Total | 100% | 100% |
| Merged entity | 81% | 71% |
| Pre-merger HHI | 3 639 | 3 284 |
| Post-merger HHI | 6 638 | 5 548 |
| Change in HHI | 2 999 | 2 264 |
The HHI (Herfindahl-Hirschman Index) is an international measure of market concentration. The HHI number can range from close to zero to 10 000. The closer a market is to being a monopoly, the higher the market's concentration (and the lower its competition). If, for example, there were only one firm in an industry, that firm would have 100% market share, and the HHI would equal 10 000, indicating a monopoly. Or, if there were thousands of firms competing, each would have nearly 0% market share, and the HHI would be close to zero, indicating nearly perfect competition.
The U.S. Department of Justice considers a market with HHI of less than 1000 to be a competitive marketplace; a result of 1000–1800 to be a moderately concentrated marketplace; and a result of 1 800 or greater to be a highly concentrated marketplace.
As a general rule, mergers that increase the HHI by more than 100 points in concentrated markets raise antitrust concerns.
The proposed merger would have increased the HHI by more than 2 000 points in a highly concentrated marketplace (more than 3 000).
The merging parties' submission
The merging parties provided the following table to illustrate their perception of the market for sport and recreational equipment:
| | |
| --- | --- |
| Moresport | 18% |
| Massmart | 31% |
| Edcon | 1% |
| Foschini | 5% |
| Cape Union Mart | 4% |
| Pick 'n Pay | 3% |
| Trade Centre | 3% |
| The Pro Shop | 11% |
| Golfers Club | 4% |
| Mia's | 4% |
| Independents | 16% |
| Total | 100% |
They further argued that, once merged, their 49% market share would not lead to a lessening of competition because barriers of entry were low and customers had countervailing power.
They also submitted that Massmart was operating in the entry level market and Moresport in the middle-prime level market, without a significant overlap of products.
Evidence of rivalry
The tribunal considered various issues, one of which was the issue of the relevant market in which these firms are competing, or not competing. If they are currently competing, competition in the market would diminish once they have merged.
The tribunal conceded that it is not easy to define a market for anti-trust purposes, but that competition authorities seek to find evidence of rivalry between merging parties in order to determine whether two businesses are in the same market.
The tribunal found that the competitiveness report submitted by the merging parties themselves stated that they do compete with each other. It also found evidence to that effect in McGregor's Who Owns Whom, and in various internal documents of the merging parties, including the following:
The valuation of Moresport conducted by Nedbank — although, the tribunal said: "Mr Hodgson, the MD of Moresport, attempted to argue, unpersuasively, that the drafters of the valuation report were not necessarily qualified to identify Moresport's key competitors. This, despite the fact that the persons cited as authors of the report served as directors on the Board of Moresport, and the report was compiled in consultation with Moresport management."
Minutes of the Moresport merchandise strategic meetings — buyers were required to do formal monthly shop-outs of competitors (which included Massmart) and feed the information back into the strategic meetings.
The Massmart board approval report also stated that Moresport is a key competitor.
The tribunal found that evidence of key witnesses confirmed this.
Paul Stone, who was employed as an equipment buyer for Sportsmans Warehouse until 2005, testified that Massmart was considered to be a key competitor of Moresport. Willie Keet, who had been a buyer for the Massmart group, mainly for Game, until September 2005, testified they considered Moresport as their only true competitor in the sports equipment market.
Extent of overlap
The expert witness for the merging parties, James Hodge from Genesis-Analytics, submitted that the overlap between Massmart and Moresport was only at entry level, but this overlap was insignificant, and that Moresport was more focused on middle-prime level segments, while Massmart was focussed on entry level goods.
However, on being asked as to how he could determine the extent of the overlap and the difference between entry and the other levels, he replied "Look, with all due respect, I don't consider myself a sports expert" and "if we have a number of expert buyers here, they can make those judgements."
Kevin Hodgson, the CEO of Moresport, suggested that the extent of the overlap was at entry-level product and was only approximately 10% of Moresport's business.
Stone testified that the overlap between Massmart and Moresport was much more than 10%, sometimes reaching 80%, in the categories of which he had experience.
Keet confirms that the overlap is category dependant and that Massmart and Moresport have been moving closer together in their product offerings. He testified that prior to the merger between Game and Makro, Massmart's focus was on entry level, but that they had grown closer to Sportsman's Warehouse's prices over time.
Both Stone and Keet testified that Massmart and Moresport would enter the market in a certain product at a particular price point and that they strove to match or better the entry price points of one another in a particular product. Stone explained that while Moresport was always concerned about its margins, they would always match the entry price point of Massmart across all product categories, even if they dropped their margin requirements.
Keet confirmed that a buyer at Massmart would set the price of a product having regard to similar issues.
Brands
The merging parties submitted that the differences between the brands offered by Moresport and Massmart supports the contention that Moresport is in a different, more mid-prime level segment, than Massmart. In his testimony, Mark Lamberti, CEO of Massmart, said that one of the reasons for the difference in brands offered by the two companies was that certain suppliers would not supply Massdiscounters as part of their brand protection strategy.
Keet explained that it may have been the case in the past that Massmart could not access certain premium brands because some suppliers did not supply Massmart. However, that had changed over time. According to him — apart from a few premium brands in golf — Massmart had access to most international brands across the sports categories.
The tribunal requested the Commission to conduct a comparative shop-out between the merging parties and found that there was a large overlap in brands between Massmart and Moresport. They concluded that there is an overlap of brands, as well as an overlap in price points carried by the merging parties, in almost all categories.
Advertising
Hodge submitted on behalf of the merging parties that advertising was also a practical indicator of how Moresport differed from Massmart. According to him, there are sufficient differences between Massmart's advertising material and that of Moresport to warrant market segmentation for anti-trust purposes. The tribunal, however, found that the similarities suggest that the merging parties are targeting the same customer, utilising similar advertising strategies (e.g. price savings) and therefore compete in the same relevant market.
Store format, location and space
Hodge testified that the format and appearance of the Moresport stores distinguished them sufficiently from the Massmart stores for anti-trust purposes.
The tribunal found that the national footprint and store location of the Moresport stores follows the Massmart footprint. They may differ from each other in fixtures and fittings, but they both have a warehouse or discount feel to them, and are found near each other either in value marts or in malls.
Service levels
Hodge argued that the service levels offered at a Moresport store differed to a large extent from that of Massmart stores. Massmart stores offered a rudimentary service and were more a self-service type store. At Moresport, however, a customer would be able to knock in his cricket bat, test his golf putter and would receive the attention of a salesperson that would be able to advise him on the features and quality of the equipment that was being purchased.
Keet contested the level of service offered by Moresport. He stated that at his last visit to a Sportsman's Warehouse store, he was not offered any assistance in the manner submitted by the merging parties. In his view Moresport may have in the past offered that kind of service, but that is no longer the case. This is echoed in the due diligence report on Moresport which notes that service levels at most stores fell short.
The tribunal found that there may be some differences in the service levels of Moresport and Massmart. These differences are, however, not material.
Geographic market
The tribunal agreed with the Commission that the geographic market is a national market. Both parties have a national pricing policy, which they would not easily adjust proactively in response to an independent general retailer or an independent specialist.
Barriers to Entry
The Commission regarded the barriers to entry in the relevant market as being high. The Commission proceeded from the basis of assessing whether, in the event of a merger between the parties, entry into the relevant market could be timely, likely and sufficient to offset any potential anti-competitive effects of the merger. While evidence was led on the capital requirements of setting up a single store, the Commission viewed the barriers to entry of establishing a national chain as being high.
The Commission's view was supported by none other than the merging parties themselves. Lamberti testified as to the high barriers to entry of establishing a national chain, saying that it was expensive to build a new brand from scratch and that it took very long.
The tribunal agreed with the Commission that the merging parties are mass merchants that retail to individual consumers who have very little countervailing power.
Removal of a competitor
The tribunal said that during the proceedings both Lamberti and Hodgson were at pains to point out that post-merger, Moresport will be retained as a separate business that will still compete with Massmart. The tribunal said that it was "a somewhat curious position to hold – on the one hand arguing that they are in separate segments of the market and do not compete pre-merger, and then arguing that post-merger, they will continue to compete."
Both the merging parties acknowledged that the merger will enable them to source products together and save on transport costs because they would be shipping more volumes. Both source products at group level for distribution across their chains.
Keet, however, testified that even though Massmart has pursued a strategy of maintaining its chains as separate businesses, buyers would often travel together overseas to source products and buyers between the chains were required to sign price agreements in terms of which they would agree to sell a specific product at the same price.
The tribunal said that it is likely then that once the Moresport chains have been acquired by Massmart, price agreements would be concluded between the chains. They continued: "It is also likely that, as we have seen with Massmart after the merger with Game and Makro, that we would see a general upward movement in prices, either in the Moresport chains, or in the Massmart chains, or in both, since the competitive pressure they bring to bear on each other will have been removed."
The tribunal said that it is also likely that the merged entity, with its large volumes, extensive footprint and price leadership at entry price points, will utilise predatory pricing and targeted strategies against a new entrant, thereby increasing barriers for the new entrant and reducing the benefits of a new competitor for consumers.
The tribunal concluded that in their view, "the removal of a dynamic and effective national competitor to Massmart (or Moresport) in a market such as this is likely to lead to a substantial preventing or lessening of competition. The merged entity is likely to face very little competition from other existing national chains, due to the high barriers to entry in the relevant market. In the event of a price increase by the merged entity, consumers will have very few credible national general retailers to whom they could turn."
In conclusion, the tribunal found the merging parties' attempt to segment the market, unpersuasive. It says: "Not only is the methodology used to establish this unreliable and unusual, but it flies in the face of the evidence of rivalry between the firms, both as documented and through the oral evidence of those in the market."
It found that the merger will weaken the constraining effect of the rivalry between the firms in terms of the price ranges where they overlap, which the shop-outs show to be by no means trivial, and secondly, to lessen the extent to which lower prices constrain higher prices.
As far as barriers to entry are concerned, the tribunal concluded that while barriers to entry to small firms may not be high, this type of entry is not likely to constrain the merged firm's market power.
Entry into the market by a firm with an equivalent range of products and footprint to the merged firm is not likely in the short-term, although it is not wholly inconceivable. Thus, those likely to enter the market timeously will not be sufficient; those who may enter sufficiently, will not enter timeously. After a merger, a bigger entrant will be more reluctant when faced with the range of store brands, buying power and locational advantage available to the merged firm.
With the number of store brands available to it after a merger, the merged entity could target a new entrant with one of its brands in one area, without having to worry about pricing levels elsewhere. With six established brands, the merged firm would be able to position one brand as a fighting brand against an entrant.
In the tribunal's view, the merged firm would acquire the power to unilaterally exercise market power, and without significant constraint from existing players, or new entrants, for an appreciable time.
The tribunal concluded that "most importantly of all in our consideration, is that the merger would lead to the elimination of rivalry between the two largest, strongest, most committed, and experienced players in this market. It is a rivalry that to date has benefited consumers; post merger its elimination will lead to a substantial prevention and lessening of competition."
Competition authorities erred: Massmart
Having studied the reasons for the Competition Tribunal's prohibition of the acquisition of Moresport by Massmart (MSM), the parties and their advisors are of the view that the Competition Commission and the Tribunal have erred in their analysis and decisions, Massmart said.
Nevertheless, the parties have decided not to appeal and have decided to terminate all agreements with immediate effect.
Referring to the decisions of the competition authorities, Massmart said the Commission and the Tribunal had focused almost exclusively on the share of the "national market for the general retailing of sports and outdoor equipment" which the merged entity would have.
"The parties do not consider this market definition to be correct and are of the view that insufficient regard was given to the evidence surrounding the correct delineation of the market and the competitors therein, the current and proposed relative market positioning of the companies, and the imminent threats to the state of competition.
"The evidence before the Tribunal did not show how the merged entity could possibly undermine competition, or impinge negatively on any stakeholder, none of whom were opposed to the transaction," Massmart said.
It added: "Massmart would like to proceed with the appeal against the Tribunal's decision but, notwithstanding the accommodation by the Competition Appeal Court to hear the matter on 1 August 2006, the possibility exists that a ruling may only be handed down in September 2006 or later, 16 months or more after the transaction was entered into.
"While the parties respect the competition process as set out in the Competition Act, this passage of time was never contemplated by the parties, presenting the Sellers (Vestacor, Nedbank Private Equity and management) with a diminution of relative value and with challenges relating to the management and growth of Moresport within the constraints of a sale agreement.
"The sellers' position is now untenable and they have decided not to proceed with an appeal. In the circumstances the parties have, therefore, agreed to terminate all agreements between them."
30/05/2006 Source: I-Net Bridge
---
April 2007
Why SA is such a promising emerging market
SA already have a well-developed sporting goods retail industry — which is in a strong growth phase due to the emerging middle income township shopper
SA is one of the most promising emerging markets, says Osman Ayaz, MD for adidas Emerging Markets. "With black empowerment the purchasing power is becoming more decisive. You have a streamlined and well-developed retail base with world class players," he says.
"There are national chains who operate efficiently with high quality contents and good square meter performance and a very strong sporting goods industry."
Since the late 1990s South African townships have emerged as the new market for national retailers, with the result that shopping mall developers have been moving into the townships.
During the past year, for instance, five shopping malls have been erected in Soweto alone, says prof. André Ligthelm of the Bureau of Market Research of Unisa, who has compiled a research report titled The Impact Of Shopping Mall Development In Township Areas On Small Township Retailers.
Pre-1994 township shopping was limited to small convenience stores selling basic goods to relatively low income consumers, with most people shopping closer to work outside the township. A study commissioned by the City of Johannesburg in 2004 found that Soweto households spent only 25 % of their retail expenditure at outlets located within Soweto.
Since the middle of the 1990s many township consumers have progressed to a middle-income group resulting in a substantial increase in consumer spending, says prof. Lighthelm.
A recent survey by Glue Metric shows that almost three quarters of these middle-income earners in townships either plan to live there for some time (29%) or regard the township areas as their home without any intention of moving (43%).
With the growth in township malls, those that move up the social and income ladder will to a large extent start redirecting their expenditure to township malls, says prof. Ligthelm. "The mall development also holds substantial benefits to the less affluent township consumers who will have access to a greater variety of lower priced goods."
While there is a highly developed sporting infrastructure in SA, there is a lot of room for development in the rest of Africa — since 2010 is punted as an African World Cup, this should result in a strong momentum for the whole continent, especially in Egypt and Senegal, says Ayaz.
He believes there will be a major European trade expansion into Africa after the significant reductions in world trade barriers in 2008.
In future, the most significant brand growth will come from emerging markets — although the US will remain a significant growth market for adidas.
"The growth in the emerging markets will be driven by China and maybe India," Ayaz continues, "but over the last two years the fastest growth in terms of sport participation and economics have been in Russia, Turkey and Brazil."
---
February 2005
Why the industry should develop a BEE Charter
Black Economic Empowerment (BEE) is now a fact of business life in SA. It is not just something politicians talk about and newspapers write about. It cannot be ignored, because it is the law, in particular the Broad-Based Black Empwerment Act, 2003. ANNELIZE VAN ROOYEN reports on the implications for the industry
The objectives of the Broad-Based Black Empowerment Act are to facilitate broad-based black economic empowerment by
(a)
promoting economic transformation in order to enable meaningful participation of black people in the economy;
(b)
achieving a substantial change in the racial composition of ownership and management structures and in the skilled occupations of existing and new enterprises;
(c)
increasing the extent to which communities, workers, cooperatives and other collective enterprises own and manage existing and new enterprises and increasing their access to economic activities, infrastructure and skills training;
Although the focus is now mainly on the big players in the economy, like the mining industry, the financial services sector, information and communication, tourism, agriculture, etc., every single business entity in SA —- large or small —- will sooner or later be asked to give reckoning of how they have incorporated the concept into their business.
This is also true for the sporting goods, outdoor and leisure industries.
Most people accept that BEE is a logical consequence of the decades of unfair laws and practices of the apartheid years and that it should be rectified. It is also clear that BEE is very high on the Government`s list of priorities and that they will not tolerate any dragging of the feet to comply with the regulations in this regard.
However, few people understand what these regulations are and how they can in practical terms be implemented.
BEE is seen as central to transformation and as a tool to alleviate poverty.
To this end a strategy was developed and guidelines determined in terms of which BEE could be implemented and measured.
Industry charters
In short, each sector of the economy, - private as well as public, - is required to adopt a charter with specific targets with regard to black ownership, management and employment equity.
The charter must adhere closely to the Codes of Good Practice published by the Government. Compliance with the charter will be measured by a scorecard for the specific sector.
Such a scorecard can obviously not apply equally to all business entities in a sector and is therefore based on a weighted average that enables companies to score points according to the seven criteria established in the original scorecard.
The good news is that compliance with an industry charter can be rewarded by the issuing of licences, concessions and other authorisations by government, parastatal and even private companies that buy goods or services from you. The bad news is ... we do not know yet, but it is certain that non-compliance will be penalised in the not too distant future.
The Act states that the Minister may issue Codes of Good Practice that may include guidelines for stakeholders in the relevant sectors to draw up transformation charters. This has already been done for some sectors, but many are still outstanding.
Although this is rather vague, it clearly points the way to the Department of Trade and Industry to provide guidelines.
A charter is a voluntary commitment agreed on by industry associations and defines criteria for the increase in black ownership, management and skills development for a period of ten years.
Developing a scorecard
An empowerment scorecard consists of seven criteria that an industry can identify whereby compliance with BEE is measured (see model below).
A business will be rated as follows:
0 - 40%: limited contributor to BEE
40 - 65%: satisfactory contributor to BEE
65 - 80%: Good contributor to BEE
Above 80%: Excellent contributor to BEE
Black-ownership and -shareholding
A black-owned enterprise is a business that is 50,1% owned by black persons and where there is substantial management control. The target for substantial management representation is 40% after a period of ten years from the time of the acceptance of the charter.
A black-empowered enterprise is at least 25.1% owned by black persons, also with substantial management control.
A black woman-owned enterprise is a business with at least 25.1% representation of black women within the black equity and management portion.
The simple terms in which the ideal of broad-based BEE is described above, in fact over-simplifies a huge and very complex issue, especially when it comes to the practical implementation thereof.
There are many areas of uncertainty and discontent with inconsistencies are voiced more and more frequently.
Skills development
Skills development and training is an issue closely related to BEE, and is therefore weighted heavily in a BEE scorecard.
The Government¹s strategy for promoting the development of skills, was the establishment of the Sector Education and Training Authorities (SETAs) to promote learnerships and training. It is a matter of concern for the Government that very few businesses make use of the SETAs to train their unskilled staff and that there are so few learnership qualifications available.
The scorecard is a contentious issue of BEE. It has been pointed out that the criteria cannot, and should not, be weighted similarly for all sectors and/or companies.
A major flaw in the charter/scorecard system is that the charters have no legal status. They do not bind the signatories to the charter in any way. They merely suggest an intention to realise the objectives of BEE.
Another factor is that the charters already adopted differ significantly in their interpretation of the Codes of Good Practice upon which they are based.
Measuring different business types
Should a small, family-owned retail enterprise, for instance, be measured by the same criteria as a listed company with more than 100 outlets?
Can a small manufacturer with less than ten workers be judged on the same point system as a multi-national brand that distributes imported goods.
The general feeling in other sectors is that this should clearly not be the case. It is true that small businesses can score points by using black-owned or black-empowered subcontractors (the Preferential Procurement criteria on the scorecard) but the big companies are financially in a better position to buy black managers or shareholders.
Implications for the industry
Keeping the structure of the sporting goods and outdoor industries in mind, consider for instance the following
Who can develop a charter?
Article 12 of the Broad-based Black Empowerment Act 2003 states that the Minister (of Trade and Industry) must be satisfied that the charter
(a)
has been developed by
major stakeholders
in that sector; and
(b)
advances the objectives of the Act.
The questions now arises: who are the major stakeholders in the sporting goods and outdoor industries ... and are they representative of the industry?
Would it not be possible for self-appointed stakeholders to hi-jack the charter to advance their own interests?
Moreover, how do you define the industry sector: retailers, distributors or manufacturers — all of them together, or should each grouping have their own charter?
Should outdoor and sporting goods be lumped together — or should different interest groups, for instance the fishing fraternity, identify their own major stakeholders?
Can importers and local manufacturers be measured by the same scorecard? One of the concerns already voiced by other sectors is that too little weight is being given to local content in the scorecard.
The last word has not been spoken about BEE. It would therefore be wise for all stakeholders in the industry to become involved with the formulating of an industry charter, before they are confronted with a fait accompli that they find hard to live with.
---
World Cup will protect SA ball retail market
The global interest generated by the 2010 FIFA World Cup and the Confederations Cup in a few months' time will protect the SA industry against the global slump, ball manufacturer Mikasa's manager of international sales for Africa and Asia said during a recent visit
The worldwide surge of interest in the SA football market generated by the 2010 FIFA World Cup should offer some protection to the SA market from the economic downturn experienced by the rest of the world, predicts an international expert who is especially upbeat about the local prospects for his brand.
The SA — and African — football market is predominantly hardground, to which Mikasa's hardy and durable laminated wound balls are ideally suited, says Ikuo Kobara, Japanese ball manufacturer Mikasa's manager of international sales in Asia and Africa.
One of biggest in Africa
SA is one of the biggest markets for Mikasa in Africa, along with Egypt and Morocco, and comprises about 2% of their global sales. Of the Mikasa balls sold in these three African countries, about 90% are hardground balls, with about 95% of those sold in SA being laminated.
While the heightened local interest generated by the SA hosting of the football world cup — starting in June this year with the 2009 FIFA Confederations Cup — will be a big stimulus for growth in the SA football market, this spotlight inevitably also attracts counterfeiters and a flood of entry level products.
But then, says Kobara, Mikasa is known in Africa for the lasting quality of their FIFA match-level balls, which the cheaper balls cannot match.
Volleyball pioneer
In Africa and Latin America Mikasa is known as manufacturer of football balls — In Europe and Asia the company is, however, known as the volleyball pioneer — a market they still dominate as the official ball supplier to the Federation Internationale de Volleyball (FIVB). They recently signed a new contract with the FIVB to make Mikasa's indoor and beach volleyballs the official game balls of all the FIVB tournaments until 2012, including the London Olympic Games.
Interestingly, landlocked countries like Germany and Switzerland are the top beach volleyball markets. "They'll create a court anywhere by bringing in sand," he explains. "They have even hosted huge international beach volleyball tournaments in the mountains."
Although an island like Japan has many beaches, beach volleyball is not the most popular sport there — baseball, followed by football, top the popularity stakes in Mikasa's home country.
In Africa volleyball has not achieved much growth, he says – except in Kenya where 30% of their sales are of volleyball. On the rest of the continent it is football first, second and third, although water polo is also a significant market for Mikasa in SA.
But, when the new Mikasa MVA200 (indoor volleyball) ball was launched at the Beijing Olympics with top rating TV exposure, calls from SA were among the flood asking for supplies of this new ball with the stable flight due to newly applied dimples and fewer panels. "The response was incredible, the calls never stopped. Suddenly, there was this worldwide volleyball euphoria," says Kobara.
Therefore, the interest that is bound to be generated by the 2010 FIFA World Cup should cushion the SA football market against the global consumer spend slowdown expected this year in reaction to the current worldwide economic crisis, he predicts.
Slump will not impact
He also does not expect the market crunch to have too much of a negative impact on Mikasa's production.
The Mikasa Corporation was established in 1917 in Hiroshima, Japan and some years later, they started manufacturing inflatable balls for sports like volleyball, basketball, football, water polo, handball, etc.
Since then they have become a worldwide dominant brand for the supply of football played on hard ground, for volleyball and water polo — the W6000W is the official game ball for all men's water polo competitions played under the auspices of FINA, while the W6009W is the official FINA ball in all their women's competitions.
As their balls are manufactured in Thailand, the expected rise in labour costs in China should have no effect on Mikasa's future pricing or delivery, although a global increase in the price of rubber due to the escalating price of petrol towards the end of 2008, could have an impact on prices.
Loyalty tradition
True to the loyalty tradition that became a symbol of Japanese business excellence, Kobara joined the Myojyo Rubber Industries Co. Ltd. (former name of the Mikasa Corporation) nineteen years ago when applying for his first job — and remained with them ever since.
This tradition of loyalty has been extended to their distributors. Nearly two decades ago when he was still a youngster mentored by his predecessor, Mr. Kitamura, Kobara had met Pat Wiltshire, and started dreaming of looking across Cape Town from the top of Table Mountain. A dream the weather finally permitted him to realise during his first visit to their one and only distributor in SA, Pat Wiltshire Sports.
---