Outdoor news:
February 2008
A fight for survival
Draft regulations on diving restrictions were gazetted on December 3, 2007 for public comment. These regulations indicated the intention by the Department of Environmental Affairs and Tourism (DEAT) to ban diving in five areas of the Cape coast — namely round Robben Island, Dyer Island and Bird Island, as well as two coastal areas, from Gansbaai to Quoin Point and at Cape Point
The proposed diving ban was viewed by the DEAT as an essential strategy to protect abalone in certain key areas where the stock is most likely to recover. Over the past decade the total allowable catch for abalone has been reduced annually from 615 tons in 1995 to a record low of 125 tons for the 2006/2007-season and an all time emergency low of 75 tons for 2007/2008.
Underwater Africa, an association of concerned divers, remains of the opinion that the diving ban in the proposed areas will most likely not be an effective measure to allow the recovery of the perlemoen stock.
Since Underwater Africa obtained an MCM report that no new personnel or extra finances will be allocated to the areas where diving will be banned, they are more convinced than before that these measures are intended to create the appearance that the minister is making a real difference in the war against perlemoen poaching, while that is most certainly not the case.
They believe the victims of the diving bans are law abiding citizens who are now banned from their recreational activities because the Minister's minions are unable or unwilling to confront the real problem. They complain that perlemoen poachers operate in broad daylight with impunity and boast about the ease with which they bribe and corrupt officials.
"We understand that this situation will continue since the successful anti-poaching initiatives such as Operation Neptune and the Green Courts have been disbanded," says Underwater Africa.
Effect on the diving industry
Every time Marine & Coastal Management (MCM) interferes with the diving industry, it has a huge negative affect, says Duncan Pattenden, owner of Orca Industries.
"We normally teach four full time diving courses over the December and early January school holidays. This season we taught one," he adds. "It seems that other dive schools are also experiencing a low holiday number.
"If it is the MCM's aim to put people out of work and close dive shops, they are doing a fine job. I cannot see any other reason for punishing the diving industry.
"It has been an uphill battle to educate MCM and the DEAT that, as with surfing, kite surfing and boogie boarding, scuba divers do not take from the sea. How do you explain to a non-sport diver (MCM) that we spend a fair amount of money just to swim underwater? Diving as a sport have great potential in Cape Town, with plenty of wrecks to explore and seals to play with.
"After many years of diving along the SA coast and sharing my experiences and love of the marine environment, I now feel betrayed by the very people I have supported and done business with.
"If MCM are serious about poaching, MCM should attack the poachers. If MCM would like the sport divers' support, MCM should work with and not against the sport divers."
Relaxation of the diving ban
The DEAT announced on January 28th this year that the diving ban aimed at protecting perlemoen stocks that came into effect on 1st February, would be relaxed and drivers would continue to be allowed to practice their sport off the Cape of Good Hope Reserve (Cape Point).
Minister Marthinus van Schalkwyk said he would allow shore-based diving at Cape Point, but that even this would be subject to limitations. Diving is still banned around Robben, Dyer and Bird islands and from Gansbaai to Quoin Point, in an attempt to protect endangered perlemoen stocks.
Underwater Africa said that in the Cape Peninsula area, the blow to small businesses manufacturing wetsuits and selling diving equipment is lessened slightly by applying only limited restrictions in this area, as opposed to a total ban.
"While we are somewhat relieved that it is not a total ban, we remain opposed to new legislation that punishes law abiding citizens while existing legislation is not enforced," said Underwater Africa.
Asked about the lifting of the total ban, Pattenden said: "Right now, the damage has been done. The fact that we may now dive in the Cape Point Reserve, is not really the issue. With MCM threatening further operator, business and dive school permits for scuba diving, there is a serious lack of confidence and willingness for new divers, shops and instructors to invest in the sport. New instructors are the future of the sport.
"Why should anyone invest in becoming an instructor in a sport where the little profits you make are eaten up by permits? All that MCM has shown is that they are a loose cannon, throwing their powers around, seemingly without considering the consequences."
---
Surviving in harsh conditions:
special challenges for diving stores
Diving bans, chain store growth and unpredictable weather are some of the uncontrollable challenges that a diving specialist store faces. FANIE HEYNS asked Orca Industries how they coped.
Just when Orca Industries thought they had the answers, the shop owner in the Claremont Medical Centre changed the questions. And just when they thought they had the winning formula after recovering from that blow, the Department of Environmental Affairs and Tourism (DEAT) and Marine and Coastal Management (MCM) changed the rules.
In spite of these challenges, Duncan Pattenden, owner of Orca Industries in Claremont, is alive and well and so is his business.
This specialist diving and climbing store is thriving, despite the threat of chain stores engulfing independents and the potentially crippling consequences of the ban on diving in certain areas.
It could have been so much different if he had allowed his frustrations to paralyse him when he was given one month's notice and unceremoniously dumped on the pavement with his loyal staff and diving equipment.
Orca Industries started 17 years ago in the Claremont Medical Centre. After five years, Orca had grown a loyal customer and supplier base to the extent that they could call themselves self-sufficient. But just when they thought they had a winning formula… Kaboem! came the head butt.
The landlord of the centre informed them that Orca had nothing to do with the medical fraternity, gave them one months' notice and they landed on the pavement.
Instead of seeking a new landlord, who might have left them in the lurch again, Pattenden took the plunge by purchasing their own property in Claremont with enough space, parking and freedom to do what they wanted.
"Even though we had no money, the bank looked at our business plan and granted us the money and bond to get going. Twelve years later, we are still going strong, no overdraft and bond free."
"Secret of my success"
With so many mass chain stores competing for basic equipment, Orca made a decision to supply the industry with specialist equipment, training and service.
"Orca would not have gotten off the ground, never mind survive a major setback like losing our premises, had it not been for the dedicated staff that stuck with me through thick and thin," admits Pattenden. "Staff is the key to the success of any specialist store."
He looks for three attributes in a staff member – training, experience and certification. Being a highly decorated climber or diver does not automatically make the staff member a good salesman, however.
All staff members are expected to attend in-house and external training programs, they must multi-task and be able to deal with all three departments, hiking, climbing and diving."
Pattenden adds that without good product knowledge and experience, Orca would have lost the respect of many technically minded customers who demanded more than just text book mechanics.
There is also a trust that new staff members need to earn before even loyal customers would accept them, he says.
Diversify or die
The core of Pattenden's business is hiking, climbing and diving.
The diving department takes some strain during the winter, he says. There are three months of inactivity during the year. During these turbulent times in the diving industry where one or two days of hectic activity are followed by several weeks in which customers play hide and seek with the diving industry, Orca service the hiking and climbing industry.
Orca caters for all categories of climbers, — from traditional, sport to professionals — as well as the traditional hikers who love to walk in the Cederberg mountains or Constantia Nek.
At Orca Industries it is nothing unusual to see hikers or climbers give feedback to the staff about their trip to Kilimanjaro or Nepal and even watch a slide show with Pattenden and some of his fellow workers on how the trekker conquered Kilimanjaro.
"Climbing contribute about 20% to our turnover, hiking another 20% and diving 60%. But, without that 40% from hiking and climbing, I would not have been able to support the staff I have," says Pattenden.
He services both the recreational and commercial diving industries. They not only sell equipment to them, but also service their equipment.
"Sport divers form the bulk of our business and we have tourist and local divers as clients, but we concentrate more on our local divers.
"Diving is a very popular sport, but has taken a bit of bashing from the government," says Pattenden.
New challenges
Recently, Orca ventured into diving instruction, diving safaris as well as lectures on underwater photography.
"Underwater photography is what I do for fun and for a living," says Pattenden, whose lectures are attended by tourists as well as local divers. "The new digital cameras are easy to use, easy to teach and easy on the pocket.
"PADI, a diving training institution, have brought out a new special underwater photography course designed to teach the new underwater photographer all about his compact digital camera and how to get that perfect shot.
"For the more advanced photographer, Orca has established a support group of divers who share information about their photos," says Pattenden.
Orca's independent store survival guide
Ensure that your staff are well-trained and experienced in dealing with customers
Make sure your staff are knowledgeable about the specialist products they sell and have experience of their use
Earn the trust of customers by sharing your knowledge
Diversify to meet new challenges
Make your store a meeting point for customers with shared interests
---
April/ May 2009
Bass Fishing — the Buzz is still on
With boats and other expensive equipment, bass does not seem to be a likely fishing facet to thrive in tough economic times. Yet, the market for bass remains remarkably good, reports EUGENE KRUGER
*
The annual SA Fishing Tackle Agents & Distributors (SAFTAD) show last August experienced one of its best years ever, even though the international financial world — rudely awakened by a liquidity collapse brought about by irresponsible loan practices by major credit corporations — was awash with dire predictions about a world recession.
But, the tackle trade was on a high, and for many observers two facets of the freshwater recreational fishing sector made mega here I am statements, namely bass fishing and specimen carp fishing. Of the two, the bassing sector received the most attention, simply by virtue of the fact that it receives far more media coverage (it also has the most toys).
With the bass facet obviously gaining in popularity — just about month by month — the supply side took note of the financial situation and the major players in the bass fishing industry sharpened their pencils, with forward gearing taking on an almost ominous meaning. Bass fishing, after all, requires not a small amount of financial outlay, no matter the level of skill or the intensity of participation.
Nevertheless, both the primary and secondary sectors — namely importer/wholesale and retail — enjoyed an excellent December season. January and February saw the seasonal dip in retail sales, but the outlook was buoyant for the April Easter period.
"With only 18 working days in April there were more than sufficient opportunities for anglers and their families to go fishing," it was said. What happens thereafter should follow the pattern that is experienced every year, namely a flattening of the sales curve, until the first days of spring.
Fact of the matter is that bass fishing has never enjoyed the level of social awareness that it enjoys today, with television coverage, radio programmes and a strong print media providing more than sufficient impetus to existing and potential bass anglers.
Bass tackle industry brimming with strong brands
Supporting this public awareness is a bass tackle industry brimming with all the well known and strong brands, while a host of new names has also appeared, with pro-duct emanating from Japanese and Chinese companies taking up ever increasing space alongside the traditional North American brands on retail shelves.
Concurrently with this influx of mostly high-end Japanese product, is the increasingly visible tackle from China. This is because access to China's huge production capacity is now ridiculously easy when compared to previous years.
In past years China's factories were only accessible via a closed network of agents. "But now you only have to attend one of their tackle shows and you have direct access to the factory," it is pointed out. "And what is more, the Chinese will make anything you want, even if it just a modification of an existing product."
In addition, the strong rand last year — of between R6-R7 against the US dollar —made it financially possible for many new players to enter the market.
"This made it easy for people with a passion for bass fishing — but perhaps with not a similar level of business acumen — to source and import product," Sports Trader was told.
Influx of new brands placed pressure on existing brands
The influx of new brands has certainly placed some pressure on existing brands, and with it comes even more pressure on pricing. The well-known and trusted brands are able to maintain themselves via support from traditional customers, who also have the financial means to continue putting their trust in brand names that are tried and tested over many years. But, new entries to bass fishing, who do not have the long exposure to the traditional brands, are far more likely to opt for an item that looks like the traditional brand, but costs up to a third less.
The forecast is now that the financial situation will have a most definite affect on not only the bass fishing trade, but on the recreational fishing trade across the board. This will be in addition to the usual seasonal fluctuations in demand inherent to the recreational fishing trade.
In bass fishing, for example, spring was always the traditional time to go bassing. This was because the fish were in the shallows to spawn and were easily accessible, and in addition required little skill and definitely no specific tackle to catch them. This has changed dramatically, however, with bass fishing now increasingly accepted as a year round activity.
Retailers carrying a significant volume of bass tackle are generally philosophical about the ups and downs in turnover that are experienced every year.
"We know that the winter months see fewer sales, particularly in the capital items such as rods and reels. What we do know is that terminal tackle is always in demand, and the trick is to keep sufficient stock levels while not over-loading the book," is a common comment.
Bass fishing has three generally well defined sectors in SA.
Firstly, there are those who own dedicated bass boats and participate in formal competition at club, provincial and national level.
Secondly, those who are purely recreational bassers and who also own boats, but not necessarily a dedicated bass boat — maybe a converted runabout — and who take part in open cash tournaments as the fancy takes them.
And then there is the vast army of bank anglers, all of whom are purely recreational anglers.
Bass tackle is also a fashion-driven product, open to deep fluctuations in demand for a certain item – a demand often driven according to the performance of the professional bass anglers on the US pro circuits. This personality- and performance-driven demand pertains to all the various skill levels in bass fishing, and can play havoc with forward orders.
Nevertheless, the hardcore basser knows what he wants and knows where to get it, and it is a truism that no matter what the cost, if the product is a proven bass catcher then it will be bought, and bought continuously.
"I am constantly surprised by the number of new products becoming available," says Duncan Murfin who edits the Gear Up section in SA BASS magazine.
Inherent buying power of bass angler
"Just as I think that the technical sophistication in rod, reel, line and lure design and manufacturing standard has reached saturation point, a new material is discovered or utilised, and we have yet another new model available," he adds.
Such is the inherent buying power of the specialist bass angler that this trend is continuing — as it has done for the past thirty or so years.
A downturn in actual sales is quite possible, given that job losses and tighter fiscal conditions at domestic level are starting to hurt across the board, but the image of bass fishing remains, and will continue to be, that of a highly desirable outdoor activity that enjoys a high level of social acceptance.
* Eugene Kruger is a freelance recreational angling journalist and consultant with 30 years' experience. He is a member of the International Committee of the International Game Fish Association.
---
October / November 2008
Diving industry: A lesson in resilience
The SA diving industry is facing just about every challenge in the book... and yet, many are thriving! reports FANIE HEYNS
If there is one industry that has had all the odds stacked against it, it is the diving trade. The increase in fuel prices over the past year would have discouraged divers from driving to dive spots, and the economic downturn that saw the national growth rate drop from 4.5% to just marginally over 3%, affected the spending patterns in the leisure industry.
Add to that regulations by Marine and Coastal Management, the influence of American training agencies, as well as the influx of cheaper equipment from the East, and you have a formidable collaboration of factors conspiring to shrink local diving markets, especially in the Western Cape.
Diving now also faces strong competition from activities such as kitesurfing, mountain biking, wakeboarding, and especially the boom in 4x4 bush travel.
Which just shows how resilient the diving market is.
In Gauteng, especially, the market still seems to be buoyant — thanks to the bigger purchasing power of customers in what is considered to be the economic hub of Africa. The close proximity of the Mozambican travel market has also assisted the highveld diving industry. In short, Gauteng services an unrestricted diving area.
Still buoyant
Mike Lomas, owner of Scuba Fourways in Gauteng, says he experienced growth in the sales of diving equipment of 10-15% annually over the last five years, until the middle of 2008. Since then, the economic downturn has caused a drop of almost 50% in his sales and dive trip bookings.
"Usually the leisure sector is the first to suffer when there is an economic downturn," he says. "People usually buy food and petrol as they are essential items, but they will cut down on the other non-essential elements, like leisure," says Lomas.
"As a Gauteng retail store, I have not been affected by any legislation. If anything, up until recently, the diving industry has experienced growth."
He says he is currently breaking even and expects to make a profit during the summer months.
His winter sales were helped by a steady growth in overseas divers coming to SA on holiday, particularly in our winter months.
For South Africans the Red Sea has been a particularly popular diving holiday destination and sometimes during the diving season from June-September, some people undertake two trips, in June and August, which is particularly beneficial to his business.
And yes, there is a growing interest in other adventure sports, but "we have always been in competition with other sports, so not much has changed there," says Lomas.
During the late 1990's, there was extremely rapid growth in the diving industry, to the extent that scuba was touted as one of the fastest growing sports in the world, says Rhys Couzyn, owner of Scuba Equipment Africa. That kind of growth is not sustainable and it was bound to slow down, but that doesn't necessarily mean that there are fewer divers.
Globally, the number of new divers being trained has probably declined slightly, but the sport is stable and the number of active divers both locally and globally is fairly consistent year to year, even if it is marginally down on the peak years.
"I think all sport and outdoor retailers felt a slowdown this winter and this is not related to decreased interest levels in diving. Secondly, since there is no industry-wide reporting of scuba sales, you never know if the changes you experience are as a result of lost or gained market share, or as a result of industry trends.
Many retailers enter market
"For that reason (and discounting the last volatile period), some retailers may feel that there is a decline in retail over the last five or so years, but at the same time, there are many new retailers that entered the market," says Couzyn. "I feel that the overall retail market is similar to previous years in real terms, but that it is possibly divided between more active retailers."
He says where Cape Town's diving industry used to essentially consist of three or four big retailers, that number has grown over the years and there are now at least a dozen shops competing for a slice of the same sized pie.
"The key is that we mustn't confuse growth rate with industry size. A zero growth rate represents a static industry size, not a declining industry size, so, while the growth rate has certainly declined, I feel the industry has been quite static over the last five years and has not actually dropped off."
Andrew Wentzel, owner of W.E.T. Sports Importers in Cape Town, importer of mainly snorkelling equipment, says that the diving market is much stronger in Johannesburg than in the Cape as there is more expendable income and they have access to unrestricted diving areas.
Legislation impact in Cape
He believes that legislation has had an impact in the Western Cape, as fewer people are interested in going diving for crayfish because of the shorter season, many laws and the fact that they are prohibited from diving in certain areas.
"I am sure the growing popularity of other adventure sports also have an impact, as many people would rather move to sports where they are not hampered by legislation," says Wentzel.
He believes most suppliers in the diving industry would have decreased their imports as the retail markets would have shrunk due to these shifts in the markets.
There has been a shift towards better quality equipment as the people who have remained in the industry are serious about diving and expect a better quality product.
Through the introduction of the up-market, value-for-money Aqualine Pro range, they have managed to increase their sales over the past five years, says Kevin de Wet, owner of De Wet Sports, a major player in the snorkelling market.
"In real terms, however, I believe diving sales have remained constant over this time- period," adds De Wet.
Interest steady
He says the interest in diving-related activities has remained steady over the past five years nationally, without any marked increase or decrease.
"In certain areas along our coastline we have noticed a drop in sales to recreational divers who buy snorkelling equipment for removing crayfish, shellfish and other fish.
"This decrease has, however, been offset by an increase in the number of holiday-makers that buy snorkelling equipment for pure leisure activities," he says.
Their top sellers are affordable snorkelling gear (masks, snorkels and fins) aimed specifically at the leisure market, he adds.
A Western Cape-based owner of a diving shop says despite the negative perception of the public concerning the diving ban on abalone, the closing of diving areas and permit procedures, there has not been less buying and selling of diving equipment in Cape Town.
As the shop owner, who agreed to be quoted on condition of anonymity, says: "The wholesalers may have the perception that there is a decrease in orders, but it is merely due to a shift in purchasing because everyone now has access to the manufacturing markets of the East and import under their own labels, instead of purchasing from local agents."
While local licensees import good quality diving gear, some cheap goods from the East are nasty, with fins breaking due to the blades being manufactured from recycled plastics, adds the shop owner.
Monty Guest, chairman of Underwater Africa, however, warns against the impression created indirectly that businesses are thriving, when, in fact, they are only absorbing the customers of the one's that have crashed. He says many dive shops had closed down during the year.
Stores close
In Cape Town Dive Buddies, Scuba Afrique, Dive Exchange and Divers Choices closed down in the past eighteen months. This year Dive Dimension, The Whaler and Sea Forever closed down in KwaZulu Natal. Harmony Sub-Aqua Club in Virginia closed, and so did Algoa Bay Diving Club in Port Elizabeth, says Guest.
He attributes the decrease partly to the shortening of the crayfish seasons, the limit on diving activities to between 8am and 4pm, diving only on weekends and public holidays, and the ban on all recreational abalone diving.
He says that wetsuit manufacturers in the Western Cape were especially hard hit.
Other factors affecting the industry involve the legislation and a negative impression, like "bad press due to poaching and diving being linked in the media. It also makes retailers, training providers and operators think twice before expanding, employing, spending on marketing and advertising," says Guest.
Lately the fewer South African visitors to diving spots like Sodwana and Mozambique may be attributed to increased fuel prices, he says, as there is a small increase in visitors to Aliwal Shoal, which is 200km closer to Johannesburg.
Also, Sodwana has become less popular since the access to the Greater St Lucia Wetland Park has been taken over by Katanga, resulting in delays at the gates that are sometimes as long as ninety minutes.
"They will say that the number of visitors increased, but it is because they are now giving a better account of the number of visitors, as there is less corruption at the gate.
"But if you ask the operators, they will say all diving trips have decreased. They were hit hard by new concessions that came into effect this year and have also resulted in job losses due to massive increases in overhead costs.
Best winter in 25 years
David Cohen, owner of Divetek, has returned to the industry after an absence of a few years. His observation is that the potential market for scuba diving has not declined, but the diving industry has shown a downturn in terms of sales and training trips.
Some American training agencies that came to SA with a strong marketing drive now dominate the market. "This is ultimately the source of the problems as they have a MacDonald's approach to diving. Quick, easy courses with lots of home study and DVD's have replaced the lengthy and proper training of the past," he adds.
He says the diving industry had a drop out rate of 20% in the 1990's, compared to 95% today. "In the 1990's my dive schools would train between 40-60 new divers a month and employ about six staff members each. Today a local school is lucky to train ten divers a month," he adds.
Because of the big drop out factor, most of the people who are trained by the American agencies in SA are lost to the diving industry. The income that could have been acquired through their purchasing of advanced equipment, is lost in the process.
The fact that some importers have put on such a high margin that the gear have become difficult to afford, compounds the problem. A simple check on the web shows how high are the prices of some diving gear sold in SA, says Cohen.
He says most of the diving equipment currently available is manufactured in the same few factories, where a bling and a brand name are added. Yet, some branded regulators sell at a four times higher price than an identical item, due to the higher profile of the branding. This is disputed by importers of branded gear.
"But, if you import and manufacture the right gear at the right price and not expect the margins of years gone by, you can do very well," says Cohen. "Divetek is booming, and has had its most profitable winter in 25 years."
Blaming the law-enforcers
Some members of the industry are pretty outspoken about who to blame for their woes.
Erik Gobel, owner of Cape Town manufacturer Zero Industries, believes the market was decimated by the mismanagement of the perlemoen industry. There were poachers in the old days, but never on the current scale, which amounts to what he describes as a wholesale rape and plunder of the sea.
Furthermore, marine and coastal management has the mindset that recreational divers are raping and plundering under the water. It is exactly this mindset, and their attempts to control the industry with the permit system, which has contributed to the fact that his diving business went down by 50%.
"We had regular clients who were our guaranteed customers. We used to build up stock for the crayfish season and we had a limited labour force that made diving suits for us. That is all gone now."
"These guys at marine and coastal management have no vision. As soon as they see a guy with a cylinder on his shoulders entering the water, they think that he is a poacher. Until they change their mindset about recreational divers, we have no chance, as they think all divers enter the water with criminal intent."
Cape Town is no longer a diving destination, says Grant Whitford, owner of Blue Flash and a committee member of Underwater Africa. The diving industry in the Western Cape is therefore heavily dependent on locals diving and on the club diving scene for consistent growth.
Whitford guesses that the diving industry in Cape Town might have nosedived by between 40-50% over the past three years, although it is almost impossible to make an accurate assessment of the decrease in a slightly fragmented industry.
"The prime motivator for the negative trend in the diving industry over the past three years has been the attempts by marine and coastal management to get control of the industry. They have introduced a permit-system and the local divers have decreased as a result," says Whitford.
"On a nice Saturday morning many people will think about going diving, or play a game of golf, or ride a bike. But the hassle-factor is a big thing in sport. If they have to go through the hassle of obtaining a permit, they would rather do something else.
"The other thing that might have contributed to the decrease in diving, and specifically scuba diving, is the growth in other sports like kiteboard surfing. It is a massive sport and much bigger than scuba diving.
"But, through the efforts by marine and coastal management to try and control the sport by regulating it and endeavouring to make money out of it, the diving industry in Cape Town might have decreased by 40-50%.
"The diving industry in the rest of SA is not as adversely affected. In fact, it is fairly healthy, as tourists and most of the divers in Gauteng venture off to Sodwana and Mozambique," adds Whitford.
---
Feb/ Mar 2009
Fishing contributes billions to SA economy
A report released recently shows just how much the sport and recreational angling industry contributes to the SA economy
Recreational fishing contributed R18.8-bn to the SA economy in 2007. This was the finding by Prof Marius Leibold and Dr Colin J van Zyl who have compiled the report, The Economic Impact of Sport & Recreational Angling in the Republic of South Africa 2007, that was released last year. As the name suggests, its aim is to scientifically determine the overall economic impact and the strategic value of sport and recreational angling in SA — the findings do not take into account commercial fishing and only deals with those anglers who do not earn an income or make a living from fishing.
The report was commissioned by a project team of the SA Deep Sea Angling Association (SADSAA).
All types of affected participant groups are included, from the business supply industries through the recreational angler, purist sportsperson, to the commercial tourism operator — to capture all economic impacts. Unfortunately little feedback was received from the fishing tackle industry.
The report covers the following sectors of SA angling:
deep sea angling
light tackle boat angling
surf/shore angling
underwater angling
paddle craft angling
bank angling
fly fishing
artificial lure
bass angling
carp angling
match angling
casting and surf casting
Economic impacts measure the changes within an economy due to particular activities, and are usually measured in income, expenditures, tax revenues and jobs. There are three standard components: direct, indirect and induced impacts:
Direct impact is the economic impact result of initial expenditure, for example cost of a boat or fishing tackle. It includes both capital (fixed) costs and variable costs (expenditures) per annum.
Indirect impact measures how sales in one industry affect the various industries providing supplies and support, for example the tackle shop purchasing supplies.
Induced impact results from jobs created and salaries and wages paid by the directly and indirectly impacted industries.
The sum of the direct, indirect and induced effects is the total economic impact, while allowing for inflows (e.g. inward angling tourism and imported boats) and outflows (e.g. cross-border events and outward angling tourism), and with due care to avoid double counting of expenditures and impacts.
During 2007 the impact on the economy translated as following:
Direct economic impact: R15.9-bn
Indirect economic impact: R3.3-bn
Induced effects: R1.2-bn
Economic outflows: R1.6-bn
Economic inflows: R2,5-m
Total economic impact: R18.8-bn
Their findings concluded that 28 757, out of a total of 2.5-m participants in angling, are formal participants. A formal participant is someone who is a member or affiliated member of an organized club. Of the rest, the informal participants, 1.5-m are fresh water bank anglers, and 850 000 are surf/shore anglers. Deep sea angling's ratio of formal:informal participants is 30:70. The 2.5-m particpants equate to close to 5% of SA's population. The report defines a sport and recreational angler as a person who carries out angling activites at least once a year.
On the equipment side, the total estimated value of boats used for angling in SA during 2007 is R5.8-bn, of which R3.7-bn (64%) is used for deep sea angling. Fixed cost (durable) items total at R47,1-bn and depreciation is R6,12-bn (average of 13% p.a.). This includes the cost of boats, motor vehicles (4x4's, bakkies, other motorcars), trailers, caravans and engines required.
The average annual expenditure per participant (depreciation on fixed costs p.a. plus annual variable costs) to participate in angling during 2007 is R7 520 per person per annum. This calculation is done by dividing R18.8-bn by the R2.5-m formal and informal particpants.
The report estimates that angling is roughly 15 times bigger in economic impact that big game hunting and even bigger than rugby and cricket in SA combined, including the economic inflows from international competitions. This has not only been seen in SA — the US has reported that the economic impact of angling there is bigger than that of golf and tennis combined.
Based on its findings the report estimates that the total economic impact of sport and recreational angling, including deep sea angling, is at least 80% larger than that of commercial fishing in SA — similar to what is the case internationally.
Prof Leibold, PhD, is Professor in International Business Management and a private consultant. Dr Van Zyl, PhD, is an environment and tourism specialist and a private consultant.
Type of participants and their economic impact
Participants
Economic impact
Formal
Semi-affiliated
Informal
Total
Direct impact
Indirect impact
Induced impact
Outflow
Total
Deep sea angling
7 191
2 297
22 372
31 860
R5.330-m
R1.330-m
R550-m
R420-m
R6.8-bn
Surf/ shore angling
3 500
850 000
853 500
R1.938-m
R567-m
R261-m
R232-m
R2.5-bn
Light tackle boat angling
1 500
225
1 725
R275-m
R27-m
R11-m
R28-m
R285-m
Fresh water bank angling
6 141
1.5-m
1 506 141
R3.739-m
R374-m
R149-m
R344-m
R3.9-bn
Fly fishing
4 500
40 500
45 000
R2.899-m
R710-m
R137-m
R266-m
R3.5-bn
Artificial lure angling
1 200
10 800
12 000
R268-m
R47-m
R7-m
R55-m
R267-m
Bass angling
2 000
18 000
20 000
R1.129-m
R225-m
R36-m
R186-m
R1.2-bn
Carp angling
280
2 520
2 800
R224-m
R52-m
R10-m
R26-m
R260-m
Match angling
80
10
90
R21-m
R2-m
R1-m
R2-m
R22-m
Underwater angling
68
932
9 000
10 000
R50-m
R5-m
R3-m
R6-m
R52-m
---
August 2006
Growing, growing, growing... the outdoor market is booming
Outdoor has evolved into a competitive sports market and can no longer be classified as a leisure industry. Adventure sport events are becoming far too numerous to list — from multisport adventure races, to disciplines like mountainbiking, canoeing, orienteering, climbing, shooting, angling and even paintball all have regular tournaments. Not to discount the leisure market: 4x4 off-roaders are stocking up on gadgets and off-shore kiteboarders and surf-skiers are participating with passion
While there is widespread agreement that the SA outdoor market, and the activities associated with it, is growing, it seems to be an impossible task to try and pin the outdoor market size down in a few statistics.
It will be rare to find a store that caters for all the diverse activities, nor are the equipment for all the activities supplied through the same distributors.
The number of participants in an event is also not necessarily an indication of participation numbers in a specific sport: the gruelling nature of many of these multisport races taking place over hundreds of kilometers through daunting terrain would place the entrants on the other side of the normal adrenaline divide, yet they participate in their hundreds.
And there are more adventure sport races than what we have room to list. Think Cedarberg Challenge, Jeep/Mnisi Multisport Series, Table Mountain Challenge, Total Challenge, Xterra ... and many, many in-between.
And they attract more and more entrants. More than 900 mountainbikers entered the Cape Epic this year — an excrutiating 900km 16 000 vertical metres climb between Knysna and Cape Town.
South Africans are also holding their own when it comes to international adventure sports events. Martin Dreyer, for instance, won the 2006 Land Rover G4 Challenge — a 28-day marathon over four countries on two continents using Land Rovers, kayaks, mountainbikes, abseiling, jumaring and orienteering. And the SA canoeing team accomplished what our rugby players can only dream of: winning the Tri-nations in Australia.
But those are only the people at the top end of the adrenaline rush.
Fishing might be a more sedate pastime, but SA is also a major global player and has a representative on the world body for fishing — Confederation Internationale de la Pêche Sportive en Mer. Hymie Steyn is responsible for developing global sport fishing, especially amongst the youth. And we have been a popular venue for world angling events, most recently the FIPS World Game Fishing Competition in 2004.
There are more than 22 000 competitive sport anglers in SA, of which surf angling comprises about 11 500 (224 clubs), freshwater bank angling nearly 8 000 (198 clubs), artificial lure and fly fishing about 2 500 (78 clubs) and casting and surf casting less than 200 (12 clubs) – it is more difficult to estimate the number of recreation anglers. Some estimates say about a million, but if all the people who cast a rod while on their annual holiday are taken into account, the figure is probably much higher.
SA is also becoming a popular destination for climbers, says Christo Snyman of Adventure Inc and an international film crew recently made a documentary on the Cape mountains as a climbing destination.
And a spin-off from the devastating effect of the new arms law, is a growing interest in many new shooting-sport related activities like paintball, archery, bow hunting, pin shooting (like ten pin bowling) and airgun shooting with equipment sold through outdoor as well as arms and ammunition stores.
This healthy state of interest and diverse nature of activities is also reflected in the many outdoor stores selling equipment for these activities.
There are several chains (more than 10 stores) on our mailing list catering for the outdoor market. They would represent the following number of stores:
Outdoor chains (more than 10 stores):
Midas (fishing & camping)
240
Co-operatives
65
Cape Union Mart
49
Sportsmans Warehouse
18
Trappers Trading
18
Duesouth
18
Outdoor Warehouse
14
Total
419
And then there are also the large outdoor departments of Makro, Game, Dion and the Hypermarkets.
But, it is the independents who are the dominant players in certain outdoor activities as they usually specialize and employ experts in specific categories — but there are also many sport stores with outdoor categories or general stores that carry some fishing equipment.
The table below is a breakdown of the independent stores on our mailing list catering for the outdoor market.
Independent stores carrying outdoor equipment
Area
Some fishing*
Fishing specialist
Sport & outdoor
Outdoor
Firearms
Watersport
Total
Western Cape
119
33
48
30
26
21
277
North West
31
12
13
7
12
2
7
Northern Cape
31
9
12
3
13
0
68
Mpumalanga
90
35
25
23
14
0
187
Limpopo
61
20
25
8
16
0
130
KwaZulu Natal
117
41
29
17
30
7
241
Gauteng
213
109
46
62
65
20
515
Free State
45
12
20
10
18
1
106
Eastern Cape
66
19
22
10
26
5
148
Africa
35
7
22
11
7
0
82
Total
808
297
262
181
227
56
1 831
*Some fishing refers to stores that carry some fishing tackle (hooks etc), but not enough to be classified as a fishing specialist. The numbers can overlap with some other categories. The other categories refer to the one's the stores specialize in, but do not exclude other activities.
It can be assumed that most sport and outdoor stores nowadays stock some non-technical outdoor footwear and clothing, as well as many footwear and apparel specialists — about 2000 independent stockists would stock these.
But this is still not an accurate picture of the market share of the different activities. In the US market statistics abound. The char tbelow is from the 2005 SGMA Sports Participation Topline Report 2006 Edition (www.sgma.com) and reflects the current percentage market share of each activity, as well as growth over the past year and during the past 7 years.
It is interesting to note that freshwater angling attracts more than three times the number of participants as saltwater fishing – whereas surf angling is more popular in SA than freshwater angling. Fly fishing is on the decline in the US, whereas yellowfish is growing our fly fishing market.
Another interesting statistic is that artificial wall climbing is more popular than fly fishing, mountain biking and trail running… and that paintball attracts more participants than more than half of the outdoor participants.
What is even more interesting, is to see how the popularity of the different activities grew or declined. Recently — between 2004 and 2005, surfing grew a phenomenal 37% and boardsailing/windsurfing 28%. Other activities that drew considerably more participants in that period are: mountainbiking 21%, artificial wall climbing 16%, jetskiing 14.5%, kayaking 13%, sailing 9%, paintball 7.4%, tent camping and freshwater fishing 7%, and mountain/rock climbing 6.4%.
What is even more interesting, is to see that trail running is amongst the activities that dropped in participant numbers (-5%) and saltwater fishing (-3%) — although trail running grew 18% over the past 7 years.
Other activities with significant negative growth are: target shooting (-6%), hiking (-7%), fly fishing (-11%), scuba diving (-15.4%) and snorkeling (-15.5%).
The growth/decline of activities in the US over the past 7 years shows just how the market had changed. Activities that are today commonplace, only gained popularity during the last few years, as shown by the huge growth in participatyion in activities like kayaking (99%), surfing (90.5%), artificial wall climbing (89%), paintball (75%), wakeboarding (20%) and trail running (18%).
On the other hand, activities that constituted the bulk of the outdoor market in the 1990s, have lost market share, like hiking (-5%), camping (-6%), target shooting (-8%), freshwater fishing (-8%), fly fishing (-10%), tent camping (-9.5%), snorkeling (-11%), scuba diving (-16%), saltwater fishing (-17%), sailing (-21%) and mountainbiking (-25%).
Which brings us to the question everybody in the SA industry wants the answer to: how does it compare to the SA market? Unfortunately, we simply don't know — nor would anyone we approached want to start quoting statistics. Suffice to say that outdoor retailers who were prepared to hazard a guess believe that mountainbiking, trail running and other adventure sports are on the up... but that they do not want to go into specifics.
| Outdoor Activity | 2005 % share US market | % Change 2004 to 2005 | % Change 1998 to 2005 |
| --- | --- | --- | --- |
| Camping (all) | 14 | -4 | -6 |
| Fishing (Freshwater - Other) | 13 | 7 | -8 |
| Camping (Tent) | 12 | 7 | -10 |
| Hiking | 12 | -7 | -5 |
| Hunting (Shotgun/ Rifle) | 5 | n/a | |
| Target Shooting (Net) | 5 | -6 | -8 |
| Fishing (Saltwater) | 4 | -3 | -17 |
| Canoeing | 4 | 3 | -14 |
| Paintball | 3 | 7 | 75 |
| Snorkeling | 3 | -16 | -11 |
| Jet Skiing | 3 | 15 | -19 |
| Artificial Wall Climbing | 3 | 16 | 89 |
| Water Skiing | 2 | 7 | -28 |
| Kayaking | 2 | 13 | 99 |
| Archery | 2 | -2 | -7 |
| Fishing (Fly) | 2 | -11 | -10 |
| Mountain Biking | 2 | 21 | -25 |
| Trail Running | 2 | -5 | 18 |
| Sailing | 1 | 9 | -21 |
| Shooting (Trap/ Skeet) | 1 | 4 | 7 |
| Hunting (Bow) | 1 | 4 | n/a |
| Shooting (Sport/ Clays) | 1 | -8 | 8 |
| Scuba Diving | 1 | -15 | -16 |
| Wakeboarding | 1 | -5 | 20 |
| Surfing | 1 | 37 | 91 |
| Mountain/ Rock Climbing | 1 | 6 | 15 |
---
October / November 2008
Nemba and the local fishing tackle trade
Unless the fishing industry wakes up and becomes involved in organisations engaging with government on fishing legislation, many in the tackle trade could find themselves idly staring into the sunset soon.
EUGENE KRUGER*
explains why
The regulations pertaining to Threatened or Protected Species (TOPS) and the listed Alien and Invasive Species as contained in the National Environmental Management: Biodiversity Act (NEMBA) "will definitely impact very negatively on the industry", says John Pledger of Rapala VMC SA.
As chairman of the SA Fishing Tackle Agents and Distributers (SAFTAD) association, president of the SA Sport Anglers and Casting Confederation and ex-president of the South African Deep Sea Angling Association (SADSAA), he has a broad overview of issues affecting the fishing industry.
The pernicious limitations on freshwater fishing arises from the fact that in their zeal to protect the country's biodiversity, and to either eradicate or manage alien and invasive species, the Department of Environment Affairs and Tourism (DEAT) have placed fish under the same provisions that are designed to control terrestrials.
While the regulations also impact on saltwater species, it is the freshwater sector that will feel the brunt of the legislation. For example, the TOPS regulations decree that popular angling fish such as tigerfish and the largemouth yellowfish may not be fished for without a permit.
If ever there was a case of the law of unexpected consequences coming into force, it is the impact of NEMBA on recreational and sport angling, despite the fact that DEAT was forewarned that the regulations of the Act pertaining to terrestrials are totally impractical and nonsensical when applied to fishing. Nevertheless, DEAT ignored the advice and has subjected fish to the same regulations as terrestrials, and now under the TOPS regulations such species may only be fished for if the necessary permits are obtained.
Other non-angling species are listed but the implications for tigerfish and the largemouth yellowfish are severe. For example, to obtain a permit to fish for them the hapless angler has to make a written application that must be accompanied by the written consent of the land owner, and must also provide any other information that the issuing authority may require (such as a full environment impact assessment), and of course pay the fee, which is R100.
Bear in mind that this is to catch fish, despite the fact that no landowner owns the water in a river, nor the land it flows over, and certainly does not own the fish! In addition, in stark contrast to hunting, the angler cannot see the target.
The conditions for applying and obtaining such a permit make it just about impossible to obtain one. Imagine an angler fishing for yellowfish on the Vaal River or fishing for tigerfish on the Komati River, having to obtain the written permission of all the land owners his boat may pass!
What makes the TOPS regulations even more farcical is that certain articles of the Act makes provision for excluding marine and other aquatic species from certain forbidden hunting methods.
This clause makes it permissible to hunt (kill) a species (fish) using bait, but then under a sub-article forbids the hunting (killing) of species (fish) with the aid of artificial lures! All other angling activities involving listed species, for example, catch and release or holding in a keep net, require obtaining a permit as prescribed in NEMBA and its regulations.
While DEAT's general objectives regarding biodiversity and indigenous species are in line with international conservation practices, it must also be noted that more than 90% of all freshwater fishing is based on only three species, namely trout, carp and bass, and they are all listed as alien and/or invasive. Amongst a host of other limiting clauses, the regulations pertaining to these species decree that it is illegal to release them alive into any water without a permit. This flies in the face of the catch and release policy that is accepted ethical angling practice for recreational and specimen anglers, while in sport angling, catch, weigh and release is still the order of the day.
As was pointed out to DEAT at one of its public information sessions in 2005, it would be far easier to provide protection via limitations according to an angling license, as has been done in the past. The complication to this solution however, is that certain provinces no longer issue angling licenses.
The fishing tackle trade and organised sport angling appear loathe to be drawn into the issue, an understandable attitude given that the trade's mission in life is to operate profitable businesses, while that of organised angling is to organise competitions and select teams.
Nevertheless, both organisations depend on their customers and members to be able to go fishing unhindered by impractical legislation.
The SA Freshwater Bank Angling Federation (SAFBAF) is the only angling body affiliated to the SA Sport Angling and Casting Confederation that has done anything in reaction to the TOPS listing of NEMBA, and that was only to ban the weighing of any species of yellowfish at the 2008 bank angling nationals, a move that was not warmly received by the anglers.
Looking after the best interests of anglers is largely left to NGO's such as the Eco Care Trust, Federation of Southern African Flyfishers and the SA Bass Society.
Pledger agrees that there will be a "large impact" on the recreational fishing trade — which is also a major concern for SAFTAD. . "Guaranteed, it will lead to job losses," he points out, "loss in taxes from reduced turnover and profits, individuals moving away from the sport to other sports or recreational activities, a large loss in tourism, particularly in the areas where largemouth yellowfish are common, plus of course, the impact on the sale of recreational vehicles, boats, camping equipment, trailers and a whole host of other areas of business," he (correctly) adds.
While it would be difficult to substantiate, he is adamant that "it will definitely impact very negatively on the industry."
To date, however, it appears that the angling industry as a whole — both the primary supply side and the retail sector, to the final consumer, are merely disregarding the legislation and are carrying on as usual.
What the final outcome will be — if ever there will be one — remains an open and vexing question.
Aggravating the issue is the national government's perceived lack of concern, or capability, of looking after the country's waterways. It is after all the constitutional right of every SA citizen to have a clean, safe and healthy environment, which of course includes a healthy habitat for our fish stocks.
*Eugene Kruger is a freelance leisure angling journalist and consultant with some thirty years' experience. He is a member of the International Committee of the International Game Fish Association (IGFA).
One of the objectives of the SA Fishing Tackle Agents and Distributors (SAFTAD) association is "to become a strong negotiating body to represent the industry's case to the government and various authorities."
Contact Mary-Ann Hodgskin on Email: maryannh@mweb.co.za. Tel: 011 943 4921 or Cell: 083 795 5588
---
September 2007
New member for SAFTAD
The SA Fishing Tackle Agents and Distributors (SAFTAD) Committee gained a man of many talents as new member when David Levene of Stealth Fly Rods and Reels replaced Alan Cunningham of Purglas as committee member
Cunningham asked to be relieved of his SAFTAD committee duties after having served for four years, including three years as chairman and trade show organiser. He stepped down as chairman last year in order to devote more time to the family business, but agreed to stay on the committee for another year.
Levene is a keen fisherman, who like many in the industry, made his hobby his career when he started the Stealth Fly Rod & Reel Distributorship twenty years ago. "I retired twenty years ago and thought that I would spend my time fishing and playing golf ... but all my friends were working and it was no fun on my own," he explains.
Having started his career in 1952 working for his father at Greenfield and Levene, one of the largest hardware and fishing tackle traders in the country, the fishing tackle business is in his blood.
"I therefore thought a fly fishing distributorship would be a nice, clean, retirement hobby," says Levene, who soon found out that a business stays alive through growth (meaning, hard work!).
He returned to fishing after a detour in the fashion industry — "I like fashion!" he says with enthusiasm — working for Wolpe fashions and Elliott Footwear, distributors of Hush Puppy, from the 60's to the 80's.
He loves sport and played hooker for the Transvaal rugby team — including a game against the All Blacks in 1955 — but one of Levene's proudest achievements is that he was one of the three anglers, returning from a billfishing championship in Hawaii, who were instrumental in introducing the tag and release concept in SA. "We told Rudy van der Elst of the Oceanographic Research Institute what we witnessed in Hawaii and he then found a sponsor to take it further."
Levene is a honory life member of the Tranvaal Ski-boat Association and Sodwana Game Fishing — an aspect of fishing that he can sadly no longer participate in due to a leg injury. He is also a keen rock and surf angler. Needless to say, fly fishing remains a passion.
John Pledger, board member of Rapala VMC, was re-elected as chairman of the SAFTAD committee. He stressed that it is necessary for the tackle trade to become involved in all the issues relating to recreational angling legislation — by, for instance, employing experts to act on behalf of the trade. Other organised fishing bodies are already involved with discussions with government.
Once SAFTAD becomes a properly constituted body (it is in the process) membership fees will be levied that could help pay for the services of a scientific expert.
The other SAFTAD committee members — Howard Joscelyne of JW Apex, Abdullah Mia of S.I. Mias, Pieter Strobos of Angling Africa and Mark Pledger of Rapala VMC SA — were re-elected.
---
August / September 2008
Sustainability 1: Meet your new customer
Older, richer and more aware of the environment
The new generation shoppers care more and more how, where and by whom the clothing and footwear they buy are made — and how it will affect their well-being. They therefore don't want products that will kill the world. Are SA consumers aware of these issues? asks TRUDI DU TOIT
Sustainability is the new buzz-word in international retailing — this is the first article in our series on how this impacts on retailers, especially in clothing and footwear
Sustainability is an awkward word, but one you'll hear more and more often in future. International shows like MAGIC and the OutDoor Europe Show have considered it important enough to make this the theme of their shows. Marketers the world over are using it to describe a new kind of consumer awareness. A Google search identifies more than 30-m entries.
So, what is it?
Sustainability describes a way of looking at the environment that goes beyond mere global warming.
A sustainable product is manufactured without harming the environment with toxic chemicals, without causing undue wastage in the manufacturing process and is more durable so that it is not readily discarded to take up landfill space. It is manufactured in an ethical way, without leaving too big a carbon footprint (having too much flying involved).
The first objection anyone involved in trade will make is that this is a wonderful ideal, but products will be far too expensive to sell.
In Europe especially, traders and suppliers are very concerned about the fact that retail growth has just about come to a standstill. According to researchers TNS Retail Forward, non-automotive retail growth in Switzerland in 2007 was 1.3%, Germany 2.2% and in France 2.9%. The US was slightly up on 5.2%, but at Frierichshafen it sounded as if everybody was expecting the real US retail crunch still to come. In contrast, emerging companies — starting with SA on 7.9% up to Nigeria with 12.8% and Russia with 15.4% — are trading much more robustly.
Therefore: if you're already battling to sell, why make it even more difficult?
The interesting answer that is coming from researchers all over the world is that the new consumers WANT more sustainable products, and will pay for it (see below).
Rolf Pfeifer, a tourism expert who addressed a lecture series on sustainability at the OutDoor Show in Friedrichshafen, gave the example of a struggling hotel that became a trendy success when they turned environmentally friendly and marketed themselves as such.
"Ten years ago the customers were not yet ready, but they have become more critical the last few years and are better informed," Andreas Bartmann, owner of Germany's successful chain of Globetrotter outdoor stores, told a panel discussion at Friedrichshafen. "Customers now appreciate quality and are willing to pay for it. The retailer who wants to trade on economics only may as well close the doors now."
But, unlike the Greenies of the previous decade, today's sustainable customer is more driven by their own comfort and well-being than a passion to save the earth. They are not environmental activists, they are consumers who demand, and can afford, products that make them feel good (see below).
They don't want to feel guilty about child labour when wearing a R1 000 garment; they don't want chemicals used in the manufacturing of their footwear that will harm the workers; they don't want a disposable fashion item that will fall apart mid-season, they don't want to contribute to spoiling the pristine natural environment that gives them so much pleasure... and if they are in the process demanding exactly the kind of things that Al Gore pleads for, so much the better.
They have the confidence to ask questions about where and by whom garments havebeen manufactured. What's more, they can afford to pay for these products and this kind of lifestyle.
These discerning consumers are also older — the older generation is fast becoming the biggest age segment of the European population, while the 18-24 age group, still so popular with retailers and marketers, is shrinking. In addition, the older consumer of today is more active than ever before. "The 60-year old of today is the 50-year old of the past," says Prof. Edgar Kreilkamp, a freetime strategist from the University of Lüneburg.
The obvious objection a SA retailer will make is that it is fine for the sophisticated European and US markets — but the majority of the SA consumers can hardly afford the bare necessities and dare not think of luxuries. Besides, as the chart on the previous page shows, the majority of our population is still very young — below 35 — and do not show the same ageing trend as in Europe.
But, research from the UCT Unilever Institute of Strategic Marketing show that retailers who think like that are ignoring a market segment with an annual income of R300-bn. Although this 40+ urban consumer group only constitutes 6% of the population, they have 20% of the retail spending power in SA.
They dubbed these 40+ aged consumers, who fall into the LSM7 - LSM10 category, Prime Timers. They have the time and money to enjoy life and know what they want — namely, quality and a good lifestyle.
What makes them especially attractive to traders is that half of the 50-plusses say they are debt free and about 70% say they have settled most of their debts. Their income might be lower than when they were employed, but they are now more financially secure and are able to save and spend without caring about rising interest rates and school fees.
Even better, it is a market that has grown 10% since 2000 — mostly driven by the 29% growth in black diamonds who have joined the Prime Timers. They now make up more than 25% (about 500 000) of this market, says UCT's Prof. John Simpson.
The report attacks many marketing myths and show that Prime Timers are confident, discerning and smart shoppers, they are techno-able, healthy and body conscious and have me time to shop.
The question is: what can you do to attract these Prime Timers to your store? We'll give some tips in the next issue of Sports Trader.
* A collaboration between Synovate and the UCT Unilever Institute of Strategic Marketing, Prime Time is the largest study ever conducted on SA's mature market. See
www.unileverinstitute.co.za
.
Why should retailers care about sustainability?
Answers from international researchers
International trend research company NPD Group found: The number of people interested in environmentally sound clothes grew 300% over the past 5 years.
Rolf Pfeifer, of forum Anders Reisen, who promotes sustainability in tourism industry, reports on a German survey of 800 people:
The customers who buy with awareness will in the next few years have 30% market share;
11% people surveyed said they are always aware where and by whom the clothing they buy are manufactured;
36% say they are occasionally aware where it is manufactured;
36% said they plan to pay attention to where garments are manufactured in future;
11% said they don't care how and where it is manufactured, they only want to look good.
Prof Edgar Kreilkamp, a tourism and freetime marketing strategist from the University of Lüneburg, says:
In Europe as many as 30-50% already belong to the consumer group that are aware of sustainability issues and changed their lifestyle accordingly;
In Germany 14% of the population are interested in environmental issues. They are not the eco-buffs of the 90's but are totally modern consumers, focusing on health issues and enjoyment of an intact natural environment;
50% of the German population still say they can not afford environmentally friendly products. They go to discounters. An aware and responsible company will make no headway with these consumers and should focus on the other 50% of the population that are more aware and care what they consume;
Of the aware group of German consumers, 65% do sport and 93% enjoy outdoor activities like visiting cultural sights, trips into the country, etc;
The elderly segment of the German population is growing and the 18-24-year segment is getting smaller. The elderly are becoming more active in nature — the 60-year old of today is active and fit and participates in the same activities as the 50-year old of the past.
Research by PriceWaterhouseCoopers LLP (PWC) on behalf of the European Outdoor Group (EOG) show:
Nearly 60% of respondents buy less sustainable products than they would like to because the alternatives are not available, particularly alternatives that address the issues consumers care most about — climate change and packaging;
Price is the number one inhibitor preventing consumers from buying more products that are better for the planet, or the people who make them. Almost 50% of consumers are unwilling or unable to pay the premium associated with more sustainable goods — respondents said they are only willing to pay a premium of around 20%;
Availability of alternative products is another key barrier, with 20% of consumers saying it is a key reason for not buying more sustainable goods;
Consumers want to make sustainable choices, but are hampered by unclear messages. Confusion, coupled with high prices, leads to a lack of trust among shoppers. Only 9-16% said they trust retailers and consumer goods companies in the area of sustainability;
Nearly 20% of consumers say they are confused about the social and environmental trade-offs of their purchases At the same time consumers are looking to retailers for action and information;
Packaging seems to be a major issue to consumers with more than 6 in 10 thinking that reducing the amount of packaging on pro-ducts is the most important action retailers or consumer goods companies could take to help the environment;
Consumers are now at the point where they increasingly expect sustainable attributes to be an inherent part of the products and services they buy.
A study by The US-based Hartman Group in 2007 on the relationship between consumers and sustainability show:
Approximately 30% of US consumers believe their purchases have greater impact on society than their votes;
93% of American consumers desire to live sustainably, but the majority struggle with how to do so;
Sustainability is not yet a household word — just over half of the consumers interviewed were familiar with the term.
Who is this new consumer?
Marketers talk about the LOHAS shopper: consumers with Lifestyles Of Health And Sustainability, who seek out products in all categories that reflect eco- and human-friendly values. Their main motivation is their own health and wellness – they believe organic products are better for their health, that durable, quality, naturally made products offer better value than cheap discardable items and that they benefit from a clean, healthy environment.
The UCT Unilever Institute of Strategic Marketing say in SA the Prime Time group of consumers constitute 6% of the SA population but account for 20% of consumer spend (R300-bn disposable income). This 40+ aged consumer group is therefore a significant market. They are active, able, financially secure, loyal, discerning and in touch. BUT they feel ignored and marginalised by marketers, brand owners and retailers.
The Hartman Group in the US identifies three kinds of sustainable consumers:
The core consumer's opinions and shopping habits are very important as they are the most influential with the mid-level consumers. Their key purchasing criteria are authenticity, transparency, partnership, and the greater good;
The midlevel consumer is more middle-of-the-road. When making a purchasing decision they look for personal product knowledge, expert opinion, and experience. They are often not willing to spend more on green products unless they feel it is truly worth it;
The periphery consumer is concerned about price and convenience, and personal benefits. They will only make a green purchase if the product is of equal quality, convenience, and price.
---
October / November 2008
Sustainability 2:
How it works at retail
Three top international retailers explained at the OutDoor Europe show why sustainability works for them
Live, walk and talk sustainability
Our customers have the time and money to be concerned about the environment and climate change and they expect and demand social and environmental stewardship from us, says Greg Scott of the Mountain Equipment Cooperative in Canada.
Although they are one of Canada's biggest buying groups "we think big, but act small," he says. "Each store and staff members are focused on community involvement."
About 5% of their stock are their own brands, and they only select other brands that share and compliment their product sustainability.
In order to eliminate product wastage, they make sure that they give excellent advice and that their customers make the correct purchase. "We understand our customers' concerns and what influence their purchases.
"Our most important spheres of influence are our people, the products they buy and the places they play. Our staff feel responsible for their neighbours, as well as each other, and take pride in what they do — for example connecting the people to the right products.
They encourage their staff to use their products and to lead a healthy lifestyle. "Our job description is that they must be curious and understand the impact of what they do – and they must have a feeling of social and environmental responsibility."
In order to reduce traffic, they position their stores within transport and cycling routes, and the store buildings are designed to be best suited to a specific location and are energy efficient with solar panels and wind power.
Because about 95% of all landfill waste comes from packaging, they recycle their packaging.
"We don't sell green items or sustainability … we sell functionality in gear, but use lower impact materials and production techniques to reduce our ecological footrpint. Our guiding principles for sustainability are quality, durable, high performance products whose value is obvious."
Scott believes transparency is critical and that stores need to communicate clearly what has gone into a product — for example, what dye has been used, what organic fibres, etc.
"We share common goals and initiatives with our broader market and we strive to educate and empower the consumers to understand that sustainability does not stop at the point of sale, but that it will continue at home with the washing or disposal of products.
They are also concerned about the environmental health in their factories, the wages paid and working conditions of migratory workers. But, he says, it is a challenge to ensure that the whole supply chain complies and that no banned substances are used in other brands.
They therefore became members of the environmental regulating Bluesign group. "They have the knowledge and connections and we decided to align ourselves with them and through them get our whole supply chain to move to sustainability. One cannot do it alone, it has to be a collaborative effort."
People, communities and enjoying the environment
The sustainability of their retail group is based on three pillars: people, community and the environment, says Kevin Myett of the US consumer cooperative Retail Equipment Inc.
"Our people are our backbone and they are all committed to the outdoors and servicing our customers," he says. "We also look after our employees by giving them paid sabbaticals and travel subsidies to enjoy the outdoors — many people work there just to get access to gear, which we encourage them to use so that they can become experts."
They also extend this concern about worker rights to the people in their supply chains and try to ensure that all their suppliers have fair labour practices and treat their workers with integrity. "The North American Outdoor Industry has developed a toolkit that can be used by smaller brands on how to put fair labour practices in place."
Because they consider children to be the future of the industry, they have developed community programmes to educate children about the environment. "Because we are so much part of the communities we work in, our employees work as volunteers in communities and can also nominate community projects deserving of grants."
They also made a commitment to be climate neutral by 2020 — currently they source 2% of their products from climate neutral sources. They try and reduce the climate footprint by cutting down on travelling, or using alternative transport like cycling, or to have alternative work schedules that reduces traffic congestion. REI also uses recycled paper and recycle products in all their stores in order to reduce the use of landfills.
"When we asked our customers what's important to them, they said they were the most concerned about product sustainability," says Myett. "When we delved deeper we found that the most important factor for them was transparency – they want to know what the footprint of the product is and where it comes from. "They say they will spend more on a product if it is sustainable."
Customers expect a role model
A retailer who nowadays wants to do business solely for economic reasons, will soon find out that he will not survive, says Andreas Bartmann, owner of one of Germany's largest retail groups, Globetrotter.
"If a retailer is not committed to improving social and economic conditions in the community and is not transparent about where he sources products, he does not WANT to survive."
Retailers have to reposition themselves strategically. "Travel a lot and visit different countries to see what they are doing. Get in touch with stakeholders around the globe," he advises. "If brands think that you do not live up to your responsibility, they will not take you seriously."
"You must approach your business in a manner so that you become a role model for consumers and the community. A small retailer can not hide behind its smallness, it can make a difference by linking to schools and community projects."
Their company, for example, last year purchased a huge area in Puerto Rico to plant 60 000 trees in order to make up for the trees that had to be cut down for the paper and packaging they use. In Hamburg they set up professional meteorological stations in certain schools so that they can become weather observation stations, which will give the learners a hands on experience of the topic of climate change at a young age.
He acknowledges that the current tough economic climate could make it more difficult for some retailers to introduce changes — but he believes that consumers recognise and appreciate what Globetrotter does in order to be more sustainable.
"Customers have become more critical the last few years and keep themselves informed about environmental issues. We have found that our customers are now mainly concerned with the quality of products — if you try and draw customers by discounting prices, you will only lose in the long run. Consumers appreciate good quality… which was not the case ten years ago. All the brands we stock live up to this responsibility and our customers are willing to pay for it."
The branded outdoor industry is committed to quality and durability, says Bartmann, not short-lived, cheap products that are thrown away after two washes. "Customers come to us with backpacks that are ten years old that they want to have repaired."
Greg Scott heads the Mountain Equipment Cooperative, one of the top buying groups in Canada, that has been trading since 1971. The 11 stores in the group have an annual turnover of Canadian $240-m and have 2.7-m members.
Kevin Myett of the consumer cooperative Retail Equipment Inc, founded in 1938, which now has more than 7-m members. REI represents about 100 speciality outdoor stores with sales of $1.3-bn in 2007. For the past 11 years it was recognised by Fortune magazine as one of best places to work.
Andreas Bartmann is MD of one of Europe's leading retail groups, Globetrotter, with an annual turnover of €360-m, which is about 25% of the German outdoor market share. Apart from cutting edge stores in major cities, they have an e-commerce business and a mail order company.
---
Feb/ Mar 2009
Sustainability 3:
What brands are doing to make the world a better place
Sustainability is no longer a fashionable trend—worldwide it is being recognised as a tool to ensure survival. NELLE DU TOIT explores what the major brands are doing to make the world a cleaner, kinder, more sustainable place
Consumers these days want to shop with a conscience and have to know that the products they are buying wouldn't lead to social and environmental erosion elsewhere in the world. Especially consumers of the older and more financially secure generation, which covers a huge segment in the market, insist on buying products that aren't harming the environment through production and supply.
Studies show that the more people are educated on the effects of environmentally damaging products, the more concerned they become with stewardship and the preservation of the planet for future generations.
Being green-conscious has, however, become such a fashionable marketing strategy that the danger exists that brands could be using a "green-image" to give their company and products an "image face-lift" instead of focusing their energies on tackling the deep-rooted socio-economic problems created by the production cycles of their own products.
How do you therefore know if a brand's green image is true?
Many of the major brands have incorporated sustainability into their manufacturing.
Asics
Asics is governed by a Code of Conduct based on the guidelines of the WFSGI (World Federation of Sporting Goods Industry). Their products are also PVC-free and where possible, made out of recycled material (according to their international website).
Asics expects all of their business partners, including suppliers and sub-contractors, to operate according to the same standards.
These include no forced labour, no child labour, no workplace harassment, no discrimination and respect for the rights of workers to join any organisation and bargain collectively. In addition, wages should be fully remunerated for all time worked, employees should not work more than 60 hours a week (including overtime) and the health and safety regulations in the work environment should be maintained.
Asics' business partners should comply with all applicable environmental legislation and must work to improve conservation. Consideration should be made to the environment by saving resources and energy, reducing emissions, showing concern for the environment when purchasing and prevent pollution.
Asics also makes a top end soccer boot range that does not use leather from animals (see kangaroo leather under unsustainable products below). The ASICS Gel Lethal V boot is an example of this.
Brooks
Brooks is known as a brand that cares for the environment, which started cutting down on wastage, whether in manufacturing or the office, before it became fashionable. They insist on using environmentally-friendly printing processes and all paper materials used by Brooks (brochures and catalogues, hangtags and shoe-boxes) is certified by the Forest Stewardship Council (FSC). This means that it's made from well-managed forests and/or recycled materials. They only use soy-based inks. Brooks' mid-sole manufacturing process reduces waste by 50%. Brooks features a High Performance Rubber (HPR) green outsole in several models, as well as in their entire trail running footwear range. The outsole is a compound made from sand, rather than oil, which is durable, long-wearing and results in wet-dry traction for excellent skid-resistance.
Their shoe-box design is made from fully biodegradable, 100% recycled paperboard, printed in non-toxic soy-based inks with no heavy metals. All stuffing and wrapping inside the box is made of biodegradable, 100% recycled materials.
Diesel
Diesel has launched a Global warming ready ad campaign that addresses global warming issues in an ironic way in order to make their young and trendy market more aware of the issue.
Examples of this campaign include St. Mark's square in Venice filled with tropical parrots instead of pigeons, New York completely submerged in water, the Eiffel tower surrounded by jungle, a flooded Rio de Janeiro, Mount Rushmore next to a beach and Finland turned into a desert.
The print ads are supported online with various consumer materials including Ten things you can do to stop global warming.
Hi-Tec
Hi-Tec launched an environmentally friendly golf shoe made from recycled materials to target consumers with a "green" conscience at the beginning of last year. This shoe has outsoles made from rice husks, latex rubber and the sockliners made from 100% recycled materials.
Hi-Tec says they consider the manufacturing of "green" products as their responsibility and that they thereby cater for demands from environmentally conscious consumers.
Their latest waterproofing technology, ion mask, for example, cuts down on manufacturing waste as it does not make use of membranes or solvent-based coatings The ion mask works on a molecular level, binding invisibly to the surface of products, giving them an extraordinary ability to repel most liquids. This technology was originally developed by the UK military in order to protect soldiers from chemical attacks. Little consumption and waste is needed to apply this technology.
Levi's
Levi's introduced the world's first fully sustainable denims from a major label. The eco jeans range features 100% organic cotton denim, coconut shell wasteband button, non-galvanised metal fly buttons and colours produced from potato starch, mimosa flower and Marseille soap. The organic cotton is grown without the use of pesticides and reduces carbon emissions.
Macbeth
Despite its hardcore rocker-cum-skating image, Macbeth footwear has a soft environmental footprint. Their eco-friendly shoe range is marketed as Vegan-friendly because no animal products are at all involved in the making of the shoe.
New Balance
New Balance is using the best available resources to decrease their environmental footprint. Their 070 range was made to specifically target environmentally conscious outdoor consumers. The upper is made from recycled fibers and reduced impact synthetics, water-based adhesives are used and the outsole contains rice husks, reducing the amount of petroleum needed to produce these shoes.
New Balance's performance clothing range is manufactured from Cocona, a natural fibre substance (see the definition of Cocona in the box below)
Nike
Nike's sustainability team realised a few years ago that sustainability would need to become part of their core business philosophy, and they therefore convinced executives to integrate environmentally-conscious processes into the production cycle.
Some of the most memorable changes that they implemented were the shift from solvent-based to water-based adhesives (which they encouraged their competitors to implement as well) and the elimination of PVC in their products (see the explanation of why PVC is an unsustainable material).
Nike also had to convince their suppliers to adopt more responsible business values in order for the strategy to make a difference.
The result was that Nike set a trend for transparency by becoming the first major brand to publish a list of the factories that manufacture their products so that conditions in the factories could be scrutinised by labour watchdog groups.
Transparency is the key to brands ensuring that they are relaying the correct information to the public.
Puma
All PUMA's trading practices are in line with the principles of sustainable development. PUMA's goal is to meet the requirements of the modern day without compromising the possibilities open to future generations. The PUMA S.A.F.E. concept (S.A.F.E. stands for Social Accountability and Fundamental Environmental Standards) creates a mutual partnership between the environment, employees, customers, business partners as well as the remaining stakeholders.
The S.A.F.E. concept ensures that Puma demonstrates transparency in its production process, enters into dialogue with its stakeholders, monitors standards in its production factories, takes on social responsibility for its employees and guarantees sustainable business practices in its own operations and supply chain.
In 1993, PUMA introduced a Code of Conduct, which is binding for all manufacturers of PUMA products. The Code is based on the core labour conventions of the ILO and specifies the minimum working age, payment of at least the minimum wage, the maximum amount of working hours and overtime payments.
The PUMA S.A.F.E. team ensures that the manufacturers adhere strictly to the code of conduct by regularly auditing the PUMA production plants. As an accredited member of the Fair Labour Association, their internal code monitoring activities are subject to external verification.
Puma furthermore engages in Capacity Building projects in order to alert management to weak points in their operations by offering training programmes and enabling them to make improvements independently. Besides issuing regular sustainability reports on the corporate level, PUMA is taking part in a pilot project in SA which aims to create transparency in the supply chain by helping small and medium-sized suppliers to produce their own sustainability reports.
Puma also supports the global Peace One Day campaign, which promotes an annual day of global ceasefire and non-violence.
To enhance eco-friendliness in its product line, Puma was the first sports goods company to ban PVC from its product range.
In order to improve living conditions of African cotton farmers and their families, Puma has been supporting the Aid by Trade Foundation's Cotton Made in Africa initiative since the spring of 2008.
Saucony
Saucony has a lifestyle range that is made from mainly organic cotton and bamboo — the latter, an increasingly popular natural fibre that is not only sustainable, but also manages moisture and odours, while repelling UV rays (see the box explaining sustainability terms).
Vaude
In recognition of the exemplary and ground-breaking work Vaude has done for environmental protection and sustainable management, the international technical outdoor brand has been awarded the prestigious Environment Award by the state of Baden-Württemberg.
Vaude has been one of the leading brands in the move towards more sustainable manufacturing.
They cover all aspects of sustainability — from making use of clean recycled products, to repairing every item they have ever sold, even if they are older than 20 years (to reduce waste). They also ensure that all their personnel work in a family friendly, ethical, environment.
Some of their products conform to the Bluesign Safety and EMAS standards.
Sustainable terms
Bamboo is a light, strong, natural textile woven from yarns made of the pulp of the bamboo grass. It has excellent wicking properties, is antibacterial (thus does not retain odours) and has good insulating properties. It is soft on the skin, non-allergenic and sustainable because bamboo grows fast without a need for pesticides.
Cocona is a natural fabric technology that is becoming increasingly popular amongst major brands concerned with the environment. The activated carbon, derived from coconut husks, produces performance fibers that can be combined with traditional fibres like cotton, nylon etc. to help them resist moisture, control odour and to provide a UV shield.
Bluesign Safety is an independent, international quality standard. It guarantees ecologically compatible textiles, environmentally friendly production processes and resource conservation.
Business for Social Responsibility (BSR) is a non-profit business association that provides socially responsible business solutions to many corporations ensuring a more just and sustainable global economy.
EMAS (Eco-Management and Audit Scheme) is a scheme introduced by the European Union that ensures that a company implements a thoroughly structured environmental management plan.
Tencel is a fiber that is up to 100% biodegradable. It is made from wood that comes from sustainable forests.
Unsustainable materials
The Kangaroo leather industry is struggling to keep up with demands from manufacturers of the top end soccer boots for the sought after k-leather. There simply are only a small number of large red male kangaroos left in Australia. The red males are the biggest sized kangaroos and produce the best quality leather, however, they are also the alpha males (it takes 10 years to reach this status) with the best genes. These days only smaller and weaker males are left to breed resulting in offspring who are less likely to survive droughts and other natural disasters. If this is kept up, kangaroos are well on their way to becoming extinct.
PVC (or polyvinyl chloride) plastic or vinyl is one of the most highly toxic materials to be found, the chlorine releases, especially in the case of production, and creates a poisonous gas called dioxin. Doixin has been known to cause severe damage to one's health such as cancer, birth defects and endocrine disorders. PVC can't be disposed or even recycled. In 1998 The Association of Post Consumer Plastic Recyclers declared efforts to recycle PVC a failure and labeled it a contaminant. Unfortunately this has the result of ending up in our landfills.
Solvents are a factor in the formation of ground level ozone as a result of the volatile organic compound (VOC) emissions that take place during the formulation, application, drying and curing process. Because of the high price in petroleum products, Solvent-based adhesives are more expensive to use in production than water-based adhesives.
---
Green Sourcing
Green sourcing is not only about the reduction of environmental impact. It is also very much about cost savings and brand value. It is often wrongly perceived as an expensive luxury, but green sourcing can save millions for your company, a workshop during ispo Winter was told. NICOL DU TOIT reports
A company will only support green sourcing when a mindset is created where these initiatives are understood as possibilities of strengthening the brand and saving money, says Sebastian Maling, a specialist on procurement from China and the Far East.
How can green sourcing save money? It can reduce waste, reduce energy use, reduce water usage, reduce usage of other natural resources, or use substitute materials, he says.
To quote an example, Starbucks Coffee Company changed the thickness of their rubbish bags in all stores. This resulted in reduction of 750 000 lbs of waste per year, a saving of US$ 500 000 in the first year, lower recycling costs, and lower purchasing costs.
How can green sourcing build brand value? To be eco-friendly is in today! If you are not eco-friendly you will have a hard time building a lifestyle brand, but it is very important to market the goals of your green sourcing initiative, suggests Maling.
How to get started? Develop a green sourcing process, which is an augmentation of the existing sourcing process. The approach must be specific, actionable and measurable. You have to assess and prioritise the opportunities.
1
Step one is to assess the opportunities, says Maling. Traditionally, this focuses primarily on materials and logistical costs. For green sourcing you also need to focus on direct and indirect environmental costs and keep environmental regulations in mind.
2 Step two is to assess the internal supply chain. Traditionally this step has been focused on specifications, a mapping of current processes to identify process opportunities. When the emphasis is placed on green sourcing it is also necessary to consider the industry's most environmentally sound products and services.
3 During step three the supply market is assessed. The traditional process identifies the potential sources of supply and performs supplier assessments and comparisons. Under the green banner suppliers who specialize in more efficient and sustainable products are also included. Indirect energy cost reductions are also considered. Packaging forms a very important part of this process. See whether this can be reduced also to reduce transportation costs.
4 Step four involves the development of a sourcing strategy. Traditionally, the scope of the project is determined, the desired outcomes are defined and process enhancements are brainstormed. For green sourcing you have to include sustainability considerations, such as the substitution on commodity items with sustainable equivalents.
5 The fifth step is the implementation of the strategy. Traditionally the focus has been on the development and implementation of supplier solicitations, the conduct of negotiations and awarding the contracts. Green sourcing also quantifies the costs and benefits of sustainability attributes, for example the reduction of water consumption, into account.
6 The last step is the institutionalization of the strategy. The new process is used, operational changes are implemented and supplier relations are developed. The process is monitored and reported upon.
For green sourcing sustainability issues, for example materials with higher recycled content, are closely tracked and audited.
A successful green sourcing initiative must be cross functional and needs to involve all the different functions within the business — design, engineering and R & D, production management, logistics, finance and marketing. Often quick wins by the purchasing department will convince the other functions to participate.
There are often many challenges when you want to green source from some Far Eastern countries such as China, says Maling. It does not require different sourcing processes, but existing processes must focus on specific challenges.
One of the most important challenges is the distance from the brand's headquarters. Apart from the obvious potential problem of the higher carbon footprint in travelling for business purposes and the shipping of the goods, enforcement of standards are more difficult, and the time difference also makes communication more difficult.
It is difficult to control suppliers over a long distance. Often you do not only have to control the ultimate suppliers, but also sub- and sub-sub-suppliers as well, says Maling. Often there are no regulations in the low cost countries with which to enforce your demands. It is always recommended to have a local presence, either by opening your own office, or by employing third party agencies to do the job for you.
Often low cost countries engage in process trade, as they cannot source semi-finished products locally. You must bring the carbon footprint of these supply chains in consideration as well, he suggests.
A further problem is that suppliers often use old production technologies, which are less environmentally friendly. It is the customer's responsibility to support suppliers in developing more efficient production technologies. Financial incentives and fair payment should be considered as part of your strategy to develop suppliers to become more environmentally sustainable. A low cost country initiative must always aim at a long-term trust-building relationship with suppliers that enable them to make the necessary modifications. Then there are the language problems as well.
Which LCC countries are best? Your choice will largely depend on products sourced, consumer demand and technological requirements, but, as a general rule:
India might be a good choice for cotton based textiles;
Taiwan might be a great choice for high-quality high technology products;
China might be the right choice for functional textiles;
Thailand is a good choice for cosmetics.
In conclusion, sourcing in low cost countries requires additional responsibilities from the customer. It will also cause higher transaction costs as more input and supervision has to come from the customer, but green sourcing from them is very possible and often the savings justify the higher transaction costs. Looking for the last bargain is often the wrong approach.
---
Registration and restriction of chemicals
What are the consequences for brands, manufacturers and retailers? John Mason, Senior Vice-President, Intertek, discussed the implications at ispo Winter
REACH is a European Community Regulation on the safe use of chemicals that has been effective since June 2007. It is an acronym for Registration, Evaluation, Authorisation and Restriction of Chemical substances.
The aim of REACH is to protect people and the environment through the better and earlier identification of the intrinsic properties of chemical substances.
Manufacturers and importers are required to gather information on the properties of the chemicals used in their products, and to register the information on a central database run by the European Chemicals Agency. The Agency acts as the central point in the REACH system. It manages the public databases and coordinates the evaluation of suspicious chemicals. The regulations also requires that dangerous chemicals must be substituted when suitable alternatives are available.
Companies wishing to export to the EU will have to comply with the requirements of REACH — which means that they must have detailed knowledge of the chemicals used in the manufacturing of their products, and be aware of the risks that those substances may pose to humans and to the environment.
Prior to the REACH legislation, regulatory bodies were responsible for evaluating the risks posed by chemicals and providing safety information, but under the new EU law, that responsibility now lies with the people operating in the industry. The REACH regulations also aim to eliminate tests involving animals. Once alternative testing methods have been validated, the regulations will be adapted to phase out animal testing as soon as possible.
Local brands reduce their eco footprints
Electricity generated from coal-fired plants is a major contributor to harmful gaseous emissions — and this is where Capestorm realized they could make a huge difference by reducing their carbon footprint during production. They applied to the Cape Town City Council to purchase wind energy from the Darling independent Wind Farm project and aims to be completely "clean" concerning carbon emissions during February this year.
CAPESTORM has a recycling project for paper, plastics, glass and tins at their head office, as well as in their retail stores. The recycled items are collected by the Oasis Association who then sorts and re-sells waste to various industries. They also have a fabric off-cut recycling program in partnership with the Clover Mama Afrika project. Capestorm has been closely involved in a sponsorship partnership with the Cape Leopard Trust and they provide apparel at cost to the Greater Cederberg Biodiversity Corridor, a landscape initiative in the Cape Floristic Region.
FIRST ASCENT is involved with the Amazing Green Race at the University of Witwatersrand, organised by the student organisation Roots and Shoots, in conjunction with the Biological Society (Biosoc). This 3-week long drive is an attempt to make students more aware of sustainability issues and ways of reducing carbon footprints. Participants receive daily emails and SMS's with tips on how to live in a more sustainable manner and there is a prize for the student that reduced their carbon footprint the most.
---
September 2007
The import and sale of fishing tackle and the law
Grey imports, or buying stock from someone besides the licensed distributor, is becoming a matter of grave concern in the fishing tackle industry. Manufacturers — local and international — are also concerned that their products are being copied and sold at a reduced rate. What are the legal implications?
Last year in April the Department of Trade and Industry effectively gave the green light to grey importers when their Consumer Affairs Committee ruled that parallel importation is legal — provided the consumer is informed that the product does not come from the licensed distributor.
A retailer who buys stock from someone who is not the official licensee must indicate clearly on warranty material and where appropriate, on sales receipts, that:
The products may not be covered by a manufacturers guarantee, unless so negotiated by the retailer;
A repair and back-up service may not be available, unless provided by the retailer;
The consumer may not be entitled to any rights of replacement or repair against the licensed dealer or importer.
The retailer may also not lay claim to any sponsorship or official status negotiated by the official licensee. In effect, this would mean that where packaging states that a product is endorsed by a local organisation or celebrity in a deal negotiated by the local licensee, the product will have to be repackaged.
The retailer must also be able to show that the goods are in a form or state approved by the owner of the trade mark — in other words, that he is not selling counterfeit goods.
An infringement of these regulations can cost the retailer a fine of up to R200 000 or imprisonment for up to five years.
Despite these provisions, licensed distributors are not happy with the ruling because it often entails a costly and lengthy process to become a licensed distributor.
There are often stringent conditions attached to the agreement, e.g. the number of items imported, guarantees offered, sales targets, marketing campaigns and many other obligations. These contribute to costs — which the parallel importer can circumvent and thus offer his goods at a lower price. Besides, the grey importer benefits indirectly from all advertising spend by the licensee.
Copying of products
The copying of goods — whether by a local or international manufacturer — is illegal and cause for grave concern across the world. It is especially a problem at trade shows where buyers photograph and then copy products.
Apart from the obvious problem that the original creator loses out on sales, counterfeiting has the additional drawback that the copycat will more than likely not use the same quality raw material or pay as much attention to detail as the creator, and therefore market an inferior product that resembles the original. This also damages the good standing of the original brand.
In SA, the Designs Act protects both registered aesthetic and functional designs for 15 or 10 years respectively, provided registration fees are paid.
The Trade Marks Act protects brands and manufacturers against the unauthorized use of their intellectual property. In other words, someone may not copy a product and pass it off as the original.
The topic of grey imports and counterfeits is covered in detail in the October 2007 issue of Sports Trader.
---
Feb/ Mar 2009
Trail running to get organized?
There are many ways of getting rid of excess energy and in the process keeping fit. You can run, you can cycle, you can canoe, and so on. One of the methods that is rapidly attracting growing slews of participants, is trail running. This sport is becoming so popular that there is even talk of forming a trail running organization to coordinate all the events, reports JOHN MCKEAG
"Trail running is about constantly changing terrain and intensity. It's peaceful and exhilarating all at the same time. It's gentler on the mind and on the body, taking the relentless stress out of running while building strength and engaging muscles for a dynamic work out," explains Claire Ashworth of Sports4U, one of the prime movers in popularising the sport.
According to her, trail running events are unique with regard to the terrain covered, time of day the race is run and duration of the race. It is not merely a different category of road running, governed by Athletics South Africa (ASA).
The key factors making trail running fundamentally different to road running include:
Trail Runs take place on off-road trails and/or away from high traffic areas (cities/towns)
They are run on existing trails with varying terrain. These may include gravel, some tar, and sand, rocky and wet trails.
Events predominately take place outside of large towns and can last more than a single day.
Trail runs do not have the high level of marshalled support encountered in road running and require participants to be absolutely self-sufficient.
Trail Running has taken off with a vengeance and many, many runners, formerly seen pounding the roads in running events, have now switched to the more easy going style of trail running, unfettered by the interference of sports bureaucracy.
Interest in the sport is such that restrictions have to be put on the number of entries for any one event. When the Old Fisherman's Trail Challenge opened their entries last year at midnight, the race was full by 11am that morning.
Internationally, the sport is massive and reports have it that more than 10-m runners take part in events globally through the year.
Presently, there are 30 annual events in South Africa and more are on the way.
In general, all trail events require athletes to be self-sufficient — carrying all their own water and food for the duration of the race, although The Cape Odyssey — a five-day trail run — does supply water and food for all participants.
Basically, trail runners need to be able to look after themselves on mountains in the case of an emergency. Conditions can change fast on a mountain and athletes need to be prepared for that, and be aware that things can suddenly change.
Ashworth says there is a move to form an association for organizers of all trail events, but there is a rider to that. "We are very keen to do so as long as we have no affiliation to ASA. We want to remain a separate entity, because we organise our events differently to ASA — and trail runners see that and enjoy it.
"More and more runners are leaving the road to become trail runners. Many runners tend to do their Two Oceans and Comrades in the first half of the year and then concentrate on trail running in the second half," she says.
There are several benefits in forming a trail running association, for example:
Standards and regulations will be developed to sustain and grow the sport;
An official trail running calendar will prevent clashes between trail events, and with other major events;
A formal organization will also make it easier to obtain land access permits and develop a plan for approaching land owners — the organization can, in turn, assure land owners that the affiliated organizers follow set standards for land use.
There will be easier and more affordable access to insurance for all events.
Many suppliers of trail running footwear and clothing are also sponsors of trail running events.
Hi-Tec sponsors the Quantum Adventures Hi-Tec Spur Adventure Races 2009, a series of events held in Grabouw, Port Elizabeth, Lourensford (near Cape Town) and Shongweni Dam (near Durban) throughout the year. "We have good brand exposure and Ion Mask demonstrations at each of these events," says Hi-Tec SA general manager Mickey Mallett. Their agent and well-known runner, Jan van Rooyen, also gives a short talk on Hi-Tec trail footwear and the Ion Mask technology at the events.
They also recently signed a sponsorship agreement with SA's Mr Adventure, Martin Dreyer, and his "Change a Life" academy (read more about the academy below).
"A trail organization would be great, as one calendar for all events will certainly make it simpler for athletes to plan and book races!" says Mallett. "At the moment you need to search the web pages to find races."
New Balance SA is a sponsor of several trail events — the Xterra National Series, AfricanX Trail Run, Men's Health Trail Challenge, Fisherman's Trail Challenge, VOB weekly Trail Runs, Jeep Msinsi Series, Triple Challenge and the Totalsports Challenge. Several New Balance staff members are also keen participants — national sales manager Grattan Rippon is even attempting the gruelling 6-day Marathon des Sables endurance race across the Sahara Desert in March-April. He and general manager Gary van Rooyen were runners-up in the masters division of the 2007 Cape Odyssey multi-day adventure race.
Van Rooyen is a bit sceptical about the feasibility of a trail running organization: "There is such rivalry amongst the event coordinators that my guess is that you would battle to get them in the same room. They keep their cards very close! Maybe a listing could work though," he says.
Capestorm is a sponsor (with the Crazy Store) of the Table Mountain Challenge held in Cape Town in September, which attracts 1 000 runners. Marketing manager, Ian Little, a keen trail runner and joint winner of the Cape Odyssey, is not 100% convinced of the benefits of a trail running association: "Are there any! Regulation generally brings less flexibility and isn't always in the interests of the sport.
"Granted, it can ensure that fixture clashes are less likely and can have some cost benefits when looking at venues, logistic costs, and so on. However, one of the benefits of trail running is the freedom and the lack of regulation involved.
"It appeals to all runners, doesn't require you to wear an often ugly kit, and you can take advantage of the latest in running clothes, footwear and accessories."
Local outdoor clothing and adventure sport brand First Ascent is also involved with sponsorship of several trail and adventure events, including the resurrected First Ascent MAST Challenge, a combined mountainbike and trail running event, the three-event Quantum Adventures Trail Series at the end of the year and the Greyton Trail Run.
Morne Strydom is also sceptical whether a controlling body for the sport will soon become a reality. "In my opnion trail running is basically in the same boat as adventure racing as far as a controlling body is concerned… it is not going to happen soon!" he says. "Due to the diverse personalities involved in organizing events, I believe it will probably not be easy for everybody to sit around a table and reach consensus. The question is, however, whether this hampers the growth and development of this niche sport?
"At this stage the answer is… probably not. When one draws comparisons to mountainbiking, one will see that a successful governing body for this sport was only recently formed, and mountainbiking has come a far longer way than trail running.
"One also wonders whether such a controlling body would truly add value, and if so, in which form. At this stage the organizers leave the 'decisions' to the participants… if they organize a good event, people will come to participate!
"There are of course also negative examples of controlling bodies or organizations that smother sport… one such an example is road running. The fact that club colours are not allowed at events etc. to a large extent gives momentum to trail running, which is considered to be a kind of rebel sports category where there are fewer rules and regulations.
"In the future, I believe, there will be merit in such an organization to set safety standards and also, possibly, to introduce a form of accreditation with training — but I do not see that happening in the near future."
New V-Lite trail shoe
Hi-Tec's successful ion mask technology has been extended into their brand new V-Lite Trail Ultra HPi, a highly technical and performance leading adventure trail running shoe that features the latest in running technology.
Unlike the ion mask WPi, HI-TEC ion mask hydrophobic HPi footwear is not designed to be waterproof, but ensures that the footwear absorbs less water, stays lighter, dries quicker whilst repelling dirt and preventing long-term mud build-up. This technology truly changes the way athletes behave and perform in and around water, says Hi-Tec.
The V-Lite Trail Eruption HPi features HI-TEC's exclusive 4:SYS cushioning system technology, developed by biomechanical experts Quintic Consultancy, that supports and stabilizes your foot during the four phases of the gait cycle — rear foot, mid foot, forefoot and toe off. This unique technology is proven to optimize cushioning, support and energy return as a result improving your running gait efficiency and overall comfort. The V-Lite Trail Eruption HPi also features the very latest in exclusive designed Vibram trail running outsole.
Dreyer and Hi-Tec change lives
Hi-Tec is 100% confident there is no better way to put their brand new ion mask HPi footwear to the test than by supplying Martin Dreyer, one of South Africa's most respected multi-sport athletes and adventure racers, with the latest in hydrophobic HPi trail running footwear — V-Lite Trail Eruption HPi (see above)
Hi-Tec have signed an exclusive sponsorship deal with Dreyer whose achievements include winning the Land Rover G4 World Championship, 7 times Dusi Canoe Marathon and competing against top international adventure racers in the Raid Finals & Adventure Racing World Championships, to name a few.
Hi-Tec also supports Dreyer's latest project the "Change a Life" programme, through which he aims to train ten black development paddlers to reach the top-50 in the Dusi Canoe Marathon. His 2008 Dusi win with Michael Mbanjwa, the first ever black Dusi winner, inspired him to start training Michael's friends who live on the banks of the river. They joined them for training every day and Dreyer was so impressed with the dedication of the barefoot paddlers in their leaking boats, that he resolved to try and get them funding to improve their performances.
That was the start of the Change a Life programme.
Hi-Tec has supplied the V-Lite Trail Eruption HPi to the team that Dreyer hand-picked his team from rural villages in Natal where they all were essentially cattle herders and never had any experience in a boat or canoe.
"It is of utmost importance that my footwear can deliver the best performance whatever the conditions," he says. "With the help from Hi-Tec we can start to change lives."
Another trail running success
The New Balance trail running shoe has an excellent pedigree — among others, it was a triple-winner of the Sports Trader Footwear Product of the Year Award — and their latest model trail shoe for off-road enthusiasts, builds on that tradition. With 88 points of fit, New Balance says it has been designed to offer a perfect fit around every angle of the foot. Apart from offering this total fit and great support and traction, it has all the features expected of a top-end trail shoe, like well-cushioned heels, a raised protective toe box, fast-drying upper etc.
Vaude for a thirsty run
Ideal for those thirsty runs, Vaude has launched a new Speedy Drink Hipbelt, a lightweight lumbar pack with bottle holder for sports such as trail running, road running, biking, or hiking. It stays in place with non-slip prints on the padded back and also has a small zip pocket and light attachment. Available from Eiger Equipment.
---
February 2002
Why the small SA outdoor
boot manufacturer battles to survive
When an established local outdoor footwear manufacturer like Lubbe International decides to call it a day, the industry takes note. This company is not alone, however, as many small footwear manufacturers have closed their doors over the past few years. JACOLIEN NEL asked SAFLIA president and former owner of Lubbe International, André Lubbe, about the prospects for local outdoor footwear manufacturers
There is still a place in the local market for small businesses to manufacture normal shoes, but the market for technical footwear has changed so much that it is no longer viable for small to medium manufacturers to make specialised, technical shoes.
This is the view of André Lubbe, president of SAFLIA (SA Footwear & Leather Industries Association) and former owner of Lubbe International, that closed its doors at the end of last year.
A.P. Lubbe started making specialised hiking boots in 1940 and over the years, their products became well-known brands.
"When we started making Trailbusters in 1976, the products were simplistic - like the traditional "velskoen" - and did not require high levels of technology or specialising," says Lubbe. Expertise came with time and as the world market for technical footwear was also developing for the first 10 to 15 years, Trailbusters could easily compete with imported products.
However, the explosion of technology led to rapid developments in footwear and designs became more intricate and more expensive to manufacture. Raw products are 100% imported - coupled with the depreciation of the Rand (over a long period) and the fact that the local market has become smaller and more niche orientated, they did not have the volume of sales to sustain the brands, explains Lubbe.
Imports compete
European competition
Local brands also compete with specialised, European brands, which are sustained by high income and consumption markets.
"However, the depreciation of the Rand has made imports more expensive, which created an opportunity to expand this category, although it remains a niche market," says Peter Maree, managing director of Corrida Shoes, which now manufactures both the Trailbusters and BullBrand ranges of outdoor footwear that previously belonged to Lubbe International.
He agrees that Lubbe's manufacturing plant in Stellenbosch was too small to be cost effective, whereas Trailbusters can now "share capability" with some of Corrida's other products. "This means that we could maintain costs, even with the 40% devaluation of the Rand," he says.
According to Lubbe, SA's total shoe consumption consists of 60% imported products. Although we sell 90 - 100 million pairs per year in total, only 30 - 40 million pairs are manufactured locally each year. This is in stark contrast with a country such as China, which manufactures 6 500 million pairs of shoes per year. Or a large international outdoor manufacturer like Blundstone in Australia that manufactures about 10 000 pairs per day.
"For many international brands, SA is just a small part of their worldwide strategy. Whether they make a loss or a profit in the local market is not always that important. In terms of a world dominance strategy, it is important to be seen everywhere," says Lubbe. Many international companies also regard South Africa as a gateway into other African markets, as the local support structures are more on par with those in other Western countries, which mean that the market can be entered into more easily.
Lubbe believes that international brands have a certain status with consumers. A brand like NIKE, for example, has a "built in credibility" and consumers will accept their products more readily than a lesser-known, local brand.
But, due to the exchange rate and high import duties, importers of many high-end outdoor footwear brands believe that they have a limited market in SA. Merrell, for instance, is only supplied to selected retailers, whereas Nevados is imported by an indent agent for specific retailers.
Footwear development
"Outdoor footwear" has become a very wide description and most brands are forced to find a niche. The competition becomes bigger all the time and manufacturing becomes more expensive - you need a large organisation to finance this," says Lubbe. Ongoing development is very important with technical shoes, but developing a new sole or last is an expensive process.
Maree explains that Corrida has set up a new factory (one of five plants in Kwazulu/Natal) with modern equipment that can handle the manufacturing of hi-tech products. The main expertise of their business is development, which makes this a major opportunity for a brand like Trailbusters. They plan on widening the product range and applying new technology.
"Local footwear manufacturing has gone through a tough cycle - with imports virtually decimating the local market," he says.
Although there are a limited number of manufacturers left, those are now in a much stronger position. Better-end imported shoes (made of leather) have become very expensive, although local companies can still import synthetics.
Although Lubbe did not want to comment about specific solutions at this stage, he believes that the local outdoor footwear manufacturing industry can pick up again in the long run.
---
February 2007
Women's golf out of the bunker
The interest generated by the recent Women's World Cup of Golf showed that golf is no longer just a white male sport. It is gaining wide spread appeal, especially amongst women, reports FANIE HEYNS
Women's golf is arguably one of the fastest growing sports in the world, and judging from the growth of affiliated female members of golf clubs in SA, it is doing quite nicely in SA, thank you.
In fact, "doing nicely" could be one of the understatements of the year if you study the statistics provided by Vivian Horak, secretary to Women's Golf South Africa. In 2000, there were 324 clubs and 11 700 players affiliated to Women's Golf in the country.
In 2004, 13 000 players at 330 clubs were formally participating in the game, once known as Gentlemen Only Ladies Forbidden, or G.O.L.F. At the end of 2005, there were 350 women's clubs in South Africa and 16 000 affiliated members.
By September 2006, that figure had increased to 17 500 members. You cannot compare it to the Chinese population explosion, but man, women's golf is really a Guava-phenomenon (Going Upwards And Very Aggressively).
Three of the finest marketing agents for this growth have been Michelle Wie, Ashleigh Simon and Annika Sorenstam.
Annika Sorenstam (she was 36 on October 9) is one of the best women's golfers ever to play the game. She is relatively young and has been followed by so many TV-cameras. The Swedish woman has been an inspirational figure for young wannabe-golfers.
Michelle Wie (17 on October 11) is a charismatic professional Korean-American golfer who has received a number of sponsor exemptions to play in PGA-events. She has also gained attention for her long drives, and was joint third in the Kraft Nabisco Championship and the US Women's Open in 2006, as well as tied fifth at the LPGA Championship.
In 2006, she was named in a Time magazine article as one of the 100 people who shape our world.
"Women's golf has become a funky, cool and sexy sport. You see more and more teenage girls breaking into the sport. Tiger Woods and Annika Sorenstam have made it a funky thing to play golf. And the girls are attracted by image," says Grant Stephen, managing director of Leisure golf.
"Wie has been a fantastic inspiration for golf. She is very flashy, has received a huge endorsement of $10-m from Nike and is invited on to the men's tour.
"There is no doubt that Simon has done so much to inspire SA teenagers to take up the game. Teenage girls who sat on the fence, decided to participate when they saw Ashleigh.
"Ashleigh is the youngest girl ever to win a SA Open, and the girls look up to her," adds Stephen.
She also won the Rolex tournament of championships in the USA in 2006 and beat all the top-American juniors on her way to the title.
Furthermore, she was the youngest-ever player to represent South Africa at the World Cup of golf at age 15.
Horak agrees that the level-headed and charismatic Simon has done a lot to inspire teenagers to take up the game in SA.
At last year's Pick 'n Pay Women's Interprovincial Championships in Germiston, a large proportion of the 80 participants were under the age of 20. In 1998, the average age of the participants would have been closer to 30.
Currently, some of the best players in the country are teenagers — Simon (17), Kelly Shean (19) and Stacy Bregman (19).
The sales of exclusive clothing wear for women's golfers have increased by 10% the past two years. That slight increase can be attributed to the fact that a lot of girls are getting into the game and spend a lot of time on the practice range or the driving range and would only "graduate" to smart golf clothes once they have become more accomplished players.
Stephen says there is a definite upturn in the clothing and equipment market for women. Dunlop, Mizuno, Hogan and Spalding are all selling well.
Manufacturers have made specialist golf balls specially designed for the ladies's swing. They are multi-coloured. At first, people thought it was a bit of a fad, but it has become a norm in the industry and is selling very, very well. In fact, it has even become popular with men on the senior tour, says Stephen.
Doug Vilas, director of golfing equipment at Opal Sportswear, says he has seen a much bigger demand for the Ping golfing clubs over the last 2 years than prior to 2004.
Ladies are also much more independent nowadays and is unaffected by the view of their husbands on what type of clubs they should buy.
Lesley Copeman, owner of the Parkview Golf Shop and co-winner of the Women of the Year/Women in Sport-title in 2005, says women's golf in SA is following a world wide trend of a massive increase in the number of players.
When the Nomads Girls Golf Championship of South Africa took place in August, 26 girls of the SA Golf Development Board (SAGDB) participated. The players were all 18 years old, or younger.
But, it is not only women who are breaking down the white male image of golf clubs. The new generation of golfers are youngsters of all genders and races.
Rhys Hughes, executive director of the Pro shop, says the sales of beginners-sets of golf clubs have grown by 50% the past two years, while there was no increase in the sales of high-performance technical premium brands.
That is partly thanks to the example set by the charismatic Tiger Woods, the best golfer in the world of this generation, and one of the best of any generation. He demolished the field in the US PGA and in the British Open and have won 12 majors.
And the Tiger is chasing down the Golden Bear fast. Jack Nicklaus won 18 major championships during his magnificent career.
But forget about the statistical excellence of Woods. He has an almost unprecedented following around the world, and is an inspiration to many.
In SA, the SAGDB has also done a lot of work in promoting the game to young girls and boys in all areas.
Agreements with several prominent golf clubs make it possible for these school kids, many from disadvantaged areas, to enjoy top class coaching and facilities at no cost.
The SA Golf Association (SAGA) has thrown its weight behind the work being done by the SAGDB. As the official governing body for golf in the country, the SAGA was involved in the formation of the SAGDB in 1999, and has always endorsed the development programme. But they have now further formalized this relationship by pledging R100 000 to the SAGDB to assist with the board's operational costs.
---
October / November 2008
World Carp Championship
The 10th World Carp Angling Championship was hosted in Africa for the first time ever, at the Bloemhof Dam in the North West province between 21-26 October. The International Freshwater Sport Angling Federation awarded hosting of the Championships to the South African Freshwater Bank Angling Federation (SAFBAF) — the national controlling body of Bank Angling, Match (Pole) Angling and Carp Angling in SA
Sports Trader unfortunately had to go to print before the competition was held.
Since first participating in the world championships in 2003, SA has always been in the Top 10 in both team and individual placings. Before this year's world championship, members of the SA team were very confident of achieving good results, as they expected that their knowledge and experience of the local angling conditions would give them an advantage. The benefit of being used to having to constantly be pulling out large carp earlier paid dividends when the SA team beat the team from England in a pre-world championship test series in May.
Although relatively small in comparison with the other world championship events of the International Freshwater Sport Angling Federation (FIPS-ed), the World Carp Angling Championships is by far the most important high profile freshwater angling event ever hosted in SA.
The high cost of air travel and airfreight (despite camping and material subsidies by SAFBAF) to SA was expected to deter some countries from sending teams. Last year the World Carp Angling Championships was held in Serbia and 17 nations participated, but it was foreseen that between 10-12 countries would attend the 2008 World Carp Angling Championships.
To help off-set some of these costs, the Midas Group/Akals sponsored all the camping equipment, which will be used for the SAFBAF development programme after the event, in order to make the sport more accessible for people who previously could not afford to participate.
SAFBAF has a talent identification and development programme in place to grow the sport, in particular among previously disadvantaged individuals, the youth, women, clubs and rural communities. A previously disadvantaged angler is a member of the 2008 carp angling national team, and another participated against England in May.
SAFBAF also hoped to use the World Carp Angling Championships to further promote the freshwater angling sport, especially carp angling, to previously disadvantaged communities in rural areas. It was part of their project plan to involve provincial and local sport and recreational bodies, local communities and schools to promote awareness. It is estimated that freshwater angling, a sporting code that involves a lot of spending, has a big impact on the economies of rural areas. It was therefore expected that the rural communities around Bloemhof Dam would have benefited from the spending of participants and visitors to the event. They also hoped that some visiting teams would extend their visits, and that a positive experience would attract many more international competitive, recreational and trophy anglers to our shores.
According to SAFBAF the interest in carp angling has increased tremendously since the announcement that SA is to host the 2008 World Carp Angling Championships, which also benefited the trade The demand was so high that some of the previously imported carp angling equipment, tackle and bait are now manufactured in SA.
---
Aug/Sept 2009
R58-bn SA golf market?
A recent study conducted on behalf of the SA PGA shows that the golf industry contributes R58.4-bn to the SA economy. NICOL DU TOIT found that under closer scrutiny, the picture is not quite that rosy
In a recent study conducted by IFM Sports Marketing Surveys for the Professional Golfers Association of SA (PGA) the economic impact of golf on the South African economy was estimated to be R58.4 billion. The study concluded that this is more than what the 2010 World Cup's impact (R 55.7 billion) will be and more than double the impact of the Western Cape Wine industry (R 22.5 billion)!
But, before all you Capies rush off to pull out the vineyards and convert them to fairways, lets have a closer look at how this economic impact was calculated.
To calculate the total economic impact the golf industry was split into various segments and the direct economic impact of each segment was researched and estimated separately. They then used a multiplier of 2, based on IFM's own research in the UK. The use of a multiplier in this type of research is common, but the report contains no explanation on how the multiplier was developed or why a multiplier developed in the UK, a developed economy, would be applicable to SA, with an economy still in the developing stage.
Golf Equipment
Although it is not the most significant economic segment, the golf equipment segment will probably be of most interest to our readers.
In terms of this report golf equipment includes the whole spectrum of golf-related goods, including apparel, shoes and accessories. The report states that in 2008 equipment sales amounted to R 1.2 billion. It also states that the average golfer spends R 3 787 per annum on equipment. When this is multiplied by their estimated number of 340 000 golfers (see concerns regarding this number and the expenses of affiliated and non affiliated golfers below), total equipment sales in 2008 amounted to about R 1.288 billion.
The difference between equipment sales and the stated economic impact of R 1.788 billion is the amount of salaries and wages, taxes and marketing spend in the trading sector.
The survey makes a distinction between types of retailers. On-course retailers need no further clarification, but with "retailers" they refer to golf retailers, mainly The Pro Shop and The Golfers Club. It seems that a significant portion of golf goods sold through sports outlets, department stores, outfitters, fashion outlets and the corporate and promotional clothing sector, were ignored.
The survey estimate the margins of the different trading groups as follows:
| Margins | Rm |
| --- | --- |
| Wholesalers | 114.8 |
| Retailers | 381.8 |
| On-course retailers | 169.4 |
| Total | 666.0 |
The R808 million golfers' contribution is said to represent the actual value of the goods transferred, presumably the cost of the goods to the wholesalers, excluding the margins from the various traders. But if this is added to the total margin above, total sales should then be R 1.474 billion, which is significantly different from the R 1.2 billion mentioned previously. This difference is not explained.
The report estimates that the golf wholesale margin is 44% and retail margin 45%. It is not mentioned whether this is measured on sales or on cost of sales, but is nevertheless surprising in terms of the rest of the industry where wholesale margins are significantly less in percentage terms than those of retailers. These figures therefor seem suspect.
The figures also do not make sense if applied to the Rand margins above. For instance, the wholesale margin of R 114.8 million is 14% on the cost of sales of R 808 million, or 12% on sales — significatly different to the 44% mentioned in the report. On the retail side of the equation, according to the figure mentioned above, the cost to the retailer was R 922.8 million (808 + 114.8) and the retail margin was R 551.2 million (381.8 + 169.4). The margin on cost of sales should therefore be 60% or 37% on sales – again significatly different to the 44% mentioned in the report.
Of interest is the size of the margins of the two retail groups surveyed. Assuming their margin percentages are similar, it seems that the report indicates that the on-course outlets sell about 31% of the equipment. Although this is not entirely surprising to knowledgable insiders, it will nevertheless come as a surprise to many traders who believed that the industry was totally dominated by the two major chains.
This point was underlined even more strongly by a survey included in the report, conducted amongst affiliated golfers, which concluded that golfers' shopping preferences are as follows:
| Shop preference | % |
| --- | --- |
| The Pro Shop | 46 |
| On-course shop | 39 |
| Golfers' club | 12 |
| Other | 2 |
| Sportsmans Warehouse | 1 |
| Second hand seller | 1 |
| Online | 1 |
The report concludes that in terms of market share The Pro Shop has 45%, 0n-Course Retailers 31%,The Golfers Club 19%, Mass Market 4% & Others 1%.
Existing Facilities
Golfers' expenditure, which makes up the biggest portion of the economic impact of existing facilities, is based on an online survey of affiliated golfers. This is then applied to a total of 340 000 golfers (214 000 affiliated and 126 000 non-affiliated).
There is unfortunately no explanation of how the non-affiliated number was estimated and it therefore appears to the reader as total guesswork. The number of affiliated golfers was obtained from the National Golf Network (NGN), but Sports Trader's enquiries directed both at the NGN and the two organisations responsible for the affiliation of members (SA Golf Association and Women's Golf: SA), indicates that the affiliated number should be closer to 160 000. This could indicate a serious overestimation of numbers throughout the report. Furthermore, one would expect the affiliated and non-affiliated golfers' expenses to be very different from each other.
According to the survey conducted on affiliated golfers the average golfer spends his/her money as follows:
Taxes paid
The study also claims that golf contributes to the creation of about 50 000 jobs, amounting to a total salary and wage bill of R1.58 billion, R215 million in tax to the government and R40 million to charities. The report does not state whether the tax refers to income tax or value added tax, but it seems extremely low at less than 1% of the total economic impact. If this research is used to lobby government, wily government negotiators might well use this low tax contribution to show how little this game for the rich is contributing to the community.
Golf Events
It is interesting to note the healthy economic contribution of corporate golf events. The survey estimates that the average golf course accommodates 48 corporate golf days per annum and generates an income of R11 692 per day for the course itself. Professional golf events is the second biggest contributor to this segment. This consists of the Sunshine tour, which is the fifth biggest golf tour in the world, together with the two major 'special events' held annually, being the Nedbank Golf Challenge and the Women's World Cup of Golf.
Local manufacturers or distributors who import golf branded shirts usually receive orders for corporate golf days, which would further significantly increase the contribution of the golf equipment section.
New Course Development
The average cost of developing a golf course was estimated at R280 million. This excludes the value of stands, houses and additional services, which is covered under the golf estate property component. New golf course construction expenses are typically incurred over a number of years, but this estimate was based on the six courses completed during 2008, being Euphoria Golf Estate and Hydro, Vaal de Grace Golf Estate, Ebotse Golf and Country Estate, Blair Atholl Golf and Equestrian Estate, Gardener Ross Golf Estate and Hermanus Golf Estate. No comment is made whether 2008 was a typical year in terms of the number of courses completed, or not.
Golf Estate Property Component
The estimate for this sector is also based on the six courses completed last year and mentioned above. It is estimated that 3 521 stands were brought on the market by these developments and that the sales value of those properties amounted to R3 957 million.
It is debatable whether this segment should form part of this study. Surely only people who bought a holiday house on such an estate, or people who would not have bought another property somewhere else, can be considered to be part of the impact of golf. It can be argued that a substantial proportion of people living on golf estates were attracted to the property by factors other than golf, such as security, a nice environment, etc. Furthermore, is it correct to include properties developed during the year or should properties sold during the year be considered?
Even if this segment should be removed in its entirety, the economic impact of golf is still significant and should be brought to the attention of policy makers. And although there might be some flaws in the study, or at least some items that are debatable and others that contradict each other, the PGA of SA should be congratulated for their initiative in commissioning such a study and making it available to the trade and other role players. Market information is very hard to come by in SA and studies such as these are very important for future planning for all involved. We can only hope that this survey is repeated periodically so that the future growth of the industry can be measured and used as guidelines by all the institutions involved.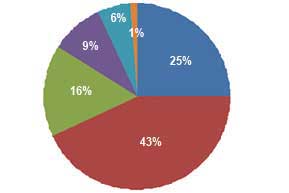 Expenditure of SA golfers
| | |
| --- | --- |
| Membership and entrance fees | 25% |
| Green fees | 43% |
| Golf equipment (including softgoods) | 16% |
| Caddies and carts | 9% |
| Food and beverage | 6% |
| Golf lessons and instruction | 1% |
The research report shows that golfers spend their money as indicated in the table above. The fact that membership and green fees account for 68% of their expenditure would explain why the current economic downturn has had an impact on rounds played. It also shows that discounting equipment would not necessarily attract new customers who cannot afford to play.
---
February 2007
What happened in the outdoor holiday market?
December is not only the month when most gifts are purchased — in the outdoor market it is also the time when most holiday equipment is sold. What were the main shopping trends in 2006?
Customers were buying and spending money at an unbelievable rate. That was how outdoor retailers Sports Trader spoke to experienced holiday trading – and even better news was that the trend continued well into January.
Not only did more customers come to stores to buy, they also spent money as if they had never heard of things like interest rate hikes or inflation.
Retailers mention wives smilingly paying R6 000 for a GPS as a gift for their husbands, people treating themselves to high-end telescopes and tourists buying as many as six pairs of high-end molded sandals for the whole family.
For many outdoor retailers the only dark cloud seems to have been the late delivery or unavailability of some stock items.
Customers visited outdoor stores for gift items as well as to stock up on holiday equipment, most retailers found.
Many gifts were for the guy who has everything and loved one's therefore wanted the latest and most advanced, for instance the newest GPS technology, irrespective of price. While consumers balked at paying R2 000 for a GPS a few years ago, they have now become so well accepted that people are prepared to pay three times as much.
Expensive niche items
Several very expensive niche items enjoyed surprisingly good sales – for instance, telescopes. Situated in a mall with plenty of foot traffic, Drifters have always displayed a telescope in their window as it attracts customers – this season they not only came in to look, they also bought telescopes, at all price points! says Matt Tibenham.
Another high-end luxury item that sold surprisingly well was underwater digital cameras, says Duncan Pattenden of Orca Industries. "People have always bought underwater cameras, but there is a marked rise in interest in digital cameras," he says.
He does, however, concede that this could be unique to his store because of his personal reputation as an expert underwater photographer and the fact that he organises diving holidays for South Africans in Indonesia or the Red Sea, where people are more likely to use the underwater digital cameras.
Binoculars sold well for many traders, whether chains or independents – especially in November when there was a high demand from tourists. "Tourists seem to spend without compunction," says Chris Mostert of Leotana Buitelewe in Stellenbosch.
"Overall binoculars were reasonable sellers over the Christmas season," confirms Andrew Whysall, importer and distributor of Swarovski and several other binocular brands. In some areas they sold very well, but less so in others, he says.
Other items that sold well for most outdoor retailers we spoke to are multitools, knives, torches and camping accessories like cooler boxes, umbrellas, flasks and backpacks, as well as tents.
Many consumers who had bought some of the lower-end headlamps in the market for use around the campsite, are switching back to torches – "you can not see if your meat is done with a blue LED," says Pattenden. Some new torches, on the other hand, offer excellent value, he says.
There is, however, still a good market for the higher-end headlamps, especially those with a strong halogen beam that can be used by cyclists and adventure racers to light the way in the dark.
Fishing remains a popular pastime and a few inland retailers report good sales to binnelanders stocking up for fishing holidays at the coast. Even fishing DVDs were popular gift items.
Clothes and footwear
Clothes and sandals were also very good sellers for most retailers, especially chains — for some these were the outdoor clothes and sandals worn by local holidaymakers, while others bought warm clothes for overseas trips.
Branded sandals were good sellers as more and more South Africans swop boots for sandals on hiking trails as well as for casual wear. The higher quality slops have also become accepted as casual wear — even when visiting.
Molded sandals were an absolute sell-out for those who stock them. "One customer just came in and bought five pairs for his whole family," a store manager from the Vaal Triangle says in awe. "People have now totally accepted these molded sandals - when they first came out there was some resistance from people who said they would never wear them, but that has now disappeared."
Despite molded sandals being sold on just about every street corner at about the price of a tub of ice-cream, customers still prefer to buy the higher end well-known brand name sandals, say retailers. That is because customers buy them for their comfort features, not their looks, says Chris Mostert.
They are especially popular amongst tourists from Europe, where they are not yet such trendsetters. "One guy came in and bought a pair for each of his children – six pairs in one go!" exclaims Mostert, who believes that retailers who sell cheap imitations is only doing himself a disfavour as these sandals sell at higher price points, even at R395 a pair.
"People are prepared to pay for the quality. You can not reproduce that softness in a cheap shoe – and besides, my margins are higher."
Camping equipment like cooler boxes and all kinds of fishing tackle were also selling well, say retailers who cater for the camping market.
The latest in holiday trends
Dressing for snow: An interesting new holiday trend was that people going overseas on skiing holidays or expeditions now bought their thermal wear and jackets locally. "There are a couple of local manufacturers like Capestorm and First Ascent that now make ski wear that are as good quality as the garments made overseas. They have been selling well," says Drifters' Tibenham.
Whereas travellers used to hire their ski wear once they got to their destination, they can now buy their own locally for roughly the same price, he explains.
Switching to tents: Another discernible new holiday trend was that people (in the Free State at least) now prefer to camp in tents rather than caravans. "We were selling a lot more tents than before and I was told it is because people are now selling their caravans in order to go camping in tents," says Wimpie Coetzee of Kloppers Sport in Bloemfontein's outdoor department.
Apart from the fact that tent designers are constantly upgrading comfort features, he had been told that people now prefer tents because they are easier to transport, store and the tent stand prices are cheaper than caravans.
For the retailer there is the added benefit that tents usually have to be replaced every 4 to 5 years.
Diving holidays: A diving trip to Indonesia, the Red Sea or even, closer to home, Sodwana, organized by an experienced diver are becoming popular holiday options "even among people who do not actually dive in Cape Town," says. Pattenden. "In a 10 to 12 day holiday like that you will probably have more dives than in a whole season in Cape Town, because working people can only dive over weekends and then the weather is quite often bad."
---