Trends
August 2005
Back to the future in 2006
Retro styles and a strong sporty influence were the characteristics of the lifestyle ranges shown at this year's ispo Summer and ispovision. These themes are also embraced by several major brands, CARIN DU TOIT found
The new buzz-word around athleisure sketchpads is 'retro'. Summer 2006 sees the return of retro, combined with performance fabrics that imitate sport styles. Seen on catwalks, designers are increasingly looking to the past for inspiration.
The lines between sportswear and athleisure wear continue to become even more blurry, with athleisure brands incorporating sports-influences into their designs.
Thus, there are two main styles to look forward to this summer; each one bringing with it its own fabrics and colours. Both the retro and sporting looks are influencing fashion.
Brands launching their ranges at ispo Summer this year showed that the yachting-style is making a come back in fashion. Designers are making use of bright colours, colourful prints and details in contrasting colours — not to forget the trade- mark horizontal stripes. Cotton and linen are the materials of choice.
This year's ispo Summer also showed that golf wear is receiving a makeover. Golfwear is becoming younger and the transition between on-the-course wear to evening/after-work wear is becoming smoother.
The retro look is in, but is broken up by unconventional material and colour mixes that focus on the '50's.
The ispo Summer and ispovision fashion shows showed that men's golfwear is becoming more casual with loose, flowing polo shirts and oversized Bermudas. The shirts make use of bi-colour sections. The classical piqué polo shirt has new interesting colours and different wide block stripes and/or buttons that contrast with single-colour pieces.
The pullover, which can be integrated into everyday wear, boasts a new, super-low neckline. Cargo pants with elaborate knee shapes are the most noticeable item amongst the bottoms. There are saddle yokes on the back and they have patterned pockets.
For daywear, vests have oversized pockets. To spice up the outfit, the casual club blazer has intricate embroidery, which reminds one of the British landed gentry of yore.
Women's golfwear is becoming even more individualised and luxurious. The tight blouses have multicoloured knitted welts and are made of satin. These blouses are made functional with the use of ventilation slits and zipper bags.
An alternative to the blouse is the vest with a stitched front part, adjustable side loops, two-way zippers and contrasting piping on the collar.
Basic shirts are given a make-over with details such as side slits or cut-out sections that are enclosed by corded ribbon. Tight polo shirts with tapering sleeves are made of stretch piqué. These shirts have snap-fasteners on the collar.
In the bottoms-department, the shorts are wide and are without cuffs. The lean Capri-shorts are made of techno-gabardine and have a stretch.
Overall, colours are somewhat subdued with a soft, subtle and fragile effect, but they still appear vital and fresh. The most important colours are pistachio, coral, champagne and violet.
However, as with most fashion, there is a daring side as well. Checkered clothes with contrasting, almost wild, colour combinations are experiencing a revival.
On the tennis front, cool white is hot for summer 2006. The classic white is back in a big way, but in no way is it a boring white. Except for classic white, browns and chocolate variants will also be appearing on the court.
In addition to the usual conventional tennis shorts, suits, vests, t-shirts and polo shirts, designers are giving the classic look sex appeal, with new cuts, hot pants, tank tops with exposed stomachs, sassy slit skirts, simple dresses with low necklines suitable for tournaments and interesting dress and strap variants.
The retro look will also be seen in lifestyle clothing ranges.
Reebok's new Heritage line draws its inspiration from retro English athletics. "The feeling of the retro trend is focused on lifestyle, with vintage sport elements being incorporated to retain the athleisure feel," says Reebok SA's PR Lauren Mamet.
Reebok's colours are loosely based around the Union Jack, with navy, white and red as the base colours. These styles are embellished with Union Jack graphics, sometimes combined with the English lion.
he styling has a retro handwriting with stripes and colour blocking adding to the feel. Fabrics for the look are single jersey, polyester fleece and nylon.
Breathable or wickable (play dry) fabric, that aid or enhance performance while on the field, are now being integrated into the athleisure sector. Part of Reebok's inspiration comes from athletics and soccer with the seam detailing, colour blocking and engineered polyester detail adding to the sporty feel.
The colours for this look are muted primaries, offset by bright accents. The fabric, combined with performance styling, give an overall sporty-look.
The New Balance palette for ladies apparel has soft lilac, hibiscus, pink, brown, beige and sky blue. The palette for the men's apparel has white, charcoal and dark slate. Fabrics are soft with polar fleece, cotton and moisture management materials being the main choice.
At the SA Fashion Week, at the end of July, Nike showed that they are also heading in the retro-direction. Men and women's retro court shoes will be a big hit, says Justin Maier. There is also a strong soccer influence among Nike's men's shoes.
The Women's line is influenced by track and field shoes. Overall, Nike has opted for a predominant black and white range, however there is also a lot of bright pinks, greens and yellows as well as metallic gold and silver.
Reebok's footwear is seeing a lot of bright, vibrant colours, in both men's and women's footwear. The ladies colour palette includes colours like Green Gleam and Hot Lips Pink. A lot of beach brights over a spectrum of colours will be seen. Ladies footwear sees strong influences from golf, beach sports and yachting.
The more technical and performance orientated shoes feature advanced technologies for better performance. Mamet says Reebok is launching "the Pump 2.0 Run, the most comfortable shoe that pumps up as you walk… and the Romulus, the evolution of the Pump 2.0." The Romulus allows the wearer to customise their fit by inflating when running and deflating when not. The Travel Trainer, a very stylish shoe that folds up on itself to half its size, will also be launched next year, says Mamet.
Collections are becoming lighter, more elastic and breathable. Asics is heading into a new market with their comfort-shoe gel sensation tennis collection — designed by Tommy Haas.
New Balance's summer 2006 palette for ladies footwear consists of powdery pastel colours. Grey and silver is very prominent in the men's footwear. The breathable mesh in the uppers have smaller holes than those used for 2005.
Jeremy Nel of K-Swiss says the hot colours for their summer 2006 ranges are pink, brown, green and blues. Although they will be focusing on classic styles, there will also be original new designs, says Nel.
Their shoes are made of printed and stressed material and leathers – with a focus on classic leather shoes.
Salomon's softshell footwear, the first of its kind, received positive feedback at ispo Summer 05. Softshell is a well known concept in the textile sector. The advantage of using softshell is that, even with proper water resistance, ventilation and elasticity of materials is considerably higher than when constructed with membranes. By using softshells, most seams in the shaft area are no longer necessary. Combined with the soft feel of the material, and the production method, it is possible to create an optimised fit.
---
October / November 2008
Barefoot running shoes — the way to go
For years and years the footwear industry has been advising customers that they need motion control and super shock-absorbent running shoes to prevent injuries during running. But, scientists are now saying that just the opposite is true: the less help the runner gets from a shoe, the less chance of injuries. In fact, they say running barefoot, or as close as possible to barefoot, is the best way to go. We hope that this article by sport scientist
Dr. ROSS TUCKER*
will stimulate a robust debate on the subject, which we hope to publish in our next issue
UCT/MRC research on running injuries
INTERESTING research is being done at the MRC/UCT Exercise Science and Sports Medicine Research Unit on how the body deals with the stresses of running. They found:
Despite the development of running shoes aimed at rectifying foot faults like pronation and supination, the injuries to runners' knees and ankles continue unabated, and in some cases were exacerbated by the use of shock-absorbing and motion control shoes;
US Scientists have also been doing research on how the body absorbs shock while running and Dr Nicholas Romanov's Pose Method of running (suggesting that adopting the correct body position could reduce impact and increase performance) received widespread support. It was also tested by UCT research team member Dr. Regan Arendse;
UCT's Prof Martin Schwellnus and his team found that the body goes through a rapid, but complex, routine in every stride it makes and that the body's built-in suspension system can sense, and then adjust, in order to cushion an impact the foot might encounter. The pronation and supination observed in the natural movement of the foot is nature's way of dealing with the impact caused by running and are an intricate part of the body's suspension system.
What others have to say...
Why are super shock-absorbing athletic shoes causing more running injuries? Dr. Steven Robbins from the Centre for Studies in Aging at McGill University in Montreal pointed out that the human lower extremity is not a delicate, rigid, passive structure requiring packaging to protect it from impact. People who go around barefoot just don't get plantar fasciitis or any of the other lower extremity injuries so common in shod populations — Dr. Joseph Froncioni in Athletic Footwear and Running Injuries.
A study published in the British Journal of Sports Medicine found that price makes no difference when it comes to the pressure under the foot and comfort — the cheap shoes produce the same pressure (cushioning), and the same perception of comfort as the expensive shoes.
Dr Benno Nigg, a kinesiologist and researcher at the University of Calgary found that when you run in shoes with a softer or harder midsole, you change the impact forces, but the muscle activation simply compensates — in other words, your body adjusts muscle at different levels to ensure that you don't have excessive joint loading and tissue vibration.The use of running shoes that alter the movement of joints during running (think anti-pronation), will produce an increase in muscle activation, which can affect the body's "natural" mechanism to regulate joint-loading.
You can walk barefoot around the house, do simple foot strengthening exercises, or run a few barefoot miles a week on safe, secure surfaces. And then put your shoes back on before you hit the pavement. Even Abebe Bikila gave up his barefoot ways — Amby Burfoot in Should we be running barefoot?
Ever since the boom in the running industry about 30 years ago, the percentage of runners who get injured each year has remained pretty much the same — despite technological advances and developments in the footwear industry aimed at preventing running injuries.
The latest studies suggest that anything between 40% and 70% of runners are injured every year, despite footwear brands' claims that anti-pronation devices will limit movement of the foot, reducing the risk of injury in overpronators, or that forefoot and rearfoot cushioning devices reduce impact and the risk of injury. These claims are rarely backed up by published research, though claims of evidence are numerous. Anecdotal evidence also abounds — I have no doubt that many people will be able to share the experience that a persistent, nagging injury suddenly cleared up when they switched shoes. These stories are very common, and lend support to the idea that a certain shoe will help with injury risk.
Personally, I'm of the belief that an injured athlete should rather look at their training as the first port of call after injury, followed by things like muscle strength or flexibility imbalances. An injury can almost always be traced to a change in training intensity or volume, and that's where I'd begin the detective work, not with shoes.
Anti-pronation not the answer
As recently as perhaps 4 or 5 years ago, pronation was the enemy, and advice was given to limit it at all costs, although pronation is the normal movement of the foot — almost everyone has it.
Basically, the premise for anti-pronation shoes is that upon landing, excessive pronation, which refers to the rolling in motion of the ankle, is partly responsible for injury, since the pressures and loads placed on the shins and knees is excessively high. Therefore, control the pronation and you control the injury risk...
So, shoe companies all developed their own unique devices to do this. Apart from the devices that are proposed to aid with cushioning (Nike Air, Asics Gel, adidas Adiprene, and so on), I would dare say that most of the product (and price) differentiation among shoe brands took place with regards to these motion-control devices.
Running in neutral
That is no longer happening, as far as I can tell.
The major brands still have their heavy, expensive motion-control shoes, but the trend is without a doubt towards the lighter neutral and more cushioned shoe. The default advice that most people are nowadays getting is go neutral.
As mentioned, I don't believe that the evidence has been gathered to support that heavy anti-pronation shoes are the solution for running injuries. Many other scientists and runners are also suggesting that anti-pronation shoes are being over-emphasized, and that a well-cushioned shoe is the way to go.
Training errors are responsible for injury, the rest is detail! Of course, factors like biomechanics, muscle strength or flexibility imbalances are contributing factors. Therefore, some runners, who are biomechanically correct (incidentally, that term is thrown around liberally without a clear definition of what it actually means!) can get away with training that would cause injury to someone who is not so fortunate, or who has an imbalance in muscle strength or flexibility.
I also don't believe that simply changing the shoe is the solution — changing the training, and gradually increasing the load, is far more likely to resolve the injury.
With regard to orthotic devices, which function on the same premise as shoes, but may have more effect on biomechanics, I believe that orthotics may be helpful at the two extremes (high arches or very flat feet). But, I really am convinced that given the right training, anyone can wear neutral shoes.
Barefoot running
Nowadays, there is a growing argument that running barefoot is the natural and hence the correct way to run. That's not to say you should run barefoot (that is highly impractical), but rather that getting as close to barefoot running is becoming a popular notion. In fact, even the shoe industry has cottoned onto this idea. Think of all the many shoes that are now being launched that mimic barefoot running — minimal cushioning, light shoes, designed to bring your running style more in line with its natural origins. Whether it be a flexible shaft in the shoe, or a plate that rotates on the heel, or even the more breathable design, the very obvious trend is towards more movement, more natural, more barefoot.
But, a word of caution here. If a runner who has been pounding the pavement for 20 years in a pair of shoes suddenly switches to these ultra-light shoes, he may be making a risky move, because the change in biomechanics and loading of joints, muscles and tendons will almost certainly cause injury.
The key, as with training, is to gradually change, giving the body time to adapt to the new stresses it faces. The point is, there is a shift in the market, which could be the beginning of the end for the heavy, anti-pronation shoe.
I do believe that within the next five years, the companies that make the best cushioned shoes will grow, while those who hold onto their motion control shoes will suffer.
In marketing, a model called the BCG matrix calls some products Stars, and others Dogs (among other classifications). I suspect that the star of five years ago, the motion control shoe, is gradually becoming a dog, and how the industry reacts will be interesting...
* Dr. Ross Tucker is Head of Research for sports management and sponsorship company, Navitute. He also consults to UCT's Exercise Science Unit, and is the scientific editor of Runner's World SA. His main interests are exercise fatigue, and the role of the brain in regulating pacing strategies in anticipation of future physiological events.
---
October / November 2008
Barefoot running – the brand perspective
We asked some of the leading running brands what they thought of the views expressed in the article
Barefoot running shoes — the way to go
by sport scientist Dr. Ross Tucker, published in the October 2008 issue of
Sports Trader
(
click here to read the article
). He said that research shows that the less help a runner gets from a shoe, the less chance of injuries, and that motion control running shoes do not prevent injuries. The issue is, however, not so clear cut, FANIE HEYNS learnt
The new trend is running barefoot, or ideally with shoes that allow the foot to resemble the barefoot gait as closely as possible, sport scientists Dr Ross Tucker wrote in an article published in the October/November 2008 issue of Sports Trader.
According to him, anti-pronation is no longer the key phrase in the performance running industry — the trend has changed towards the lighter neutral and more cushioned shoe, instead of the stability and anti-pronation shoes of former years.
That is because anything between 40%-70% of runners are injured every year, despite claims from footwear brands that anti-pronation shoes will reduce the injury in over-pronators, or that forefoot and rearfoot cushioning reduce impact and the risk of injury.
We asked some of the major running footwear brand representatives if they agreed with Tucker.
Natural front runner
Nike is one of the front runners in regard to natural motion thinking, says David Blake of Nike SA.
When they introduced Nike Free, the main focus was on three things: strengthening the foot complex (kinematic chain), reducing the risk of injury, and increasing the ability for a better performance.
"The idea was very radical to most people, but I believe that the more competitive athlete and coach definitely understood the concept from the beginning. Most coaches do include some form of barefoot training in their athletes' training schedule. This is, however, very restrictive, as they would have to train on a track, or grassed area free of stones and glass," says Blake.
Nike Free gives the athlete the benefit of barefoot running, but on a wider variety of surfaces, for example roads.
"Nike then took the findings from Nike Free and added them to the construction of "conventional" footwear; this allows the athlete to run with a more natural gait cycle even though they have a shoe on.
"We do obviously still have shoes with medial posting, but with the way we can now construct footwear, and with the materials used, we can reduce the size of the medial post. This can be seen in the Structure Triax," says Blake.
Nike also designed women's specific product based on the Nike Free concept. They do not just "shrink and pink" the shoes, but among other features include reduced crash pads, gender specific lasts, and deeper forefoot flex grooves.
Motion enhancement pioneer
This view is nothing new, agrees Asics' global research coordinator Simon Bartold, as Asics stopped believing in "pronation control" many years ago. In fact, he maintains, Asics was the courageous pioneer of motion enhancement, and has gone to extraordinary lengths to try to tell the international medical communities that motion enhancement was where it's at, and motion in the pure sense of the word, is very difficult to control.
Bartold adds that flexibility, responsiveness and lightweight are now the key factors in performance running shoes. Stiffness, pronation control strategies and weight are the enemy of every runner.
"We do not make or promote motion control shoes," says Bartold. "We have not done that since way back.
"We actively promote the concept of motion enhancement," he says.
"The Holy Grail really is to try to design athletic footwear that is very light, that is very flexible, to try to make sure that every little subtle movement of the foot is allowed to occur."
Less is better
Natural or barefoot running is the best and would be ideal, says Philipp Hahm, the global product manager in the running category of Puma. They therefore try to incorporate this in their running footwear ranges.
"We choose a little bit of a different direction for the launch of the new Vectana and Velosis, as we need to address the biggest market segments first. As a credible running brand we need shoes on the wall of the speciality running stores — the Vectana and Velosis are doing the job.
"After we covered our bases with the trainer range, we will have the resources and freedom to work on the special concept shoes. In contrast to the past, this won't mean that our whole trainer range will go barefoot/super natural/ low profile," he says.
The L.I.F.T. Racer ultra-lightweight shoe, one of the latest additions to their running-inspired lifestyle shoe range, does, however, fall in this category.
With a low profile, ergonomic fit and light weight (only 173 gm), the L.I.F.T. Racer is a versatile shoe that can be worn anywhere. It is aimed at the runner looking to integrate short distances into their workout, not for long-distance technical running.
It derives its name from a new type of manufacturing called Lite Injected Foam Technology, which ensures that all excess materials are cut off and disposed of, epitomising lightweight running.
The midsole is constructed using a two colour EVA (ethylene vinyl acetate) wrap around the entire upper, accentuating the key features: light weight and low profile.
Lightweight features are also found in the upper with a micro suede trim detail combined with an oval mesh for maximum breathability. The breathable mesh is stitched on to complete the upper, using less glue and making the shoe environmentally-friendly.
Benefits foot dynamics
Much of the technical development of footwear over the last two decades has focused on correcting the movement of the foot, rather than on facilitating a foot movement that is much closer to the natural barefoot movement, says Mickey Mallett of Hi-Tec SA.
"Hi-Tec believes that in order to benefit the runner wearing our shoes, we needed to create a shoe with the foot strike closely reflecting that of the barefoot. That led to Hi-Tec scientifically developing the 4:SYS midsole, which helps the foot to function in a more natural way by optimising the material used," says Mallett.
The 4:Sys technology is the culmination of intensive barefoot pressure pad research, and testing into the dynamics of the foot, he explains. "It delivers more efficiency to the wearer by allowing the foot to move naturally and adding more cushioning and support where it is most needed.
"Through intensive research with Dr Hurrian from the Quintec consultancy in the UK, Hi-Tec assessed and evaluated the high pressure areas of the foot during the running movements. The study has revealed that there are four critical phases to running which are the heel strike, mid-foot stance, forefoot and toe-off.
"Hi-Tec is one of the only companies to offer different cushioning densities arranged in a CIRCULAR format in the heel strike area to mirror the barefoot impact zones!
"Although these movements are normal, the new insight here is the high pressure that is driven through the big toe and the critical roles that plays in balance, stability and forward propulsion. From this research, Hi-Tec developed the 4:SYS concept that keeps in mind the different forces applied by the barefoot while running."
Smooth and neutral
Brooks' MoGo technology — considerably extending the long-lasting resiliency and cushioning of the midsole — is used to good effect in their neutral shoes, like the new Glycerin 5.
The two layers of MoGo in the heel and sandwiched in the midfoot, offers a very smooth footstrike. The silver-embedded liner keeps the feet naturally balanced while a touch of support ensures a ride that glides.
Not an ideal world
But, the issues are not so clear cut.
"I can certainly not claim to have any scientific experience," says Gary van Rooyen, GM of New Balance SA, "but having been in the footwear industry for the past twenty years and endured fifty marathons, two Ironman's, five ultra's and many, many multi-sport events, I have experienced the pain of ITB (pain and inflammation on the outside of the knee), the loss of toe-nails, shin-splints, torn calf muscles and every other bouquet of running injury available on the market (caused by all the top brands in the local market)."
"I have seen and also experienced the bio-mechanical labs at SSISA, as well as the advanced Bio lab in Boston, and I totally agree with their principles of body and muscle alignment and the power of the brain to make the adjustments required. In a perfect world of sand, rock and off-road paths we would all have been a lot better off without shoes.
"However, the fact that we have been molly-coddled and 'clothed' in the incorrect footwear since the moment our mothers were able to fit shoes on our feet, has left us with inherent problems that require bio-mechanical assistance.
"Neutral shoes may be good for some, but we could never put a flat-footed, over-pronator into a neutral shoe without some repercussions. Ironically, we see more injuries from runners changing from their old 'broken down' shoes into a new pair of 'stiffish' ones, be they neutral or supportive, due to the fact that their bodies have adjusted to the breakdown of the old pair and then the runner heads off in his new pair as though nothing has changed. The body inevitably goes into shock and an injury manifests itself in some place in the body - mostly in the knee, ITB, calf or back.
"The crazy thing is that we spend eight working hours in the 'incorrect' shoes and then blame the issue on our running shoes after a 30 minute jog at the end of the day."
New Balance has developed a Total Fit™ technology, specifically designed to fit around the foot and to adapt to the way you run. It is based on the philosophy that when it comes to fit, size isn't everything. Fit is seen as an entire system of technologies – not just one. They have identified 88 points on the foot where the correct fit is important - not just length and width, but the heel, toe box, outer-sole, mid sole, arches… the whole foot.
They say their shoes go through over 240 000 miles of testing and that they partnered with the most prestigious engineering universities to develop enhanced biomechanical measurement tools.
Examples of two styles with this Total Fit™ technology are the 769 and the 1063. The 769 is a running shoe that offers a strong blend of cushioning and mild to moderate anti-pronation support. The Acteva Lite midsole features Abzorb technology for excellent levels of cushioning, while the TS2 medial post, Stability Web and NLOCK give the runner plenty of support and stability.
The 1063 is a top-of-the-range cushioned shoe featuring shock-absorbing Abzorb technology in the midsole, sockliner, heel and forefoot. A Stability Web in the midfoot reduces weight and maintains torsional integrity. Its supreme fit is due to NLock and Phantom Liner, with the additional benefit of environmentally-friendly breathable Cocona material.
Absorbing marathon shock
A misconception about anti-pronation shoes developed as a result of the significant hype about the stresses of over-pronation a few years ago, adds Deane Nothard of Reebok SA. With pronation the buzz word in running circles, anti-pronation shoes became increasingly popular, even with mild pronators. This led to many people wearing anti-pronation shoes when it was probably unnecessary.
"However, we still believe there is a strong case for severe pronators to use a stability shoe to reduce the risk of injury, and to help ease the stressors from an awkward movement.
Not all stability shoes need to be heavy and expensive though — new technologies have allowed for more lightweight stability shoes that still provide a medial post for severe over-pronators, or a more solid transition bridge to assist with stability," says Nothard.
Reebok still believes that cushioning and shock absorption are the keys to long-distance running shoes. On a shorter run, they may not be as critical, but when running ultra-marathons, that repetitive pounding is naturally going to take its toll, particularly because (as the article alludes) we come from a society that is used to protecting our feet with shoes in our daily lives.
It is for this reason that Reebok's premier range focuses on its cushioning and shock absorption properties, particularly through the midsole.
"Where we do agree with the article is that the foot wants to retain some of its natural feel and movements. Reebok's KFS technology incorporates expansion joints that allow for more natural movement, and most especially for the expansion of the foot as it swells over long distances.
"This in turn keeps the blood flowing properly and the foot comfortable. Our SmoothFit technology is another innovation in this direction where the lightweight, seamless upper, reduces friction to provide a more comfortable, natural feel," adds Nothard.
Don't over-simplify
There is a movement towards the phrase more natural in the performance shoe market, says Jerome Goslett, GM of Omni-sport, distributor of Saucony. Where the anti-pronation qualities of footwear were emphasised a few years ago, the tendency in 2009 is to move to something more stable and neutral, without excessive posts in the mid-sole to stop pronation. There is also a tendency away from the heavy footwear that over-emphasize stability.
But, he warns against what he describes as an over-simplification in the article by Tucker."Can you imagine young people who eat excessively becomes overweight and develops injuries to their legs, ankles and knees at a young age. They might become knock-kneed or bow legged because they are so overweight, later he or she loses weight and starts running. The barefoot or normal neutral shoe won't necessarily cater for these problems."
Although there is a trend to go natural, there has to be complications when size and weight etc. come into play. "There are many variables. At the Comrades marathon, you see runners with a variety of shapes and sizes. It is one thing to state that the American Indians running in moccasins suffered no injuries, but they were not running on tar, were they, also how do we know they suffered no injuries " says Goslett.
"One thing is for sure, and that is that technical running stores are becoming more sophisticated in analysing needs. The tendency is to analyse needs and to look at neutral footwear first and then make judgements based upon the weight and size etc. of the person," he adds.
---
February 2007
Beachwear… casual, yet functional
CARIN DU TOIT gives feedback on beachwear styles shown at trade shows
In previous seasons, the fun character of the surfing culture was represented in beachwear. Summer 08 pays more attention to the active body, while also combining influences from classical, maritime uniform elements and club insignia.
At ispo Summer 06 (in SA for summer 07) beachwear styles were launched that are both functional and casual at the same time, with cuts that are defined more clearly. More attention was paid to fabric surface detail, for example the incorporation of tone-in-tone herringbone nylon or nylon supplex with stretch inserts.
The hippie ideas of the boardshort culture influences the flowing tunics and tops that have crocheted insets. Expect to find an abundant supply of retro photo printed T-shirts, as well as T-shirts with patched-on rings, applied stripes and handicraft loop embroidery — inspired by the maritime look.
The fabric has sprayed prints, etched colours, crackprints, and enzyme and sand washing to give the impression of bleaching by the sun and sea water.
In swimwear, look out for shaping and supporting materials. The tankini is given a sporty edge with crossed spaghetti straps, and plain triangle bikini's — adorned with shells on chains and bands, as well as pearl cords — emphasise the more fashionable side of swimwear.
The maritime colours — red, white and blue — are brought over from last season, however they are often only used as trimming to contrast with nude tones.
Patterns are again the rage, with the classical hibiscus print making a come-back. There are also large blooms and blossoms on white, and polka dots. These patterns are often used on a striped background to give a fresh look. Also on a come-back is the camouflage print, but it is given a new look by being used with soft, pastel combinations, for example peach and rose, or rosebud with lime green.
---
August 2006
Canvas has taken over the world
Canvas is THE fashion story. It has knocked other styles off shelves and taken their place worn with suits, dresses, jeans and shorts. The canvas brands and styles of today are worn to celebrate life, instead of rebelling with or without causes — and this is reflected in the fun styles available
King Henry VIII has been credited — or discredited — with many firsts, but today's fashionistas will be horrified to learn that the earliest known version of their favourite footwear was worn by the portly king with a penchant for chopping off heads.
Yep, when in a less bloodthirsty mood, King Henry V111 also enjoyed a game of tennis, which he played in canvas shoes. Although the uppers were canvas, the rubber soles that is such an integral part of the shoes made famous by the scowling looks and what y're looking at? attitude of James Dean, were only developed in the 19th century.
While the English name – plimsolls – has an utterly decent navy connotation, the American name, sneakers, came about because the soft rubber soles gave the wearer the opportunity to sneak up on people. Probably just as well that alternative names like felonies and brothel creepers disappeared.
Mind you, those canvas-upper lace-up shoes with rubber soles made according to the Goodyear Rubber company's vulcanizing process were priced beyond the means of the ordinary felon or brothel creeper. At $6 a pair only the idle rich could afford them.
Canvas and rubber-soled shoes were worn by the upper classes when partaking in a genteel game of croquet or slightly more vigorous tennis during the 19th century, but it was not until the early 20th century and the basketball-era that canvas sneakers became the footwear of the masses.
It is said that master James Naismith created the game of basketball to tame a crowd of unruly students at Springfield College during the winter months. It is also said that Spalding made the first pair of basketball shoes as early as 1907. And it has been written on the Internet that the first branded sneakers were Keds, made in 1916 by US Rubber, a conglomerate of 9 American rubber tyre manufacturers.
But what is KNOWN, is that Converse made the first performance basketball shoe in 1917. Also that basketball-great Chuck Taylor became the first sponsored player when Converse signed him on in 1921 and that the Chuck Taylor All Star with traction on the outsole and ankle support is till today one of the most famous shoes.
For many years Converse All Star had a monopoly at the top end of the basic canvas market, explains Laurence Slotsky of Footwear Trading, who had been studying canvas brands for many years. "There were many copies of All Star at the lower end of the market — from no-name labels to labels like Millé, The Star, American Star, One Star and many others. Even discounters and major South African chain stores have been copying the product in their own labels."
Superga started manufacturing hand-made tennis shoes from cotton canvas in Italy in 1911 and soon created their own niche in the canvas market. "The one basic canvas style has been around since 1925, the bulk of Superga business is Generic basics — it is the Rolls Royce of canvas and a lifestyle product," says Michael Joseph, who distributes Superga in SA.
Many brands have tried to copy Superga's distinctive look, without much success, says Joseph. "The rest of the canvas market is just copies of each other. Only Converse and Superga are the real original canvas brands."
But, points out Slotsky, "it is interesting to note that in the motor industry Ford was the original motorcar in the world, but other brands thereafter perfected styling and became more aspirational than the original car. The same seems to be happening in the canvas market."
In 1937, PF Flyers entered the market. "PF has been dedicated to having fun, looking good and being comfortable," says brand manager Wesley Scott of New Balance SA. "Back then, the idea that everyone could benefit from a body-aligning arch was ahead of its time. Today, PF has evolved in a variety of technology packages that provide better support and comfort while looking good and fashionable."
During the 1930s Converse also developed the Jack Purcell shoe, named after the famous badminton player, with a leather toe-strip resembling a smiley and non-marking flat sole.
Before World WarII put everybody back into leather boots, canvas was worn by people all over the world who had never even heard of basketball.
But that, as they say, is all history.
Today canvas is THE fashion story.
It is worn with suits and jeans. It is worn by rich and poor. It is worn to cocktail parties and to all-night raves. It is worn for work, sport and play. Canvas is worn by everybody — and hardly anybody cares about where it comes from.
This is a pity.
Very few other footwear fashions have such a rich political and cultural heritage. Much of it steeped in protest and counter-culture. From the 1950s onwards, the wearing of sneakers and jeans became as much a statement of beliefs as of fashion.
In the 1950s James Dean's smouldering good looks, T-shirt, jeans and canvas shoes led a generation seeking a cause to rebel against. Marlon Brando's T-shirted canvas wearing tough guy was the antithesis of the do-gooder hero. The gang members in the first teenage musical, West Side Story, waged their war wearing canvas sneakers.
The 60s generation that waged a war with flower power, free love and dope also defied all dress codes by adopting jeans and sneakers as a uniform. By adopting the workman's denim overalls as their own, the hippie generation not only showed solidarity with the workers, but also turned their backs on the dresses, grey slacks and leather shoes considered decent by their parents.
John Lennon, epitomising the free love and rock n' role era of The Beatles, inspired the Converse Peace-sign shoe, commemorating his youth protest song Give Peace a Chance in several languages.
In SA, canvas was very popular during the Apartheid era amongst a group of black consumers known as the Pantsula's. The shoes were hard-wearing, easy to clean, very comfortable and fashionable and also affordable.
Converse became so popular here that the SA market was only second to Japan in sales. Chuck Taylor became a generic name for the high top boot, while the All Star is the common name used for the Converse shoe.
Superga was also a big hit in this market, but when the international boycotts were initiated in the early 1980s, the Italian brand also withdrew from the SA market.
Last year, Superga re-launched their canvas ranges into SA. "The SA market is unique and very different to other markets," says Joseph, "but like in the rest of the world, canvas is now a huge story here as well, with other brands following the trend."
With the whole world hankering back to the lifestyle and fashions of the much less complicated fifties, canvas is indeed riding the crest of the fashion wave.
Instead of angry teens bent on changing the world, canvas is now worn by those enjoying life and celebrating youth. That is also reflected in the fun styles of many ranges.
This is a fashion trend as much driven by those old enough to remember the original colourful sneakers with the rubberised toe caps as those who refuse to believe their parents wore their fashions when young.
"Canvas shoes are affordable, so a fashion geek can purchase a couple of pairs in various shapes and colours," says Slotsky, who markets canvas brand Levi's, amongst others. "You will see people wearing canvas shoes with bermudas, jeans and even the trendier in a black suit. Canvas works in fashion cycles worldwide and whilst denim and jeans is at the top of the trend cycle, canvas will follow. When this trend tapers off, so will canvas."
At the end of the 1990s, Sechaba "Chabi" Mogale and his partner, Sowetan, Wandi Nzimande, launched their distinctive African urban clothing and footwear brand, Loxion Kulca (slang for Location Culture). This home-grown South African brand also launched their version of canvas and was relatively successful in a short space of time.
In 2003 Fila and Soviet entered the canvas market: Fila re-engineered their products from the 70s and Soviet launched a trendy range of canvas, says Slotsky. Levi's came back into the South African market by introducing a powerful selection of canvas styles.
Now everybody is into canvas. Even brands like Diesel, Pony, Lacoste, Reebok, adidas, Puma and Nike are trying to gain market share in this category.
The fact that Bronx, one of Europe's trend-setting men's fashion shoe brands entered the canvas market, is an indication of how dominant the trend is. According to the Drapers Record Footwear Report Bronx was the #1 footwear brand in London in 2004 and the #1 footwear brand for brand loyalty in 2005. Since they entered the SA market in 2004, sales have increased three-fold.
"Canvas is SO big all over the world, we just had to enter this market," says SA brand manager Wayne Stanford of Jordan & Co.
During the past season, sales of canvas footwear had been breaking records everywhere.
"The racial colour divide amongst the fashion-conscious youth of SA was narrowing," explains Slotsky. "Trends became trends, no matter what education or racial group you belonged to, which is a worldwide phenomenon, where fashion, music and art are one."
Dickies — famous for their workwear clothing — and Millé are two of the brands that crossed this cultural divide
Consumers now have a huge choice of canvas brands and styles. The question is: which brand do they turn to.
"One very important element as a distributor is to offer the retailer margin and good stock turn," says Slotsky. "If the retailer cannot make sufficient margin on an acceptable stock turn he is wasting his time stocking that choice of product."
---
August 2005
CD-playing, self-drying textiles?
More and more textile manufacturers make use of nano-technology for dirt and spot resistance. Already, nano-technology is being applied to everyday items to resist spills and to release tough dirt stains. But now the textile developers are talking about textiles that repel all moisture... and, yes! act like a hi-fi.
It seems that the next step is to have your hi-fi inside your clothing — literally. GAP has introduced Hoodie-O, a hoodie for children that has built-in speakers. Nike, Burton, The North Face and Marmot have already tested the market with similar niche products.
This spark of interest has culminated in what you call electro-functional fabrics (or e-textiles). These materials can illuminate, conduct, sense and respond. The whole drive behind this new fabric technology is creating materials that are active and not passive — they are not merely nice to look at and useful, but soon they will be able to respond to body functions. Earlier this year, Textronics Inc, formerly part of Invista, launched a prototype of a new kind of under-garment that senses heart rate and perspiration.
But how does it work? Nano-technology works on a nano-scale, where each nano-scale is 1-mil times smaller than a grain of sand. Nano-technology does not only refer to the size of material being used, but also to how the material is engineered to perform special functions. Nano-technology does not impact on features like air flow.
---
August 2007
Clothing trends to look out for
Catwalks have recently been adorned with bright looks for next summer, reports CARIN HARDISTY
Fashion continues its affair with sporty clothing. Techno fabrics in sharply contoured shapes are charged with flashes of neon, while sportswear detailing gives feminine pieces a street-smart edge. Mix a racer-back mesh dress with a bright T-shirt or shiny nylon with silk or jerseys. The jersey dress is a comfortable everyday casual option.
The trend known as the Big Easy speaks for itself: laid back urban looks with a gentle, feminine touch whether the clothing is soft, draped, layered, or in powdery pastels in pink or mauve … all the clothing in this trend have a relaxed air about them, inspiring the wearer to take it easy.
Look out for clothing layers – all in shades of one colour. Yes, forget all you learnt about not wearing top-to-toe in one colour. Designers have added some interesting details by making use of pockets that have the added bonus of changing the silhouette of clothing. Trousers are either wide-legged and slouchy or super-skinny. The dominant materials are washed cotton and super-soft jersey materials.
The bikini has to make way for the one-piece with summer 08's swimwear styles. The one-piece takes inspiration from glamorous 50s films, where spaghetti straps reveal skin, and high-waisted bottoms make a return.
Colours and prints
All that shines is not gold. For summer 08 all that shines is metallic. Look out for various metallic colours on the likes of skirts, mini's, tops, any item that wants to glitter. With this trend comes holographic prints, sheeny fabrics (these fabrics replace sequins), and honeycomb and embossed prints to add texture.
Yellow provides a shock to the eye. We are not talking calm egg yolk colours, but rather electric and acidy yellow.
The trusty black-and-white combination is back again. Sexy, sophisticated, casual — combine black and white items for any of these looks. The power of the two colours when combined allow bold prints and cuts to fit right in.
Ultramarine is seen in rich silks and satins in pure colour (not combined with other colours). It is a luxurious colour and makes a deep style statement.
Florals are used as bold prints, small petals, or full blooms that are used on dresses, skirts or jackets — the impression is very feminine.
Wonder what catwalk designers have in store for winter 2008?
The fabric for winter 08 seems to be nylon! It is used as a glittering material, or in a sporty, stretchy way. Forget cashmere for next year's winter.
Styles are out of this world: from an obsession with the newest technology that comes close to alien proportions (Hussein Chalayan) to a more subtle and do-able use of the futuristic trend, with embossed silks and shiny treated fur and leather ready for a trip to the moon with Branson.
Tights remain opaque, but they are thicker and ribbed and in every colour you can think of. At the Miu Miu fashion show tights were pulled up high above the waistband of skirts with cardigans tucked in. Sound strange? In coral it looked surprisingly appealing.
Fur, fake of course, is becoming increasingly casual, worn inside a hooded jacket or in strips on the front of a dress. Lanvin, YSL and Giles were among those who whipped it around the cuffs of cashmere coats.
Bomber jackets are becoming more luxurious, with material combinations such as fur, silk and leather.
Tweed is a popular pattern, but it has a sexy edge. It is used with form-fitting cuts.
Grey is back as the colour of the season, but it not depressing. It is seen in every shade possible from icy to darkest steel, and can look both romantic and powerful.
Big knits come back as a staple for winter 2008.
---
June 2008
Colour to grow bowls
It's colour that is going to swell the ranks of bowls. Colour of the clothes, colour of the bowls and colour of the people, reports JOHN McKEAG
In Australia they even play barefoot bowls, where participants — mainly younger people — can wear any clothes and can play barefoot if they do not have shoes with a flat sole, says Howard Joscelyne of JW Apex, distributor of Henselite.
"This has been very successful in introducing younger players to the game of bowls."
And even the national Protea side played at the World Cup in New Zealand in green and gold outfits* with no whites seen at all.
*Henselite supplied the bowling outfits of the Protea team participating in the World Cup in New Zealand
Bowls clothes today are no longer required to be white; colour is everywhere in shirts, pants and occasionally in skirts.
Gone are the nurse and ice-cream boy styles of dressing for the game. It's all about colour, and particularly among the younger players.
Gone too are the sober brown shoes to be replaced with white Hush Puppy type loafers as long as they have flat soles.
The bowls, or woods as they are sometimes still called, have also changed. Now when you visit a bowling green you will see any of the colours of the rainbow being used where in older times it was strictly black or brown. Now your eyes will be dazzled by the many hues of the bowls used today.
The other thing that is going to change the face of bowls is the influx of black, coloured and Asian players taking up the game.
Bowls, for all its slow-mo appearance, is anything but boring. Nor is it an enclave inhabited only by old people. There are many young people in the game and it is in their hands that the future and survival of the game lies.
By its very nature bowls seems to be a slow, boring game. It is, to outsiders.
But once you have allowed yourself to be enchanted by its wiliness, it will not let you go. It's exciting, it's addictive and educational. It entices you in with its many tricks of the trade and when you learn your way about, you are likely to be hooked for the rest of your life.
But bowls is in danger.
Its very existence is threatened by a lack of publicity occasioned by a lack of knowledge of what to do to make it better known by the people that administer the game.
There is also a hiatus in media coverage.
It has always been considered boring — it takes along time to complete a game; elitist — it appears to be a game only for affluent or semi-affluent white people; and, old fashioned — still 19th century.
Most of this is true, but then again most of it is false.
While there are many that cling to the old traditions of the game there are more who want to see it as one of the sports all people can play.
And things are being done about it.
Some years back those diehards who controlled the game with a will of their own nearly destroyed it by their actions and it was only when a few modern thinkers, putting their bowls lives on the line, decided to attack the norm.
They lobbied for coloured clothes and the welter of new, young faces crying out for a new approach won the day and colours became the wear.
Then the bowls manufacturers, also probably coerced by these younger thinking people began to introduce coloured bowls — red, blue, green, yellow, orange, mustard; why only last week I saw purple bowls on the green. And while there was an outcry of disgust from the diehards, today it is fully accepted.
Henselite are now even introducing an attractive speckled bowl, aimed at the more modern player.
Bowls SA, through its development committee, saw the light way back in the 90s and concerted efforts were made to bring the game to races other than the whites who had until then dominated the game with words like "They won't want to play the game. It's too slow for them."
They were wrong and today you will, at any bowls club, see players of colour enjoying a game of bowls with their white clubmates.
The coloured players have progressed so far that three of them have played for SA in international competitions and provincial sides all contain numbers of coloured players.
And this has not been window-dressing. All those players have earned to right to their places in their teams.
The advent of what at first was called pyjama cricket had a huge effect on bowls. Bowls officials realised that they needed to so something similar in bowls.
First, they threw away the rule book about clothing and the only regulation in the Laws of the Game today is that flat-soled shoes must be worn.
Then they set about changing the way the game is played so much so that today international games are no longer decided in the fours discipline by the long winded results over 21 ends, but rather two sets of nine ends are played. If there is a tie at that stage, there is a sudden-death play-off.
Similarly, the other team disciplines follow this style while singles is mostly played over seven ends.
In another innovation — mostly played at unofficial tournaments — two-bowls pairs and triples have become the norm in an effort to speed up the game and make it more interesting to spectators.
All these new ideas are bearing fruit, but in recent weeks something new had joined the ranks.
The Western Province Bowls Association, through its ebullient president, Sergio Martinengo, a former CEO of Checkers, has introduced their Super 10 competition that targets under 45 players only.
What Sergio did was split his Western Province district (41 clubs) into five zones and had his provincial selectors pick sides to represent each zone. A prerequisite was that men and women under 45 should be chosen and would play together. They then asked neighbouring Boland, presided over by another forward thinking gentleman, Martin van Zyl, to enter a team.
The result — instant success and players in other age groups are now asking the president to arrange games for them in the same mode.
They will play a round robin of five matches over Saturday afternoons to decide the winners.
One of the big advantages has been the emergence of a new batch of sponsors for the game and each of the six that joined up also put up a sizable amount of money in sponsorship so ensuring that their players were suitably dressed in their colours and their company names were prominent.
It is ventures like this that will ensure growth in the game and perhaps in the near future we might find ourselves with a bowls population of 50 000 as it once was (in the 60s) and not the 30 000 we have today.
Communicating with the customers
New players can only be attracted and old ones won back if the exciting new initiatives to give bowls a young appeal is communicated to the public.
"The problem is that there is no communication between the administrators, the bowls manufacturers and their agents and the bowlers," says Howard Joscelyne of JW Apex. There is not even an official bowls magazine.
The retailer is nowadays the main contact point with potential consumers and can therefore play a major role in growing interest — and also bowls sales — by telling his (or her) customers about developments. Bowls clubs can only communicate to those already converted.
John McKeag is, however, concerned because he believes "a rough count shows there are only five or six pure bowls outlets in the country."
Not so, says Steve Fullard, supplier of Drakes Pride bowls and Greenz shoes. "Our company have 51 active local accounts, of which 20 have a substantial investment in stock, including bowls, accessories and clothing."
There are also a substantial number of general sport retailers on Sports Trader's mailing list that stock bowls.
They are the vanguard who can secure the future of the sport — and develop another profitable and growing category of stock.
---
April 2007
Consumers love funky footwear
We have seen them. Proudly sitting in display boxes made of glass. There for all the world to look at and admire. After sport shoe designs are getting more and more outrageous… but…
Forget beadwork, bows and laces, the new way to attract attention is by bling, diamantè appliques, big and bold embroidered designs, differently textured materials, and overall funky creativity that will make people stop you in the street and ask "where did you get those shoes? I want some!"
The fascination with weird and wonderful designs, appliques, glitter, you name it, can partly be attributed to today's extensive media coverage of international lifestyle footwear trends, which is closely followed by consumers who in turn aspire to own the trendy and funky styles that they see on the international channels.
"Trend conscious consumers are always on the lookout for new, edgy must-haves. The demand for innovative design and detail is evidently increasing," says Werner Pieters of Footwear Trading.
He adds that "every brand has its core product that will always remain popular to the mainstream segment, but [he believes] in offering the market some seasonal excitement by adding funky detail and design to a collection."
The response to New Balance's Classic and PF Flyers ranges has been great, says Wesley Scott of New Balance. "Buyers are excited because they are not limited by every brand having a fairly similar flavour for the season."
Scott adds that he has noticed a fair number of consumers who want to be individuals and not follow the herd. "These consumers are the ones who start the trends."
Consumers look for items with the X-factor; that little bit of edge that make the shoes stand out, and make people notice the wearer — OK, only after they have checked out the shoes of course, but the wearer still wants to stand out in a crowd. These trendy shoes are not for shrinking daisies.
New generation youngsters that grow up in a fashion conscious environment, surrounded by an array of brands and trends, are the most likely to buy these shoes, says Pieters.
Scott says their target market for these funky styles are between eighteen and thirty years old, with the majority from the emerging market.
Fun and funky abound in ranges
Footwear Trading has had an excellent response to their new ranges of funky footwear, but they are well aware that trends come and go, which is why they try to keep up to date with what is hip and happening in fashion circles. Some trends would work in SA, and others just refuse to catch on. It is all about knowing your target market and what they want.
Look forward to seeing Levi's ladies canvas pumps with Paul Smith-inspired candy stripes and frayed edges. Levi's footwear also has a new funky winter canvas collection featuring check and paisley prints with appliquè and embroidery detail. This gives canvas footwear a new exciting edge that fashionistas love.
Casual Sketchers sneakers have diamanté detail, which makes you stop and notice them.
Footwear Trading has launched funky Marc Ecko footwear, which features bling charm detail and graffiti prints — these unconventional elements are part of the Marc Ecko signature.
New Balance's PF Flyers and Classic have kept to their traditional design, but at the same time sexied the style up with high quality fashionable material.
Look out for PF Flyer's ladies Journa that has full grain Apollo leather; their Number 5 that has a silk paisley lining; the Glide has Basto Italian waxed canvas and embossed ostrich leather; and Classic's W410 PP, W410 NP and W410 SY that have satin and suede uppers in bright colours.
"PF Flyers' modern perspective continues to define new classic — in design, material and colour sophistication. Our penchant for style form new forward casual silhouettes and iconic re-issue sneakers. PF Flyers has stood for posture foundation, comfort and quality for the last 70 years," says Scott.
With Africa becoming the focus of fashion as 2010 looms, brands will be incorporating more and more ethnic and animal prints in their footwear, predicts Promostyl. Nike has already anticipated it and have made a sneaker with animal fur patches (fake, of course!).
PUMA recently celebrated its first year in golf with a special limited edition gold shoe collection, worn at the Masters by US Open champion Geoff Ogilvy and British Masters champion Johan Edfors (voted style trendsetter by the British golf fashion magazine Golf Punk last year). PUMA's ladies golfers, including Erica Blasberg and Nicole Perrot, wore gold at the Ginn Open.
PUMA has made limited edition gold versions of the Concorde GTX (the lightest tour-grade performance shoe on the market) and the Traveller.
PUMA and Ducati have partnered on a new footwear range, the Panigale, designed by PUMA and with creative insight from the Ducati Design Team. The name refers to Borgo Panigale, the Bologna district where Ducati has had its headquarters since 1926. The Panigale brings with it a new style for sneakers — Moto Lifestyle.
Taking inspiration from PUMA's research on their Moto GP boots, the Panigale has an outrigger on the forefoot, reminiscent of the forefoot sliders from the Moto 1000, the competition boot, as well as an exo-skeletal support structure in the heel to improve comfort without making the product heavier.
Infused with Ducati-design DNA, the Panigale uses key elements from most contemporary Ducati bike designs, and in particular from their high performance bikes. The shoe is built around a 360-degree graphic, which represents the famous racing stripe on the S4Rs. Materials reminiscent of Ducati's bikes — glossy leather upper, carbon-optic heel construction, and traditional white, black and red colour combinations taken directly from the flashy colours of the Ducati motorcycles.
Skye Clothing and Footwear's Dickies has launched their Tiger shoe, a canvas sneaker with a funky detail of a tiger.
---
February 2006
Summer Trend Report!
Fashion flirts with sport...
Next summer fashion continues its romance with sporting styles, taking inspiration from the preppie-look, the fitness arena, or maritime-styles... combining it with a sultry exotic, more refined city or a revolutionary chic look
In the sporty look, women's pants, in cotton blends or microfibres, come in the form of Capri's, Bermuda's, shorts or full lengths, with straight legs or boot cut and cargo pockets. Alternatively, pants are flowing with elastic materials, inspired by the fitness sector. Waistbands are made of wide-ribbed knitwear or with tunnel waist draw cords. Denims are embroidered with chain stitches, peal appliqués or rhinestones.
Polo shirts are available with short sleeves or without sleeves. Don't be caught without piqué, flowing jerseys, made of pure cotton with a blend of elastane or fast-drying fibers in your store – these will be hot sellers.
The T-shirt is given a make-over by making use of high-quality materials and finely combined cotton. T-shirts have intricate prints with logos, numbers or blossoms as well as additional outlining embroidery or playful slogans.
Jackets are in the uniform-style. Sweaters with zippers that originate from the fitness arena are worn either with, or without a hoody, but they always have a wide band at the hems and sleeves. The sport-technology comes in the form of soft shells and water-resistant laminates, which are integrated so well that the clothing can be worn in the city
Details such as flat pleats, pintucks, contrast stitching, square buttons, piping, tassels and ties, splatter prints, and geometric patterns make this trend interesting.
Fashionable men
Men's cuts are looser, with Bermuda's, ¾ or long pants (worn loose, but never sloppy) being the order of the day. Pants have 5 pockets, cargos have pockets on the outside, and there are pleats or a waistband drawcord.
Clothing is made of either cotton or linen, with a blend of elastene.
Men have more to choose from than only polo shirts: long-sleeved shirts, with hidden half-belts for rolling up the sleeves, are becoming popular. Sweaters are made of fine cotton with a V-neck and bands (preppie-style) of fashionable fibers.
Jackets in waxed cotton, microfibers or laminates have an outdoor look.
All the colours
Floral patterns play an important role, but the idea is not Hawaiin-inspired shirts. The finely embroidered prints are placed at specific spots and have a clear graphic effect. Stripes bring a sporty-edge with contrasting colours – horizontal for polo shirts and T-shirts, and vertical for other shirts and pants. Argyles, as well as checkered patterns for pants, create a preppie-look. These are used with faded colours to create a casual look.
The colours to look out for are strong colours such as lime, grass-green combined with white, or blue to turquoise, azure and indigo as well as the classic marine, red and white. Fruit colours (from orange to red berry or pink) are used for beach-inspired items.
Men who are brave go for lime, grass-green and turquoise, which are used with beige or mocha.
Out of Africa
The designers also looked to Africa and other exotic locations (think Latin America, Spain, and Indonesia) in search of a trend. This trend has a blend of warm colours and motifs with a strong tropical look. It projects a warm and passionate feeling and is sure to have the wearer looking and feeling sultry.
The African influence (mocha, chocolate and sun-red) are subdued in women's clothing, while nude colours - sand and skin tones, or mother-of-pearl - are combined with pastel colours, such as lilac, rosé and violet.
This trend is all about the details. You cannot miss the appliqués, sequins, contrasting piping, ribbon trims, handcrafted finishes, beading, fringing, different overlays of leathers, batik or wood-cut prints and other tropical-inspired prints on items of clothing. Prints are of flowers and buds, exotic plants and animals, birds, fish, butterflies, animal prints and patchwork and ethnic colours (violet, black, white, gold) are used together.
The materials are natural fabrics – denim, voiles, silky materials, chiffon, washed cotton and cotton knits, seersuckers, madras checks, tone on tone weaves and linen.
The colours are fresh and lively, with hot colours toned down with cooler hues - coral pink, yellow, greens, aqua, turquoise and royal blue are cooled by grey, beige and sandy white.
Animal skin-prints are as popular as ever – especially python and crocodile. It is combined with a safari-inspired look or exotic trend items.
The cut is narrow and follow the curves of the body – skinny trousers, waistcoats, slim skirts, draped blouson styles, soft jersey wraps and knitted tops.
Keep an eye open for asymmetric cuts, irregular edges, stitched leather, beaded button fastenings, reptile scales, stripes and mosaic patterns on fabrics such as soft suede, leather, jersey, cheesecloth, and denim. Combine patterned fabrics with plain items.
Colours for this trend are neutrals (beige, ecru, white) combined with spicy shades of yellow, orange and brown, while a splash of purple ads excitement.
Revolutionary chic
The items in this trend are uniform-like with cropped jackets, tailored outfits, wrap blouses and dresses. The fabrics of choice are satin with matt trims, printed denim, jacquard, and suede.
The colours are bold red and yellow, which are subdued by grey, blue and taupe, with gold used as accent.
Maritime look
Sailors in their stripes seem to be the inspiration for this strong summer look. Paired with other navy details, it will be seen in everything from sneakers and wedges to flip flops and high heels. Stripes can be simple or multicoloured. However, blue and white seems to be the runaway favourite for a bit of seaside glamour.
White has always been a summer colour mainstay but in 2007, expect it to hit the fashion scene with a great splash. Ladies and gents in white, from head to toe, will be a common sight. And if all that whiteness is too much for you, all you need is a small dash of contrast as relief.
And on the feet
Marine-inspired footwear will dominate the ladies summerwear ranges. The trend is made livelier by adding details such as lace, rope piping, buckles and colourful buttons.
Another big trend is that inspired by the "Chanel" style – two-tone shoes with stripes and lines, as well as pearls and sea-inspired patterns. These shoes have contrasting materials like nappa and grosgrain (coarse texture) or silk mesh.
Going back in time
Footwear looked at the 40's and the 20's for inspiration - wedges, printed leathers and "Marlene"-style sandals are enhanced by unusual combinations of materials, for example reptile and rubber, or nappa, canvas, raffia, patent and crocodile. The 20's are revived with the use of cubism-, Balkan folklore- and art deco-inspired designs.
The 70's influence bring with it graphic prints for pumps and mules – which have cuts that are precise and sharp. Contrasting items are very important to this trend – dark fabrics, from blacks to browns to greens, are used together with strong tones, such as reds and oranges. Metallic tones are used to give the shoes a more serious tone and black and white combinations lend a business-touch.
Men's footwear takes on both a masculine and an elegant look. The footwear has a classic cut and the leathers come in black, oxblood and very dark brown.
Reaching even further back into history, designers draw inspiration from the 19th Century, which results in frills, ruches, embroidery and ribbons for women's footwear. Also note the wide use of fabrics as new materials and decorative touches - buttons, jewels, chains, beads (amber, glass, wood or porcelain) and crochet – that are used on pumps, sandals and boots.
Colours and patterns are mixed in a fun way and pastel flower prints and embroidery remind one of days gone past. Subdued pastels dominate this trend. Soles are light and so thin, you almost cannot see them. Ribbons, rings and buckles set on the sides and material insets as well as thin straps all combine to create real eye-catching footwear.
The Men's range for this style is influenced strongly by the sporty, yet elegant, British club and college style, where the footwear is classic, but still has a light sporty look. The lasts are thin and stretched with round forms dominating. Men's colours are browns and beiges, as well as marine-blue and reds.
The natural look
There is also a strong sense of going back to nature. This lends to the "hand made" look, with unusual combinations of materials, volumes and details. Browns, reds and oranges dominate the women's footwear scene, together with natural fabrics.
Designers make use of pearls, embroidery and wooden and glass beads, but the mix always culminates in a natural look. An important feature is cork and hemp-covered soles. Simplistic moccasins are the perfect accessory for a Safari-look and go well with outfits using the Spencer-jacket and Cargo's.
Another trend, originating from the need to go back to nature, is one that inspires ethnic and exotic combinations, using printed, embroidered, cut out or branded patterns, give footwear an interesting and unusual look. Thongs have multicoloured bands made of stretched nappa leather and espadrilles have big studs, wooden soles and are covered with patterned fabrics.
Sporty look
The city-girl can look forward to wearing pumps, wedge sandals, flat or low slippers in printed nubuk, flip-flops with decorative foam soles, or athletic shoes with printed linings in the next summer season.
Those who prefer to opt for a sportier image will find the ever-popular loafers and sneakers (in printed leather with a pvc point and heel) are just as popular as the high-heeled strappy sandals.
The one item guys must have next summer is the white sporty shoe. They may be sneakers, espadrilles, loafers or trainers, and may be made of leather, canvas, etcetera, but they definitely must be white!
Wedged platforms, the big footwear fashion story this summer will still be seen across the spectrum, from casual beach styles to glam, evening pairs.
Bling-bling will be well represented with lots of embroidery, frills, feathers, sequins, studs, ribbons and laces. Unusual colour combinations provide an added dash.
---
October 2006
Camouflage… Nautical
Fashion sure loves uniforms
Camo, usually associated with the military and warfare, where units and artillery are concealed from enemy eyes by camouflage paint and print, is now high fashion. Can you then assume that people who wear camo are trying to fly under the radar? asks CARIN Du TOIT?
Not really.
Camouflage no longer solely serves its original purpose — to make the wearer blend into his surroundings. Rather, modern day fashion-conscious wearers wear items with camo print to stand out, often with the camo printed in bright colours, for example red or pink, and with several embellishments. High-fashion designers, for example Christian Dior, have been known to feature evening gowns in camo print on the catwalk.
There are various theories why camo is such a widely used print in fashion. One theory is that it can be seen as the "logical extension of the trend towards faux snake, tiger, leopard, and zebra prints, all used in the wild as optical illusions to interfere with depth perception and adopted by the fashion world for their beauty." 1
Considering that fashion trends go in circles, which explains why grandma's clothing is fashionable today, this is a plausible explanation of why camo comes around so often. But it does not explain how camo got to be in the trends-circle in the first place.
Teens set the trends
In the search for an answer, what part of the population would flash onto the radar as possible trendsetters? Teens of course!
The concept of teenagers dressing to distance themselves from adults only emerged in the 50's after World War II (WWII). Because the youth of the day had gone to war and since grown up, the young people in post-WWII-society had either not been born until after the war, or they had been too young to remember much of the war, and thus they did not share adults' memories — the generation gap appeared.
Similarly, designing fashion directly aimed at teenagers only started during the 50's and 60's. Before this, children their parents wore.
By the mid 60's half the population of the US was under the age of 30, and teenagers had more disposable income than before — the US having made money as a result of WWII and its citizens being better off financially.
A new culture developed — one that glorified youth.
Prosperous businesses saw the benefits of targeting this new market. US teen clothing styles were originally dictated by adult designers, but for the first time teenagers started buying products to show their status and identity, which meant big bucks for businesses.
By 1958, teens were spending $20-m a year on cosmetics, television sets, photographs, clothing, records and cars — whereas teenagers were previously seen as unproductive members of society because they were not able to work.2 Teens developed their styles and identities, and, as all good teens do, started buying only what they wanted — not what they were told to wear.
Teens go to war
In the 1960s and 1970s American students were not only sent to make war in Vietnam, but back home also went to war against the people in power. European campuses also turned into war zones and the Red Brigade and Baader Meinhoff gang became icons of anti-establishment protesters, while adults called them terrorists.
Ironically, these anti-war and political protesters adopted military-wear as their own uniform. The poster of Che Guavara, dressed in army beret and tunic, adorned as many teenage walls as Madonna would in later years.
This popularity of army styles could have been fuelled by the fact that it is illegal to wear any distinctive part — tags that say US Air Force or US Army, stripes or insignia — of a US Military Uniform in the US and is a felony under 18 US codes.3 Other countries, like Barbados, Aruba and other Caribbean nations, also prohibit civilians wearing camouflage clothing.4
Wearing camo, was just another way of cocking a snoot at authority.
Besides, emerging from a war, the US had plenty of army surplus stores where the clothing could be bought cheaply.
Hunters, and those who were looking for tough, well-made and cheap clothing, had been wearing military surplus for many years. Military-wear had a less negative connection in the winning sides of WWII than among the losing sides, and thus it became common place to see army gear on the streets, however more in the sense of olive drab than actual camouflage.
The rebellious connection of civilian camo diminished in the late 70's, as more mainstream groups adopted the style — although it was seen as youthful and anti-establishment.
The bands set the trend
Skip ahead to the 80's and, despite technological advances and social changes having taken place, teens are yet again distanced from adults by not sharing the memories of a bitter war — the Vietnam War.
Conservative politics of the day encourage conformity to past values and there were very few advances in civil rights. In a patriotic drive, Vietnam veterans are recognised ten years after the war. Yet again, you find a society glorifying youth and thus the youth is a prime target market for big business. And, yet again, teens wear what they like — not what they are told to like — and use their clothing to identify themselves.
This time, however, identification is with their favourite music bands — made easier by technology. The video tape and MTV (Music Television) is freely available and teens start to adopt styles worn by popular rocks stars.
Several fashion trends emerged amongst teens as a result — black leather and metallic chains (as seen on Billy Idol and Duran Duran); denim and cut-off plaids (Bruce Springsteen); denim, lace and piles of costume jewellery (Cindy Lauper); skin tight prints, metallic glitter and one cut-off white glove (David Lee Roth of Van Halen); sports clothes (Lionel Richie and Menudo); lace mini skirts, piles of bracelets and prints (Madonna); ruffles, satin and bejewelled costumes (Prince); sensual mini skirts, lace, leather and spangled outfits (Tina Turner) — and the hardcore punk and heavy metal band Agnostic Front in camouflage military dress.5
Camo's presence in fashion increased, until in the 90's camo was a widespread facet of dress that was incorporated in all items, from streetwear to high-fashion labels.
Post-Vietnam War camouflage became very popular and replaced olive-drab military clothing. Many of the fashion trends have made a 360-degree turnabout, and is today accepted fashion — after being anti-establishment in the day.
Ironically, teens started wearing many of these outfits to stand out from adult fashion and to identify themselves. Today these items are fashion trends and are worn by thousands — including adults — and because it is so fashionable, and everyone wears it, the trend is 'threatening' to make everyone look the same — and ultimately blend in with their surroundings.
---
October 2006
The nautical trend — leaving its stripe across history
The nautical trend, with its sailor suit-inspired outfits and stripes, means different things to different people. Some see the trend as an extension of the lavish life idealised by those owning yachts; others see horizontal stripes as another item in fashion that will make you look like you have put on weight. Yet, few who have worn the fashion through the ages, thought of the sea, says CARIN DU TOIT
Stripes are evil. Did you know that? The innocent looking lines had a bad stigma attached to them in the early Medieval times, when the wearing of stripes was reserved solely for society's outcasts and those rebelling against the establishment – clowns, lepers, convicts, etc.
By the end of the Middle Ages stripes became the sign of a subordinate function, for example a lord's household staff's uniform.
However, with the emergence of the household stripe comes the aristocratic stripe that is sometimes seen to be sophisticated, but is always considered to be in good taste. The aristocratic stripe takes over in popularity during the second half of the 18th Century, the first period of romanticism and revolution.
In the late 1770s we find war setting a trend. The Americanophiles in France, in support of the American Revolution, rebel against England and move under rebelling against the British crown – the flag becomes the symbol of new ideas. In addition, the stripe also acquires an ideological and political status — by displaying the flag or wearing it, you proclaim your support for the movement – and it also becomes a fashion trend.
All of a sudden people in both the courts and in the villages — not only in France, but across the entire continent — are covering each and every part of their daily wear in stripes. The aristocratic and a peasant stripe can be distinguished, but sometimes they do merge to create a new look. The rage for stripes lasts more than half a century, during which it moves from clothing to interiors and furniture.
Sailor suits
The idea of dressing young boys in sailor suits became fashionable in the first part of the 18th Century in England.
Although the English sailors had been wearing pantaloons since the 17th Century, the rest of the population proved very reluctant to start wearing these pants, with children wearing fabric trousers half a century before their fathers. Children had previously been dressed in smaller versions of the stiff clothing their parents wore, but it is believed that well known writers put pressure on society during the Age of Reason to put children into comfortable clothes — and sailor suits come into the picture.
Queen Victoria also used to dress her son, Albert Edward, Prince of Wales, in a sailor suit. His mother thought he looked so adorable that he was painted and his image engraved and spread across the country. After this, it became popular to dress young boys in sailor suits.
A boy's typical sailor suit was a short jacket with an open-necked blouse, waistcoat without skirts and long breeches. It came in several variations: the Blue-striped suit, Jersey suit, Middy suit, Jack Tar suit, Man-of War suit, and the Reefer suit.
Usually only young boys up to the age of 8 would be dressed this way, but sometimes girls would also be.
Today, the fashion is to dress adults in sailor suits, with ruffled shirt collars, navy-uniform-inspired jackets, and wide-legged pants dominating some of the more recent fashion trends.
Interestingly, men's sailor uniforms only became standardised in the early 19th Century — for example, in 1817 in the US and 1857 for the British Royal Navy. Before this, the style of the uniforms depended on the whims of the captain.
Fashion adapt to the outdoors
During the 1930s sun worshipping became a favourite past-time, as society became more health and fitness conscious, and with it came chic outfits for the beach — the beach wraps, hold alls, soft hats and knitted bathing suits were all given the designer touch.
In addition to this, swimwear become smaller, and the back was scooped out so that women could develop tanned backs to show off at night in the backless and low backed dresses popular at the time. Popular colours for the beach were navy, white, cream, grey, black and buff with touches of red6
Pyjamas, originally worn as informal dinner dress or for sleeping in, became a popular item for the beach. The pants were sailor-styled, widely flared and flat fronted with buttons, and were worn with blue and white tops or short jackets. These pants remind one of today's bootlegged pants.
Footwear
The 17th Century saw the making of espadrilles7, casual sandals originating from the South of France that are made of canvas or cotton fabric with a sole made of rope or rubber material moulded to look like rope. The rope or faux rope sole is the defining characteristic of an espadrille, where the uppers vary widely in style. The espadrille was and is a popular seaside shoe.
In the 1830s the plimsoll, an athletic shoe with a canvas upper and rubber sole and originally called a sand shoe, was developed as beachwear. The shoe was named plimsoll either due to the coloured horizontal band joining the upper of the sole resembling the Plimsoll line on a ship's hull, or because, just like the Plimsoll line on a ship, if water got above the line of the rubber sole, the wearer would get wet. With its rubber sole and canvas upper, the plimsoll is the forefather of the sneaker.
In the '30s Hollywood picked up on the idea of wearing sneakers and made it fashionable for the youth to wear — up to this point these shoes were reserved exclusively for athletes. With icons such as James Dean sporting the shoes, Hollywood cemented the sneaker as an essential item in teenagers' wardrobes.
---
August / September 2008
Fashion with Function
Sport fashion. Outdoor fashion. Lifestyle fashion. The operative word is fashion. At a glance it is no longer possible to distinguish between ranges from designers for companies with a sport, outdoor or fashion heritage
Dior dresses men in tracksuits and high-top sneakers. Reebok launches a Scarlett Johansson RBK range in lollipop colours and luxury soft fabrics. The fashion show at the OutDoor Show in Friedrichshafen could simply be transported to the Milan Fashion Week.
Boat shoes, high-topped sneakers and outdoor sandals are launched in Milan and Paris, high heels worn on the ramp in Friedrichshafen.
SAs fashion-savvy teens vote adidas, Billabong and Nike as the Coolest brands and it will be a safe bet that few have ever set foot on a soccer field, surfboard or running track.
The cross-over continues with outdoor brand Salomon launching a road running shoe. Athletic brand New Balance being accepted as part of the outdoor fraternity in Friedrichshafen.
But, is it perhaps a case of looks deceiving?
Beneath the fashion styling, there is still a good deal of functionality — as always in the outdoor and athletic brands, but some top end fashion designers follow suit.
The top outdoor brands are still mindful that their clothing is worn in harsh conditions by people doing all kinds of strenuous things — breathability, moisture management, wind protection, articulated sleeves and pants and all the other design features aimed at an active lifestyle is therefore combined with fashion styling.
The same goes for athletic heritage brands: they can not lose sight that their reputations have been built on quality and performance features that give an athlete a competitive edge.
Not stand out in a crowd
With one big difference: garments should no longer LOOK as if they are only meant to be worn on Kilimanjaro or in the gym. They can have all the functional features ever dreamt of, but they should look good enough to be worn to the mall and market.
Therefore, a fast-drying, functional shirt will now come in brightly coloured checks; and a windproof breathable jacket in subdued blues or browns that blend in with the cinema crowds.
Shoes draw the attention to the feet with funky designs and bright colours — but have added functional features like soft shell uppers that offer a smooth-surfaced and seamless look while keeping feet dry and breathing. Soft shell fabrics add the possibility of all the colours of the rainbow and are lighter than leather or Cordura.
Like the fashion industry rely on the new design and colour books from Promostyl, the outdoor brands keep up with fashion trends through the designer association IDEAS Active Sports Design Network (32 international freelance design studios specialising in outdoor designs).
Trend books
They have designed around two themes for Summer 2009: sliding doors, reflecting the traditional Japanese sliding doors, giving glimpses of eye-catching features in shining yellow, pastel, olive, pink, bright blue; as well as inside out, a blend of everyday city life and the outdoors in shades of green, earthy colours, pink and sky blues.
Colour is used to showcase technology and the fabric used is of prime importance: water resistance, UV protection, mosquito repellance and environment friendly (e.g. cocona) fabrics will become increasingly important.
Different shades of a colour emphasizing functional detail, ultrasound welding of seams and silicone prints will be focus points in outdoor fashions next year.
Smart textiles integrating mobiles, monitors and music functions as in the Nike+ footwear with a built-in monitor that tells you how well you're running, is going to become more prominent, they predict.
In travelwear, jackets will be longer, slimmer fitting and fast-drying. Sporty colours will be combined with stripes in most collections. The city look for ladies will feature checks and floral prints in a feminine cut — ergonomical seams and insets will be highlighted in different colour shades.
Retail perceptions
With all this cross-over from sport to outdoor to fashion, the question arises: does it matter from which brand a retailer sources stock. If all facets look the same, should a fashion store not stock up on Reebok, a sport store on Salomon, and an outdoor store on New Balance?
We asked brands to give their opinions on the following:
"Do you think that this blending of styles would eventually result in outdoor brands selling into sport and fashion stores, sport brands being sold in outdoor and fashion stores and fashion brands sold in sport and outdoor stores – if so, what will the impact be for your brand(s)? What do you think will this do for your brand's identity as well as the identity of the retail stores?"
Barbara Cole for New Balance South Africa
I think that this is already noticeable within retail and has been prevalent for some time. As far as New Balance goes though, our focus is technical sports apparel with a very strong running heritage. Any "fashion" apparel we do is generally more after-sport wear, which serves to enhance our range of apparel, rather than dominate it.
We want to stay true to our roots and focus on our strengths, while moving forward with new technical performance features and fabrics.
For us the cross-over would come in the form of people wearing our technical running apparel to do other activities in, for example going to the gym, cycling, paddling or walking, or any sport for that matter.
We pride ourselves in our apparel being technically sound and performance driven, this will not change. Whether or not someone likes the styling enough to wear it casually or as a fashion item, depends very much on the styling and fabric itself as well as the customers personal preference.
If anything, I think this could serve to strengthen our brand's position and identity as an authentic technical sports brand with a deep heritage in running, which we will remain focused on.
As far as retail goes, it is a challenge for the stores to remain focused on where they want to be positioned in the market, and whether or not they want to be seen as an authentic sports outlet or more of a fashion outlet.
Deane Nothard for Reebok SA
There is a definite blurring of the lines in some of the colours and designs coming through across the genres. Sport is definitely becoming more fashionable, and a lot of fashion is becoming quite sporty, but the consumer is still knowledgeable enough to make the distinction between a genuine lifestyle versus sports product.
It's also in the retailers interest not to confuse their identity. A serious runner or gym enthusiast looking for a good quality sports product will still look to his sports retailers. The sports' consumer will be looking for the key technologies in the apparel and footwear that best satisfy their needs, with styling a secondary consideration. Many of the sports products will double up as an outdoor/lifestyle option, but the primary purchase will still be quite specific.
Reebok as a brand has a sports range and a lifestyle range that are kept very separate. Although some of the styling may cross over to an extent, the technologies and materials separate the range quite clearly. It also adds to the brand's and the retailer's credibility to keep the distinction clear. For our sportswear with Play Dry lining and flex panels we want to be seen in a core sports retailer to add credibility to the brand. Similarly with our lifestyle ranges we want to be in the key fashion stores for the same reason.
So, as much as the styling and colours will overlap, there are definite functional and positioning considerations that should ensure the majority of ranges are found in the respective retailers.
Sgwili Gumede for Ukusa Brandhouse
I think it has happened already. I would argue that anyone who believes that this is still imminent needs to revisit the retail lanscape, looking at what the leading brands have done and also have some conversations with the consumer.
The lines between fashion, outdoor and sports brands are blurred and have been for a while now. The brands that perhaps would have been classified as sport in the 90's are now in also seen to be fashion-like, and vice versa. The same is true for outdoor.
The impact on our brand, Champion, and other leading brands, is that it has had to adapt and be dynamic. Fact is, any brand that has not learnt to respond to its consumers' ever-changing needs and dynamic states of mind will not survive.
I do not believe it will lead to an identity change, our consumers have always expected us to meet their sport, fashion and outdoor needs, within reason. It's an exciting challenge!
---
Aug/ Sept 2009
Fitness meets Fashion
Fitness and fashion have merged in the latest footwear trend: shoes that give you a jolly good toning workout ... just by wearing them! They firm butts, thighs and calves on the way to the gym. And yes, early reports indicate that consumers are loving the idea, especially since a pair cost the equivalent of three months' gym subscription.
Reebok named their gym-for-feet EasyTones, while the Skechers model is known as Shape-Ups.
Shape-Ups mimic the workout effect of walking through soft sand. Your heel sinks into the soft cushioned sole created by a soft kinetic wedge insert, and then roll forward on to the forefoot, before pushing of with your toes, using more muscles. This strengthens the leg, buttock, back and tummy muscles not normally used during normal walking. Skechers even claims that this will relieve stress.
Reebok's EasyTone pod technology was developed by nobody less than a NASA engineer, Bill McInnis, who also tested the results with sensors in a university lab. These showed that you use your butt muscles 28% more than when you wear an ordinary sneaker. This is because of the pod system in the sole that creates natural instability with each step, which forces muscles to adapt in order to keep your balance, and in doing so they work harder.
---
February 2006
Fruity summer beachwear
We all know that fruit is good for your body — but did you know that it looks good on your body as well? Take a look at the new beachwear colours launched at international shows and you could be excused if you think the designers have gone a bit fruity, says CARIN DU TOIT
The catwalks at ispo Summer 05 were filled with models in costumes with colours ranging from pastels to vibrant fruit colours – especially yellow and green tones. Combine these colours with white and you have a fresh new look. Fruity orange and berry, as well as coral, create a stunning mix with neutrals (brown, grey and black). For a sportier edge, go for aqua tones – from ocean blue to turquoise. However, if the recent pink-fad has left your customers wanting more, don't despair. Purple, violet, mauve, pink, rose and off-white are also popular.
Men can look forward to blues of all tones, with splashes of glowing or dark red as well as grey.
Prints are an all important factor, from realistic photo prints with tattoo motifs to graphic, stylized images and logos, which are also shown in matching shades in "wetprint" graphics.
There is a range of inspiration to choose from this summer – going as far back as the sassy 60's and the laid-back 70's; while at the same time incorporating images from Brazil, the South Seas and Africa.
The 60's inspiration brings with it a feminine unisex twist - big in the fashion stakes this summer. Bikinis have wide panties with wide waist belts or rings set to the sides, à la the Bond girls. The 70's hippy-look brings super-low hipster panties – either as boy shorts with slit sides or as sexy panties – which are worn low and boast belts or little ribbons on the side. The tops are scanty and are held with neckholders or triangles.
Geometric patterns, such as pop art dots and graphic prints, this time with fruit and blossoms, remind you of wallpaper from 30 years ago.
Warm, earthy colours such as mocha and chocolate brown give an African feel, as well as animal prints and embroidery. Pearls and feather appliqués from Brazil and the floral patterns from the South Seas complete the look.
The shape for summer is all about showing as much as possible, with bikini's dominating, while cut-outs and monokini's - linking tops and bottoms with a narrow connecting piece - reaffirm their place in the market.
Next summer the emphasis will be placed on the bottom, instead of the breasts. However, the one-piece bathing suit is becoming more popular. Even the sporty bathing suits are much sexier, with more leg exposed and intricate placed prints.
The tops come in variants - from triangle cuts to wired or cup bra's, which can be mixed and matched with bottoms to suit the customer's wants and needs. The tops are often padded in the front and have removable padding. Cup sizes have also been adjusted, with manufacturers now offering tops with sizes up to D cup – which will, no doubt, be welcome in the SA market.
Men's bathing suits have a square shape, with slit or shortened suit legs. As always, shorts are also a good option, with a waistband containing rubber draw cords.
Accessories reflect the inspiration and colours used for the costumes.
---
April 2006
Hip Hop keeping brands 'real'
Hip-Hop is no longer reserved for CD shelves or youths that hang out on street corners. Top end brands are reaping the benefits of embracing the image and mindset of the genre by making use of artists to endorse footwear, clothing, etcetera, reports CARIN DU TOIT
Footwear and clothing brands will do well to "view urban as a state of mind rather than a geographic place when targeting 15–29-year-olds who connect with Hip Hop music and the culture associated to the genre," cautions US trend watchers Robert Brown and Ruth Washton in a recent report titled The U.S. Urban Youth Trendsetters Market: Tapping the Power of the Hip Hop Mindset and Culture*.
This view, that Hip Hop has today became more of an idealisation of street wear, rather than actual street wear, is echoed by Alan Light in his book The VIBE History of Hip Hop**. Remember, he cautions, modern Hip Hop clothing is often produced by popular and successful designers, who charge significant amounts for their products ... and worn by young people whose monthly pocket equals the annual income of the true urban families.
Today, the Hip Hop look has spread to consumers from all levels of society. However, catch them while they are young! The urban youth report points out that the popularity of Hip Hop declines as the audience becomes older.
The authors of the report define Hip Hop consumers as those who live for the moment and are motivated by money — or rather by the lust thereafter. Non-conformity is a key value for the followers of the genre — but, Hip Hoppers are keen to stay on top of the latest fashions.
Many Hip Hop artists and executives have started their own fashion labels and clothing lines, including Russell Simmons (Phat Farm), Damon Dash and Jay-Z (Rocawear), and OutKast (OutKast Clothing), writes Light. Hip Hop fashion companies also include FUBU, Eckö, G-unit, and Mecca USA.
However, brands are not limited to clothing and footwear deals. There have been various occurrences of artists mentioning brands in their songs — both when they are being paid for the product placement as well as when they are not. An excellent example of this is when Run D.M.C. performed their song My adidas — fans reacted by waving around their adidas gear.
Why has Hip Hop turned out to be THE method of product placement?
Hip Hop historian, Nelson George maintains that Hip Hop is "an incredibly flexible tool of communication, quite adaptable to any number of messages, which is why it has been so easy to turn every element of the culture associated with it into a product".
American Brandstand, a research project from Agenda Inc., a brand strategy agency based in San Francisco and Paris, keeps track of the number of times that brands are mentioned in songs. Nike was 2005's 2nd most mentioned brand with 63 mentions — after Mercedes Benz with a 100 mentions (11th place in 2004 with 4 mentions). In 2004 Nike was in 4th with 11 mentions.
"Until recently, branded lyrics have been almost exclusively the domain of Hip Hop lyrics. But in 2004, they spread over into R&B tracks, and last year moved into more pop-oriented tracks, such as Gwen Stefani's Rich Girl and the various fashion brands in Hip Hop-lite My Humps by The Black Eyed Peas", reports American Brandstand (www.americanbrandstand.com).
Reebok has already signed numerous artists to their "I Am What I Am" campaign, which celebrates contemporary heroes of today's global youth, including music icons, athletes and entertainers.
Some of the signed heroes are local star Kabelo (who will be participating in the 2006 Comrades), Allen Iverson, Jay-Z, 50 Cent (billed by American Brandstand as the top brand-dropping artist for 2005), Christina Ricci, Stevie Williams and Nelly.
The deal with Nelly, a man with both a passion for his music and a love of sports, includes a signature range of athletic footwear, apparel and accessories, which will feature "clean, aggressive, sport-inspired designs with unique colours and materials that reflect Nelly's personal style and flavour".
Reebok recently launched the second phase of their campaign, which continues to celebrate authenticity and individuality. The second phase will incorporate more multimedia items, such as the internet, mobile phones and downloads to the PSP — an approach that is directly targeting young consumers.
Most prominent brands are associated with Hip Hop artists.
Footwear Trading will introduce the Mecca Snoop Dogg range into the SA market this year.
"Nike has a relationship with numerous people from the fashion, music and media industries. We see them as ambassadors for the Nike brand. The people we partner with are industry leaders who are innovative and inspirational within their work environment and communities", says Lauren Collier of Nike SA.
adidas and Missy Elliot's collaboration, Respect M.E., which has been running since April 2004, aim to provide a positive message to the urban sportswear market, by being a platform for positivity, style, skills, friendship and respect, according to adidas' website (www.press.adidas.com).
Just keep in mind that there is such a thing as too much. Hi-Hop artists are very aware that fans could catch on and become annoyed or disillusioned by the artist seemingly selling out to big corporate companies, if they think the song is just a camouflaged advertisement. While enjoying the dollars earned, they assure fans they are not for sale and are keeping it real.
This indirect advertising is not limited to the music industry.
The movie industry has already embraced the idea of product placement, and this will probably become the norm on television, once the PVR decoders that enable viewers to fast forward through advertising breaks, are available locally.
*
Robert Brown and Ruth Washton:
The U.S. Urban Youth Trendsetters Market: Tapping the Power of the Hip-Hop Mindset and Culture
. March 1, 2006. 224 Pages - Pub ID: LA1119538. Order:
www.marketresearch.com
.
**
Light, Alan, ed:
The VIBE History of Hip-Hop
. New York. Three Rivers Press. 1999
---
Feb/ Mar 2009
The year ahead: 2 Holiday sale indicators
(1) Major retail chains do well
As most experienced retailers know, December sales form the backbone of their income for the year and are usually an indication of things to come. Judging from the performances of the major chains listed on the stock exchange, there is reason for optimism (although the full picture will only become clearer in March after most year-end results are released). But, so far the picture looks brighter than what many expected.
Edcon's retail sales for the quarter to December increased 9.7% — and according to CEO Steve Ross, they were satisfied with the performance of the Edcon retailers over Christmas (1 154 Edgars, Jet and Discom retail stores).
Foschini also says that Christmas trading was above expectation across all divisions, with sales growth for December of 9.9% and same-store growth of 3%. In the three month pre-Christmas period group sales increased by 8.7%. In the 2008 financial year the sports division — Totalsports (turnover R645.4-m up 7.7%), Sportscene (turnover R414.9-m up 7.4%) and DueSouth (R91.1-m up 18.1%) — increased its total turnover by 9.8% to R589.1-m. During that period this division opened 15 more stores to increase their total to 234 stores, namely 106 Totalsports, 86 Sportscene and 16 DueSouth stores.
Mr Price Group reported sales growth of 21.4% over the December holiday period and 17.5% growth on a comparable basis. Although the outlook for their sport division looked less rosy, Mr Price Group reported a 20.3% rise in third-quarter sales in January, based on higher clothing sales and the fact that they opened 66 new stores. Turnover in the core clothing unit (72% of total sales) grew 25.7%. According to a statement issued by the company, like-for-like sales, which includes sales of expanded stores but not new ones, rose 15.3%. Prices increased about 6.3% during the three months to end December.
Mr Price Sport, however, reported a drop in sales per m2 from 12 703 (2007) to 9 513 (2008), according to the Interim report for the first 6 months of 2008, ending in September. Price inflation was -7%, indicating high volume markdowns. The number of stores increased from 12 in the same period in 2007 to 29 in 2008, growing 1st half revenue from R83-m (2007) to R166-m (2008). Following a disappointing year end result in March 2008, Mr Price Sport moved away from slow-selling bigger items like gym equipment and started doing apparel sourcing in conjunction with Mr Price, which concentrates on stocking high densities of their own brands, including the sportswear brand Maxed.
Massmart's half-year results increased 13,2% over the prior period with inflation estimated at 9,9%.
---
(2) Industry expectations met
Sales over the December holiday period met the expectations, or better, of the majority (77%) of retailers that responded to Sports Trader's annual survey. Especially the chain stores seemed to have bucked the trend over the holiday season by clocking up higher than expected sales (67%).
Expectations vs Real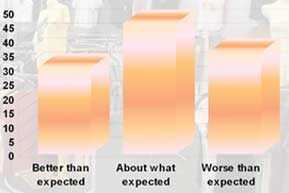 Customers 2007 vs 2008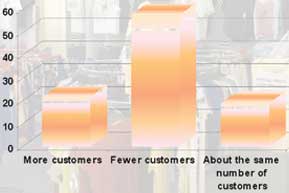 December sales (volume)
2007 vs 2008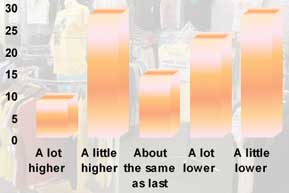 Items customers wanted to buy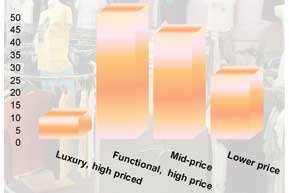 December sales (Rand value)
2007 vs 2008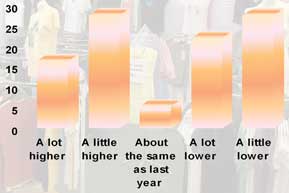 In our annual survey of trading conditions in the sport, outdoor and lifestyle/leisure retail trade over the Christmas holiday period, 31% of all the respondents said that their sales were better than expected, while 46% said that their sales were what they expected (although this could indicate that they did not have high expectations!). About a third of the respondents (36%) said that the sales were worse than they expected.
Most respondents (50%) reported that their customers bought more functional, but high-priced items, while customers of 42% bought more mid-priced items. Only 8% reported that customers bought more luxury, high-priced items — while a quarter said that their customers preferred lower priced items.
The survey was done via email questionnaires and telephone interviews and of the responses we received, 28% were from sport stores, 28% from retailers selling both sport and outdoor goods, 31% from outdoor retailers and 11% from footwear and clothing specialists. The majority, 72%, are independent retailers. Half of them are based in a major city, 14% in a holiday destination, 22% in a platteland town and 17% are part of a countrywide chain of stores.
More than half the respondents (58%) had fewer customers through their doors than the year before — but 22% reported more customers, while 19% said they had about the same number of customers. Yet 45% of the respondents reported higher pre-Christmas sales in Rand value than the year before (28% said a little higher and 17% said a lot higher). Of the 50% who reported lower sales in Rand value, 22% said it was a lot lower and 28% said sales were a little lower. About the same ratios applied for sales volumes, except 14% of the respondents said sales volumes were about the same as the previous year, while only 8% had a lot higher sales in volume (28% had a little higher sales volume).
More than 40% said that their January sales were better (19%) or the same (22%) as last year, while 36% said January sales were lower this year.
The outdoor retailers were the most upbeat — 55% reported better than expected Christmas sales and 45% had more customers than the year before. They seemed to benefit the most from the trend amongst customers to buy functional, yet higher priced items (73% of outdoor retailers). More than two-thirds of the outdoor retailers (64%) reported higher sales than the year before in Rand value, and 54% reported better sales volumes.
Many commented that customers bought a lot of camping or watersport equipment, indicating a trend identified by some analysts that consumers either stayed at home over the Christmas holidays — where they enjoyed various outdoor activities — or cut down on expensive hotel holidays to go camping. Most of the outdoor respondents (54%) are situated in major cities.
While most (90%) sport retailers, mainly from major cities (80%), had fewer customers through their doors, the same number reported that holiday sales were about what they expected as those that had worse holiday sales than expected (40%). But, actual sales were disappointing as 60% reported lower sales than the year before — 40% said sales were a lot lower in Rand value, while 50% said sales were a lot lower in volume. Of the 40% who reported higher sales in Rand value, 20% said it was a lot higher and 20% reported that sales were a little higher.
Most (60%) sport retailers had a big demand for mid-priced items, while 40% found that customers asked for lower-priced items, 20% reported a demand for functional, high priced items and 10% had customers who wanted high-priced luxury items.
Retailers who sell sport as well as outdoor items reported a high demand for functional, but still higher priced items (60% of respondents), while 40% had customers that aimed for mid-priced items. Many of these retailers (40%) are situated in holiday destinations, which seemed to have attracted fewer holiday makers than previous years, and it is thus not surprising that 60% reported lower sales volumes and values than last year (20% said a lot lower and 40% a little lower). Half of them reported that these sales were worse than they expected.
Sixty percent of the retailers situated in holiday destinations said their pre-Christmas sales were worse than they expected, while 80% said they had fewer customers through their doors. Of the retailers in the major cities, 61% reported fewer customers — but 45% reported higher sales in Rand value than last year (17% said a lot higher, 28% a little higher) , while 44% said sales were lower than last year. Their customers preferred mid-price items (44%), while 39% reported good sales of functional, but higher priced items.
The footwear and clothing retailers — all independents — also reported lower sales in volume and value and fewer customers.
---
February 2007
Molded comfort sets the trend
Whether you call them clogs, molded sandals, plastic sandals or comfort sandals, fact is, the weirdly shaped brightly coloured footwear that have been called frogs on feet and other equally rude names, are setting THE footwear trend. And will continue to do so for some time yet
The SA consumers have embraced the molded comfort sandal style with gusto – and many visiting tourists are stocking up to take home.
Founded by two American watersport enthusiasts, Crocs was first introduced to the SA retail market by Jandi fishing tackle distributors at the annual Fishing Tackle Trade Show in 2003. The new style did not make an immediate impact — especially not among the more conservative tackle traders — and Tersia Wessels of Tidal Trade took over the distributorship the following year. She started slow, marketing directly to the public and at shows, but then the tidal wave broke and now retailers are vying for stock to satisfy the insatiable demand.
As in all sporting products, an innovation only remains unique for one season and it was soon clear that Crocs had pioneered a new footwear category as more and more wearers were converted by reports of their comfort. Crocs are now available in flip flops, pumps, boots and lace-ups — all made from the patented croslite™ PCCR ultra-light material that "moulds" to the foot and dispels bacteria and odours.
New brands, designs, and styles were rapidly introduced.
The introduction of Solmates into the local market has also gone "beyond expectations", says Tony Barker of Optimum Sports, who introduced his range to the trade at the 2006 SASGAM Show.
He will be introducing his new range at the end of March, which includes a camouflage style, interesting dual-colour blends and design innovations like a strapless clog styles and a slipper style that promises to be as comfortable as bedroom slippers.
The next new range will be coming in August with completely new shapes and designs added to the current range, says Barker.
"This new footwear style has been very well received by SA retailers as well as internationally," agrees Russell Kwong Hing of local distributors LGB Distributorship.
At the recent WSA Show, Cloggens™ introduced a whole new concept in molded comfort shoes: they showed them in designer denim, full-grain leather and air mesh.
"From the outset, we've made it our goal to evolve this category through technological innovation and design creativity," says Cloggens co-founder Troy Lewis. "The market relevance of this segment far exceeds a garden clog, and we're adding fashion elements to meet consumer demands for stylish, lightweight and comfortable shoes at a great price."
Over the last 12 months, Cloggens has introduced innovations like the first shoes to feature a women's-specific last, removable patent-pending Comfasoles™ footbeds, groundbreaking 3d™ technology and, now, introducing new elements.
Lewis predicts that the company's growth from Cloggens will be 10 times more in 2007 than in 2006, despite the fact that he expects more brands to enter the market.
"With that in mind, it's critical that our product remains fresh and we continue to evolve," he says.
Their new Comfort Casual Line includes industry firsts like 3d technology to create shoes with three specific densities for enhanced comfort, fit and durability; two-shot colour designs; and a women's-specific last. All styles are built on Cloggens' proprietary C-Forma anti-microbial and anti-bacterial material, and feature an odor-resistant upper and strategically placed venting in the toebox to help keep feet cool and dry.
The Pada, due to land in SA in April, is the first molded shoe developed using Cloggens' 3d technology.
Unique features and benefits include the company's lightweight C-Forma material, and removable patent-pending Comfasoles footbeds which absorb sweat, naturally support the arch and enhance flexibility and cushioning. In addition, Cloggens' cupped heel ensures that every shoe moves in unison with the foot for protection and stability. The heel strap's proprietary design includes snaps to easily detach the strap for added versatility. A durable, abrasion-resistant, non-marking outsole incorporates Cloggens' distinctive lug pattern to increase traction.
---
April/ May 2009
SA embrace the American sports
Typical American sports like baseball, softball and basketball are gaining ground in SA with promotions aimed at the youth and rural communities, reports PHUMLANI DUBE
America is the most technically advanced country in the world. It's also the most powerful and richest. This is reflected in American sports. The US has the most complex games, the richest sports stars and the best facilities for spectators and TV viewers in the world. Interestingly, America's major sports like American football are not played anywhere else in the world.
American sports like softball and baseball are, however, gaining ground in SA.
"I think baseball has really made inroads in South Africa," says Baseball SA executive director Edwin Bennett. "We have introduced 1 100 primary schools to the sport since the start of the programme in 1998. We have also distributed equipment throughout the country as part of that programme."
Rural areas and schools growth points
According to Bennett a memorandum of understanding has been signed by the Ministers of Sport and Recreation and the Department of Education to promote the sport as a priority sport in schools. "Every December we have a schools' competition — the School Summer Games — where all the nine provinces get together to compete in various sporting codes in the different divisions i.e. U13, U15 and U17. Baseball and softball are two of the codes."
Bennett says their main target audience has been people in rural areas, more so than in the cities, and as a result the sport has been introduced to both boys and girls from formerly disadvantaged backgrounds. "We've seen some good progress in the last couple of years. We've gone from six regions in 1998 to at least 16 now.
They now play in Bhizana, Kokstad, Mount Frere, Mdantsane, Mthatha, George, De Aar, Colesberg, Upington, Boland, Seshego, Limpopo, Kagiso, Klerksdorp, Orlando, Durban, Pietermaritzburg, Pinelands and the old traditional region of Cape Town.
In KwaZulu Natal Durban has a very strong school programme. "Our next task now is to look for big young men and the only place to go is Ulundi," he says.
The Western Cape is still the strongest province because of the long history that disadvantaged communities in that part of the world share with baseball.
Says Bennett: "We started baseball in 1984 in the Cape, while Durban and Gauteng started in 1983. Before then, it was a sport only for white people. There was a federation for white people and one for black people. In 1992 we amalgamated the two federations and as a result, one national sport congress was moulded."
The various regions run their own leagues, not the national federation. Some of the regions that are active in baseball are Boland, Western Province, Eastern Province, Gauteng, Gauteng North, South West Gauteng, OR Tambo, Alfred Nzo, Amathole, North West, KwaZulu Natal and the Northern Cape.
American teams sign local players
Bennett says they have also been encouraged by the scattered evidence of growing interest by American teams in signing local South African players. "Yes, under our wing the sport is only played at amateur level, but some of our youth get selected and they get contracts to go and play professionally overseas. In the last three to four months we've had three young men signed by overseas teams. Gift Ngoepe joined Pirates while Hein Robb was snapped up by Minnesota Twins and Dillan Lindsay signed with KC Royal.
SA put up a great performance at the recent World Baseball Classic. "We competed for the first time and we held our own very well against the best in the world. I mean, guys who earn R20-m while we play amateur. We had to shine. I think we are going to go very far," Bennett explains.
SA has been invited to take part in the tournament for the second time. About 13 countries play baseball in Africa and SA is ranked number one on the continent.
On the other hand, softball is king in many communities across the country, according to Softball SA president Guillo Marapjane.
"Indeed softball has shown phenomenal growth since 1992. For example, in the Eastern Cape we have made great inroads into introducing softball, especially in the rural areas of the province. It has also grown in Mpumalanga, Limpopo and the Western Cape. It's still a bit of a mission in the rural areas of KwaZulu Natal, but in the urban areas of the province softball is very much alive."
Says Marapjane: "Come next season, you'll see many players coming out of the Gauteng area. The biggest growth has been in the Eas-tern Cape for both sexes, while the strongest provinces so far have been the Western Cape, Mpumalanga, Gauteng and Limpopo. KwaZulu Natal is strong on the men's side."
Cecilia Viljoen, owner of Softball & Sport SA — distributor of international baseball and softball brands like Rawlings, Worth etc. — says this development growth is evident by the fact that stores buy a lot of entry level gloves. She says that she recently sold at least 345 bats for use in the Limpopo area alone.
"Every child wants a bat, a glove and a ball. Aluminium bats are quite popular. People of all races buy equipment. We now even get orders from as far as Durban, Zimbabwe, Botswana and Namibia, which tells you that, no doubt, things are looking up. The trend is similar with baseball — just different balls."
Unlike in countries like New Zealand, Japan, Canada and the US where the sport is played professionally, softball is still an amateur sport in SA. Softball SA runs the national programme for the sport and this includes the national championships that take place in March every year. According to Marapjane the tournament rotates among the provinces and this year it was held in Johannesburg, while next year it goes to East London in the Eastern Cape.
"We run the U16, U19 and U23 structures nationally," says Marapjane. "The issue of national leagues has been going on for some time. We are trying very hard to get that off the ground."
Team SA (men and women) reigns supreme in softball on the African continent, which further proves that Marapjane and Co. have found the right formula for the development of the sport in SA.
SA is rated #8 internationally, which is no small feat considering that the team goes against the toughest competition internationally, like pro's from the US, New Zealand, Australia, Canada and Japan.
At this rate, its clear that softball has a rosy the future in SA.
Luring youngsters back to basketball
While basketball is said to be growing internationally, it appears that the trend is not the same here in South Africa. Basketball was the fastest growing sport in SA in the mid-'90s, but the sport is not that popular any more. Most youngsters today don't have the passion for basketball that was there 15 years ago. Basketball seems to have missed the present generation of high school kids — but, plenty is being done to attract the youth back to the game.
Cabby Magongwa, who runs DarkChild Productions (a basketball marketing company) is on a passionate mission to make sure that the sport makes headlines again. He uses the universal youth language — music — to present fun-filled, crowd-pleasing basketball-fests. Apart from promoting basketball through tournaments, he has also brought back the basketball shoe brand, And1, to SA.
"Basketball is something exciting for the kids," says Magongwa, clearly excited by the prospects of turning the urban youth into basketball fans. "The only problem is that in SA basketball has not been administered properly in the past.
"I believe that what has plagued the sport and hampered development is lack of expertise — and perhaps time — in the democratically elected associations at grassroots level. With these functions now outsourced to private, and therefore profit-making companies, such as Pro Sport Consulting and DarkChild Productions, the playing field has now changed and the sport has now become a business, something that sponsorship companies understand."
The SA Sports Confederation and Olympic Committee (SASCOC) last October restructured the Basketball SA federation, following complaints of financial mismanagement, and things have been going smoothly since then, says Magongwa.
Third most popular amongst black males
He goes on to say that according to the 2005 BMI Sport Info research report, basketball was the third biggest sport — after soccer and road running — among black SA males. The sport was played by at least 305 000 black adults, 59 000 white adults, 33 000 coloured and 15 000 Indians — a total of 413 000 SA adults. Between 2004-2005 the sport experienced growth of 6.6% from one year to the next. (Unfortunately, later sport participation research is not available).
Magongwa says the highest number of people who currently play basketball are at school. One of the main challenges that face the sport is the fact that many high schools lack quality coaches.
The Gauteng Basketball League is the biggest and best performing in the country. The Gauteng league boasts some 52 teams and at least 780 players. The sport is also big in Durban and Cape Town especially on the seniors' side. The junior development structures are strongest in Tshwane and Limpopo.
Magongwa adds that efforts are under way to turn the sport into a professional business. "Basketball is currently only an amateur sport in SA, but a company known as PBL has been commissioned to solicit sponsorships, so that we can make it a professional sport. We'll just have to wait and see how that goes."
With SA still looking to re-establish consistency in the high level of basketball leagues and tournaments, it continues to struggle internationally. In the latest tournament held in Mozambique in April 2009, SA beat Mozambique by two points in their first encounter, and later lost by nine points to Mozambique in the finals. The points difference qualified Mozambique to compete in the 2009 Africa Nations Championship.
The big difference between the two countries is the experience and consistency of play provided by the Mozambican professional league, compared to amateur leagues in SA. With the GBL on the rise, this is soon to change, predicts Magongwa.
---
August / September 2008
Sandals compete with watershoes for summer
Now that all international outdoor footwear brands seem to agree with South Africans that sandals are the ideal footwear for the summer months (worn without socks, please), a new summer footwear category is starting to rival sandals in popularity. Water, or amphibious, shoes might not always be used for the intended watersport purpose, but they are selling well
Other outdoor footwear trends at Friedrichshafen
Hi-Tec caused a stir in the trade with their ion-mask waterproof (WPi) treatment that is now being launched to consumers across the world in the form of the Altitude hiking boot. At Friedrichshafen they introduced the next step in the treatment, ion-mask Hydrophobic (HPi), a quick-dry, stay clean longer, water repellent treatment to be introduced in products used in and around water (also see p12). It is fascinating to see how the water simply rolls off the mesh upper of an open weave water shoe, due to be launched in 2009. Developed originally for germ warfare, ion-mask repels all liquids, which keeps shoes dry and cleaner for longer.
"The consumer gets a top quality, high technology product at a lower price point than other top technologies — or alternatively, get a top-end technology at a price point where they would expect to get fewer features," says PR manager Helen Durant.
Light hiking boots are establishing themselves as a strong, independent product category. Salomon's new Cosmic 4D GTX high top hiking shoe is a further development on their successful adventure racing range, incorporating all the features that made the adventure shoe popular, but with a 4D-chassis instead of the 3D-chassis of their trail shoe. "This incredibly light (620g) hiking boot is in line with our lighter and faster theme," says Botes. It combines the sole of a running shoe with the upper stability of a hiking boot.
Multi-functional shoes are becoming more important as a category, especially for travelling. "Multisport is Karrimor's biggest area of growth in terms of volume," says Wilkinson. For the next season, they introduced a couple of new products and new outsoles in Vibram for the higher end products, and the Karrimor sole in the more affordable.
Several hiking ranges now feature a soft shell that offer a new, smooth surfaced and seamless look that is achieved through innovative bonding and welding techniques. Soft shell fabrics add the possibility for colour in footwear design, and are lighter than leather or Cordura. Karrimor has, for example, introduced a soft shell in their lightweight trekking range: the soft shell upper reduces weight further and makes the upper softer.
As can be seen from the accompanying chart compiled by GfK Marketing Services SA*, watershoe sales comprised a fifth to a quarter of the outdoor footwear units sold in SA during the summer months (November-March). In the warmest months, January-March, the percentage of watershoe units sold were getting pretty close to the number of sport sandals sold.
Well-ventilated, multifunctional and lightweight, consumers obviously found these shoes a good alternative to outdoor sandals as they offer more foot protection for the active outdoorsperson, whether he or she ever get their feet wet while canoeing, kayaking or fishing. The relatively high number of units sold also indicate that water (or amphibious) shoes are not only worn by watersport participants, but have a wider appeal as summer lifestyle footwear.
Sandals still tops
But, sandals remain the main sales category for summer. And at this year's OutDoor Europe trade show in Frierichshafen, it was clear that the main international brands intend to keep it that way.
Many outdoor performance sandals look like fashion sandals with thinner straps, suede uppers and a more elegant look — even a core brand like Patagonia has introduced suede flip flops that will look quite at home in a fashion store.
Despite paying a lot of attention to cosmetics, most outdoor designers have added additional functional features like raised bumper areas in front of the toe for protection against grit and stones and heel bumpers to ensure a more snug fit. This cradles the foot so that it doesn't move around. Some sandal ranges even have a toe bumper so pronounced that it curls over the toes.
Increased comfort is clearly the new motto.
Sandal features
Hi-Tec's summer 2010 sandal range, for example, features a stretch fit that moulds around the foot so that the wearer can move with greater freedom. They also have a pronounced toe bumper for protection.
Karrimor's newly-introduced sandal range was very well received in all markets in the past season, says Simon Wilkinson of Dragonfly, the international Karrimor footwear developer. "Customers were very happy with the offering and we got very good feedback," he says.
Features like a toespring (although not as pronounced as some other brands) and also more protection at the back with heel padding and the outsole moulded upwards, were well received. Uppers are made from soft, yet durable, suede, nubucks and webbing that are easy to care for. The suede upper of the top end Grenada has a stain resistant waterproof membrane.
The new colourway introduced in the Antiga range is expected to do well in the new season.
Watershoes for landlubbers
Hi-Tec have also made provision for the new demand for watershoes: their ultra-light model features their award-winning ion mask technology. Drainage lugs allow water to run out, but ion mask prevents water from entering through the mesh. Although lightweight and breathable, they protect feet on rocks and are ideal for sports like canoeing etc., says Hi-Tec Global PR Manager Helen Durant.
In line with the new trend to provide multi-purpose products, athletic shoe brand New Balance has claimed a stake in the outdoor market — apart from their local award winning trail running range, they also offer a watershoe that should not only appeal to the active canoeist, fisherman or yachtsman, but also offer an alternative to outdoor sandals. "The SM920 features H2Flow technology and promises to be the most innovative water shoe ever created by New Balance," says Graham Dicken, marketing manager for Europe. "The Quick-pull lacing system eases the transition from water to land with great traction for slippery surfaces, quick drainage and full foot protection."
The Salomon Techamphibian watershoe, used by Martin Dreyer in the Duzi Canoe marathon, has now been upgraded to the Techamphibian 2. Developed for canoeists, kayakers, anglers and other watersport enthusiasts, this watershoe was one of the top-selling Salomon products over the past four years, says local brand manager Bennie Botes. The revamped version has non-marking soles, a friction free lining that conceals all internal stitching and a flexible mesh upper.
Salomon has aimed this model at the active participant, and have signed sponsorship deals with prominent participants like Mark Yelland, captain of the Springbok fly-fishing team, while Brad Challenor of Stealth canoe fame, is their Durban agent.
Outdoor shoes June 2007-June 2008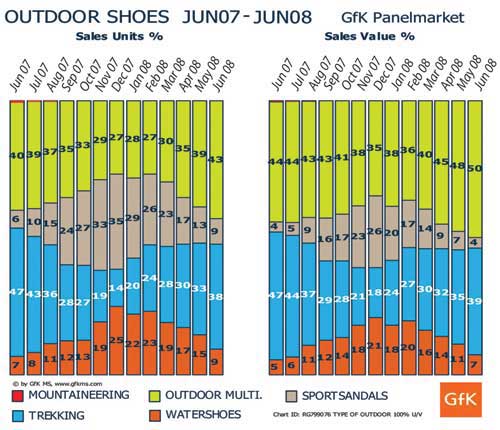 Outdoor footwear sales are anchored by multi-purpose (light hiking) shoes, especially in value, but in the summer months the combined sales of sandals and watershoes outperform all other outdoor categories — in number of units sold as well as Rand value. Mountaineering (climbing) is, however, a negligible category in the SA stores where GfK Marketing Services tracks sportshoe sales.
*GfK Marketing Services track the sale of sportshoes at participating retailers according to units sold per category and brand, and the revenue generated, by installing free software at retailers willing to participate in the market survey. In turn, the retailers receive detailed feedback of the market trend. Subscribing brands also receive a confidential, detailed analysis of their performance benchmarked against the rest of the industry. In order to be part of the survey, contact Craig Bowen at tel: 011 803 1300, fax: 011 803 0111, or Email:
Craig.Bowen@gfksa.co.za
.
---
August 2006
Surfing through the Free State
Until a few years ago you had to walk the walk and talk the talk to wear surfwear. Today fat, thin, fit, unfit, old and very young bodies are dressed in surf brands, especially in dry in-land areas where many wearers have never even seen a surfboard. CARIN DU TOIT asked experts about the popularity of surf brands up country
Once upon a time surfers wore surfwear brands and fashion-conscious people wore fashion brands. Today there is as much a blur between what is (and who wears) surfwear and fashion brands, as there is between fashion and sports brands.
Surfwear used to be about T's and boardies … and, of course, worn by surfers. But then the rest of us caught on and suddenly surfwear is to be found in the most unlikely of places — often far away from any surf.
Dry, landlocked areas, for example the Free State and Northern Cape, are especially partial to surf brands. Stores in the middle of the Free State have surfwear departments that rival Durban beach front stores.
Rellings in Kroonstad is one of them. According to Jock Relling, surfwear and sporting brands are about equally popular amongst his customers. He says the surfing brands have become more popular over the past three years due to children becoming more aware of surfing brands.
There has always been a demand for surfbrands like Billabong and Quiksilver in their sport store, says Keith McLaren of Desnics Planet Sport in Kimberley. He agrees that the demand for surf brands is about as high as for sporting brands, although Desnics is a general sport store.
Verons Surf & Sport in Parys, Free State, also reports a big demand for surfwear brands — with Billabong, Roxy and Quiksilver at the top of the list but Element and Fox also selling well.
Mariolize Marais, of Extreme Adrenaline in Newcastle, says their store has not been open for a very long time, but already they have had a huge success with surfwear. Marais says that consumers go for the brand name as well as the quality associated with the names — her customers do not buy surfwear for the culture associated with it.
We first became aware of the popularity of surfbrands in inland areas when we asked a thousand 16 to 17-year olds about their brand preferences, and it transpired that surfing brands were more popular amongst inland teens than their coastal peers.
Eleven of the 20 brands owned by most inland teens were surfwear brands, compared to 9 for the coastal teens. Six surfwear brands were more popular among the inland teens than among the coastal teens — BadBoy/Girl, Hang Ten, Instinct, Lizzard, O'Neill, Roxy and Volcom. Billabong had a good following under both the coastal and inland teens, with a similar percentage of teens owning the brand, as did Island Style and Lost. Quiksilver was more in demand by coastal teens.
This is also confirmed by buyers for apparel stores (see Sports brands dominate lifestyle clothing). Nearly half (42.5%) of the inland buyers who responded to the Sports Trader survey said that one or more of the surfwear brands was one of their top three selling brands and 15% of the inland buyers said a surfwear brand was their best seller. In this survey, more coastal buyers (53%) did, however, say that the surfbrands were among their top three sellers.
A new market opens
But, the surfwear market has not only spread from the coast to the Karoo, it is also losing its traditional laid-back white teenage male image. Now women, other race and age groups are also wearing the brands.
The main market is, however still teenagers. The majority of his customers are between 10 and 18 years old, says Relling, and they are still predominantly male.
McLaren says his surfwear customers are between ages 13 and 28. He has been experiencing a steady growth over the past two years in the women's segment regarding sales to the extent that currently the interest from men and women are roughly the same.
As with most other industries, it seems that the women's segment is growing fast — or at least is pulling on par with that of the men's.This was reflected in the Teens Brands Survey, where female respondents owned 51.5% of surfwear brands mentioned in the survey. Not only are more and more women surfing, but surfwear is also fashionable.
However, women do not naturally opt for a ladies' brand. For example, male brands such as Billabong and Lizzard were more popular amongst the girls in the Teens Brands Survey than Roxy and Lizzy (women-targeted brands).
The emerging black middle-class market is also becoming a factor in surfwear fashion sales as children of all races go to school together, and style preferences start to cross-polinate.
Karen O'Connell, ladies apparel buyer for Sports Scene, says there is a big wannabe-surfer culture amongst urban teens in Johannesburg and Pretoria.
According to our Teens Brands Survey, 199.5% of all black respondents own surfwear — thus, almost every respondent owns two different surfwear brands.
But, says Scott Pringle, men's apparel buyer for Sports Scene, many of these consumers buy the clothing for fashion sake, and not because they want to prescribe to the culture. However, Pringle maintains the black market prefers sporting brands to surfwear.
Who rules the roost?
In the Sports Trader survey of lifestyle apparel buyers, 4 surfwear brands were among the 16 brands mentioned as best sellers — Billabong, Quiksilver, Volcom and Roxy.
Relling says that when Billabong exploded into a massive brand, all the other surfwear brands had a big spin-off as a result. Three-quarters (65.6%) of the 16 - 17-year olds who responded to our Teens Brands Survey own Billabong.
Marais says that they have surfwear customers across all segments with parents buying for their children. On average, parents buy Lizzard for their 3 – 13-year old children, and brands such as Volcom and Element for those between 14 and 18 years of age. Older surfwear customers like brands such as Fox and O'Neill. Fox is especially popular amongst those who do motorcross and biking, and O'Neill amongst ladies. The older customers also like Oakley, she says.
O'Connell says that the black market especially likes Roxy, Billabong and Quiksilver.
Surfwear explodes
Surfwear used to be the sole territory of surfers. What happened to make surfwear brands so popular amongst those who have never been on a surfboard?
The rise in popularity of surfing brands started in coastal areas, the natural habitat of surfers, but quickly spread to inland areas. This happened because inland consumers would, for example, go to the coast for holiday and be exposed to the brands, says Arthur Limbouris of Musgrave Agencies, marketer and distributor of Quiksilver.
The fact that inland holiday-makers took to surfwear brands also meant a boom for coastal surf stores selling these brands. Once there was enough demand, inland retailers started doing well by stocking surf-wear brands.
"These brands became in demand by the youth as they were adrenaline aspirational sports", says Limbouris.
He says that once surfwear brands started putting money into events and became more professional, consumers became more aware of the brands and aspired to get their hands on the products. Surf brands also learnt the value of getting your name out there — advertising in non-surf specific magazines, showing events on television, etc. The brands sold themselves as part of a surfer's image and supported surfers — by means of sponsorships — and the surfing community. The brands gave the impression that those who wore their clothing are part of the surfing culture — or at least want to be.
The annual BMI surveys of junior sport participation in SA indicate that about 33 500 teens between the ages of 13 to 18 actually use a surfboard. The fact that a magazine like Saltwater Girl has a circulation of 42 600 and the combined circulation of Blunt and ZigZag magazines is more than 33 000, however, show that an interest in the surf culture extends way beyond those who have ever walked the walk or talked the talk.
"These kids are being exposed to the aspirational values of the brands and want to be associated to the brands, whether they participate in board sports or not", says Limbouris.
McLaren agrees to a point. But children, especially the girls, wear the surfwear because the clothing looks good, and not necessarily because they want to be associated with the surf culture, he says.
"Surfwear brands have been raising their game over the last three years in terms of styling, fashionability and product offering", says Russell Adshade of Billabong.
"The brands are no longer boardshort and T-shirt companies, the product ranges have been expanded to meet the diverse demands of a radically evolving fashion market".
Nowadays there is little to distinguish surfwear brands from fashion brands — it is common place to see a pin-stripe suit or button-up shirt in a surfwear brand's range. They therefore sit side-by-side on retailer shelves with the likes of Levi's, Diesel, Nike and adidas.
Pringle believes that surfwear brands' move into fashion-territory is due to the brands looking for a bigger market. They have the surfwear market covered: now for the next step. He says that in other countries surf stores are true to surf, selling printed T's and boardies. In SA, surfwear brands follow the fashion trends. The brands feel they need to be fashionable and make brands that are not surfy. Likewise, consumers also buy the brands because they look fashionable.
That is logical when one looks at the size of our market. Especially compared to other markets.
With 2.7-m surfers and participation growing at 37% per year*, the US market has more than enough core surfers for surfing brands to focus their marketing and advertising on the approximately 700 hardcore surf stores in the country.
The SA brands are not so fortunate and therefore they moved into fashion-territory in order to create a bigger market, says Pringle.
This not only had an impact on non-surf stores selling surfing brands, but could also explain the high number of surf stores per surfing population in SA, compared to the US. While there is one surf store per about 4000 surfers in the US, each of the 100-odd surf-specific stores in SA would have catered for 335 surfers each — had their appeal remained hardcore. The wider appeal of surf brands have therefore also kept hardcore surf stores profitable.
However, it is not only the surfwear brands that are bringing out fashion items, some fashion brands are bringing out items with surfwear inspired designs.
All the brands are in one boat now, as far as the consumer is concerned, and have to compete. Thus, there is a mixture of several influences across both the fashion and surfwear markets.
The idealistic image of the lone surfer with only his board and the surf as company is not the selling point anymore — especially among children who will most probably never set foot on a surfboard. Rather, styling and quality has taken over the reigns as a pulling force for consumers.
---
April/ May 2009
Table soccer: more than a game
In 2010, when the world's top soccer teams will be trying to outscore each other in our spanking new stadiums, chances are that your customers will be just as intrigued by the Table Soccer World Cup that will be played simultaneously. By then, many of them would have tried their hand at this game that could also become an Olympic Sport, reports CLAYTON TRUSCOTT. Are you ready to supply the demand that is bound to grow?
"No spinning," a lanky German woman with a forehead piercing said to me one night at a backpacker's party in Hogsback. It was about eight years ago. We were playing the game I recognised from American movies and television, called foosball. She called it tischkicker — which I took to be one of the many swear words she said during our three minute match — and had clearly been playing since she learnt to walk. Possibly even before that. She was referring to my illegal attempt to make contact with the tiny, wooden ball; I was literally spinning as many of the rods as I could get my sweaty palms on. "Sure," I answered, as she blasted it into my goal for the fifth, and final time.
Soccer is one of the most loved and revered games on the planet, so it is not surprising that table soccer is one of the fastest growing games. And as the game of table soccer emerges more openly on an international stage, you find that it is called something different everywhere it's played.
For example, it is called foosball in the US, tischkicker in Germany, baby foot in France, slug in Zimbabwe, tata in SA, and the list goes on (see www.wikipedia.com).
Although there are several stories that claim the origins of table soccer, they all seem possible and plausible. One that came with a record of a patent goes like this:
In 1923, an English Spurs football supporter named Harold Thornton decided to invent a game that could be played at home. His original concept for the game came from laying several matches down across the box.
A different source says that the game was invented in 1937, during the Spanish Civil War, by Alejandro Finisterre, who was in hospital at the time.
Others say that the game was invented in Germany, during the Second World War...
Regardless of where, or how, the game actually came about, it is probably true to life that there are several versions.
Table styles further illustrate the game's uniqueness to each country. The standard table soccer size is 4 by 2 feet. The brands used in today's tournaments, as well as in most bars and arcades, are the French Bonzini, US Tornado, Italian Garlando, and the German Tecball.
The basic premise of the game remains constant throughout: a miniature soccer field in the shape of a box, with goals at either end. Eight rods skewer the top of the box to suspend 26 (13 per side) figurines across the field, in a typically strategic formation. The players use these rods to rotate each figurine and kick the tiny ball (which can be made of wood, cork, plastic or marble). The ball enters play when it is dropped through one of the holes on either side of the field. The figurines also mirror one another, giving it a chess-like quality. However, instead of players pensively analysing their next move, they are frothing at the mouth, trying desperately to score goals, screaming and cheering while doing so.
The rules can also vary from country to country, but, according to www.foosball.com, there are three golden rules that apply to all:

No Spinning, as my German friend pointed out.
Tables have nine balls, so you play best out of nine, or the first team to score five goals.
If a ball goes into the goal legally, it is a point, no matter who hit it or what it bounced off.
International Recognition
The excitement derived from table soccer is undeniable. The game is a joy to play. The simplicity and playability of it makes a foosball table in the house as useful as it is in a busy pub. You can never master it, nor tire of trying. And as it has spread throughout the globe, a need for some official organisation has arisen.
Tournaments throughout Europe go back as far as the 1940s. But, a major breakthrough for table soccer as a recognised sport came in 1945 when Lee Peppard of Seattle Washington, provided funds for a Quarter Million Dollar Tour, which ran in the United States until 1981. The publicity this tour gave the sport has played a vital role in getting table soccer the recognition it has today.
In 2002 an International Table Soccer Federation (ITSF) was formed to promote and develop the game (see www.table soccer.org). Since its inception the ITSF has been responsible for the major tournaments and PR work involved in putting the game on an international platform.
One of the federation's chief concerns is bringing table soccer to smaller countries, where the game is still unknown, through an ITSF Development Fund.
A yearly event on the ITSF's calendar is the World Championships. In 2009, the World Champs were held in Nantes, France, where 40 countries competed in the following divisions: Juniors, Men, Women, Seniors and Disabled Doubles.
In 2006, the ITSF also arranged the first Table Soccer World Cup in Germany, which ran side by side with the Fifa World Cup. With 32 countries competing (including SA), the sport got some much needed exposure. Table soccer was also an exhibition sport at the Beijing Games last year, meaning it could be considered a possible future Olympic sport. This matter was, again, handled by the ITSF.
Table soccer in South Africa
Table soccer in SA, or tata as it's called because of the noise it makes, has been taking off in the last few years. In September 2008 the SA Table Soccer Championships, hosted by the SA Association of Table Soccer (SAATS), was held in Lenasia, Johannesburg. The winners went to Nantes, France, to compete in the World Championships. Although the SA team was knocked out in the opening round, it was an accomplishment on its own to have made it.
In an article in The Mercury SAATS president, Sudesh Fakir, said "the organisation faced several problems, including a lack of sponsorship… Hopefully, as the sport gains momentum, so will the interest."
Although we have yet to set up organised national leagues and commercial competitions, these things are set to come with time.
Shahin Furmie of Shoot Games reckons that no race, age or gender group currently predominantly play tata in SA, but that the game is growing rapidly across the spectrum. In a country as diverse as SA, this is a surely a good sign.
Shahin reckons that tata boxes are selling like hot cakes around the country, not just for use in bars and arcades, but in people's homes, which is where interest and skill develops rapidly — you only need to play pool or darts against friends who own their own table or board, to see how exposure to a game at home is the key to generating skilled players.
With the skill and finesse that our country's sportsmen are known for, it will be interesting to see how we fare in the 2010 World Table Soccer Champs, when the competition will take place in Johannesburg, coinciding with the Soccer World Cup. The exposure on its own will do this emerging sport the world of good in our country.
And lastly, hopefully by the time I go back to Hogsback and take on an aggressively pierced tourist, I'll have played and seen a lot more of table soccer to be able to hold my own.
For more information about the 2010 Table Soccer World Cup, log on to
www.table soccer.org
. For local details about the sport, including clubs and matches taking place in different regions, see the SA Association of Table Soccer's website —
www.saats.co.za
. Further reading can be found on
www.foosclub.co.za
.
---
August 2007
The wonderful world of bags
Wonder what bags will be in season for winter 2008? Wonder no more as we provide feedback as seen at the 2006 GLS show
Fashion bags for winter 2008 are reserved and calm in terms of colour, shape and decoration, but those XXL big bags are still the main players.
Overall, the colours are dark, but not the overpowering dominant colours from previous seasons — these are more reserved, and loud garish colours are avoided.
Similar to the clothing trends, grey is the new colour for the season and found in various shades.
Black seems to have overtaken brown in the popularity stakes. Browns have not disappeared; they are merely used in different shades, for example natural matt brown, cognac, and dark brown, as well as beige.
Dark red is a favoured colour for accents, as is warm green tones, for example olive.
Alongside the darks, we also see pale tones as contrast tones, for example sand, putty, off-white and silver grey.
Soft, gentle materials are the popular choice, with leather dominating. Fine calfskin and nappa leather are in the mix with fine, natural textures and graining, or slight embossing. Faded leather is still on the scene, but it is less creased than before.
There is a trend towards using matt and shine contrasts, which means combining suede and patent leather, but the patent leather has to have a wet look. Satin and high quality nylon are used to create shine, and velvet for a shimmery matt look.
Moc croc is back, but brings with it new croc looks and coloured texturing.
The fascination with XXL bags continues. This time they are available in unisex styling, which means they should also appeal to men. Volume and softness are still the two main characteristics for the XXL bags, which is why pouch styles and additional pleats and gathers are in demand. These big bags get a remake with new colours, finishes and details.
Shoulder bags are worn across the chest and come in various sizes.
It seems that fashion rucksacks are set for a revival. The tendency towards reserved decoration means interesting front and side pocket ideas are adding an individual touch to the styles.
Decorations are used sparingly, with discreet stitching, studs and rivets. Fasteners are given a playful touch with adaptations from belt buckles and padlock fasteners.
The three main trends are shaped neutrality, dark attitude and bronze reflection.
The shaped neutrality trend features voluminous, short-handled bags and big XXL bags that have sleek styling, as well as fashionable crossover messenger bags. Materials are sensual, for example leather, suede and velvet. Colours are pale, neutral tones in greys and black.
The dark attitude trend is, not surprisingly, dark. The colours are black and near-black darks that dominate, but are made to look interesting with materials such as patent leather, fine nappa and mock croc.
Look out for pouch-style shapes with short handles, game bags, equestrian styles, and sporty pouch bags in the bronze reflection trend. The main materials are natural leather that is slightly textured or faded, animal skins and furs, and nylon. Natural brown and olive tones, and warm but discreet metallics (especially bronze) are the colours.
Resources:
---
Feb/ Mar 2009
The year ahead…
A look at the trends and topics that could have an impact on trading this year
More money in your customers' pockets:
Petrol price down: R4/litre
Rates cut: 1.5% since June
Tax relief: R13.6-bn
Inflation under 10%, expectations of further dropM
You'll have to be an illiterate living on an island without radio or TV coverage to be unaware that the world is in an economic mess. Global performances of most international brands are described with adjectives like disappointing, down, dropped, slipping, slow or slump. Reports of retail holiday sales are equally negative.
In the US, Europe and UK retailers are reporting their worst season in many years. In most categories the question is not whether sales are down, but rather by how much.
Yet, in SA the descriptions of the economic and retail outlook sound decidedly more hopeful. And the good news is that there are many reasons why your customers should have more spending power this year than in the latter half of last year.
The basic crude fuel price had dropped from an average of R7.30/litre in July last year to R3.35/litre in February (respectively more than R10/litre and R6/litre at the pumps) — nearly R4/litre more in the pockets of consumers. Or, R200 more spending money every time you fill a car tank that takes 50 litres of fuel;
The recent interest rate cut announced in February also means more money in the pocket of consumers. For example, customers with a bond of R750 000, will have to pay roughly R550 less per month than in December, when the prime bank rate was cut from 15.5% in June to 15%. Therefore, more spending money in your customers' pockets;
The 2009 budget promised R13.6-bn of tax relief for individuals in this year's tax period — especially people earning less than R150 000 a year (R12 500 per month) will benefit as they will receive about 50% of the tax relief during 2009/2010;
Each R1 of the R787-bn infrastructure spending planned for in the 2008 budget will contribute at least R2 to the GDP say economists, as it will help create and maintain jobs. The R6.4-bn for public transport, roads and rail networks, R4.1-bn for schools, clinics etc, R5.3-bn for municipal infrastructure and bulk water systems, R176-bn underwriting Eskom debt and R50.9-bn for transport infrastructure will help us adjust for the impact of the global economic crisis, said Finance Minister Trevor Manual;
The Rand/US$ exchange rate has steadied at an average of under R10/$, dispelling fears of an out of control spiral and giving importers reason to breathe again;
Although still above the Government's ideal 3-6% rate, inflation is coming down, dispelling last year's fears of an uncontrollable spiral. December's CPIX (consumer inflation less mortgage costs) was at its lowest level since March 2008, dipping from 12.1% in November, and slowing down to 10.3% year-on-year in January. All-items CPI slid more-than-expected to a one-year low of 9.5%. CPIX peaked at 13.6% in August last year.
According to the 4th Quarter Inflation Expectation Survey by the Bureau for Economic Research (BER) at the University of Stellenbosch, expectations are that inflation will remain under 10%. CPIX inflation expectations for 2009 increased by 0.1 percentage point to 8.2%, whilst the expectations for 2010 declined by 0.2 percentage points to 7.2%. This is the first time since the 1st quarter of 2006 that CPIX inflation expectations declined.
The inflation expectations for 2010 declined because the expectations of the trade union officials declined from 8.5% to 7.7%. Analysts and business people held their expectations unchanged at 5.9% and 7.7% respectively. Of the three groups, only analysts anticipate CPIX inflation to be within the 3-6% target range by 2010.
These positive indicators, however, do not mean that all SA retailers are immune to the worldwide slow down. Retail trade sales at a constant price for the first 10 months of 2008 decreased 2.2% compared to the same period in 2007. In October 2008 alone sales dropped by 2.3% compared to October 2007.
But, remember, the period between January 2004 and January 2007 was an unprecedented boom time for retailers. On average, the real annual sales at SA retailers increased by 7.6% per annum from January 2004 to October 2007 (well above the inflation rate for the period). On the graph (click here for the graph) one can clearly see the increase in real sales, together with the spikes during the Christmas holiday season in December of each year. The trend line, however, reached its top in October 2007 and started turning negative from then on.
However, while new vehicle sales, representing sales of durable goods, has been experiencing a decline from about a year earlier, it is interesting to note that retailers selling textiles, clothing, footwear and leather goods have not yet felt the effect of the downturn. Their sales for the 12 months ended October 2008 is 13.6% higher compared to the same period a year ago, still ahead of the consumer price index, which was 12.1% in the same month (click here for the graph).
No wonder that SA's consumers were the most optimistic in a Deloitte & Touche survey of consumers in 20 countries in Europe, the Middle East and Africa conducted in the last quarter of 2008. When surveyed, they planned to spend 12% more on year-end holiday shopping. But, on a more sobering note, 57% of the South Africans surveyed expected the economy to deteriorate this year, leaving them with less buying power. But, remember, the survey was done before the petrol price dropped and the repo rate was cut.
---
October 2004
These boots are made for walking, wearing... and playing
Smart enough for the disco. Comfortable enough to dance the night away. But actually made for playing matches. Soccer, rugby and hockey boots now rival running shoes in design and technology, reports CHARLENE CLACK
Normally, an athlete buys a boot in order to play the sport he loves. In the first half of 2005, a player will be excused for taking up a team sport just to experience the absolute pleasure of wearing the beautiful boots.
The new boot ranges please most senses: colours that are a feast for the eyes; the soft materials used for the uppers invite touch; and new technologies provide flexibility, support and traxion that give a whole new feel.
Team boots now make a fashion statement.
Soccer footwear as we've known it, will never again be the same, promises Umbro SA marketing director Darryl Kroll. "Umbro's new range has redefined soccer footwear. We are now offering players boots that will enable them to make an individual statement, even though they are playing in a team environment."
Futuristic styles
Boot styles are becoming more futuristic with a streamlined, modern look, says Steven Eckstein of Reebok. "The trend is going towards more modern, lightweight styling, with the laces covered over so that there is a maximum ball strike area."
Ian Wright, Football Category Manager of Nike SA agrees. "Trends are leaning towards lighter weight for speed and control, as well as different colours for individual expression. Nike offers boots in the traditional colours, but we've introduced the very latest styles in new cosmetics."
"Colours are stronger, other than the usual black. Black boots are still in demand but there seems to be a bigger demand for different colours such as white and silver," says Mickey Mallet of Hi-Tec.
According to Eckstein, gunmetal, silver and red are the new colours. "White boots and bright colours, as well as metallics, are the trend at the moment - with strong contrasts," agrees Lynton Picker of Footwear Trading, local distributors of Fila.
Distributors and marketers of boots have never had it so easy as designers are all attempting to outdo each other with eye catching ranges.
Innovative
"In keeping with our mission statement, to inspire and excite the world of football, Umbro's boot range for the first half of 2005 is inspirational, innovative and dedicated to quality," enthuses Kroll. "Our boots have been designed to meet players' needs and desires and will offer the consumer choice at high, middle, and entry level price points,".
Last season's Umbro Xai boot (pronounced by most people as the "X" boot) has now evolved into their "Evolution X" generation of boots, launched in January 2005.
"This is a range of products designed specifically to take soccer to a new level. This is more than marketing hype, because this product doesn't pretend to be anything it is not. Put it on — it does exactly what is says it will!" assures Kroll.
Apart from catching the customer's attention, most design features also have practical applications. For instance, having the lacing system positioned on the lateral side of the boot results in cleaner ball strikes and sharper control. An example of this is the Skewedlace concept introduced by Mitre and the hidden lace tracks of Reebok, Gilbert and Umbro.
"Having the laces positioned on the lateral side of the soccer boot, increases the medial strike zone area around 60%, allowing for cleaner ball strikes and sharper control," says Mitre brand manager Peter Whipp.
Designs practical
Another example of design adding functionality is the "X" logo that Umbro incorporated in the heel area that not only protects the rear foot, but enhances medial stability.
Gilbert has created a sweetspot to improve feel — and as a result, increased kicking power and distance — by injecting lightweight rubber elements in strategically placed strike zones in the upper.
Like running shoes, the lightness and breathability of team boots are also becoming big selling points. Gilbert, for instance, uses mesh fabric to reduce the overall weight of the boot. Hydra Mesh is a breathable, water resistant material, which keeps the foot ventilated, reduces moisture build up, resulting in overall enhanced performance.
Grays has revolutionised the look of hockey boots. It looks, feels and cushions like a top range running shoe, but it has features specifically designed for hockey players. New features include new Turfhugger outsole with linear and lateral stabilisers to maximise grip, new EVA Midsole cushioning to help reduce the shock from Astro Turf pitches and new special heel system to disperse shock from hard pitches.
Comfort
Comfort features, however, address the particular needs of the athlete that participate in that specific sport. The days that a boot was a boot, was a boot are long gone.
The modern boots not only address the special needs of the players in a specific sport, but in many instances, the player in a specific position. In some rugby ranges the stud configurations for backs, differ from forwards.
Reebok, for instance have a sturdy 8-stud sole for the heavier forwards, while the 6-stud, similar to a soccer boot configuration, is aimed at backs.
Gilbert's 8 XSO–Xact structured outsole features a unique stud configuration, positioned according to the specific requirements of rugby players. Flex grooves in the Gilbert boot soles improve flexibility and mobility in all necessary directions.
Nike's 'traditional' forwards boots have different stud plates (eight-stud formations) and thicker leather to allow for greater grip and support, while many loose forwards and backs find they get extremely good value from the same footwear as soccer players. "It boils down to personal preference, but in the end the loose forwards and backs need lighter boots to allow for their range of play, hence the use of the same technology as football players," says Wright.
Nike has made the boot-to-ground point of contact a key performance area - for optimal grip and reduced stud pressure. Shock absorption is also addressed in the higher end boot ranges — with Nike's top end running shoe Shox technology incorporated in their soccer range to absorb impact and provide greater responsiveness.
No doubt, boots are now designed with the same care that used to be reserved for top-end running shoes.
---
September 2007
Trends spotted at the SAFTAD show
There were three themes to this year's show: grey imports and sole distributor rights; vertical jigging and drop shot fishing
Although the organisers this year ensured that only licence holders and sole distributors exhibit goods by asking all exhibitors for the brands they planned to show, the issue of retailers buying from parallel (grey) importers was a topic of concern to many exhibitors.
Drop shot fishing
There was hardly a tackle stand where rods, reels, hooks, weights and baits for drop shot fishing could not be found. This refers to a new riggng technique initially developed in order to hook those big lethargic fish lurking directly under the boat in real deep water.
Since then more anglers use the drop shot technique the same way they would use any other finesse worm technique — casting it up on the bank and shaking it back to the boat.
The hooks and weights used for drop shotting are sophisticated and most major rod manufacturers have designed tapers for the technique. The rods need to be light with a fast tip action. Many manufacturers have made special drop shot hooks, which must be super sharp with a Z-bend to keep the bait in place. These are tied directly to a light line (4-10lb) in a very specific way to ensure that they are at a 90-degree angle to the line with the hook point up. Fairly light weights and small plastic baits are used.
Vertical or butterfly jigging
This new technique used to hook the big guys hiding in deep gulleys and channels, is either called vertical or butterfly jigging. This refers to the butterfly fluttering action you create by dropping your jig down as far as it will go and then quickly pulling the rod tip up. This action is repeated several times in one spot, before moving on to another spot if you have no luck.
You need a medium baitcasting rod with a soft tip, strong butt section and enough backbone to lift a huge fish out of its cover. A high-speed baitcasting reel, a light line that allows you to keep in contact with your jig and small, soft baits, skirts or local baits are further requirements.
Learn more
Drop shot
http://bassresource.com/fishing/dropshot_fish.html
www.tacklewarehouse.com/guides/dropshot.html
http://fishing.about.com/od/basicfishinginstruction/a/dropshot.htm
Vertical/butterfly jigging
www.aa-fishing.com/art-070905-gregg-munck-3.html
www.thefishfinder.com/articles/master4.html
http://fish.shimano.com/publish/content/fish/sac/us/en/butterfly_fishing.htm
---
August 2007
Wearing Technology
It seems that today's clothing and textiles are not made in factories, but rather in laboratories. Is there more technology in my clothing than in my PC? asks CARIN HARDISTY
SmartShirt System
The SmartShirt is a seamless light, breathable, nylon fabric with fully integrated conductive fibres, creating connectivity to acquire and transfer physiological signals to a small controller where the signals are digitised and sent wirelessly to a remote location.
The SmartShirt is fully washable, greatly expanding the fabric's future applications. In 2006, the system, developed by Sensatex, was named Product Innovation of the Year by a leading global analyst firm.
Sensatex Inc, the developer of smart textile materials, is due to begin field trials of a new seamless shirt that monitors an individual's heart rate, respiration and movement wirelessly and remotely.
Be healthy with nanotechnology
Nanotechnology is being used to create clothing that can keep you healthy. The clothing can protect against poisons, viruses, bacteria, etc. The secret is in the size of the particles. Particles that are, for example, the same size as viruses keep them trapped in the clothing — preventing the virus from reaching your skin where it can make you sick.
The particles are made of a kind of metal that can recognize bacteria or viruses and trap them, for example silver is a natural antibacterial agent.
Juan Hinestroza, the chemical engineer who made this technology, is trying to expand on the uses, one of which is material that can change colour without the use of dyes.
He does this by creating nanoparticles that are the right size to reflect the desired colour. As with capturing bacteria and viruses, the trick is to create particles that are the same size as the intended colour particles. This means creating particles that are 5 — 20 nanometers in size (one nanometer = one-billionth of a meter). The particles cling to cotton fabric, because the particles and fabric have opposite electrostatic charges.
Because the particles are smaller than a wavelength of visible light, the particles can only reflect a selection of the light spectrum that match their size — red, blue, and yellow.
Nanotechnology can also be used to protect the environment and textile manufacturers will be able to reduce their costs and overheads by using this technology. The precise measurements allows manufacturers to reduce the bulk of raw materials that they need, and thereby reduces the amount of wasted textiles.
A big benefit in using nanofibres, is that they are smaller than traditional fibres, and fewer are needed to produce the same effect as natural fibres.
This also means that less raw material is needed.
The use of nano-scale materials will mean that clothing can also be made in a smaller quantity — meaning more exclusivity to those manufacturers who wish it.
Another bonus is that products will degrade better or be able to be transformed into other products.
iPod in your clothes
grooveRider, created by Austrian company Urban Tool and nominated for the German design award 2008, is an iPod T-shirt that enables the wearer to operate their Apple iPod through sensors incorporated into the T-shirt — the wearer controls the settings through fabric swatches — and there is a special pocket for the iPod that allows you to move freely. Plus, the clothing is both teenage and parent friendly: the grooveRider is washing machine washable.
Today fabric technology has taken on a whole new meaning. Judging by what has been shown at the latest ispo Sport & Style show, your customers will soon be able to wear garments that behave like something out of a science fiction movie or James Bond laboratory. Clothes and shoes are being designed more for their entertainment and protection value than the fashion dictates.
In the sport market, textiles are now being made from intelligent molecules that protect against injuries. While your body moves naturally, the molecules flow past each other at low rates of cohesion, but if there is a sudden impact the molecules instantaneously lock together to provide a protective barrier.
Auxetic materials — materials that become fatter when stretched, unlike conventional flexible materials — have been developed that can change colour under tension.
Smart fabrics are also being designed to protect against terrorist bomb attacks by absorbing energy.
Hot and cold fabric
Outlast, an active thermo regulating process that encapsulates micro PCM's, is a process that regulates vast changes in temperature, for example from an air-conditioned plane to desert temperatures or from an air-conditioned office to a hot summer city street, in fabric. This is done through the use of thermo regulated microcapsules that go from solid to liquid form when going from cold to hot temperatures, and vice versa.
Klimeo, launched by Avelana and Roudière in France, use the same technology on Australian merino wool.
A conductive polymeric yarn has been designed that can be knitted into a garment to keep the wearer warm — only, the yarn heats up when a power source is applied from a battery of mains power.
Eco-friendly pants
Marks & Spencer developed made eco-trousers — made from 14 recycled mineral bottles that have been spun into polyester. If the trousers turn out to be a success the recycled material will be used to make other items in the range and extend to women's wear. The retailer is one of many companies trying to do their bit to make the world a greener place.
Converse's All Star "Chucks" won the 2007 Peta Proggy Award (Peta Progress Awards) in the category Best Cruelty-Free Trainers.
Moisture management
Moisture management, the ability of fabric to transport moisture away from the skin to the clothing's outer surface, is nothing new. Most fabrics can wick moisture away from the skin, but moisture management is becoming more refined. The demand is growing for fabrics that can stop trapped moisture from heating up and causing fatigue, or dropping in temperature and causing chilling and hypothermia.
The two main factors that affect how well the moisture management performs are the speed with which it can move moisture away from the skin, and how absorbent the fabric is.
Moisture is moved through capillary action or wicking with the spaces between the fibres forming 'tubes' that act as capillaries and transport the liquid away from the surface. The narrower the spaces between the fibres, the more effectively they draw up moisture, which is why microfibres are ideal.
With absorbency more is not necessarily better: greater absorbency increases the ability for moisture to be drawn into the fabric, but absorbent fibres also retain the moisture – thereby affecting comfort levels as the clothing becomes saturated.
Fabric that wick moisture rapidly through the fabric, while absorbing little water, help to regulate body temperature, improve muscle performance and delay exhaustion.
The most effective moisture management fabrics are high-tech synthetic fabrics made from polyamide or polyester microfibres that are lightweight and capable of transporting moisture efficiently and that dry relatively fast.
Push-pull fabrics — bicomponent fabrics composed of a non-absorbent material on the inside and an absorbent fabric on the outside - are also very effective, because the absorbent material on the outside draws the moisture away from the skin, while the non-absorbent material keeps the skin dry.
Put a spring in your step
Earlier this year David Cheruiyot won the Ottawa Marathon, wearing footwear using Spira's patented WaveSpring technology. This unfortunately did not comply with US Track and Field (USATF) Rule 143, which bans spring technology in footwear for competition and may also violate IAAF Rule 143, which bans technology that provides an unfair advantage — this despite the fact that Spira had already submitted its shoes to the IAAF for review and approval in September last year. The IAAF has been unable to provide the company with an answer.
Spira recently initiated a lawsuit against the USATF and IAAF alleging the rules that ban spring technology constitutes a restraint of trade in violation of the Sherman Anti-Trust Act.
After racing and training in the Spira shoes for six months, Cheruiyot claims that he is less tired after racing and training compared to other shoes and also claims to have suffered no injuries, that his recovery time post racing and training is reduced, and that he can train and race at a more intense pace than before.
Shown at international shows
The European Space Agency (ESA), a partner of the Wearable Technologies Show, presented its technology transfer program at ispo's Wearable Technologies Show, part of the ispo Sport & Style show.
ESA showed a protective suit for firemen, the Hydro Jacket (above), which prevents heat strokes when putting out fires — originally developed to protect astronauts against direct sunrays — and an aerogel jacket, which protects researchers at the Concordia Station in the Antarctic against temperatures of minus 50 degrees.
German company IQTEX was this year's winner of ispo's Brand New Award, an entrepreneurial competition for the sport and outdoor industries, with their Vayu Verde — the world's first intelligent, air-permeable membrane.
The surface pores close instantly when the surface gets wet, and it becomes absolutely waterproof — even when high pressure is applied. When the material dries, it regains its breathability. Its special macromolecular structure is responsible for making this material as air-permeable and breathable as a cotton T-shirt. Vayu Verde is made from eco-friendly raw materials that are also used in cosmetics.
It can be used on anything from jackets to shoes, tents and sporting accessories to hard hats, as well as electronic devices and medical products.
In April, IQTEX also received a prize from the Quelle InnovationsStiftung for their Warming Waves technology, which converts the kinetic energy of human movement into heat.
The Ventilation Vest (above), launched at ispo Sport & Style's Wearable Technologies Show, is an innovative way of cooling yourself by means of air cartridges in miniature fans inside the vest. The inside is made of 3-dimensional pressure- resistant fabric that is permeable to air. The two ventilation units in the side pockets can be switched on and off independently and once activated, the fans blow ambient air into the fabric. The airflow causes an even cooling effect all around the body thus removing any moisture.
For more information visit www.procool.de.
Keep track of stock with RFID
Technology is not only for suppliers. RFID (Radio Frequency Identification) promises to make retailers' lives easier as well.
RFID is a small electronic device that consists of a small chip (capable of carrying 2 000 bytes of data) and an antenna, which serve the same purpose as a bar code – it provides a unique identifier for the specific object that it is attached to. To get the information from the RFID, it is scanned.
OK, so it works like a barcode, so what? Barcodes are everywhere already, why switch to RFID? Well, for one, the RFID tag does not have to be placed precisely for the scanner to read it – making it easier to scan items with a non-flat surface. RFID tags also work up to roughly 6 meters away from the scanner, meaning you can scan a heap of items all at once - the tags can be read simultaneously, instead of one-at-a-time as is the case with barcodes.
The technology has already been available for more than 50 years, but the ability to manufacture the tags to the point where they can be used as 'throwaway' inventory or control devices has only recently been available.
The biggest problem with RFID is that there is no standard yet, and as such, no way to fully control the customer's privacy. Companies have a right to be wary of anything that can track individual items, because customers will be.
These tags have the potential to be used for surveillance or inappropriate data gathering. Due to this the AAFA (American Apparel and Footwear Association) has urged its members to create guidelines as to how and what type of data will be gathered from customers. The guidelines in turn can give customers more reassurance about their privacy, and educate customers about the technology at the same time.
Some groups see the tags as a 'Big Brother' that can track customers' movements, and some even fear the tags might give companies a way of influencing how customers spend.
O'Neill's fourth generation
O'Neill has introduced the H4 Campack, a backpack with built-in camera recorder, which enables the wearer to shoot their own movie while on the move.
The new backpack, designed to be used for snowboarding, includes a media player and an external camera lens. The wearer can start and stop recording by pressing a button on the left shoulder strap. The media player, which is secreted in the top pocket, can record all footage captured by the goggle strap or helmet mounted camera lens. The files are sent directly to a memory card and the user can review footage on the slopes or on a PC.
A snowboard can be attached horizontally to the backpack, which can also accommodate a hydration system for all-day hiking expeditions.
Resources:
Dye, L. Clothing Created to Block Flu, Colds. 9 May 2007
Baker, S. RFID technology review report. November 2006. Aroq Ltd for just style
Marathon winner defies shoe ban and sets records. 06 June 2007. WSA
VAYU VERDE® - the first intelligent, air-permeable membrane. Press release. June 2007
Performance apparel swells demand for moisture management fabrics. 5 July 2007. just-style.com
M&S makes trousers out of old bottles. GQ.com newsletter. 29 June 2007
---
April 2006
World of colour
Next season's winter colours will be slightly more subdued than the bright summer colours, but colour has not disappeared completely
The urban avant-garde city-smart trend has a streamlined look. The trend is masculine, with uniforms being a strong influence. Black is the dominant colour, with white and shades of grey providing contrast with black, dark grey or brown.
Darker colours are getting a new treatment, with colours from one colour group being combined with their contrasting colours to provide subtle shades of light and dark, or cold and warm contrasts, for example reds and greens. White is used as a contrasting colour, usually seen in the form of a blouse, and is used to perk up black or other dark colours.
The building world is now influencing fashion through colours — stones, walls, and metal all lend their colours to the mix.
An important element is the mixing of interesting contrasts — a play of light and dark, matte and shine, black and white with various greys in between. Colours that preside in this group are cement, mauve, steel, asphalt, ink and lava.
Inky blues, greens and deep purples are used on thick-grain country leathers, matt snake and crocodile skin, washed leather (with a used look), printed nubuck and waxed surfaces.
Influenced by Michelangelo and Albrecht Dürer's frescos, soft beige and brown shades are used together with pale, almost dusty-looking, pastel hues, and gold and brass nuances. The dominating colours are alabaster, taupe, powder, rosewood, bark, earth and cigar.
The feminine urban poetry trend is characterised by lovely colours and materials, which are mixed with feminine, decorative details. Typical colours in this trend are brown shades of honey, rusty brown and turf and dark brown and matt metallic colours of brass and copper. Also look out for blues and greens, including dark blue and petrol or duck blue, which creates a stylish mix when used with sage or khaki green. Reds are not excluded, ranging from burgundy to lilac to shades of violet.
Combine bright floral colours with darker colours.
The folkloric trend goes with deep, intense colours with a discreet shimmer that range from red and rosé tones to burgundy and violet.
A green/blue palette ranges from cool shades of winter turquoise and petrol, to dark blue and warm moss to khaki, sage, fawn and yellowish tones of brass, to browns.
Most of the combinations are in matching colours, but there are also contrasts of warm and cold.
Trousers and skirts are the fashion celebrities in many styles, from the slim-fitting long pencil skirt to shorter pants; even bermuda shorts and culottes (a woman's full trousers cut to resemble a skirt) make their appearance with skirts embracing the knee.
British heritage sneaks into fashion conscious cupboards, bringing with it the British colours, wools, checks, tweeds and herringbones. Foggy colours are often livened up with vibrant, untypical colours (for example apple green, pink or lilac) teamed with white blouses.
Biba Bohème continues the yearning for imaginative, romantic, individual fashion that we saw in the summer '07 trend forecast. This trend is influenced by art décor combined with hints of Bohemianism. The trend is either young and carefree or stylish — but always feminine.
Men's clothing is slender, look trim and have subdued colour. Short, slim-fitting coats are making a comeback. For the British heritage themes, use colours with foggy autumn shades on soft wool fabrics and liven it up with lilac, grass green, orange or red tones. Sportswear has softer colours with washed-out neutral tones, shades of warm brown and different greens and marine blue.
---
Aug/ Sept 2009
You just can't keep a good sneaker down
Carin Hardisty asks why the same sneaker styles keep on coming back
Fashions change, but sneakers remain the same. Today's youngsters wear sneakers that look just like those worn by their grannies when they were young in the fifties. The sneaker survived through the ages, catering to different generations and different tastes of consumers... even though the fashion ideals of the eras are so vastly different.
But, while sneakers may look the same on the outside, it is the interesting goodies on the inside that really set the brands apart.
Sneakers have prevailed through the thick and thin that has been thrown at the human race over the past century. How do they do it? Perhaps the answer is simple: sneaker brands are associated with the heroes of the day.
Courting the stars
Basketball star Charles Chuck Taylor made Converse's popularity soar after he adopted the shoes and become a salesman for the brand. Taylor suggested some changes to the shoes, one of which was to add a nonslip sole. In 1923 Taylor's signature was added to the shoe's ankle patch and Chucks All Stars was born — one of the most successful and well-known styles to date. Originally the style was only available in black, but in 1947 they released a white version. It is said that Taylor personally preferred the style in unbleached white (then simply known as white) high tops. Later Converse came under pressure from some of the basketball teams to manufacture in more colours and in 1966 Converse started releasing different coloured styles.
In the 50's, PF Flyers was one of the first brands to team up with a professional athlete. They collaborated with Bob Houdini of the Hardwood Cousy of Boston Celtics to create a line of classic basketball designs. The low-top All American became Cousy's signature shoe. In 1972 Converse bought PF Flyers, but they soon had to sell the brand due to the American government filing an antitrust suit claiming that if both companies combined they would have a monopoly for sneakers. PF Flyers were featured prominently in the 1993 movie The Sandlot. Towards the end of the film, the character Benny, who has to outrun a ferocious dog, wears an all-black pair of Center Hi's. This scene led to the coining of the phrase "wearing his PF Flyers", used for example when a player is running very fast in a basketball game. The style worn in the movie was re-released as Center Hi Sandlot Edition.
adidas' Superstar, released in 1969 as a low-top version of the Pro Model basketball shoe, featured the famous rubber shelltoe and was the first low-top basketball shoe to feature an all-leather upper. With its rubber toe protection and non-marking sole the shoe soon caught the attention of some of the best players within the NCAA and NBA. Within a few years the Superstar was worn by over 75% of all NBA players.
In the early 80's Nike was facing a problem. They had developed a white man jogging brand image and the running shoe phenomenon, which had fuelled their sales up till then, was slowing down. They needed to reinvent themselves and break into a new market. This is when Nike spied rookie player Michael Jordan and they saw an opportunity in him. In 1984 Nike signed Jordan to a five-year $2,5-m deal plus royalties and fringe benefits and the following year the Air Jordan 1 was released. With its black and red styling the Air Jordan 1 immediately stood out on the basketball courts among the other predominately white shoes. This resulted in a banning by the NBA (the vibrant black and red colours violated the league's uniform rules), but Jordan wore the shoes anyway and racked up fines up to $5 000 per game. This all gave Nike excellent publicity and they were happy to pay these fines to keep their shoe in the public's eye.
The 70's saw Fila trying to break into the sporting apparel and footwear market. They approached Bjorn Borg to wear their clothes and they struck gold as Borg went on to win eleven titles, all the while wearing Fila. They received global publicity due to this their first ever endorsement. Despite continuing with various endorsements through the 70's and into the 80's, Fila still longed for a stronger following in the US. Until 1994 — NBA star Grant Hill from the Detroit Pistons agreed to endorse Fila's shoes and the brand gained the consumer following that they had been looking for. The Hill, the style which resulted from the endorsement deal, is one of Fila's fastest selling ranges.
It's all in the tunes
During the 50's and 60's designers and marketers opened up to the idea of specifically targeting younger people. Before World War II this was unheard of as children wore smaller versions of adults' clothing styles. Post-WWII saw the start of teenagers dressing to express themselves — and most commonly the expression was one of rebellion.
Teenagers found heroes in the likes of Elvis Presley and James Dean, both young people making names for themselves at the time and being rebellious and off the beaten track.
When rock 'n roll came on the scene, music itself became an expression of rebellion, because parents and authority figures disliked this genre. This dislike in turn attracted teenagers even more to the style and helped make the genre an emblem of youth. While the genre divided generations, it crossed gender, racial and even country borders to unite teens.
Presley sang in the early rockabilly1 style, the first form of rock 'n roll, and cemented the song Blue Suede Shoes into the hearts and minds of that generation of teens when he released his version of Carl Perkins' song in 1956. With Presley's stage presence and rockstar image he became teenagers' hero soon after he stepped into the music scene. When Johnny Cash suggested to Perkins to write a song about blue suede shoes Perkins thought it was the most absurd suggestion and that he did not know the first thing what to write about shoes. Perkins admits he did not even know how to spell suede, spelling it "swade". His inspiration came when he was performing one night and saw a young couple dancing in front of the stage — the young man wearing a pair of suede shoes and cautioning his lady to stay off his shoes for fear of damaging them. "But don't you step on my blue suede shoes/You can do anything but lay off of my blue suede shoes." The immortal words were penned and the rest is history. Blue suede shoes were rather impractical with the colour running when it came in contact with wetness and your feet ending up blue, but they became an instant fad after the song's success with both men and women wearing the shoes.
The previous year James Dean starred in the movie Rebel Without a Cause playing a rebellious and misunderstood teen. He wore his Converse All Stars in the movie. Teens found a character that they could relate to in Dean's character, Jim Stark, and rushed to stores to buy Dean's chosen footwear. The movie premiered a month after Dean's fatal car crash.
Converse has appealed to rock fans through the decades. In the 50's the brand was popular among the greasers2 subculture as well as among fans of rockabilly. During the 70's, punk rock fans adopted Converse as a fashion trend, emulating the style of several of the punk rock bands that were popular at the time. In the 90's, Converse relived a resurgence in popularity as fans copied Nirvana frontman Kurt Cobain's style and with it his love for All Stars. Cobain in turn is said to have worn the shoes due to the influence that All Stars-wearing punk rock bands had on him in his youth. Cobain was wearing a black pair of Converse One Star sneakers when he shot himself. Cobain subsequently endorsed a pair of Converse One Tops from beyond the grave for their 100th anniversary celebrations. The pair featured design elements from Cobain's drawings and writings as well as his autograph and came in three versions: Chuck Taylor All Stars, Jack Purcell's and One Stars.
In 1986 Run DMC released their song My adidas, both as much a tribute to the adidas Superstar as a reaction to the anti-sneaker rap poem by Dr Gerald W. Deas, Felon Sneakers — Dr Deas likened the trend of wearing your sneakers without laces to the way prisoners have to wear their shoes making it more difficult for prisoners to walk and run away. Run DMC was known to wear their street clothes on stage as well as their Superstar sneakers with either fat laces or no laces and the tongue pushed out. They were also known for their trench coats and big jewellery, which became popular with rappers and set the stage for hip-hop style. This was the first endorsement of a brand by a music artist and adidas did not pay a cent for the excellent exposure. After realising how much promotion they were getting, adidas signed a deal with the rap group — the first endorsement deal between hip hop artists and a major corporation.
Hip hop artists adopted the street-style attire, even for formal events. This pushed sneakers even further into the fashion books.
Today it seems that there is barely a music or television star without their own sneaker label or partnership with an already established sneaker brand. Together with the endorsements come the stars' fans who flock to emulate their heroes' looks and fashions.
Rbk used this kick-butt anti-hero appeal for the urban youth when they partnered with street-appeal music artists like Jay-Z, 50 Cent and Nelly to create signature sneaker styles as part of their I am what I am campaign. Locally, they partnered with our very own Kabelo.
Skate's up!
Vans (Originally known as the Van Doren Rubber Company), is a skateboard footwear icon. When the brand started out in the 60's they achieved huge success as they made their brand synonymous with the big name skateboarders of the day. Back then skateboarding was seen as surfing on land and not taken very seriously by non-skateboarders, so there was not much around for skateboarders to wear. Skateboarders were looked down upon and seen as riff-raff. With Vans came footwear that were sturdy enough to last the wear and tear by the 'boarders — and the brand was worn by the international skateboarders, giving world wide exposure to the brand. As a skateboarder you needed the uniform — and that included the right footwear.
However, the brand's huge success was also its downfall. The company tried to branch out into different sports, for example basketball, baseball and wrestling, but these arenas brought it no luck forcing the company to file for bankruptcy in 1983. Three years later the company had made enough money to be able to pay off all their creditors. This come back was partly attributed to Sean Penn's character, Jeff Spicoli, in the movie Fast Times at Ridgemont High in 1982.
Nike joined the skating bandwagon late in the 80's. Some skaters used the Air Jordans to skate in. The basketball shoes were designed to absorb shock, provide lateral support and withstand the stress of the cutting and slashing of pro basketball players — but even with all this they still wore out fast due to the paces that skaters put them through. The Bones Brigade, a well known skating team that counted Tony Hawk among their members, wore the Air Jordans throughout their most famous skateboarding video, The Search For Animal Chin (1987).
If it aint broke…
Today there is a sneaker for everyone in the family, from the newly born baby to your oldest relative. This is quite remarkable for a footwear style that started out made for athletes demanding a lot from their shoes — and it is one reason why the sneaker will probably always be around. The sneaker is a basic part of the modern wardrobe.
Lately the answer to why people wear sneakers is quite often that they wore it when they were younger, and they have simply continued to wear them. Their taste in sneakers might have simply changed, perhaps becoming more subdued and less bold, perhaps not. People are creatures of habit after all and if something works, why change it?
It's about more than the shoes
And sometimes it's not at all about the history of the shoes!
A sneaker brand like Levi's has found a foothold in the market due to the popularity of its clothing brand name sake. The Levi's jeans story is one seeing an opportunity and firmly grasping it. Levi Strauss was a dry goods dealer in San Francisco during the gold rush when he was approached by a tailor who purchased bolts of cloth from Strauss. The tailor had started placing metal rivets at points of strain (pocket corners; at the base of the button fly) to make his customers' pants last longer. He wanted to patent this new idea but needed a business partner to get the idea off the ground. Strauss went in with him and the rest is history. Today Levi's is a household name. What started out as a workman's brand is now a highly sought after product, which still keeps its rugged image, but that rugged image has become more sexier. People wear the Levi's footwear to take a part of that Levi's image with them where they go.
SA brand Loxion Kulca (location culture) started out in the late 90's, originally selling crochet hats that are called smarties. Pretty soon the word spread and they extended into clothes, shoes and other accessories. Young people, who bought the products, saw wearing the brand as a political expression. The brand has become known as a kwaito brand. They became a hit locally with music artists such as Mandoza, TKZee, Skwatta Kamp and H20 becoming avid fans. Notably H20 sang about the brand in their jazz rendition of Ella Fitzgerald's blues classic It's wonderful wherein they change words to among others include references to Stoned Cherrie and Loxion Kulca. The song pays tribute to the achievements of young black South Africans who have made it against all odds.
1. Rockabilly, a combination of rock and hillbilly, comes from the early 50's and is one of the earliest styles of rock and roll music.
2. Greasers is a working class youth subculture that originated in the 1950's among young eastern and southern United States street gangs, and then became popular among other types of people. (Wikipedia. Greaser (subculture)) The name comes from the greased back hair typically worn by males. The style was imitated by many youth who were not associated with gangs, but wore the look as an expression of rebellion.
---