June/July 2010
Footwear statistics
1st term shoe sales disappoint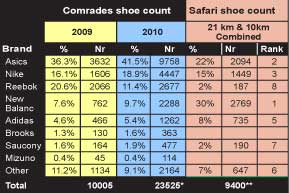 The first four months of 2010 was not a happy time for retailers selling sportshoes — which will include general sport and outdoor retailers, retailers selling lifestyle and sport footwear, as well as some specialist running and soccer retailers.
The number of units of sportshoes sold during the first four months of 2010 was 11.5% less than in the same period last year (1.4m in 2010 compared to 1.5m in 2009). The Rand value, however, dropped only 3.2% (R72.4m compared to R74.8m in 2009), indicating that in some categories prices had increased significantly.
This is according to figures supplied by GfK Marketing, which tracks the sales of sportshoes at till point at the retailers mentioned above. Although sales through soccer and the prominent running specialist stores are tracked, specialist cycling and golf stores are not included.
Despite the soccer hype created by the 2010 FIFA World Cup, 7% fewer soccer boots were sold between January-April this year than in the same period last year. The Rand value of soccer boots sold in 2010 was, however, 8% lower than the same period last year— indicating that more boots were sold at lower price points.
The biggest drop was experienced in the number of running shoes sold (13%) — but there was only a 10% drop in the Rand value of sales during this period.
The best performer was the mountaineering/hiking category, which recorded a 22% increase in Rand value, although 3% fewer units were sold — indicating a significant rise in the number of outdoor shoes sold at higher price points. There was also 2.5% growth in the Rand value of leisure/fashion sportshoes sold in 2010, but the number of units sold dropped 6% (again indicating price increases).
The estimated value of the SA athletic footwear market (which includes outdoor) is R3bn per year and an estimated 6.3m units are sold.
The leisure/fashion category is by far the biggest, with about 40% of the sportshoes sold coming from this category. This is followed by running (23%) and multisport (11.5%), soccer boots (9% — this will include the soccer boots worn by rugby forwards and hockey players) and hiking/mountaineering (8%).
Apart from basketball shoes, which are also worn as fashion footwear (2% of the total market), tennis shoes (about 2%), fitness shoes (less than 2%, indicating that South Africans are not yet as excited about toning shoes as the Americans), sales of all other footwear categories comprise less than 1% of the total market. The fact that rugby boots comprise less than 1% of sportshoe sales, indicate that interest in a sport does not necessarily translate into sales.
* The shoe brands indicated on Comrades registration forms are counted.
** This includes "No responses": 1329 runners in the Safari marathon, 14% of total.