October/November 2010
New recreational fishing
permit fees a relief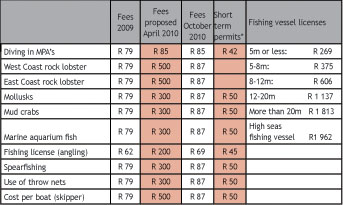 Retailers selling fishing tackle can breathe a sigh of relief: the excorbitant hike in recreational fishing permit fees announced in the beginning of the year that resulted in many customers threatening to stop fishing, has been reversed.
The new permit fees that came into effect on on October 1 this year, is "a far cry from that which they initially proposed," says Cary Steele-Boe, chairman of the Recreational Fishing Services.
The fees published in the Government Gazette No.795 of 10 September 2010, are on average about 400% lower than the fees proposed in April (see table), and are on average only 10% higher than the permit fees in 2009.
The fees proposed by the Department of Environmental Affairs and Tourism (DEAT) caused an outcry, and stakeholders vehemenently objected at meetings held around the country. Many recreational boat anglers who mainly fish during summer holidays at the coast, said that they would rather find other hobbies as it would become too expensive for a family to go fishing. This would have been a big blow to the fishing tackle trade.
The public meetings were followed by much calmer consultative meetings between represenatatives of fishing organisations — the tackle industry was represented by John Pledger, chairman of SAFTAD (SA Fishing Tackle Agents and Distributors) — and officials from the Department of Agriculture, Forestry and Fisheries.
Following the Cabinet shuffle in the beginning of the year, Marine and Coastal Management and the Marine Living Resources Act, which regulastes marine fishing and diving, was moved from DEAT to the Department of Agriculture, Forestry and Fisheries.
The proposed increases were subsequently withdrawn, and the new Ministry was given the task of determining new fees.
According to Pledger, the meetings between the angling bodies and Government showed how important it was for industries (like the sports and outdoor trade) to have represenhtative structures that can engage with Government and other stakeholders when problems arise. The sports industry is currently not represented by any organisation.