---
25 January 2016
Off-field footwear
from Umbro
In its Summer 2016 range, Umbro has extended its offering for retailers: the brand, which is normally forcused on soccer, has responded to the demand for off-field footwear.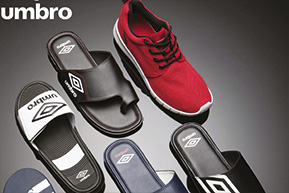 "This is an exciting chapter for Umbro here in South Africa," says Umbro SA brand manager Tristan Karakashian. "We are now using our experience and knowledge in the footwear industry to bring an exciting range of off-field footwear to the retail market."
Umbro has positioned these new styles within their range as a strong value offering — not only for the professional football player, but also your everyday football fan, says Karakashian. Umbro's latest footwear collection includes pro and entry level football boots, sport and lifestyle trainers, as well as a wide range of sandals.
Umbro has invested in extensive R&D to develop its soccer boots, both on the top-end and entry level ranges. "We have seen success at every level, and found our offering to be extremely competitive in the market, which is what we aim to achieve with this range," says Karakashian. With both multi-stud and turf options available on boots, Umbro is confident that what it has defined the brand on over the years, will continue to sell to consumers across the country.
While sport and lifestyle footwear may not be Umbro's primary focus, it is certainly not unfamiliar territory, as the brand has been manufacturing and selling footwear to soccer teams for a long time. It has now decided to use that knowledge and experience to create a footwear range for the retail customer. The range will also give Umbro a boost in the lifestyle/fashion footwear market and will help retailers to see Umbro in a different light. This offering includes technical trainer options, entry-level trainer options, as well as a lifestyle trainer, which Umbro feels will be a perfect fit for the sport consumer.
For a brand entering a new market, Umbro has created a wide range of sandals, and it shows the brand's positive intention to start strong, says Umbro SA sales manager Byron Mulholland. "This is an entirely new space for Umbro," he says. "We are excited to go to market with a range that has been developed after extensive research into a footwear category that forms a major part of South African retail."
---