No sweat for the Cape Town Sweat Shop
A major Gauteng running group, The Sweat Shop, reopened their Cape Town branch in the Southern Suburbs in April last year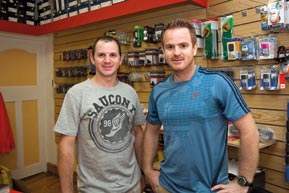 Manager Craig Gornall (left) with Grant Bryant
The Sweat Shop originally had a shop in Cape Town Central (33 Castle Street) in the 70s that did fairly well, says owner Jax Snyman. The store later closed, while the Gauteng stores — in Dunkeld, Fourways and Irene — continued to prosper. Last year he reopened the Cape Town store just outside Cavendish Centre in Claremont.
"Initially sales were a bit slow — it was opened just before winter when the traditional running season had started to taper — but we quickly seemed to get the word out there and it picked up very nicely," says Craig Gornall, manager of the Cape Town Sweat Shop.
Each of the four Sweat Shop stores can be seen as a service-oriented specialist for runners and other sports people. Although The Sweat Shop is very much runner-focused, each store stocks equipment like rugby and soccer footwear and equipment. "The majority of our sales are, however, in the technical running category," says Snyman.
Having knowledgeable staff, who are runners themselves, helps to better assist customers and allow customers to walk away with a positive experience. According to their website, thesweatshop.co.za, their staff members have run well over 100 marathons and ultras between them.
The perception of the Sweat Shop as a specialist running store in Gauteng has carried over to Cape Town. "We have had quite a few customers who come in and said that they always look at the adverts and it is good to see that Cape Town now has a Sweat Shop too," says Gornall.
"Coming from a podiatry background means that I often have a different approach to specific issues. I can often look at and advise customers about those little niggles that runners get. Grant Bryant, who also works in the store, comes from a personal training background — a lot of our customers seem to like the fact that we specialise and the way that we do things," adds Gornall.
Because they have this specialised knowledge, the Cape Town shop gets a lot of support from running clubs, podiatrists, chiropractors and biokineticists who refer customers.
The Sweat Shop also employs part-time staff from the medical/sports science field. "We have always attempted to employ students with a medical or sports science bent as the medical degree takes longer than most other degrees and they also seem to be more responsible," says Snyman.
Cape Town customers tend to be a little more price-conscious in the Cape than Gauteng customers, notes Gornall, who has spent a fair amount of time in both Johannesburg and Cape Town retail stores. To a certain extent it relates to the type of product they are looking for — if they want a specific brand, Cape Town customers would be less likely to buy the top end product, but will go for one lower down the price chain.
The location of the store also determines the needs of customers. "In the Southern Suburbs there is hardly a person who does not live within a few kilometres of somewhere that could be described as genuine trail, so we do sell a greater mix of trail shoes in Cape Town than we sell in our Gauteng stores," says Snyman.
---