Chris Willemse Cycles: The future of cycling retailing?
Chris Willemse is a name that kindles strong feelings in the cycling community: some love it, others not. Soon the Willemse's will be causing another stir with the opening of a mega-store, reports TRUDI DU TOIT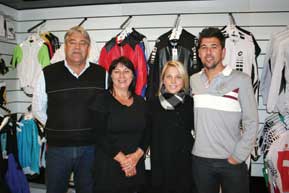 For today's cyclists the name Chris Willemse signifies the former Microsoft and CVT/CSC team member, top ten finisher in the Cape Argus Cycle Tour, All African road champion and SA individual pursuit track champion, who rode for a German U23 semi-pro team from 2001-2006.
For their parents, the name Chris Willemse harks back to the 1970's, when he who won his first SA title as a 15-year old, and the 1980's when he would invariably feature among the top riders in the Rapport Tour.
Among retailers and distributors the name has more controversial connotations — especially Chris Willemse Jnr, who has been rattling the cycling retail industry with his CWC Online Shop, directly importing several of the spares brands he sells at discount prices.
The story of Chris Willemse Cycles starts 34 years ago when Willemse Snr opened his store in Paarl — which he sold to Tollgate Holdings in 1981. When they were liquidated, he bought back the store in 1991.
Willemse Snr kept close ties with the cycling community and when junior turned professional in 2000 after matriculating, his father became his team manager. In-between riding in Europe and locally, Willemse Jnr was helping out in his father's store.
Overseas contacts
About three years ago, the distributor of a well-known brand refused to supply them with group sets, because he said it would affect his relationship with a bigger customer. Willemse Jnr knew the brand owner from his pro days on the European tour and contacted him directly. Of course, I'll supply you, said former world champion Mario Cipollini, and supplied him the group sets at a cheaper price than the SA distributor advertised. Thus began the CWC Online Shop, selling spares.
From Willemse Jnr working on a laptop, the online business has grown to an office manned by five staff members — some top class cyclists — taking and discussing orders with customers on a daily basis. Within three years, the turnover of the online store had passed that of the brick and mortar store.
Willemse Jnr believes there are several reasons for this success: he makes sure that his prices are on par with international online cycle stores, because online-savvy consumers can easily compare prices. This means that his prices are lower than many local bike shops. They also aim to have all orders placed before 3pm delivered the next morning. They further have the back-up of a workshop.
While retailers importing brands directly and selling online at discount prices is nothing new in SA sport and apparel retail, it was unique in the cycling industry, where margins are tight. The online move was not popular.
A local distributor of a brand they imported directly took legal action, but after a year the court ruled that the grey imports are legal, provided the retailer tells consumers that they are not the licensed importer. Other retailers took knocks — especially when competing against prices like the Fondriest carbon frames, normally retailing for about R30 000, being offered at R18 000 online.
Mega store opening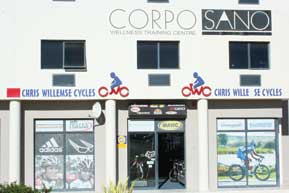 They are about to cause another stir. In September a Chris Willemse mega-store will be opening in Bellville: a 1 600m² showroom and workshop where every product currently available online and in the store will be on show, with 120 parking pays, and behind, a green strip where mountain bikers will be able to go for test rides. After viewing the products, customers will be able to place their orders online and collect their goods from the store room at the back.
The cycling market is currently on a high ride, says Willemse Snr — especially in Cape Town where the cycling lanes are encouraging more people to cycle to work and parents are no longer afraid to send their children to school on bicycles. As a politician and MEC in the 1990's he had been campaigning for cycling lanes and is therefore happy that they finally became a reality twenty years later — also in Khayelitsha and Mitchell's Plain.
Mountain biking is also growing at a fast pace as more people want to enjoy nature without having to worry about cars or robots.
Chris Willemse Cycles is a true family business, with Willemse Snr's wife Dalene and daughter Melanie also working there, and his son-in-law responsible for the accounts.
Melanie is in charge of marketing and their community initiatives — like donating Fondriest cycles to children at local farm schools and donating of food and clothing to less fortunate communities over Christmas.
Many of the staff members have been there so long that they are just about family. And, over the years, returning customers have become so familiar that they are almost part of the family — or, at least, became friends.
Visit Chris Willemse Cycles' website
---