Drifters now in Cape Town
For the past 27 years the iconic Drifters Adventure store in Sandton City has been attracting outdoor enthusiasts from near and far. Apart from their wide product selections (squeezed into the most amazing small space), customers always know that they can rely on the expert knowledge of staff members, all participants in some outdoor activity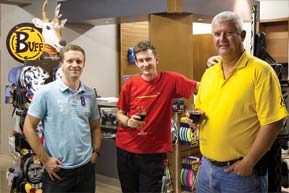 Now Capetonians can enjoy the same benefits. Shortly before the start of the World Cup, Drifters manager Matt Tibenham relocated to Cape Town to open a Drifters Extreme Sport in the new Cape Quarter shopping centre just off the Fan Mile en route to the Greenpoint stadium.
It will be run on the same principles that made Drifters in Johannesburg such a success, with slightly more emphasis on extreme sports, adventure racing and climbing — activities that are especially popular in Cape Town.
After Tibenham relocated to Cape Town, the Sandton store is being run by former assistant manager Dave Evans.
Pictured here is Christo Snyman from Adventure Inc (left), Matt Tibenhen from Drifters and Bruce Woodroffe from Awesome Tools.
---
August 2005
Why Drifters draws the crowds
During the past 18 years, Drifters in Sandton City established itself as one of the icons of the SA outdoor retail trade. Customers appreciate the wide selection of quality products and expert advice on offer, reports NICOL DU TOIT
Drifters can ascribe its success to a few very important factors, says Richard Turkington, who has been the store manager for the past twelve years.
First of all, their location is probably the most important success factor.
Sandton City, despite being already 30 years old, still draws plenty of affluent passing trade. There are enough new visitors who can discover the store for the first time, but it is also near enough to the surrounding suburbs to effect return business.
But, location on its own is not enough to ensure success.
Service is still the key to making a success of a retail business.
Turkington believes that people have to be approached when entering the door, but not overwhelmed. Store assistants have to offer good solid advice based on practical experience, not book knowledge.
Drifters offers customers a wide range of products. They believe in selling brands that have proved themselves in delivering good quality products.
They focus on the product, what it can do and how well it can perform, and not only the price point. They do not carry any house brands.
They believe that the shop assistants must actively use the products in the shop to help them gain knowledge and experience.
They stock too many products for one person to use or test, but they try to employ people with different outdoor interests in the store. The one assistant is, for instance, a rock climber, the other a hiker, another an adventure racer, etc. Their specialist knowledge rubs off on their colleagues, and someone in the shop will be able to help a customer with the most specialised and technical query.
Space is a problem in all high-rent mall stores, but they overcame it with innovative store layout, that makes use of an attractive mezzanine floor, and very attractive product displays that literally use all the space between floor and ceiling.
This creates a pleasant buying vibe for customers.
---