Midas Walker & 4x4 Mega World: Success breeds success
The camping and fishing gear sold in Midas Walker and 4x4 Mega World in Upington are but two of the successful businesses of the Walker family of Upington
As Bill Gates of Microsoft said: "There is nothing like success to breed success." And the Walker family in Upington is a good example of the truth of this. Ever since the father of the present owner of the 4 x 4 Mega and Walker Midas stores — plus several other businesses — took over the Upington Radiators and Motor Graveyard in 1959-60, they've become the first port of call for anyone looking for someone to take over an ailing business and grow it successfully.
After studying business education, Eric Walker joined his father, a former pilot, in the family business in 1981. By 1986 the various enterprises also included a Midas store — then significantly smaller than the current building — which now houses a substantial, well-stocked, fishing section, as well as some camping gear.
Several photographs of their first buildings and later extensions proudly give a pictorial overview of the company history and growth. Along the ramp, leading up to the offices, certificates for Franchisee of the Year, Marketing Man of the Year and other accolades testify to their success as retailers.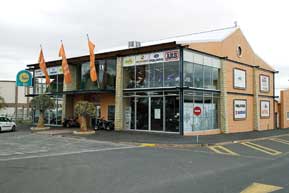 Four years ago they opened their second Midas store in town (below right), and two years ago, after they opened the 4x4 Mega World store (right), they moved most of the camping equipment to that shop on the outskirts of town.
Camping sales have exploded over the past few years, says Walker, especially with gear used by 4x4 enthusiasts. As outfitters of four-wheel drives, which they also rent out, they are a natural stop for outdoor loving customers. In fishing and camping they stock most of the well-known brands, because as franchise store owners they benefit from group specials, but are also free to source stock that would appeal to their customers.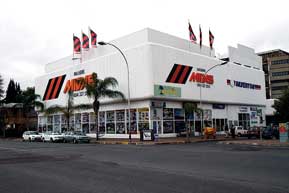 "You've got to keep up with what is happening, otherwise you go down," says Walker."Outdoor has become a big trend."
Their customers travel from as far as Springbok, Prieska and Kuruman to shop at their stores, and Walker enjoys getting to know and greet them personally.
So close to the Orange River and the last town before the Kgalagadi game reserve and hunting farms around the Namibian border, Upington also attracts anglers, hunters, campers, bird watchers and other outdoor enthusiasts from across the country — many of their customers live in Johannesburg and Cape Town.
The town is prospering, adds Walker and the floods earlier this year didn't have such a devastating impact on Upington's economy as some people believe. The early flooding of the Orange River mainly affected farmers who still had to harvest, not all farmers.
"The export farmers were finished, but the grape producers for the local market suffered." This year they delivered about 40 000 tonnes less than the 155 000 tonnes last year.
Walker's sons, Max and Erin, are also involved in the business — the latter is developing systems to ensure the smooth running of the various businesses that also include a garage, an agency for IVECO trucks, a workshop, wastepaper and scrapmetal works, a test station, to name a few.
Top: Eric Walker (right) with sons Max and Erin in front of pictures showing the early beginnings of the company
---