Positive message from Moresport
The news that Moresport has grown so much that they had to enlarge their top management structure by appointing a new COO, bodes well for the industry, reports TRUDI DU TOIT. Photos: CARIN HARDISTY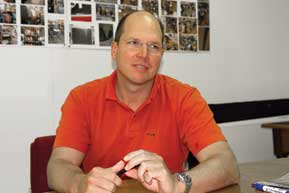 Moresport is to the SA sports and outdoor retail industry what the US is to the world economy. When they reach for a tissue, everybody else reaches for the vitamin pills. It is not that they are the biggest — the 130 plus TotalSports stores, for example, outnumber the 30-odd Sportsmans Warehouses and about 20 Outdoor Warehouses across the country — but the vast number of product categories and brands they fit into their enormous store areas give them industry leader status.
Getting into Sportsmans is the ideal of new brand suppliers eager to gain retail recognition and how did Sportsmans do? has become the benchmark for retail prospects.
CEO Kevin Hodgson is acutely aware that every utterance can have consequences. He therefore deflects questions about the company with the ease of a Kallis steadying an innings and sidesteps invitations to predict market trends like Habana at his best… all with charm. Personal questions he simply blocks.
He agreed to the interview to talk about the appointment of Bradley Moritz as Chief Operating Officer (COO) as well as Moresport director from the 1st of March this year (see article below).
Moritz will be reporting to Hodgson, and will be supported in his new role by former COO Toni Haarburger, who has been appointed as an executive director of Moresport.
"The company has grown and it was time for us to expand the top management structures and spread the workload," Hodgson explains. "He will assume responsibilities for the day to day running of the company and strategic planning. The appointment will add to his responsibilities and is in recognition of his capabilities."
We also learn that:
The last few years trading conditions had been challenging for them — as for most of the industry — but the outlook for the future is positive, with their stores all reporting good trading. The company is anticipating solid growth and Hodgson believes the heightened market activity will continue for the rest of the year.
Industry rumours about the imminent sale of Moresport are inaccurate, he says. They are currently owned by Ethos, an investment company, and this is not expected to change in the near future. But, investors usually have a limited period of involvement in a company and it had always been the understanding that they would exit as Moresport majority shareholder some time.
"When that happens, we will find other shareholders. We shall, however, remain an independent business and we'll continue with the execution of our present strategies, even when a new shareholder replaces the old one. For now, there is nothing in the cards."
The entry of Walmart will be good for the economy, says Hodgson, because it is a vote of confidence in the country. "It is a significant deal for our economy. They are the biggest retailer in the world and they will be applying their knowledge and experience here."
He does, however, not believe that the Walmart entry will have a major impact on the local sports market. "Remember, Massmart is currently a big player, it is a well-run company that already plays a prominent role in the market."
There is also a difference between a speciality and discount retailer — even if the discount retailer is the best trader in the world — cautions Hodgson, because in the sports industry knowledge of the technical equipment is required and a high level of skill is needed to sell them, which staff at a discount retailer cannot supply. "But we can."
He is, however, not over-confident about the potential impact of Walmart entering the market, although he believes that Moresport will be able adapt and meet any new challenge.
At the same time, he welcomes the competition this will bring as he believes that competition is healthy for an industry — although the sports industry is already a very competitive market. While there is no single business that can be directly compared to Moresport, "the industry is hugely competitive in all categories we operate in".
New COO for Moresport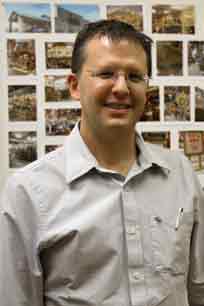 Most people will describe Bradley Moritz as a nice guy. Moresport's new Chief Operating Officer has always been unpretentious and approachable… and likeable. With a background in finance, and experience of merchandise and marketing, his skills, coupled with a hard work ethic, will be a welcome addition to the top executive team, says CEO Kevin Hodgson.
After completing his schooling at King David in Johannesburg, Moritz studied for a B.Comm degree through UNISA, while doing his articles at the Johannesburg accounting firm, Charles Orbach.
After completing his articles, he opted for a change of scene and movement from auditing to business finance by joining Outdoor Warehouse in Cape Town as financial manager in 1998. He grew his experience by adding merchandise and general management of Outdoor Warehouse to his responsibilities, and later became responsible for merchandise and marketing of the Moresport group (Outdoor Warehouse and Sportsmans Waterhouse) where he has "been contributing to the growth and development of the company in various capacities, especially in merchandise," says Hodgson.
Moritz describes his management style as "paying attention to detail" and believes his strong point is good interaction with people. "I drive a hard bargain, but I would like to think I am balanced. I listen to what people have to say." Financial management and paying attention to the "little details" are other strengths.
Moritz has a strong work ethic — "I ordered him to go to the gym because he was working too hard," quips Hodgson — and the energy to keep pace with the workload he sets himself! Not content to accept shoddy or indifferent work, he has a passion for retailing and interesting products.
A keen Manchester United supporter, Moritz enjoys following Premier League and European soccer, reading, or exercising in the gym and spinning — when he is not working!
He is a dedicated family man — his wife, Cindy, is a Cape Town journalist — and together they strive to raise their two children, Melissa and Dan, in a respectful and decent way, says Moritz.
---