Africa's biggest sport store
Poobie Naidoo's massive 6 000m2 store in Pietermaritzburg shows what a good sport retailer can achieve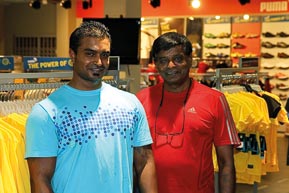 Gavin and Poobie Naidoo is pictured here
Imagine a store spread out across two-and-a-half rugby fields. In retail terms, that is the size of a large hypermarket and the maximum size of large stores in the US. That is also the size of Poobie Naidoo's 6 000m2 mega-store in Pietermaritzburg — filled with athletic footwear, clothing and sports equipment for all codes.
A customer is met by a landscape filled with shoes and boots: for kids, men, women in a vast array of styles and brands. Towards the back are the slatted walls kitted out by different brands with soccer and running footwear and kit. This is also where he has a full 50m athletic track for runners who want to test spikes or other running shoes.
Athletes experiencing problems or who need guidance with training programmes can also make use of the High Performance Assessment centre with an attending podiatrist, chiropractor, dietician, Strength and Conditioning Specialist, physiotherapist and a supplier of orthotics and prostheses in this area.
Upstairs, in the seasonal sport area, a customer is met by a display of hockey sticks as far as the eye can see (or cricket, depending on the season).
To say that Poobie Naidoo's Sports- mans Warehouse is big, is the same as describing the Burj Khalifa in Dubai as a tall building — totally inadequate words to describe the size. Filled with merchandise and brands, the Naidoo's are confident that they will sell all, because over the past 25 years Poobie Naidoo has gained the necessary experience to judge his customers' needs.
Take it to the next level
It is a true family concern. His wife heads the accounts department. The eldest Naidoo son, Gavin, is being groomed to take the business to the next level. The other two sons — Sharuven and Huban — are still studying, but are already involved in the family's other two Pietermaritzburg mall stores. Sharuven is also responsible for the online business they recently started.
Like their father — a top runner with cases full of trophies and medals, training for his 25th Comrades this year — the sons are all good athletes. Gavin has KwaZulu Natal colours for javelin and also excels in swimming and other athletics, Huban is a good cricketer and Sharuven a top swimmer.
Naidoo ascribes his success partly to the fact that he is a top runner, well-known in KwaZulu Natal running circles for his participation in races, work at the water tables, entries obtained at the store, and his willingness to assist young runners or those who want to better their times.
A few years ago he stopped running and found his running sales slipping. Somebody suggested that's because he is no longer involved with running — and when he started again, his sales picked up.
Because he enters races with his customers, Poobie tries to make sure that he will not encounter a customer experiencing shoe problems during a race by only stocking or recommending shoes that he believes in. As a former shoemaker, he can dissect a shoe with his eyes and know if they will live up to the promise.
While he is the go-to man for runners, he also employs a former professional soccer player and among his 24 sales people (excluding repairs and restringing people) he also has top rugby, hockey, cricket, etc. players. He would rather employ someone who knows a sport and then train him in the art of selling and serving customers. "If they had been trained by someone else they might have learnt bad habits."
He is further involved in developing community soccer — like running, a massive product category — through sponsorship of the Poobie Naidoo High School's Cup for soccer.
Gavin ascribes his dad's success to his work ethic. "He works harder than everybody else, he works very long hours and is on the floor every day — not sitting in an office," he says. "Sometimes we must force him to go and sit in the office to rest."
Poobie Naidoo ascribes it to his passion. "You can't sit back and say it's doom and gloom. You have to go out there and look for work. We go to schools. I am out at the tables at races, people get to know us there and then visit our store." He hates it when he doesn't have an item a customer needs — and despite their comprehensive range of products and brands, it does sometimes happen. They then ensure that they order the product as soon as possible.
---